Travelers face many situations requiring them to get their passports as fast as possible. While the regular passport service may last up to 12 (twelve) weeks, the US Department of State enables Americans to get their passports quicker, depending on their travel situation.
US citizens who find themselves in difficult travel circumstances can ask to receive their passports in a speed-up process. However, there are different types of passport services that involve various requirements. Stay with us to get more information on where and how you can apply and receive an emergency passport in Chicago.
Click to see more about:
Chicago emergency passport—all you need to know
There are two types of passport services that provide expedited processing time:
Let us start with the general information that applies to each service.
Currently, the only way to make an appointment is via phone. Applicants must first contact the National Passport Information Center through which the visits are arranged.
It is possible to reschedule or cancel the meeting—to do this, you must call the same number you set your appointment through. Moreover, applicants should forward the email with the appointment confirmation number and details to the NPIC with "Cancel My Appointment" in the subject line.
In Chicago, a respective passport office that provides emergency services is the Chicago Passport Agency, located in downtown Chicago, Illinois, in the Kluczynski Federal Building.
The Chicago Passport Agency advises applicants to come 15 (fifteen) minutes before the arranged meeting. Every visitor must undergo a security screening and present their government-issued photo ID. For the appointment to be successful, applicants must bring:
completed forms
supporting documents of their immediate travel situation (such as plane tickets, hotel reservations, death certificate, etc.)
one passport photo.
With expedited passport services comes an additional fee of $60 (sixty US dollars) along with the regular passport prices. The same fee applies to all speed-up services and adult and child passports.
For children under 16, both parents and the child must appear at the appointment. In addition to the documents mentioned above, here are the documents necessary to apply for an emergency child's passport:
proof of parental relationship (such as a birth certificate, adoption/custody decree, etc.)
proof of the child's US citizenship (such as a US birth certificate, citizenship certificate, etc.)
proof of the parents' or legal guardians' citizenship (such as a photo ID card, passport book, passport card, etc.)
a passport photo.
Now, let us discuss more detailed information about each service.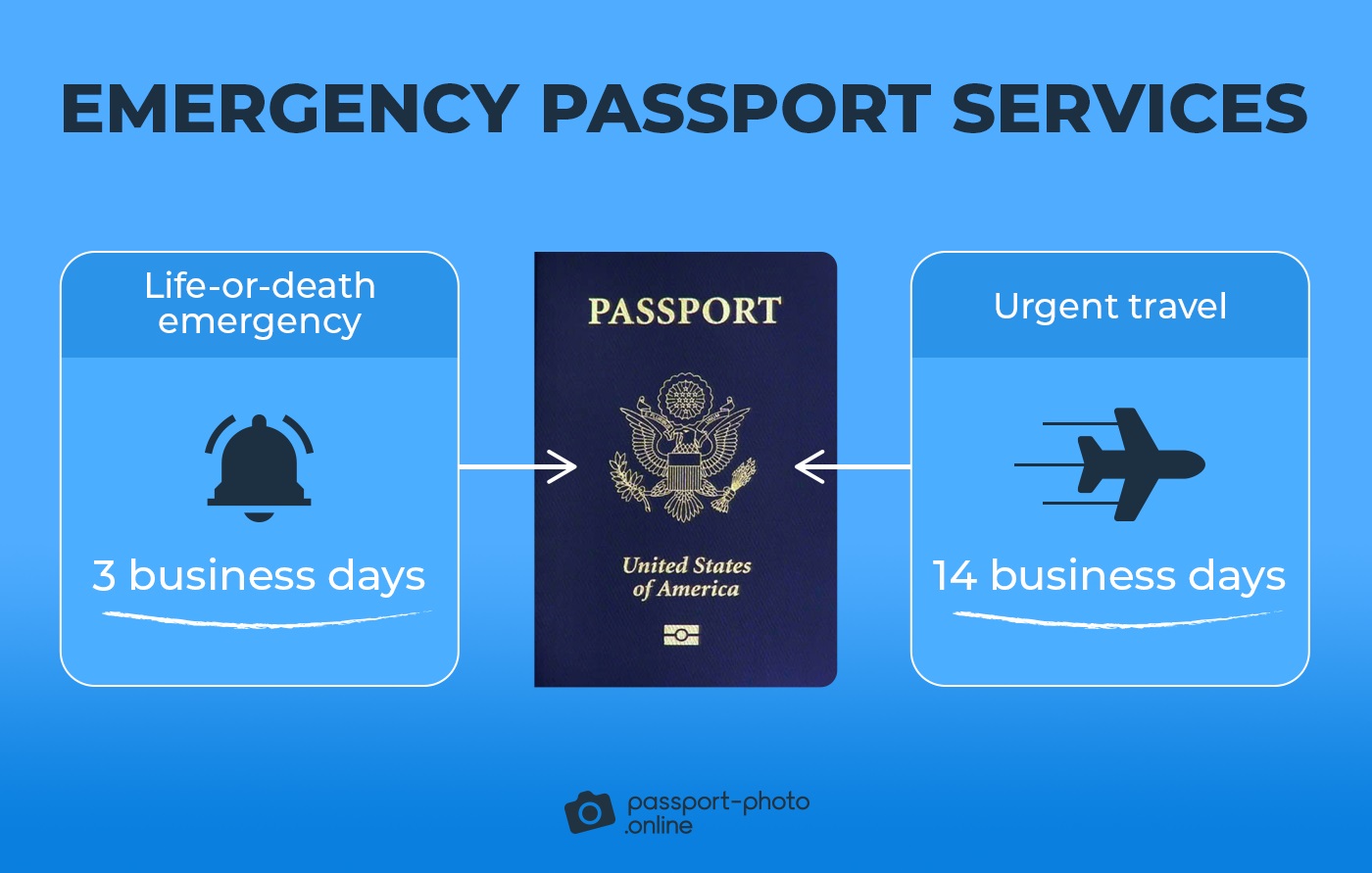 Emergency passport services, also called life-or-death, are open for US citizens who must travel internationally within 3 (three) business days.
To make an appointment, applicants can call from Monday to Friday, 8 am-8 pm, using the number 1-877-487-2778.To schedule an appointment for life or death emergencies on weekdays after 8 pm, on weekends, or on federal holidays, this number should be contacted: 202-647-4000.
To qualify for the emergency passport services, applicants must provide evidence of their emergency (such as death certificates or hospital notes) and immediate travel (such as airline tickets or itinerary).
For urgent travel passport services, applicants must provide proof of international travel within 14 business days. Making an appointment via phone applies as well. In this situation, US citizens should use this number: 1-877-487-2778, Monday through Friday, 8 am-10 pm.
Looking for more tips for your passport application? Look no further:
Emergency passport renewal in Chicago
US emergency passports—or limited-validity passports—are not replacements for full-validity passports. After issuance, the emergency passport is valid for 12 (twelve) months. However, passport holders must apply for full-validity passports immediately after returning from their urgent travel.
The proceedings and required documents depend on when the emergency passport was issued.
Less than 2 (two) years ago:
Applicants must mail their form (DS-5504) to the National Passport Center. The paper should be completed online and printed one-sided.
Applications for children under 16 can be signed by their parents/legal guardians.
The form should accompany a limited-validity passport and one passport photo per application.
More than 2 (two) years ago:
Applicants must submit their forms (DS-11) at an acceptance facility or a passport agency.
The forms should be submitted along with the limited passports, identification documents (valid ID cards), and passport photos for each applicant.
Application for children under 16 must also be accompanied by parental relationship documents (e.g., a US birth certificate).
Photos for your emergency passport
Regardless of the expedited passport service type, US citizens must provide one passport photo for each application. To save your time, which is valuable in these circumstances, we propose a unique solution: the Passport Photo Online photo transformation tool.
Using the app is simple, convenient, and—most importantly—fast! First, you need to download the app on your mobile phone (available both on Android and iOS). Then, you can choose: either upload an already existing photo that you like or take a new one with your camera.
No special surroundings required—thanks to its developed AI system, Passport Photo Online prepares your passport photo according to the official regulations.
Thanks to the Passport Photo Online application, US citizens can focus fully on their emergency passport forms and documents. You will be able to take your and your family members' passport photos in a flash, at the comfort of your home.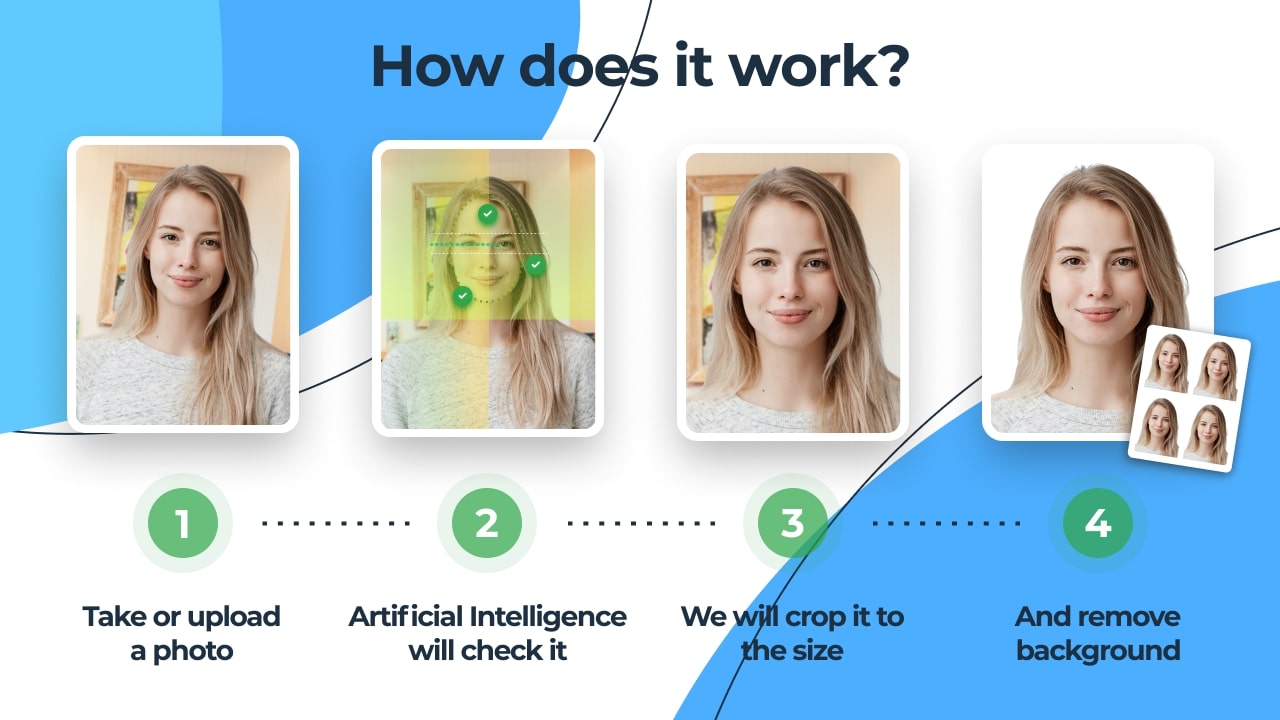 Emergency US passport in Chicago: FAQ
In this section, you will find the most frequently asked questions concerning emergency passport services in Chicago, Illinois.
Where to get an emergency passport in Chicago?
US citizens residing in Chicago can get an emergency passport at the Chicago Passport Agency. It is located in the Kluczynski Federal Building, physical address: 101 Ida B. Wells Drive, 9th Floor, Chicago, IL 60605-1074.
How to get an emergency passport in Chicago?
Applicants who want to obtain an emergency passport must arrange an appointment via a toll-free number – 1-877-487-2778, available Mon-Fri 8 am-10 pm.
It is necessary to provide proof of emergency and immediate travel (within 3 [three] business days), which qualifies for getting an emergency passport.
After scheduling the meeting, a respective passport office in Chicago is the Chicago Passport Agency (downtown Chicago, Kluczynski Federal Building).
Applicants coming for the appointment must bring their identification documents (e.g., an ID card), supporting documents (e.g., a death certificate or airline ticket) and a completed passport form.
Where can you find emergency passport services in Chicago?
Travelers can find emergency passport services in official, governmental institutions—like the Chicago Passport Agency, one of the regional passport offices—or private passport companies.
Can you get a passport in Chicago in one day?
Yes, receiving a passport in 24 (twenty-four) hours in Chicago is possible. US citizens need to apply for an emergency passport and provide proper documentation. However, same-day services are not guaranteed.
Emergency passport in Chicago—closing thoughts
To obtain an emergency US passport, applicants must visit a passport office. Chicago residents can make an appointment with the Chicago Passport Agency and use the offered expedited services. Emergency passport applications require documentation proving that the applicant's circumstances entitle them to receive a passport faster.
Every expedited passport application requires one passport photo. To make sure that the passport office will accept your application swiftly, choose Passport Photo Online—we guarantee that your passport photos will meet all the requirements and the process will take you no more than a few seconds.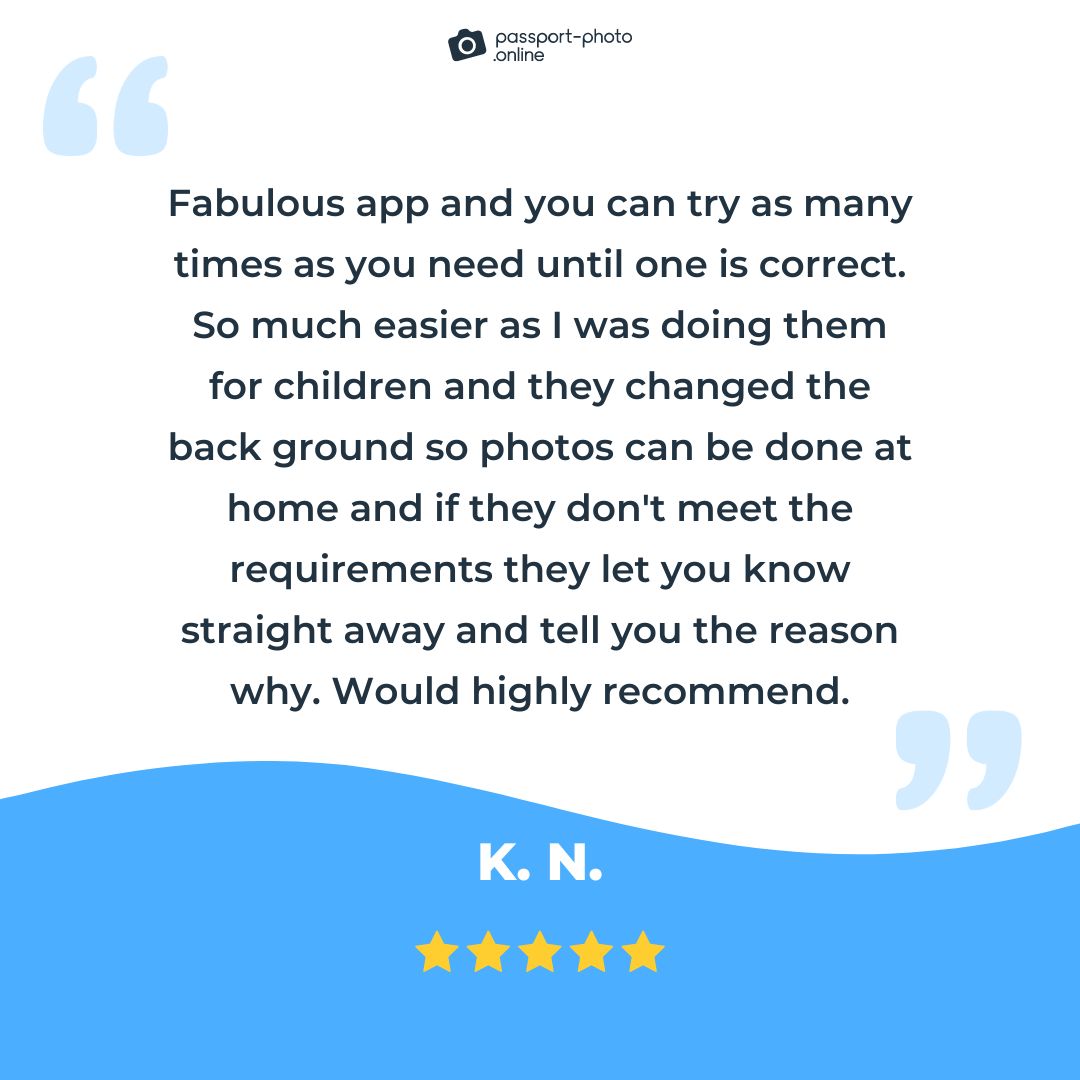 Sources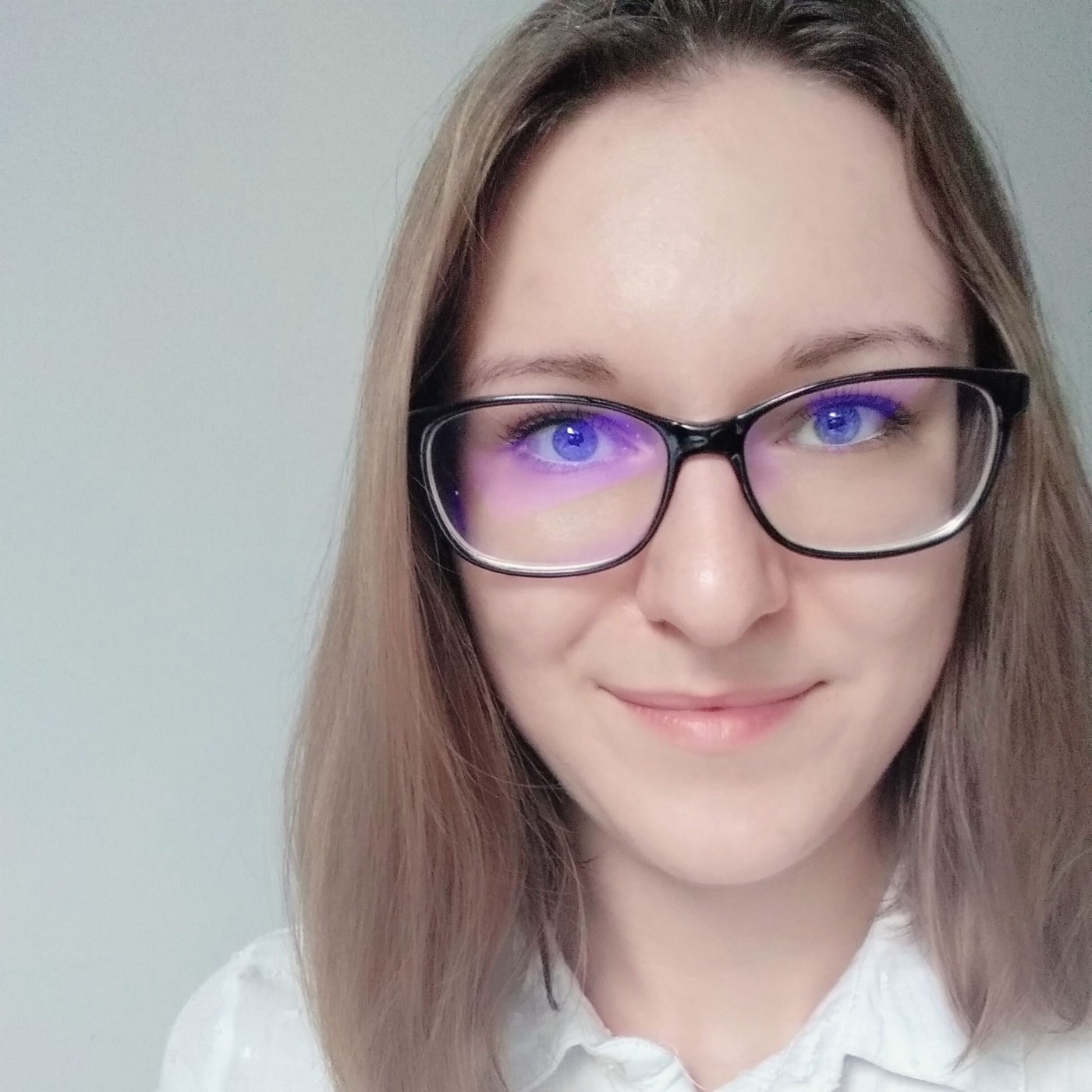 Roxana Grabowska combines her passion for language and biometric photography to craft reader-friendly content. Her work provides a clear guide to creating suitable photos for identity documents, making the process more accessible. Roxana's background in linguistics and love for travel have made her appreciate the importance of high-quality biometric photos in ensuring smooth travel experiences.