It's not possible to travel abroad and visit foreign countries without a valid passport, so if your biggest dream is to become a fearless traveller, you must have one! The big question you should also clarify before you start any trip is which country you can visit with just your passport and which country requires you to have a visa as well.
The Italian passport actually allows you to visit around 190 different countries without holding a visa, so just take a look at the list to choose your next trip!
Like this article and want to know more? Check these out:
Italy Passport Index Ranking in 2021
When planning a trip or choosing your next travel destination, there are some recurring questions, regarding which documents are needed, the price of accommodation and transport and, most importantly, which is the best destination.
Some people find making lists and ranking useful to clear their mind about any subject and this also works for travellers. Passport Index Ranking, for example, lists the countries according to their power, meaning the number of visa-free countries they can visit holding the passport. It's a very useful instrument to understand which documents you need to visit a specific country.
Henley Italy Passport Index
The Henley Passport Index ranks all the world's passports according to the number of destinations their holders can visit without a visa and it's based on data from the International Air Transport Association (IATA).
According to the Henley Index, in 2021 Italy holds the 4th position in terms of travel freedom, meaning that Italians can travel to 190 free-visa destinations.
Arton Capital Italy Passport Index
Another interesting ranking that analyzes the global accessibility for different citizens is Arton Capital's Index. The countries are ranked based on their mobility: the higher the mobility score a country gets, the better its power rank. Italy has a mobility score of 134 and it's in the third position in the Passport Power Rank.
Visa-Free Countries for Italians
As mentioned in the beginning, if you have an Italian passport you can travel up to 190 countries without having a visa. However, It is known that within the Schengen Area and in Europe Italians can move freely with just an ID card. European citizens can move without any restriction between: Austria, Belgium, Bulgaria, Croatia, Cyprus, Czech Republic, Denmark, Germany, Greece, Estonia, Finland, France, Hungary, Iceland, Ireland, Latvia, Liechtenstein, Lithuania, Luxemburg, Malta, Netherlands, Norway, Poland, Portugal, Romania, Spain, Sweden, Slovenia, Slovakia, and Switzerland.
To this list, we also have to add Vatican City, Monaco, and San Marino, which are not Schengen or EU members, but allow free movement to Europeans. For this reason, we are not listing these 33 countries below because we want to focus on the non-EU or Schengen destinations.
Here you can find the full list of 157 countries, which you can visit without a visa:
Albania – 90 days
American Samoa – 30 days
Andorra
Anguilla
Antigua and Barbuda – up to 3 months
Argentina – 3 months
Armenia – 180 days
Aruba
Australia
Bahamas – up to 8 months
Bahrain
Bangladesh
Barbados – 90 days
Belarus – 30 days
Belize – 1 month
Bermuda
Bolivia – 90 days
Bonaire; St. Eustatius and Saba
Bosnia and Herzegovina – 90 days
Botswana – 90 days
Brazil – 90 days
British Virgin Islands
Brunei – 90 days
Burkina Faso
Cape Verde Islands – 30 days, but you have to register on the EASE website at least five days before departure
Cayman Islands
Cambodia
Canada – 6 months and eTA is required if arriving by air
Chile – 90 days
Colombia – 90 days extendable up to 180 days
Comoro Islands
Cook Islands
Costa Rica – 90 days
Curacao
Dominica – 90 days
Dominican Republic – 90 days
Ecuador – 90 days
Egypt
El Salvador – 90 days
Eswatini – up to 30 days
Ethiopia
Falkland Islands
Faroe Islands
Fiji – 4 months
French Guiana
French Polynesia
French West Indies
Gabon
Georgia – 1 year
Gibraltar
Greenland
Grenada – 90 days
Guam
Guatemala – 90 days
Guinea-Bissau
Guyana – 90 days
Haiti – 90 days
Honduras – 90 days
Hong Kong – 90 days (SAR China)
Indonesia – 30 days
Iran
Iraq
Israel – 3 months
Jamaica – 90 days
Japan – 90 days
Jordan
Kazakhstan – 30 days
Kenya
Kiribati – 120 days
Kosovo – 90 days
Kyrgyzstan – 60 days
Kuwait
Laos
Lebanon
Lesotho – 14 days
Macao (SAR China)
Madagascar
Malaysia – 3 months
Malawi
Maldives
Myanmar
Marshall Islands – 90 days
Mauritania
Mauritius – 90 days
Mayotte
Mexico – 180 days
Micronesia – 90 days
Moldova – 90 days
Montenegro – 90 days
Montserrat
Morocco – 90 days
Mozambique
Namibia – 90 days
Nepal
New Caledonia
New Zealand – 90 days
Nicaragua – 90 days
Niue
North Macedonia – 90 days
Northern Mariana Islands
Oman – 10 days
Pakistan
Palau Islands – 90 days
Palestinian Territory
Panama – 180 days
Papua New Guinea
Paraguay – 90 days
Peru – 90 days
Philippines – 30 days
Puerto Rico
Qatar – 90 days
Reunion
Rwanda
Samoa – 90 days
Sao Tome and Principe – 15 days
Saudi Arabia
Senegal – 90 days
Serbia – 90 days
Seychelles – 30 days upon tourist registration
Sierra Leone
Singapore – 90 days
Solomon Islands – 90 days
Somalia
South Africa – 90 days
South Korea – 90 days
Sri Lanka
St. Helena
St. Kitts and Nevis – 90 days
St. Lucia – 90 days
St. Maarten
St. Vincent and the Grenadines – 90 days
Taiwan – 90 days
Tanzania
Tajikistan
Thailand – 30 days
The Gambia – 90 days
Timor-Leste – 90 days
Togo
Tonga – 90 days
Trinidad and Tobago – 90 days
Tunisia – 90 days
Turkey – 90 days
Turks and Caicos Islands
Tuvalu – 90 days
Uganda
Ukraine – 90 days
United Arab Emirates – 30 days
United Kingdom – 6 months
The United States of America (up to 90 days)
Uruguay – 90 days
US Virgin Islands
Uzbekistan – 30 days
Vanuatu – 90 days
Venezuela – 90 days
Vietnam – 15 days
Zambia
Zimbabwe
Countries that allow a Visa on arrival for Italians
In some countries, they might require you to get a visa on arrival, and usually, you can apply for it directly at the airport when you land, at the seaport or land border. You will simply have to fill in an official application form and pay the fee. They might ask you some specific questions: what is the purpose of your trip or the duration and they might even ask you to show or present a hotel reservation or your flight ticket, as proof that you depart the country once your visa expires. Remember that your passport has to be valid for at least another six months.
The countries that allow visa on arrival are:
Bahrain – up to 14 days
Bangladesh – up to 90 days
Benin – 8 days
Burkina Faso – 1 month
Cambodia – 30 days
Comoros Islands – 45 days
Cuba
Egypt – 30 days
Ethiopia – 90 days, obtainable only at Addis Ababa Bole International Airport
Gabon – 90 days
Guam
Guinea-Bissau – 90 days
Iran – 30 days
Jordan – 90 days
Kenya – 90 days
Laos – 30 days, available at international airports Luangphabang, Pakse, Savannakhet and Vientiane
Lebanon – 1 month
Madagascar – 90 days
Malawi – 90 days
Maldives – 30 days (free visa on arrival)
Mauritania – 90 days, available at Nouakchott–Oumtounsy International Airport.
Mozambique – 90 days
Myanmar – 28 days (free visa on arrival)
Nepal – 90 days
Northern Mariana Islands
Papua New Guinea – 60 days
Puerto Rico
Rwanda – 30 days
Saudi Arabia – 90 days
Sierra Leone
Somalia
Sri Lanka – 30 days
St. Helena
Tanzania – 3 months
Togo
Uganda
US Virgin Islands
Zambia – 90 days
Zimbabwe – 3 months
36 countries in which a Visa is needed for Italians
If you are an Italian citizen and want to visit the following countries, you need to have a visa, otherwise, you cannot enter and visit the country.
Afghanistan
Algeria
Angola – to get a visa on arrival you have to be granted an online pre-visa.
Azerbaijan
Benin
Bhutan
Burundi
Cameroon
Central African Republic
Chad
China
Congo (Rep.)
Congo (Dem. Rep.)
Côte d'Ivoire
Cuba (visa is known as Tourist card)
Djibouti
Equatorial Guinea
Eritrea
Ghana
Guinea
India
Liberia
Libya
Mali
Mongolia
Nauru
Niger
Nigeria
North Korea
Russian Federation
South Sudan
Sudan
Suriname (a E-tourist card is required)
Syria
Turkmenistan
Yemen
Countries which offer a eVisa for Italians
In some countries, it is possible to speed up the entire process by obtaining an electronic visa, known as eVisa, that you can apply for online. It's a great option because it allows you to get the documents you need before your trip and you can do it without leaving home.
Azerbaijan – up to 30 days
Bahrain – up to 14 days
Benin – up to 30 days
Cambodia – 30 days
Côte d'Ivoire – 3 months, but eVisa holder must arrive via Port Bouet Airport
Djibouti – 31 days
Egypt – 30 days
Ethiopia – 90 days, but eVisa holder must arrive via Addis Ababa Bole International Airport
Gabon – 90 days, but eVisa holder must arrive via Libreville International Airport
Guinea – 90 days
Guinea-Bissau – 90 days
India – 60 days
Kenya – 3 months
Kuwait – 3 months
Laos – 60 days
Madagascar – 90 days
Malawi – 90 days
Myanmar – 28 days
Papua New Guinea – 60 days
Rwanda – 30 days
Saudi Arabia – 90 days
South Sudan
Sri Lanka – 30 days
Tajikistan – 45 days
Tanzania – 3 months
Uganda
Zambia – 90 days
Zimbabwe – 3 months
Countries that require Italians to have an eTA
Even if some countries allow you to enter the country without a visa, they might still ask to provide an eTA, an Electronic Travel Authorization, that you can apply for online through the official websites before your trip. Compared to the visa, the electronic travel authorizations are a much faster and easier option, because all you need to have to apply is a valid passport.
The eTA is required in these countries:
Australia
Canada
Guam (ESTA)
New Zealand (NZeTA)
Puerto Rico (ESTA)
Sri Lanka
United States of America (in the US the travel authorization is called ESTA – Electronic System for Travel Authorization)
US Virgin Islands (ESTA)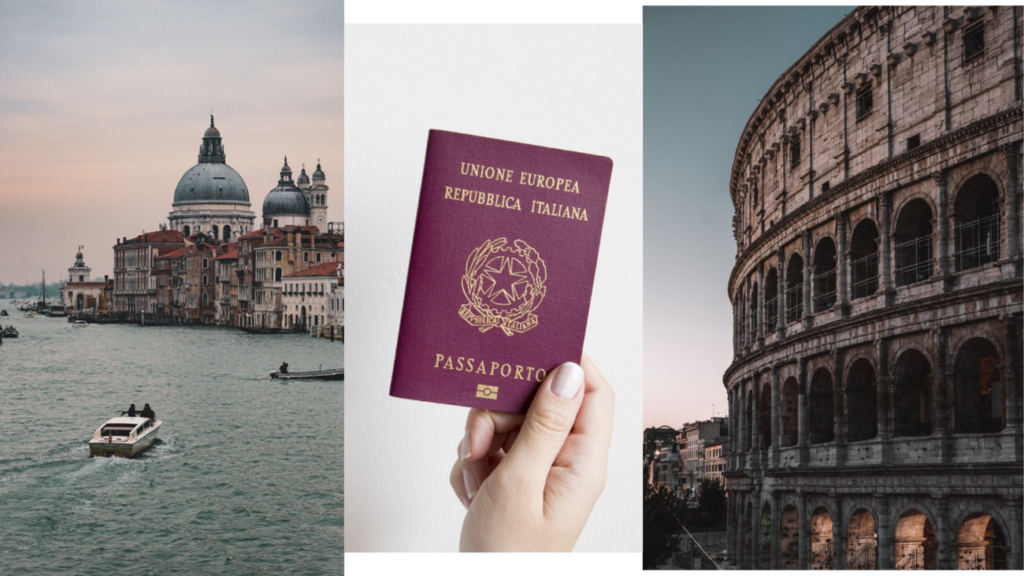 How to apply for a Visa as a Italian citizen
Applying for a visa can be a complicated process because every country's bureaucracy works in a different way and even looking for information on how to apply for a visa can lead to confusion. The best thing to do is to visit the official website of the embassy of the country you plan to visit: you should find the most updated information there.
Depending on the country you apply for, the application can be made online, by mail, or in person at the embassy or consulate of the destination country. In Italy you can also go to specialized visa or travel agencies that can handle the paperwork for you, for an additional fee of course.
To apply for a visa you need:
the filled application form (that you can usually find on the website of the embassy)
your passport
photos in passport size
health insurance
an invitation letter proving that you have a reason to visit that country
You need to book an appointment and bring these documents to the nearest embassy or consulate, paying for a consulate fee. If you can't personally go to the embassy you can still send everything by regular mail. Be aware of the deadlines: getting a visa for some countries takes many weeks, and filling out the online form is incredibly long and detailed, so be sure to start the application process in time to receive the documents you need for your trip.
How to apply for a Italian visa as foreign citizen
If you are a non-EU/EEA traveller and you wish to visit Italy you will for sure need a visa.
Since Italy is a member of the Schengen Area, you need to apply for a Schengen visa, that allows you to travel to any member of the Schengen Area, per stays up to 90 days for tourism or business purposes.
The other member states are: Germany, Austria, Belgium, Czech Republic, Denmark, Estonia, Finland, France, Greece, Hungary, Iceland, Latvia, Liechtenstein, Lithuania, Luxembourg, Malta, the Netherlands, Norway, Poland, Portugal, Slovakia, Slovenia, Spain, Sweden and Switzerland.
When applying for an Italian Schengen visa you need:
Italian visa application form, that has to be filled in, printed and signed
Two identical biometric photos
Valid passport (with a validity of at least three more months beyond the date you plan to leave Italy and the whole territory of Schengen)
Schengen travel visa insurance
proof of accommodation
proof of travel (document that shows you have a reserved flight, to enter and leave the country)
If you need help with the process of your visa application, we suggest using the Passport Photo Online site, where you can get perfect photos for your Italian visa application in just a few seconds.
What you have to do is take a photo with your phone and then upload it in our dedicated Italian visa photo tool. Passport Photo Online will make sure your photograph meets the official requirements (size, color, the position of the head, etc) and at the end you will receive your ready photo via email.
RELATED READING: