It's so tiring that every time we want to travel we have to worry about all the paperwork and requirements regarding documents. Whether you're applying for a visa, Green Card, work permit, or passport, you need an ID photo. And not just any ID photo – you have to make sure that it meets all legal requirements.
There are many websites and apps that allow their users to create passport photos themselves and upload them online, and then have pictures shipped to them. However, which of tools are the best, most convenient, easiest to use, or the cheapest? This depends solely on your expectations. We cannot say that this tool is the best but we vow that MyPassportPhotos is a great help regarding such issues.
Some general information
Mypassportphotos is an American website/application for Android and iOS that takes and delivers ID photos for documents such as passport, visa, work permit, Green Card, or general-purpose ones.
At first glance, the interface looks pretty professional and seems to be attractively designed, though the grey theme might be boring for some people. Right on the first page, we are bombarded with all the information regarding the website, so it is not designed with a menu bar, which might have made it easier for users.
The first thing we'll probably notice is the background photo of a girl holding a USA passport and some bragging words about their passport photo services. Scrolling down the page we come across sections such as How it works, Why choose us, Why download our smartphone app etc. A very cute aspect of the second section is the animated video which offers some more details about the website and helps the users take the best passport photo online.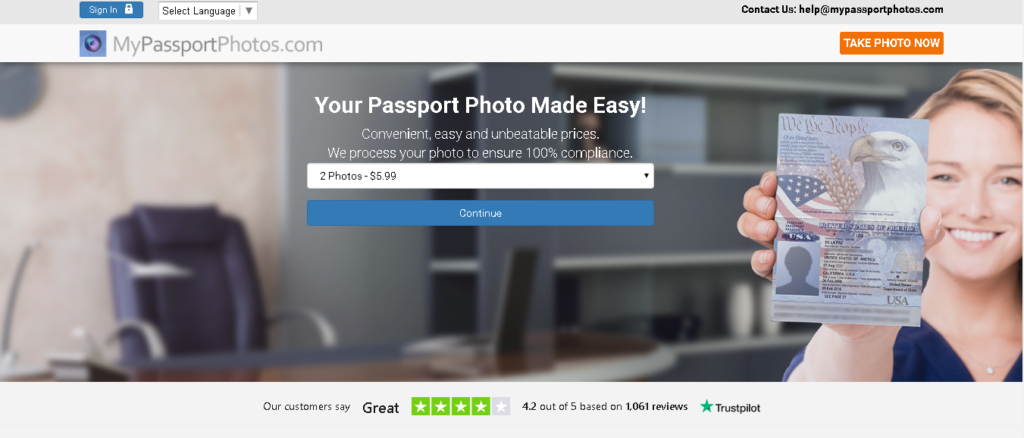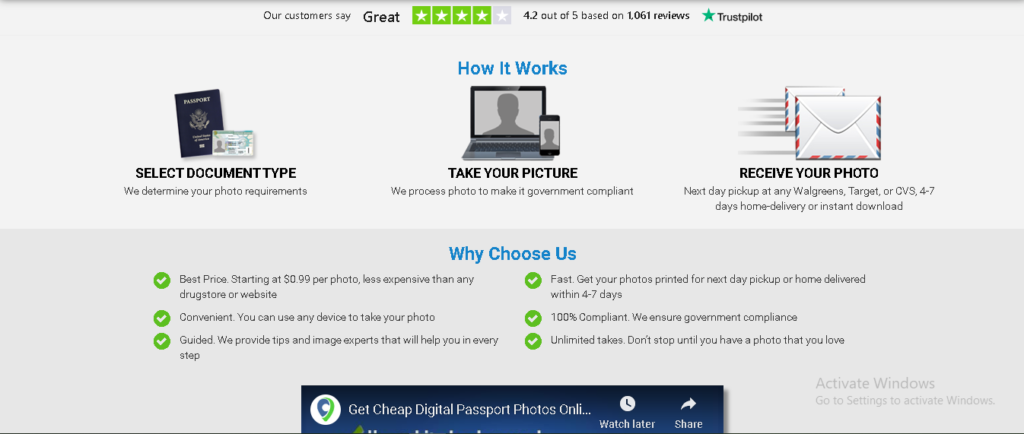 Moving on to the app, it doesn't seem to be found on Android, but works if you own an iPhone 9.0 or later. Aesthetically speaking, we could say that the app interface looks a bit more appealing (with a blue theme) and the advantage is that you can take a photo with your phone and upload it right away.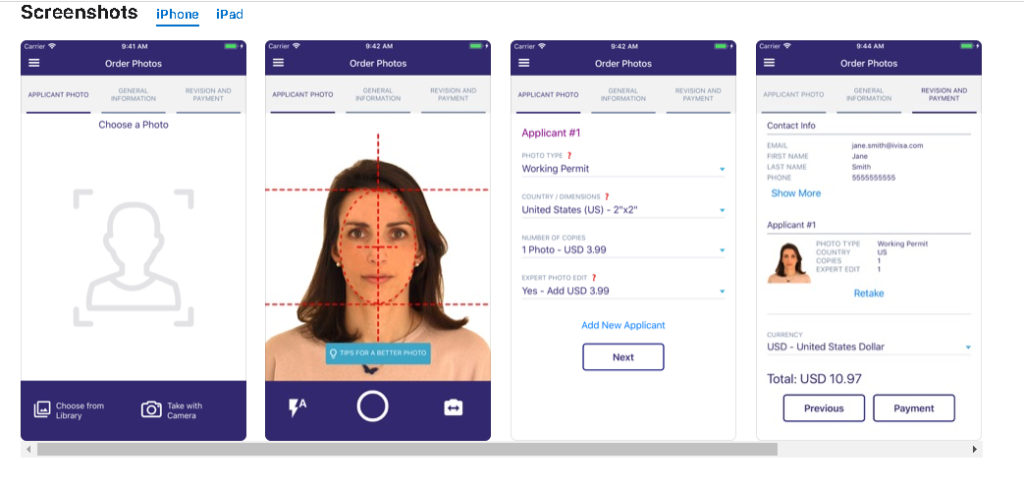 Features
It ships the required passport photos all over the world and they usually arrive pretty fast, within a maximum of 14 days (for international shipping), or in 5-7 working days, or you can pick them up yourself from a drugstore of your choice (if you live in the States), or receive them online.
Like any other similar U.S. passport photo service, you can upload an ID photo of yourself from your computer/phone/tablet gallery, after you select the country that you need it for, and the number of copies (you can choose up to 12 copies).
The prices start at $0.99 for 1 (one) ID photo, to $11.99 for 12 (twelve) photos.
Like the other passport photo services, you will be told if the ID photo meets the government compliance of the country that you chose.
Also, you can request a professional to take a look at your passport photos and adjust them accordingly.
One other feature is the option for the user to choose the language in which they want the website/app to be displayed, which is a great advantage taking into consideration that the platform has customers from all over the world, so some of them might not speak English.
The passport photos are printed on 6″x4″ sheets of glossy paper.
As I stated before, you will find a short video and a number of steps that will help you take your photo
According to the site, the reviews on Trustpilot are excellent (4.3 out of 5 based on 1,063 reviews)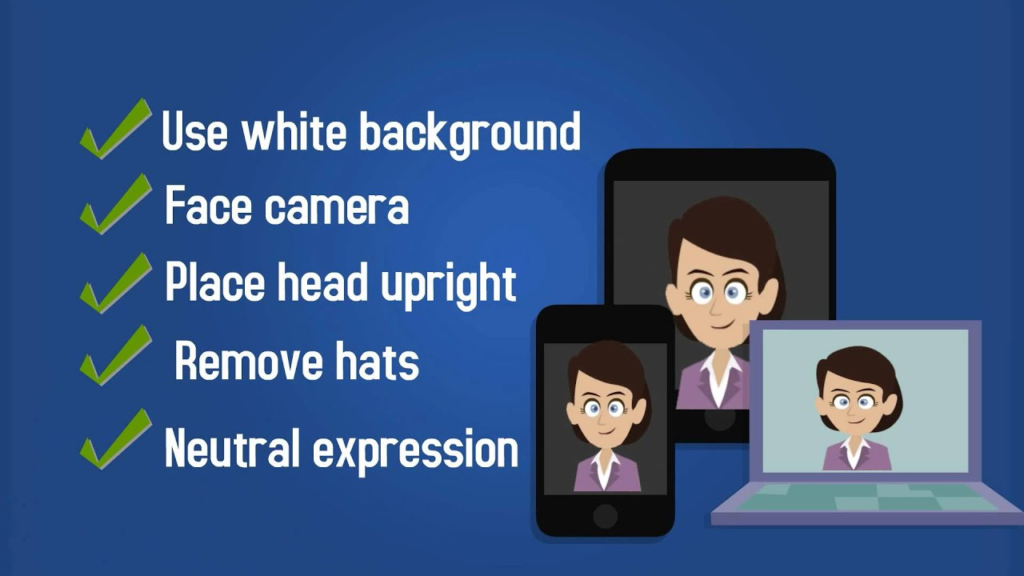 Looking for more tips to get that perfect passport photo? Try reading our other articles:
To sum up
There are many reasons why you should try Mypassportphotos, as well as some disadvantages, but here is an exact list of what I like/don't like about the platform:
| | |
| --- | --- |
| What I like | What I don't like |
| You can choose any ID photo of yourself from your phone/computer/tablet | The site uses Google AdWords Remarketing to advertise the company across the Internet |
| It's fast and cheap | The app for Android doesn't work, only the iOS version |
| They deliver to locations all over the world | They have no refund policy. So, if you are unhappy with their passport photo services you can retake the passport photo for free if it is not passport compliant |
| Mypassportphotos provides helpful instructions and guidance | Not the biggest fan of the interface, I would have preferred a menu bar at the top |
| The ID photos follow the exact legal regulations | |
What I recommend to you
Taking all the odds into consideration, I think you should give Mypassportphotos a try. Take your time, see how it works and read some reviews if you'd like. But all in all, Mypassportphotos is quite an expensive site so you may consider other alternatives.
One of such is Passport Photo Online, which includes tons of features you can benefit from. Moreover, the price is way cheaper, they have an android app version available, and its refund policy states that in case your photo is not accepted, they will refund you 100% of the paid amount. You will not regret it! Give us a try 🙂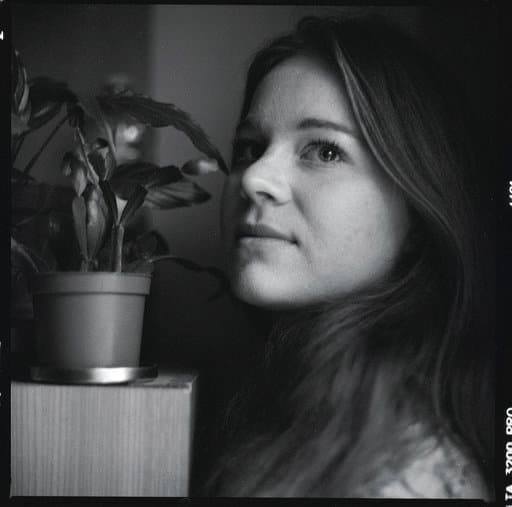 Karolina Turowska, a biometric photography expert and travel enthusiast at Passport-Photo.Online. When it comes to writing, she loves bringing dry facts to life. When it comes to traveling, she just loves bikes.