When we're growing up, there's nothing like the excitement of the family holiday. So much so that we want to involve our children in this, even when they're newborns.
In fact, as of 2021, 62% of parents take children under 5 (five) on holiday with them. Going on holiday with a young infant presents several unique challenges, however, one rises above the rest. All these babies are going to need passports, and their parents will need to apply on their behalf. Luckily, if you want to learn how to apply for a British passport for a newborn baby, Passport Photo Online has all there is to know right here in this article. If you want to get your baby a new passport quickly and easily, you've come to the right place.
We will guide you through:
Apply for newborn passport: the complete guide
To illustrate the process of applying for a British passport for an infant, we've compiled the whole process into this simple, easy-to-follow guide. Just stick with us, and, when you've finished reading this article, you'll have everything you need to know about newborn passport application.
Step #1: collect the supporting documents
First thing's first, get all the required materials for a newborn baby passport application in order. These will help to prove the baby's identity, their claim to British nationality, and that the applicant has parental responsibility for them. Here's what the applicants will need:
A birth certificate, or adoption certificate (the version that shows the parents' details, the short version offered by the registrar will not be accepted).
Evidence of at least one of the newborn baby's parents or guardians' claim to British nationality (this might include their passport number, birth certificates, a British registration certificate, or a certificate of naturalisation).
Any relevant court orders.
Any documents that describe parental responsibility or evidence of an agreement or residency arrangements.
Any valid passports issued by a different country that the newborn already holds.
If the name that's going to be on the passport does not match the birth certificate, some extra documents will need to be provided:
a letter, signed and dated by anyone who has parental responsibility for the newborn, which confirms the name change and that they agree to the baby receiving a new passport;
a deed poll, outlining the name change;
at least one piece of evidence that shows that the new name is in use, for example, NHS records or child benefits.
The Passport Office will only accept original documents. Photocopies will be rejected and may delay the newborn baby passport application, so it is important to remember this.
Step #2: take a passport photo
The most important thing when applying for an infant passport is the 35 x 45 mm passport photo. Different rules apply with newborn baby passports than with adult passports, which is crucial, as the applicant must get the photo right if their baby is to get their passport. Here are the key requirements:
The newborn must be alone in the picture, with no toys, dummies, or other people in the shot.
The infant does not have to be looking straight into the camera.
The baby does not need to have a plain facial expression.
If aged under 1 (one), the baby does not need to keep their eyes open.
Parents can support their newborn's head with their hands, provided they cannot be seen in the picture.
They should be laid on a plain-coloured sheet for the picture.
To learn all 18 requirements for newborn baby passport photos, and to discover our 13 top tips, click here. Once the picture's ready, just upload it to the application, or add it to the envelope, if planning to apply by post. For a flexible and time-saving way to get a baby's passport photo, read on.
Looking to get your passport application ready? Learn how to do it the right way by checking out our other articles:
Step #3: fill out an application form
The next stage is to complete a passport application form. This can be done in as little as 10 (ten) minutes.
Applicants have two options here:
Option #1 they can apply for an infant passport using the UK government's online portal (costing £49). The online form will automatically take applicants through the questions they need to answer on behalf of their newborn baby.
Option #2, they can apply for an infant passport through the post, using a paper application form (costing £58.50). This will require parents to collect a form in-person from a cooperating local post office branch. When filling out a paper form, parents should fill out Sections 1, 2, 3, 4, 5 and 9, and have the countersignatory fill in Section 10.
Once the form is complete, it will need to be signed by one parent, guardian, or another person with parental responsibility. This makes it valid and must be done in addition to the signing by the countersignatory.
For extra peace of mind, the Post Office offers their Digital or Paper Check and Send service for passport applications. The Post Office employees will check the application over in-branch, to make sure it fits the standards the Passport Office expects. It costs a bit extra (£65 for digital service and £74.50 for paper service).
Step #4: find a countersignatory
When applying for a newborn baby passport, an essential part of the process is to find a suitable countersignatory, who will confirm the baby's identity.
Unless applying by post, there is no need for the chosen countersignatory to sign a passport photo or application form directly, but they will be required to give confirmation by email. Applicants will need to get permission from their chosen countersignatory, in advance, before giving their details on the application, as they need to be happy with the Passport Office contacting them.
Step #5: choose how you want to receive your documents back
Once the infant passport application process is done, the supporting documents will need to be sent back to the applicant.
By default, they will be sent by the normal post, however, for a bit of extra security, the Passport Office also offers the option to pay an extra £5 for secure delivery. The application will have a section where applicants can select the delivery option, just pick the right shipping method when it comes up.
Step #6: submit the application
Double-check everything, to ensure everything in the newborn baby passport application is in place, and then submit the application. Within around 10 (ten) weeks (at the time of writing), the newborn baby's passport will either:
be posted through the letterbox;
be handed to a parent if they're at home;
be delivered to a safe collection point (applicants will be told where to collect it).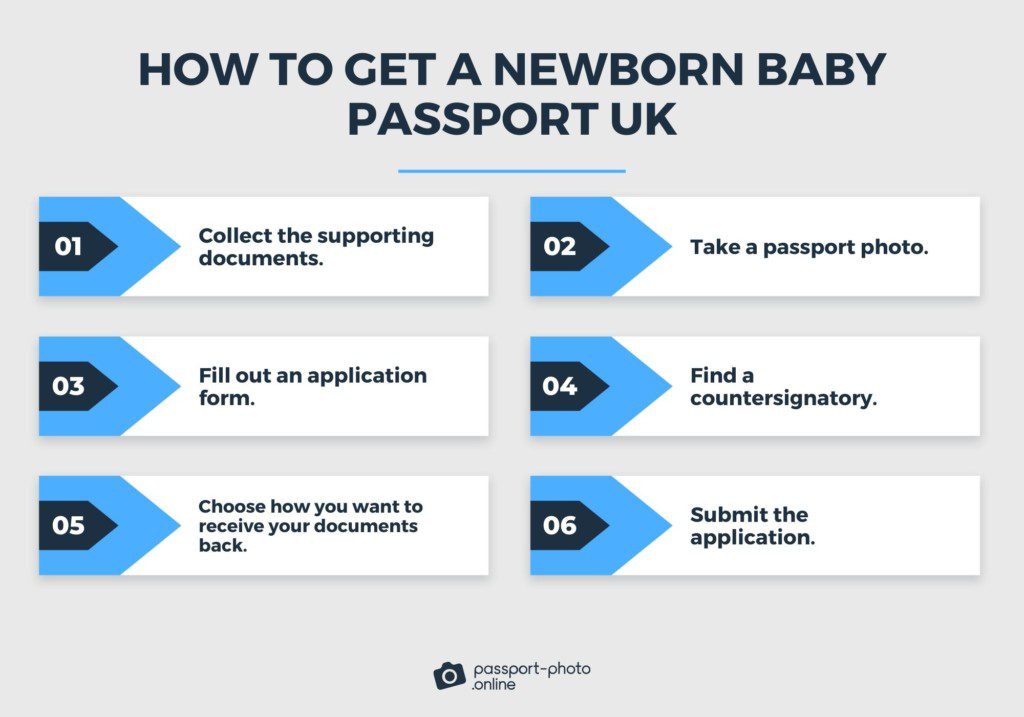 How to get a newborn passport UK photo with Passport Photo Online
Getting a newborn passport photo can be one of the most difficult aspects of getting a passport. It can be hard to get your infant into the right position and focused on the task at hand, which they may find dull or stressful.
Luckily, Passport Photo Online can help make the process a lot easier. Our advanced photo checker uses artificial intelligence to make photos regulation-compliant. We work hard to solve all the problems you face when taking passport pictures:
It can be difficult to get your newborn in front of a suitable background, particularly if you need to prop their head up. Luckily, our professional background remover tool can take out the entire background, parents' hands and all, to make sure your baby is alone in the picture.

You don't need to spend time finding a perfect setting, Passport Photo Online's got one wherever you need it.

We know the struggles of finding somewhere that sells passport photos near you. Passport Photo Online is internet-based, so as long as you have an internet connection, you can get your baby's pictures taken wherever you want. This means you can focus on finding somewhere comfortable and familiar for your infant to get their picture taken in.
Passport photos rarely look right the first time with adults, let alone newborns. We allow you to take as many tries as you like, free of charge, so your baby can be looking their best.
We're so confident in our work that, if a baby passport photo we edited gets rejected by the Passport Office, we will repay you 200% of what you paid for the photo.
Now, that's a good deal. You have a choice of getting a digital copy sent to your email inbox, or a paper copy sent to your door through the post, depending on what sort of application you'd like to use.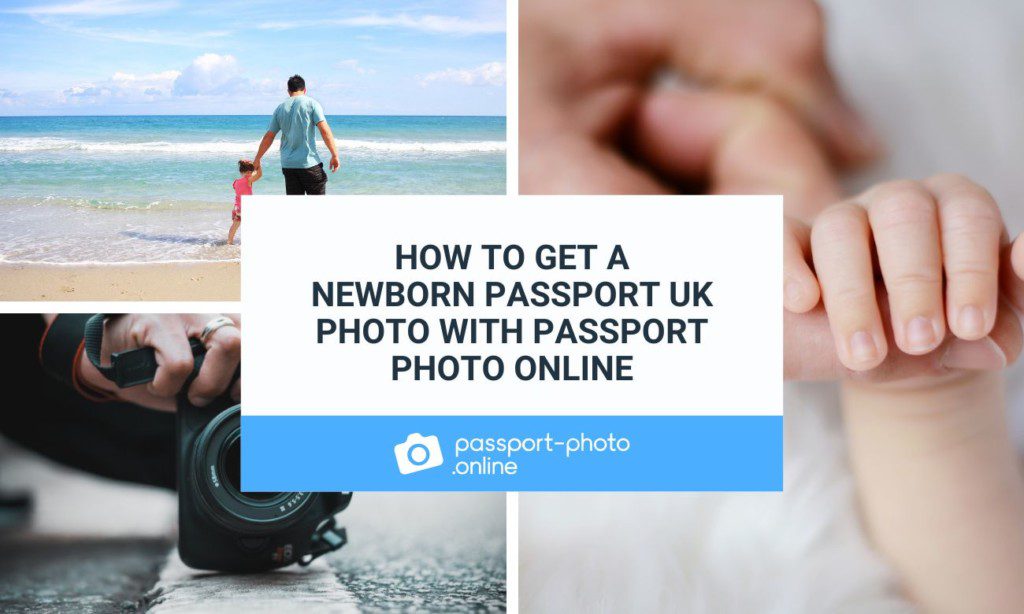 How to apply for a newborn passport: FAQ
Now that we've covered the whole process in just 6 (six) quick steps, let's answer some of the questions that parents may still have about how to apply for a British passport for their newborn baby.
Can I apply for a British passport for my newborn?
Absolutely! In fact, you must. Having a passport for infants is essential for parents who want to travel abroad, even babies!
Does a 2-month-old newborn baby require a passport to be able to travel?
Yes, it doesn't matter what age a UK citizen is, they will need a passport if they want to travel internationally.
What documents do I need for a UK passport for a newborn baby?
There are a wide variety of documents a UK parent might require for their newborn baby's passport application. We've covered these documents above, check out the list to find out what is needed.
How long will it take to get a British passport for a newborn?
In general, getting a passport for a baby takes a week longer than getting a passport for an adult.
How long does it take to get a passport for an infant born abroad?
At the time of writing, it takes 10 (ten) weeks to get any type of passport. In general, it does not take any extra time to receive a UK passport for your infant in this situation.
Easy newborn passport application: summing up
Getting an infant passport needn't be a chore, it's actually quite exciting. Just stick to the 6 (six) step process we described in detail and be thorough.
Using Passport Photo Online can really help here, as a perfect passport photo is the cornerstone of any good application, and our AI editor guarantees success. This frees you up to focus on getting the documents together and filling out the form correctly.
After that, just wait for your newborn baby's passport to be delivered, and start thinking about that magical first holiday as a family. 🏖
If you still have any questions, feel free to drop them in the comments section and our friendly team will be more than happy to answer them.
Looking to get a passport ready? Learn how to do it the right way by checking out our other articles: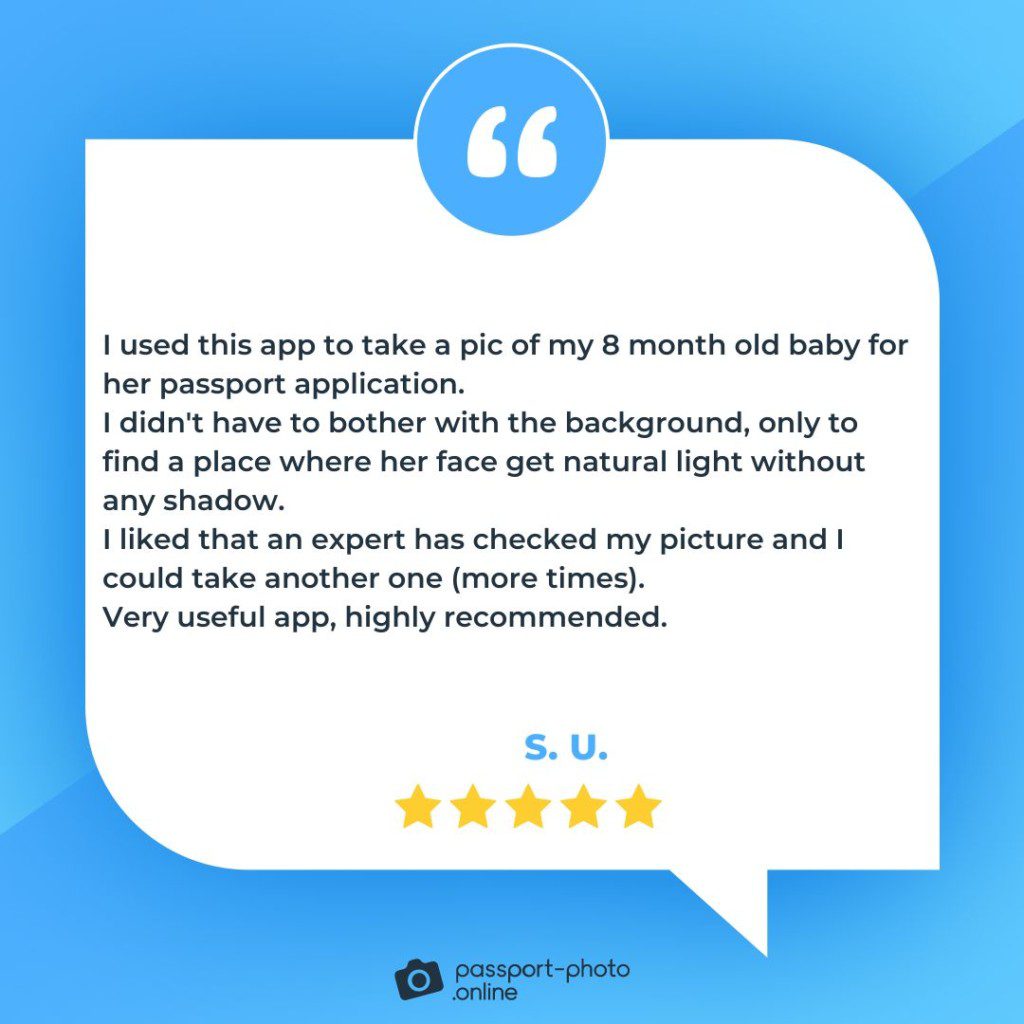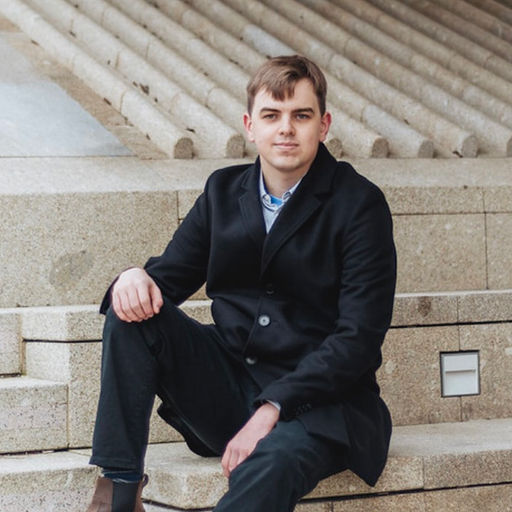 Having graduated with a History degree from the University of Birmingham, Sam has proven writing experience in biometric photography articles, marketing and events. Born in the UK, he has travelled extensively both nationally and internationally. In his spare time, he enjoys reading, cycling and skateboarding.