Edinburgh, the capital city of Scotland, showcases all the features that make this wild northern region of the United Kingdom great. Stunning land formations, beautiful old buildings and a vibrant, extroverted local culture. As citizens of the United Kingdom, all Scottish people are entitled to apply for, and hold, a UK passport, when they wish to travel abroad. It may also surprise you to learn that Edinburgh is a great place to get a UK passport photo. Read on as we break down the different places for passport photos in Edinburgh, as well as some examples for each.
We will guide you through:
Getting a passport photo in Edinburgh
Edinburgh is a large and varied city, and there are plenty of options here for taking your passport photo. You could, for example, use a photo shop, a photo booth or even a private photographer. We've compiled a list of the different types of passport photo retailers you can visit in Edinburgh, along with some notable examples, to give you the best overview of passport photo resources in "Auld Reekie", as it is known to the locals.
Photo shop
First, you have the option of going to a photo shop. There are plenty of these available across the city. The UK has a significant number of national chain photo stores, whose reach extends into Scotland and, by extension, Edinburgh. Timpsons is one example, running around 15 different branches across the city. Another example is Kodak Express, a worldwide photo printing firm who have two branches in Edinburgh, one on Ocean Drive and one on Clerk Street. Outside of these national chain stores, there are also a number of smaller photo printers in the city, for example, Cameratiks, located on Morningside Road, which provides passport photo services, leaving you with plenty of options to choose from.
Photo booth
Photo booths are quite a common sight all over the UK, and Edinburgh is no exception. Max Spielmann, the UK's leading photo printing retailer, has a long-standing partnership with both Tesco and Asda and, as a result, Max Spielmann photo booths are readily available in most of their supermarkets. It is also possible to find Photo-Me photo booths scattered across Edinburgh, with one notable example in Edinburgh Waverley Station – serving the many travellers passing through the region.
Commercial photographer or photo studio
When you come to get a new UK passport and need a passport photo, you also have the option of using a professional photographer or photo studio in order to take your new passport photos. Edinburgh has quite a few professional photo studios, with Fotkaplus, on South Charlotte Street, being the most significant example. These allow you to book a time slot, and you'll be taken through the whole process of taking your British passport photos by the staff. There are also a number of independent photographers based in Edinburgh, for example Steven Parry Donal Photography, on Dalry Road.
Looking for more tips to get that perfect passport photo? Try reading our other articles: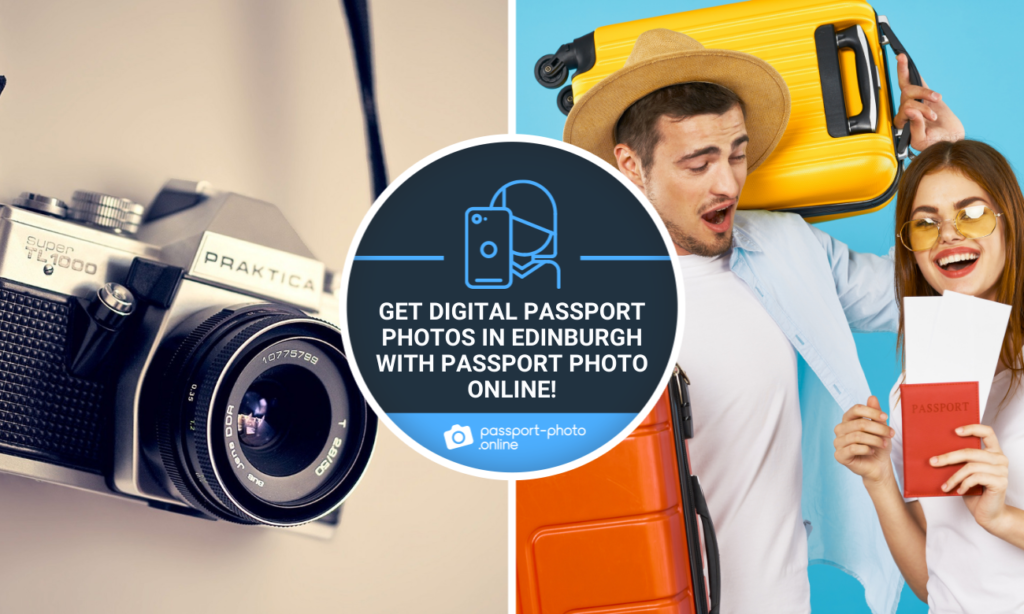 Get digital passport photos in Edinburgh with Passport Photo Online!
If you want a convenient, easy and cost-effective way to get your new passport photographs, then you should also consider using Passport Photo Online! Passport Photo Online is an online service that helps you create professional, compliant passport photos, visa photos, or any other ID photos, without even having to leave your house. All you have to do is follow our simple 3 (three)-step process:
Ask a friend or family member to take a digital photo of you with a digital camera or your phone, making sure you are following all the passport photo requirements, e.g. having a plain background, keeping your face uncovered, etc.
Once you have your picture, upload it to our website or our smartphone app (available from the App Store and Google Play Store).
From there, simply let our AI photo editor do the rest of the work for you! In a matter of seconds, you'll have the perfect biometric photo template right there on the screen! You can then receive it as a digital version or pay to have a printed copy posted directly to your door.
There you have it! In a few seconds, your passport photo is ready to go, leaving more time to spend planning your unforgettable trip! There are plenty of other advantages for using Passport Photo Online, too:
You can save yourself a lot of money. By using Passport Photo Online, you can save up to 54% on your passport photo!
You can always be certain you'll get a picture you like. Your passport photo will be around for 10 (ten) years, so you need to like it. Therefore, Passport Photo Online allows you to take as many attempts at your picture as you like, free of charge. It won't matter if you need to take 10, 100 or even 1000 pictures, you only need to pay for the final version.
The service is really flexible. Passport Photo Online is internet-based, running 24/7, so it's always here when and wherever you need it. This makes it ideal to fit around your life, no matter how busy you may be.
We guarantee acceptance. With our AI photo checker and our human inspectors checking your photo to make sure it has the correct specifications, you can be confident the passport office will accept your photo. In the unlikely event that your application is denied because of a photo we edited, we'll refund you 200% of the cost.
Summing up
As you can see, Edinburgh is a great place to get a passport photo, with plenty of retailers available for you to use. Passport Photo Online represents a particularly convenient and flexible option, allowing you to fit the process of getting your passport photo around your other commitments with ease. You can use it wherever you want, so it doesn't matter where in the city you find yourself, Edinburgh Castle, Holyrood Park, even Arthur's Seat, you will be able to use it to take a passport photograph. Once you've got your passport photos, however you choose to, all that's left to do is attach (or upload, when applying online) your passport photo to your passport application, and submit it to the Passport Office. Then, you can start planning what you're going to do on your next trip abroad!
FAQs
Where can I get passport photos in Edinburgh?
There are plenty of places where you can get your passport photos in Edinburgh. There are a large number of photo retailers, such as Timpsons and Kodak Express that offer passport photo services, in addition to the professional photographers of Edinburgh. That's not even considering the huge number of photo booths scattered across the city. In addition, you also have the option of using Passport Photo Online. Our AI software can produce perfect passport photos in mere seconds, before offering you a digital file, emailed directly to your inbox, or a printed copy sent by post.
Where can I get passport photos taken in Edinburgh?
If you want to get passport photos taken in Edinburgh, you've got plenty of options available. You could have your photo taken in a booth, or else go to a photo store, or book an appointment at a professional photography studio. However, did you know that it's possible to take a regulation-compliant passport photo all by yourself? All you need to do is visit the Passport Photo Online website, or download the app, ask someone to take a picture of yourself, making sure to follow the passport photo rules, then upload the picture to our AI software, which reworks your picture into the perfect passport photo in a matter of seconds.
Sources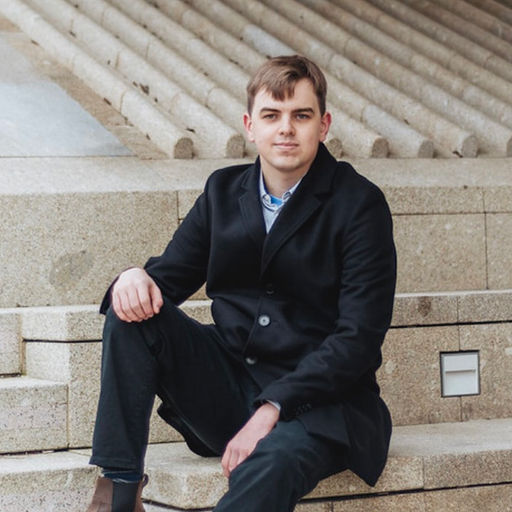 Having graduated with a History degree from the University of Birmingham, Sam has proven writing experience in biometric photography articles, marketing and events. Born in the UK, he has travelled extensively both nationally and internationally. In his spare time, he enjoys reading, cycling and skateboarding.