Ah, the great British holiday! There are few moments in the year that the British people enjoy more than the chance to get on a plane and leave the stresses and strains of day to day life behind. The COVID-19 pandemic has made international leisure travel more difficult, but this has not been the only limiting factor to our ability to go abroad in the history of travel. Before the 20th Century, travel was restricted to the very rich and, even when travel was more readily available to the masses, most opted for a "staycation" at home, with foreign travel only becoming commonplace in the latter part of the century. Global upheaval in the 21st Century has also impacted British travel habits, with both the 9/11 terror attacks and the 2008 financial crisis having measurable impacts on the way that British people travelled. By looking at the trends in travel and tourism in the past, we can make educated predictions about how people's travel habits will change as the pandemic begins to wind down.
In this article:
A brief history of travel and tourism before the 20th Century
Before the 20th Century, the sheer cost of leisure travel meant that it was nigh unreachable for the vast majority of people. Only the wealthy upper classes could achieve this, and therefore services for holidays were often created with them in mind, particularly with seaside resorts, whose high class amenities like spas and golf courses were prohibitively expensive. Many were inspired to take "Grand Tour" holidays, in which the wealthy aristocracy would travel across Europe, experiencing new cultures and meeting important people. Therefore, those who did go on a Grand Tour in this period could often be found in the art galleries and museums of Italy, or else lounging on the French Riviera with the burgeoning European jet set. When the 6th Earl of Salisbury went on his own Grand Tour in the 18th Century, it cost him £3,300, which, in today's money, equates to around £478,200.[1] Often, the most that the working classes could hope for was a day trip to the seaside once a year, usually by train. This shows that, even without the opportunity for an extended journey in the vein of the Grand Tour, British people still took every opportunity to travel for their leisure, even if it was just for the day. However, at the end of the First World War, everything began to change…
The history of travel and tourism at home in the interwar years
In the period following the First World War, the vast majority of leisure travel remained within the UK, although the growth in ownership of motor cars meant that there was more variety in the options available to people. Rural areas far from the coast became popular, particularly Scotland, the Lake District and North Wales. As the population became better educated in general, it also became common for people to visit sites of specific historical and cultural interest, such as Hampton Court Palace in London and Shakespeare's Birthplace in Stratford Upon Avon. The biggest reason for this growth was the Holidays with Pay Act 1938 which entitled UK workers to paid holidays.
Over the following 20 years, the number of people who had access to paid holidays gradually increased as these provisions were rolled out. They increased from 3 million in 1936 to around 16 million in the mid 50s.[2]
For the first time in the history of travel, there was scope for the British people to go on holiday en masse, and they seized the opportunity with both hands.
Seaside holidays remained popular, of course, and a wide range of boarding houses and holiday camps were created/built to accommodate the rise in tourism across the country. In fact, Weston-Super-Mare's August Bank Holiday visitor numbers rose from 38,000 before the First World War to 78,000 in 1937, reflecting a desire to have some fun after the national trauma experienced during WWI.[3] Boarding houses provided a cheaper alternative to the expensive seaside resorts, offering comfortable accommodation, that aimed to provide a level of comfort that people would normally expect from their own homes. The 1920s saw hundreds of boarding houses spring up in seaside towns across the country. However, the service tended to be unfriendly and impersonal, and the rules were strict – there were rigid curfews, and visitors were not allowed their own keys. This opened the door for a new wave of holiday camps, with Butlins being the most famous, opening their first camp in Skegness in 1936.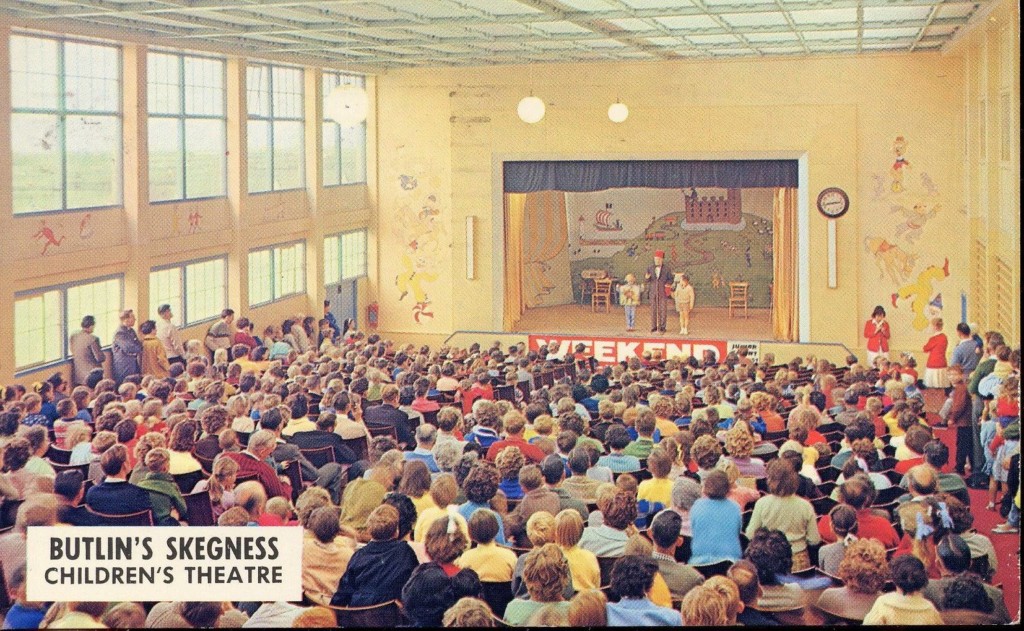 These family friendly facilities offered chalet accommodation, activities, meals and live entertainment for a reasonable price, with founder Billy Butlin's commitment to enjoyment and relaxation for a reasonable price proving tantalising to many. Butlins grew for 30 years, becoming a hugely popular tourist destination.
It would be wrong to say that tourism among UK citizens in the interwar period was purely domestic, however. Indeed, the first international air travel service launched in 1919, taking one passenger from Hounslow, in London, to Le Bourget, near Paris, just one year after the First World War ended. This opened the floodgates for a horde of copycat companies who offered fast international travel, usually capitalising on a surplus of wartime aircraft to fill out their fleets. Unfortunately, many of the companies would be doomed to failure, owing to the British Government's inability to offer the subsidies for commercial air travel that could be found in continental Europe.
It wasn't until 1924 that the first large airline would be formed, as four of the existing airlines merged to form Imperial Airways, and government subsidies would be offered. By 1932, with Imperial Airlines, you could fly to Australia, using the then British colonies as layovers, so you and the crew could rest and refuel. However, the demand for such services remained low, even with new luxurious flying boats with comfortable seats making unprecedented flights across the Atlantic.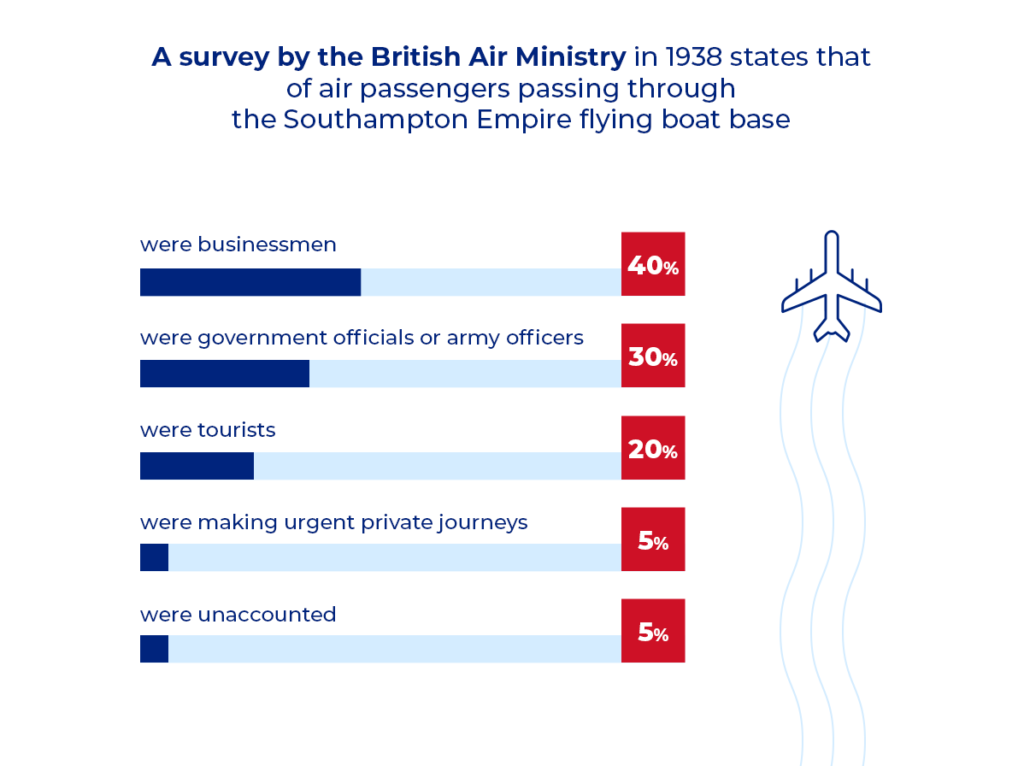 In 1938, the British Air Ministry carried out a survey on passengers that travelled via the Southampton Empire flying boat base, part of which involved collecting data on the purpose of each traveller's journey. Their findings stated that only 20% of their aeroplane passengers could be considered tourists, with the rest being people travelling for work or on government business.[4] It wasn't until the latter half of the 20th Century that mass tourism by air really started to become prevalent, which marked arguably the biggest change in British travel habits of the century, that would continue even in the face of the economic and political upheaval of the latter half of the 20th Century.
Related posts:
The post war international travel boom
After the Second World War, the increasing affluence of the post war boom meant that the rise in car ownership accelerated, driving a steady increase in the number of people driving to seaside resorts across the country. Between 1950 and 1970, the percentage of households with a car increased from around 15% to 50%.[5] That's a huge change and reflects the scale of the shift in travel habits over the course of the 20th Century and a desire for more, after the frugal period of WWII. Train travel became much less popular as a means of reaching your holiday destination, particularly after the Beeching Axe, beginning in 1963, when Dr Richard Beeching, then Head of the British Transport Commission, produced a report that prompted successive administrations to cut over 3,000 miles of railway, with the goal of prioritising the motorway system.[6]
The development of the British motorway network had been underway since 1958, when the Preston Bypass, the first 8 mile stretch of motorway in the UK, was completed. In 1959, the M1 followed soon after, beginning a wave of new motorways that expanded well into the 1960s and 1970s. However, arguably the biggest shift in the history of travel in this period was the change in focus from holidays based on British soil to travelling further afield to other countries by air, rising from 1 million passengers in 1955 to 14 million in 1970. Air travel was boosted in no small part by the rise of charter flights in the mid 1960s, with companies like Laker Airlines, who were effectively subsidised by holiday resorts to make it inexpensive for prospective holidaymakers to travel.
This coincided with a decline in the popularity of holiday camps like Butlins, as the regimented nature of such places meant that there wasn't enough individuality in the experience for many holidaymakers. With this in mind, it makes sense that there would be a shift towards a more individualistic experience offered by trips abroad, now more accessible than ever. The rise of the package holiday meant that the 1960s saw many beachfront towns in Spain and Portugal transform into new high-rise holiday resorts, with popular destinations Benidorm ranking among the most famous. New hotels and apartment buildings, along with new amenities like restaurants, cinemas and bars, drew enormous crowds every summer.
That by no means marks these places out as the only possible holiday destination, though. The world had opened up enormously in this period, so there really was something for everyone. For example, many young people in the 1970s reacted against the rampant materialism of the 1960s by shunning Mediterranean resorts like Benidorm or Majorca and instead going off the beaten track, travelling along what came to be known as the "Hippie Trail", going on a counter-cultural pilgrimage to Nepal and India, taking cars, vans, trains, whatever was available to them, travelling through Europe, the Middle East and Asia to reach their goal. Those who took this option were attracted by the prospect of an authentically spiritual experience, as well as the availability of hashish and opium in the places they stayed at. This provides evidence that holiday preferences were far from homogenous in this period.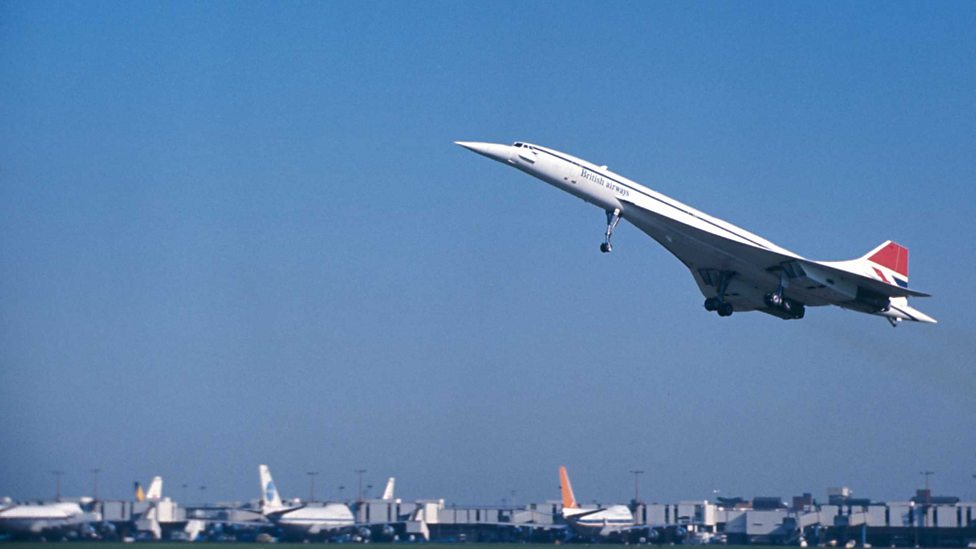 Arguably the most spectacular technological innovation in air travel seen in this period, however, was Concorde, the first supersonic airliner (and only so far). Launched in 1976, the plane was a joint effort between British Airways and Air France, and had a maximum cruising speed of 1,354mph (2,179kph). This amounted to Mach 2.04, which is just over twice the speed of sound! The plane could get from London to New York in three hours, compared to eight hours and ten minutes for a standard commercial flight. This made long distance travel faster than ever, although the noise and expense of running it limited its use until it was eventually retired in 2003.
What this all demonstrates is that, when given the opportunity to travel, the British people will always enthusiastically take it. The 20th Century saw the holiday sector grow dramatically as more people had access to paid time off and the disposable income required to go on great adventures in foreign countries. The rise of budget airlines and package holidays made this even easier.
The changing fortunes of modern travel in the 21st Century
As we enter the third decade of the 21st century, we can look back on two decades that have seen significant global upheaval, which has had huge impacts on the way the British have travelled. In particular, we have seen a trend that, in times of national or international crisis, British holidaymakers default to "staycations" for their holidays. For example: in the year after the 2008 financial crash, the number of foreign holidays booked by UK residents dropped by around 17%, while the Camping and Caravanning Club saw bookings increase by nearly a third compared to the previous year.[7] The 9/11 attacks also had an impact, as the first three quarters of 2001 saw rises in UK citizens travelling abroad, but this fell in the final quarter of 2001, showing that the attack had left many wary of travelling outside the country.[8] What's important to remember, though, is that these numbers always pick up again. In 2002, with 9/11 still fresh in the public memory, visits abroad still rose by 8.5 million, showing a dramatic recovery in a short space of time, and that the British demand for travel will not be stifled for long.[9] What's important to take from this is that, no matter what changes and crises take place, UK citizens still have a strong instinct to explore, to see and experience new parts of the world.
Since then, the largest shift in international travel has been the COVID-19 pandemic. As countries around the world entered lockdowns, a combination of travel embargoes and quarantine on arrival regulations have made international travel considerably less appealing or even impossible.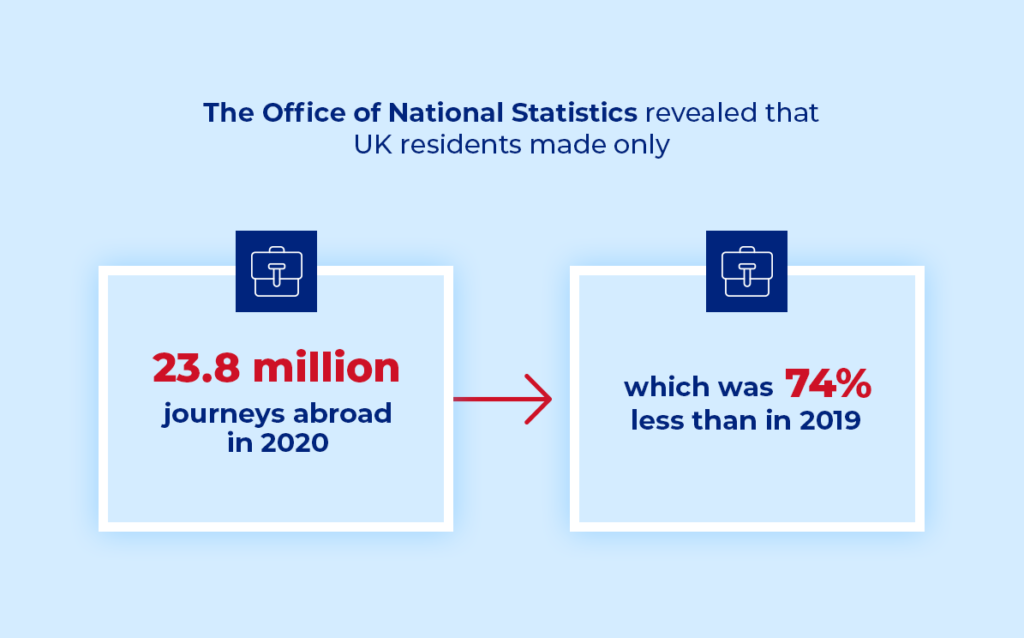 According to a survey by the Office of National Statistics, UK residents only went on 23.8 million journeys abroad in 2020, which was a 74% decrease on the figures from 2019. They also spent 78% less on visits abroad than in 2019.[10] Holidays within the UK experienced a resurgence in popularity, with areas like Cornwall and the Norfolk Broads experiencing an increase in tourism across 2020 and 2021. However, the beginning of 2022 has brought a renewed hope that things will improve soon, and it is likely that this summer, holidaying abroad will be a lot more accessible.
We've already established that the British love to travel, and, based on the aftermath of 9/11 and the global financial crisis, we can add to this the fact that the tourism industry will always revert back to normal quickly after disasters. With the trends mentioned above in mind, it is likely that the UK's travel industry, still reeling from the COVID pandemic, is going to receive a much-needed boost when the warmer months come.
Conclusion
As you can see, the COVID-19 pandemic is not the first time that the availability of international travel has come into question, as the last century has seen UK citizens' access to easy and affordable holidays ebb and flow through a century of political, economic and even military change. The last few decades, particularly in the early 21st Century, have revealed that times of crisis can reduce the demand for holidays, but also that this will never last long. Once people conclude that the crisis is behind them, demand for foreign holidays bounces back very quickly. This will come as a great comfort to the struggling travel industry, many of whom have been hit by hard times as a result of the pandemic, which seems to be fast drawing to a close. Many are already looking ahead to their first trips abroad. With the whole world beginning to open up, it will soon be time for you to explore the world for yourself again.
[1] G. Verhoeven, Europe within reach: Netherlandish Travellers on the Grand Tour and Beyond (1585-1750) (Antwerp, 2009), p. 211.
[2] V. T. C. Middleton, "Sir Willam Edmund Heygate Colbourne (Billy) Butlin, 1899-1980", in R. A. Russel and R. W Butler (eds.) Giants of Tourism (Wallingford, 2010), pp. 32-44, pp. 39-40.
[3] E. Carpenter, "Weston-super-Mare: the view from above" Historic England Research (2019), p. 43, https://historicengland.org.uk/images-books/publications/historic-england-research-13/he-research-13/ (Accessed: 1 February 2022).
[4] G. Pirie, "Incidental tourism: British Imperial air travel in the 1930s", Journal of Tourism History (2009), 1, 1, pp 49-66, p. 53.
[5] J. D'Urso and R. Schraer, "10 charts that tell the story of Britain's roads", BBC News (2017), https://www.bbc.co.uk/news/uk-42182497 (Accessed: 1 February 2022).
[6] R. Westcott, "Did Dr Beeching get it wrong with his railway cuts 50 years ago?", BBC News (2013) https://www.bbc.co.uk/news/uk-21938349 (Accessed: 1 February 2022).
[7] P. Walker, "Recession-hit Britons abandon foreign holidays in favour of 'staycations'", The Guardian (2009), https://www.theguardian.com/travel/2009/aug/13/uk-recession-travel-holidays-staycation (Accessed: 1 February 2022).
[8] "Travel Trends: A report on the 2001 International Passenger Survey", Office of National Statistics (2002) P. 131, https://webarchive.nationalarchives.gov.uk/ukgwa/20160107134625mp_/http://www.ons.gov.uk/ons/rel/ott/travel-trends/2001/travel-trends—2001.pdf (Accessed: 1 February 2022).
[9] "Travel Trends: A report on the 2002 International Passenger Survey", Office of National Statistics (2003) P. 60, https://webarchive.nationalarchives.gov.uk/ukgwa/20160107134625mp_/http://www.ons.gov.uk/ons/rel/ott/travel-trends/2002/travel-trends—2002.pdf (Accessed: 2 February 2022).
[10] A. Osborn, "Overseas travel and tourism: 2020", Office for National Statistics (2020), https://www.ons.gov.uk/peoplepopulationandcommunity/leisureandtourism/articles/overseastravelandtourism2020/2021-05-24#main-points (Accessed: 1 February 2022).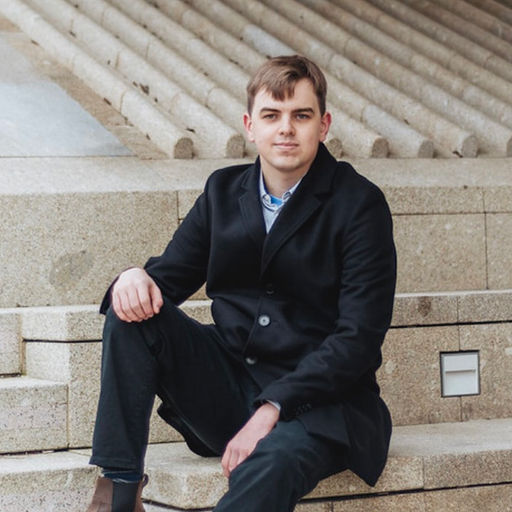 Having graduated with a History degree from the University of Birmingham, Sam has proven writing experience in biometric photography articles, marketing and events. Born in the UK, he has travelled extensively both nationally and internationally. In his spare time, he enjoys reading, cycling and skateboarding.