There are any number of reasons you might need a visa to enter the United Kingdom (UK). Maybe you have a Spouse or Family Visa, a Student Visa or a Work Visa. However, what if your passport expires, but your visa remains valid? Depending on what you need a visa for, you may still be able to use it, however, there are scenarios where you can't. Luckily, Passport Photo Online can help! Check out our guide to dealing with a valid visa in an expired passport, and you'll know exactly how to handle this situation in future.
In this article:
How to deal with a valid UK visa in an expired passport
To learn how to deal with a visa in an expired passport, your first step is to confirm whether you need a visa solely to travel to and from the UK, or if you also need it to prove that you have the right to work in the country. We've broken down our guide into these two main scenarios, and have researched the process thoroughly to give you everything you need to know.
Travelling to and from the UK with a valid visa in an expired passport
If your visa is intended to allow you to travel to, or from, the UK, then you might not need to do anything. Under the Home Office guidance, you will be allowed to travel on your old visa provided you bring a new, valid passport, as well as your old passport, that in this case serves solely as a carrier for your visa stamp. This alone will be acceptable to border officials, but there are two alternatives if you'd like a little extra peace of mind.
When you are staying in the UK
If you are living in the UK, then the most secure course of action for you is to replace your visa with a biometric residence permit (BRP). This document carries your details, providing evidence that you have the right to live or study in the UK, as well as the right to use public services and the conditions on which these rights are based. Foreign nationals can apply for a BRP using the UK Government's online portal. Still, applicants will need to make an appearance, in person, at a UK Visa and Citizenship Application Services (UKVCAS) office, in order to provide their biometric information.
When you are based abroad
When foreign nationals are staying abroad and need to travel to the UK, there is still no need to waste time and money on a new visa. Helpfully, the UK Government will allow passport holders to transfer visa stamps from an old passport to a new passport, at a cost of £154.
It's possible to apply for this online, but foreign nationals will still need to go to a visa application centre in their current country of residence in order to provide the standard biometric information. Once this has been achieved, the newly-issued passport will carry the old visa stamp, and the visa validity period will not go to waste.
Visa holders will need to submit the expired passport, with the visa stamp, in order to transfer a visa. Unfortunately, if foreign nationals cannot send their old passport, for example, because it has been lost or stolen, then those currently living outside the UK will need to fill out a fresh visa application to maintain their visa status.
Looking for more tips for your passport application? Look no further:
Proving right to work with a valid UK visa on an expired passport
Demonstrating that you have the right to work in the UK has different requirements than proving you can travel in the UK. If your current passport has expired, you will not be able to use it to prove your right to work, even if it still has a valid visa in it.
UK citizens with valid foreign visas in expired passports
UK citizens require visas to access a wide range of countries around the world. Of course, this presents a risk of needing a new passport, while still having a valid visa. Luckily, there are processes in place to deal with this.
Different countries are likely to have differing approaches to this. For example, the U.S. allows UK visitors to carry their expired passport, along with a valid one, so that the visa can still be used. In Thailand and Vietnam, for example, a valid passport is essential, to the extent that, as soon as a UK passport expires, the visas within are automatically invalidated. Check the government site of the country you're planning to travel to, and to keep an eye on your passport's expiration date.
Make sure your visa status is protected with Passport Photo Online!
No matter how you decide to proceed, you will probably need a new biometric photo, whether it's a British passport photo, a photo for a new visa or even a photo for your BRP. If you want a quick and easy solution, use Passport Photo Online! Our advance AI software can help solve all the modern challenges of getting a biometric photo:
It doesn't matter what kind of photo you need, Passport Photo Online has the template. No more reaching your local passport photo service and discovering they don't have the right measurements. Our templates are inch-perfect, meaning you can be certain of a quality finish.
If you take your photo and decide you're not happy with it, there's no need to spend more money getting a new one! Passport Photo Online allows you to take as many photos as you need to, free of charge! You'll only pay for the photo that you ultimately use in your application.
In the unlikely event that your photo is rejected, you won't lose out! Every photo checked by Passport Photo Online is covered by our guarantee. If the authorities reject a picture we've processed, we'll refund you for 200% of the price you paid. That's not a bad deal, isn't it?
With that combination, getting a biometric photo should be easier than it's ever been. Once your picture is prepared, we can either email it to your inbox or post it directly to your door. From there, just attach your image to your application, and you're ready to go!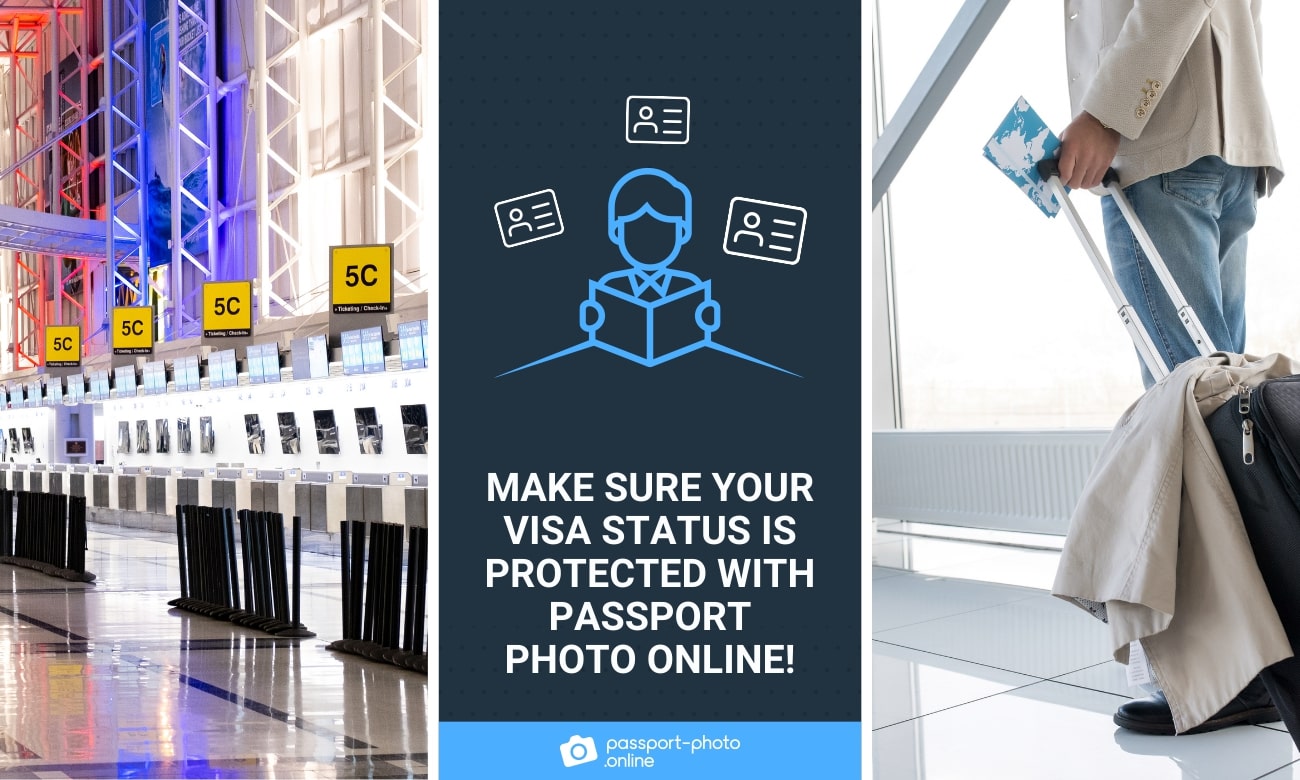 You can make as many attempts as you want to get one you're happy with, we'll work with you as long as you need us.
Passport expired but visa still valid: summing up
Even if your passport expires, you have a number of routes through which you will still be able to benefit from valid visas, without jeopardising your immigration status. In some cases, visa-holders can just keep both the old and new passports, entering the UK by using them together.
Travellers can also transfer their visas into new passports or replace them with a BRP. Either way, you'll need a biometric photo, and quickly. This makes Passport Photo Online perfect for you! Once your visa is all ready, there's nothing stopping you from enjoying your travels! ✈️
Visa in expired passport: FAQ
Now we've given you the lowdown on what to do with a valid visa in an expired passport, we'll answer some of your burning questions about the processes.
What if my passport expired but my visa is still valid?
In most cases, what you do here will depend on the country that issued your visa. Some countries, like the U.S. will allow you to use your old expired passport, with the valid visa in, to enter and leave the country, along with a new passport. However, other countries, like Thailand, have stricter rules, so if your current valid passport expires, the visa is automatically nullified. The best approach is to check the rules for the country you need to travel to/from in advance, so you can prepare your documents accordingly.
How do you transfer a visa to a new passport?
Transferring a visa to a new passport can be done online, through the UK Government website. You will first need to submit your biometric information at the relevant government office, then fill out the form and submit it. 
Visa holders will also need to post their old passport, with the valid visa sticker, to the UK Government, so the visa can be transferred. If the old passport has been lost, visa holders will need to apply for a new visa, as the transfer process requires the outgoing passport to even be considered.
RELATED READING: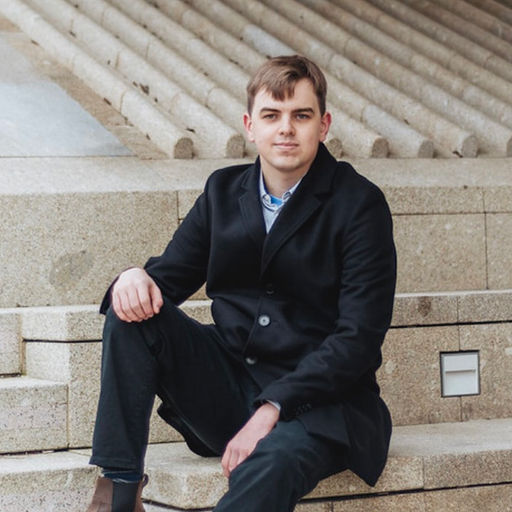 Having graduated with a History degree from the University of Birmingham, Sam has proven writing experience in biometric photography articles, marketing and events. Born in the UK, he has travelled extensively both nationally and internationally. In his spare time, he enjoys reading, cycling and skateboarding.