The digital age has made taking a passport photo easier than ever. Thanks to Android apps on phones and tablets, an UK passport photosyone can be a passport photographer. They're already popular: Passport Photo Online's Android app alone has received over 1 million downloads. The question is, which mobile app is the best for the job?
To find out, we scoured the Google Play Store to find 12 contenders for the best free passport photo app for Android devices in 2023. This blog will demonstrate the strengths and weaknesses of each to help our readers decide which is best for them.
The best passport photo app for Android
The market has plenty of passport photo apps for Android devices. Each offers a different range of editing tools, printing services and customisation options.
It would be so much easier to decide if someone made a shortlist of passport-size photo-maker apps that could be used to narrow the search down. That's where we come in! We've pulled together 12 of the best passport photo apps on the UK market, sorted into 5 categories, so our readers don't have to!
Looking for more passport photography tips? Try reading our other articles:
Best passport photo apps for: the savers
We'll start with a couple of apps that are perfect for those who wish to take passport photos without breaking the bank. This can be particularly helpful when taking multiple passport photos.All these apps offer totally free photos that allow users to save money that will be better spent while on holiday. It could be an exhilarating jet-ski ride, a delicious restaurant, or even a souvenir to be cherished forever.
Appwallet Technologies Passport Photo Maker
Appwallet Technologies' contribution is a versatile app that can boast the following:
120 passport photo templates
111 visa templates
ID cards
election cards
school IDs
and a number of others.
There's even a custom photo template creator, helpful if the required country is not listed.
Appwallet Technologies offer editing tools that change the background colour, lighting and contrast. Once a suitable photo is ready, the user can save a template in one of a number of sizes, making printing photos really easy! It all seems fantastic, but be careful; this story has another side.
Outside of passport and visa photos, the selection of more general ID photos is quite small. The app also lacks an automatic face recognition system and an AI photo checker, which could have made this app even more helpful. Additionally, because it's free, it runs a lot of ads, which might slow the app down when taking a biometric passport photo.
Overall, this isn't necessarily an app we can recommend if the user is planning on making a driving licence photo or a standard ID photo. It's much more helpful for people who need a passport or visa photo, even without automatic face recognition.
Price for a passport photo: Free
Dexati Passport Camera
Passport Camera, from Dexati, carries a wide variety of editing tools. They offer simple features, like scaling, rotation and auto-editing functions. They also offer more complicated and in-depth tools, such as the background adjuster (which can allow users to create a plain background in any colour) and brightness editors.
The app carries templates for every country's passport photos and allows users to print out their pictures when they're complete. The system also gives the option to print out passport photos directly from Android devices using a home printer. This makes it even more flexible.
The only real downsides are that there is no photo checker in the app and that the app carries ads, which may be a distraction from the task at hand.
Price for a passport photo: Free
Best passport photo apps for: the splurgers
These apps are good options for those who don't mind spending extra money. They are a little pricier than other apps on this list but make up for it with a raft of features.
Passport Photo Code UK
This app focuses on cropping the photo to the correct size and preparing it for a digital application. Rather than taking passport photos through the app, users can only upload existing photos.
Simply take the photo on a regular camera, ensuring it adheres to the official governmental regulations for UK passport photos Then, upload it to the app.
For those who prefer using paper passport applications, the app can send printed copies of passport photos instead.
In general, delivery will take 3-5 (three to five) days. There is an option to pay £4.99 (four ninety-nine) for recorded delivery in 1-2 (one to two) days. In addition, £9.50 (nine fifty) will pay for special delivery the next day, provided users order before midday. These can get expensive, though.
Sadly, there is no option that allows users to print passport pictures out at home, nor a way to check passport photos in the app. Besides that, this app has real potential, with its code system particularly useful in the age of digitisation.
Price for a passport photo: £4.99 (four ninety-nine) (or £9.50 (nine fifty) if in a hurry)
Perfect Passport Photos
Perfect Passport Photos benefits from an extensive library of templates. The app also has a smart checker, which automatically analyses photos to ensure they fit the requirements. They allow users to make the following:
passport photos
visa photos
driving licence photos
photos for other official documents.
All of which is possible using Android phones, tablets or other devices.
Users can get photos automatically converted into passport-size photos using the app's templates. The background remover and scaling tools do most of the work for the user. Depending on personal preference, customers can then have their photos delivered as either a printed or a digital image.
The tool also offers several levels of verification, from AI checkers, human inspectors and photo experts. This means that customers can have peace of mind that the photos will be accepted. The price for this one is a little steep, but users can expect a good level of quality for the money. Truly, Perfect Passport Photos is very close to living up to its name.
Price for a passport photo: £6.04 (six zero four) for digital, £8.31 (eight thirty-one) for printed
Best Android passport photo app for: the experts
Veterans of the process could potentially handle a more challenging passport photo-buying experience. These apps tend to be more complex, with many having manual editing tools. Nevertheless, they can create effective passport photos when guided by an experienced hand.
CodeStackLab – Passport Size ID Photo Maker
CodeStackLab's passport-size photo editor comes equipped with a wide variety of:
passport photo sizes
visa photo sizes
OCI cards
PAN cards
ID photo templates, sorted by size.
Simply select the one that is needed, then take or upload the photo. Next, using the manual cropping tool and automatic background remover, edit it to fit the official requirements. Users would be wise to allow extra time, when using this app. This will help people learn how to use these features, as they can only be operated manually.
The manual controls mean there is no automatic verification from the app. Therefore, the onus is on users to make sure their passport pictures comply with the official photo requirements.
In addition, the app is still currently in development. Unless users are prepared/able to wait until it has been completed, they may experience some rough edges while using some features.
Even so, there's a lot to like here, perfect for people who are more tech-savvy.
Price for a passport photo: Free
ID Photo App by Peace
Peace's passport pictures app offers the opportunity to take passport, resume or licence photos using any Android device. The app includes the standard UK passport size (35 x 45 mm).
Android users can either take a photo using the tablet or phone's camera in the app or upload a picture from any photo gallery to the photo editor. There's no automatic photo verifier, so check the photo to make sure it fits the passport requirements.
For example, check that the background is plain, the lighting is even, and the subject's face is not covered. Then, once it's ready, simply print a reel out at home and add two copies to the relevant document application.
The app is still regularly updated. The company recently released features that allow customers to change the background to any colour. This is perfect for passport photos with non-standard background requirements. The app also now has the ability to set the size of any ID photo.
This is useful where the document photo the user requires does not feature in the app. However, there is no automatic verification of the passport images. Customers will therefore need to check thoroughly to ensure their photos are compliant.
Price for a passport photo: £3.79 (three seventy-nine) for any photo
Best Android passport photo app for: people with time to spare
These apps tend to take a little longer to use than others, owing to delivery times or lengthy editing processes. Still, provided the user is not due to fly next week, these can prove reliable options for the passport ID photo seeker.
Z Photo Apps – Passport Photo Maker
This app offers passport photo services for 150 countries, including the United Kingdom. All that users have to do is take a compliant photo on the app using an Android device's camera.
After that, the app has a myriad of editing tools that people can use to get their photos for passport applications ready. These include a background changer, colour balance controls and brightness editing. Once the image is prepared, the user can download digital photo templates that can be sent to any local photo printing shop.
The flexibility of this app is excellent and can be really helpful when creating a passport photo. Still, users will need to invest some time into this, as many of these features are not applied automatically. For example, people will need to replace their photo's background themselves.
There's no automatic verification either, so users will need to read the passport photo requirements to ensure their photo meets them.
As long as people take the time to learn the tools, it should be relatively simple to adapt. It took us around 10 (ten) minutes to figure out the system, which isn't loads of time, but it all stacks up when added to the 15 (fifteen) minutes it can take to prepare a photo.
The free version also has a lot of ads, so it may be worth investing in the in-app purchase to ensure they don't slow the process down. Overall, this app has potential but is let down by the paywall, locking crucial features out of the free version.
Price for a passport photo: Free
Travel Passport Photos Co. Passport Photo Booth
This app comes with a large variety of picture options, including the UK passport photo, visas and professional licences.
As with Appwallet Technologies' tool, there is also a custom size adjuster in case the photo size the user needs is not included on the list. However, this can be time-consuming, so make sure to leave some time if this step will be necessary.
The app includes a number of features to make the process of taking a photo easier. This includes a set of detailed instructions, a timer and a silhouette showing users where to place their faces.
The in-house printing service is only available in the U.S., but users in the UK can still get a digital copy to print at the nearest photo shop. On the other hand, there is no option for customers to print photos directly from a printer at home. This means UK citizens will have to go to a photo shop.
There is also no automatic verification, so users will need to pay close attention to the passport photo requirements.
This counts against it in terms of its flexibility. However, the sheer quantity of features more than makes up for it, even if the app lacks an automatic face recognition tool.
Price for a passport photo: £4.52 (four fifty-two) for professional prints of any photo
Passport Photo – ID Photo by Codenia
This app offers services for both passport photos and photos for job applications. The library holds templates from all over the world. Simply take a picture using the camera, or upload an existing one from a photo album.
From there, customers can edit their new passport photo using the manual tools to fit the format requirements. Users can then either print it out at home or order a paper copy from any local print shop, using one of a number of size options for the reel.
While the manual tools are effective, colour photos are hidden behind in-app purchases, so it would be wise for users to invest £5.99 (five ninety-nine) in the full version. Some passport services will not accept black-and-white photos.
Users can also consider paying £3.49 (three forty-nine) to remove ads from the app, to streamline the process. This is still a very useful app, with lots of flexibility regarding the templates available and the different countries covered.
As users edit the app's passport photos themselves, the company does not accept liability. It would therefore be a good idea to be familiar with the passport photo regulations in advance.
Price for a passport photo:
Can print black-and-white images for free.
Cannot take coloured photos without paying £5.99 (five ninety-nine) for the premium version.
Smartphone iD Official Passport Photo
Smartphone iD's service offers free and paid packages. Only the paid package grants customers access to the premium features, including:
complete checks on any passport, visa, ID, driving licence, and residency permit photos;
unlimited attempts to take them;
access to the company's printing service. Simply pay a small fee, and the photo will be delivered directly to a home address. The app offers a system where users can track the delivery's progress.
The free version allows users to take photos and receive online copies but will not check them against the official requirements.
The paid-for service is worth the price, though. Efficient and hardworking checkers can give customers a 100% guarantee of acceptance on their passport photos.
On the other hand, the delivery service for printed pictures for those who live outside France can be slow. It can take 3-7 (three to seven) days for those currently residing in Europe to receive their pictures. Still, with quality like this, the photo will surely be worth the wait.Price for a passport photo: £4.03 (four zero three) (Digital passport photo in the UK)
Best passport photo apps for: everyone
These apps are jacks-of-all-trades, offering easy usability and good-quality photos at reasonable prices. This is the right place to come for those who are new to passport photo apps or just need something safe and guaranteed.
Yarsa Labs Passport Size Photo Maker
Yarsa Labs' app is not just for passport photos. Their system carries the photo requirements for visa and ID card photos as well, including UK passport photos and a wide assortment of visas.
This app has several image editing features at its disposal for preparing passport photos. This includes background removal software and a border editor, among a number of other manual tools. The app can then fashion users' passport photos into a template reel of one of twelve sizes. Customers can have the following sizes printed from the nearest print store:
3 x 4 inch
3.5 x 5 inch
6 x 8 inch
8 x 10 inch
8.5 x 11 inch
8 x 12 inch
10 x 12 inch
4 x 5.3 inch
4 x 4 inch
4 x 6 inch
5 x 7 inch
A4.
There is a lot of variety here, which makes it a strong contender. Even so, users may want to consider paying for the full version. This is the only way to access the background removal tool and an ink-saver function, should people wish to print photos at home.
This will also remove the 30-second unskippable video ads, saving users time when using the app. There are no automatic verification options, so people will need to read the government guidelines thoroughly as well. All in all, a well-balanced tool that offers good-quality photos.
Price for a passport photo: Can print photos for free from home or take them to a photo shop, where it will cost around 50p (fifty). For that, users receive a standard 4 x 6 inch print with 6-8 (six to eight) copies of a photo.
Passport Photo Online
For an intuitive passport-size photo maker that can prepare any passport photo in 3 (three) seconds, try Passport Photo Online! Our professional online passport photo tool puts all of the best features of the best passport photo apps in one place: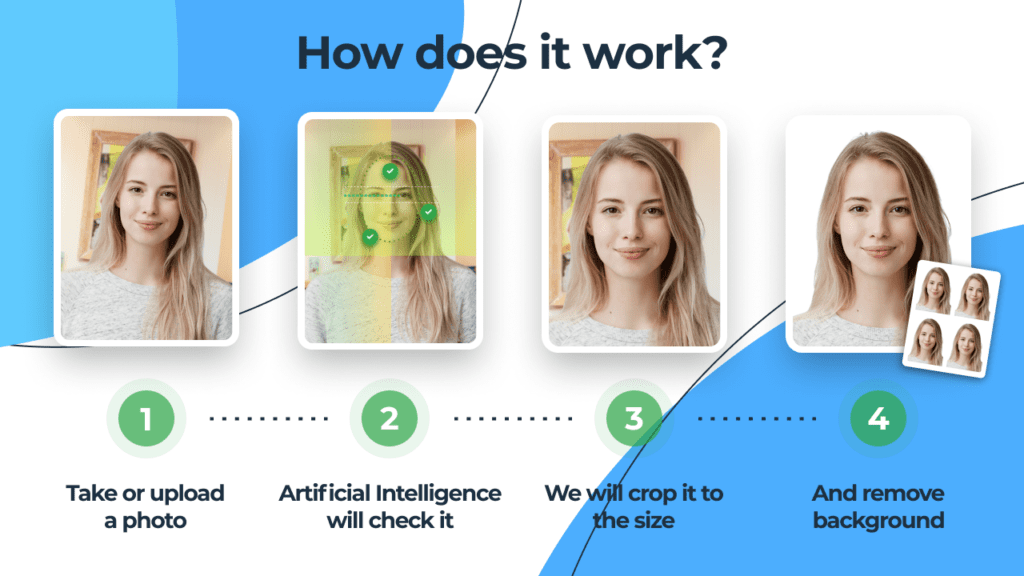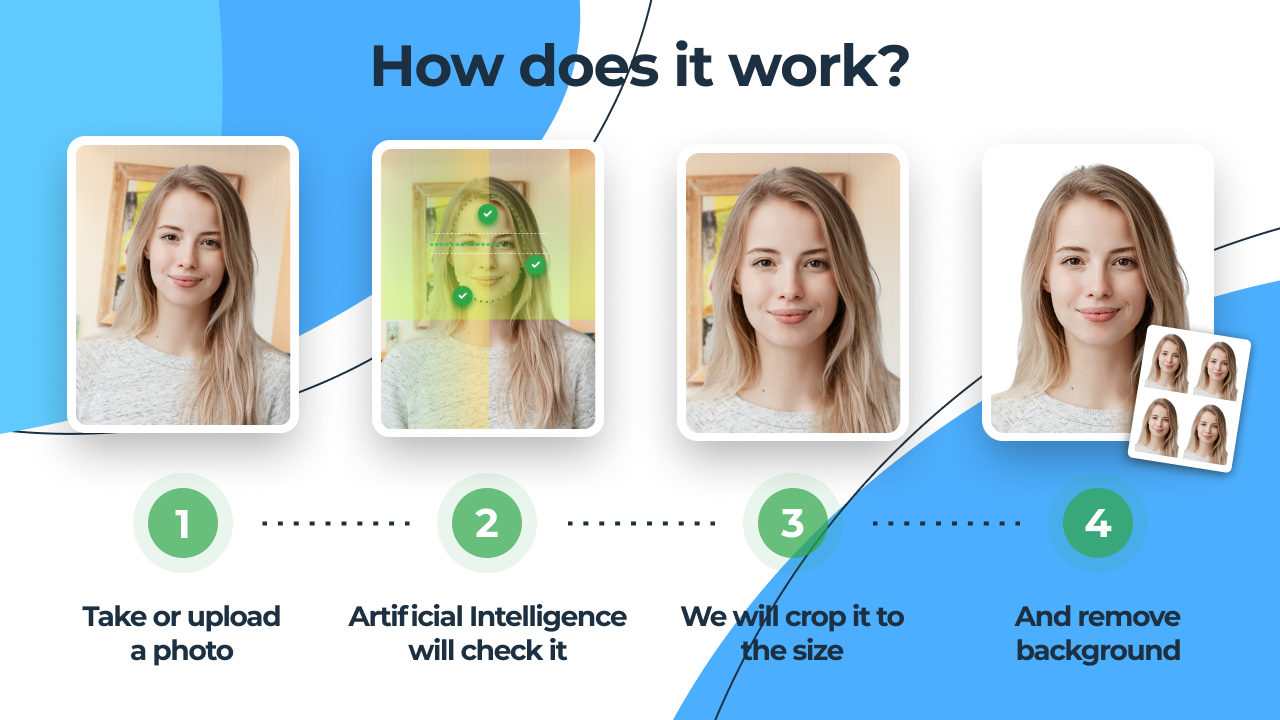 Requirements for any official biometric image. This includes passport, visa, driving licenceand ID photos. Our users know they'll always be able to find the template for the job.
Automatic cropping and editing software. The app can adjust any photo to make sure it's the right size for official guidelines. Users don't have to spend ages manually cropping their pictures; we do it automatically!
An automatic background removal tool. This can save customers from needing to find a plain light grey or cream-coloured wall at home to use to take the shot.
A choice of paper or digital photos. Either we'll email a copy to the user's email inbox, or, for those who prefer printed photos, we can send physical copies to any home address.
A professional-quality AI checker. Our brilliant software works in conjunction with human inspectors to ensure HM Passport Office will accept every passport photo.
Unlimited free retries. If a customer takes a photo and finds themselves wanting a better one, they can retake it free of charge.. It doesn't matter to us if a customer needs 50, 500 or even 5000 tries. We're not done until our users are done, and we will only ever charge for the finished product.
Think of all the time that could be saved. It would be better spent hanging out with friends or family or else thinking ahead to the joys that await on the next great adventure. It's great for urgent passport renewal, too!This is what Passport Photo Online can offer users, but that's not all! We take a lot of care in what we do, so much so that we'll refund customers 200% of what they paid if a photo we edited gets the application denied. Now that's a good deal.
Best free passport photo app Android – summing up
For anyone who needs an application-ready passport-size photo, there are at least 12 passport photo maker apps to choose from. Getting a passport photo from Android phone, tablet, or other device is becoming increasingly attractive.
This is compounded by apps like Passport Photo Online introducing AI checkers. This means apps can guarantee that the passport photo will be accepted.
When looking for the best Android passport photo app, it really depends on what is needed from the passport photo app. If it's an inexpensive app that still gets the job done, then Dexati's diverse set of features and printer compatibility is the best bet.
For those who've got lots of time and thus have the space to take it slowly, then learning Travel Passport Photo Co.'s photo booth app will be the best choice. Taking the time to understand all the different tools users have at their disposal can really be worth it when seeing the quality of the final photo.
For the veteran passport applicant, Peace's ID Photo App is the best match. Using it effectively requires a good working understanding of the requirements – ideal for experts. The editing tools offer a fantastic finish, too.
If money's no object, Perfect Passport Photos' human and digital checkers offer some peace of mind when sending in an application.
On the other hand, for those who are just looking for a good all-rounder, then Passport Photo Online is a great choice! Their user-friendly service can offer a high-quality passport photo for a reasonable price. The app can even guarantee acceptance.
Having downloaded the app that's right for the situation, all that's left to do is take a photo and prepare for the next unforgettable trip! 🏖
FAQs
Below, readers can find answers to the most frequently asked questions about passport photo apps in 2023.
Can you take passport photos with your phone?
Yes, with modern technology, anyone can take a passport photo with an Android phone! People can quickly and easily create the perfect passport photo by simply using a passport photo app.
Can I take a passport photo on my Android phone?
Yes! By simply using one of the many passport photo mobile apps available for Android, anyone can create a passport photo using their phone. Check out the list above for some of the best passport photo apps available for Android.
Is there a free passport photo app with white background?
Yes, there are plenty of free passport photo apps available these days. However, the free options often lack some essential features, such as a passport photo compliance test. For that reason, it may be a better idea to use professional photo applications, such as Passport Photo Online.
Can you prepare a passport photo online for free?
Yes, there are options to take a passport photo online for free. The web has loads of apps that provide a basic cropping tool for passport photos. However, it may be better to use a professional passport photo app for official photographs. Applicants need an app that doesn't just crop the image. Some apps can remove the background and even verify that the official rules are met.
How to take a passport photo at home?
The best way of making passport photos at home is to use a passport photo app. Readers can find our full rundown of the best apps above, but we particularly recommend Passport Photo Online.
Passport Photo Online offers a professional quality passport-size photo editor powered by AI. The tool can turn any photo into a proper passport photo in seconds. Auto editing tools work to create a plain white background, resize the image and scan it for errors.
We also offer a 200% guarantee, so that users can be confident of success.
Is there a passport photo at home app?
Yes, there are passport photo apps for use at home. One of the available options is Passport Photo Online. This app comes with an in-built compliance test, background remover and a cropping tool. This makes it one of the easiest ways to get a passport photo at home.
Which passport photo app is the best? 
The best passport photo app is the one that provides the highest success rate. For that reason, it is recommended to use professional applications, such as Passport Photo Online. This free app comes with an automatic compliance test, background remover and cropping tool. These will ensure the user's photos meet the passport photo standards.
​​Which app to use for a passport photo?
Ultimately, it depends on the user's priorities. Some want to save money; others want something more technical, or might be able to spend more for a faster process. Read the article above to find a good passport picture app to suit every need. 
For a great all-rounder, though, use Passport Photo Online. This app lets users benefit from all the features needed to take a perfect passport photo with Android. The AI checkers and human inspectors can guarantee a successful photo, with a 200% refund if rejected.
Is there an app for passport photos?
Yes – there are many apps for passport photos. To learn more about various programs, see the ranking above and find the right passport photo app for the situation.
Is there a free passport photo app?
Yes, there are plenty of free passport photo apps on the market. Check out the article above to find some of the best out there.
How can I make a passport-size photo on mobile for free?
The passport photo app market offers a couple of great apps that provide free passport photos. The cost savings, as advertised, are phenomenal. 
Remember, though, that these apps often do not provide photo checkers. This means the onus is on the user to get a good one. In addition, these apps use adverts to pay the bills, which might be annoying to some.
Can I use an app to edit passport photos?
Yes, it's possible to use a dedicated app to edit passport photos. People can even do it by themselves. However, with official documents, applicants should stick with professional programs. This will ensure the images meet the official requirements.
What is the perfect passport photo app?
A perfect passport photo app is one that provides the best quality at the best price. To find the ideal biometric image software, see our passport photo app shortlist for Android in 2023.
Can you take your own passport photo?
Yes, people  can take their own passport photos. To do that, use a smartphone or camera, along with one of many dedicated passport photo apps. These apps can easily transform homemade photographs into ID pictures. One of the best examples is Passport Photo Online. This program can automatically remove the background and crop any photo to an adequate size, limiting the user's effort to the minimum.
Is there an app to convert photos to passport size?
Yes, there are specialised apps to convert images to passport photo size. Readers can check out the list above to compare various programs. One of the most convenient and popular apps to convert photos to passport size is Passport Photo Online. This tool can transform any image into a passport photo in just 3 seconds, with a compliance guarantee.
What is the best passport photo app to remove the background?
The best passport photo app to remove a background is one that combines AI and human expertise. One such app is Passport Photo Online. This tool removes any background with advanced AI software, and uses human experts to ensure the photograph is ready. This way, users can ensure that they have the best chances of a successful passport photo application.
Is there a black-and-white passport photo app?
There are dedicated apps for black-and-white passport photos. If users want to find the most desirable one for themselves, take a look at the shortlist in this article. When it comes to passport photos, it is recommended to use professional services, such as Passport Photo Online. Free options that can often deliver poor-quality black-and-white images.
What is the best app for Singapore passport photos?
Passport Photo Online ranks among the best apps for Singapore passport photos. It comes with an automatic verification software, background removal and a cropping tool. On top of that, a human expert verifies that the picture meets Singaporean passport photo requirements, making it one of the best apps for the job.
What is the best passport photo resize app?
The best app to resize passport photos is one that can transform any picture to a passport photo. One of these programs is Passport Photo Online. Thanks to its advanced background removal software, this tool can convert any photograph of the user's face into a passport photo.
What is the best passport photo app for Australian passports?
There are many great apps available for Australian passport photos, but Passport Photo Online ranks among the best. An automatic compliance test, background removal, and cropping tool are included. The app's human experts also verify that the photo meets Australian passport photo requirements, saving the user effort.
Sources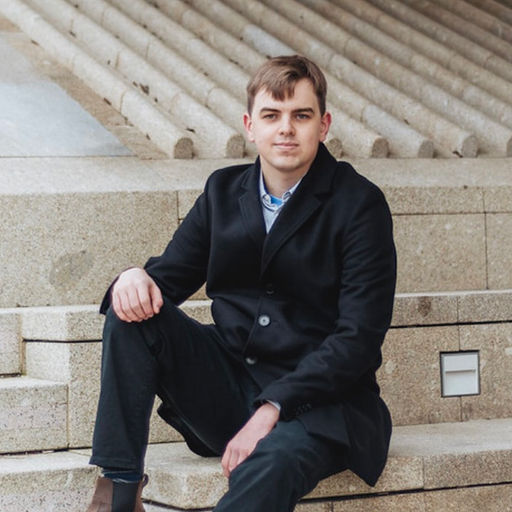 Having graduated with a History degree from the University of Birmingham, Sam has proven writing experience in biometric photography articles, marketing and events. Born in the UK, he has travelled extensively both nationally and internationally. In his spare time, he enjoys reading, cycling and skateboarding.