You might think facial recognition doesn't go much beyond unlocking your smartphone.
But—
It has a much bigger role to play. In fact, facial recognition technology can propel society's safety and security, prevent crimes, and enhance customer experience.
For this reason, at Passport Photo Online, we've decided to make a list of facial recognition stats, facts, and trends to shed some light on how this tech is changing the world.
List of Facial Recognition Statistics, Facts, and Trends
Top 10 Facial Recognition Stats and Facts to Know in 2023

The facial recognition market was valued at ~$5B in 2021, and it's expected to grow, reading $12.67B by 2028.
Seven in 10 governments worldwide use facial recognition technology (FRT) on a large-scale basis.
The probability of a random person unlocking your iPhone via Face ID is ~1 in 1M.
Facebook DeepFace can tell if two photographed faces belong to the same person, with an accuracy rate of 97%.
97% of US airports are expected to implement FRT by the end of 2023.
The first arrest aided by facial recognition technology took place at Washington Dulles International Airport in August 2018.
Most Americans (86%) have heard at least something about FRT.
68% of Americans say facial recognition can make society safer.
70% of police forces have access to some form of FRT.
30% of US adults say it's acceptable for companies to use facial recognition to monitor employee attendance.
---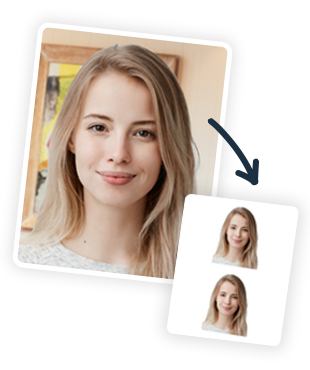 Do you need passport photos? Find out more:
General Facial Recognition Statistics and Facts
North America accounted for 37% of the facial recognition market's global revenue in 2020 and is expected to reach a CAGR of 14.3% between 2021 and 2026.
The 3D sector led the facial recognition market in 2020, making up 36% of the global revenue share, followed by the retail and e-commerce segments at 21%.
Between 2017 and 2019, 64 countries adopted AI surveillance through facial recognition systems.
Gender identification is 99% accurate on photos of white men. Yet, there's a facial recognition error rate of ~35% when identifying darker-skinned women's gender.
72% of hotels are expected to deploy FRT in the next four years.
Belgium and Luxembourg are the only two countries to have banned facial recognition.
20% of countries use facial recognition in schools.
Eight in 10 countries use FRT in banking or financial institutions.
40% of countries have implemented facial recognition at some workplaces.
20% of countries use FRT on some buses, and 30% use it on trains or subways.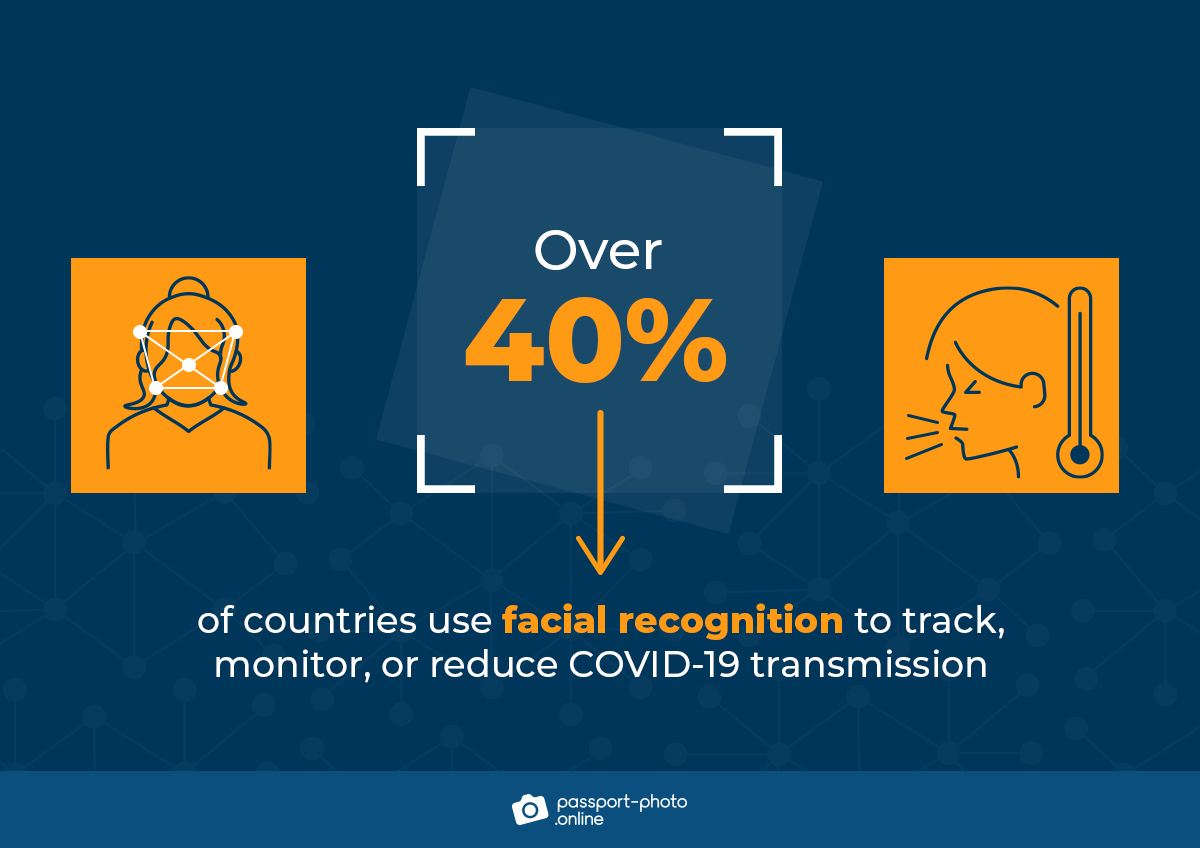 Seven in 10 adults think facial recognition can accurately identify people of all races and ethnicities.
Facial Recognition Technology at Airports
Over 43% of Americans approve of facial recognition technology in airports.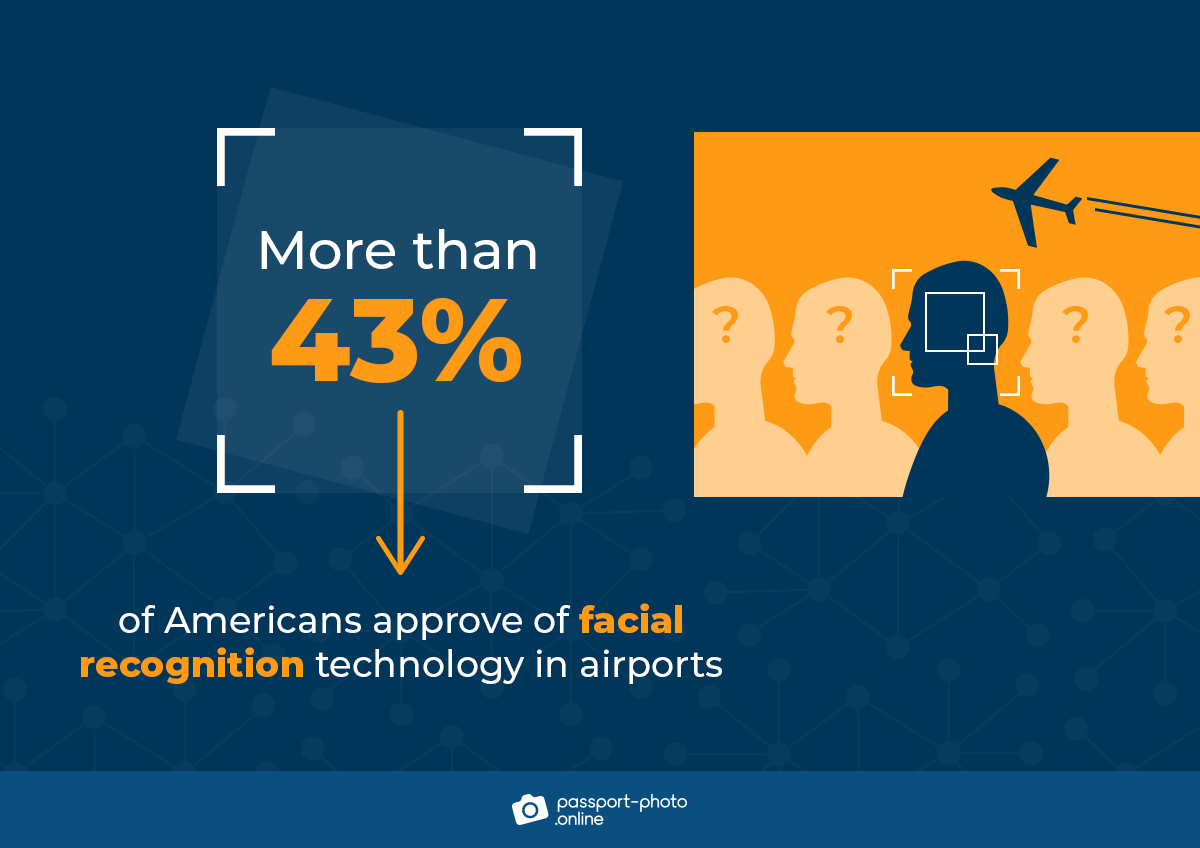 It takes FRT two seconds to analyze a person's face.
Just two in 10 Americans agree or strongly agree the government should limit the use of FRT, even if it means airports can't use it to speed up security lines.
About 44% of Americans don't want airports to use facial recognition to establish identity.
Customs and Border Control have used FRT on 2M+ passengers (on over 15K flights) since adopting facial recognition.
CBP uses facial recognition at ~200 airports and 12 seaports in the US.
About 60% of countries use facial recognition in some airports.
Public Attitudes to Facial Recognition Technology
About 36% of Americans trust technology companies will use facial recognition responsibly.
Less than 40% of people find it acceptable for FRT to be used for tracking who enters or leaves residential buildings, monitoring employee attendance (30%), or seeing how people respond to advertising displays in real-time (15%).
About 73% of US adults think facial recognition is somewhat effective at accurately identifying individual people.
Nearly half of Americans agree FRT should be used in stores on the condition it can catch shoplifters.
Just 32% of consumers feel comfortable having their faces scanned by businesses.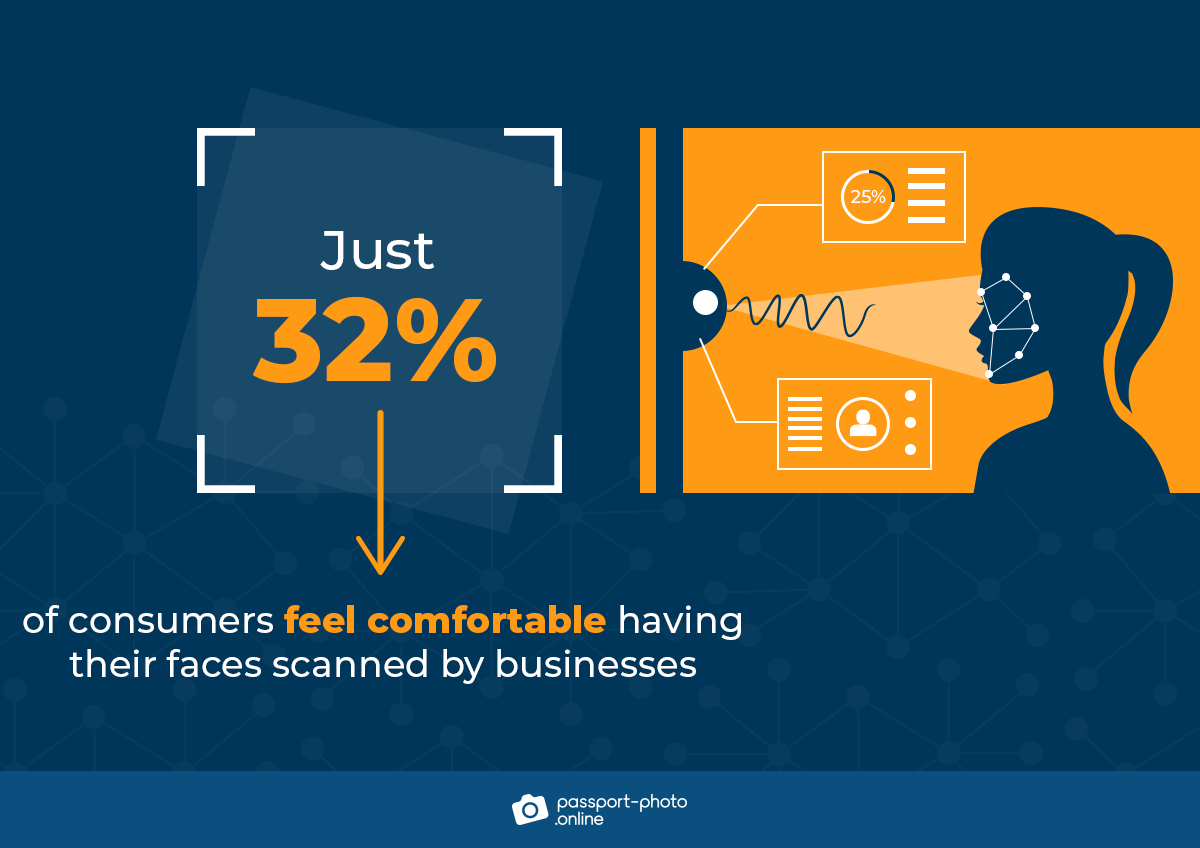 Over 81% of consumers are concerned about biometric data misuse.
84% of people would support federal regulation of FRT.
95% of Americans feel they should have the right to opt-out of facial recognition systems.
Over half of Americans (57%) are OK with having their facial image added to an FRT database if it improves public safety.
Around seven in 10 US adults think facial recognition can enhance security systems and are comfortable with its use at workplaces, schools, or places they visit.
76% of Americans support schools using FRT to identify known child predators.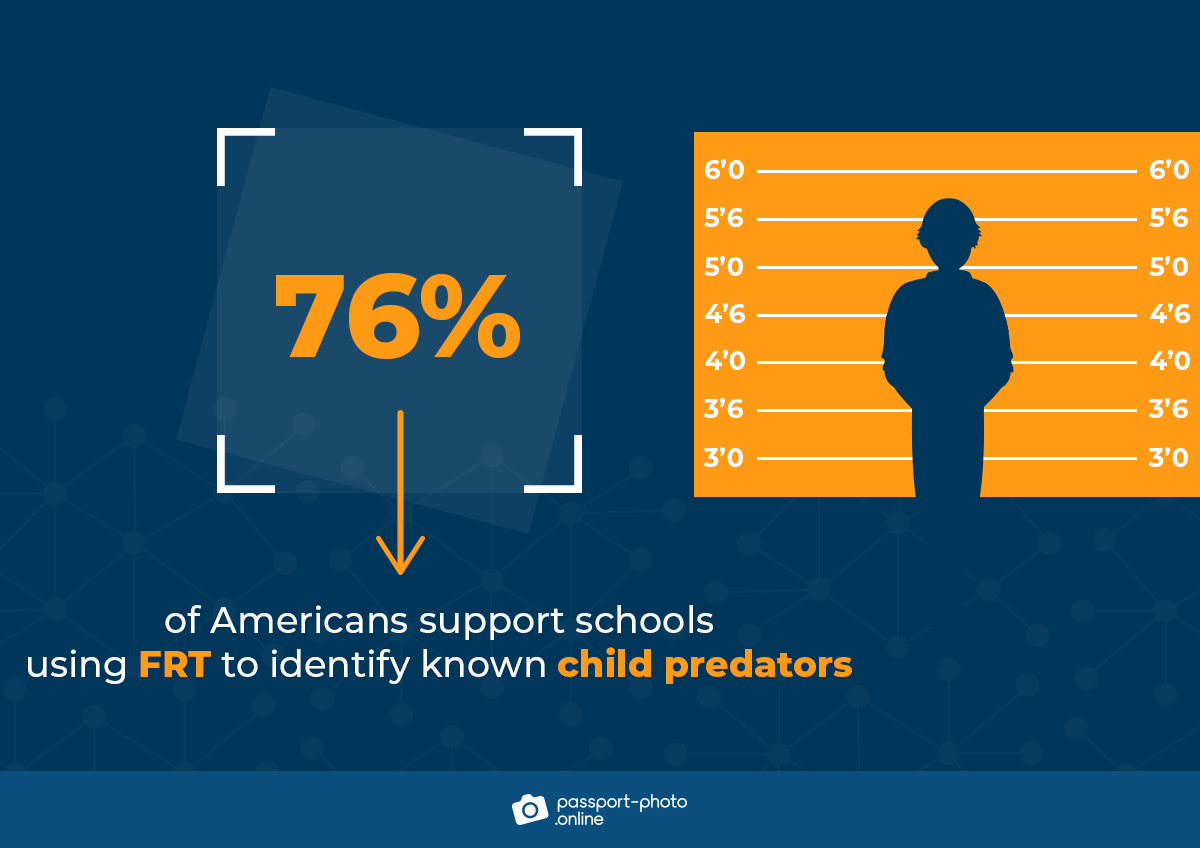 Just one in four Americans believes the federal government should limit the use of FRT.
59% of Americans are OK with the use of FRT if it's right 100% of the time.
Facial Recognition vs. Law Enforcement
Most Americans (56%) trust law enforcement agencies to use facial recognition technology responsibly.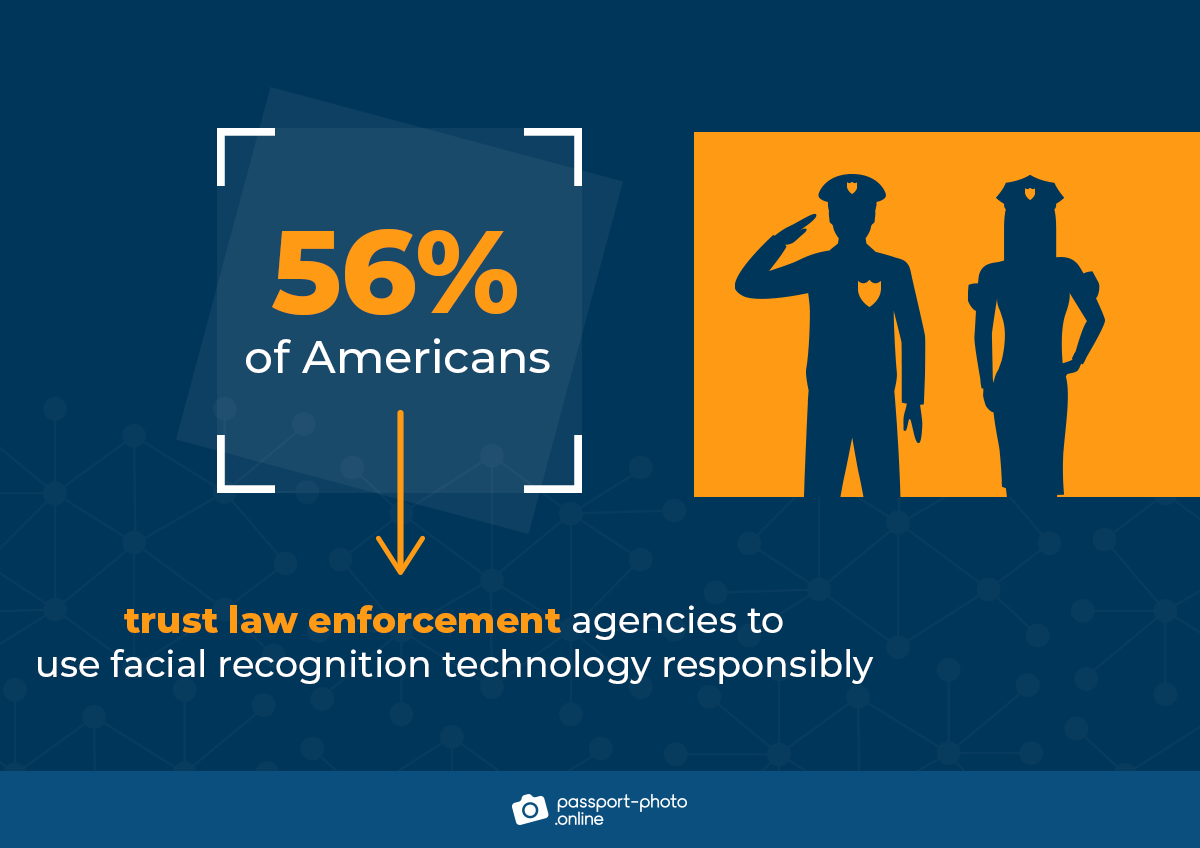 59% find it acceptable for law enforcement to use FRT to assess security threats in public spaces.
White adult Americans (64%) agree law enforcement can be trusted with facial recognition technology compared to Black (47%) and Hispanic (55%) respondents.
Interpol's facial recognition system contains facial images from over 179 countries, making it a unique global criminal database.
About 1.5K persons of interest, criminals, terrorists, missing persons, or fugitives have been identified since the launch of Interpol's facial recognition system at the end of 2016.
In 2021, Maine became the first state to set strict statewide limits that FRT could only be used to investigate serious crimes.
Over half of Americans (54%) think FRT can reduce human bias in investigations, and 47% believe it can lower racial injustice and discrimination.
Most Americans (83%) want governments to work with law enforcement to improve the use of FRT rather than ban it.
74% of US adults support law enforcement using FRT to find missing senior citizens with Alzheimer's, dementia, or other mental disabilities.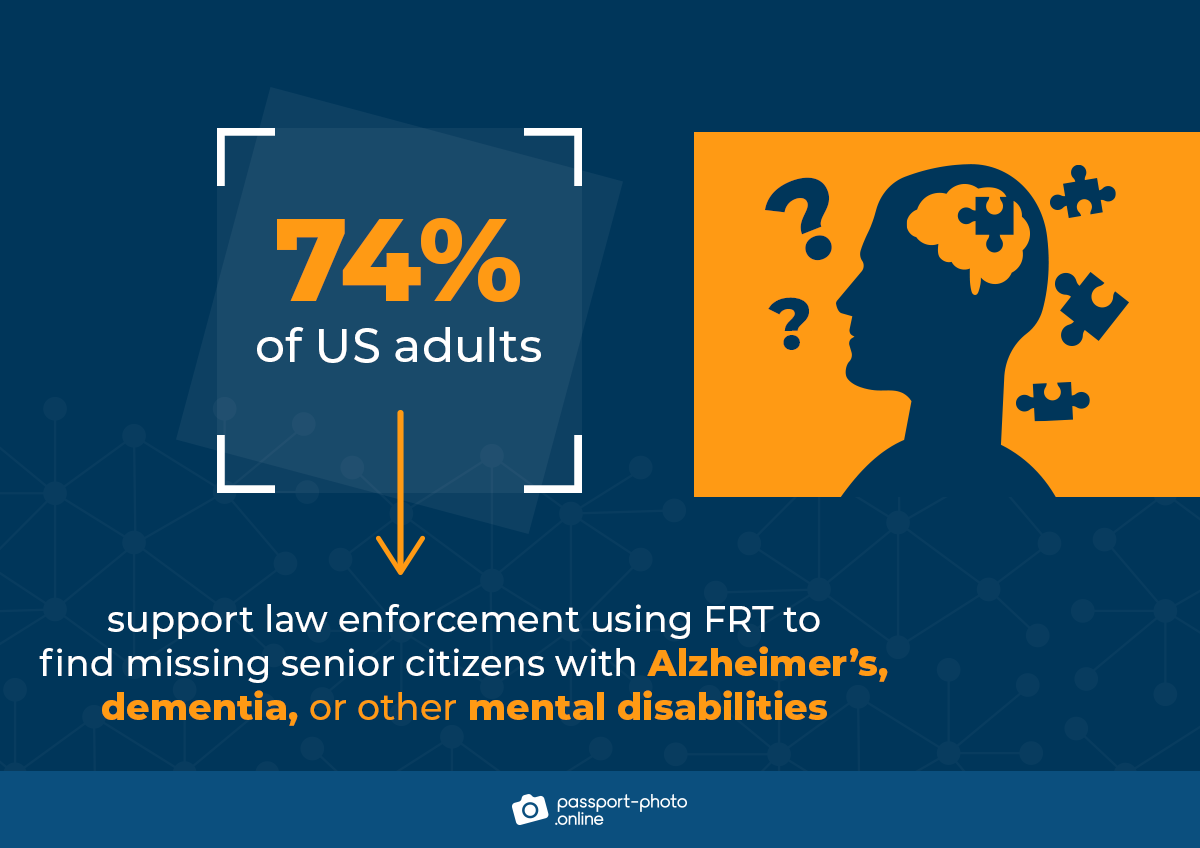 76% of Americans believe law enforcement should use facial recognition to locate terrorists during an active terrorist attack.
76% support requiring law enforcement to be trained on the proper use of FRT and educated about its risks.
42% of Americans feel FRT invades personal privacy rights.
Stacking It All Up
There you have it.
A comprehensive list of facial recognition statistics, facts, and trends to help you stay ahead of the curve.
Let us know in the comments if there are any other facial recognition figures you'd like to see.
Fair Use Statement
Did you like our infographics? If so, feel free to share them with your audience. Just remember to mention the source and link back to this page.
Sources
Apple, "About Face ID Advanced Technology"

Bischoff P., "Facial Recognition Technology (FRT): 100 Countries Analyzed"

Chowdhry A., "Facebook's DeepFace Software Can Match Faces With 97.25% Accuracy"

Costello T., "New Facial Recognition Tech Catches First Impostor at DC Airport"

Glusac E., "Your Face Is, or Will Be, Your Boarding Pass"

Grand View Research, "Facial Recognition Market Size, Share & Trends Analysis Report by Technology (2d, 3d, Facial Analytics), by Application (Access Control, Security & Surveillance), by End-Use, by Region, and Segment Forecasts, 2021 – 2028"

Interpol, "Facial Recognition"

Kohl G., "Extensive New Poll Finds Most Americans Support Facial Recognition"

Konkel F., "Survey: Americans Warming to Use of Facial Recognition Tech"

Laperruque J., "Key Facts About Face Recognition for Policymaking"

Lohr S., "Facial Recognition Is Accurate, If You're a White Guy"

New York City Police Department, "NYPD Questions and Answers Facial Recognition"

Pickard-Whitehead G., "Only 32% of Consumers Feel Comfortable About Private Companies Using Facial Recognition"

Reservations, "Survey: 43% of Americans Approve, 33% Disapprove of Facial Recognition Technology in Airports"

Senstar, "Pros and Cons of Facial Recognition"

Smith A., "More Than Half of US Adults Trust Law Enforcement to Use Facial Recognition Responsibly"

Statista, "Facial Recognition Market Size Worldwide in 2020 and 2025"

Statista, "Number of Countries Adopting Artificial Intelligence (AI) Surveillance Worldwide between 2017 and 2019, by Technology

Statista, "Security & Surveillance Technology"

Szabo C., "Americans Want Facial Recognition Use By Law Enforcement Improved, But Not Banned"

TechTheLead, "Are Games Actually Playing Us? Tencent Using Facial Recognition On Young Gamers"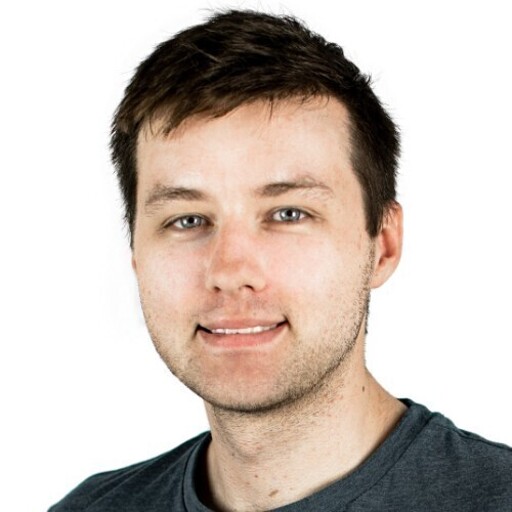 Max Woolf is a writer and travel lover at Passport Photo Online. His insights, advice, and commentary have been featured in Forbes, Inc., Business Insider, Fast Company, Entrepreneur, BBC, MSN, NBC, Yahoo, USA Today, Fox News, AOL, The Ladders, TechRepublic, Reader's Digest, Glassdoor, Stanford, G2, and 300+ other outlets.