Traveling with a damaged passport is a terrible idea—you can get stuck in a foreign country or held at an airport.
Fortunately, there's an easy solution to this problem.
This comprehensive guide will walk you through everything you need to know about replacing a damaged passport. From understanding what qualifies as damage to the step-by-step replacement process.
Keep your travel plans on track!
Here are the topics we'll cover:
You'll need a passport photo to get your damaged passport replaced. And the easier and faster way to get it is Passport Photo Online. You upload the picture and we edit it to the official requirements—100% acceptance compliance.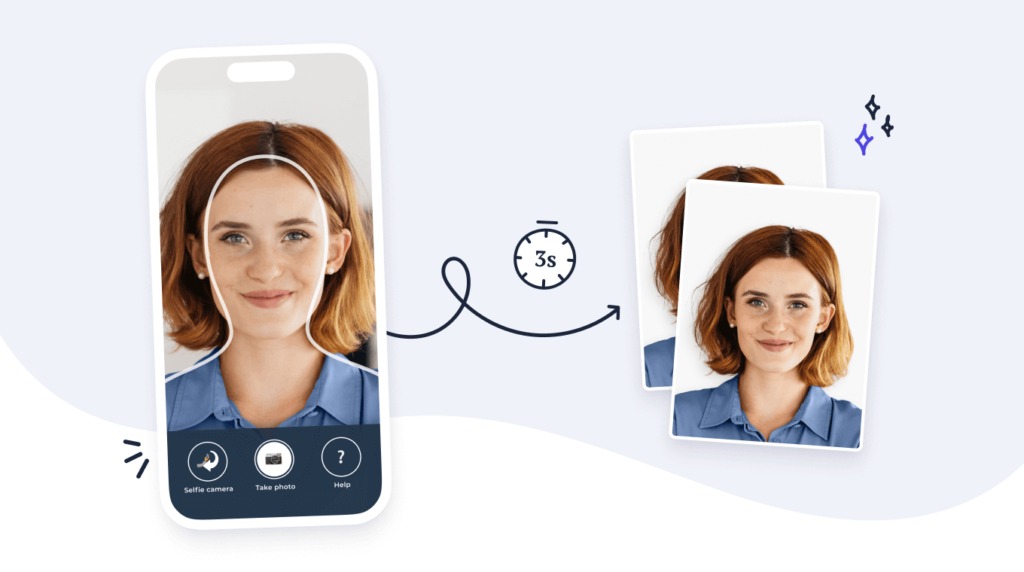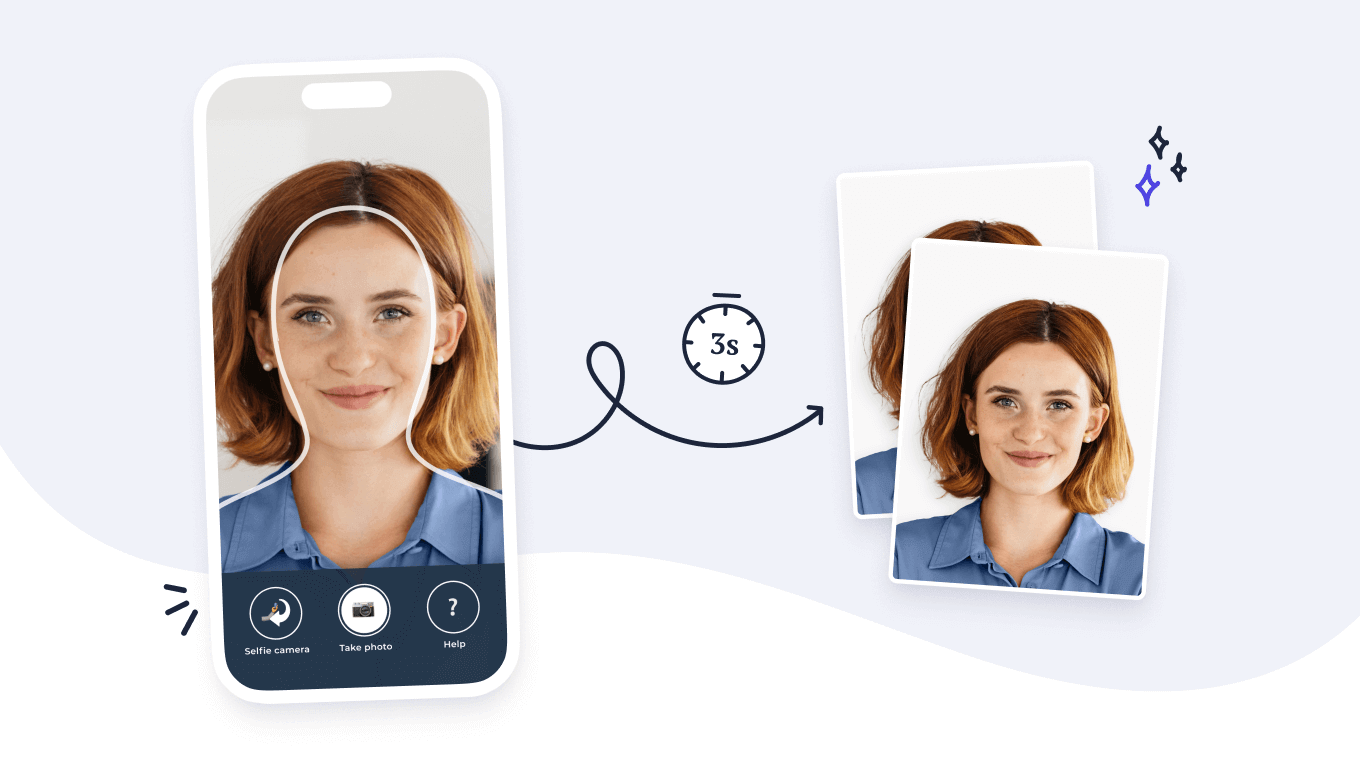 Here are some articles you may want to consult before replacing your damaged passport:
Let's dive in and ensure your travel plans stay on track.
What is considered a damaged passport?
Normal wear and tear is expected to happen over time.
As long as there are no visible changes from its original form, the microchip works, and the personal data page remains legible, your passport is still eligible for use.
In other cases, you own a damaged passport—also called a mutilated passport.
But what is considered acceptable wear and tear, and when does the damage call for replacement?
Look at the table below to assess the condition of your travel document according to the US Department of State info.
How do I know if my passport is damaged?
Passport condition
Type of damage
Normal wear and tear
● Minor water damage
● Heavy wear (e.g., bending)
● Fraying or dog-eared pages
● Creased, scratched, or blurry cover
Damaged passport
● Visible changes or defects in physical appearance or composition, such as tears, holes, fading, loose binding, animal bites, or heavy sun damage
● The passport cover fell off or suffered tearing or ripping
● The personal data page is peeling off, blurry, faded, stained, water/liquid damaged, or has mold spots or runny ink
● The passport chip (RFID chip) is defective or not working
● One or more passport pages are missing
● Unofficial markings or changes have been made
Note: If you're unable to assess the condition, attend a passport acceptance facility or agency so they can evaluate the passport damage.
Is your passport damaged? Unfortunately, this means it's no longer valid for travel and you're required to:
Apply for a new passport in person at a passport acceptance facility
Submit a signed statement explaining the damage together with the required documents
Pro Tip: Normal wear and tear can also lead to disruptions, delays, or even denial of entry due to different acceptance criteria by immigration checkpoints and airline carriers, so it'd be a good idea to apply for an early passport renewal.
How to replace a damaged passport?
You can't renew a damaged passport.
Instead, you'll have to go through the first-time application process to get a brand new passport.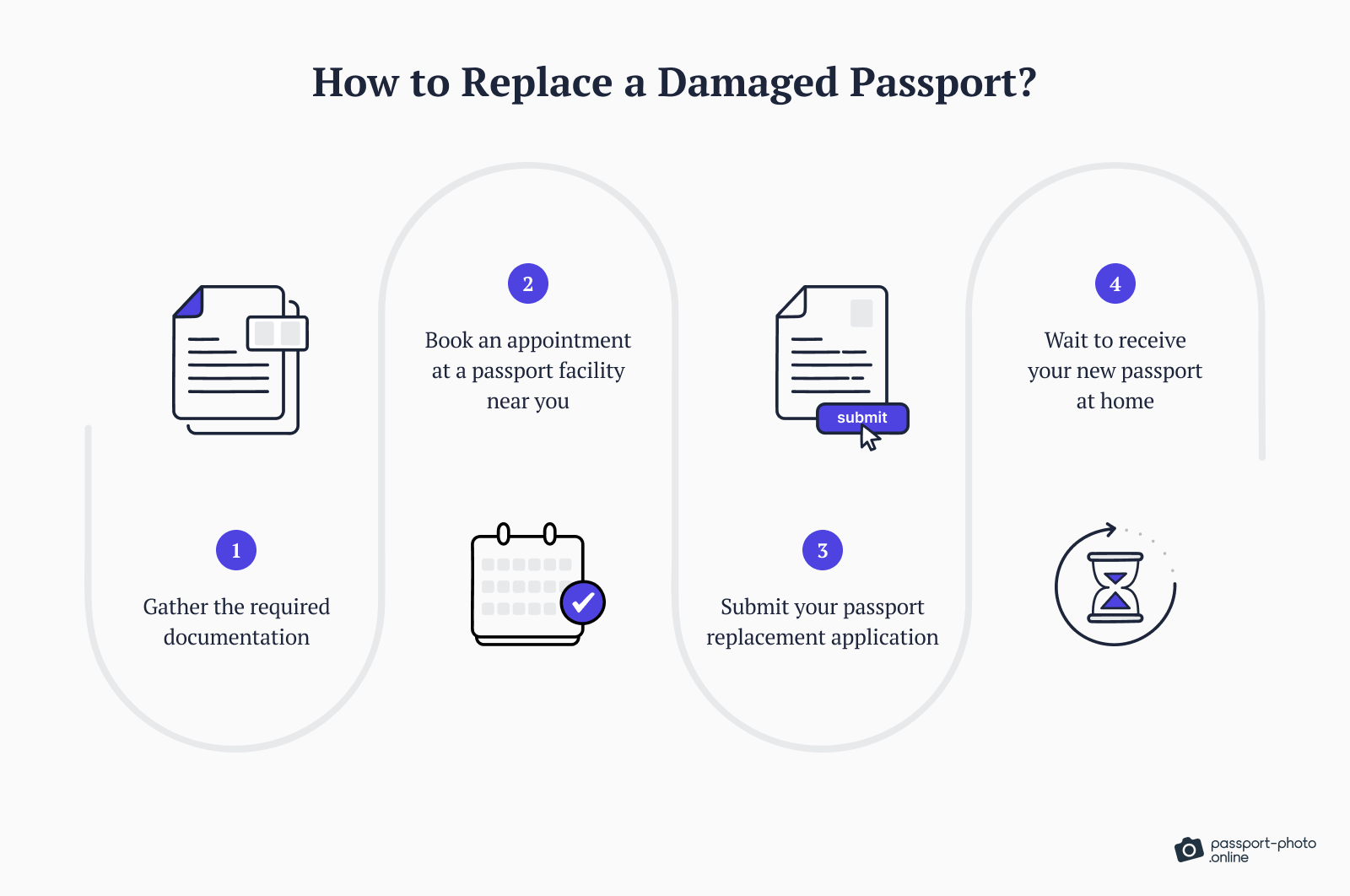 Below is a detailed step-by-step guide to replacing your damaged passport.
Note: In case you're a US citizen overseas, contact a US embassy or consulate near you to learn how to get an emergency passport.
1. Gather the required documentation
You can find a detailed list of necessary documents to replace your damaged passport here:
The current damaged passport
Hard copy of a filled-in DS-11form—you can download it and fill it in by hand or complete it online and print it
A signed statement explaining how the passport was damaged. This letter must be signed in blue or black ink—more details about how to write the statement here.
Proof of US citizenship—i.e., original copy and photocopy of your birth certificate, naturalization certificate, or an undamaged expired passport if your appearance didn't change)
Front and back photocopy of your US driver's license or other state-issued photo ID. You'll also need to show the original document on the day of the appointment
Fees to replace a damaged passport—$165 in total. This includes $130 to pay to the US Department of State and $35 to the Passport Acceptance Agency.
If you choose expedited services (extra $60) to get your damaged passport replaced faster, also provide the flight itinerary or other document proving the urgency due to your travel plans
One passport photo
Now you can get your photo edited to the passport size and requirements in 3 seconds, then download it in digital format or order the delivery of photo prints to your address.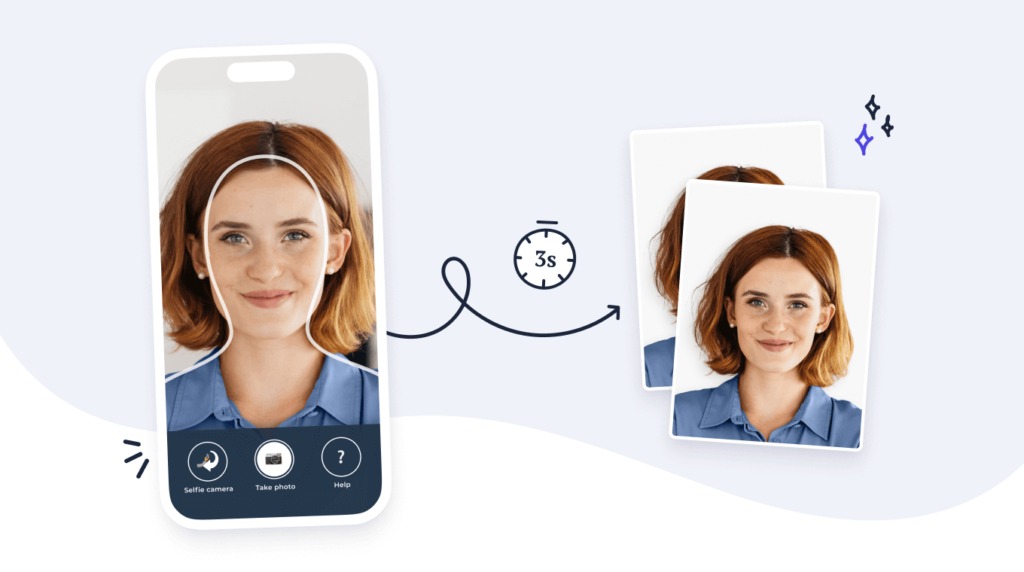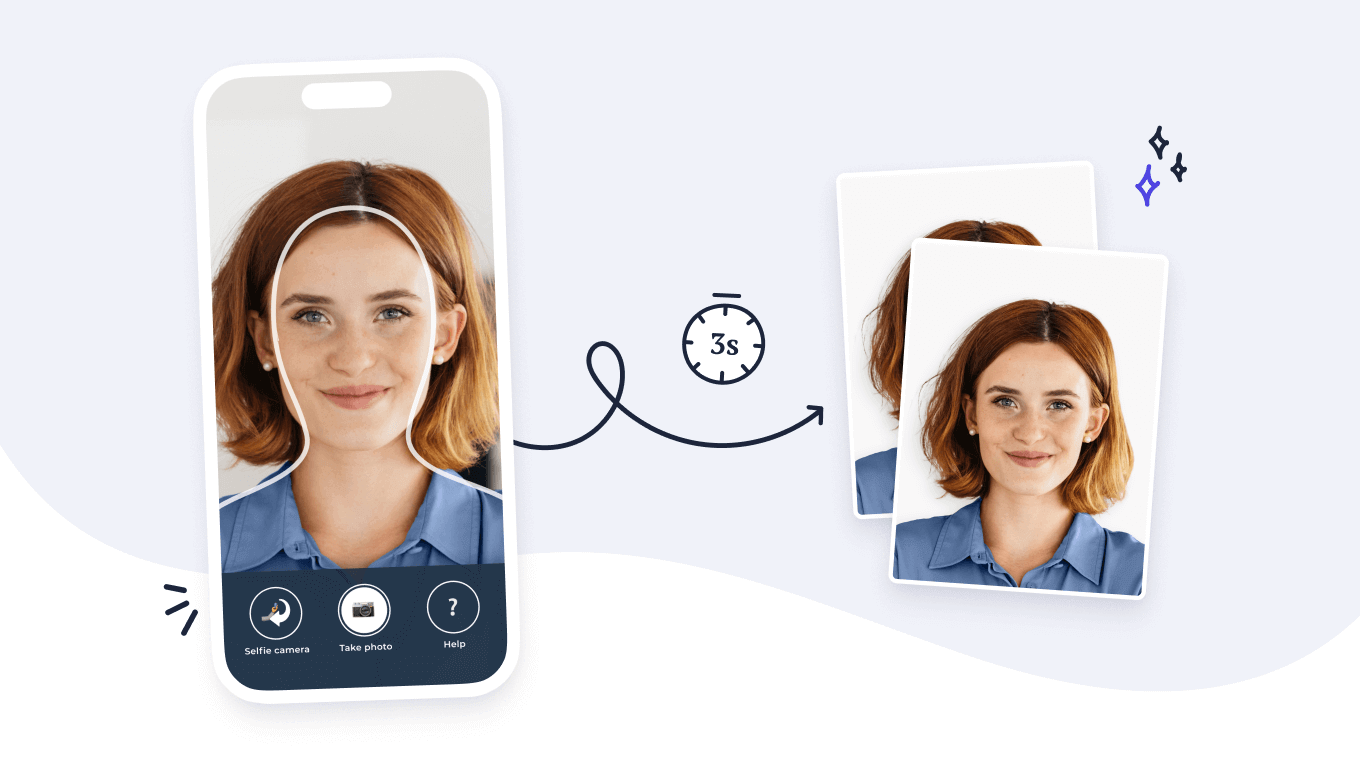 How do I write a damaged passport statement?
When writing your damaged passport statement, provide clear and concise information about when, where, and how the incident happened.
Be objective and factual in your description, avoiding speculation or unnecessary details.
Finally, address any particular concerns or limitations resulting from the damage and end the statement with your signature and the current date.
Find here an example of a damaged passport statement:
Dear Sir/Madam,

On [Date], while traveling to [Location], I inadvertently spilled liquid on my passport [Number], causing water damage to several pages.
Due to the damage, I would like to bring to your attention the following concerns and limitations resulting from the damaged passport: [e.g., missing or illegible information, or difficulties in the passport's functionality.]
I have to travel on [Date] to [Location]—therefore, I would highly appreciate your prompt attention to this matter and your assistance in renewing my passport as soon as possible.
I deeply regret any inconvenience caused and I will make sure I'm more careful with my passport next time. Thank you for your understanding and cooperation.
Sincerely,
[Name]
[Signature]
[Current Date]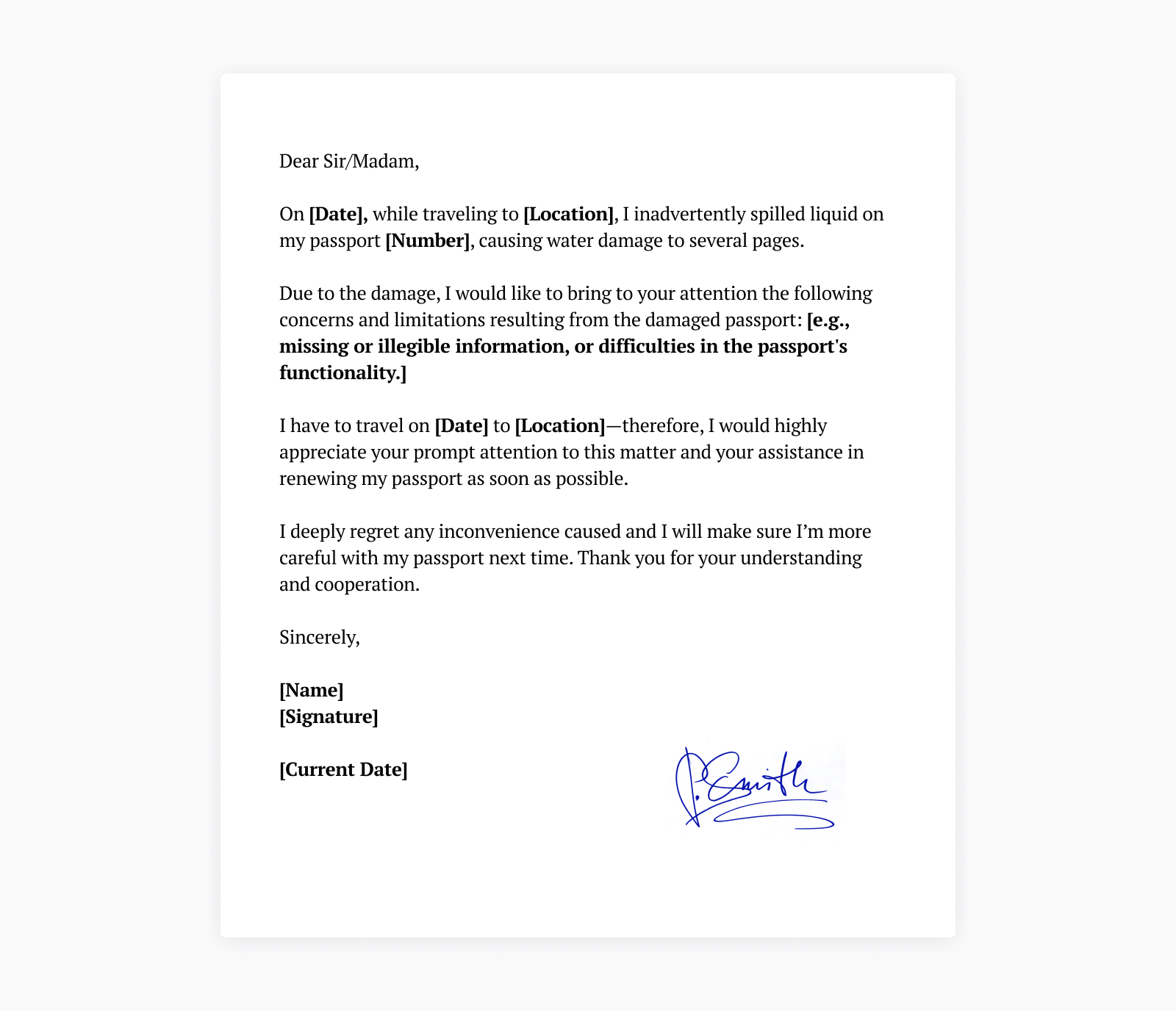 2. Book an appointment at a passport facility near you
A damaged passport requires you to attend a passport acceptance facility to submit your application and required documentation in person.
Before that, you'll need to book an appointment.
Not to worry, though.
Once you find your nearest facility, you'll get detailed information as each facility uses its own appointment system.
In case of urgent travel plans, you can attend a passport agency. Use this service if you:
Travel in less than 2 weeks or
Need a visa in less than 4 weeks
To book an appointment at the passport agency, call the National Passport Information Center at 1-877-487-2778.
3. Submit your passport replacement application
During your appointment at the passport facility, the staff will review your damaged passport and handle your application.
After submitting the required documentation and paying the fees, an agent will mail your documents in a sealed envelope to the National Passport Center to process your application.
Note: Children under 16 must attend the passport facility along with both parents.
4. Wait to receive your new passport at home
The current estimated waiting time after submitting your application to replace a damaged passport varies and can take:
Up to 13 weeks if you followed the regular procedure by mail
7–9 weeks if you applied for expedited service
If you applied at a passport agency, waiting time depends on the travel date.
For the most up to date information on processing time, check the official link here.
FAQ
Here's a list of common questions regarding a damaged passport.
What to do if my dog chewed my passport?
If the damage is noticeable, you must apply for a damaged passport replacement. If not, applying for an early passport renewal would be a good idea. Regardless of what the US State Department says, border control officials may stop you from entering another country.
Can water damage a passport chip?
Yes, water damage can impact the electronic chip embedded in your passport. This might cause scanning issues or even lead to passport rejection. It's best to replace a water-damaged passport promptly.
Can heat damage a passport?
Yes, heat can potentially damage a passport. Prolonged exposure to high temperatures, such as leaving a passport in direct sunlight or placing it near a heat source, can lead to various forms of damage. Excessive heat can cause the passport's cover to warp, the pages to curl or stick together, or the lamination to peel off.
Summary
To replace a damaged passport, you need to follow the same procedure as when applying for a brand new one:
Gather the required documents
Find your nearest passport acceptance facility and book an appointment
Process your damaged passport replacement in person and pay the fees
Wait till receiving your newly issued passport
Before you decide to apply for a new passport, double-check if your passport qualifies as damaged. Replacing a passport is NOT necessary when:
It keeps its original form
The cover looks good
The photo page is legible
No pages are
Passport chip is working
If you're in doubt, consult your local passport facility or apply for an early passport renewal just in case—all the more so if you're planning to travel internationally.
Sources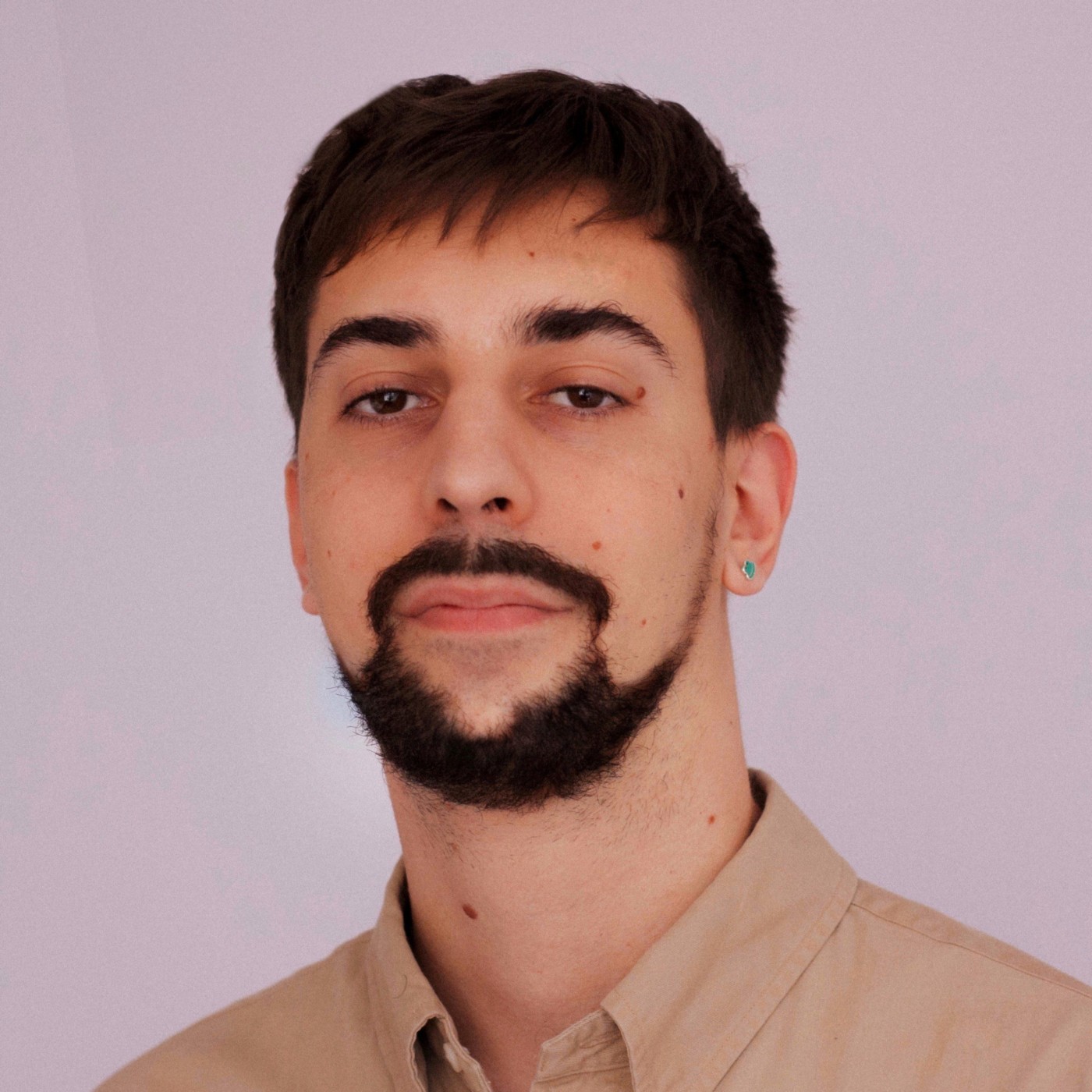 Alejandro Martín Gallardo, has a deep understanding of biometric photography. He uses his storytelling and copywriting skills to create content that breaks down the process of taking biometric photos for identity documents into digestible bits. Alejandro's love for travel has made him realize the value of accurate biometric photos in facilitating smooth journeys.