Having your passport damaged is definitely not something any of us would want to experience. Any malfunction beyond the allowed minor damages automatically makes your passport invalid and calls for a quick replacement.
This unfortunate situation happens every day to some unlucky folks out there —statistics are cruel in this matter, so if you are one of the ill-fated ones who've had their passport damaged, please read this article to learn what to do and how to replace your travel document.
A water damaged passport
There are many circumstances under which our documents may end up covered by a layer of liquid. Some people do it on purpose to cover up specific data, others have the dubious pleasure to see their passport soak in a coffee that has just been spilled.
For others, the circumstances are much more tragic and can include storms or other catastrophic natural phenomena. No matter what the specific situation is, if your passport happens to be damaged by water, it is automatically invalid and requires replacement.
There are some situations in which getting a new passport won't be necessary, for example, having a tiny spill on one of the blank pages. However, the general rule of thumb is that any damage due to water, and especially injuries concerning the personal data and visa pages, call for a passport replacement.
For people who have suffered a major storm and are, therefore, in an emergency situation, the U.S. Department of State has prepared a dedicated page (available here) to help out in the process of having their most important documents restored.
Do you want to learn more about passports? Check these out:
Ripped passport pages
In case your passport has suffered mechanical damage due to pages being ripped out, there is basically no question, and you are obliged to file for a replacement. Unlike in the example of water damage, where some tiny drops might be accepted on blank pages, when it comes to having the sides missing—there is no special treatment. You must get a new passport.
A quite similar situation is when the pages in your passport are not exactly ripped out but are instead significantly worn out. In that case, the most important factor is to determine which pages have been affected. If it's one of the blank pages, then most likely you will be okay. However, if the problem concerns the book cover of your passport, the personal data page, or any of the visa pages, you are required to replace your document.
Dog-chewed passport
It is quite possible that the people who have struggled with dogs eating their homework, now are facing the problem of their pets chewing their passports. Jokes aside, when it comes to passports, the origin of damage doesn't really matter—it is the effect that determines whether your document requires replacement or not. In the case of dog chewing, one can quite surely assume that it might be both water-caused damage and a combination of other mechanical lesions.
If the book cover is anyhow punctuated, not to mention the personal data page or visa-related pages, your passport loses its validity. The same goes for damage caused by saliva spreading through the document. It is therefore quite possible that your passport will need a replacement after encountering a hungry dog.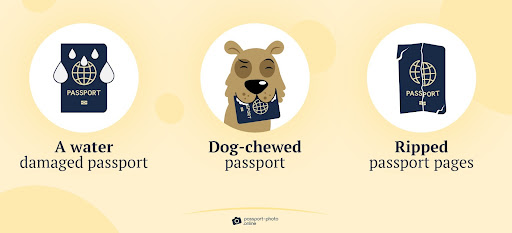 How to replace a damaged passport
By now you can probably easily determine whether your passport calls for a replacement, or not. What to do in case it does, then?
Well, unlike in the case of a lost or stolen passport, you don't have to report it anywhere. The procedure is quite similar to applying for a new passport.
You will be required to deliver the same set of documents, with a tiny difference that this time you will also have to attach your old, damaged, passport and additional form for a damaged passport report. You are, however, obliged to do that in person in any of the passport agencies, because in case of substantial passport damage you are not eligible for renewal by mail service as with an expired passport.
The damaged passport replacement procedure
If you are replacing your passport due to significant damage, you must apply in person in one of the following facilities: passport acceptance facility or passport agency. There is no option to perform replacement via the post office.
The process is almost the same as while applying for a new passport and takes the same amount of time. If you apply for a passport replacement in a standard procedure, it is expected to take between 4 – 6 weeks to have your passport delivered to you. There is an option to speed up this process by using expedited service, which is a little bit more costly but cuts the processing time to approximately 2 – 3 weeks.
What documents to prepare for passport replacement
Documents required for U.S passport replacement are the same as when applying for a new passport, with additional attachments.
Additional documents:
your old, damaged passport
a signed statement explaining the condition of your passport.
Regular U.S passport submission documents:
filled DS-11 form,
citizenship evidence, such as a birth certificate or naturalization certificate,
a photocopy of citizenship evidence,
present ID (in person),
a photocopy of ID,
current passport photograph,
required fees.
In order to have your damaged passport replaced, you are required to deliver all the above-mentioned documents (additional + regular) to the passport acceptance facility or passport agency in person.
Same-day passport replacement
If you are in an exceptional hurry (e.g., an urgent travel is coming) and cannot wait a couple of weeks as foreseen in the regular procedure, there are two shortcuts you can utilize to get a replacement passport quicker.
First, you can schedule an appointment at a regional agency. To do so, you need to call the Automated Appointment System at 1-877-487-2778 and request the appointment. Once you have your visit scheduled, you will have to be present there in person and apply for the fast-track procedure.
However, if you really want to speed up the process, it is advisable to bring any documentation that would justify the hurry—for example, travel tickets—which can additionally speed up the procedure. The processing times can vary, but the average time of emergency passport renewal is 8 (eight) business days.
Second, in case there are no regional agencies in your vicinity, you can use the services of a passport expediting company, to submit the passport replacement submission for you. It is a paid service that allows you to literally hire an authorized courier to deliver all the necessary documents to the passport agency for you.
Cost to replace damaged passport
Since replacing a passport is fundamentally the same process as when applying for a new one, the fees remain the same. Therefore, if you are an adult and want to get a new passport at regular processing time, you will pay $130, for both passport book and passport card. If you are in a hurry and want to speed up the process by using the expedited service, you will need to pay an additional fee of $60.
The passport fee is a bit lower in the case of children under the age of 16 (sixteen), and the cost of having a passport processed in the standard procedure is $100, and $195 for the expedited service.
Additionally, for both adult and children passport replacement, there is a $35 Acceptance Agent Fee paid during the in-person appointments.
The above fees apply only to the passport services itself. Applicants must also pay an extra shipping charge, the amount of which depends on the mail service of their choice.
Easy way to get a new passport photo
If you are reading this post there is quite a good chance you are about to have your passport replaced. Having the necessary forms filled out is a rather trivial task, requiring from you just a bit of concentration. However, having a passport photograph taken is another story. It calls for time-consuming visits to professional photo studios or passport photo booths.
If you are a person who values comfort, reliability, and time-saving, there is an option that you should definitely pay close attention to—online passport photo generators.
One of such apps is called Passport Photo Online. It is an AI-backed software that scans pictures uploaded by you and adjusts them adequately to the passport requirements, so they are always 100% in accordance with the official U.S. standards. How does it work?
You simply need to take a photograph of yourself and load it to the software. The pictures can be taken with your smartphone and don't require any additional touches—Passport Photo Online will do it for you. As a result, you will receive a passport photo that is perfectly matched with the official criteria. With no hassle, no need to leave your house, and a 100% guarantee that the pictures will be accepted.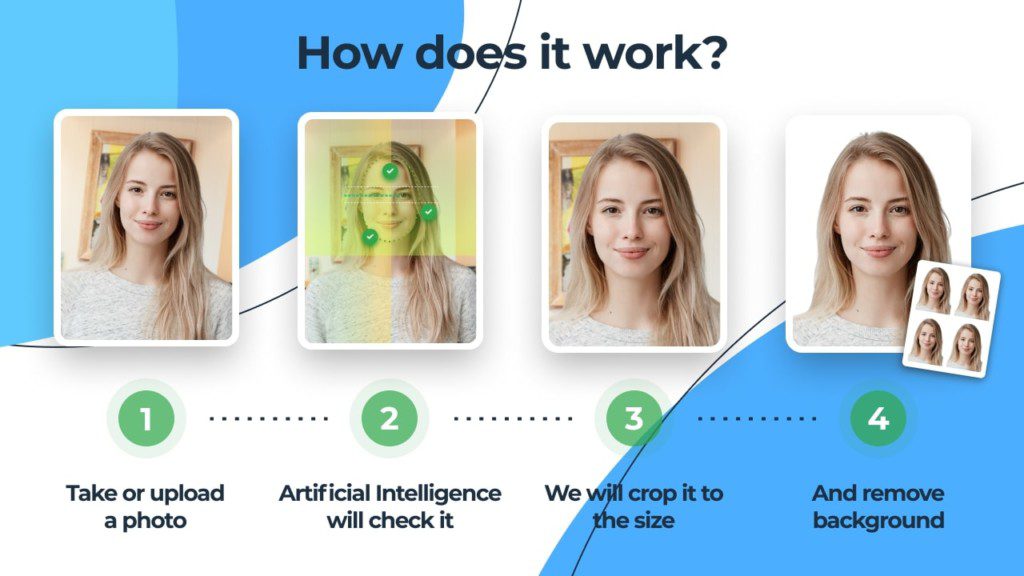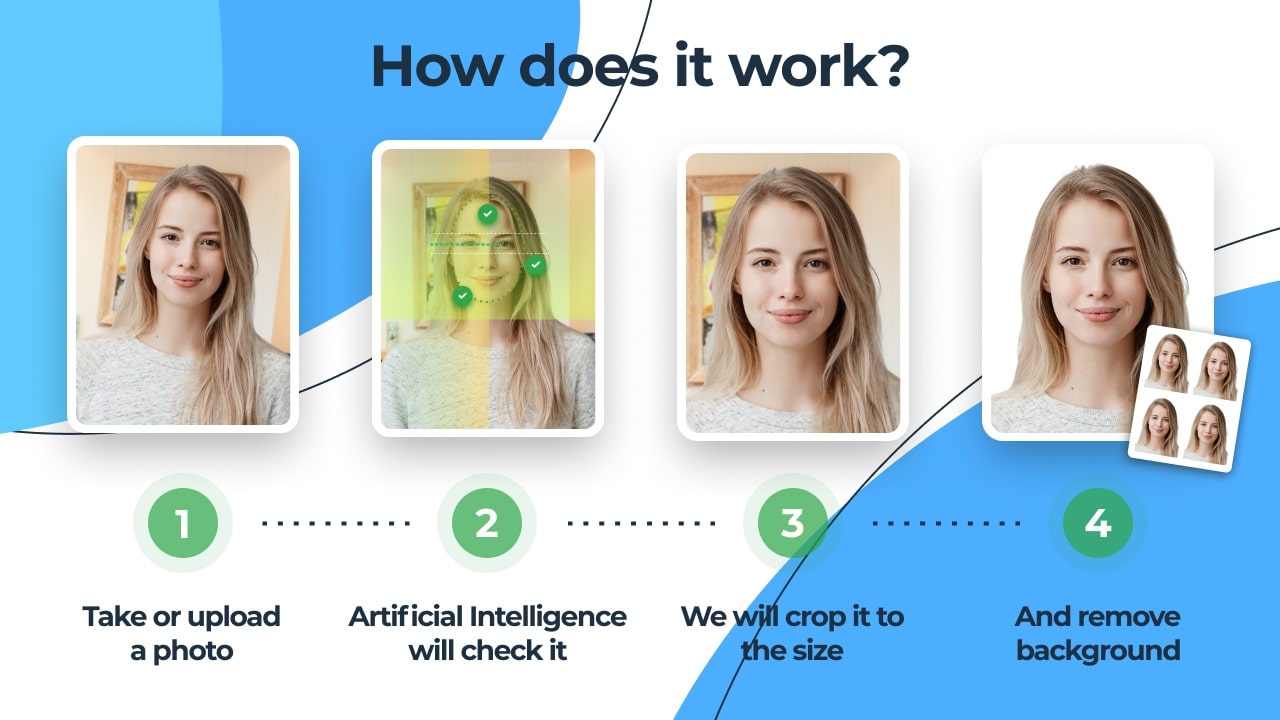 What makes Passport Photo Online even more user-friendly is the fact that you are allowed to upload as many photos as you want. With this app's intuitive interface and super quick processing powers, you can within a couple of minutes render multiple photographs, choosing the one you like the most. And no matter how many photos you upload, you pay only once for the final result.
Still not convinced? Make sure not to miss the fact that Passport Photo Online gives you the guarantee of having your passport photos accepted by the authorities. And in the unlikely scenario that your photograph gets rejected, you can receive a double money refund.
Replace a damaged passport: FAQ
Let's move on to the most frequently asked questions about replacing damaged passports.
Can I still use a damaged passport?
According to the U.S. Department of State guidelines, normal wear and tear effects are allowed. However, if the damage goes beyond that, you are obliged to apply for a new passport. A general rule of thumb is: if you have doubts, it is better to replace.
When is a passport damaged?
Unfortunately, there are no specific guidelines to describe when a passport is damaged. According to the officials, the passport is damaged when its malfunctions go beyond simple wear and tear. There are, however, some ground rules to help determine the trend: missing pages, water damage, holes, unreadable personal data, and visa pages, or falling apart.
Where to replace a damaged passport?
In order to replace a damaged passport, you are required to follow the same procedure as when applying for a new one. Therefore, you need to visit the Passport Acceptance Facility or a national agency and submit the passport application personally.
How damaged can a passport be?
Passports are allowed to have minor damages, so you do not have to replace them anytime the cover gets a bit worn out. The guidelines are, however, a bit vague and allow regular wear and tear. It is not defined to which extent wear and tear are considered acceptable, therefore if you have doubts – and especially if the damage concerns personal data pages, it is better to replace the passport, or at least consult it with an officer.
I received a damaged passport – what to do?
In case you have received a damaged passport, you need to contact the National Passport Information Center. According to the legal information, the Department of State is to refund your fees if the passport has been delivered to you with a malfunctioned chip or to correct an error or rectify a mistake of the Department. Depending on the damage, you might meet the criteria of a refund, therefore you should consult with an agent at NPIC.
Can you renew a damaged passport?
Passport renewal and passport replacement are two different procedures, and are applicable in different circumstances. In the case of passport damage, you should file for a passport replacement and submit the application papers (DS-11 form) in person at the passport offices.
I spilled coffee on my passport—can I renew it?
Regardless of the reason for mutilation, holders cannot renew their damaged passports. U.S. citizens whose passports were destroyed by coffee or any other liquid must replace them by applying in person at the nearest Passport Acceptance Facility.
What to do with a passport damaged by a dog?
Holders should replace their damaged passport fast if it was affected in any way, including the encounter with a dog. The passport's cover may be punctured, or the pages may be soaked in saliva. In this case, U.S. citizens should apply for a replacement using the DS-11 form
How can I replace a damaged passport card?
American citizens can replace their damaged passport card in the same way as a regular U.S. passport book. Have a look at our thorough section on replacing a damaged passport.
Can I replace a damaged passport online?
No, U.S. citizens cannot replace their damaged passports online. They can do it only through governmental agencies or post offices. Applicants should provide a completed application (DS-11), state-issued ID (e.g., driver's license), original or certified copy of the citizenship proof, and supporting documents their damaged passport, primarily.
How much does it cost to replace a damaged passport?
The American passport replacement fees depend on the service and holder. Standard replacement services cost $130 and 100$ for adults and children, respectively. Expedited services require applicants to pay an additional $60 fee. Applicants must also pay some costs either at the passport office or by mail.
Damaged passport: better safe than sorry
To sum up, having a passport damaged beyond the simple wear and tear most likely calls for a replacement.
No wonder, because this is one of the most important pieces of documentation one can have and is the basic identification method all around the world. Not only for your personal data, such as name and birth date but also for important information, such as your citizenship. It's reasonable to keep your passport valid, and to do so – maintain it clean and tidy, to avoid any unpleasant situations at border controls.
After all, the cost of having your passport replaced is substantially lower than the cost of having your vacations blocked at the passport control, isn't it? Especially since nowadays you can access online tools that deliver you suitable passport photos in a matter of seconds, as a result – allowing you to submit the passport application form with no hassle of visiting photograph studios.
Sources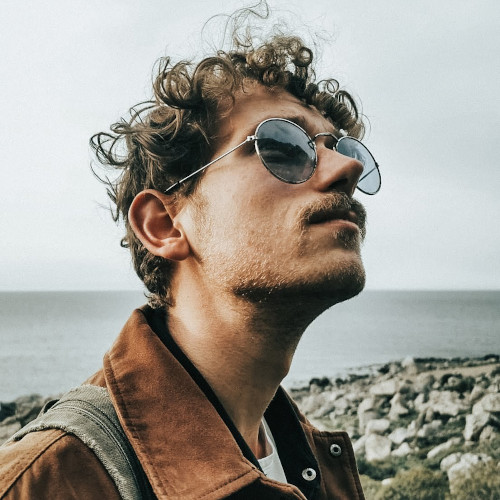 Adam is an SEO & Digital PR writer with a child's curiosity about the surrounding world. His superpower to dig out juicy facts got him citations in Forbes, Social Media Today, and 90+ other news outlets. Adam enjoys snapping pictures and won the national Huawei Next Image Award.