Taking a passport photo is a complex process, and must be undertaken with the utmost care if your photo is to be accepted. However, sometimes the picture needs to be done quickly, or you might be finding it difficult to fit taking your new passport photo around your day-to-day schedule. To solve this, entrepreneurs are designing and creating passport photo apps that are compatible with iOS. This means you now have the option of taking a passport photo with iPhone.
Therefore, taking a passport picture online is now simple. This innovation is Therefore, taking your passport picture online is now a lot simpler. Learning how to print a passport photo with iPhone has become significantly more important, as a result of the uncertainty created by the coronavirus pandemic, as it allows people to stay safe in their homes. This article will provide essential guidance for all iPhone users that are looking to take a passport photo.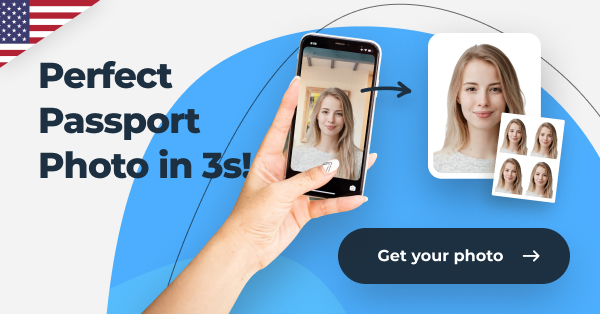 Interested in finding out more about passport photos? Check out:
How can I take a passport photo with my iPhone?
To take your own passport photo with your iPhone, you need to make sure that you follow all of the relevant passport photo requirements, as laid out by the Government. Here's a list of the important guidelines you need to follow:
Make sure someone else is taking a picture of you, as selfies are not allowed.
Stand 40 cm away from the camera.
Keep your head straight, facing the camera.
Keep a neutral face (that means no smiling or frowning).
Do not use any filters.
Remove all headgear and glasses for the picture (unless a person can't due to a medical condition/religious beliefs).
In a situation where a person cannot take off their headwear, due to religious beliefs or medical conditions, they must still make sure the face is visible from ear to ear and from forehead to chin.
Make sure the picture has a white background or, during the editing process, change it to a white/transparent color.
Use good, even lighting – preferably natural light.
Eyes must remain open in the picture.
Passport Photo Online – how to print a passport-size photo with iPhone
A good tool that you can use to create passport photos is Passport Photo Online's photo editor app – which you can find in the App Store on iOS devices. The available languages are:
Albanian
Arabic
Azerbaijani
Croatian
Czech
Dutch
English
French
German
Greek
Hungarian
Italian
Kazakh
Latvian
Polish
Portuguese
Romanian
Russian
Simplified Chinese
Slovak
Spanish
Turkish
Vietnamese
The app requires a device with IOS 12.0 for the download to proceed, and its size is 40.4MB. The app is also compatible with iPad, Mac, and iPod Touch.
After downloading the passport photo app, your first step is to choose the type of document you want the picture to be taken for. This is so the app can adjust the size of the picture to the requirements of the correct document. Secondly, photo options appear, and you must choose if they would like a free, or upgraded (paid) version.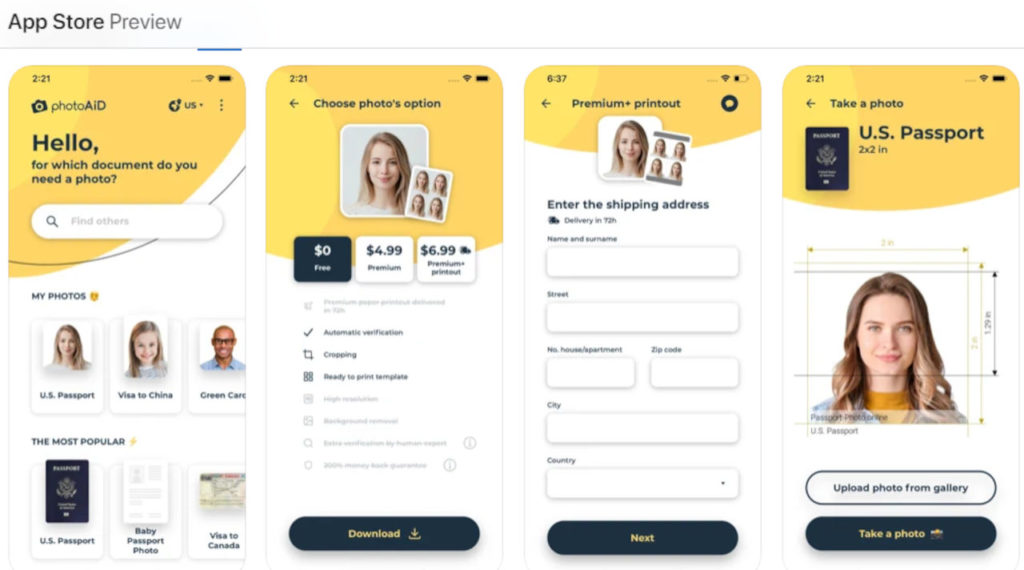 FFor premium users that choose the upgraded paid version, a shipping address page will appear, requesting the person's address. For regular users, either an "upload" or "take a photo" button will appear. It is free to download the digital version.
Furthermore, the app has the ability to edit your photo automatically, so that it fits the requirements of any official document you may require. This involves background editing, cropping, and verification of the passport photo (or any other photo) that meets the rigorous standards set by the Government. The whole process of taking your own passport photo takes less than a minute, perfect for if you need to get a passport renewal submitted urgently.
Passport Photo Online – app fee
The app is free of charge, however, there are some in-app purchases. These in-app purchaThe app itself is free of charge, however, there are some in-app purchases. These in-app purchases usually relate to the photo options, their premium facilities, and a printed version, mentioned above.
Passport Photo Online – app reviews
For an app to be successful, it needs to attract a lot of positive reviews and its ranking needs to be above 4. Passport Photo Online's ranking for iPhone devices ranges between 4.5 and 4.9/5! Here is some customer feedback:
App and customer service are excellent
The application did a great job fixing passport photos taken on iPhone. Was able to take a photo, and for $6.95 each this app got photos ready for printing at Walgreens, and then print the photos at Walgreens online for 35¢ each. Did this for three people all from home and it just took 15 mins. Customer service was excellent. Sent them an email with a question on a Saturday afternoon and I had a complete answer to my question on Sunday morning when I woke up.
Super useful and easy!
These guys are life savers!! I needed a 2×2 jpeg image of myself and had no idea how to make it happen. I, fortunately, found Photo Aid and they delivered superior results! I took the picture at the convenience of my home and they made all the necessary edits to make it work. But they didn't stop there. They went to analyze my photo to ensure it was in compliance with most government restrictions and even provided a video on how to improve the first picture I submitted. I resubmitted a second picture and they analyzed it once more without charging me a second time. They truly are amazing and offer a lot more photo options. I will surely be using them again in the future because they are so convenient and so affordable!
Guarantee you'll be satisfied
I was very hesitant at first but they're actually quick and legit! I took a picture through the app and got feedback from a specialist the next day letting me know what needed to be corrected. I took another picture and sent it again with a reply that it met the passport requirements and that my photos will be sent and arrive 2-3 days. I sent my photo on Friday and received it in the mail on Monday! ??I recommend it, it's affordable and worth it.
YOU MAY ALSO BE INTERESTED IN:
How to take a passport photo with iPhone: FAQ
Can I take a new passport photo with my iPhone?
Yes, you can definitely take a passport photo with your iPhone! All you need to do is get a photo editing app, take a photo that follows the official guidelines and you'll be well on your way to a quick and simple passport renewal. Passport Photo Online is an excellent option when choosing your photo app, as the AI software does all the work for you, leaving you with a passport photo you can be proud to put in your application.
Can I take a digital passport photo with my iPhone?
Yes, you can absolutely get a digital passport photo with your iPhone! Using Passport Photo Online, you can prepare the perfect digital photo template, which you can have emailed to your email account and then print at any leading photo store.
How to take a good passport photo with an iPhone?
If you want to guarantee that you get a good passport photo, you should definitely try Passport Photo Online! We have all of the requirements for the US passport photo in our database, and our 200% refund policy should give you confidence that your photo will be compliant with the regulations.
How to take a 2 x 2 photo on an iPhone?
There are a number of photo resizing apps on the market that will allow you to create a 2 x 2 inch passport photo, including Passport Photo Online. These apps can automatically rework your photo so it fits the size criteria laid out by the government, ready to be added to your application.
How to take an ID photo with iPhone?
It's not just passport photos! You can take any ID photo you like on an iPhone. For example, Passport Photo Online's app carries the ability to rework and reformat photos to fit all manner of official documents: visas, drivers licences, student ID cards, you name it! Just upload a photo to the corresponding document section in the app, and your photo will be ready in a matter of seconds.
Can you get a passport-size photo app for iPhone?
Yes, you absolutely can! There are a wide variety of apps on the market, each with its advantages and disadvantages. Passport Photo Online is a great all-rounder, offering a high-quality AI photo checker that can create perfect passport and ID photos in just 3 seconds!
How to resize a photo to passport size on iPhone?
The best way to resize a photo to match the official specifications is to use a passport photo editing app. 
Passport Photo Online's iPhone app has got all the government requirements for passport photos filed, automatically adapting your images to fit. The app uses artificial intelligence, so you can be confident that the passport authorities will accept your photo.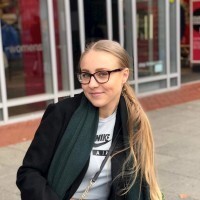 Holding the degree in International Business Management from a prestigious Manchester Metropolitan University, Victoria gained impressive knowledge in marketing, management, and HR. Wiktoria has completed voluntary work at Angoville as a coach of young adults. Her plans are associated with self-development, a glamorous career, travels.