Did you know that there are about 3 billion Android users worldwide? That is quite an impressive number. For this reason, innovators keep coming up with new ideas to make life easier—in this case, a passport photo app for Android devices.
When applying for a new passport, one of the most critical stages is getting an up-to-date passport photo. The picture must reflect an individual's current appearance to avoid any problems when passing through border security.
This article will teach you two different processes for getting your passport photo using an Android phone, each split into easy-to-follow steps.
Then, we'll show you how Passport Photo Online–an app used by over a million applicants–will help take your own passport photo, safe in the knowledge that the United States (U.S.) Department of State will accept the result.
How to take a passport photo with an Android phone in 7 steps
Using an Android phone to take a passport photo is simple. It comes down to ensuring your image follows all the relevant rules and guidelines. Simply follow our 7 steps, and you'll be in good shape.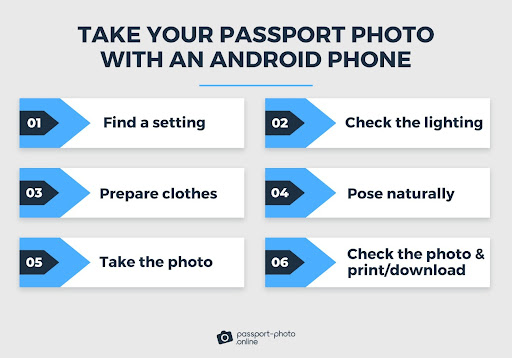 Step #1: find a setting (5 minutes)
The first thing to do is to find the right setting. The most important detail is space: there needs to be enough room to set up the camera at the right distance from the applicant.
Choose a place in which you can be comfortable, either standing up or sitting. There is no need to set up a white backdrop as the background removal features will take care of it automatically.
Step #2: check the lighting (5 minutes)
Next, it's crucial to ensure the setting has the proper lighting. Ideally, applicants should find a source of daylight; for example, in front of a window. This will guarantee an evenly spread lighting.
No shadows or reflections are allowed.
Step #3: dress for the occasion (3 minutes)
Make sure you are dressed appropriately. The Department of State outlines the correct dress as casual everyday clothes.
They insist that applicants remove sunglasses and eyeglasses*, any non-essential head covering they may be wearing, or any jewelry that could cover or obscure the face. A general rule of thumb with dressing for a passport photo is that all of the subject's facial features must be visible.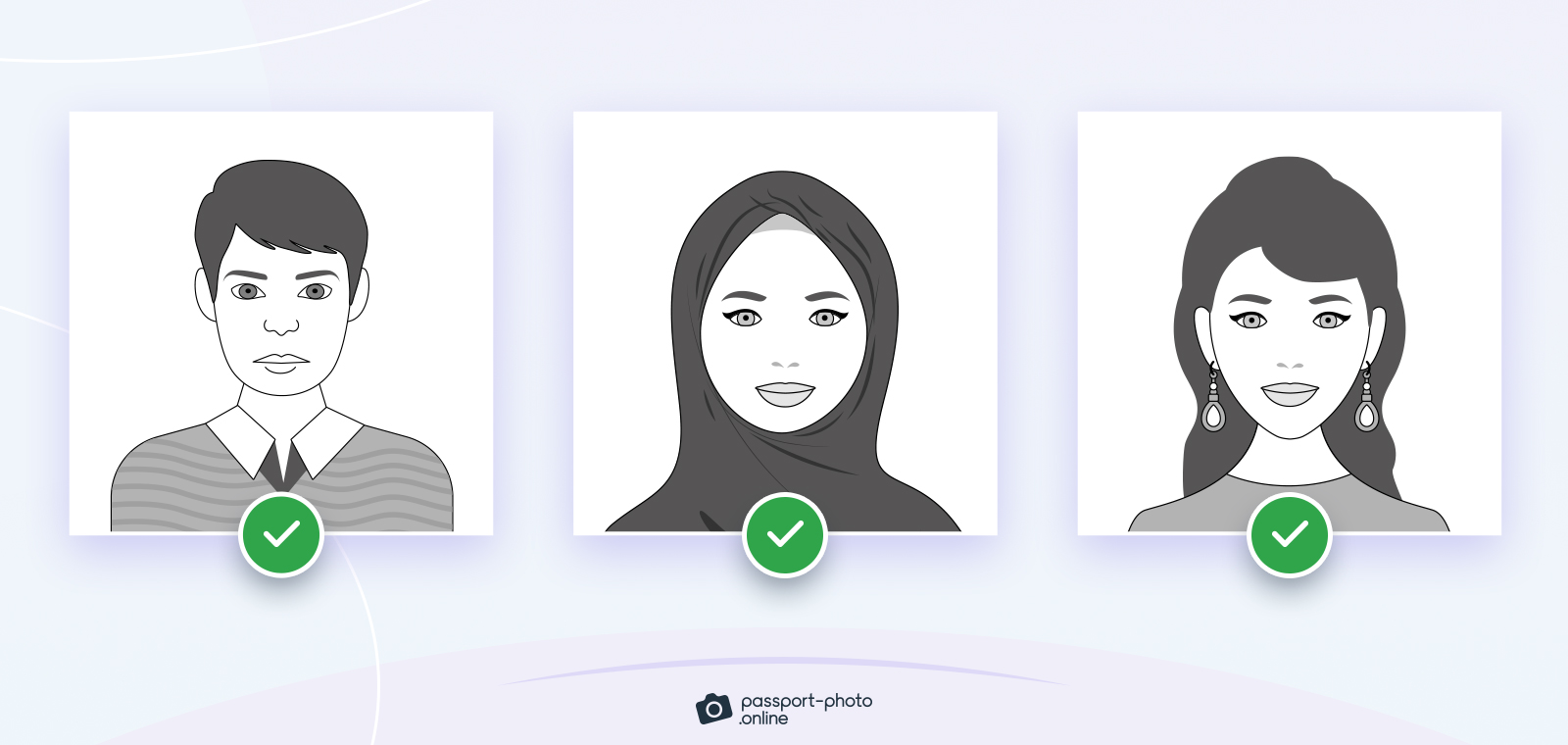 *Eyeglasses are allowed only if the applicant provides a doctor's signed note verifying the medical reasons for wearing them
Step #4: prepare the pose (1 minute)
Next, a person taking a passport photo must set themselves up to stand face-on to the camera, ensuring that they are the standard 40 cm–about 16 inches–away from the camera and that their head is not tilted.
Selfies are not permitted, so it is essential at this stage to find a friend or family member who can take the photo on the applicant's behalf. A neutral facial expression is preferred, but the passport authorities will also accept a natural smile.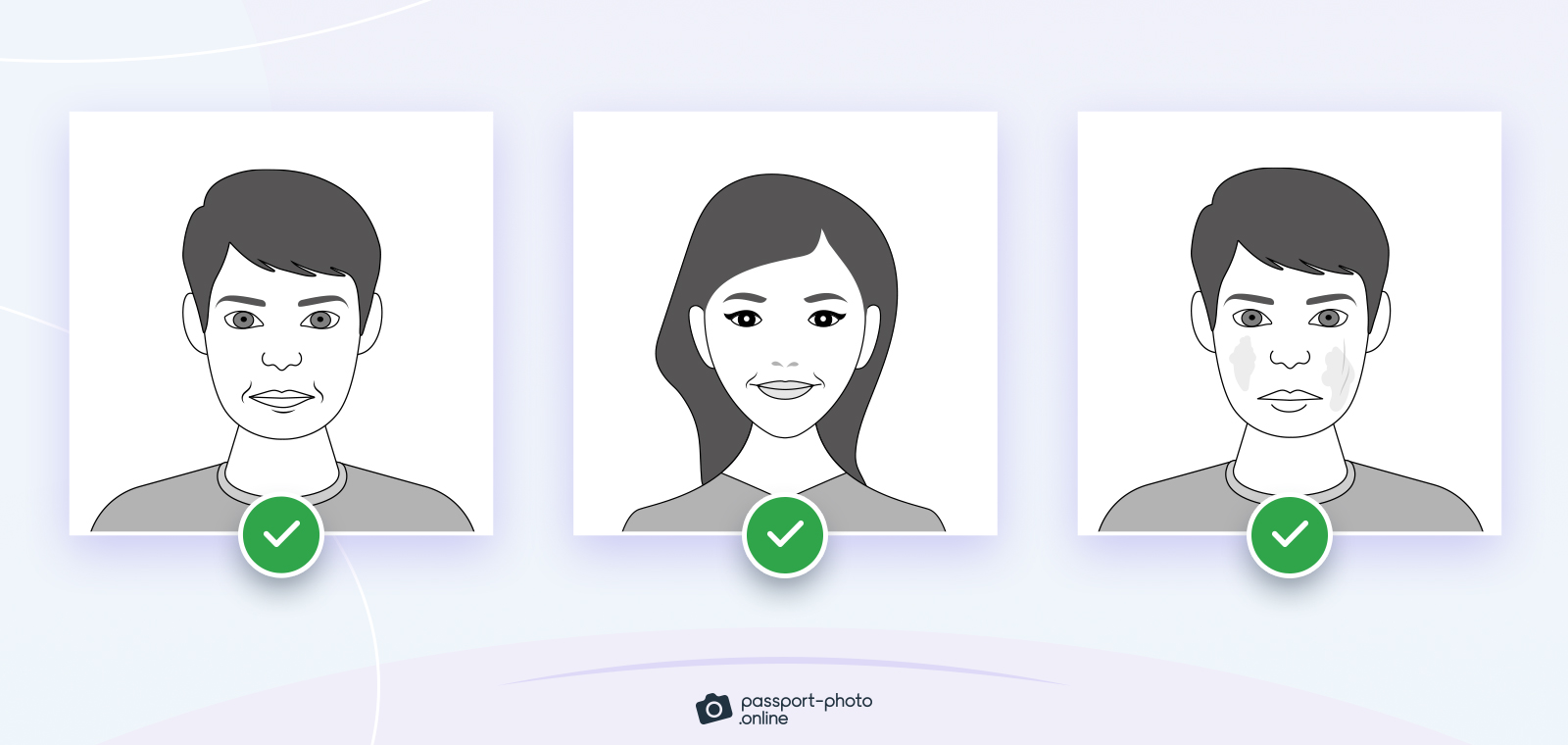 Step #5: take the photo (1 minute)
From there, it's time to take the photo. Make sure to be familiar with the official guidelines in advance in order to guarantee acceptance.
Step #6: check the photo (15 minutes)
Once the chosen friend or family member has taken the picture, double-check it to ensure it definitely fits the official criteria. If it doesn't, it's best to retake the shot.
Step #7: download/print and submit (10 minutes)
From there, download the digital copy from your chosen app or, where applicable, print it on photo quality paper. Add it to the application, and the process is all finished!
Looking for more tips to get that perfect passport photo? Try reading our other articles:
Passport Photo Online app on Android: 4 steps to a perfect photo
Apps like Passport Photo Online allow users to take their passport photos from the comfort of their own homes. It's like having a photo studio always by your side!
If you need to get a new passport photo, we recommend that you use Passport Photo Online. Our app can streamline the process of taking passport pictures enormously, cutting the process from 7 steps to just 4. Here are the details.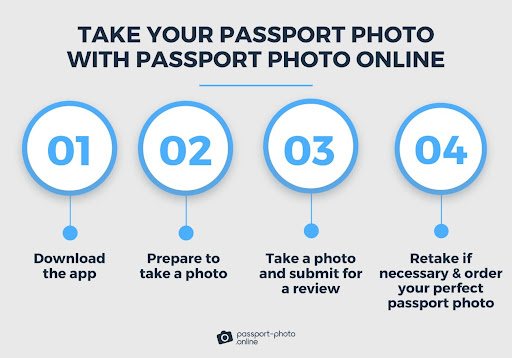 Step #1: download the app (30 seconds)
The Passport Photo Online app is available on the Google Play Store. It's a freemium app, so there is no cost to download it, but be aware that both digital and printed photo options come with fees.
Step #2: prepare to take the photo (3 minutes)
The Passport Photo Online app comes equipped with a range of tools and features that make the process of taking the photo less arduous. There's no need to find a setting with a neutral background; for example, the automatic background removal tool will make one in a heartbeat. It can remove other objects, too.
Moreover, finding a setting with good lighting is more straightforward, as we can also digitally detect and remove shadows and reflections automatically.
All the user needs to focus on is getting their outfit and pose right. As always, someone else will need to take the photo.
Step #3: take the photo and get it checked (3 seconds)
Once the chosen photographer has taken the picture, our AI checker immediately goes to work, ensuring the photo meets all the official guidelines. If it detects a part of the picture that does not meet the guidelines, it will flag this with the user.
Step #4: retake as much as you want before submitting (10 minutes)
At Passport Photo Online, we allow users to retake their passport photos as many times as they want to, free of charge! Customers pay only for the final image, the one that makes it into the passport application.
As you can see, following these steps can save a lot of time and effort! Getting a perfect passport photo tuned by AI and a human expert takes 3 minutes in 99% cases.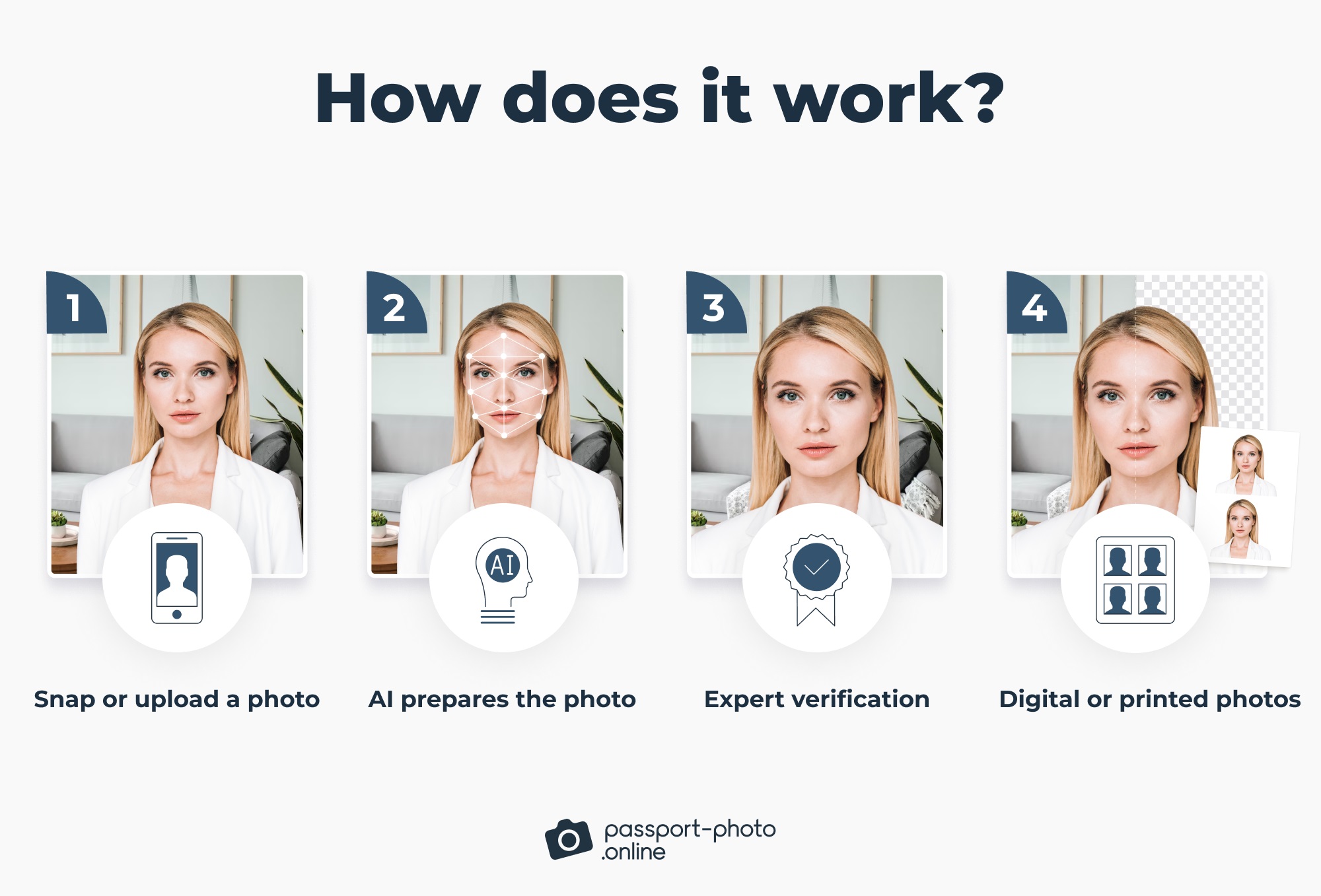 If the applicant would prefer to use an existing photo that is less than 6 (six) months old, we're happy to edit that, too!
Let us revise; with the Passport Photo Online app, applicants will receive the following benefits:
Automatic cropping, editing, and background correction;
Shadows and objects removal;
Picture resizing to a desired 2 x 2 photo;
An infinite number of retakes and payment for the satisfying result only;
Feedback from the expert team on U.S. passport photos;
Digital copies, prints delivered to your door, or both—your choice!
100% compliance with the official requirements or 200% refund of the original price.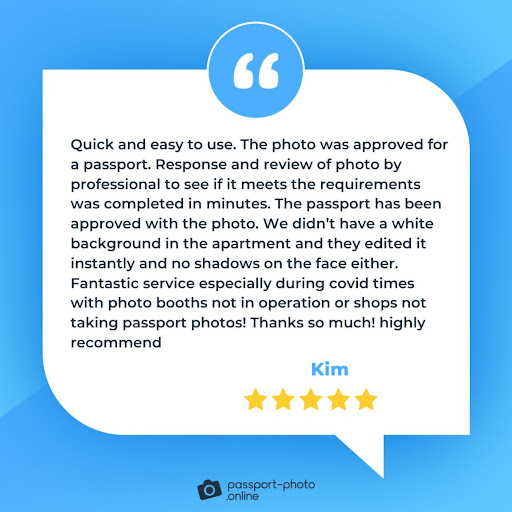 How to take a passport photo with Android: FAQ
Now we've covered the process of taking a passport photo using your Android device; we'll finish by answering all the burning questions you may still have.
Can you take a passport photo by yourself?
Yes, you can take a passport photo by yourself, but you'll have to resize it and edit by hand. With the help of Passport Photo Online, you can do it with just a smartphone. 
Can you use your phone to take a passport photo?
Yes, any modern smartphone has a high enough resolution to meet passport photo quality standards.
How to make your own passport photo?
Take a picture from about 2 meters away facing the camera directly. Then upload it to Passport Photo Online and let us fix it for you.
How to take a 600×600 pixel photo on Android?
Take a photo and use any application to adjust the size. By using Passport Photo Online application you do not need to worry about a learning path or not meeting the requirements.
How to convert passport size photos to jpeg on mobile?
You can convert using a free online converter. However, such solutions do not guarantee personal data protection. If you upload your picture to Passport Photo Online, we'll check all details and send a perfect jpeg passport photo back to you.
How to click a passport-size photo at home?
Just take a picture and edit it per the official U.S. requirements. To save you time, we recommend using applications designed for creating perfect passport pictures. One of the best could be Passport Photo Online—an AI-supported app that automatically provides editing, cropping, and resizing functions.
How to take a passport-style photo on Android?
Android users can take a passport-style photo with standard settings of the phone and re-size or adjust by using dedicated applications. Try Passport Photo Online; with its automatic functions, future passport holders only need to snap a picture and wait 3 seconds for the AI software to evaluate it!
How to make a photo in passport size on Android?
Android users can take their passport photos with the mobile phone camera and download a dedicated photo editing app. Passport Photo Online will do everything for you, including an evaluation that ensures 100% compliance with the official U.S. passport photo requirements.
How to convert a passport-size photo to postcard-size on mobile?
The best way to convert a passport-size photo to postcard size on a mobile phone is by using one of the many photo editing apps for Android available on the Google Play Store.
What is the best app for passport photos on Android?
The best passport photo app will depend on if applicants wish to use a free or freemium option. Trust Passport Photo Online with one of the most advanced features, AI and human experts verification, and unlimited tries.
Summing up
Using a reliable Android app, you can get a new passport photo from your phone easily. Follow our step-by-step guide, and you can take a passport photo with your Android phone directly from home.
Even better, we give you as many free attempts as you need, only charging for the final photo.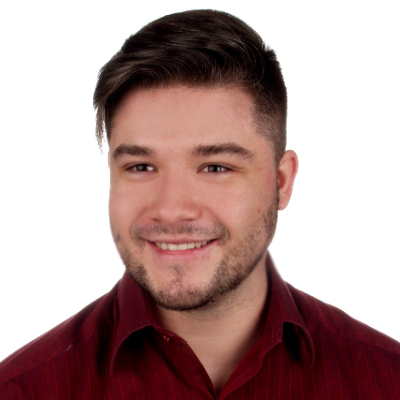 Graduated from the University of Warsaw, Michał, is a biometric photography expert with an undying thirst for adventure and a writer at Passport-Photo.Online. A self-proclaimed book and movie critic as well, he's always eager to visit to the most underrated or less popular travel destinations.