Your Android phone is all the equipment you need to take a passport photo—there's no need to use expensive hi-tech digital cameras.
And the process is much easier than you think!
Keep reading our foolproof step-by-step guide to learn all the tricks to take a passport photo with your Android device.
Here's how to take a passport photo on an Android phone in 4 steps:
Want to take a passport photo immediately? Go get our Passport Photo Maker App for Android and get started right away with no effort whatsoever.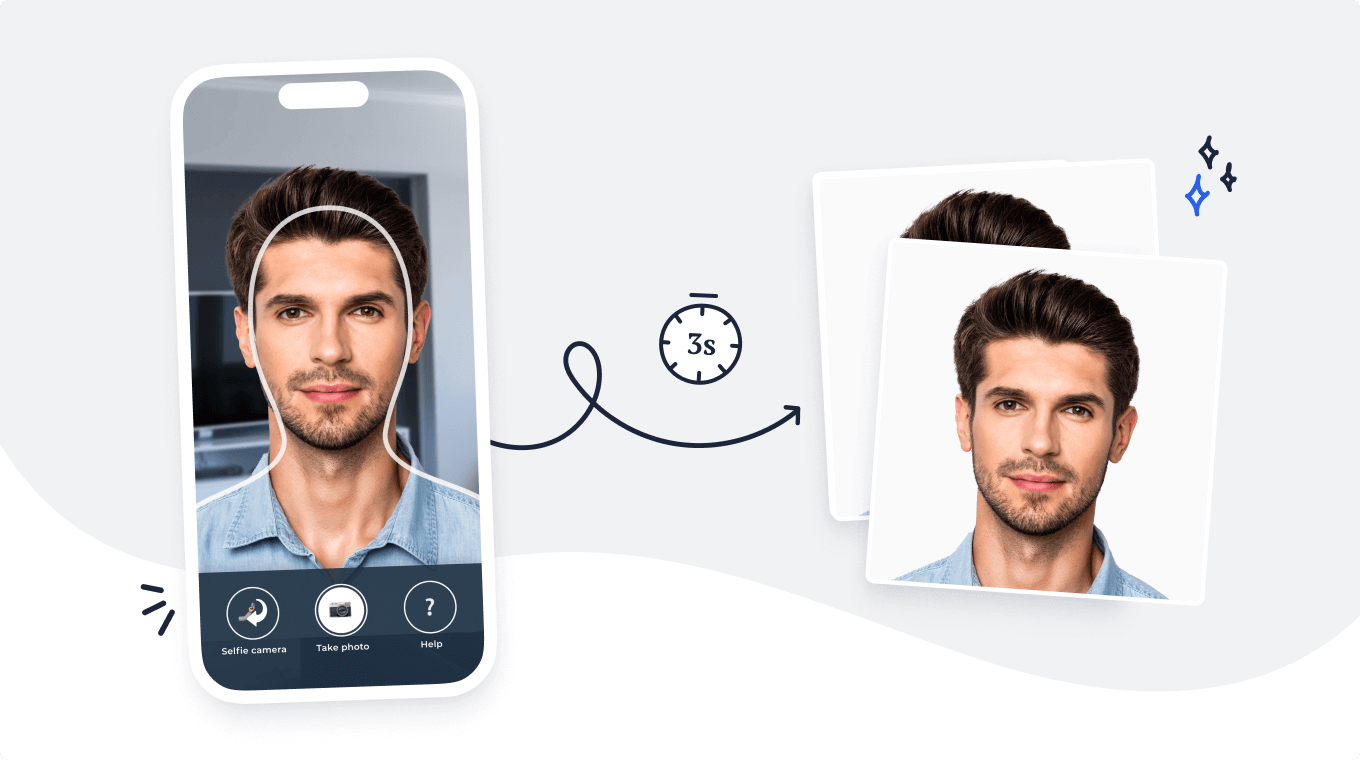 Looking for more advice on taking passport photos on your own? One of these other articles might help:
Take a passport photo on Android in 4 steps
Before getting into the steps for taking passport photos with and Android phone, let's see exactly what equipment you'll need:
An Android device with at least a 5 megapixel camera
A tripod/stand or an assistant
A passport photo booth app
For this tutorial, we'll use Passport Photo Online—an AI-backed app that comes with an automatic background removal tool and a double compliance check.
Step 1: Brush up on the requirements
Before taking the picture, you should familiarize yourself with the official US passport photo requirements:
US passport photo guidelines
| | |
| --- | --- |
| Size and Quality | Size: 2×2 inchesResolution: between 600×600 and 1200×1200 pxPrinted clearly on high-quality paper |
| Content and Composition | Head size has to be between 1″ to 1 3/8″ from chin to topNo other objects or people must be present in the photoThe picture needs to be a frontal view of the face |
| Background | White or off-white background |
| Expression and Clothing | A neutral expression is advised, but a natural smile is acceptableUniforms are not allowed |
| Accessories and Head Covering | Glasses are only allowed for medical reasons (accompanied by a doctor's note)Head covering is only accepted for medical or religious reasons |
| Recency | The photo must not be older than 6 months |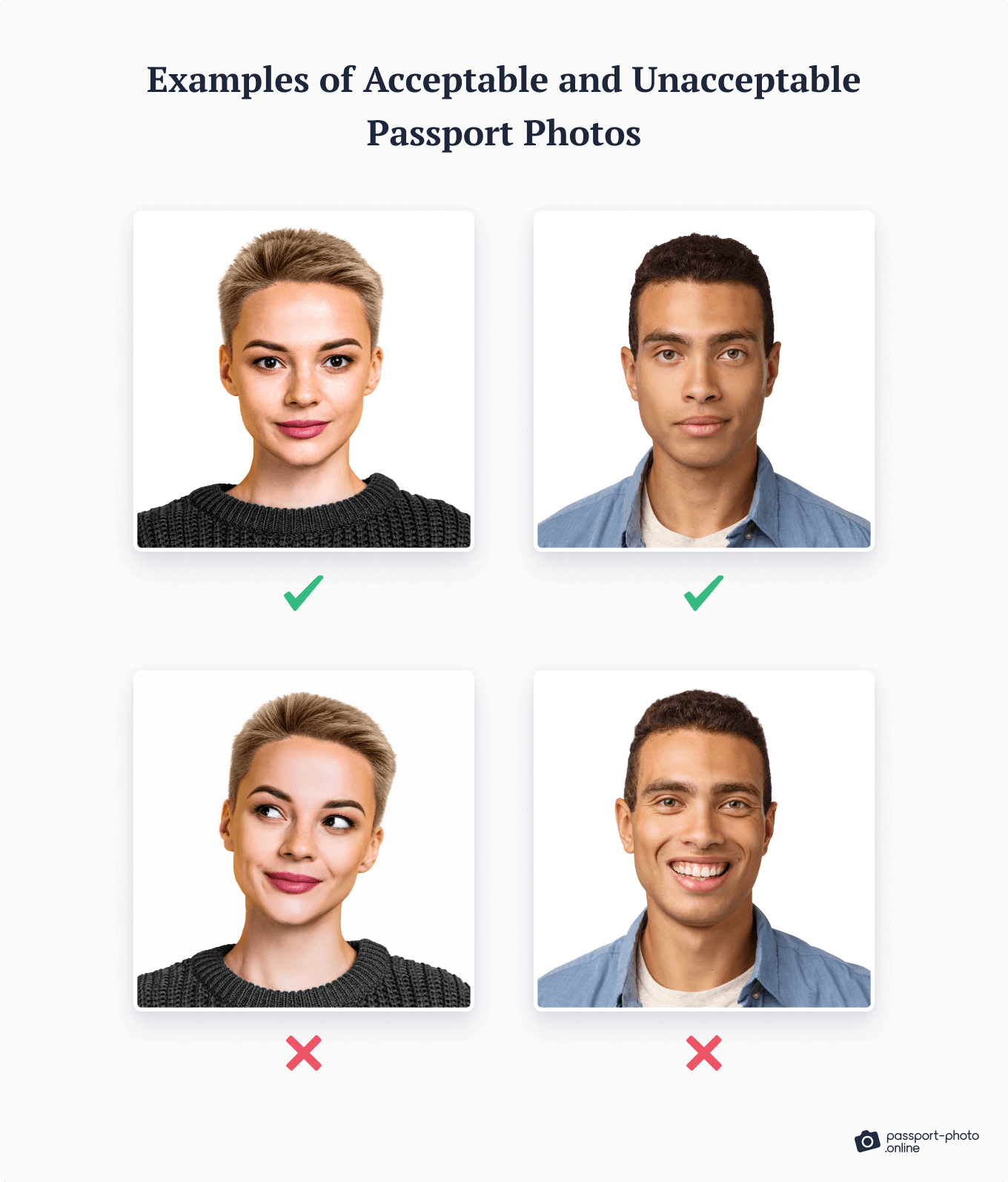 Want to learn more about the requirements? Check out these articles:
Step 2: Find the right environment
When choosing a room to take passport photos, the most important detail you need to consider is the lighting.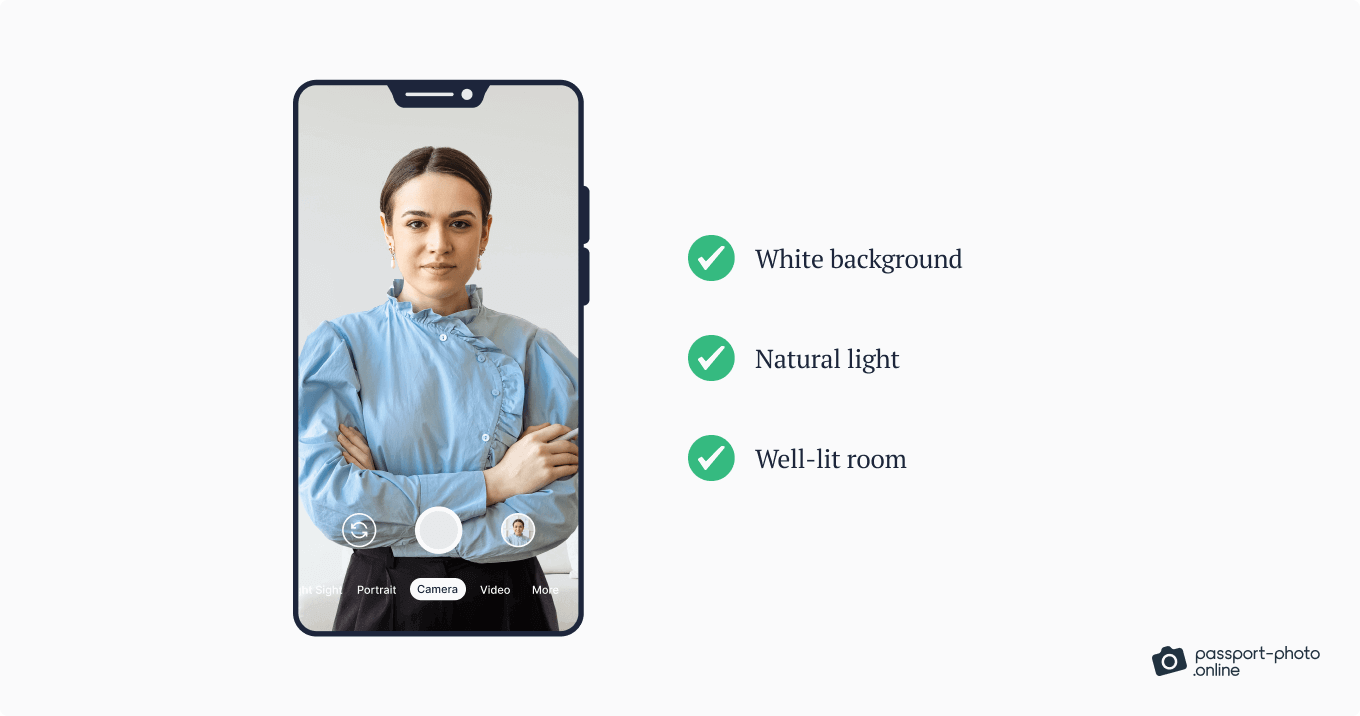 Uneven or insufficient light will result in shadows in your passport photo, making the picture darker and less clear.
To get the right exposure without any kind of equipment, you can take advantage of natural light.
You'll want to pick a room with a large window and set up your Android device in front of it. Be sure to leave 1 1/2 to 7 feet of free space for you to pose for the picture.
The minimum distance depends on whether you opt for the front-facing or rear camera. In the case of choosing the former, the distance will naturally be shorter as it will be limited by the reach of your arm.
Make sure the sun is not shining directly on your face but lights up the whole room.
Step 3: Pose for the picture
Once the smartphone is ready, it's your turn to prepare for the passport photo.

As mentioned above, the ideal distance for taking a passport photo is between 1 1/2 and 7 feet from the device. Leave enough space in the frame to allow for cropping later—according to the State Department, an incorrectly sized head is among the top 8 reasons for rejection.
You can either sit or stand, whatever is most comfortable for you.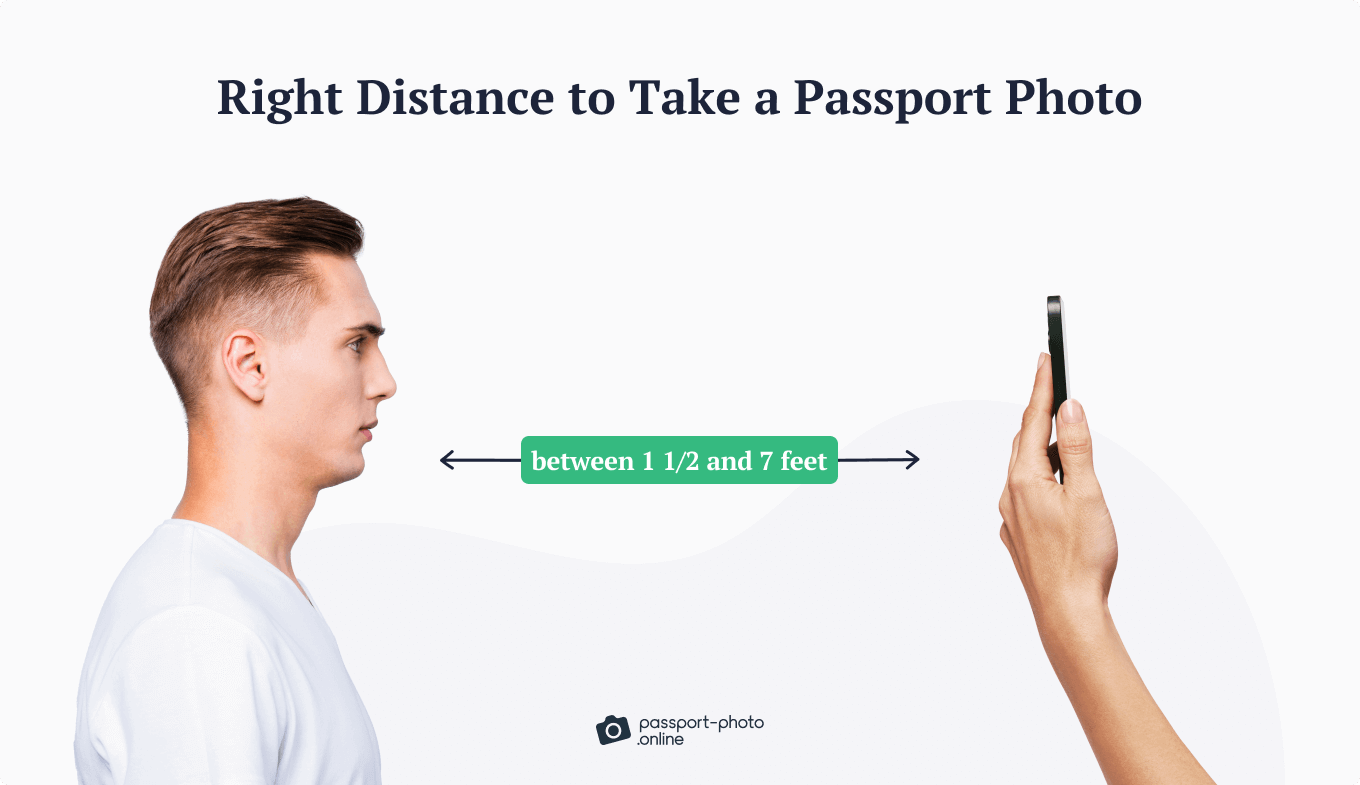 Then, make sure you're following these instructions:
Only use the smartphone's rear camera
Hair in passport photos must not cover the face. So move it to the side, making sure that both the eyebrows and the sides of the face are completely visible
Remove hats and accessories. According to dress code for passport photos, you can keep religious headwear, but be careful that the whole face is uncovered
Remove your glasses if you wear them
Either maintain a neutral expression or a natural smile and look straight into the camera lens
When you are ready, take a few trial snaps and see the results. Don't worry if you don't get it right immediately, you can try as many times as you need.
Step 4: Edit the passport photo
Now, you only need to adjust the picture with a passport size photo creator.
Upload it to Passport Photo Online and have it prepared for your passport application.
Go to Google Play and get our Passport Photo Maker App.
Log in and upload the photo. The app will immediately examine the picture and let you know if it can be used as a passport photo.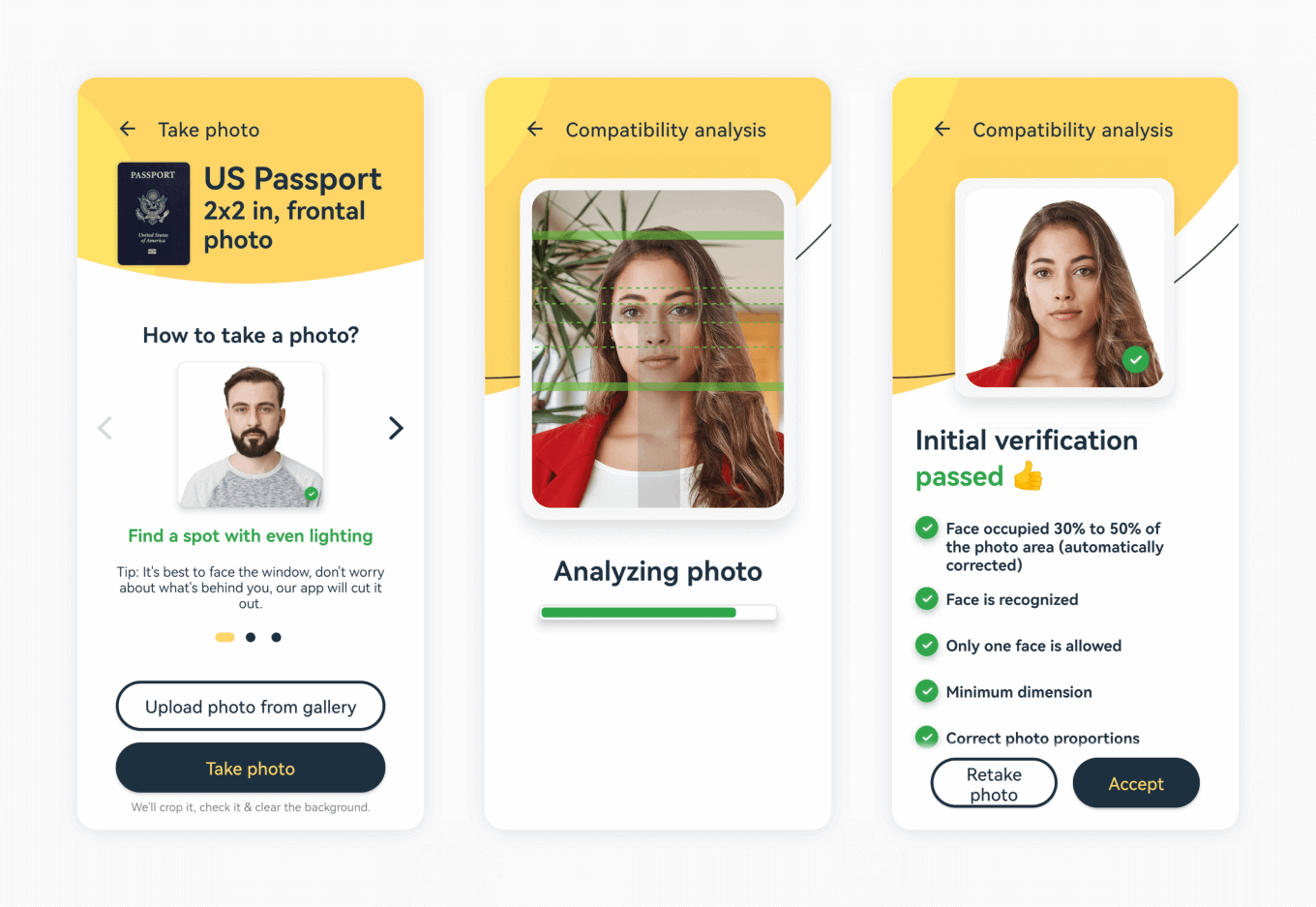 The passport photo tool will automatically crop the image to the indicated size and the background will be replaced with a uniform white one.
Once you accept the result, your Android passport photo will immediately be sent to your email address, ready to be printed when needed.
Already have a picture? Upload it to our Android app and get your perfect passport photo immediately!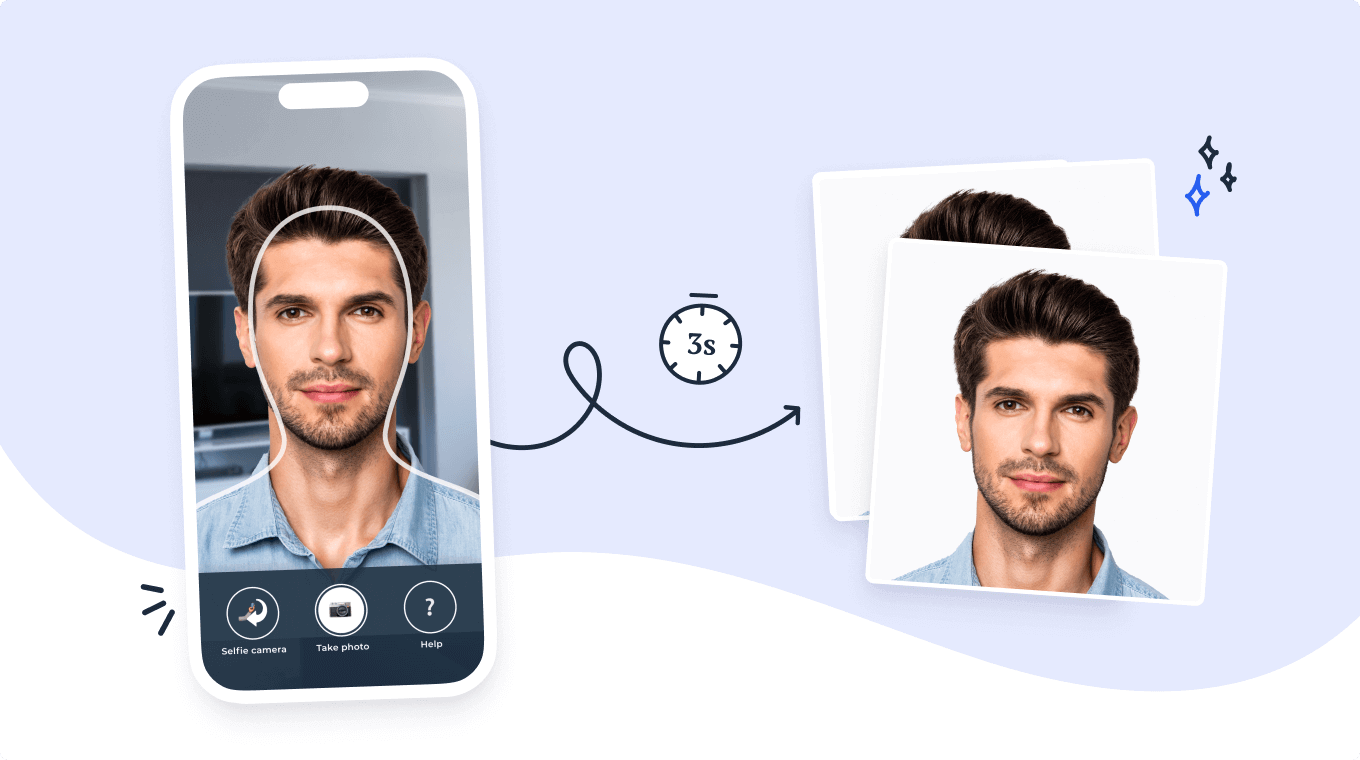 Don't just take our word for it, check out what an expert has to say about passport photo apps:
I think that apps for taking photos for official documents are a perfect solution. This type of photography is a mundane task, and—for me—the quickest and smoothest way to get it over with is the best! I guess it's dependent on each individual but for photo ID I don't see the need for a "real" photographer or studio set up, it seems unnecessary.

Rosie Matheson, professional photographer
FAQ
Can I take a 2×2 passport photo on an Android phone?
Absolutely! With Passport Photo Online you can do it anywhere and always get a 100% guarantee of compliance with the requirements.
How do I take a passport photo with my Samsung phone?
Take a front facing photo in an evenly lit environment and upload it to Passport Photo Online to resize it and have it checked for compliance with the requirements.
How do I crop a photo to passport size?
You can either do it manually with most graphic softwares or you can have it cropped and checked automatically by Passport Photo Online.
Conclusion
To sum up, to take your own passport photo with your Android phone, you need to follow these steps:
Familiarize yourself with the requirements
Find a well lit room with enough space
Pose correctly and take a few snaps
Edit the picture to resize it and remove the background
With only your Android device and Passport Photo Online, you'll be able to take passport pictures anywhere you are in a few minutes with a 100% guarantee of following all the official passport photo requirements to the letter.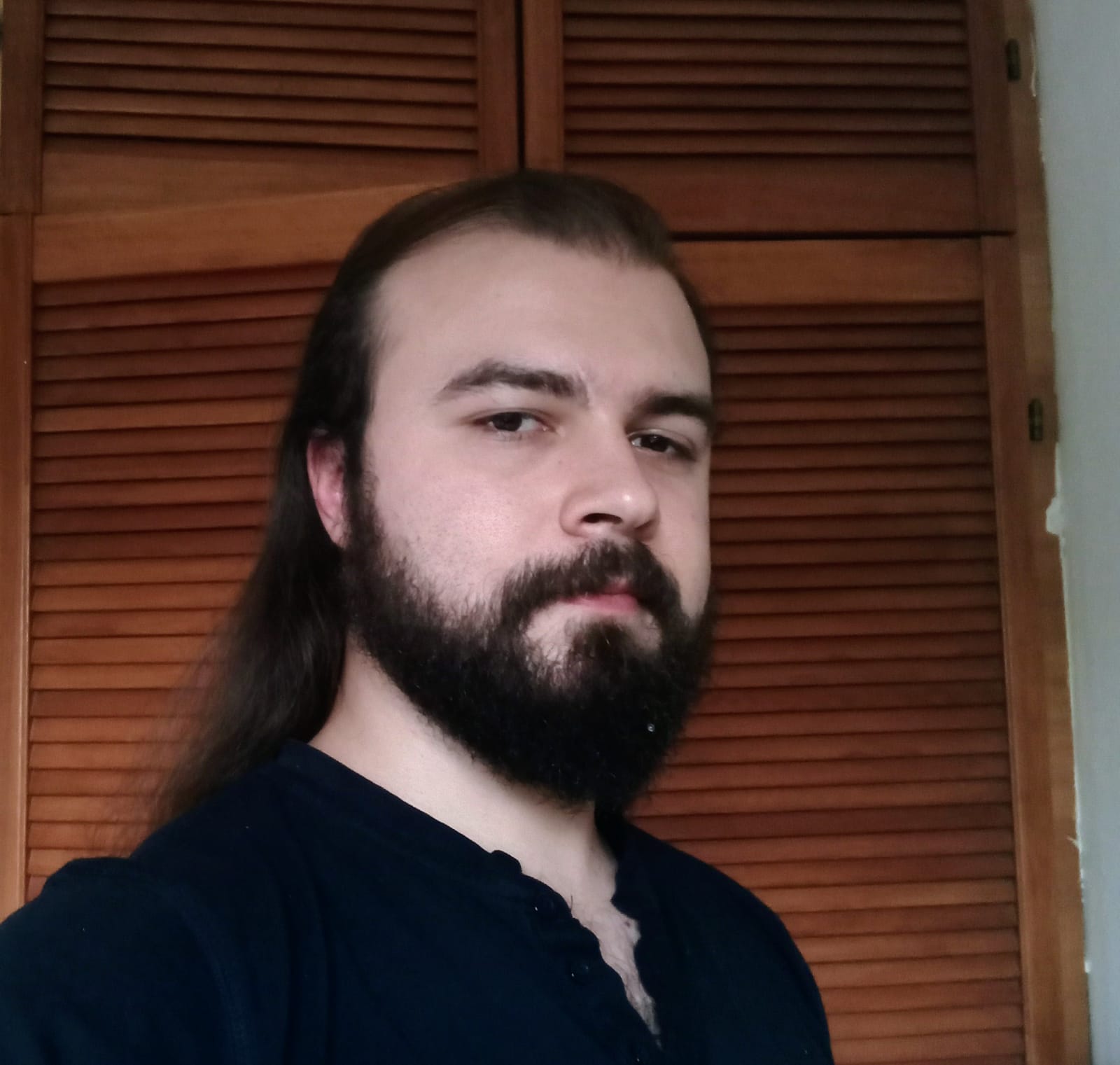 Riccardo Ollmert is a biometric photography expert at Passport Photo Online. With his background in languages and the publishing industry from La Sapienza University of Rome, he creates compelling content that simplifies the complexities of biometric photography. Riccardo's passion for travel and creative writing is reflected in his work, emphasizing the role of biometric photos in seamless global exploration.