College does indeed let you enjoy some of the best years of your life but it also has its own expenses. While college is the best 3-4 years of your life, it doesn't come without its expenses. You've no doubt heard of a few cards that can help you save money when you're looking to save some while having to live in student accommodation. In the United Kingdom, there are a considerable number of student cards that can provide a discount on items like transportation, shopping and food. We've summed up top 10 best discount & travel cards for students that we believe are worth investing in. Would you like to know how to get discounts for students? This is hoUniversity is where you will enjoy some of the best years of your life, but it is not without its expenses. You will no doubt have heard of a few cards that can help you save money when you're living in student accommodation, on a student budget. In the United Kingdom, there are a considerable number of options, if you're looking for a student card, that can provide a discount on things like transportation, shopping and food. We've summed up the top 10 best discount & travel cards for students that we believe are worth investing in. Looking for the ultimate guide to applying for a student card? Look no further!
Who is eligible to apply for a UK student discount card?
IYou will likely be authorized to apply for a student discount or student travel card if you are over the age of 16 and are a part-time or full-time student in further education. The application process is very simple and does not take long at all. The method can vary for each card, but in a wide selection of outlets, you will get loads and loads of awesome discounts, if you meet the criteria.
Some cards even allow students younger than 16 to be eligible. The ISIC card, for instance, that we will discuss later, enables kids from the age of 12 to apply for their UK discount card. You are entitled to this card as long as you're studying for a minimum of 15 hours a week and have been doing so for at least 3 months.
How to apply for a student card?
For each provider, the process of registering is different. All of them will adopt a broadly similar format, usually having a brief application process that confirms where you are studying and how long you are studying for. For example, we're going to use the TOTUM Card (formerly the National Union of Students Card).
Go to the TOTUM website and click on the "Login" button in the top right corner of the page.
Create an account by clicking on the "Get your card" button in the top right-hand corner of the page.
Type in your university email address and verify it.
Join your provider for the course.
Enter descriptions of your program.
Select the card you want, as well as any suitable add-ons.
Attach your picture.
Enter your private information.
Pay for your card.
How much is a student card?
Depending on the card you go for, a student card will cost you around £10-30 and this will last for about 12 months before you need to renew it. An extra TOTUM card, for example, is £12 for the year, while a yearly train card would set you back £30. It's well worth it in the long run, though, as each card can assist you in various areas to save money.
Will I need a photo for my student discount card?
While applying for your student discount card, you will be required to upload a recent picture of yourself. Our application, Passport Photo Online gives you the option to make a digital photo for any document you want within a few seconds – from the comfort of your own home! Just get someone to take a photo of you, upload the picture and wait for the AI to automatically adjust the photo to the required size and crop the background.
Where can you use your student discount?
You can use your student discount card across a wide selection of high street stores and restaurants. Not only that, they can get you discounts with online retailers as well. Big names such as Amazon, Nandos, Apple and Topshop are all listed as retailers offering students a discount. The shops, restaurants and services you can get discounts from, and the percentage the price will be reduced will usually depend on which card you currently hold. However, with most student discounts, most retailers will offer approximately 10-20% off the price. Along with food and retail, you can also get student discounts on travel by using a student Oyster card or train ticket.
How can I get a student discount card for free?
Want to know how you can get a free student discount? Take a look at the UNiDAYS service, which provides discounts on apparel, technology and food. It may be possible to get your hands on other free student cards, as well. For example, banks occasionally give you these cards for free if you register for an undergraduate account. Some schemes may even offer you a free discount card or railcard. So, you should definitely keep your eyes open – you never know where you might find a free discount.
Would you like to know the best ways of getting a student discount? Take a look at the top 10 discount cards in the UK:
Which UK student discount cards should you apply for?
University Student ID Card
International Student Identity Card (ISIC)
TOTUM Card (NUS)
UniDays Discount App
Student Beans
16-25 Railcard
18+ Student Oyster Card
Student Debit Card
Tesco Clubcard
Nectar Card
University student ID card
When you join, your university ID card will be the free student card you're issued with at the start of term. Your photo for a student ID card, as well as the name of your institution will be on it, usually accompanied by either the first year of your studies or the date your course ends. In order to enter the campus, use your university's facilities or enter your student union, you may need to carry this card with you. On top of this, a number of places that offer a student discount will accept this card, including Foyles, Boots and Cineworld, so when you treat yourself, you'll be able to save some money.
International Student Identity Card
An ISIC card is the only internationally recognised ID card for students, which proves your student status in countries all over the world. With an ISIC card, you are easily granted access to student programs and facilities, along with over 150,000 student benefits and discounts in over 125,000 locations spread across 130 countries. Typical discounts include overseas accommodation, food, or trips
Thus, if you are into traveling or if you are studying abroad, it is ideal. If bought from the UK, this card costs £12 for a virtual copy. It is £15 to obtain a plastic card. Also, if you wish to apply, you will need a photo for an ISIC card.
TOTUM Card (NUS)
The NUS extra card has been replaced by the TOTUM Card, which remains one of the largest and most popular student cards. It's operated by the National Union of Students, so it is designed to help students have an easier and cheaper time at university. The newest NUS Extra card that will allow you to gain access to student discounts from lots and lots of major high street stores is managed by the NUS. For a 3 year card, it costs just £24.99 and you can expect to save an equivalent of £12.75 per week. You can apply for one by filling out a TOTUM (National Union of Students) card application form.
Put simply, although it has a picture of you and your birth date, an TOTUM card is not acknowledged as an official ID. You might, however, be permitted to use it to enter your campus or student union. TOTUM also offer a TOTUM + Age ID card that is accredited by many government and non-government authorities, including the Home Office, that can be used as ID.
UNiDAYS
The UNiDAYS card is famous because it is one of the free student discount cards that provide online and in-store discounts. However, instead of a plastic card, it uses an app. You will get a 10-73% discount depending on the shop if you show your picture on the app when at a checkout. This includes, for example, Samsung, Reebok, Pizza Express and plenty more, all the major retailers and brands. Access UNiDAYS for the complete list.
Who can join UNiDAYS?
Anyone who is over 16 years of age, and is currently studying at a university, sixth form or college in the UK can sign up for UNiDAYS. Simply go to their webpage to get the student discount and enter in the quick and easy registration form, using an academic email address (including 'ac.uk'). If uncertain, be sure to review their terms of service.
Student Beans
Students Beans is a free student discount service that works in a similar way to UNiDAYS. You download an app, sign up for an account using your university or college email, and start saving! Student Beans offer you discounts on over 10,000 shops, including Topshop and Apple. You can even save money on the 16-25 Railcard that we mentioned earlier! You can either use the app to get discount codes or sign in directly from the website of the retailer you're using. Check out their app for the full list of discounts.
16-25 Railcard
Traveling can be costly, especially if you go by rail, so if you use the railway a lot, be it for heading to university or heading home, a student travel card (such as the young person's railcard) will be well worth the investment. Anyone 16 to 25 years of age, or over 25 and in full-time studies is eligible. Get 1/3 off Standard Anytime, Standard Off-Peak, Standard Super Off-Peak, First Class Advance, among others (see the Railcard website for the full list) for only £30 a year. You will also need to take a photo for a railcard – check out our website to get one quickly and easily.
18+ Student Oyster card
An Oyster photocard provides 30% off adult-rate student Travelcards, along with bus and tram season tickets for any 18+ students. You must be 18 or older and enrolled on either a full-time or part-time program at a school, college or university (for 15 hours or more a week) or a work placement, e.g. with an apprenticeship, to be qualified. Being a recipient of government financial aid as a student, for example an NHS Bursary, would also help your eligibility. You will need to be living in London during this period. There's a £20 administration fee if you would like to apply for the student Oyster photocard, and you'll also need a new picture of yourself
Student debit card
We strongly recommend that you sign up for a new student bank account before you start university. While this is not specifically a discount card for students, an undergraduate bank account can be equally useful, since it comes with an interest-free overdraft. This will ensure that if you go a little over budget one week, you will not incur more debt – very helpful if you have a busy social calendar. Speak to someone in your local high street bank branch for some advice on which is the right one for you.
Tesco Clubcard
This free card is not intended exclusively for students, but will certainly help you when you do your weekly shop. Simply earn points with your Tesco Clubcard by spending money on your necessities at Tesco.
You can use the Clubcard app to redeem your points for vouchers, which will be sent to you within 24 hours. Every 100 points earns you a £1 – over time, this can really build up! You may also use these coupons, with any of Tesco's partners, like Pizza Express, Cineworld, or Virgin Atlantic.
Nectar Card
A Nectar card is a free card that works in a similar way to a Tesco Clubcard. When shopping at Argos, Debenhams, Sainsbury's, as well as several other supermarkets, you gain points which entitle you to computerized voucher codes. These can be used at attractions such as Thorpe Park, Go Ape, Vue Cinema, when traveling with Virgin trains or shopping at Sainsbury's, eBay, Argos and more.
Save money with your student discount cards – tips & tricks
Here are our top tips to take full advantage of your student discount.
Research the discounts offered by each card before applying
It's important to check in advance which discounts each card offers before you pick one. Everyone has different preferences, and you're going to make sure that the discounts offered by your student discount card align with your shopping habits. It's therefore critical to shop around, researching each card to see what offers they can give you. Don't let yourself be influenced by the size of the discounts, either. Whilst a 73% discount might seem attractive, it won't mean much if it's for a shop you never go to.
Make sure to always carry your student card with you
Every university student will have at least one student card given to them – the University ID card that you will be issued with when you first enroll on your course. This student pass is completely free of charge and, as it provides irrefutable proof of your student status, it entitles you to a whole host of discounts, both with small businesses as well as larger shops and restaurants. This card will not be accepted as widely if you prefer to shop online, but you should be able to use it to get a discount when shopping or eating out on the high street. You never know when an opportunity to save some money might come along, so it's definitely worth keeping your Student ID with you when you go out. It's also a good idea to do some research in advance, to see if where you're planning on going will give you a student discount with your Student ID.
Remember to use your discount cards
This may sound obvious, but you wouldn't believe the number of students who get student cards and don't use them. It's an easy thing to forget, but it's worth making a conscious effort to remember them when you go out, and when you're paying for your shopping. When you're on a student budget, you have to make every penny count, so remembering to use your student discount card can make a huge difference. It's not just shopping you can use them on, remember, you can also get money off that great lunch out with your friends, that post-assessment takeaway, even that weekend trip with your friends that you've been planning for weeks. Have a browse around online, and see how many places that you go to on a regular basis accept student discounts. You'll be surprised how many are out there, which brings us to our next point…
Got a points card? Remember to collect points!
Again, it sounds obvious, but it's worth remembering. The Tesco Clubcard and Nectar card both operate on a points system. The more you spend with participating retailers, the more points you can accumulate over time and the more discounts you can benefit from. Therefore, if you've got one of those cards, make sure you regularly shop with them so you can keep earning points. Gradually, this will pay dividends further down the line. Maybe it's the night before your assignment's due, you stop to fill up on snacks in preparation for a marathon editing session, and you discover you have enough points to cut at least 50% off the cost. It's always nice to have a surprise like that – it'll keep you going until you hand it in!
Want to know if a shop has a student discount? Just ask!
If you don't ask for something, you're unlikely to get it. Just because a company doesn't advertise their student discounts, doesn't mean they aren't there. In many cases, the best thing to do is to ask someone who works there if they accept a student discount. Not everywhere does of course, but you never know what you might be able to get if you ask.
Student discount cards on top of existing offers
Depending on the retailer, you might be able to stack your student discount on top of any ongoing sales and offers they may have on, allowing you to get even better savings. For example, if you use a student discount card at Tesco, you can spend it on one of their meal deals. Shopping smartly can give you the ability to save loads of money on everyday things, so it's a good idea to keep an eye on the different offers available where you shop or eat regularly. You could even stack your student discount on top of Black Friday discounts, perfect for shopping for Secret Santa gifts! If there's any doubt about whether you can do this at your favourite shop or restaurant, just ask! It'll help save a lot of confusion at the checkout.
Use your student discount when shopping online
Unfortunately, not all student cards can be used online, even the TOTUM card will be restricted in its use. Luckily, the TOTUM Digital service will allow you to use your TOTUM account to get discounts on your online shopping, not to mention the myriad of app-based discount services on the market, like UNiDAYS and Student Beans. Be sure to keep an eye on the discount services you sign up to, to make sure you're up to date with the latest online deals they have on offer.
Your student discount while you're traveling
Maybe you've got a year abroad planned as part of your course, maybe you're lucky enough to have a trip planned, either with your friends or by yourself, to relax and get away from the books for a weekend. Either way, it's important to remember to take full advantage of the student discounts on offer. You'll be able to use your standard Uni ID and your TOTUM card in most major cities in the UK, allowing you to save money on shopping and eating. Meanwhile, your 16-25 Railcard can be on hand to save you money on transport. Finally, if you're planning on traveling further afield, the ISIC card can be a great help, offering student discounts across 130 countries, perfect for a year abroad! Don't forget, if you get a TOTUM Card, you qualify for a year of ISIC, absolutely free – perfect for world travelers.
Use your student discount card with independent businesses
Remember, it's not just the big brands that offer student discounts. If you have a look around the independent businesses in your area, you might be surprised how many will offer student discounts of their own. This is particularly true if you are living in a big university town or city, as it is in the interests of local business owners to become acquainted with students – word of mouth travels fast at university!
Check for bonus discount deals for students
At certain times of the year, a number of brands have actually been known to temporarily increase the student discount rates they can offer, which, if you take advantage, can offer your significant savings. ASOS is a good example of this, having a long track record of increasing their student discounts at times. In early 2020, for example, they raised their student discounts to 25%! Pizza Hut has also been known to give out 40% off discount codes that you can take advantage of. When these changes come, none of them will be permanent, so you may have to react quickly if you want to capitalise on these offers.
Make sure to pick up Amazon Prime Student's offer
An essential offer for any student starting university or college is Amazon Prime Student. Amazon will give you a six month free trial of the service before charging you a reduced rate for the service afterwards. For those six months, you get all the perks that paying customers would have, including free 1-Day delivery and Prime Video. When you become a paying customer, you will also get access to the Kindle library. You will pay nearly 50% less than a normal customer, with Prime Student only costing £39 per year. Whether you're planning movie nights in with your flatmates or shopping for extra supplies (admit it, we've all left something crucial at home when moving to university), this is a student offer you will definitely not want to miss!
Need a photo for a student card? Passport Photo Online can help!
Some student cards, for example the ISIC and TOTUM cards, will require you to submit a standard passport size photo as part of your application. If you want to save time and money on getting this photo, consider using Passport Photo Online! Simply follow our three-step process to getting the perfect picture:
Find and prepare your setting, making sure you have good lighting and a clear background, with a neutral colour. You also need to get a friend to take the photo for you.
Using your phone's camera application or our own mobile app, take the photo and upload it to our software. Then, let our AI photo generator turn it into the perfect biometric photo for your student discount cards.
Repeat the process with as many pictures as you need to to be satisfied with the photo you plan to apply with.
There you go! In just 15 (fifteen) minutes, you will have the perfect photo ready for your student discount card, leaving you more time to spend hanging out with your friends and family. We can save you a lot of money too – on average, you can save up to 54% by using our service. We also allow you to make as many attempts as you need to in order to get the photo that's right for you – you won't need to pay until you've got a photo you're happy with! Most importantly, we take a lot of pride in what we do, and we are dedicated to making sure our photos meet the requirements set out for each document. If your application for any of these official documents is rejected because of a photo we edited, then we'll refund you 200% of what you paid. That's right, 200%. Now that's a good deal.
Applying for a student discount card – summing up
As you can see, applying for student discount cards is really easy, and the benefits you can reap are enormous. It's fast, too, making it convenient for you to apply for more than one, to really expand your reach in terms of the discounts you can benefit from. If you use Passport Photo Online to get your student card photo, you can save even more time! Once you've got your discount cards, you are all ready to start saving! Whether you're looking at food, shopping, travel or university supplies, the only bad student discount card is one you don't use.
A Student discount card:FAQ
Who can apply for a student discount card?
If you are over the age of 16 and are currently studying in further education, you can apply for a student discount card. It doesn't matter if you're studying part-time or full time. Some cards though, such as the ISIC card, are more flexible. You can apply for an ISIC card when you're over 12, provided that you have been studying at least 15 hours a week for 3 months or more.
Where can I get a student discount card?
There are hundreds of options for student discount cards and services available to you. TOTUM and ISIC are two of the most popular cards, while UNiDAYS and Student Beans represent two of the most popular discount services, but there are many, many more. We recommend that you research thoroughly to find the ones that are right for you.
Can I get a student discount card with the Open University?
Yes! The Open University gives all its students academic logins, which allow you to sign up for student discount cards like TOTUM or discount services like UNiDAYS.
Related Reading: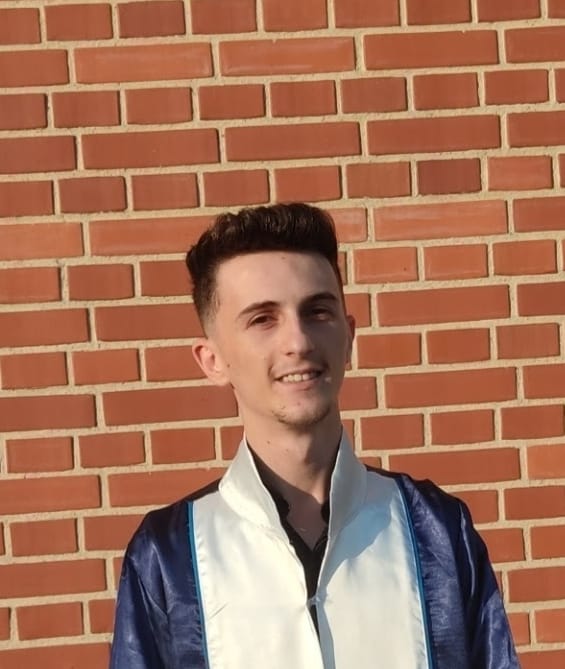 As a travel and SEO expert, Ledjan is responsible for content strategy for Passport Photo Online. With a background in Business Management and Marketing, he loves spending his free time taking photos, painting, and travelling.