As of April 2022, 9,299,626 provisional licenses are being held in the UK. Anyone wishing to join this group must send a valid UK passport to serve as ID – but what if you haven't got one?
Luckily, if you need to learn how to apply for a provisional licence without a UK passport, Passport Photo Online has the perfect guide. Follow along with our article, and you could have your provisional driving licence application ready quickly and easily, no passport required.
How to get a provisional licence without a passport in just 6 steps
To make the process of applying for a UK provisional driving licence without a passport simple, we've boiled the whole thing down to 6 steps. Just stick to our guide to the DVLA (Driver and Vehicle Licensing Agency) application process, and you'll have everything you'll need to know about applying for a provisional licence.
Step #1: Qualifying for a provisional licence (15 years and 9 months)
Before applying for a provisional driving licence, British citizens must first make sure they are eligible to hold one in the first place. There are 3 (three) main criteria for getting a provisional driving licence. All applicants must:
Be aged at least 15 (fifteen) years and 9 (nine) months old.
Pass the minimum eyesight requirement (be able to read the number plate of the car in front from at least 20 (twenty) metres away).
Have permission to live within Great Britain (England, Scotland and Wales) for a period of at least 185 (one-hundred-and-eighty-five) days.
Once they fit all the criteria, any British citizen can apply for a provisional licence, and take the first step on the path to a full licence.
Provisional licence holders who received their provisional licences before 1st March 1973 will be required to use the online service to apply for a new provisional licence if they wish to keep driving.
Related posts:
Step #2: Preparing an alternative document (5 minutes)
UK citizens who do not have a valid UK passport will need to provide some other form of ID to verify their identity. Luckily, the DVLA has a list of acceptable alternatives. These are:
a share code (from a previous use of the UK Immigration: ID Check or EU Exit: ID Document Check apps when applying for a visa or EU Settlement Scheme);
a valid foreign passport (must have a visa stamp in it proving right to live in the UK);
a valid Irish passport;
a valid biometric residence permit;
any other recognised travel document;
a birth certificate;
an adoption certificate;
a naturalisation certificate.
If the applicant chooses one of the latter 3 options, they must provide one of the following additional documents:
a National Insurance card;
A letter from the Department of Work and Pensions showing the applicant's National Insurance number.
P45, P60 or a pay slip;
a marriage certificate or civil partnership certificate;
divorce papers or an end of civil partnership document;
a gender recognition certificate;
a university union card, PASS proof of age card (issued after June 2014) or an education certificate.
If the applicant has reached the age where they can qualify for the State Pension (there is no set age, check on the government website to find yours out), they have a couple of extra options for their supporting documents:
A bank or building society statement from the last 3 (three) months that shows a pension payment and National Insurance number.
A BR2102, BR2103 or BR5899 letter that confirms eligibility for the State Pension.
The DVLA will not accept photocopies, only original documents, which must be sent in conjunction with the provisional licence application. If you are in any doubt about whether your document will apply, the DVLA online services will give you up-to-the-minute information.
Step #3: Taking a passport-style photo (3 seconds)
The next stage is to take a passport-sized photo for your licence (35 x 45 mm).
Normally, the DVLA would use the photo in the applicant's passport to get a driving licence photo, but it is possible to submit a new photo if they do not carry a valid UK biometric passport.
In general, the provisional licence photo requirements are identical to the standard UK passport photo requirements, so there's nothing new to learn. It is important to stick to these rules though, so a refresher definitely would be useful.
Step #4: Filling out a provisional licence application form (10 minutes)
The next stage is to complete the provisional licence application form. Getting the form filled out can take as little as 10 minutes, but it's important to concentrate, as it must be filled out correctly for the applicant to receive a provisional licence.
There are 2 options for how to do this:
Option #1: Apply for a provisional licence online. The DVLA website has an online portal, through which UK citizens can apply for their provisional licences. The applicant just needs to put together their chosen identity document, as well as every address they have held within the last 3 (three) years, and they'll have everything they need to get started. It will cost £34 to apply online.
Option #2: Apply for a provisional licence with a paper form. The DVLA's D1 forms can be found at any participating local post office branch, or by requesting through the post. You can use the form to apply for your provisional licence: simply fill it out and send it, in an envelope, to the DVLA, enclosing supporting documents, the application fee and the printed passport photo. The Post Office recommends that you send the form using Special Delivery, particularly if the envelope contains valuable or hard-to-replace documents. It will cost £43 for a postal application.
If you live in Northern Ireland, the process is much the same, with the only difference is having to apply through the local equivalent of the DVLA, the Driver and Vehicle Agency (DVA). Additionally, there is no option to apply online and it is more expensive (£62.50).
Step #5: Getting the application form and biometric photo signed (5 minutes)
Normally, the applicant would be able to use the signature on their passport to verify the application. However, in the absence of a passport, they will be required to find a countersignatory for their provisional licence application. Not just anyone can fill out this role, they have to fulfil a set of specific criteria, including needing to hold a valid full UK driving licence. Here you can find the answers for your question: Who Can Sign A Passport Photo?
Once an applicant has selected their countersignatory, the next step is to get them to sign the application form and print a passport-sized photo.
When applying for a first provisional licence, applicants will be required to find someone to sign their passport-size photos as well. If applying for a second provisional licence or after, it won't be necessary to get the photos signed.
RELATED READING:
Step #6: Having the documents returned (8 to 10 days)
The DVLA will return the applicant's identity documents separate from the provisional licence. By default, these documents are sent back to the holder using second-class post.
These documents are important so applicants may wish to add a bit of extra security. To do so, they need to include a stamped, self-addressed Special Delivery or Signed For envelope with their documents.
The DVLA will use that envelope to return the supporting materials, and the applicant can track their documents to find out when they will be posted.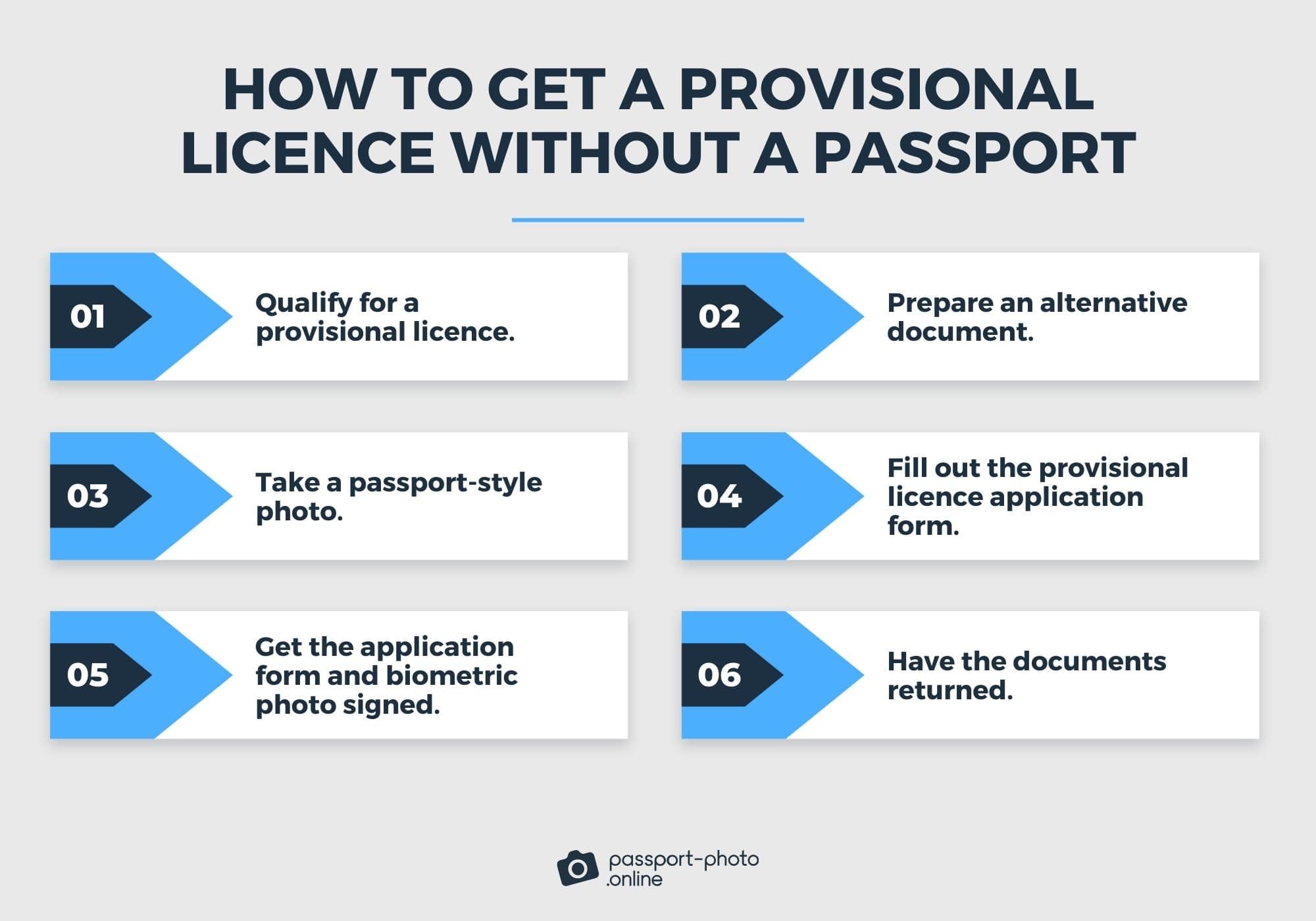 Provisional licence photos with Passport Photo Online
Without a passport, a provisional licence applicant will need to provide a new photo for the application. For a quick and easy way to take your own passport-style photo, use Passport Photo Online!
Our advanced photo editing software uses AI technology to check your photo against the official requirements to see how well they fit. We can also make some edits to the photos automatically, or tell you if anything bigger needs changing.
We work hard to solve all the problems you may face while taking a provisional driving licence photo.
Trying to find a place that sells passport-style photos near you can be tricky and, even if you do find one, it can be a pain to make the journey into town to find it. Passport Photo Online is designed to be flexible. It's internet-based, so as long as you have a good internet connection, Passport Photo Online is here to help you, any time, day or night!
It can be difficult to find a suitable background when taking a provisional licence photo, in particular one that is light-grey or cream in colour, per the regulations. That's why Passport Photo Online comes equipped with a professional-quality background remover, that can remove any background from any photo and replace it with a neutral-coloured alternative in a matter of 3 seconds.
As mentioned above, your provisional licence must be an accurate likeness of you. Sometimes, though, passport-style photos don't look like you on the first try. That's okay! Passport Photo Online allows you to take as many tries as you need to to get a photo you are happy with, all free of charge. We'll only charge you for the photo you ultimately decide to use in your application.
We're so confident in the quality of our system that, in the unlikely event a photo we processed for you gets rejected by the DVLA, we'll refund you 200% of what you paid for the photo.Now that's a really good deal.
You've got a choice of receiving a digital copy, sent directly to your email inbox, or a standard paper photo reel, which we can post directly to your door, no matter where in the world you are. Simply attach your high-quality provisional licence photo to your application form, and you are ready to go!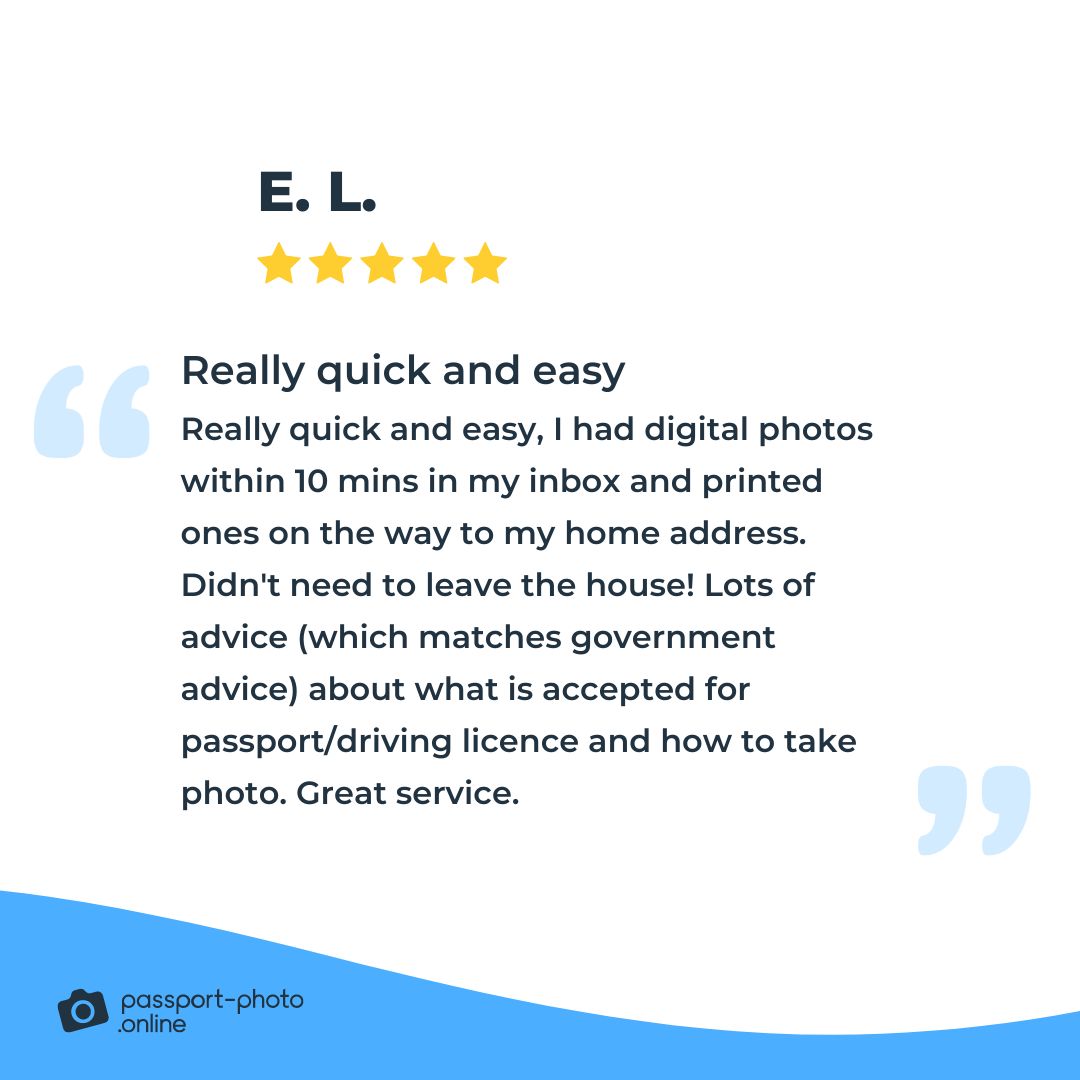 Can I get a provisional licence without a passport: FAQ
Still not clear on how to get a provisional licence without a UK passport? Have a look through these questions and answers related to the topic.
Can you apply for a provisional licence without holding a UK passport?
Yes! The DVLA offers several alternative identity documents that you can use instead of your passport. We've gone into these in more detail above, have a look, to see which documents qualify.
Can I get a provisional licence with just a birth certificate?
No. Whilst it is possible to use a birth certificate in place of a passport when applying for a provisional licence, the DVLA would also require one of a number of supplementary documents, which we list in greater detail above. Submitting both a birth certificate and one of the items on the list would easily be enough to get a provisional licence.
Do I have to use my passport photo for my provisional licence?
No, whether the applicant carries a passport or not, they are allowed to submit a new photo for their provisional driving licence. This is particularly handy if the applicant has changed significantly since the passport photo was taken. As an important ID document, a provisional licence's photo needs to be a true likeness of the subject, so it's good to keep it up-to-date.
How to get a provisional license without a passport?
An applicant can get a provisional driver's licence without a UK passport by using one or more supplementary documents as verified ID. For a full list of DVLA-approved documents visit the gov.uk website or click on this link to jump to the relevant section. 
How to get a provisional licence without a passport: summary
As you can see, getting a provisional licence without a passport is possible as the DVLA offers a lot of flexibility regarding the type of document applicants can use to verify their identity. It's just a question of finding one to send.
Then, it's about submitting a passport-style photo, made quick and easy by using Passport Photo Online, with a guarantee of acceptance. Finally, you simply fill the application out, send it off, receive your new licence and start driving lessons. Now if only the theory test and practical were so straightforward. 🚗
Sources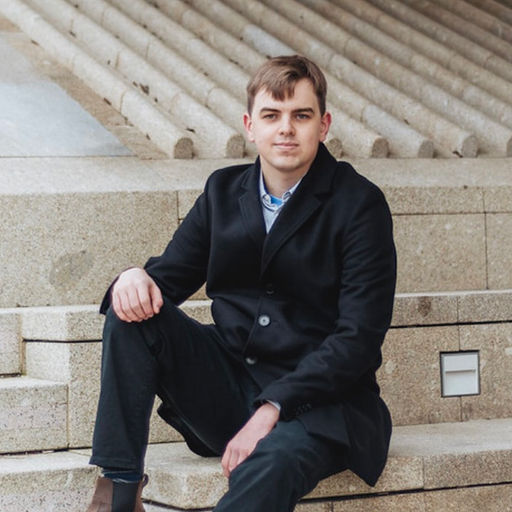 Having graduated with a History degree from the University of Birmingham, Sam has proven writing experience in biometric photography articles, marketing and events. Born in the UK, he has travelled extensively both nationally and internationally. In his spare time, he enjoys reading, cycling and skateboarding.