We've all been there:
Whether it's missing your flight, losing a phone, or catching a cold, these common travel mishaps can sometimes happen to the best of us.
So—
At Passport Photo Online, we've decided to poll ~1,000 Americans and ask:
If they've ever encountered a travel nightmare.
What it was like.
Whether they have first-hand tips on how to combat potential travel disasters for the summer vacation season and beyond.
Scroll on to see our findings.

Key Takeaways
92% of Americans have experienced at least one travel nightmare in their lifetime.
America's TOP 3 most common travel nightmares are losing/getting separated with a travel companion (66%), having planned activities fall through (63%), and having to stay in a poor hotel/accommodation (62%).
It typically costs the average American traveler between $301 and $500 when things go wrong on vacation.
81% of US tourists have taken the risk of going to a destination without travel insurance. Of those, 71% regret it.
70% of travelers have been to tourist traps.
America's Travel Nightmares: A General Overview

Billions of people travel without a hitch every year.
In fact, The United Nations World Tourism Organization (UNWTO) estimates there are ~1.4B international tourist arrivals annually.
Yet, there are times when things go south.
Our study finds that 92% of Americans have experienced at least one travel nightmare in their lifetime. That is, they've been on a trip where things REALLY didn't go as planned.
We then asked the respondents how much their biggest nightmare trip cost them. Below are the results:
$301–$500: 20%
$501–$1,000: 18%
$151–$300: 16%
$1,001–$2,000: 12%
$2,001–$3,000: 10%
$0–$50: 8%:
$51–$150: 8%
$3,001–$5,000: 6%
$5,001+: 1%
So—
It typically costs the average American traveler between $301 and $500 when things go wrong on vacation.
Next, we asked the survey takers if they'd ever taken the risk of going to a destination without travel insurance: 81% said, "Yes." Interestingly, of those who answered positively, 71% said they regret not getting travel insurance.
That makes sense.
After all, good travel insurance not only gives peace of mind but can also help protect you from potential bumps in the road.
Lastly, we asked Americans if they'd ever visited a tourist trap. That is, places infamous for long lines, large crowds, and inflated prices, designed solely to attract tourists and their money.
A whopping 70% report they've been to such places at least once.
Now, the problem with tourist traps is that they often lead to inauthentic experiences, make travelers overspend, and cause some to change plans or avoid a destination altogether.
In fact, a recent GetYourGuide survey found that 68% of travelers decided against visiting an attraction due to concerns of tourist traps. Another 41% say they've avoided a destination entirely because they were concerned it was a tourist trap.
So—
If you want to escape such sketchy places, do your research or book with a trusted provider.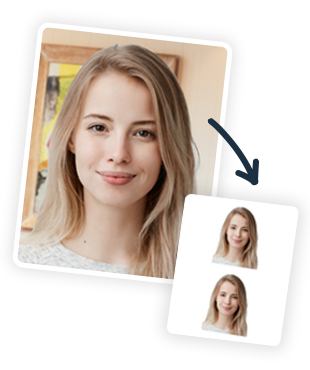 Do you need passport photos? Find out more:
Travel Nightmares: Are They Terrifyingly Common?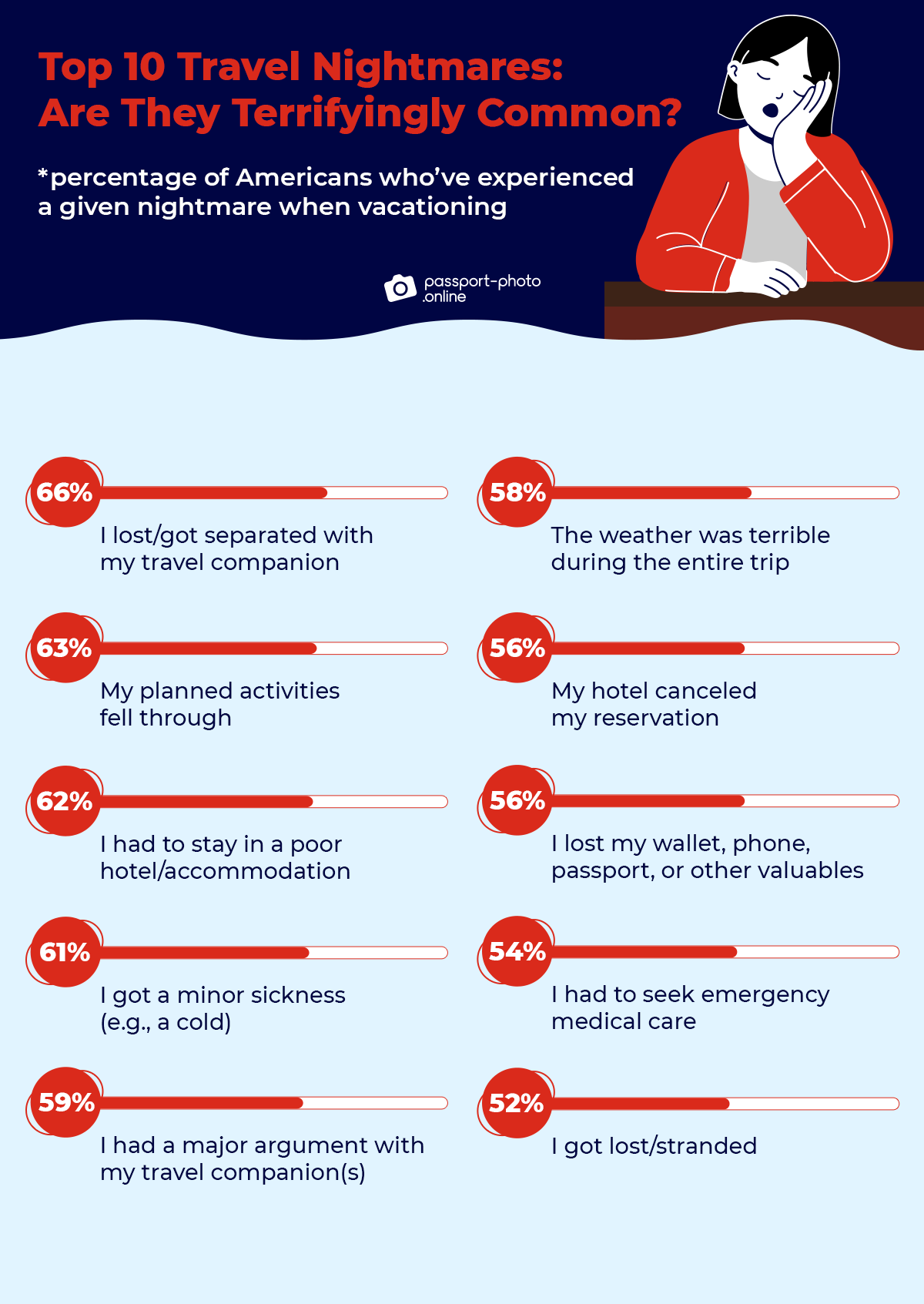 It's interesting how many things need to fall into place when you travel and how easily even a minor occurrence can leave a bad taste in your mouth.
Plus, if you consider that most Americans have 10 days of PTO on average (in Europe, you get 20+), you can't afford a nightmarish scenario when the holidays roll around.
Yet, stuff happens.
So, here's a list of the TOP 10 travel nightmares American tourists have experienced at some point in their lives, ranked from most to least common.
I lost/got separated with my travel companion: 66%
My planned activities fell through: 63%
I had to stay in a poor hotel/accommodation: 62%
I got a minor sickness (e.g., a cold): 61%
I had a major argument with my travel companion(s): 59%
The weather was terrible during the entire trip: 58%
My hotel canceled my reservation: 56%
I lost my wallet, phone, passport, or other valuables: 56%
I had to seek emergency medical care: 54%
I got lost/stranded: 52%
*The percentages represent the number of respondents who've ever experienced a given nightmare when vacationing.
As you can see, "losing or getting separated with one's travel companion(s)" took the cake. Note that most travelers don't need a big thing to go wrong for their enjoyment to flatline. Yet, there are travel nightmares that make you wonder if you want to leave your house ever again.
Below is a list of the remaining travel nightmares experienced by our respondents that didn't make it to the TOP 10:
I lost my money to a scam: 51%
I was pick-pocketed: 51%
I had to quarantine upon arrival at my destination: 47%
I had to endure a natural disaster: 45%
I got into a car accident: 40%
I lost my child/children: 34%
I got arrested: 32%
*The percentages represent the number of respondents who've ever experienced a given nightmare when vacationing.
At this point, we also asked the survey takers to share personal stories about their biggest travel nightmares. One of the respondents said,
"I got stung by a jellyfish. It hurt a lot."
Another person had a poor hotel experience, just like some other 62% of the respondents:
"I had to stay in a nasty hotel on our trip to Orlando. It was almost movie bad, with stains on the bed sheets and mold on the bathroom walls. I'm never letting my wife pick rooms again."
As you can see, most travel nightmares are quite common among US tourists. While some might feel like the end of the world when they happen, most have a fix. Stick around till the end to learn what precautions seasoned travelers take to avoid sticky situations.
Air Travel: The Most Brutal Nightmares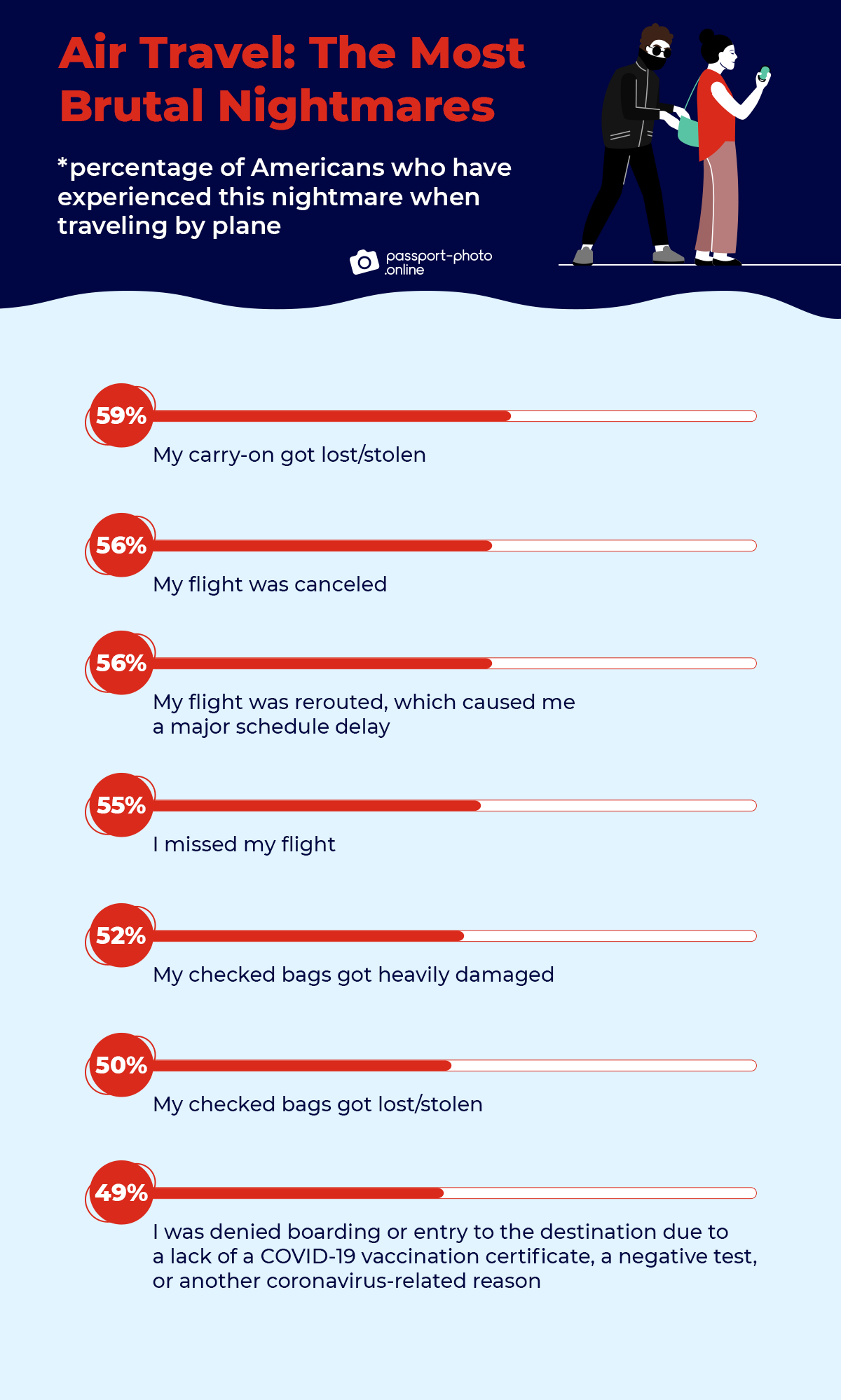 Did you know?
There are ~61,000 people in the US airspace alone at any given moment.
That means the opportunities to experience a travel nightmare when taking to the skies are plentiful.
So, here's a list of air travel nightmares American travelers have experienced, ranked from most to least common.
My carry-on got lost/stolen: 59%
My flight was canceled: 56%
My flight was rerouted, which caused me a major schedule delay: 56%
I missed my flight: 55%
My checked bags got heavily damaged: 52%
My checked bags got lost/stolen: 50%
I was denied boarding or entry to the destination due to a lack of a COVID-19 vaccination certificate, a negative test, or another coronavirus-related reason: 49%
*The percentages represent the number of respondents who've ever experienced a given nightmare when flying. Each respondent indicated they'd previously traveled by plane.
As the data shows, there's hardly any shortage of air travel nightmares that can mar the experience for some unlucky passengers. Some happen in transit or upon arrival, while others hit you even before you leave the ground.
One of our respondents laments,
"Our plane broke down before take-off, and we had to wait eight hours for another flight."
Ouch.
It's no wonder so many people are afraid to fly!
Top 10 Precautions US Travelers Take To Avoid Sticky Situations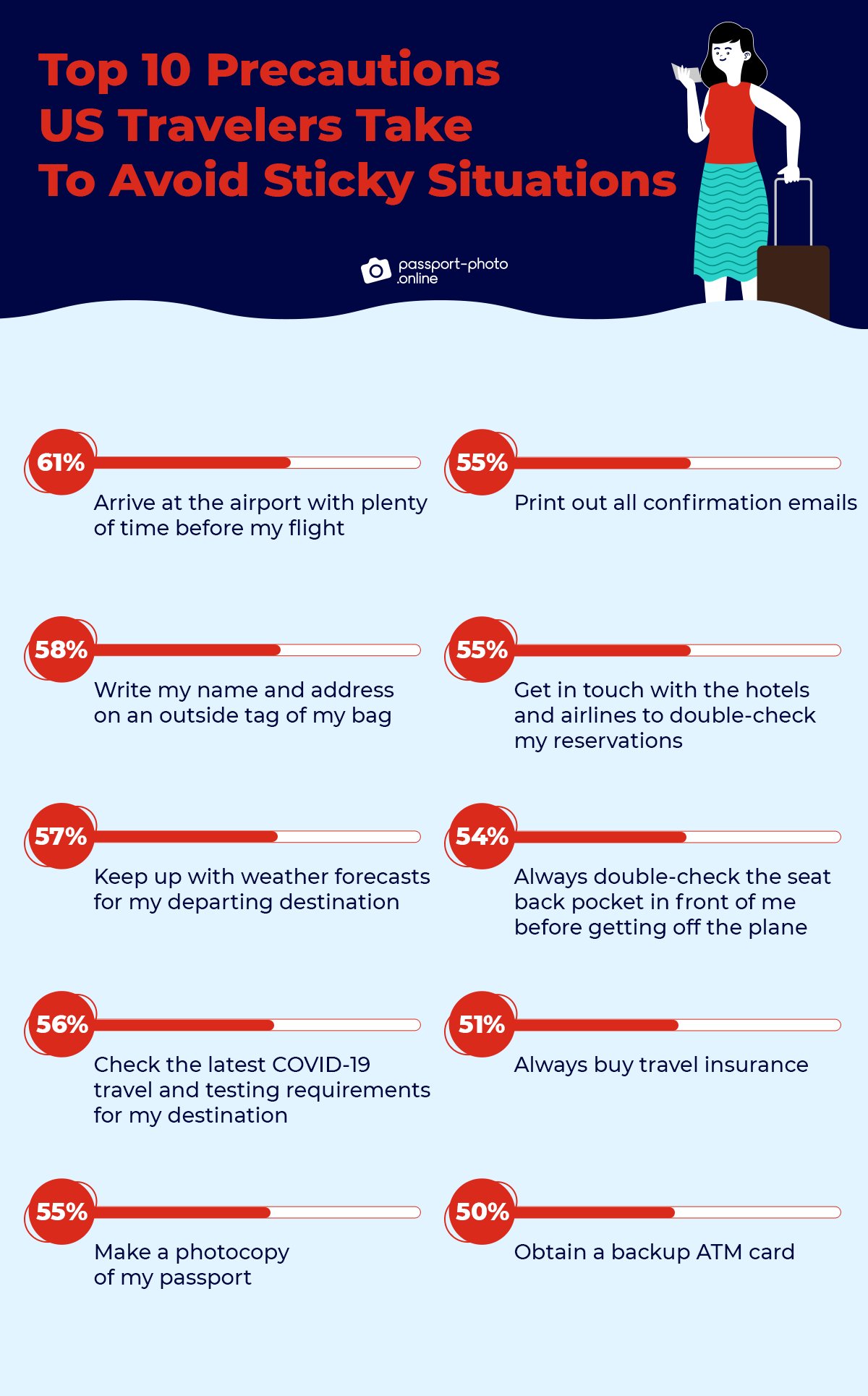 Look:
There's no silver bullet that can help you avoid any and all travel nightmares. No matter how much planning you put into the trip, things don't always go as planned.
But—
It doesn't mean you should give up on your vacation dreams. There are plenty of ways to significantly lower your chances of encountering potential misfortunes.
In our study, we gave the respondents a list of common precautions to combat potential travel nightmares and asked them to pick the ones they typically take when the holiday season is on.
Below are the results:
Arrive at the airport with plenty of time before your flight: 61%
Write your name and address on an outside tag of your bag: 58%
Keep up with weather forecasts for your departing destination: 57%
Check the latest COVID-19 travel and testing requirements for your destination: 56%
Make a photocopy of your passport: 55%
Print out all confirmation emails: 55%
Get in touch with the hotels and airlines to double-check your reservations: 55%
Always double-check the seat back pocket in front of you before getting off the plane: 54%
Always buy travel insurance: 51%
Obtain a backup ATM card: 50%
Some of our respondents wanted to elaborate and provided their own tips and tricks on how to avoid getting in a pickle.
Here's a good one:
"Get a supportive travel partner."
It's followed by a more practical tip from another survey participant:
"Have a go-bag/everyday carry with essentials on you at all times, just in case. Be sure it contains your money, ID, rain gear, protein bars, water bottle, electronics, change of clothes, etc..,"
So—there you have it.
If you have any more pieces of advice on how to ensure a vacation goes smoothly, let us know in the comments below.
Safe travels!
Methodology
We conducted an online survey of 965 US respondents via a bespoke online polling tool in June 2022. This study was created through multiple steps of research, crowdsourcing, and surveying. All survey participants' responses were reviewed by data scientists for quality control. ​​The survey had an attention-check question.
Fair Use Statement
Did our findings help you learn more about travel nightmares? If you believe your audience will be interested in this information, feel free to share it. Just remember to mention the source and link back to this page.
Sources
Breaking Travel News, "Tourist Traps among Biggest Travel Nightmares for Consumers"

Our World In Data, "Tourism"

Woolf M., "80+ Eye-Popping Travel Facts and Stats You Should Know [2022]"

Woolf M., "Why Workations Are All the Rave [2022 Study]"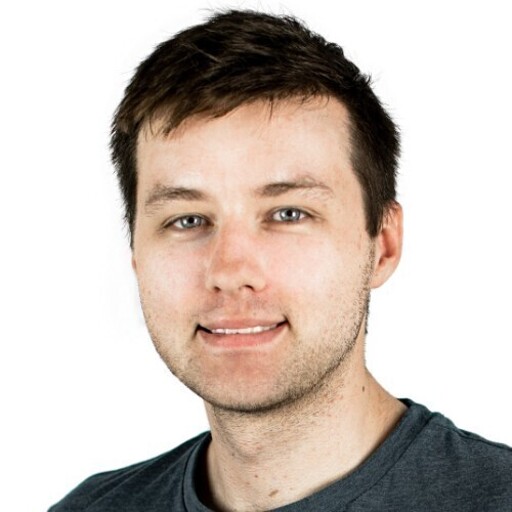 As a Digital PR specialist and a member of the Society of Professional Journalists (SPJ), Max has 5+ years of writing experience.
Over the course of his career, Max's work has garnered significant attention, with features in numerous prominent publications such as The New York Times, Forbes, Inc., Business Insider, Fast Company, Entrepreneur, BBC, TechRepublic, Glassdoor, and G2.