Traveling comes with plentiful benefits.
Yet—
There's always something that can cause our cortisol to spike, be it packing, long check-in lines, or hotel reservation problems.
So at Passport Photo Online, we've decided to poll 1,000+ Americans to unpack the nation's biggest travel stressors.
Buckle up.
Key Takeaways
92% of Americans generally find travel nerve-racking.
People are usually the most nervous when returning from a trip (25%), likely dreading a pile of work and an overflowing inbox.
Women are 8% more likely than men to find travel "moderately stressful," "quite stressful," and "very stressful": 72% vs. 64%.
Buses (29%) are the most anxiety-inducing mode of transportation.
Creating an itinerary (66%) is the most daunting pre-travel activity.
The most frightening part of staying at a destination is dealing with hotel reservation problems (69%).
Plane boarding (27%) is the worst air travel stressor.
Travel Stressors: A General Overview
Think back to your last vacation.
While it likely came with moments of joy, it probably wasn't 100% stress-free. Perhaps you were worried about finding just the *right* hotel, or you couldn't get the rental car you wanted.
Regardless of what it was, traveling can always bring some form of worry.
And the numbers concur.
When we asked survey respondents if they generally find travel stressful, 92% said "Yes."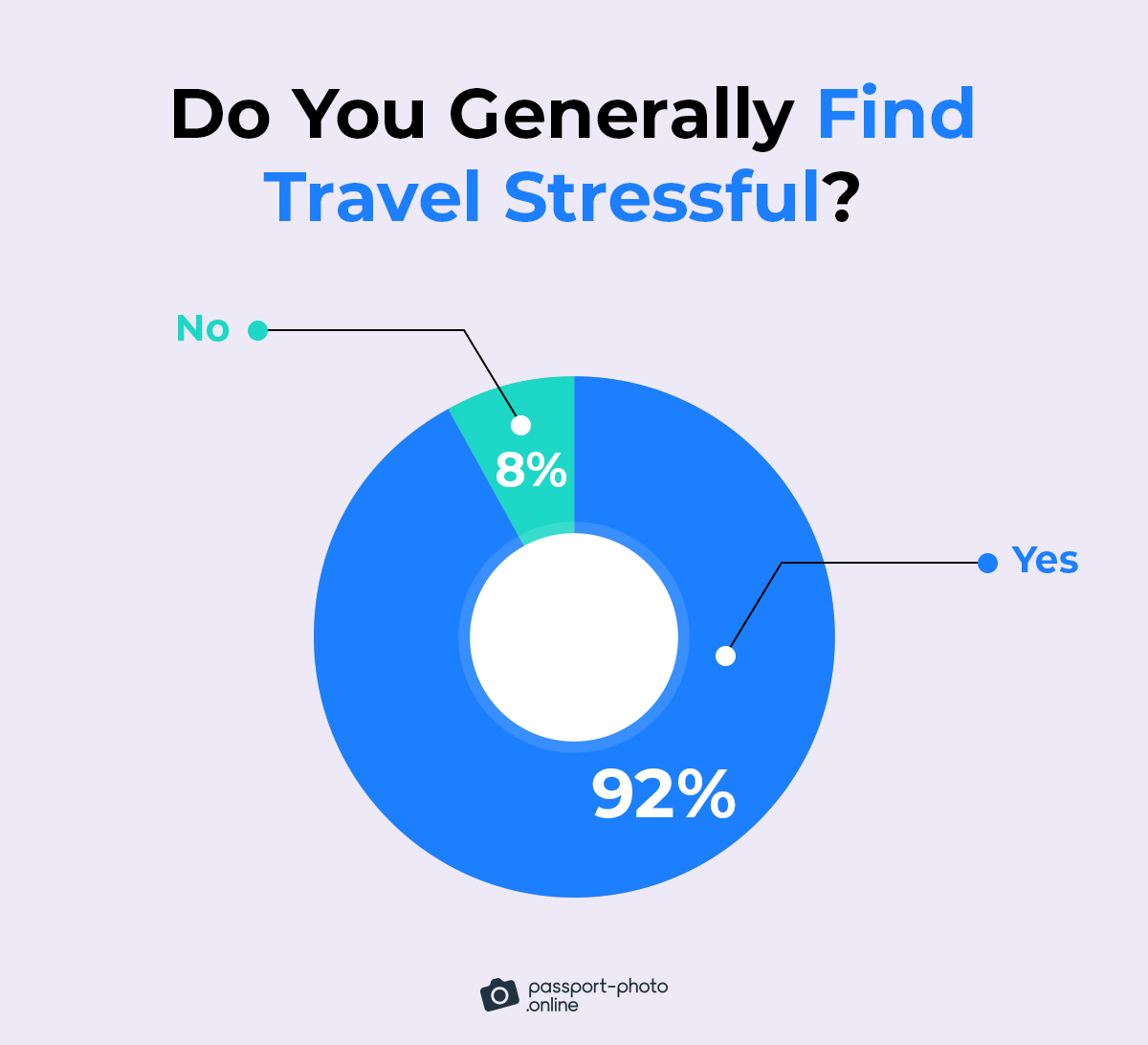 Here's how worrisome Americans believe it is: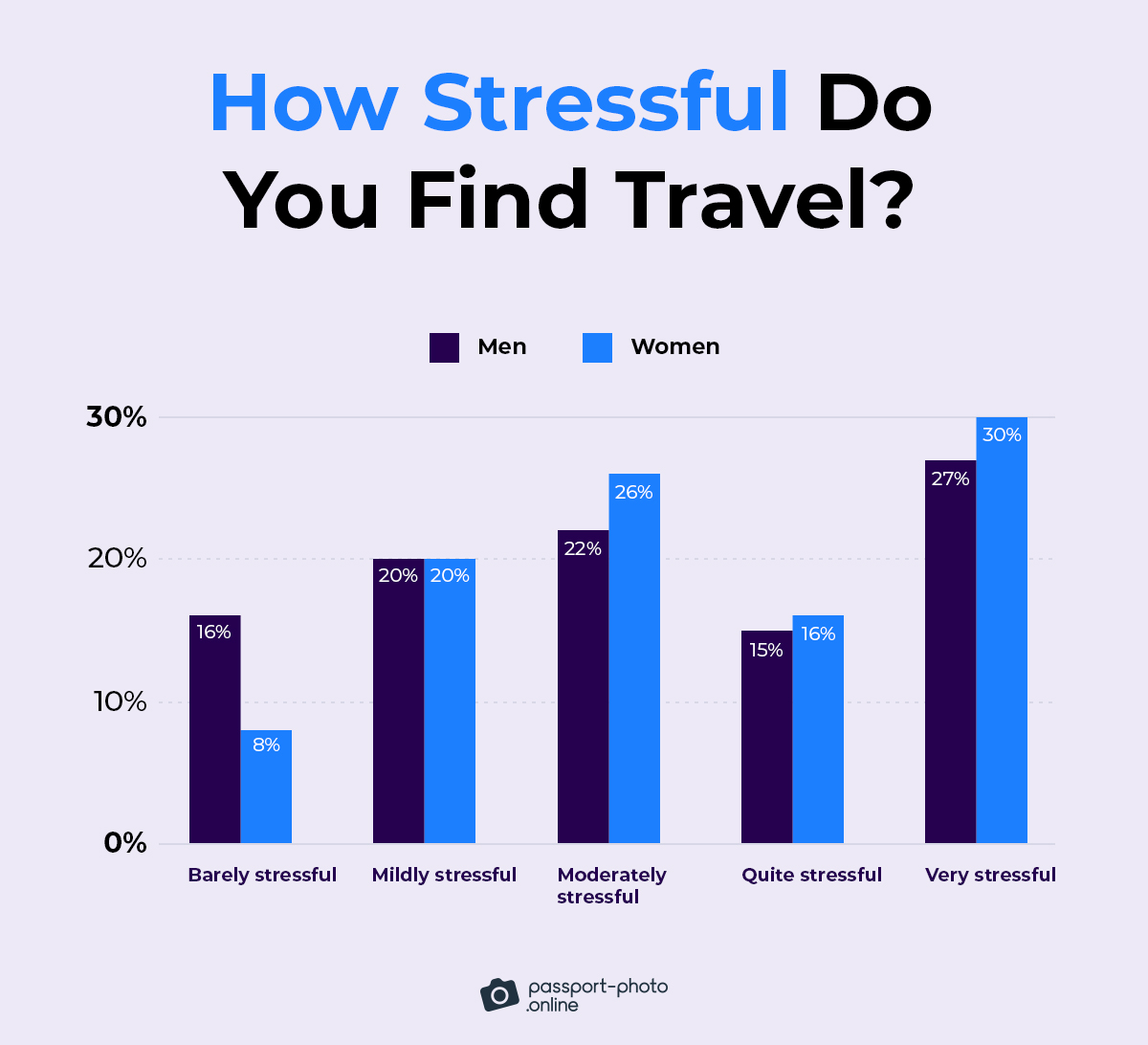 The takeaway?
Both men and women feel traveling can make your heart beat a little faster, with females 8% more likely to see travel as "moderately stressful," "quite stressful," and "very stressful": 72% vs. 64%.
But—
Which type of travel is more likely to throw you into panic mode: domestic or international?
See the answer below: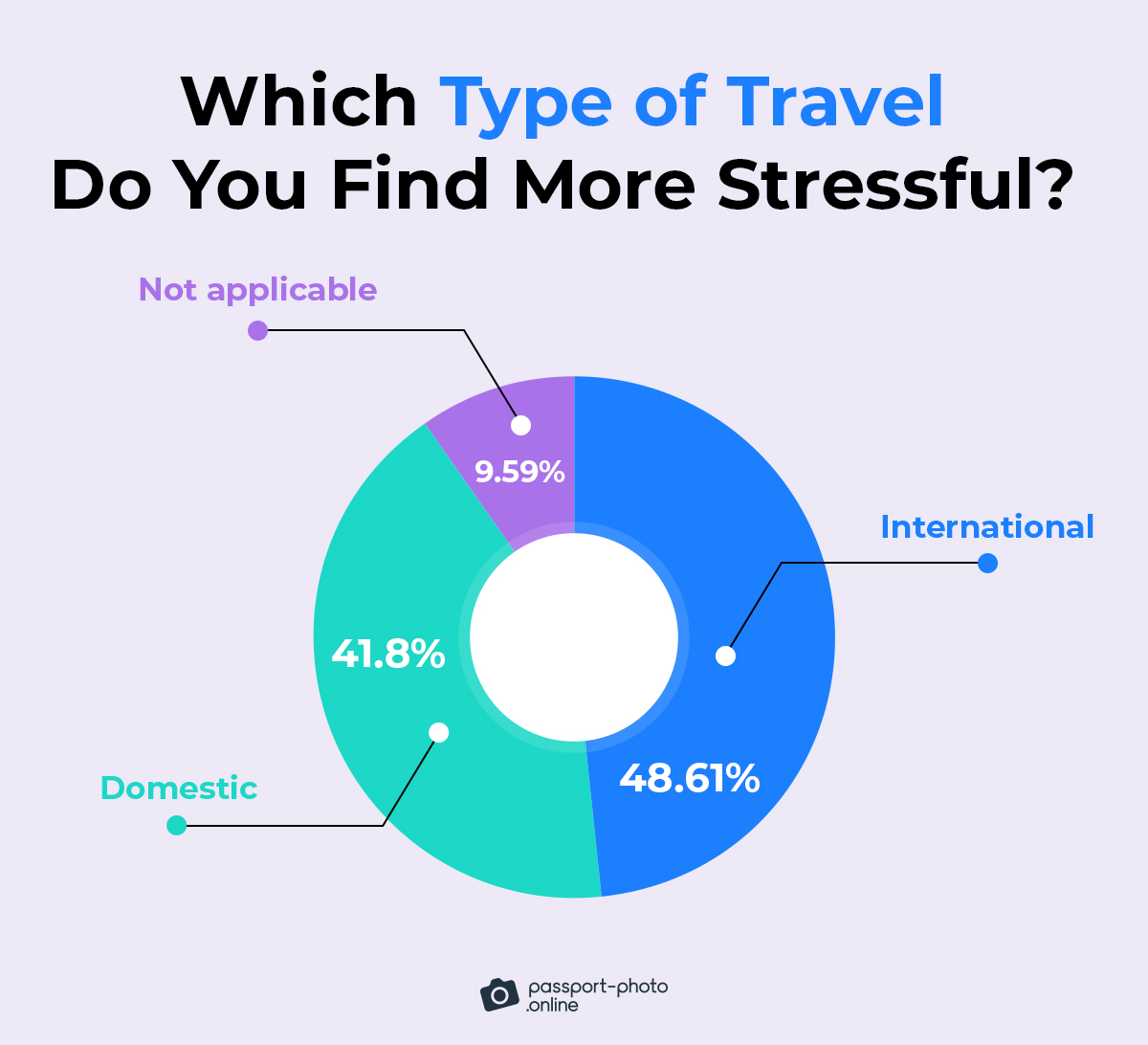 That makes sense.
After all, hopping on a plane to explore the world requires more planning, documents, and problem-solving. That means international travel is inherently more frightening.
Moving along, we wanted to discover at which stage Americans typically experience the most stress during travels.
The results are in: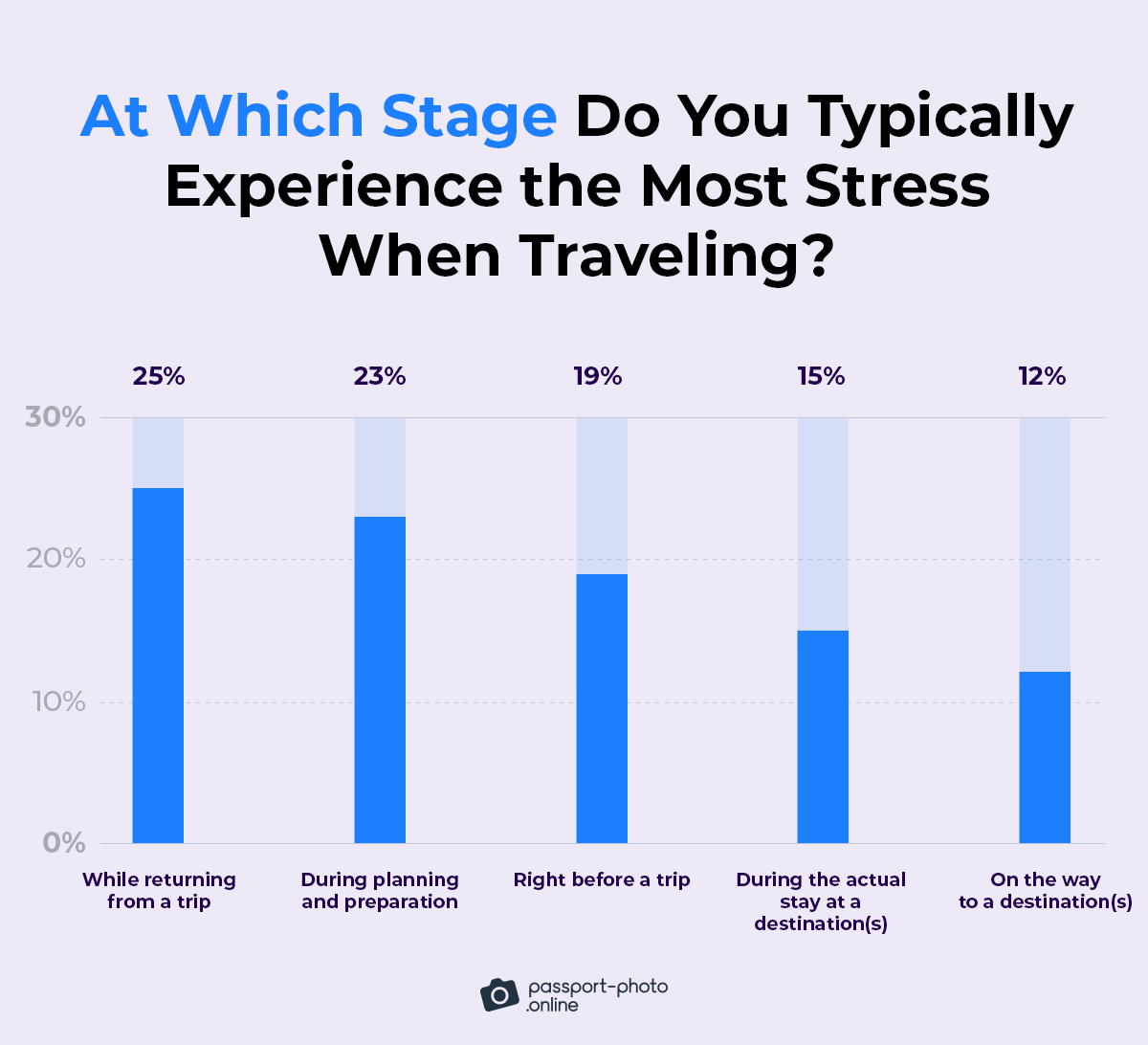 Interestingly, people are typically the tensest when returning from a trip. That could be because many of us dread returning to a pile of work and an overflowing inbox.
Ouch.
As our penultimate question, we asked survey participants, "Traveling with whom makes you the most stressed out?"
See the answer below: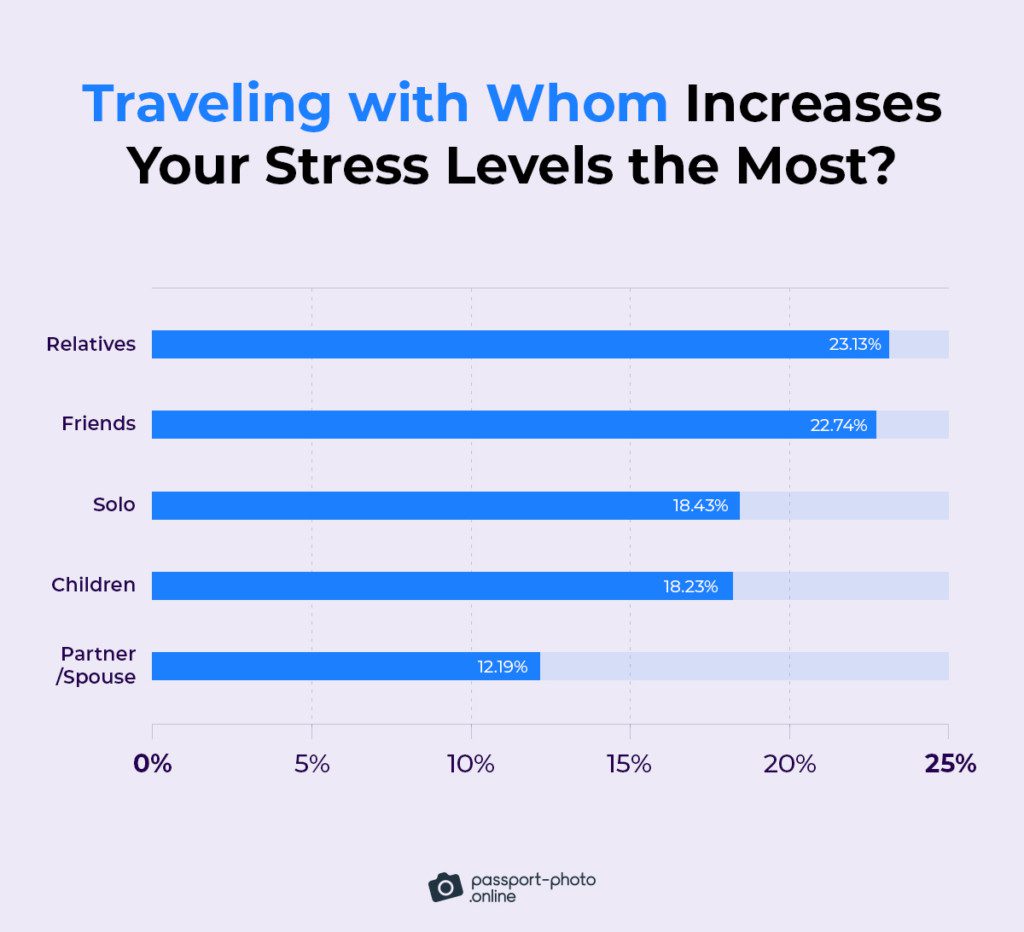 Finally, we wanted to see what modes of transportation Americans find the most nerve-racking: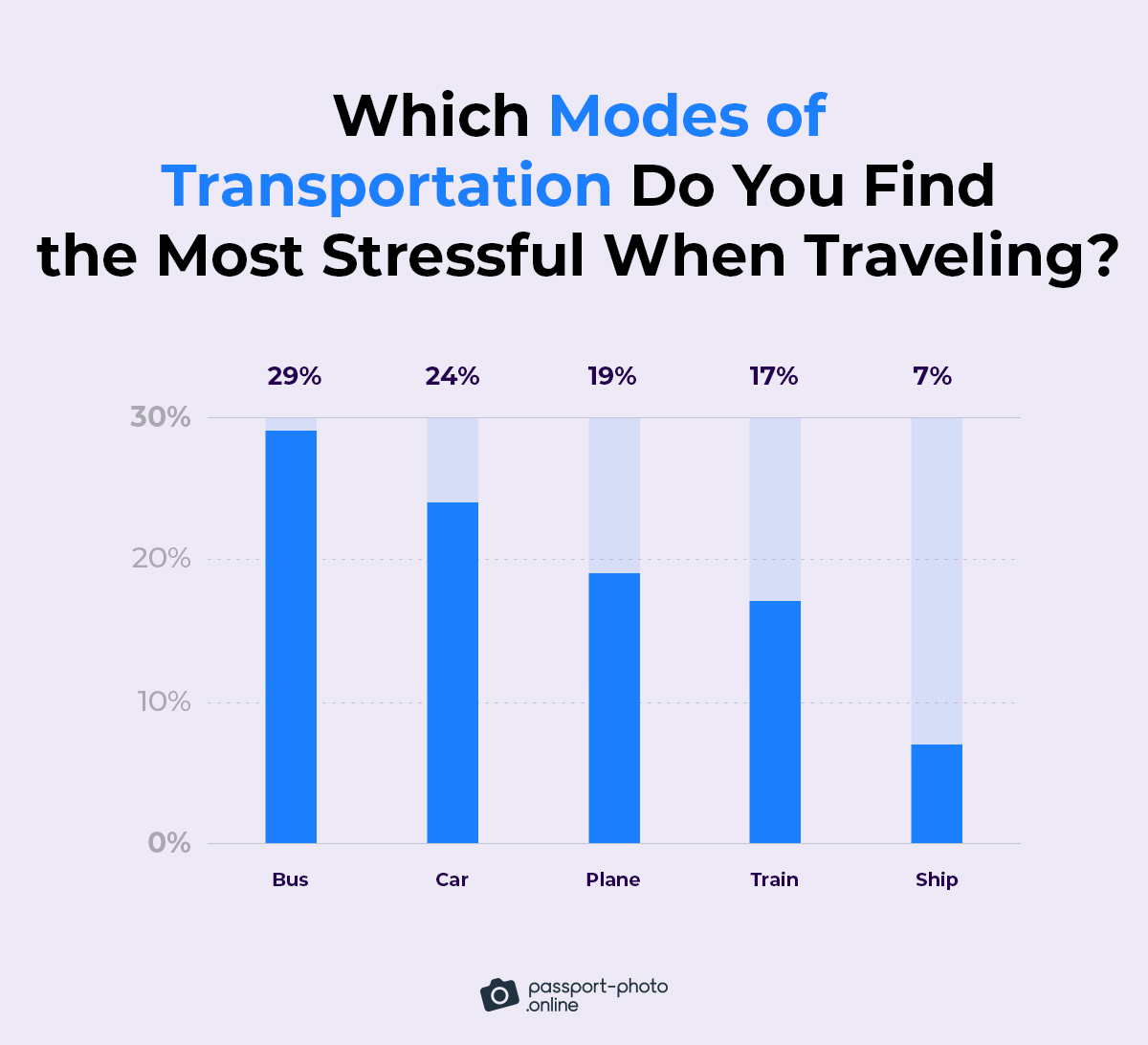 In summary, traveling can often throw you a curveball.
Our next sections shed light on the exact travel stressors associated with air travel, staying at a destination, as well as the planning and preparation stage.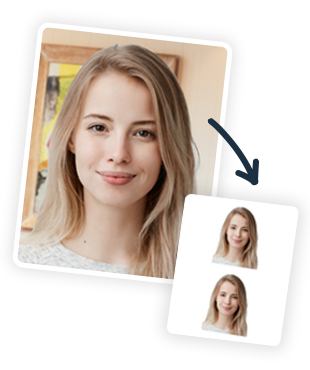 Do you need passport photos? Find out more:
The Biggest Travel Stressors: Ranked
So far, so good.
Now that we've explored the general landscape of travel stressors, let's deep-dive into the specifics.
To do it, we'll break down the biggest travel stressors into three categories: trip planning and preparation, air travel, and staying at a destination.
Let's make a start.
Trip planning and preparation
So—
Here's a list of the most heart-rate-spiking woes associated with planning and prepping for a trip: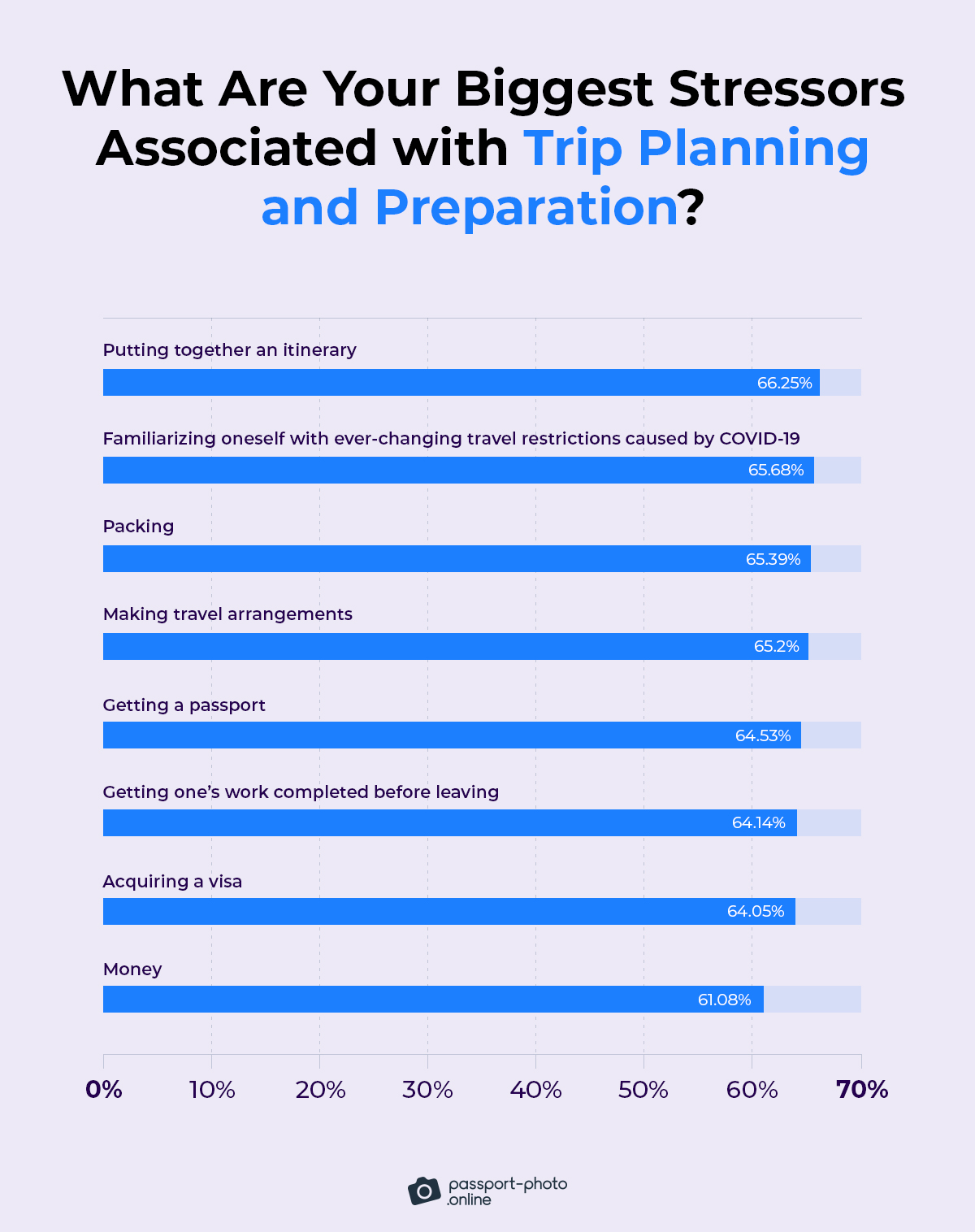 As you can tell, "putting together an itinerary" is the most stress-inducing pre-travel activity at 66.25%.
It's not hard to see why it's the case. With so many options to choose from, it's easy to get analysis paralysis.
Now—
What about air travel stressors?
Air travel
To uncover what makes Americans the most worried when traveling by air, we gave survey participants a list of 21 potential stressors and asked them to pick the ones that make their heart race the most.
Below are the results: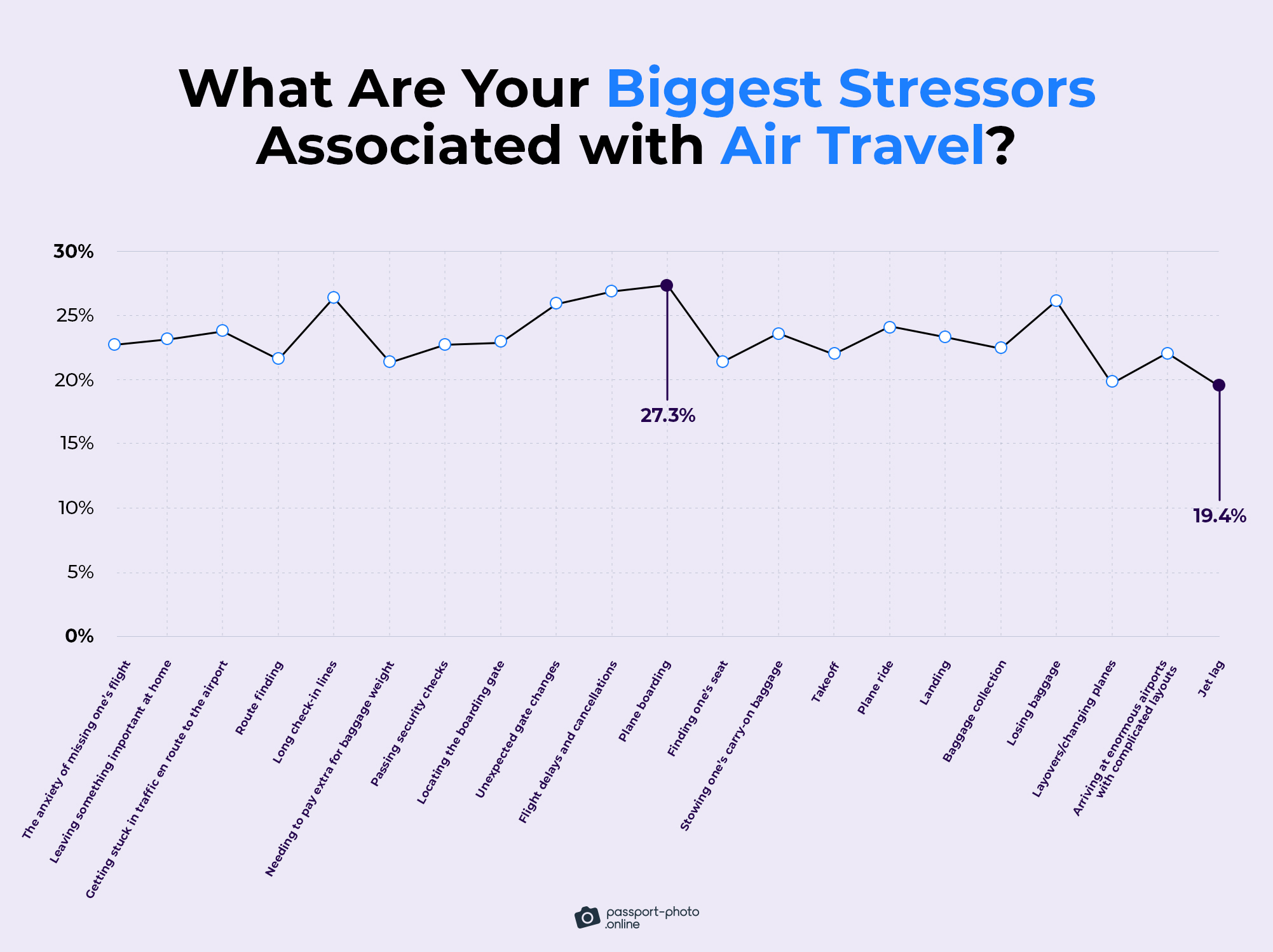 It turns out plane boarding is the most stressful part of air travel, according to 27.3% of pollees. Flight delays and cancellations (26.8%), as well as long check-in lines at 26.3%, close the podium.
Is that something you can relate to?
Staying at a destination
Finally, there are stressors related to staying at your chosen place.
Here are the TOP five: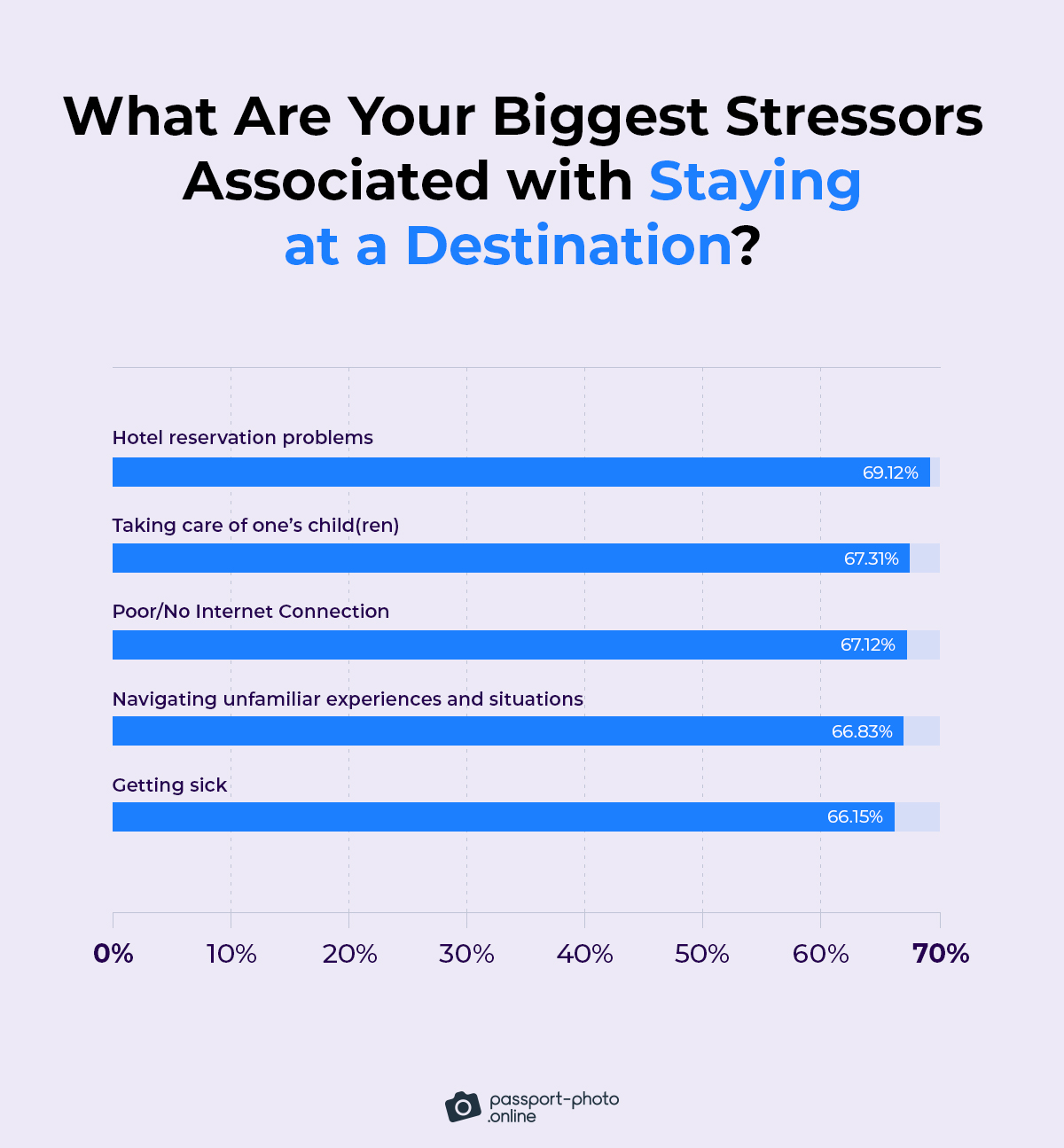 Hotel reservation problems (69.12%) top the list, with taking care of one's child(ren) (67.31%) and poor/no internet connection (67.12%) following right behind.
The least stressful aspect? The language barrier at 61.17%.
That figures.
Stacking It All Up
There you have it.
A comprehensive look at America's biggest travel stressors.
Now—
What stresses YOU the most while on the road? Or perhaps you have sure-fire tips and techniques to make travel stress-free?
Let us know in the comments below.
Methodology
We conducted an online survey of 1,043 US respondents via a bespoke online polling tool in December 2022.
The respondents were 77.5% male, 22.4% female, and 0.1% identified as other. 7.4% of respondents were 25 or younger, 68.8% were aged 26–38, 19.9% were aged 39–54, and 3.8% were 55 or older.
This survey has a confidence level of 95% and a margin of error of 3%. Given the gender and age makeup of our sample size, the study's findings are statistically significant for the population at large.
This study was created through multiple research steps, crowdsourcing, and surveying. Data scientists reviewed all survey participants' responses for quality control. ​​The survey also had an attention-check question.
Fair Use Statement
Did our findings help you learn more about the biggest travel stressors? If you believe your audience will be interested in this information, feel free to share it. Just remember to mention the source and link back to this page.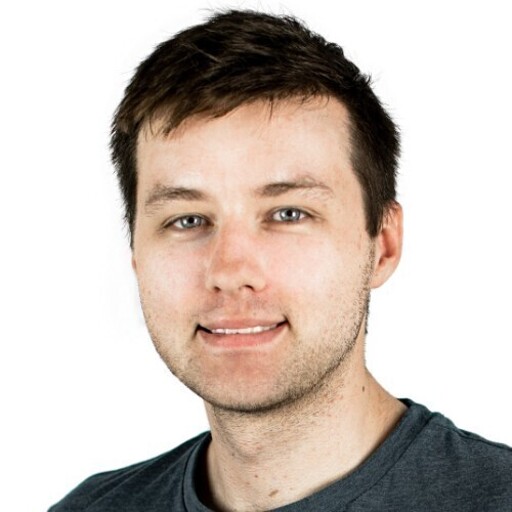 Max Woolf is a writer and travel lover at Passport Photo Online. His insights, advice, and commentary have been featured in Forbes, Inc., Business Insider, Fast Company, Entrepreneur, BBC, MSN, NBC, Yahoo, USA Today, Fox News, AOL, The Ladders, TechRepublic, Reader's Digest, Glassdoor, Stanford, G2, and 300+ other outlets.