No smartphone today can match a professional, purpose-built DSLR or mirrorless camera.
After all, low light image quality, macro photography, and bokeh are much better on a "real camera" thanks to the larger image sensor and the availability of various lenses, among others.
But—
Smartphone cameras have gone a long way. They are easy to use and have bleeding-edge image processing capabilities, which helped them annihilate most point-and-shoot cameras.
Most importantly, companies like Apple, Samsung, and Google are constantly pushing the limits of mobile photography, shrinking the list of what smartphone cameras can't do well.
That's why, at Passport Photo Online, we've decided to compile a list of mobile photography stats, facts, and trends to help you stay on top of things.
Mobile Photography Trends, Facts & Stats for 2023
In 2022, the highest resolution smartphone camera had a 108MP sensor and 100x zoom.
Most people (91%) take photos with smartphones vs. digital cameras (7%) or tablets (3%). That percentage is expected to grow from 91% in 2022 to 94% in 2026.
People took 7x more photos (~8.6T+) during the rise of smartphones in the 2010s than in the previous decade.
Smartphones have become the dominant type of camera owned, with ~6.6B users worldwide.
Europeans take an average of 597 selfies yearly.
A little over 50% of people take anywhere between one and four selfies daily.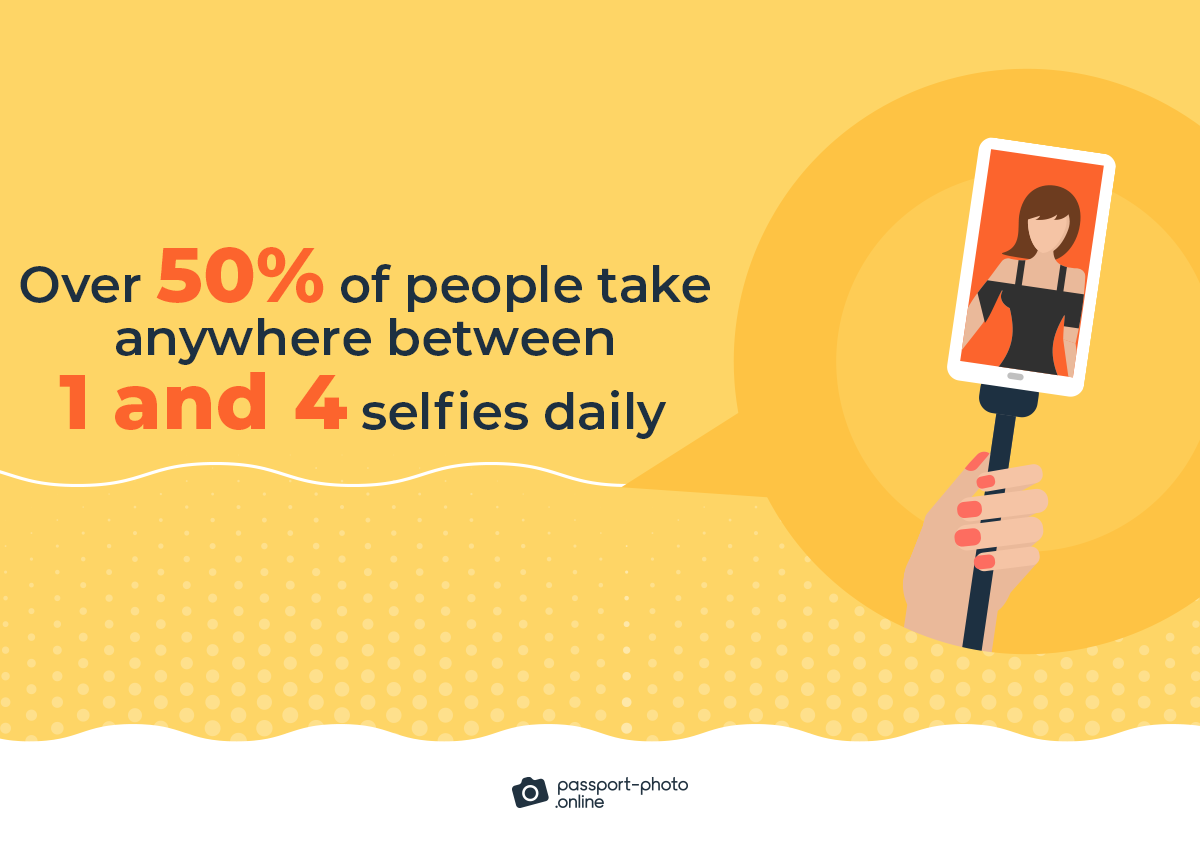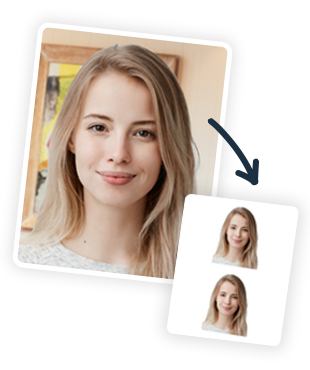 Do you need passport photos? Find out more:
---
Over six in 10 professional photographers (64%) take at least half of their personal photos on a smartphone. Yet, 64% of them avoid taking professional images via smartphones.
| Professional Photographers' Preferred Devices for Taking Non-professional Photos | Share |
| --- | --- |
| iPhone | 86% |
| Android smartphones | 14% |
One in five Brits has over 7.5K pictures on their cell phones.
WhatsApp (43%) and Facebook Messenger (23%) are the most popular image-sharing platforms.
Youngsters (18–24) were likelier to have shared more pictures during lockdown than any other demographic.
Smartphones have changed the digital camera industry, dropping their sales by 87% since 2010.
Nearly half of Americans (48%) use photo-editing apps before posting photos.
The first post uploaded to Instagram via a smartphone was a picture of a dog, pushed live on July 16, 2010.
About 1,119 Instagram photos are uploaded every second.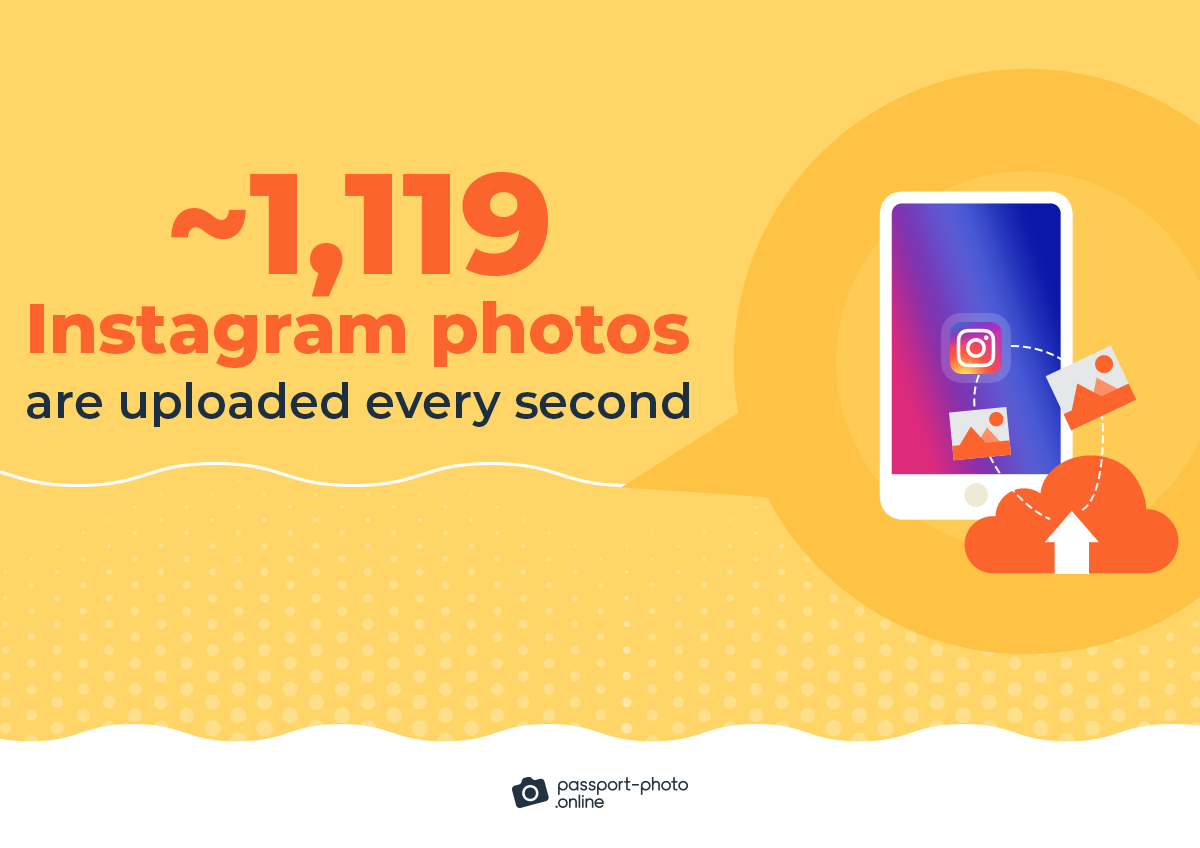 Between 2010 and 2020, worldwide camera shipments dropped by 93%, erasing over four decades of growth for the camera and photo equipment industry.
Camera sales figures dropped by ~24% from 2017 to 2018 alone.
The sales of point-and-shoot cameras dropped by 22% between 2018 and 2019 alone due to consumer preferences for smartphone photography.
86% of Americans consider camera quality when getting a new mobile phone.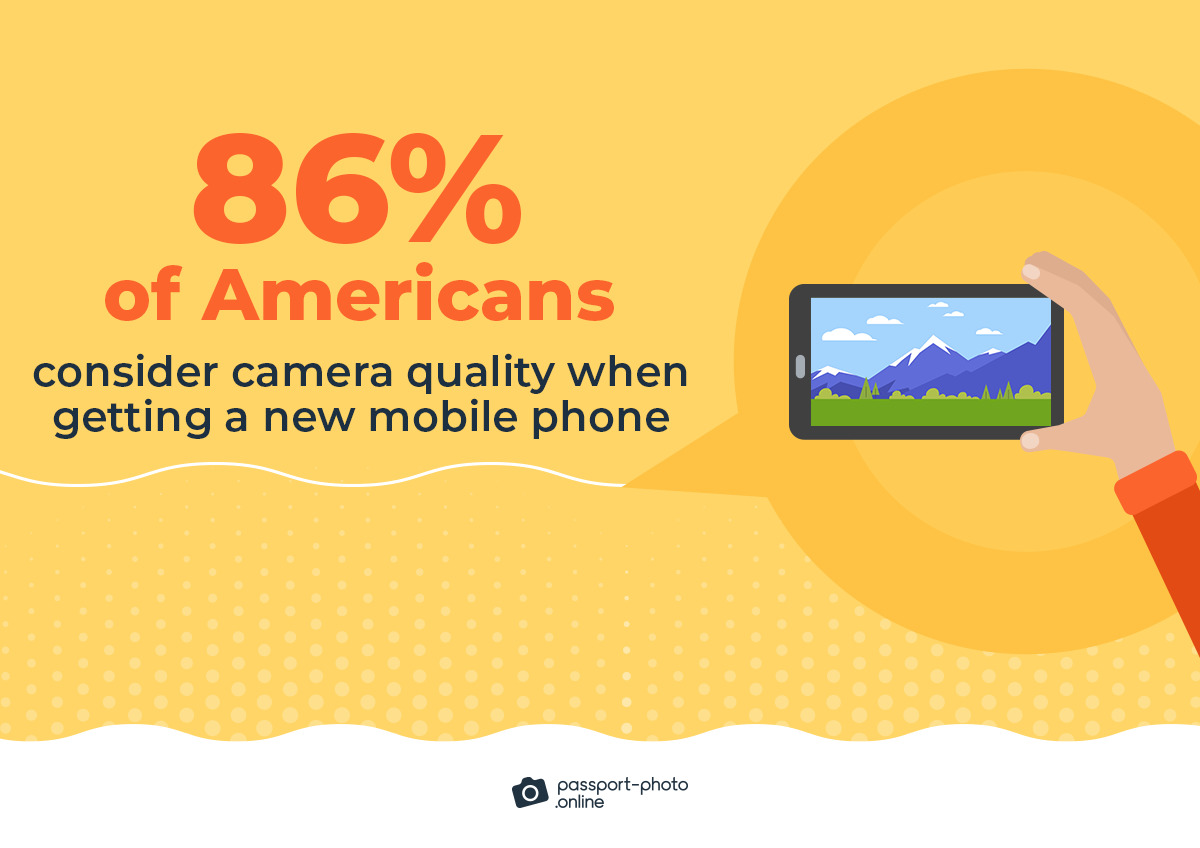 80% of American travelers say photo-taking is their most-used smartphone function.
Nine in 10 people who've ever taken photos say they have only done so with smartphones, not with any other type of digital camera.
The number of selfies taken daily on Android phones reaches an average of ~93M.
In 2022, 1.72T photos were taken with smartphones—up 8.3% from 2021.
By 2025, users are forecast to take over 2T smartphone photos every year.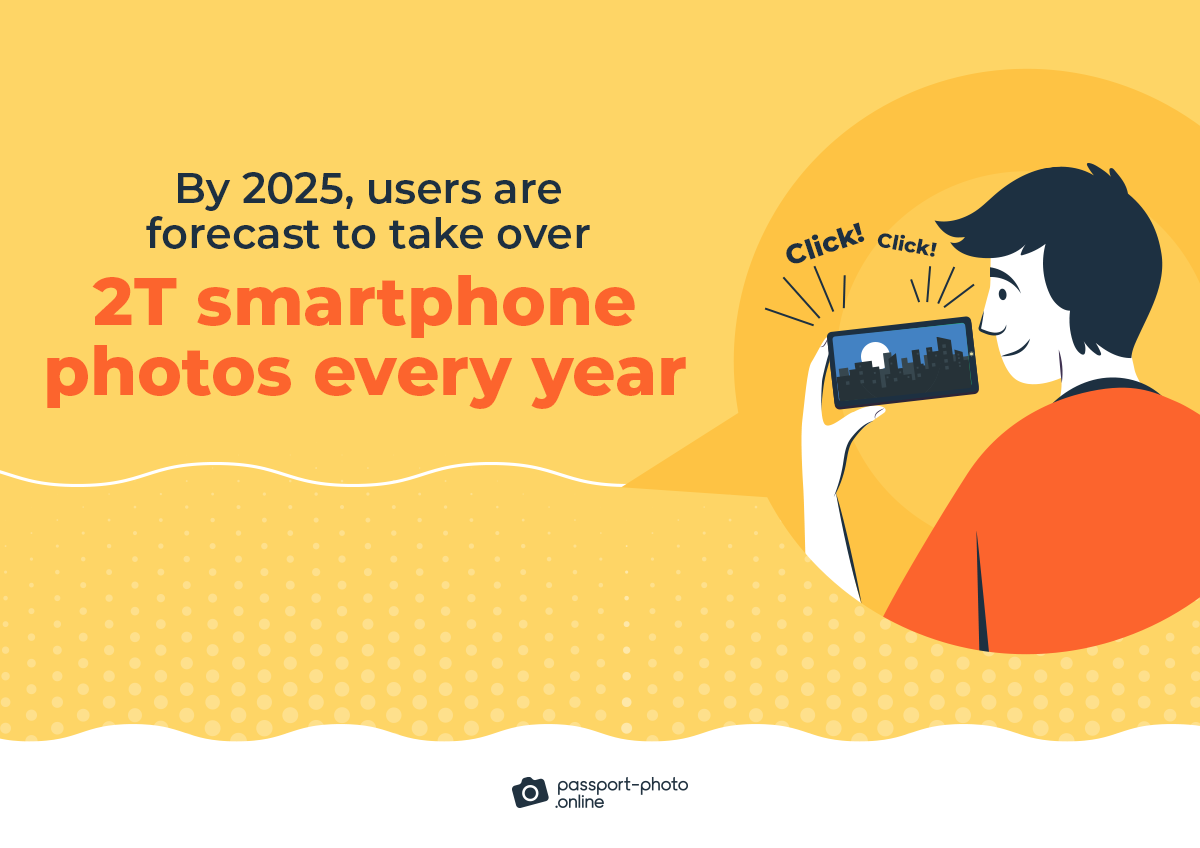 93% of all photos in 2023 will likely be taken with smartphones.
FAQ
How many selfies do people take per day?
A little over 50% of people take anywhere between one and four selfies daily. That's a lot of time and effort spent crafting the perfect self-portrait.
What percentage of images are photoshopped?
Nearly half of Americans (48%) use photo-editing apps before posting photos. For some, it's just a few tweaks here and there. For others, it's a complete makeover with bright colors and funky filters.
How many photos are uploaded to Instagram every day?
About 1,119 Instagram photos are uploaded every second. That translates to ~96M photos shared every day. 
What's the most used feature on a smartphone for travelers?
Nearly 80% of American travelers say photo-taking is their most-used smartphone function. So the next time you're on a trip, make sure your camera roll is ready!
Stacking It All Up
There you have it.
A comprehensive list of mobile photography statistics, trends, and facts you can use to spice up your knowledge.
Let us know in the comments if there are any other mobile photography figures you'd like to see.
Fair Use Statement
Did you like our infographics? If so, feel free to share them with your audience. Just remember to mention the source and link back to this page.
Sources
BBC, "Brighter, Steadier, Smarter: How Smartphone Cameras Will Improve in 2022"

Broz M., "Number of Photos Statistics (2022)"

Carrington D., "How Many Photos Will be Taken in 2020?"

Cartridge People, "UK Smartphone Photo Statistics 2020: Report Reveals How Many Images We're Storing"

Flynt J., "The Growth and Evolution of Photography – Some Surprising Statistics"

Fuscaldo D., "Selfie Taking Is On the Rise in Europe"

Haueter D., "2022 Worldwide Image Capture Forecast: 2021 – 2026"

Rehm L., "Study: Smartphone Camera Use on the Rise among Pro Photographers"

Skinner S., "Recent Smartphone Photography Research Reveals Average Brit Stores 7500 Photographs on Mobile Devices"

Statista, "Digital Camera Sales Dropped 87% Since 2010"

Statista, "Do Pro Photographers Use Camera Phones?"

Statista, "Share of Household Members in the United States Who Used Camera or Photo Editing Apps on Their Smartphone in 2018, by Income"

Statista, "Smartphones Wipe Out 40 Years of Camera Industry Growth"

Woolf M., "100+ Instagram Stats You Need to Know [Updated for 2022]"

Woolf M., "Smartphone Use On Vacation [2022 Study]"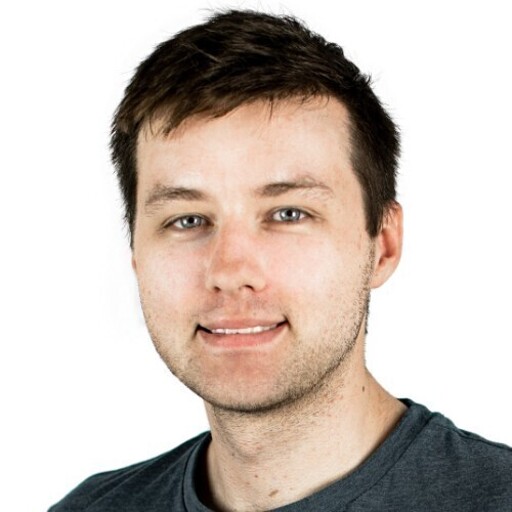 As a Digital PR specialist and a member of the Society of Professional Journalists (SPJ), Max has 5+ years of writing experience.
Over the course of his career, Max's work has garnered significant attention, with features in numerous prominent publications such as The New York Times, Forbes, Inc., Business Insider, Fast Company, Entrepreneur, BBC, TechRepublic, Glassdoor, and G2.