There's a good chance you've heard the term "dark tourism" before.
Perhaps, you even ventured out to some morbid destinations yourself, such as the 9/11 Memorial Museum in NY or the Pearl Harbor National Memorial in Hawaii.
After all, dark tourism—visiting places where some of the darkest events of human history unfolded—has been all the rave in recent years. In part, thanks to the HBO miniseries "Chernobyl" and Netflix series "Dark Tourist."
That's why at Passport Photo Online, we've decided to survey 900+ Americans to shed some light on the topic of dark tourism, discover travelers' motivations for visiting macabre destinations, as well as explore the controversy and ethics behind it.
Key Takeaways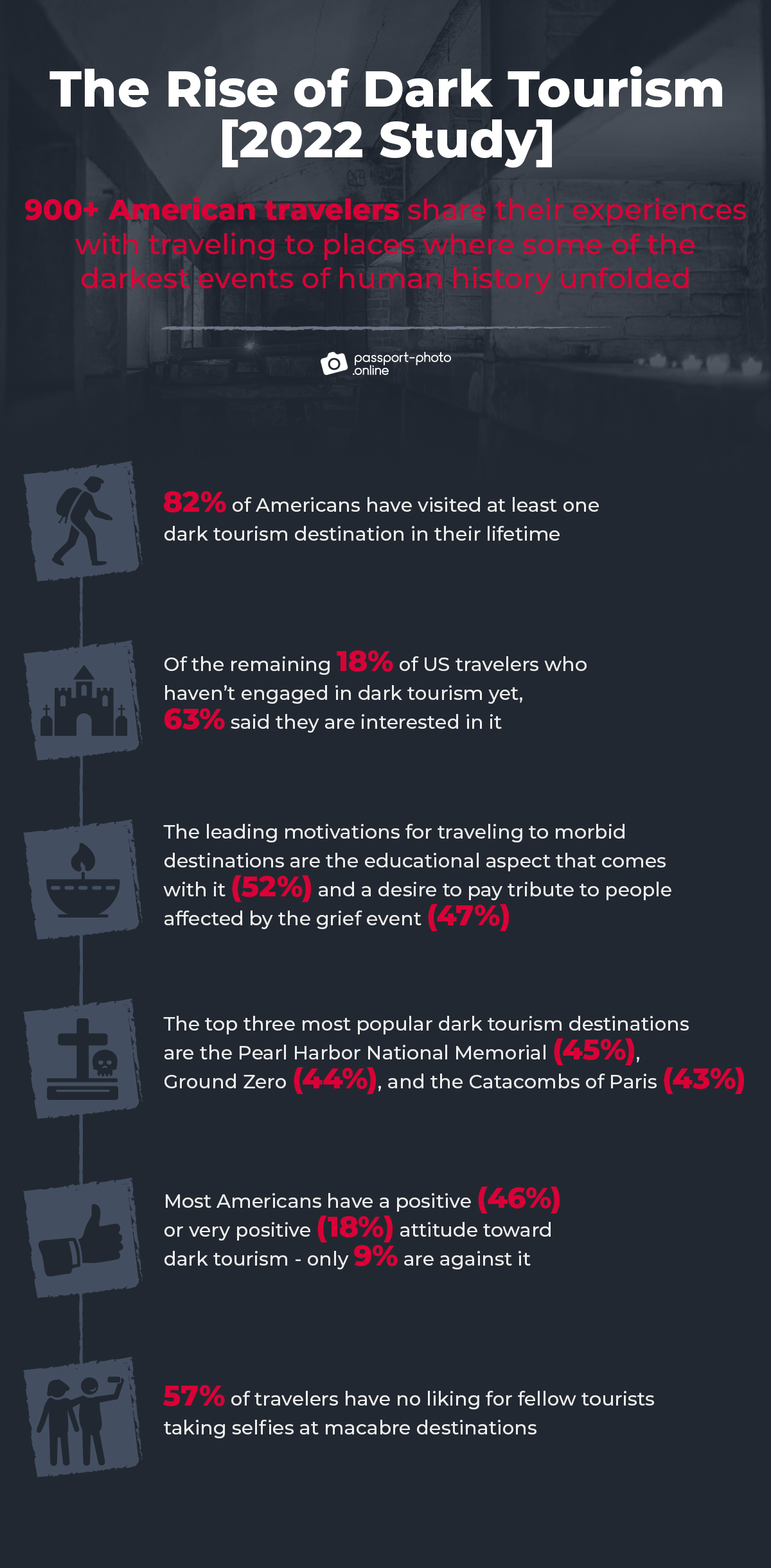 82% of Americans have visited at least one dark tourism destination. Of the remaining 18% of US travelers who haven't engaged in dark tourism yet, 63% said they are interested in it.
The leading motivations for traveling to morbid destinations are the educational aspect that comes with it (52%) and a desire to pay tribute to people affected by the grief event (47%).
The top three most popular dark tourism destinations are the Pearl Harbor National Memorial (45%), Ground Zero (44%), and the Catacombs of Paris (43%).
Most Americans have a positive (46%) or very positive (18%) attitude toward dark tourism—only 9% are against it.
57% of travelers have no liking for fellow tourists taking selfies at macabre destinations.
---
Like this article and want to know more? Check these out:
Dark Tourism: Why Travelers Flock to Sites of Tragedy

As the first order of business, we wanted to gauge the popularity of dark tourism in the US.
It turns out a full 82% of Americans have visited at least one dark tourism destination in their lifetime: 83% of men and 81% of women. Here's also how different demographics compare:
Gen Zers (25 or younger): 91%
Millennials (26–38): 83%
Gen Xers (39–54): 80%
Baby Boomers (55+): 71%
As for the remaining 18% of US travelers who haven't engaged in dark tourism yet, we asked if they're generally interested in visiting morbid destinations: 63% said "Yes."
We then asked the respondents about their key motivations for engaging in dark tourism. Below are the results:
I enjoy the educational aspect that comes with dark tourism: 52%
I wished to pay tribute to people affected by the grief event: 47%
I wanted to emotionally absorb myself in a place of tragedy: 46%
I was looking to discover a place with a story rather than just visit a trendy destination: 45%
As you can see, the educational aspect came out on top. That's not all that surprising since dark tourism destinations usually provide travelers with authentic artifacts and help gain a more profound understanding of past events.
Next, we asked Americans what types of dark tourism they find the most appealing:
War/battlefield tourism (recreational travel to active or former war zones): 56%
Disaster tourism (visiting locations at which environmental disasters, either natural or man-made, took place): 56%
Cemetery tourism (type of travel aimed at exploring cemeteries for their artistic, architectonic, historic, and landscape heritage): 53%
Ghost tourism (any form of travel or leisure that involves encounters with or learning about ghosts or hauntings): 52%
Nuclear tourism (visiting places where there have been atomic explosions): 50%
Holocaust/Genocide tourism (travel to places associated with the deliberate mass killing of a particular nation or ethnic group aimed at destroying that nation or group): 49%
Prison and persecution site tourism (involves heritage-related leisure visits to prison museums/attractions or former sites of incarceration): 48%
So—
War/battlefield tourism and disaster tourism took the cake, with 56% of the vote for each.
Note that there's a degree of overlap, of course, between the presented categories. Yet, a given site can be appealing to the traveler for more than one reason. Hence, the overlap merely reflects reality.
Dark Tourism Destinations Intrepid Travelers Want to Visit the Most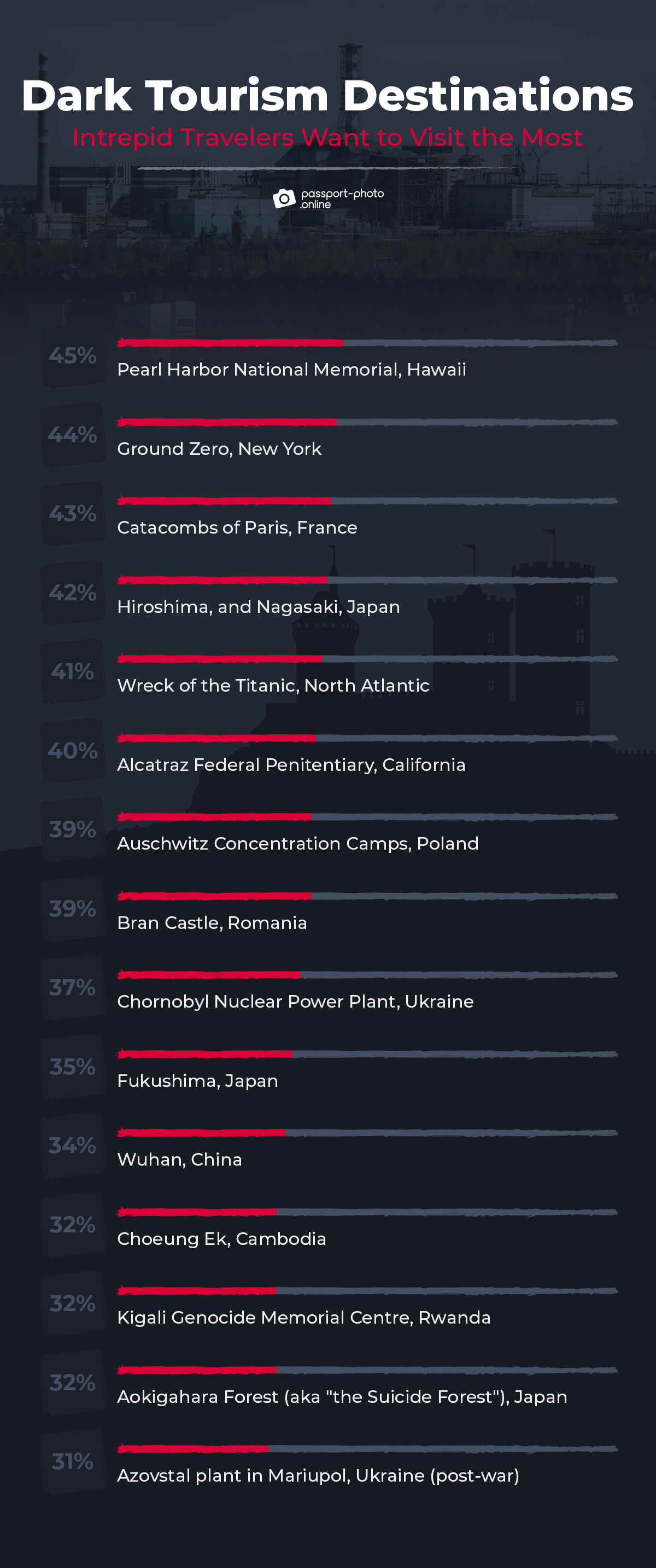 At this point, we wanted to ask Americans what dark tourism destinations they'd love to visit the most in their lifetime.
We presented the respondents with a list of the most popular dark destination and asked them to take their pick.
See the results below, along with some snappy information about some of the less-obvious places.
Pearl Harbor National Memorial, Hawaii: 45%
Ground Zero, New York: 44%
Catacombs of Paris, France (underground ossuaries, which hold the remains of 6M+ people in a small part of a tunnel network built to consolidate Paris' ancient stone quarries): 43%
Hiroshima, and Nagasaki, Japan: 42%
Wreck of the Titanic, North Atlantic: 41%
Alcatraz Federal Penitentiary, California: 40%
Auschwitz Concentration Camps, Poland (a complex of 40+ concentration and extermination camps operated by Nazi Germany in occupied Poland during WWII and the Holocaust): 39%
Bran Castle, Romania (famous for spawning the original vampire legend of Count Dracula): 39%
Chornobyl Nuclear Power Plant, Ukraine: 37%
Fukushima, Japan: 35%
Wuhan, China: 34%
Choeung Ek, Cambodia (a former orchard and mass grave of 17,000+ men, women, and children killed during the reign of the Khmer Rouge): 32%
Kigali Genocide Memorial Centre, Rwanda (a memorial commemorating the 1994 Rwandan genocide, which holds the remains of 250K+ people): 32%
Aokigahara Forest, Japan (associated with suicide and eventually becoming known by the nickname "the Suicide Forest," the forest has gained a reputation as one of the world's most-used suicide sites): 32%
Azovstal plant in Mariupol, Ukraine [post-war] (one of the most emblematic points of the Siege of Mariupol during the 2022 Russian invasion of Ukraine): 31%
Predictably, places historically near and dear to Americans have risen to the top, with the Pearl Harbor National Memorial (45%) and the World Trade Center site (44%) taking the first two spots.
We also went out on a limb and included the Azovstal plant in Mariupol, Ukraine, as an option, which was picked by 31% of Americans.
Although the Russia-Ukraine war rages on, we hope people will take an interest in visiting said place after Ukraine's victory to learn first-hand about the bravery of the Ukrainian soldiers and pay tribute to those who perished defending their motherland.
The Controversy and Ethics behind Dark Tourism

It's not all black and white when it comes to dark tourism.
While most Americans have a positive (46%) or very positive (18%) attitude toward it, some (9%) have no liking for it, our study finds.
Why?
Here's a quick rundown of the main arguments against dark tourism:
It exploits human suffering: 22%
Dark tourism sites are sometimes presented with a bias, watering down or whitewashing part of history: 18%
It desecrates the sites of human suffering and death: 18%
I just don't understand the appeal: 16%
I view it as perverse or inappropriate: 13%
It's voyeuristic: 12%
It's important to note that whether dark tourism is ethical or not in many ways comes down to your past experiences, upbringing, and culture, among others. Hence, the attitude will vary from person to person.
As our penultimate question, we asked the survey respondents what they think of fellow tourists who take selfies at dark tourism sites. Sadly, it's not uncommon to see people walking around with selfie sticks and snapping smiling pictures in Chornobyl or at the gates of Auschwitz that infamously read "Arbeit Macht Frei."
Thus, our study finds that 57% of travelers have a negative or very negative attitude toward tourists taking selfies at morbid destinations.
Lastly, we asked the survey participants what they think of travelers who break the rules of certain dark tourism places. A good case in point is Fukushima, where some adventurous spirits try to explore the red zone, which is forbidden due to its dangerous radioactivity.
The result?
Over half of Americans (51%) disapprove of travelers who break the rules of dark tourism sites—rightfully so.
In summary, dark tourism remains controversial to some. That said, if you'd like to visit a macabre destination, it's critical to behave respectfully. Here are a few pointers that might come in handy:
Always respect the rules of the site.
Stay sober and quiet.
Only take pictures when it's allowed. Selfies are somewhat OK if you don't get in anyone's way, hold up the tour, or pose disrespectfully.
Avoid causing damage to the site or stealing anything.
Don't talk on your phone. Ideally, put it on silent.
Refrain from talking negatively about the victims of the tragedy the site commemorates.
Methodology
We conducted an online survey of 937 US respondents via a bespoke online polling tool in May 2022. This study was created through multiple steps of research, crowdsourcing, and surveying. All survey participants' responses were reviewed by data scientists for quality control. ​​The survey had an attention-check question.
Fair Use Statement
Did our findings help you learn more about dark tourism? If you believe your audience will be interested in this information, feel free to share it. Just remember to mention the source and link back to this page.
Sources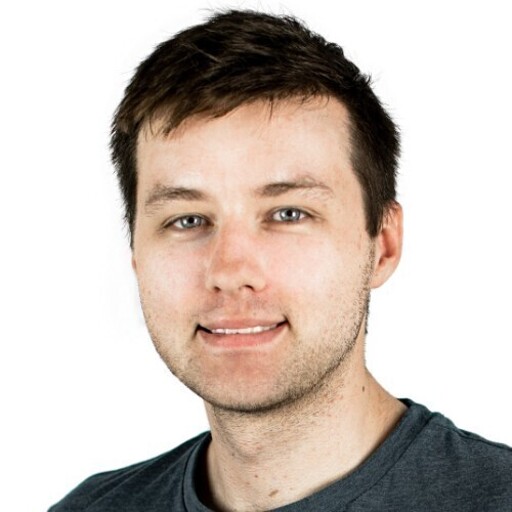 Max Woolf is a writer and travel lover at Passport Photo Online. His insights, advice, and commentary have been featured in Forbes, Inc., Business Insider, Fast Company, Entrepreneur, BBC, MSN, NBC, Yahoo, USA Today, Fox News, AOL, The Ladders, TechRepublic, Reader's Digest, Glassdoor, Stanford, G2, and 300+ other outlets.