You fire up Zoom. Join your daily standup.
But—
Soon after you say "Hi!" to everyone, you realize *Jeff* is slurping coffee and singing Taylor Swift off-key because he thinks the mic is muted.
Then, there's your boss.
For some reason, she's beset by tech glitches and can't figure out how to share her screen so the meeting can start.
Two minutes later, you develop a bad case of Zoom fatigue…
No matter how much some of us love remote work, it's not all sunshine and roses, especially when it comes to online meetings.
So, at Passport Photo Online, we've decided to poll 1,020 Americans to ask them about their BIGGEST virtual meeting pet peeves and gauge their overall experiences with online calls in 2022.
Scroll on to see the hidden gems we've discovered.
Key Takeaways

69% of workers agree or strongly agree that their boss is terrible at running virtual meetings.
The TOP three biggest Zoom taboos of 2022 are unstable internet connection (50.2%), echo/reverb (49.42%), and too much background noise (49.41%).
The average American employee spends 1–2 hours in virtual meetings daily. That translates to 260–520 hours (10.8–21.6 days) per year.
Nearly 9 in 10 Americans (88%) have experienced virtual meeting fatigue at least once since switching to remote work.
The best days for Zoom calls are Tuesdays (29%), Thursdays (26%), and Wednesdays (20%). The worst are Mondays (35%) and Fridays (31%).
Virtual Meetings in 2022: A General Overview

It's been 2+ years since most of us hopped onto video conferencing.
So—
We figured it's the perfect time to take a 360º look at how remote employees feel about virtual meetings.
For starters, we asked American white-collar workers if they attend online meetings on a regular basis: 95% said, "Yes."
Here's how much they average in online calls daily:
1–2 hours: 37%
3–4 hours: 23%
31–59 minutes: 17%
5 hours or more: 12%
Up to 30 minutes: 11%
As you can see, the average American employee spends between one and two hours in virtual meetings per day. That translates to roughly 5–10 hours weekly, 21–42 hours monthly, or 260–520 hours (10.8–21.6 days) yearly.
Quite a lot, huh?
It's no wonder 88% of our respondents say they've experienced virtual meeting fatigue at least once since switching to remote work. Such fatigue could lead to exhaustion, social detachment, and low productivity.
Now—
One of the ways employers can help staffers is to host fewer online meetings.
While it's easier said than done, we've discovered that 77% of workers have gotten invitations to virtual calls irrelevant to them. So the next time you book a meeting, ensure each participant has a reason to attend it.
On top of it, consider rolling out a no-meeting day.
Our research finds that 76% of employees agree or strongly agree there should be one day a week with ZERO meetings. It'll not only give people extra time to tackle day-to-day tasks but also reduce stress and up productivity.
Speaking of the latter, we asked the respondents to what extent they agree or disagree with the following statement, "I could do my job just as well or even better with fewer virtual meetings."
Below are the results:
Agree: 57%
Strongly agree: 20%
Neutral: 18%
Strongly disagree: 3%
Disagree: 2%
Finally, managers should continually hone their virtual meeting skills. After all, our study finds that 69% of workers believe their boss is terrible at running virtual meetings.
That's surely something to look into.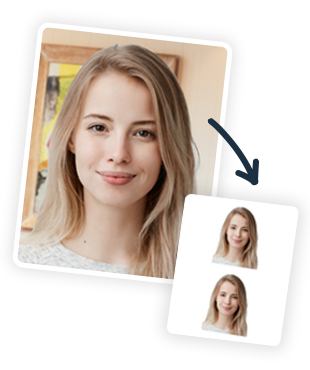 Do you need passport photos? Find out more:
The Best and Worst Days for Virtual Meetings
Here's the thing:
While days often seem to blur into each other, it's important to get the timing right when you schedule a virtual meeting. Otherwise, you'll start on the wrong foot.
Hence, we asked the survey participants, "What's the best day to schedule a virtual call?" Below are the results (with a text version just in case):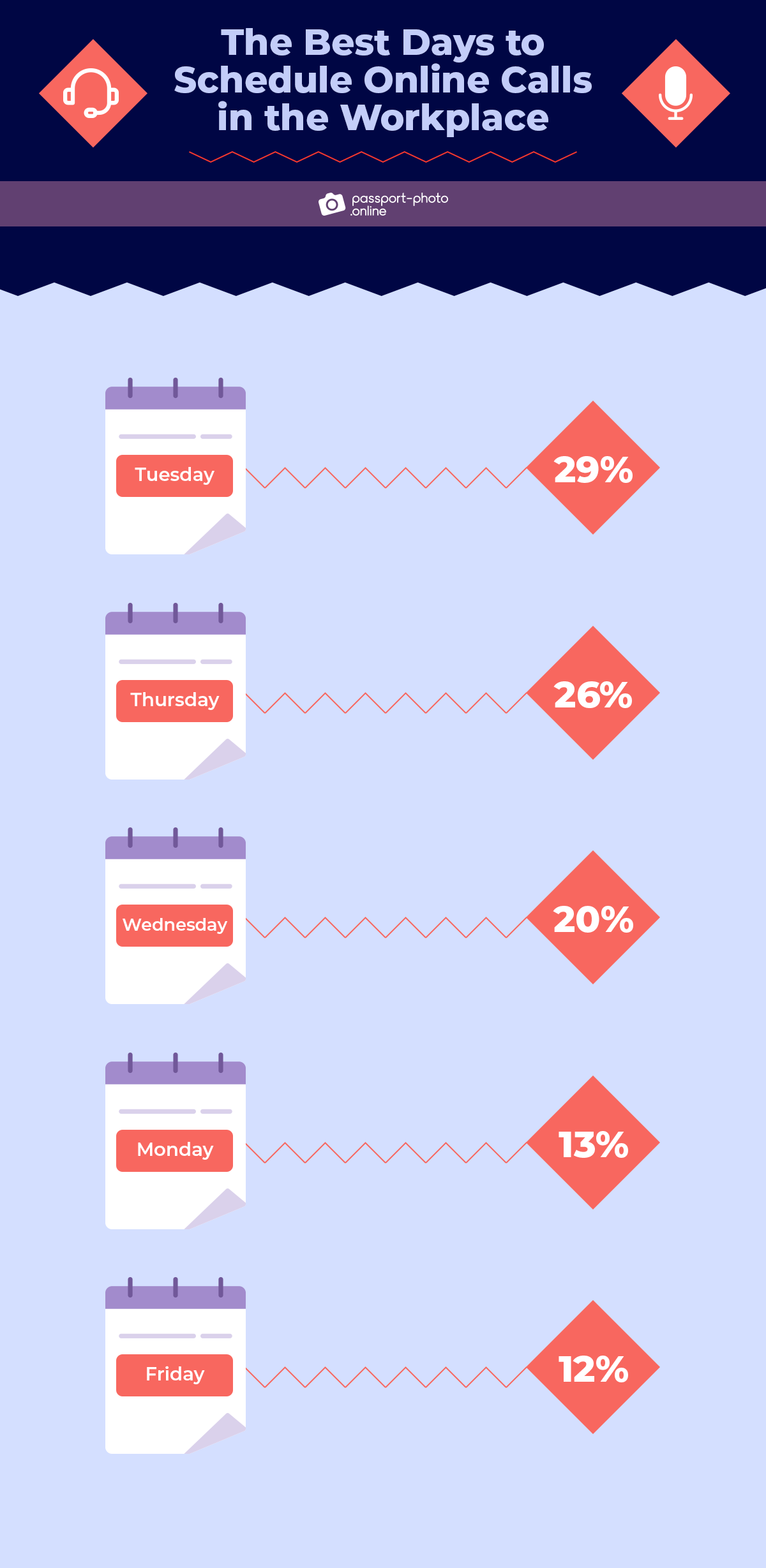 Tuesday: 29%
Thursday: 26%
Wednesday: 20%
Monday: 13%
Friday: 12%
As the data shows, the best days for Zoom calls are Tuesdays (29%), Thursdays (26%), and somewhat Wednesdays (20%) because we're already in the groove of the week. Time-wise, it's best to schedule a meeting between 10 AM and 12 PM, a recent Fellow study suggests.
Now—
What about the worst days for online meetings at work? Let's have a look: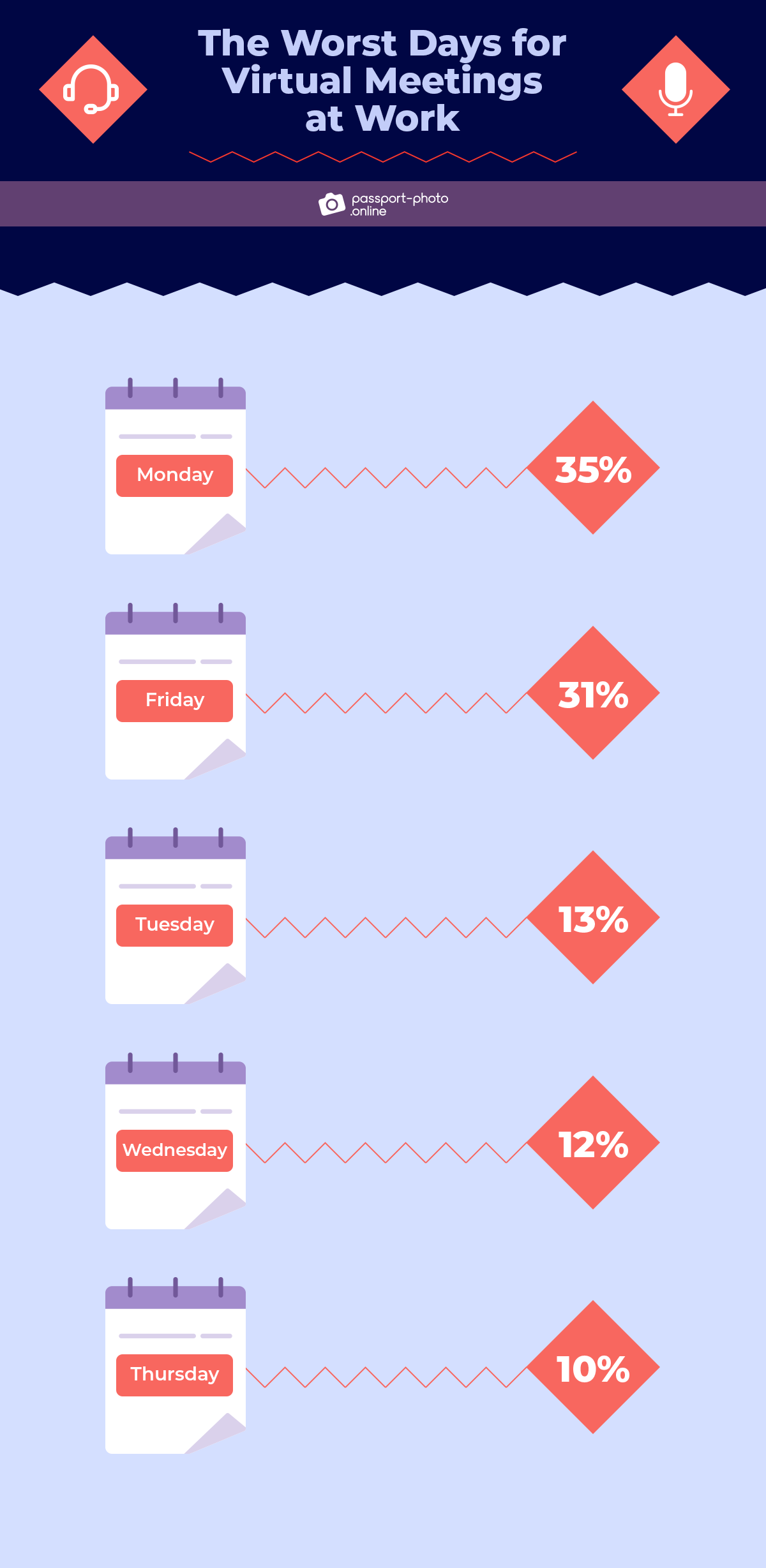 ​​Monday: 35%
Friday: 31%
Tuesday: 13%
Wednesday: 12%
Thursday: 10%
Mondays (35%) and Fridays (31%) took the cake as the worst days for Zoom calls. Perhaps, that's because most of us are still in weekend mode when the week starts. And by the time Friday comes around, we're already looking forward to the weekend.
So, if you want to make the most of your virtual meetings, stick to Tuesdays, Thursdays, or Wednesdays, and skip Mondays and Fridays when possible.
15 Biggest Virtual Meeting Taboos of 2022

There are many accepted and unwritten rules for maintaining proper Zoom etiquette.
While some are obvious (e.g., don't be late) and generally observed, others are ignored due to bad habits, human error, or just bad luck.
So—
Below is a list of the biggest virtual meeting pet peeves of 2022 that grate on staffers, ranked from most to least annoying.
Unstable internet connection: 50.2%
Echo/reverb when someone is speaking: 49.42%
Too much background noise: 49.41%
Not paying attention or losing track of what's being said: 48.92%
Forgetting to mute or unmute: 48.63%
Barking dogs / Meowing cats: 48.53%
Coming unprepared: 48.13%
Bringing your cat or dog to a meeting: 47.26%
Chewing gum on camera: 47.05%
Attendees talking over each other: 46.96%
Being late: 46.08%
People who won't turn their videos on in an obvious camera-on meeting: 45.98%
Zooming and driving: 45.88%
Eating on camera: 45.78%
Fidgeting (e.g., playing with an AirPods case, twiddling thumbs.): 45.09%
What can we learn from the above list?
Surely, we can divide the virtual meeting taboos into several key categories:
Bad manners: not paying attention or losing track of what's being said, coming unprepared, bringing your cat or dog, chewing gum on camera, talking over others, being late, not turning on your camera when everyone else has it on, Zooming and driving, eating on camera, and fidgeting.
Tech problems: unstable internet connection, echo/reverb, and forgetting to mute or unmute.
Things you likely can't control: too much background noise, barking dogs, or meowing cats.
As you can tell, most virtual meeting taboos (particularly those in the "bad manners" pocket) have a fix. All you have to do is be mindful and respectful of fellow meeting goers.
But what about tech issues?
There's nothing more frustrating than dealing with lagging audio or fuzzy video in the middle of a virtual meeting.
While there's no surefire way to avoid such issues, you can minimize their impact. Here are three quick tips to help you beat technology mishaps:
Test-drive your setup. It'll help pinpoint any potential issues and let you troubleshoot them beforehand.
Be patient. Tech problems happen from time to time. Yet, it doesn't mean they have to ruin your meeting. If something goes south, try to stay calm and work through it as best you can.
Have a plan B. If all else fails, it's always good to have a contingency plan. Knowing you could use a different video conferencing tool or another device will help curb stress and ensure the meeting doesn't derail.
So—
Which Zoom sins are you guilty of?
Let us know in the comment section below!
Methodology
We conducted an online survey of 1,020 US respondents via a bespoke online polling tool in June 2022. Respondents consisted of 58% males and 42% females. 16% of the respondents were 25 or younger, 49% were aged 26–38, 27% were aged 39–54, and 9% were 55 or older. Given the gender and age makeup of our large sample, the study's findings can be extrapolated to the entire population.
This study was created through multiple steps of research, crowdsourcing, and surveying. All survey participants' responses were reviewed by data scientists for quality control. ​​The survey had an attention-check question.
Fair Use Statement
Did our findings help you learn more about virtual meeting taboos? If you believe your audience will be interested in this information, feel free to share it. Just remember to mention the source and link back to this page.
Sources
Calvello M., "Best Time to Hold Meetings for Better Productivity"

Laker B., Pereira V., Budhwar P., Malik A., "The Surprising Impact of Meeting-Free Days"

Wehrt W., Shoshan H., "Understanding "Zoom Fatigue": A Mixed-Method Approach"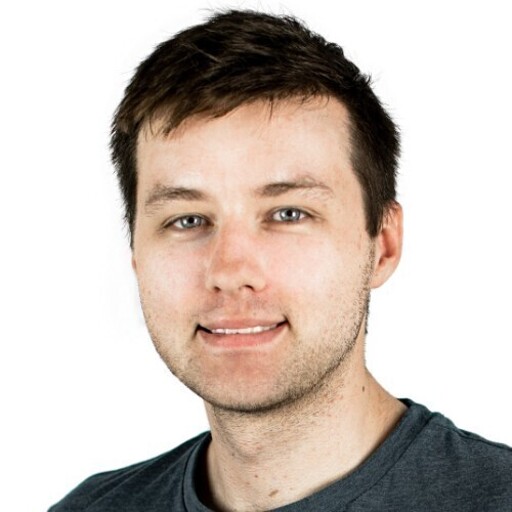 Max Woolf is a writer and travel lover at Passport Photo Online. His insights, advice, and commentary have been featured in Forbes, Inc., Business Insider, Fast Company, Entrepreneur, BBC, MSN, NBC, Yahoo, USA Today, Fox News, AOL, The Ladders, TechRepublic, Reader's Digest, Glassdoor, Stanford, G2, and 300+ other outlets.