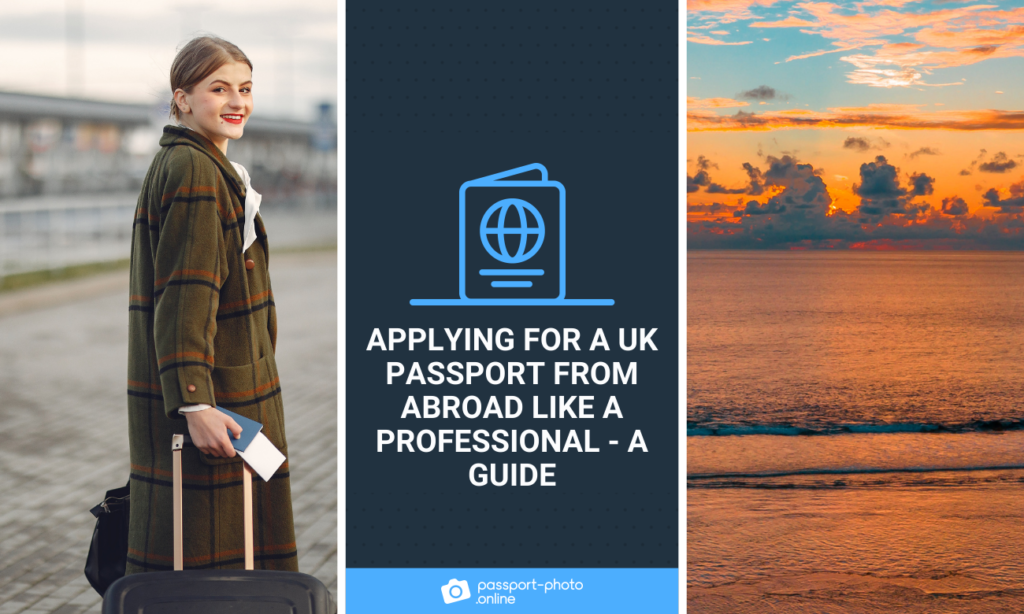 So, you need a new British passport. When you're in the UK, this is a relatively simple process. But what if you need a new passport and you're not based in the UK? Maybe you're an ex-pat living abroad, maybe you're taking an extended stay abroad for business, or maybe you just got unlucky on holiday, and your passport's gone for a walkabout. Fortunately, Passport Photo Online is always here to help! Applying for a UK passport from abroad can be simple if you know what steps you need to take. That's where our handy guide comes in. Read on as we take you through everything you need to know to get a new UK passport, no matter where in the world you are.
Applying for a British passport from abroad – different situations
It doesn't matter if you're an adult looking for a new passport, a child looking for a new passport or someone looking to change their details. The good news is that all of this, and more, is still possible even when you're abroad, provided you have a claim to British nationality. British passports can be issued to anyone with one of these six types:
British Citizenship
British Overseas Citizenship
British Overseas Territories Citizenship
British National (Overseas)
British Subject
British Protected Person
If you contact UK Visas and Immigration, they can tell you if you fall into any of the above categories, and are therefore eligible for a British passport. The processes you have to go through to apply will be similar to the ones you need to apply for a passport in the UK. However, there are going to be a few differences, which reflect the added complexity of preparing a passport for someone residing abroad. We've laid out an outline of how the online service works, as well as the extra steps Her Majesty's Passport Office requires you to take in order to get your new passport.
The online passport application service
When you're applying for a new passport from abroad, in nearly all cases, you will be using the Passport Office's online passport application portal. The way it works is very simple.
First, you will need to answer a series of questions on the website so that the Passport Office can determine the type of application you are making, along with things like what documents you need and how much you need to pay. Of particular note will be the question asking where you are currently living. If you are filling out the form on behalf of someone else, answer these questions as if you were them. Remember to upload your passport photos when prompted.
Next, you will need to enter your chosen credit or debit card details in order to pay for your passport. Remember to make sure that your card is set up for international transactions and that you have enough funds available. You will be charged a fee for the application itself, as well as an additional courier fee so your new passport can be delivered to you, no matter where in the world you are. After this, you will be given a declaration form to print out, along with some extra guidance.
Finally, you need to sign your printed declaration form and mail it to the passport office, along with the required documents you need to send. If you need a countersignatory, remember to select one in advance, and inform them the government may contact them. If you can't sign your declaration form, owing to age or disability, you can either ask someone else to sign on your behalf or include a printed letter with your application explaining why you can't. Your passport will have a little notation in it explaining that the holder does not need to sign.
The form will tell you automatically how much you need to pay and what documents you need to send, depending on who you are and where you are currently living. The Passport Office will not be able to process your application until they receive your photos and your documents. Make sure to submit these promptly, as your application will be discarded after 90 days of inactivity. Regarding payment, the passport service accepts Visa, Visa Debit, Visa Electron, Mastercard and Maestro (UK Domestic) cards. Maestro (International) cards are not accepted. Once your passport is ready, the international courier will ship it directly to you in your country of residence as soon as possible. While the basic parts of the process are largely the same, there will be variations depending on your situation.
Applying for a first UK passport from abroad
If you're applying for your first UK adult passport from abroad, you will need to provide your birth parents' details, so that the Passport Office can confirm that you have British nationality or citizenship, and therefore a right to a British passport. These details will include:
their passport numbers.
their dates and places of birth.
what their nationality and citizenship were at the time you were born.
If you have lived in the UK until you were 10 years of age, you may already be a British citizen. This will depend on the nationality of your parents at the time you were born. You automatically qualify if one or more of your parents were British citizens, or else settled in the UK at the time of your birth. To qualify as settled, you must be living in the country with no time restrictions set on your residency. This can mean you have:
Permanent Residence Status
Right of Abode
Indefinite Leave to Remain
Settled Status under the EU Settlement Scheme
If you don't fit this criteria, you can still apply to be a British citizen. If you were born on or after 1st July 2006, you can register if, at the time of your birth, neither parent was a British citizen or settled in the UK. You need to make sure that you haven't spent more than 90 days a year outside the UK before you were 10. If you have spent that much time outside the UK, for a specific, unavoidable reason, you may still apply, but you must reference the circumstances on your form. If you were born between 31st December 1982 and 1st July 2006, you will only automatically become a citizen if either:
Your mother was a British citizen or settled when you were born
Your father was a British citizen or settled when you were born. They must also not have been married to your mother.
You can apply to register for British citizenship if either:
Both of your parents weren't citizens of the UK or settled there at the time of your birth.
Your father was a citizen of, or settled in, the UK, but wasn't married to your mother.
As above, you can't spend more than 90 days outside the UK for the first 10 years of your life, and you should elaborate if you have.
If you are adopted, you will need to use the details of your adoptive parents. If your adoptive parents are of the same sex, then the first person you write into the form should be written in the "mother or parent 1" section, and the second must be written into the "father or parent 2" section, regardless of their gender. If you were adopted abroad, you will not automatically qualify for British citizenship. However, Section 3(1) of the British Nationality Act 1981 will allow you to apply for British citizenship. To qualify, you will need to have been adopted either:
After 3rd January 2014, from a country listed in either the Adoption (Recognition of Overseas Adoptions) Order 2013 or Scotland's Adoption (Recognition of Overseas Adoptions) Regulations 2013 and Adoption (Recognition of Overseas Adoptions) Amendment Regulations.
Before 3rd January 2014 in a member of the UK Government's list of "designated countries".
Through an adoption under the Hague Convention rules.
Your application will most likely be accepted if the following criteria can be met:
At least one of your adoptive parents has British citizenship through any source other than descent, such as through birth, registration or adoption.
Your adoptive parents have consented to your registration as a British citizen.
The Home Secretary is satisfied that all adoption laws have been followed and that the adoption is not merely an adoption of convenience.
There is no reason to refuse registration on grounds of your character.
Adoptions that were processed prior to 3rd January 2014 that do not feature on the designated list or that were processed after 3rd January 2014 in countries not recognised in the laws mentioned above are not recognised in UK law, and would make you ineligible for citizenship.
If you were adopted under the Hague Convention, you may have gained nationality from your adoptive parents, provided that at least one was a British citizen at the time of the adoption and that both are habitually resident in the UK. Usually, a certificate from the relevant authority, such as an adoption order will be needed to prove this.
Finally, as with all first British passport applications, you will need to provide the details of a countersignatory. The requirements for countersignatures are slightly different when you're applying from abroad. If applying from outside the UK, your countersignatory does not need to possess a valid UK or Irish passport (although it is preferred). They may also have, in order of preference, an EU, US or Commonwealth passport, that has not expired. If they have one of the latter three examples, they need to send colour photocopies with the application. They must also:
Be a professional, for example, a civil servant or dentist.
Write the name of the country whose passport they hold.
Write their email address.
Write their business address, or home address if currently retired.
Review your application summary to ensure the information is accurate.
Fill out and give their signature to the countersignatory section in the declaration pack.
In the case of all adult passport applications, certify one of both of the passport photos, to verify that they are a credible likeness of the applicants.
Not be related to the applicant, by blood or by marriage.
Not be in a personal relationship with the applicant.
Not be commercially employed by the applicant to help them get a passport.
Not live at the applicant's home address.
Not work for the Passport Office.
The Passport Office may need to contact your countersignatory to confirm the identity and professional credentials. You will need to speak to them in advance to ask if they're happy to do this.
Renewing a passport from abroad
When carrying out a UK passport renewal from abroad, it will not require as much extra documentation. What you will need is your current passport, along with any uncancelled passports you have, British or otherwise. You will also need to provide their numbers to the Passport Office. If you have dual nationality, you need to send a full-colour photocopy of your uncancelled non-British passport, or British Overseas Territories Citizen passport.
Applying for a child passport from abroad
As when applying for your first British passport, a passport application for a child under 16 will require the information of the child's parents, as well as the details of a countersignatory. No information regarding the parents will appear on the final passport, this is only to gather the information the Passport Office needs to be able to issue a passport. It is important to remember that the following advice can also be applied to adults.
If your child was conceived through sperm donation and born in the UK, simply complete the form in the normal way. You do not need to tell the UK Passport Office that your child was conceived through sperm donation unless you wish to claim British nationality through the child's non-birth mother or father. If the parents are of the same sex, fill the details in the "mother or parent 1" and "father or parent 2" boxes as normal, with the parent who gave birth written into the "mother or parent 1" box. If your child was conceived through sperm donation outside the UK, contact the Passport Office for more information, as what you need will depend on your situation.
If your child was born through a surrogate, things are a bit more complicated. For the purposes of citizenship legislation, the surrogate mother is always recognised as the legal mother. If the surrogate mother is married, the father is legally considered to be the mother's husband. If the surrogate mother is not married, the standard proof of paternity regulations may apply, which would include being named on the birth certificate. Whilst the commissioning parents are not legally the parent of the child, they can nevertheless apply for a parental order. For further information, we recommend that you contact the UK Government, who will be able to help you navigate these regulations.
In some cases, it may be possible for you to apply for a passport for your child before the parental order has been issued. You will need to discuss this with the UK passport service in order to determine whether or not this applies to you. Bear in mind that passport applications that involve surrogacy can be complex, so you will need to leave a lot of extra time for the application to be processed. The Passport Office recommends that you allow at least 4 (four) months for your child to receive their passport.
If your child has a single parent, then you should complete either the Mother or Father boxes on the form, whichever of the two applies. You should supplement this with a short description in the "Additional Information" section, regarding why you are the only parent on the form.
Replacing a stolen or lost passport from abroad
If your passport is lost or stolen while abroad, the first thing you need to do is report the theft to the local authorities. They will keep this on file and may even offer you a reference number. After this, you need to make sure your passport is cancelled. This involves downloading and printing an LS01 form and mailing it, with the declaration form, to the Passport Office, who will cancel it as soon as they receive the form. If you find your passport after this, you must return it to the Passport Office and you must NOT ATTEMPT TO USE IT UNDER ANY CIRCUMSTANCES. You will not be able to use it and may be detained by immigration authorities or police for trying. If you find someone else's passport, you should either hand it in to the police or the Passport Office. When you come to apply for your new passport, you will be required to provide your parents', or where applicable, grandparents' details.
Changing your details on your passport
The passport regulations state that if you change your appearance, name or gender, you'll need a new passport. If you wish to change the details in your passport, you are going to need to replace the one you had and get a new one with your updated details. This is all entirely possible from abroad and is much the same as the process for doing so in the UK. Depending on which information you'd like to change, you will be required to present different supporting documents. Generally, when you change the information in your passport, you will need to provide your old information, your new information and proof of the change. For example, if you want to change your name after getting married, you will be required to present a marriage certificate, or a similar official document that proves your marital name is in use. For more information about the documents you need to change your name on your passport, click here.
What if I'm in a hurry?
No matter how careful you are when you're abroad, emergencies can still happen. Maybe your passport was lost. Maybe it was destroyed. It doesn't matter how it happens. If you find yourself caught short without a passport, and can't get a new one in time before you are due to go home, you'll need an emergency passport, also known as an emergency travel document. Emergency passports can be applied for from the UK Government website. You need to provide proof of your travel plans, a contact number and an email address. Your emergency passport will be issued within 2 (two) days of applying. You may need to visit an embassy in person to collect it. Once you have your emergency passport, you can travel home through a maximum of 5 countries. Your travel plans are printed inside the booklet, so, once you have it, you can't change your route unless you apply for another one.
British Embassies, High Commissions and Consulates
In the process of applying for a UK passport from overseas, you may need to speak with, or even go to a British Embassy or Consulate, in the country you're currently residing in, for an interview. These places provide vital services to British citizens living or staying outside the UK, including the distribution of passports. When you travel abroad, it is a good idea to research in advance where the nearest embassy, consulate or high commission will be, in case you need to use it. In the case of some countries, there will not be a British diplomatic mission, with an embassy or consulate in a neighbouring country overseeing diplomatic affairs for that country. For example, American Samoa does not have a British Embassy, with the responsibilities held instead by the UK High Commission in Los Angeles.
When you're living abroad, you can ring your local embassy to check up on the progress of your passport application. The helplines are available for enquiries 24/7 and will be able to quickly access your account to inform you of which stage your application is at. As mentioned above, British diplomatic missions are also where you can get an emergency travel passport. In addition, if you're not a British citizen, you can still ring the embassy or consulate to see if you are eligible for a UK emergency travel document. Finally, it may be that your application requires an appointment so that government officials can verify your details and your application. In this scenario, the local diplomatic mission may host such an interview, although they may also take place online.
The UK Foreign and Commonwealth Office has made every effort to ensure that all their diplomatic missions are accessible to people with disabilities, but the infrastructure they have can be uneven due to security concerns or other issues. The UK Government website carries a comprehensive list of all the embassies, consulates and consulate generals, along with the accessibility facilities they have. We recommend that you check the website ahead of time to see what's available and ring ahead if you need further assistance.
Getting a passport photo from abroad, the Passport Photo Online way!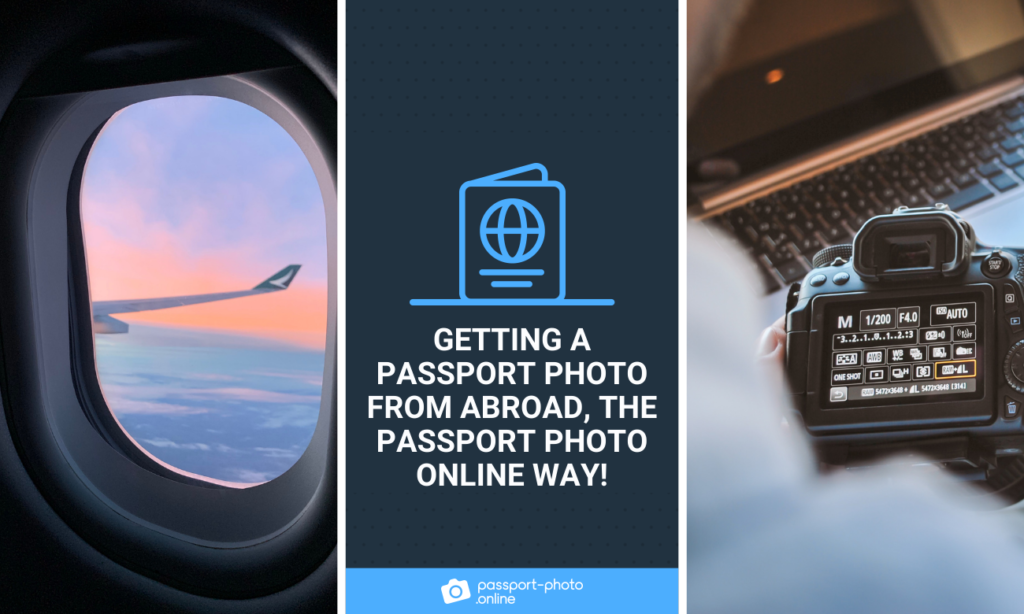 Whether you're going to carry out your first passport application or just a standard UK passport renewal, you're going to need a new British passport photo. If you need an easy way to get a passport photo, no matter where in the world you find yourself, then consider using Passport Photo Online! Our excellent service allows you to get your photos checked and edited into the perfect passport photo by our reliable team of editors, whose insider knowledge, along with cutting-edge AI photo checkers, can guarantee you a photo that will be accepted by the authorities. All you need to do is follow our quick and easy 3 (three) step process:
Find and prepare a plain background. Make sure it's light grey or cream in colour, with even lighting throughout. If possible, use natural light. You also need to find a friend or relative to take the photo for you – you can't use a selfie.
Using either your phone's camera or the camera function on our mobile app, get the picture taken and upload it to the PPO website or mobile app – you could even upload an existing one.
Repeat as many times as you need until you get a picture you're happy with, then simply upload it to your digital application, or attach it to your paper application, and you're ready to go!
See? It's a piece of cake! It saves time too, on average, this process only takes you 15 (fifteen) minutes, saving you a lot of time that would be better spent enjoying time with your friends and loved ones. Also, if you don't like the first photo we come up with, you can simply take and upload a new one, free of charge! It doesn't matter if you take 10 tries, 100 or even 1000! You'll only ever pay for the photo you use at the end of the process. Even that won't be a huge amount, on average, using Passport Photo Online can save you 54% on your passport photos! You can be sure of professional quality, as well. We take pride in our work, so much so that we pledge to refund you 200% of the money you paid if your application is denied because of a photo we edited. Now that's a good deal.
Applying for a UK passport from abroad – Summing up
There you have it! It just goes to show that, no matter how far you are from the UK, you can still get a British passport. Additionally, Passport Photo Online means that you're never far from a passport photo either, just make sure you have an internet connection, and you've got everything you need! 📸 Once you've prepared and sent off your application, all you have to do is wait for it to arrive. You can start looking forward to feeling the sand between your toes and hearing the crashing waves on your next holiday, or feeling the pride radiating from you as you tell your friends about the holiday you're just returned from. Either way, it'll definitely be worth doing.
FAQ
Can I get a new passport while abroad?
Yes, you can absolutely get a new passport while abroad! The process is largely the same as it would be when you apply from within the UK, but there will be some differences. If you wish to find out more, check out our rundown of how to apply for a UK passport from abroad above.
Can I apply to get my first British passport from abroad?
Yes, you are definitely allowed to apply for your first British passport from abroad. Check out the relevant section above to find out more.
How long will it take to get my UK passport from overseas?
In general, Her Majesty's Passport Office recommends that you leave at least 10 weeks for your passport application to be processed. However, for applicants based abroad, it will definitely take longer, owing to the extra distance your passport needs to travel to reach you.
Related Reading
How to Renew Your UK Passport in Ireland?
How to Renew a British Passport in the USA?
Supporting Documents Needed for Passport – UK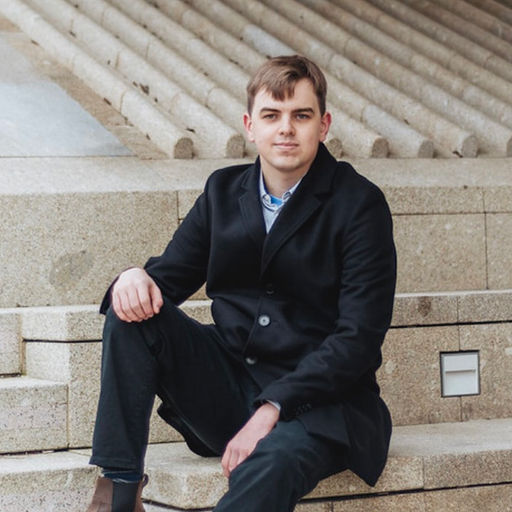 Having graduated with a History degree from the University of Birmingham, Sam has proven writing experience in local journalism, marketing and events. Born in the UK, he has travelled extensively both nationally and internationally. In his spare time, he enjoys reading, cycling and skateboarding.