The great British passport. Although you only get to use it once, or maybe twice a year, it's had a hugely positive impact on your life over the years. You don't see it often, but this tiny booklet has been the gateway to every holiday you've ever been on. But, we bet you've never stopped to think seriously about how it works, specifically, what information is found on a passport? At Passport Photo Online, passports are obviously very important. We, therefore, think it's an interesting question and one that might help you appreciate the role your passport plays a little more. Read on as we dissect the UK passport from cover to cover, to reveal the information it contains and how it all works.
We will guide you through:
Passport introduction – the vital statistics
First of all, there are certain basic facts and statistics you need to know about your passport before we dig into the information it contains. At the time of writing, the current model of the UK passport first entered circulation in 2020, with a distinctive blue cover. The first to be launched since the UK left the EU, and therefore the first solely British passport released since we joined the EU in 1973. All British citizen passports introduced in 2020 adhere to a standard size, measuring 125 x 88mm. Depending on which type of passport you carry, the number of pages each passport has will be different. If you opt for a standard British passport, it will only have 34 pages, however, if you travel more often, and you would like the security of a passport that has more pages available, the Passport Office can do a larger one for you. It's known as the Frequent Traveller Passport and has 54 pages. Perfect if you travel a lot, whether for business or pleasure! The length of your passport's validity depends on which type you have, too. All adult British passports last for 10 (ten) years. A child passport, on the other hand, will only last half as long as adult passports, only remaining valid for 5 (five) years. As the country is currently in a period of transition between the 2020 blue passports and the previous maroon coloured EU passports, the Passport Office has stated that all UK passports currently in circulation can be used until their listed expiry dates.
Looking to get your passport application ready? Learn how to do it the right way by checking out our other articles:
Information inside a passport – UK
As a crucial identity document for travelling abroad, your passport needs to carry a lot of information. To understand just how much is written in your passport, we're going to go through all the important pages and check out what can be found on each one. We'll also explain the many security features a passport has, so you can be confident that your passport will not be unlawfully duplicated.
Title page
The title page of your British passport is the first place where your passport photo can be found. However, unlike the photo that appears opposite your biographical data page (which we'll get to in a minute), the photo that appears on your passport's title page is only a black and white laser engraving. The title page is also where the majority of the security features placed by the passport service in every passport can be found. For example, your 9 digit passport number is engraved on the title page and is also perforated from the title page all the way through to the rear cover. Your passport number is unique to your passport. It allows you to confirm your identity, for example when making bookings for a holiday. This can include booking flights or even hotels. Remember that this number will change every time you get a new passport, so make sure you check the number on your current (valid) passport before you book. Outside of holidays, you might need your passport number when applying for a job, or a higher position within your existing one, to confirm you have the right to work in the UK. DBS may also need it as part of a criminal record check.
In addition to your passport number, security is also provided by a graphic, printed onto the page itself. This image is printed using invisible ink by HM Passport Office, and can only be seen by passing a UV light over the page. This helps make your passport recognisable as authentic, and not a forgery. The image depicts four flowers that represent the UK, a rose for England, a shamrock for Northern Ireland, a daffodil for Wales and a thistle for Scotland. A similar graphic is also animatically embossed on the Title page, along with the words "United Kingdom".
Biographical Data page
The biographical data page is arguably the most important part of your passport. It's where all your vital information is stored, allowing you to confirm your identity to border officials. Unlike the rest of the pages in your passport, this page is not made of paper, but of polycarbonate, both for protection and in order to accommodate a decoding lens. This is used to view hidden holographic images on both the official observations page and the inner front cover page. These graphics provide security against fraud, like the invisible ink graphic mentioned above. Aside from the decoding lens, here's what your biographical data page contains:
Type of Passport – if you have a normal passport, this is going to be Type P.
Code – Depends on the country that issued your passport, for example, it will be GBR if the UK Government issued it.
Your Passport Number – This will be the same as the number laser-perforated into the pages themselves.
Surname
Forenames – This includes any middle names you may have.
Class of Nationality – For example, if you are a British Citizen, it will simply say "British Citizen", and if you are a citizen of a Commonwealth nation, it will say "Commonwealth Citizen".
Date of Birth – Written as Date/Month (English, then French)/Year.
Gender
Your Place of Birth – Expressed only with the name of the town you were born in.
The date your passport was issued – Written as Date/Month (English, then French)/Year.
The date your passport will expire – Written as Date/Month (English, then French)/Year.
The name of the Authority that issued your passport – in this case, it will most likely be HM Passport Office, expressed as "HMPO".
Underneath this information, there will also be an area that is designed to be read by passport scanning machines at airports. It will usually start with "P< GBR", and carries most of the above information to be read quickly by machines, including your name and passport number. Along with this information, the biographical data page also carries a biometric passport photo, which further helps border officials to confirm your identity. We will go into the passport photo in more detail below. Like the Title page, the Biographical Data page also has security measures to protect against fraud. For example, an oval shaped-hologram can be seen slightly covering the passport photo, to ensure it cannot be duplicated. The words "United Kingdom", and "UK" are also animatically embossed onto the page.
Official Observations page
The Official Observations page is where HM Passport Office prints observations that show information about the passport's holder, usually relating to their nationality, their immigration status, whether or not they are employed by the diplomatic or official services or why their passport might expire sooner than others. All observations are printed in block capitals, for example:
The holder has the right to abode in the United Kingdom
The holder is entitled to readmission to the United Kingdom
The holder is a british overseas territories citizen
The holder is a member of her britannic majesty's diplomatic service
If there are no official observations that can be made about you, the page will simply say "There are no official observations".
There is also an area on this page reserved for your signature, which you must write in by hand. If you are unable to do so because of a disability, or age, then you should outline the extent of your disability in Section 8 of the passport application form. When you receive your passport, that section will be filled with the words: "The holder is not required to sign".
Visa page
The Visa page carries all the immigration stamps you are given by border officials to register your entry, and departure from, the countries you travel to. At least one visa page will be required for each stamp and you need to make sure that you have enough pages to accommodate these stamps before you travel. In order to protect the Visa pages from fraud, each one has a cross-page design added to it, that is continuous across both pages on each double-page spread. In addition, fanning the Visa pages together shows the letters "UK" on the edges of the pages.
Emergencies
This one is fairly self-explanatory. This page carries the contact information of two friends or relatives that emergency services or consular services can contact in the event you have an accident while travelling abroad. It's a good idea to fill these out in advance in order to make sure that, if you get in trouble, there are people that can be reached easily. There are spaces for names, addresses and telephone numbers, so be thorough.
The all-important passport photo
Every passport needs to have a passport photo. Your photo actually appears in four places across your entire passport:
The Title page, where it is engraved using a reduced density of grey.
The Biographical Data page – when we say "passport photo", this is the version you're probably thinking about. It appears in greyscale and is attached to a hologram, to prevent fraud.
The Official Observations page
An additional digital copy is stored on the electronic chip found in all biometric passports, that can be picked up by border officials when scanning your passport.
A passport photo has to contain specific biometric information about you, with a high degree of accuracy, to be considered valid. Therefore, there are a lot of official rules it has to follow. These rules can include, but will not be limited to:
The photo must measure 35 x 45mm for a physical copy or 600 x 750px for digital copies. Digital versions must be no larger than 10MB in file size and no less than 50KB
The photo must comprise a close-up of the subject's face, head and shoulders.
The ideal height of the subject's head in the photo is between 29 and 34mm.
Your head must face directly toward the camera when taking the picture, and must not be tilted in any direction.
Keep your expression neutral – no smiling or frowning!
No shadows in the picture.
Make sure your face, particularly your eyes, is visible.
In the case of your eyes, make sure you aren't wearing glasses, unless medically necessary.
Make sure that any head coverings that are not religious or medical in nature are removed.
Make sure that there is no "red-eye" effect.
In addition, you need to make sure that, whatever photo you choose, it was taken within the last month and has not been doctored or edited via Photoshop or similar. If you are planning on using a paper form, make sure the photo reel you include has not been ripped, torn, creased or marked in any way. You should also refrain from attaching the photos directly to the form, e.g. with a pin or staples. Instead, simply leave the photos loose in the envelope, so they can be easily accessed by passport officials once they receive your application. Finally, if you wish to print a passport size photo at home, make sure to use quality, white photo paper. If you wish to apply online, simply upload the photos to the online form when prompted.
Children benefit from several exceptions to these rules. For example, if your child is aged 5 or less, they will not need to maintain a neutral facial expression or look directly into the camera. Furthermore, if you have a baby that is under 1 year old, they don't even need to keep their eyes open, and you are allowed to support their heads with your hand, although this must be hidden in the final photo.
This is by no means an exhaustive list, so if you want our full guide to the British passport photo, click here.
Use Passport Photo Online and get the perfect picture in seconds!
As you can see, the British passport photo is one of the most important parts of your UK passport, so you want to get it right. If you want to guarantee that your photo will be accepted by the authorities, then you should consider using Passport Photo Online! By following our foolproof, 3 (three) step process, you could have your new photo ready for any online application in 15 (fifteen) minutes, or have a paper copy in the mail, arriving at your door within 3 (three) days. Here's what you need to do:
Choose your setting and prepare it for the photo. Remember that you need to take a passport photo with a plain cream or light grey background, per the official regulations. You should also look for somewhere that is evenly lit, preferably with natural light, so that there is no glare or shadowing in the picture. You aren't allowed to use a selfie, so you should get a friend or family member to take the photo for you.
Using your camera's app or our own mobile app, get the picture taken and uploaded to the app or our website. You could also upload an existing one, but remember it has to have been taken within the last month. Once you've done that, our software will adjust it to fit the specifications.
Repeat until you've got a photo you'll be happy to have on your passport, then print the template.
All of this only takes 15 (fifteen) minutes! Think of all the time you'll save, time that could be spent being out with your friends and family, enjoying yourselves. That's what Passport Photo Online can offer you, and the news keeps getting better. You can save a lot of money by using our service to get your passport photo, up to 54%, to be precise. If you take your photo and decide you could do better, you can take a new one, free of charge. In fact, you can make as many tries as you want. 50, 500, even 5,000, it doesn't matter to us! You'll only ever pay for the photo you ultimately use. And, with Passport Photo Online, you know that photo is going to be of the best quality. We guarantee compliance with the official regulations, so if your application is rejected because of a photo we edited, we will refund you 200% of what you paid. Yeah, you read that right, 200%.
Information in a passport – Summing up
With that, you've learned everything there is to know about the information carried in your UK passport. There's a lot to remember, which makes it all the more important to double-check your information when filling out your passport applications. In particular, it's important to get your photo right. That's why Passport Photo Online is a great option, we combine the stalwart experience of human inspectors with cutting-edge AI checkers to ensure your photo is perfect. Once your application form is sent off, all that's left to do is wait, and dream of feeling the sand between your toes and the warmth of the sun on your face. 🏖
FAQs
What personal information is on a passport?
The same information will be available on every  passport, whether it's your first British passport or your tenth. It will have:
– Type
– Code
– Passport Number
– Surname
– Forenames
– Nationality
– Date of Birth
– Gender
– Place of Birth
– Date of Issue
– Date of Expiry
– Issuing Authority
What information is on a passport chip?
The passport chip will carry a copy of your passport photo, as well as all of the other information carried on the Biographical Data page, including your name, nationality and your passport's date of issue.
What information is on a passport when it gets scanned?
When your passport is scanned, the machine will read the NFC chip it contains and gain access to all the data it carries. This includes your passport photo and all the personal information that the passport has written on the Biographical Data page.
Sources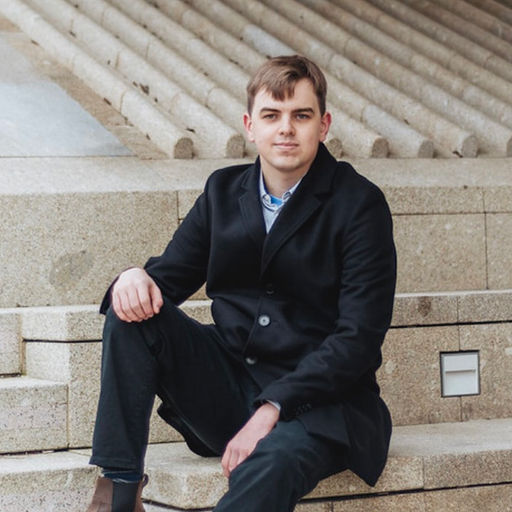 Having graduated with a History degree from the University of Birmingham, Sam has proven writing experience in biometric photography articles, marketing and events. Born in the UK, he has travelled extensively both nationally and internationally. In his spare time, he enjoys reading, cycling and skateboarding.