The British passport is an important identification document with which British citizens can prove both their nationality and identity when travelling abroad. A passport is the most important travel document for most citizens, as their major personal information is stored in the passport and it is needed for travel all over the world.
British citizens acquiring their first adult British passport must fulfil the basic criteria, such as being a British citizen and being at least 16 (sixteen) years old (although applying for a passport 3 (three) weeks before their birthday is allowed due to the time it takes to issue the passport). Until a British person's child passport expires they can still use it for travel purposes even when they are older than 18 (eighteen) years of age. Adult British passports are valid for 10 (ten) years.
When applying for a British passport the applicant can decide if they want to use the online process or fill in a paper application. Although both will result in receiving the same passport, the price of the application process varies, with online passport applications costing £75.50 and the paper form £85, for a standard 34-page adult passport.
Travel and Brexit
Ever since the Brexit referendum was held, to decide whether or not the UK would leave their EU membership behind, in late June of 2016, travel and trade relations with the European Union have been at the forefront of many discussions about the type of Brexit that Britain was aiming for. British passport holders regularly crossing the English Channel to visit the European Union, either for work or a holiday, have to ensure that they have the correct travel documents they need for their planned trip.
Whereas crossing inter-EU borders doesn't require a passport and most times all the Whereas crossing inter-EU borders doesn't require a passport and most times all a European traveller needs is an ID card, this has changed with Brexit, and not just for EU citizens wanting to visit Great Britain, as British citizens are affected by this as well. Therefore, special attention should be placed on travel preparations in terms of the required travel documents needed to visit European neighbours in the Schengen zone.
There's plenty more advice where that came from, read on:
Visa after Brexit
British passport holders will not need a Schengen visa to go on holiday in most of the EU member states, as there is a 180 (one hundred and eighty) day period in which UK nationals can travel to and stay in EU countries for up to 90 (ninety) days without needing a visa. Should you plan to exceed the 90 (ninety) day limit you will need to apply for a visa that is appropriate for the purpose of your visit. This might be for studies in Europe or work. During this 180 (one hundred and eighty) day period your travel time around Europe must not exceed 90 (ninety) days. For instance, if you travel for 30 (thirty) days through Europe and then go back to the UK, you will have 150 (one hundred and fifty) days remaining to travel for a further 60 (sixty) days, without requiring a visa.
Croatia, Bulgaria, Cyprus, and Romania have separate regulations for this 90 (ninety) day travel period that are just for them, and not a part of the overall EU guidelines regarding the allowance of 90 (ninety) days of travel in a 180 (one hundred and eighty) day period visa-free. The time spent in these countries has no effect on the visa-free travel time when it comes to the other EU and EEA countries and Switzerland.These regulations show how important it is to prepare for your holiday ahead of time.
Will my UK passport be valid after Brexit?
Old British passports that are still burgundy in colour and have "European Union" written on them will remain valid until the expiration date. There is no need to renew your British passport because of Brexit.
However, there are certain new rules that apply when travelling with British passports that Britons seeking to holiday abroad must be aware of. For instance, the expiry date on the passport should be checked. A UK passport must be valid for at least another 6 (six) months on the starting day of travelling when going to EU member states, Liechtenstein, Norway, Switzerland, or Iceland. It can also not be any older than 10 (ten) years, even if the passport validity is for more than 6 (six) months.
For instance, the expiry date on the passport should be checked. A UK passport must beIt should be further noted that these rules don't apply when it comes to travelling to Ireland, where a British citizen can travel until their passport expires. This exception comes from the fact that Ireland is part of the Common Travel Area.
Should I renew my passport?
If you require a new passport, because your current or old passport does not adhere to these regulations, then you will need to renew your UK passport in order to travel after Brexit.
When booking a flight, for example, passport holders will be asked to supply a passport number for identification purposes in the booking process and when boarding the plane. Therefore, it should be evident that the passport number given during the booking of your flight cannot differ from the one you supply when arriving at the airport. To avoid such a difference in passport numbers, which would lead to you not being able to board the plane, you need to make sure that the passport with which you book the flights is also the same one you will be travelling with.
Checking the validity of your UK passport and the expiry date is, therefore, imperative. Should you need a new passport issued before travelling, because it will not be valid for at least 6 (six) months, for example, you need to apply for a new UK passport through the renewal service.
The application for a new passport online can take 3 (three) to 4 (four) weeks before you receive a new UK passport, although you need to allow for a time frame of up to 10 (ten), and therefore a passport number. If you apply for a new UK passport by post, the process of passport renewal will take even longer.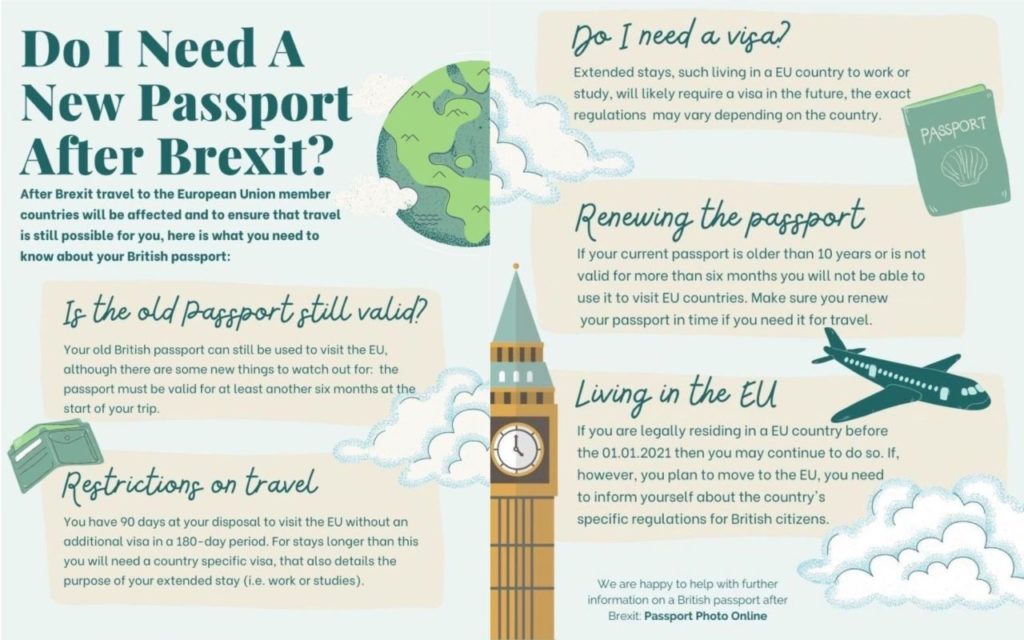 Where can I live with a British passport after Brexit?
As a British citizen legally registered as residing in an EU country, your rights have remained protected since 31st December 2020 and they will generally remain the same when it comes to your work or studies abroad.
Depending on the country you live in these rights and regulations for remaining in your European country of choice may vary. It is important to check which regulations apply to the country you are residing in, to see if you, and any family members living with you, can remain in the EU country, or if there are documents and processes you are required to complete after 1st January 2021.
In order to secure your rights in the country you are residing in you should check what the withdrawal agreement stipulates for this specific country.
British passports after Brexit
As you have realised, your UK passport is your most important document for work, study, or travel in EU countries as well as EEA members, and Switzerland.
You might need to apply for a new passport in the future, in order to continue visiting European Union countries.
In order to receive a new British passport after Brexit, the UK government requires the applicant to supply the following necessary documents:
your credit or debit card to pay the fee for the passport;
your current (still valid) passport;
paper application filled in by hand when applying by post;
Of the above we should take a moment to appreciate the importance of the digital photo, as it is what will identify you during business trips and holidays as well as at any moment where you might need to identify yourself while you are abroad. Therefore you should aim to use a picture that you are completely happy with. And our application, Passport Photo Online, is the perfect tool to help you with that.
Passport Photo Online
One of the best ways of getting your passport photo is by using your mobile phone, or digital camera, and taking the photo yourself, with the help of a friend or a tripod. This is made especially easy by using a passport photo app, a tool that will help you in generating your ideal passport photo.
The Passport Photo Online application will help you with all the official requirements for the photo so that you do not need to take care of the size or background of the biometric photo, but rather be guided by the application and receive the perfect photo that you can use for your passport after Brexit.
Passport Photo Online is an online service that acts like a passport photo booth on your phone, allowing you to take a photo from the comfort of your own home, or wherever else you may be when you decide to take your photo.
Here's what Passport Photo Online can do to help you prepare the perfect photo for your passport or any document you need when you travel abroad. You just need to take a photo and then submit it to our application. Our AI tools will automatically check the photo for any errors and correct them so that the photo meets the requirements. Then your picture will be ready and sent via email to you, or you can choose our printing service which will print and send the photo straight to your door.
The Passport Photo Online application will have your photo ready in just 3 seconds, ensuring that it meets the UK government requirements. If your application is not accepted and the photo is the reason then we will give you a 200% refund on the fee you paid for the photo with Passport Photo Online.
Passport after Brexit: summary
If you still have a passport that you applied for before Brexit then you do not need to worry about applying for a renewal at this moment in time, as your passport is still valid until the expiry date.
Applying for a passport once it expires won't be any different than it was before, with the only change being the colour of your new passport, with the UK now having blue passports.. However, you may need a visa for specific countries due to now being classified as third country nationals, and this is something that you will need to look into before deciding to travel to the country of your choosing.
Passport after Brexit: FAQ
Below you will find some of the most commonly asked questions as to whether you need a UK passport after Brexit.
How do I apply for a UK passport after Brexit?
In order to apply for a UK passport after Brexit, you need to fill in a paper application form that you can obtain from your post office, or fill in the online application form.
Do I need a UK passport after Brexit?
If you plan on travelling outside the UK then you will need a UK passport, however, for general purposes you do not need one, although it is advised to have one for identification purposes.
Will a UK passport be valid after Brexit?
Yes, any UK passports that were issued prior to Brexit will still be valid until the expiry date.
Can I use my UK passport after Brexit?
Yes, you can still use your UK passport after Brexit, as long as it has not expired.
What happens to my UK passport after Brexit?
Absolutely nothing. Your passport will still be valid to use provided it has not expired, and will still allow you to travel abroad, although this will be according to any new rules and regulations regarding countries in Europe.
Sources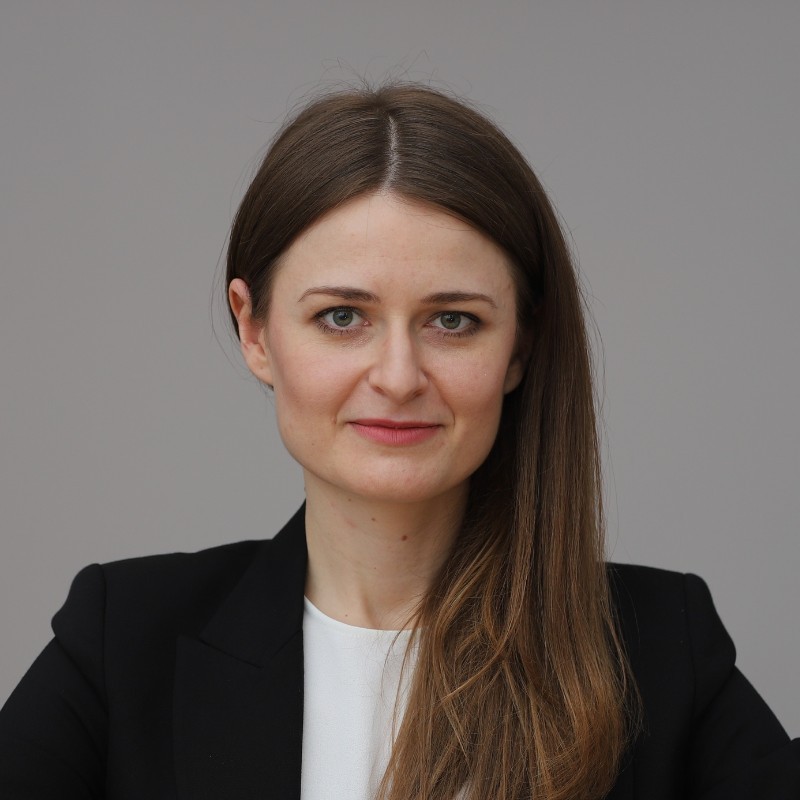 Karolina's passion for law, technology and photography led her to PhotoAiD S.A., where for the past 3 years she has been an expert in the implementation of passport photo compliance procedures in +80 countries around the world.