So, you've filled out a passport application, submitted the supporting documents, and you've even taken the perfect UK passport photo (45 x 35 mm) for the occasion. Then, soon after applying, you receive a summons to a passport interview. What does that involve? How can you prepare?
With our comprehensive guide to the passport interview process, you'll be more than prepared to tackle this final stage of applying for a passport.
We will guide you through:
An introduction to the UK passport interview process
Passport interviews are a very important part of the process of applying for a passport. The Passport Office uses them to prove that the attendee of the interview matches with the identity information on file and, therefore, that the passport is being issued to the correct person.
If summoned for a passport interview, you need to :
book an appointment;
prepare all the supporting materials;
make sure to attend the interview at the appointed time.
It sounds simple, however, there is a lot of variation depending on the individual circumstances. Below, we've outlined everything you need to know about these interviews, demystifying the different variables, so you can be ready to ace a passport appointment in no time.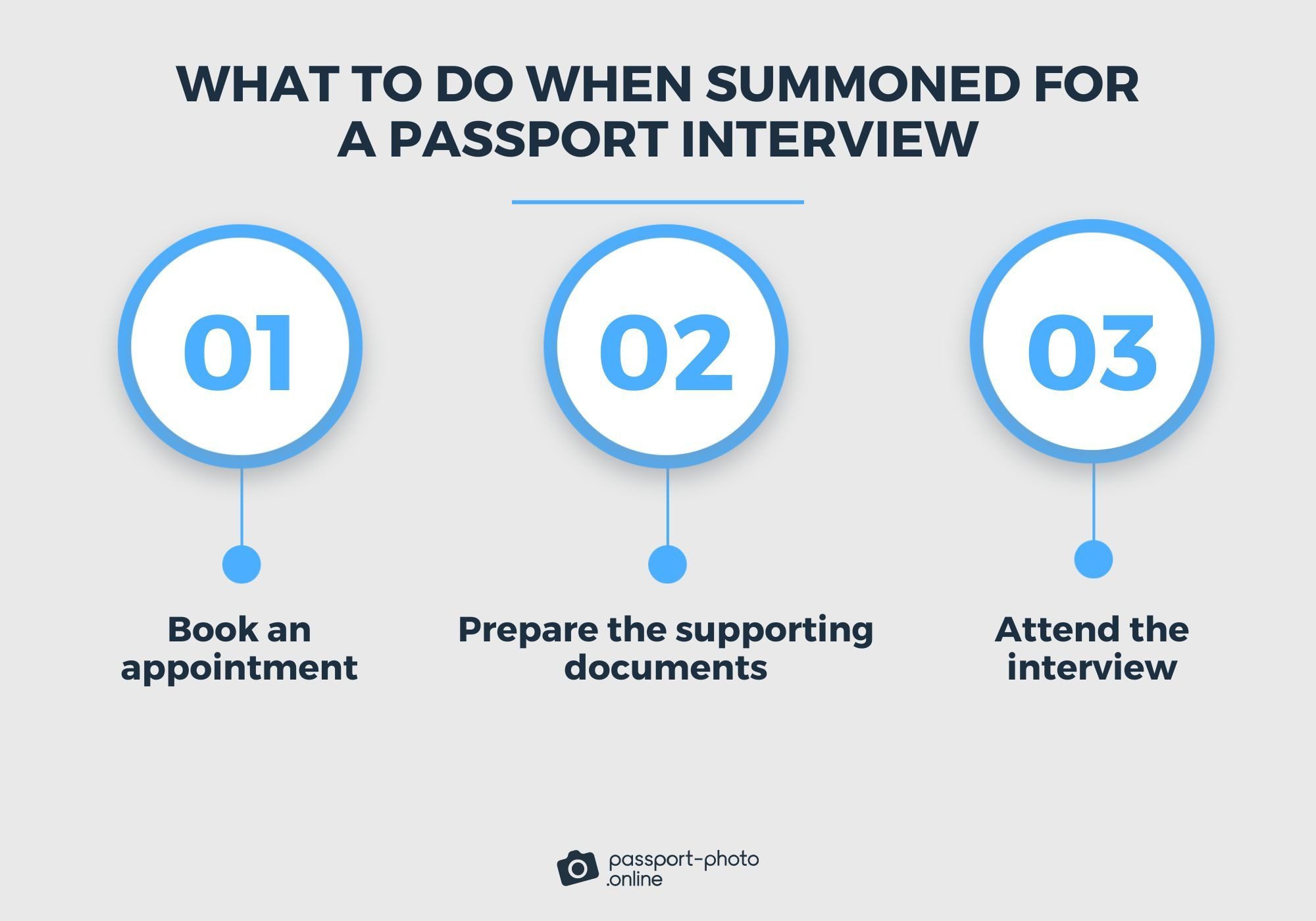 Looking for more tips for your passport application? Look no further:
Who needs to interview for a British passport?
In most cases, applicants will be informed by the UK Passport Office if they need to submit to a passport interview. However, the government has a set of criteria for people who need to be interviewed. It is therefore a good idea to familiarise yourself with these in advance, to be prepared for the possibility of needing an interview. The Passport Office's official website contains the related information.
Applying from the UK
Adults applying for their first British passport will need to attend an interview if they are currently residing in the UK and:
Are currently aged between 16 (sixteen) and 69 (sixty-nine).
Have been granted a restricted validity passport, because they have previously been unable to attend a passport interview.
Are currently trying to replace a machine-readable passport or an Old Blue hardback passport, and there is no record of either passport in the archives of the HM Passport Office.
They have never held a passport in their own right, but have previously featured on a relative's passport, for example, if their details were included on an Old Blue passport belonging to a parent or spouse.
Are in any other situation where the Passport Office has been unable to confirm their identity or have reason to be concerned about fraud.
Applying from overseas
Overseas applicants will be assessed on a case-by-case basis to see if they require an interview. In most cases, you will need to book an interview if you are based abroad and:
In the latter case, the person who must attend an interview is, in order of official preference:
A claim parent (who has parental responsibility).
A parent who gave consent for the application (if the claim parent is unavailable or doesn't have parental responsibility).
Someone who has parental responsibility for the child (if the parents with parental responsibility are unavailable).
Someone who doesn't have parental responsibility, but is acting on behalf of a parent (known as loco parentis).
Exemptions
Provided that there are no problems with the application itself, the following groups of people are exempt from passport interviews:
People over 70 (seventy) years old, provided there are no fraud concerns.
People who have been naturalised within the last year and have UK Visa and Immigration records that confirm their details and photo ID, unless they have changed their name since naturalisation.
Members of the UK Armed Forces applying for their first UK passport.
People who are dependents of members of the UK Armed Forces, per verification by Home Office records.
Applicants who are members or dependents of members of the Foreign, Commonwealth and Development Office (FCDO), and are applying for a Diplomatic or Official passport.
Passport interview—types
The Passport Office provides a number of different forms of interviews. Applicants will be informed in advance which formats are available. This will largely depend on whether you are applying from the UK or overseas.
Remote interview
In recent years, interviewing applicants for UK passports remotely, via Skype, has become the default for the UK Passport Office. If asked to do so, you must be sure to remember your appointment time.
Face-to-face interview
HM Passport Office conducts face-to-face interviews in a large range of interview locations spanning the entire United Kingdom. If you are an adult whose primary residence is in the UK, you are likely to require a face-to-face interview.
You will also need to attend one of these interviews on the child's behalf if they are based overseas, but you are based in the UK.
Video interview service
The Passport Office's Video Interview Service (VIS) operates separately from the remote interviews mentioned above. The VIS is designed for first-time adult passport applicants and replacement passport applicants who live in remote areas of the UK, and therefore may not be able to reach an official interview centre.
Applicants must attend an interview using Skype For Business on a secure laptop in an approved host office, usually based in a local council office or a trusted private business. At the appointed time, you will be connected to an interview office, one either in Glasgow or Belfast.
When applying from abroad, you will be sent an email invite to a VIS interview once the Central Booking Team has been given the application, and you have been referred for an interview. You will be able to choose which Visa Application Centre, or VIS location, will be used for the interview. If you need to attend the interview from an overseas Visa Application Centre, officers in Sheffield and Belfast will be conducting the interview from their respective offices.
Telephone interview
Telephone interviews are only available to overseas customers who will not be able to attend an interview by any other means. To arrange this, it's necessary to telephone the Central Booking Team, who will update the Interview Appointment Booking tool with the customer's country of residence and their reason for not being able to attend an interview, referring the situation back to HM Passport Office.
Applicants will be contacted by email and asked to provide evidence as to why they can't make an interview by any other means, to exclude the possibility of fraud or protection issues. This can include medical reasons, travel restrictions, caring responsibilities, work commitments, etc. Candidates will have 56 (fifty-six) days to send the evidence or book a VIS interview, or the application will be withdrawn.
The passport service usually only offers a telephone interview in exceptional circumstances, and it is at their discretion to decide if a telephone interview is possible. Telephone interviews can be given to applicants who cannot attend an interview and live in:
Australia
United States of America
Canada.
If you live in Europe, you will, in the first instance, be directed to interview centres in The Netherlands, France or the Republic of Ireland.
How the interviews work
After establishing what's required for an interview, you will first need to book an appointment. This can be done by phoning the Interview Appointment Service. Before proceeding, though, it is important to check the UK Government website to work out where the nearest interview centre is, so you can book the appointment accordingly.
When booking an interview, applicants will need to confirm some details, including their name, date of birth, and address. People with disabilities should also inform the Passport Office at this stage if they require extra provisions, for example, a wheelchair ramp, hearing induction loop or sign language interpreter.
You are allowed to change the appointment over the phone if need be, but you must make sure to turn up for the interview or reschedule, otherwise the application may be withdrawn by the Passport Office.
Before the interview, make sure that you have all the right documents and supporting materials. All candidates need to bring their appointment letter or email so that the interview centre can confirm their booking number before the interview starts.
When undertaking a video interview, applicants will also need to provide some form of photo identification (such as a driver's licence). Other supporting documents may be necessary depending on the individual situation, but you will be informed of these by email well in advance of the interview.
For security and privacy reasons, only the interviewee is allowed into the interview office. There are only two exceptions:
If you need help getting to the interview centre, you can be accompanied by a friend, relative, carer or another specialist helper. They will be allowed in to help you, but they must not answer any questions during the interview.
If your child is participating in an interview and is 16 (sixteen) or 17 (seventeen), you can accompany them as their parent or guardian.
Passport interview questions
Upon arrival at the interview centre, you will have your bags placed in a scanner and searched, for security purposes. After that, you will be taken to the interview room and introduced to the customer service officer (CSO) who will be conducting your interview. Over the course of the interview:
The CSO will confirm your identity by asking you a number of questions.
The CSO will compare you with the facial image given with your application (if you are an adult).
The CSO will verify your claimed relationship with your child (if the applicant is a child).
The CSO will confirm the circumstances in which your passport was lost or stolen (where applicable, this comprises a Passport Authentication Interview or PAI interview).
You will be asked to sign your name on the signature form, to check for any signs of fraud and to compare with the signature held on the passport issuing system (if the customer is an adult and a signature is required).
The interview will last approximately 30 (thirty) minutes if you are applying from the UK and around 60 (sixty) minutes if applying from abroad. All interviews undertaken by the Passport Office are recorded, both for security purposes and to help with the decision regarding your passport application. These audio recordings will be held for 28 (twenty-eight) days from the date of the interview unless the Counter Fraud Team requests that this period be extended.
Once the interview has concluded, the Passport Office will review the interview and the application, while completing any other checks they need to make. After this, you will be informed if your application has been successful.
Interview waivers
In exceptional circumstances, the Passport Office will consider waiving your interview. Here are some examples of situations where a waiver will be considered:
If you have a permanent disability, physical or mental.
If you are terminally ill.
If you fit the criteria to be eligible for a restricted validity passport for urgent travel or compassionate travel.
If you are at serious risk of physical harm from a crisis, domestic conflict, etc.
In many cases, you will be required to present evidence of this requirement, for example, by providing a letter from a doctor, social worker or care home manager that outlines your circumstances.
Get interview-ready with Passport Photo Online
During, the Passport Office will check to make sure that the passport photo is a good likeness of you. Before sending your application off, therefore, it is important to make sure you've got the right passport photo. Luckily, Passport Photo Online provides a fast and easy three-step process to getting the perfect passport photo:
Using your phone, and with a friend to help you, take a picture of yourself in front of a plain white background, making sure to follow all the UK passport photo guidelines.
Upload your photo to the Passport Photo Online website or mobile app. The AI software will rework the photo to create a perfect biometric photo.
Repeat until you're happy with the finished product.
All of this can take less than 15 minutes, making it easy to fit around your life and giving you more time to spend with your friends and family.
Finally, with our guarantee of acceptance by the relevant authorities, you can be confident that your final photo will be regulation-compliant as well as stylish!
In the unlikely event that your application is rejected because of the photo, we'll even refund you 200% of what you spent! Now that's a good deal.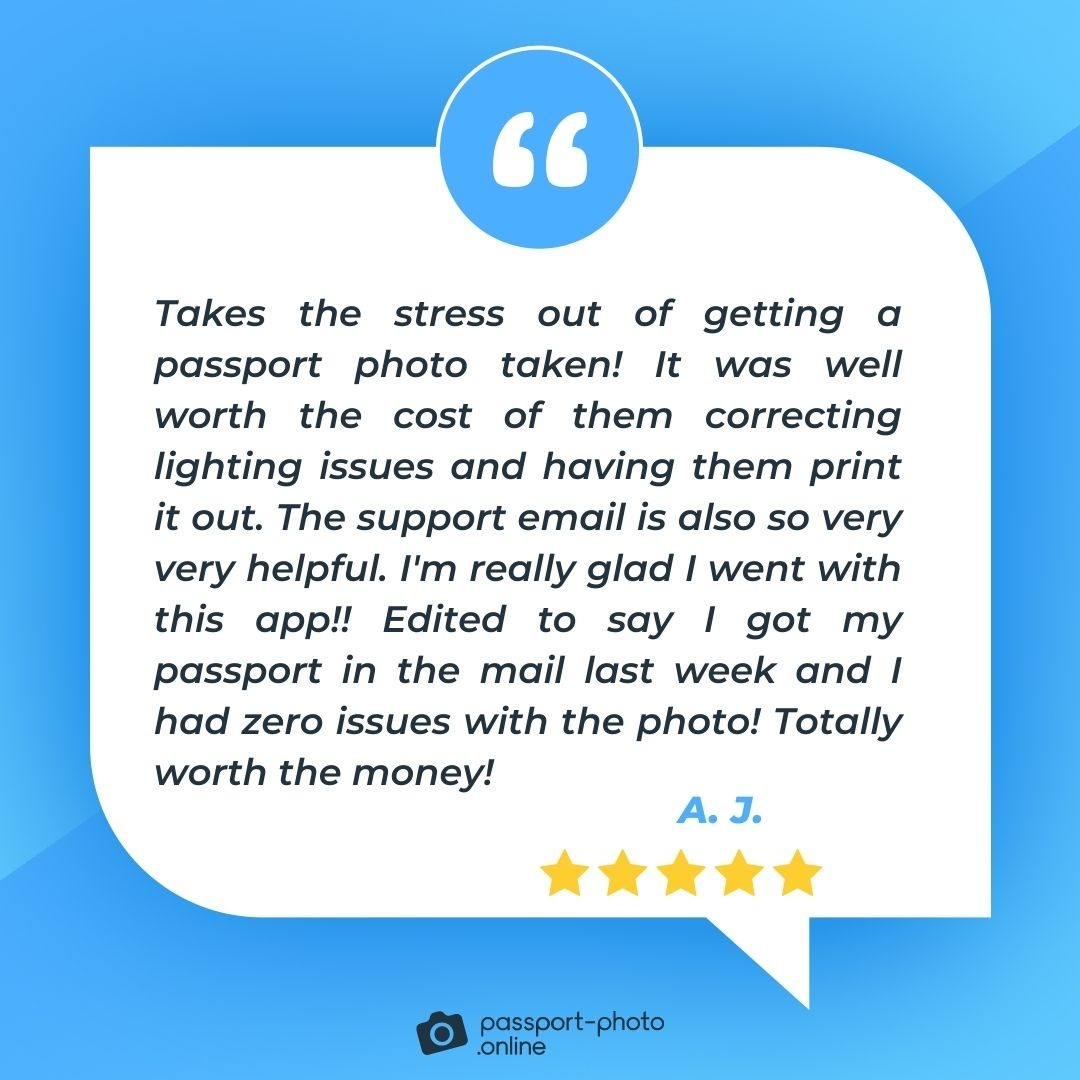 UK passport interview: FAQ
To conclude, we'll answer some common questions about passport interviews.
Who needs to attend a passport interview?
If you fulfil certain criteria, as laid out by the Passport Office – you will need to submit to a passport interview. We've laid out a description of these criteria above, have a read for yourself and see if any of them apply to you.
How do you book a passport interview?
If you need to attend a passport interview, you can book an appointment by phoning the Interview Appointment Booking Service.
What documents are required for a passport interview?
You will be required to bring with you an appointment letter or email, which carries your booking reference number. Should you be undertaking a video interview, you will also need to bring with you a form of photo identification. 
Beyond that, the documents you'll need to take with you will depend on your individual situation.
How long after the passport interview will I get my UK passport?
After the interview, the passport will be shipped in about 14 (fourteen) days.
Can I do a passport interview via Skype?
Yes, video interviews are commonly done with Skype For Business.
What questions do they ask at a passport interview?
During a routine passport interview, applicants will be asked about their name, their address, their immediate family, plus some additional questions about their identity.
Summing up
As you can see, there are a number of variations in the process for undertaking a passport interview. That's why it's really important to keep track of which supporting documents you need for your situation. As long as you are well-prepared for your interview, you will be able to breeze through it with confidence, safe in the knowledge that your application will be accepted.
The passport photo is a key part of the interview, so it is important to make sure this is prepared in advance. Passport Photo Online provides a quick route to getting a compliant passport photo, with our software expertly reworking your image in mere seconds.
Sources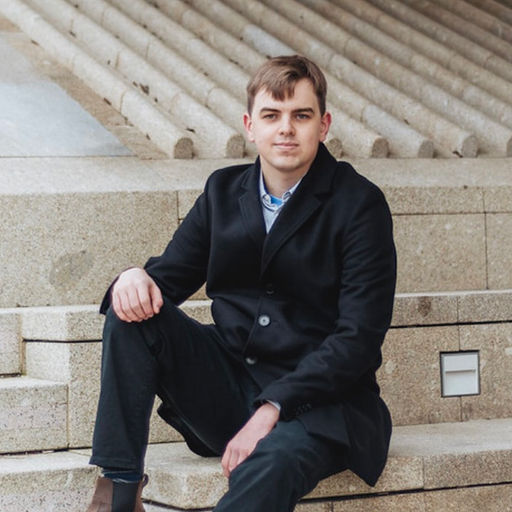 Having graduated with a History degree from the University of Birmingham, Sam has proven writing experience in biometric photography articles, marketing and events. Born in the UK, he has travelled extensively both nationally and internationally. In his spare time, he enjoys reading, cycling and skateboarding.