We've all been there:
Endlessly scrolling through our feeds, unable to escape the relentless barrage of negative news.
This urge to devour doom-and-gloom content without pause is known as doomscrolling. It's become common recently due to COVID-19, the George Floyd protests, and the war in Ukraine.
So—
To better understand this phenomenon, we've surveyed 900+ Americans and asked them to share their experiences with doomscrolling.
Curious about the insights we've gathered?
Read on.
Key Takeaways
People usually doomscroll a few times a week (25%).
Evening (6:00 – 9:00 PM) is the preferred time of day to engage in doomscrolling.
Instagram turned out to be the most popular platform for binging on negative stories, with 32% of the vote.
Americans' doomscrolling habits are primarily triggered by content related to social issues (16.98%), health (16.09%), and economic/financial news (13.98%).
The top three most effective ways of coping with doomscrolling are limiting news sources (15%), using apps/tools to regulate screen time (14%), and practicing mindfulness/meditation (13%).
A full 93% of employees have the habit of taking in a torrent of bad news in the workplace.
About 72% of workers admit to missing a deadline or underperforming on a task due to doomscrolling on the job.
Americans Typically Engage in Doomscrolling Multiple Times a Week
Let's talk facts:
As humans, we incline to focus more on the negative.
This predisposition can be traced back to our evolutionary roots, where being attuned to potential threats was vital for survival.
Yet—
Today, this tendency has found a new haven: social media.
The likes of Instagram and TikTok serve content based on user interests and preferences to maximize engagement. That means they can quickly learn our propensity to engage with negative content and adjust our feeds accordingly.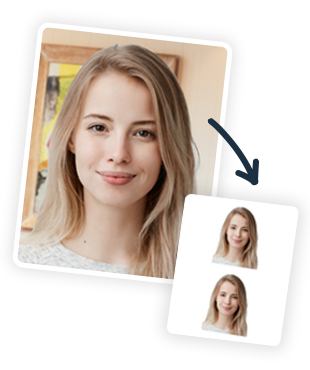 Looking for passport photos? Discover more information:
This creates a self-perpetuating cycle that encourages doomscrolling, as users are constantly bombarded with negative news and emotionally charged posts.
Our research proves it: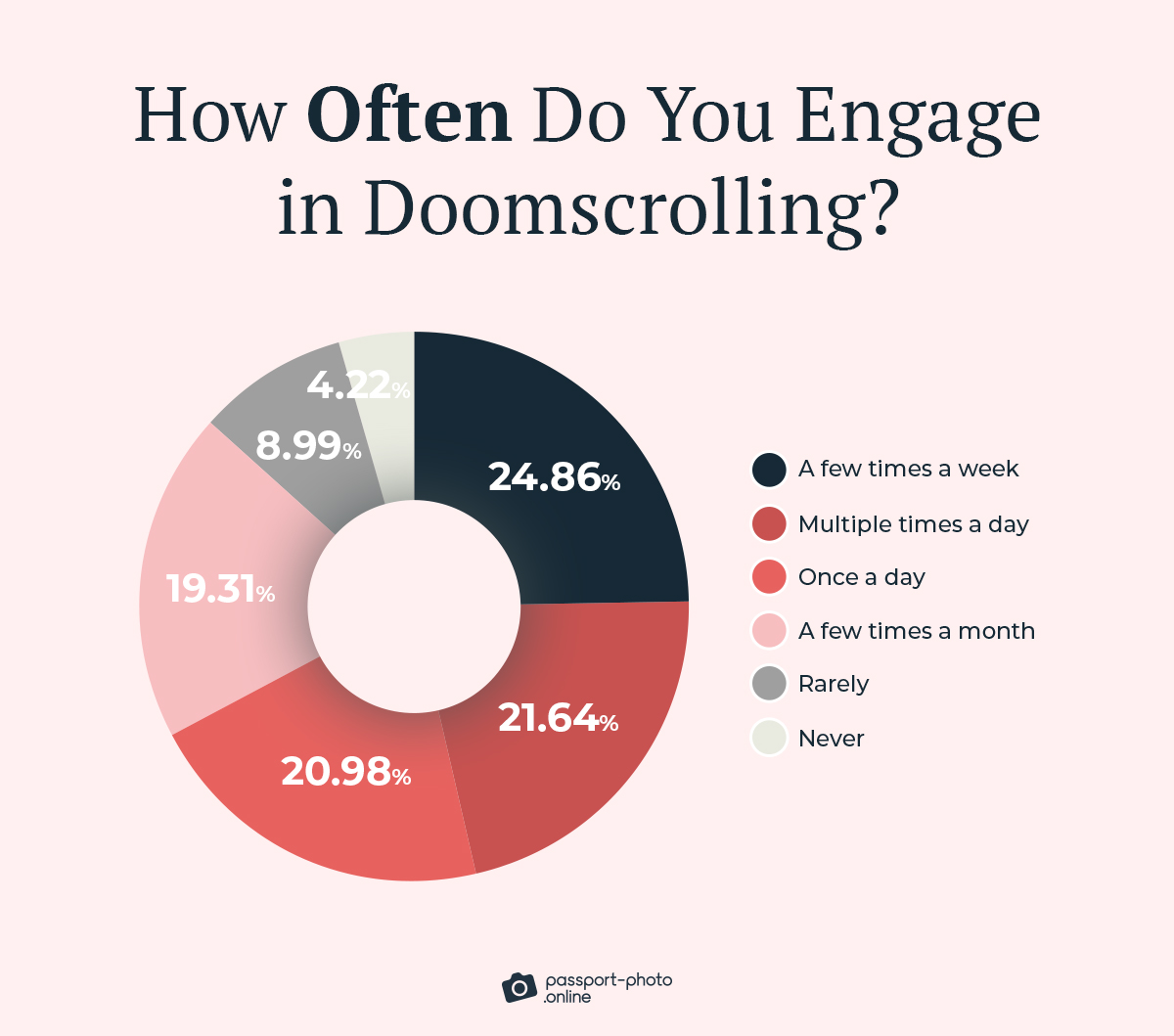 As you can see, Americans usually doomscroll a few times a week (25%). It's followed by multiple times a day (22%) and once a day (21%).
That's a lot.
As a follow-up, we asked survey respondents at what time of day they're most likely to engage in doomscrolling.
The results are in:
| When Are You Most Likely to Doomscroll? | Share |
| --- | --- |
| Evening (6:00 PM – 9:00 PM) | 17.87% |
| Early morning (5:00 AM – 8:00 AM) | 16.65% |
| Late morning (8:00 AM – 12:00 PM) | 14.65% |
| Early afternoon (12:00 PM – 3:00 PM) | 14.43% |
| Late night (9:00 PM – 12:00 AM) | 14.21% |
| Late afternoon (3:00 PM – 6:00 PM) | 12.54% |
| Overnight (12:00 AM – 5:00 AM) | 7.77% |
Finally, we asked survey takers how much time they spend consuming distressing content during a typical doomscrolling session.
Have a look at the data: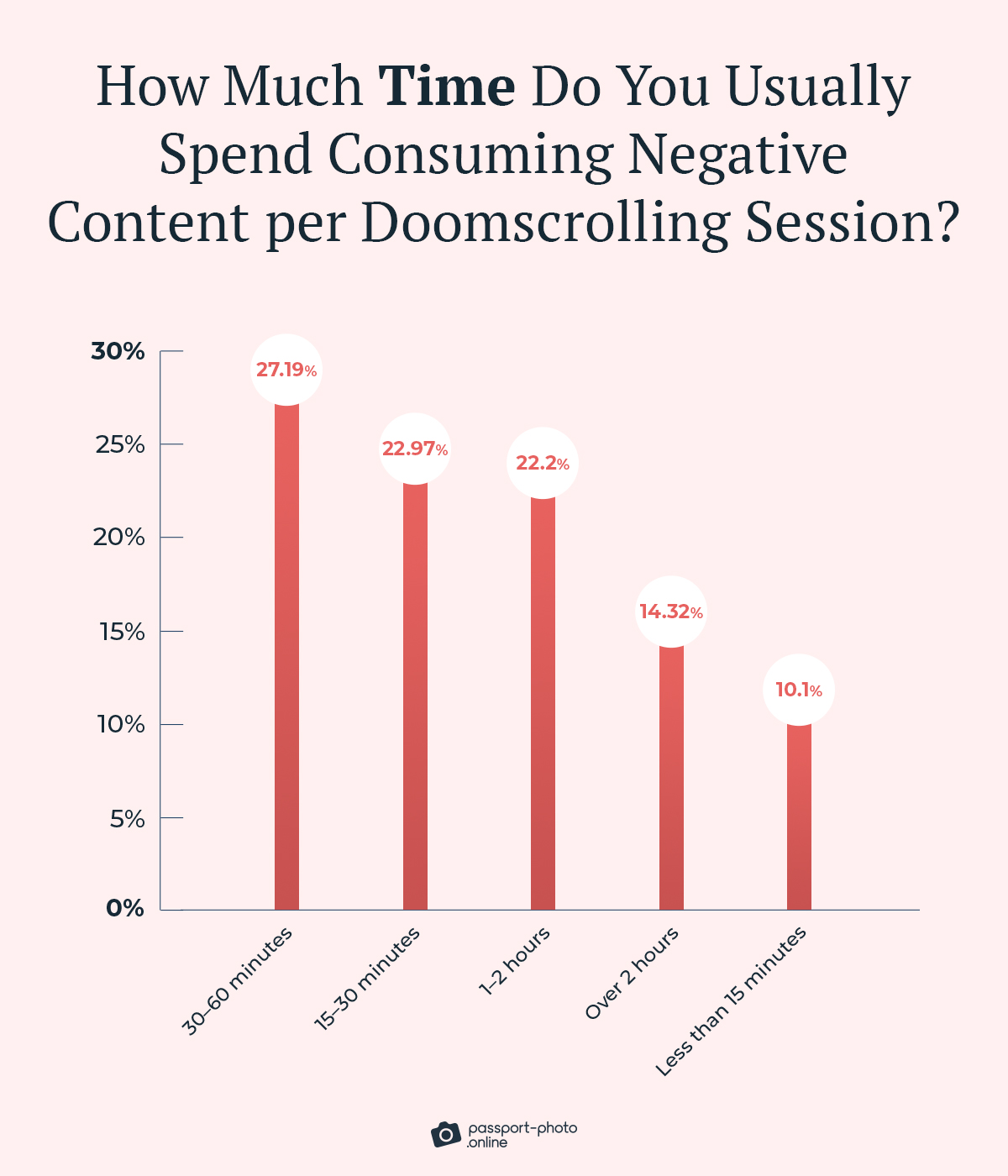 Our research shows that most (27%) reported spending between 30 and 60 minutes per doomscrolling session.
Now—
Remember the last time you got sucked into a vicious cycle of consuming bad news. Did it take you longer or shorter than the average?
Drop a comment to let us know your thoughts.
Social Problems Tend to Ignite Our Tendency to Doomscroll
Most of us try to stay informed on issues that impact our lives.
Some notable examples include COVID-19, the George Floyd protests, and the 2022 Russian invasion of Ukraine.
But—
With so many social media platforms vying for attention, which ones emerge as our go-to sources for the darkly soothing compulsion of doomscrolling?
Let's take a look at the TOP five that made the cut: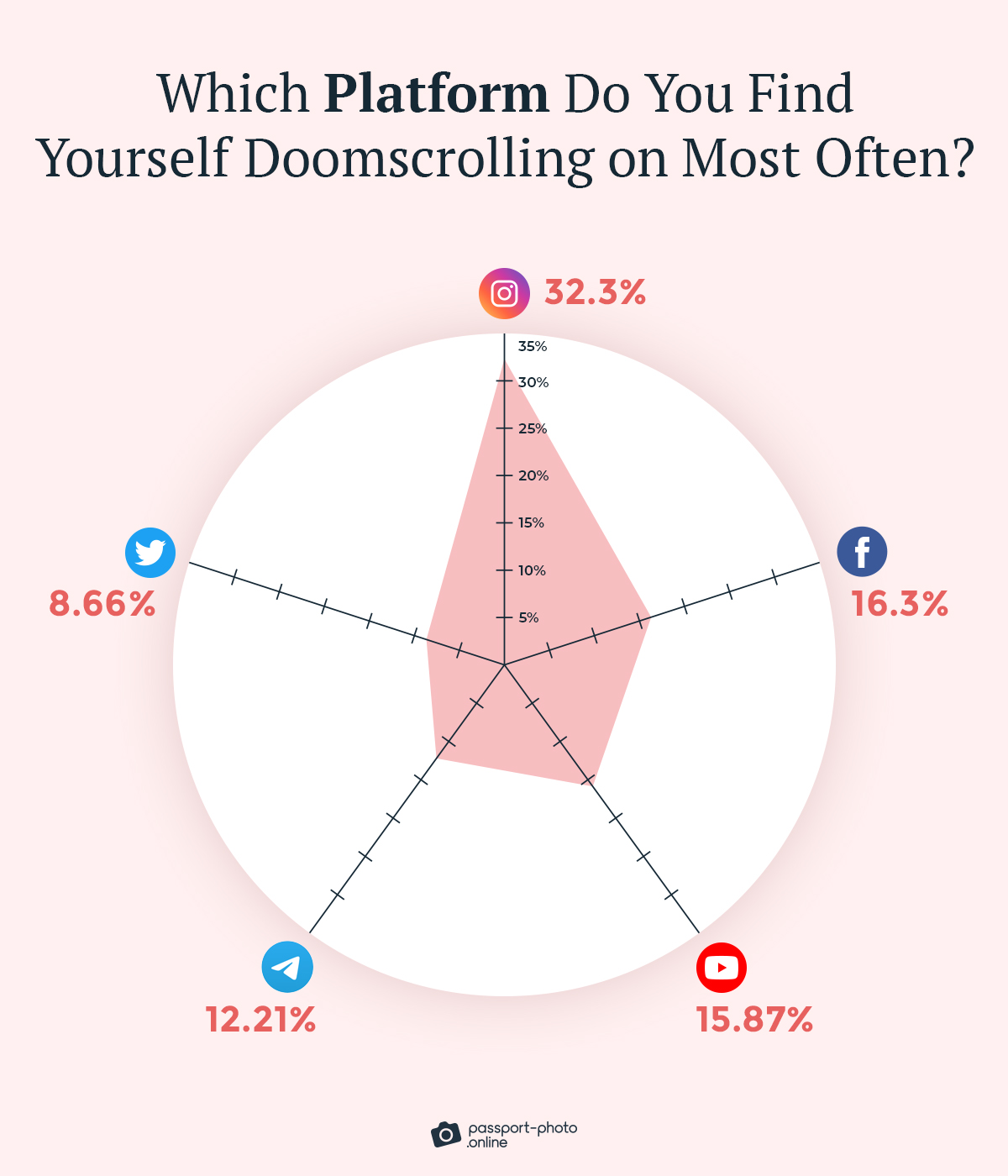 Surprisingly, Instagram took the cake, with 32% of the vote.
It could be because of the platform's emphasis on visual content, which can often be easier to digest en masse.
Now—
At this point, we also wanted to deep-dive into what triggers Americans' doomscrolling habits the most.
Below are the results:
| Which Type of Content or Events Triggers Your Doomscrolling Habits the Most? | Share |
| --- | --- |
| Social issues (e.g., racial justice, gender equality) | 16.98% |
| Health (e.g., pandemics, diseases) | 16.09% |
| Economic news and financial matters (e.g., inflation) | 13.98% |
| Climate change and environmental issues | 11.32% |
| International conflicts and wars (e.g., the Russia-Ukraine war) | 10.32% |
| Natural disasters (e.g., hurricanes, earthquakes) | 10.32% |
| Politics (e.g., elections, government actions) | 9.77% |
| Crime and violence (e.g., mass shootings) | 9.77% |
The takeaway?
Americans' doomscrolling habits are primarily triggered by content related to social issues and health, with 16.98% and 16.09% of respondents, respectively.
That figures.
After all, these issues hit closest to home.
Now—
As we move forward, we'll explore the impact of doomscrolling on job performance.
Employees Miss Deadlines or Underperform Due to Doomscrolling
Much ink has been spilled about how doomscrolling can erode physical and mental health.
It can disrupt sleep patterns, lower attentiveness, and cause overeating, to name a few.
But—
From our end, we wanted to see if doomscrolling affects work performance specifically, as this area has yet to be explored.
So for starters, we asked respondents whether they have the habit of taking in a torrent of bad news in the workplace.
A full 93% admitted to doing so.
Taking the survey one step further, we asked working professionals if they believe doomscrolling impacts their ability to focus on tasks at work.
Let's have a look at the data: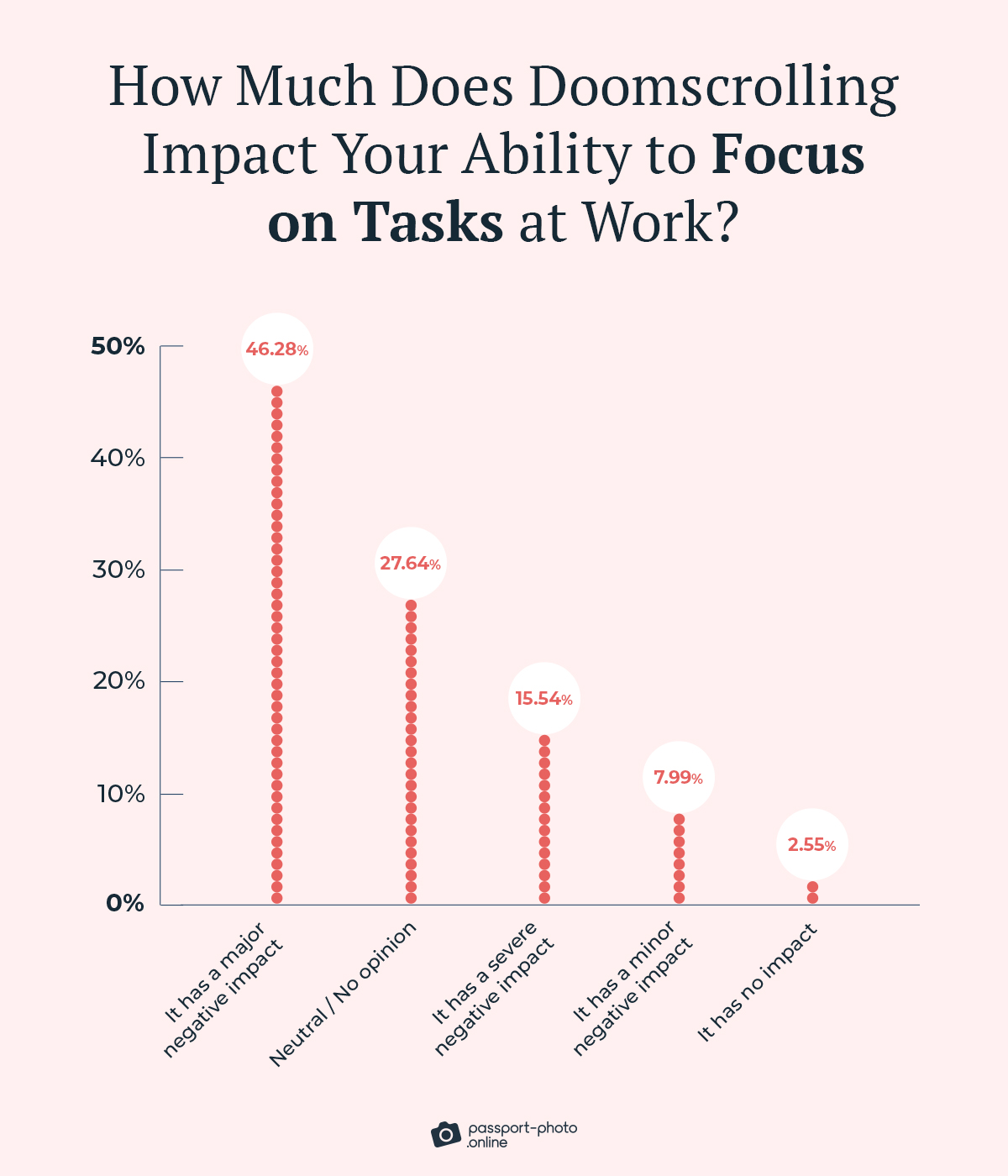 Ouch.
This alarming result shows how quickly doomscrolling can become a full-blown distraction.
More so in light of our next finding:
| Have You Ever Missed a Deadline or Underperformed on a Task Due to Doomscrolling at Work? | Share |
| --- | --- |
| Yes | 72.48% |
| I'm not sure | 12.2% |
| No | 10.8% |
| Not applicable | 4.3% |
It appears that most workers (over 70%) have missed a deadline or underperformed on a task due to doomscrolling at least once.
Though troubling, it also serves as a reminder that we need to be mindful and take control of our doomscrolling habits before it gets out of hand.
Our next section talks about how to do just that.
Limiting Sources Is Voted the Best Strategy to Combat Doomscrolling
It's hard to snap out of doomscrolling.
The reason?
It fulfills basic human needs like safety, knowledge, instant gratification, control, and having options.
Luckily, you can take steps to keep the habit in check.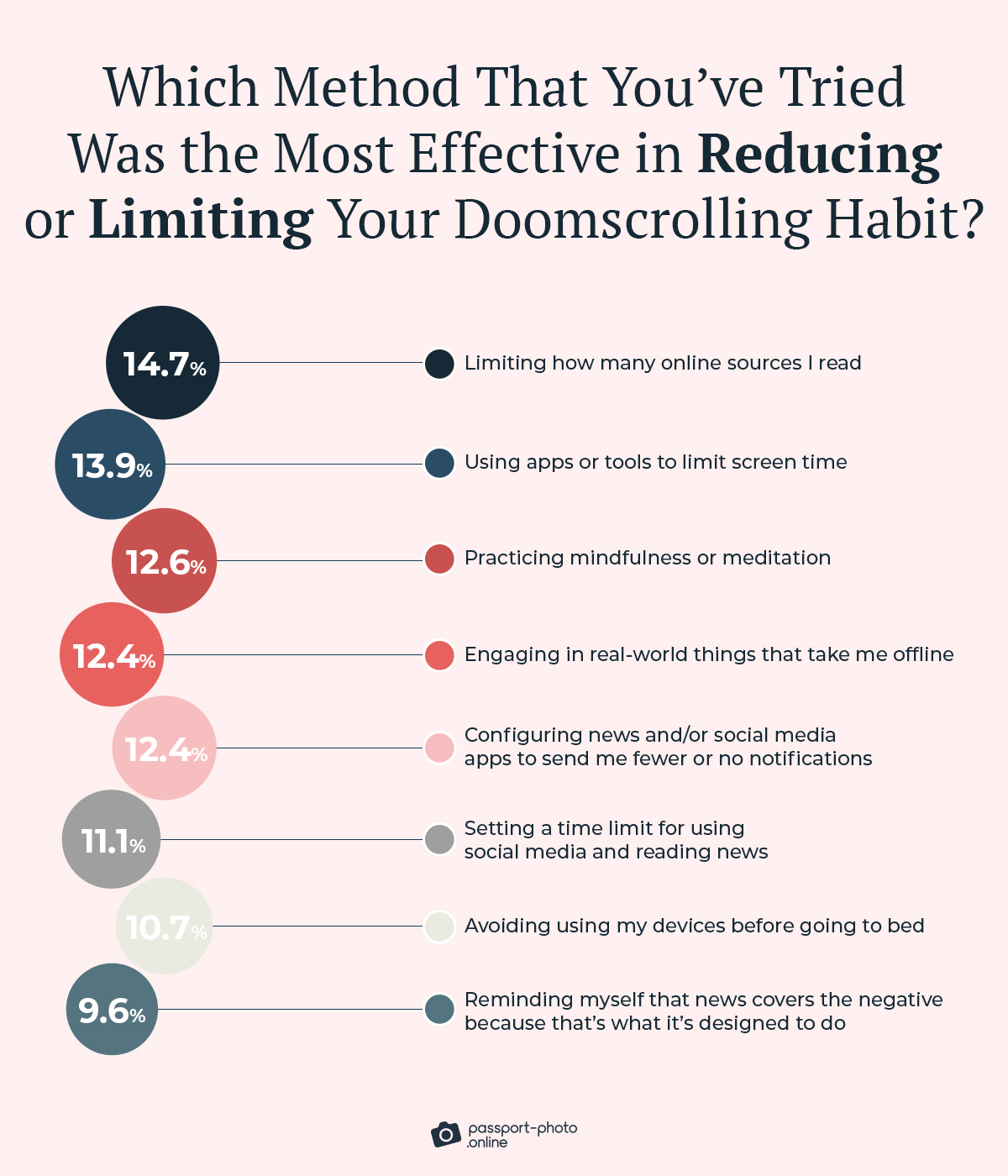 The data shows that limiting the number of sources you read (15%) is the most effective way to combat doomscrolling.
It reduces the amount of content you absorb and lets your mind wander away toward other thoughts. That can be a positive form of distraction from the stressors of the world.
So doomscrollers, take note!
Stacking It All Up
There you have it.
A comprehensive look at doomscrolling.
Now—
Have you ever engrossed yourself in negative news? What type of content or events triggers your doomscrolling habits the most?
Let us know in the comments below.
Methodology
We conducted an online survey of 901 US respondents via a bespoke online polling tool in April 2023.
The respondents were 65.6% male and 34.4% female. 17.4% of respondents were 26 or younger, 65.4% were aged 27–42, 15.3% were 43–58, and 1.9% were 59 or older.
This survey has a confidence level of 95% and a margin of error of 3%. Given the gender and age makeup of our sample size, the study's findings are statistically significant for the population at large.
This study was created through multiple research steps, crowdsourcing, and surveying. Data scientists reviewed all survey participants' responses for quality control. ​​The survey also had an attention-check question.
Fair Use Statement
Did our findings help you learn more about doomscrolling? If you believe your audience will be interested in this information, feel free to share it. Just remember to mention the source and link back to this page.
Sources
Forbes, "How To Stop Doomscrolling In A Chaotic News Cycle"

Glowiak G., Sookdeo T., "Doomscrolling: What It Is & How to Stop"

Klein J., "The Darkly Soothing Compulsion of 'Doomscrolling'"

Satici S., Tekin E., Deniz E., Satici B., "Doomscrolling Scale: its Association with Personality Traits, Psychological Distress, Social Media Use, and Wellbeing"

Starkman E., "What's Doomscrolling and Can It Harm Me?"

Watercutter A., "Doomscrolling Is Slowly Eroding Your Mental Health"

Wikipedia, "Doomscrolling"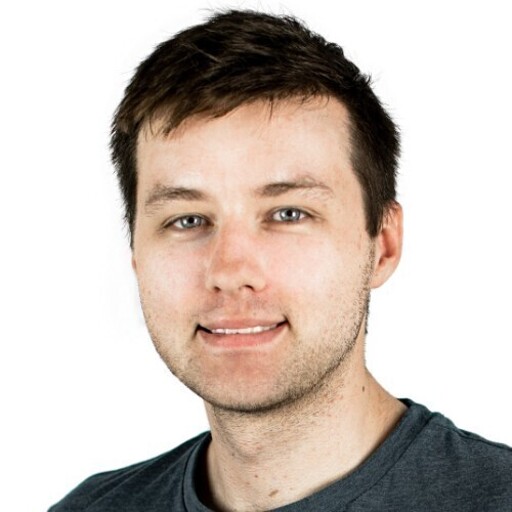 As a Digital PR specialist and a member of the Society of Professional Journalists (SPJ), Max has 5+ years of writing experience.
Over the course of his career, Max's work has garnered significant attention, with features in numerous prominent publications such as The New York Times, Forbes, Inc., Business Insider, Fast Company, Entrepreneur, BBC, TechRepublic, Glassdoor, and G2.