In this day and age, all you need to take a passport photo at home is a phone and an app.
And we'll show you how to do this in four easy steps.
To take your own passport photo:
1. Learn what kind of photo you need
2. Set up your "home studio" in three minutes
4. Edit your photo and print it out
And if you want to snap your passport photo right away, download our app for iOS or Android, follow the in-app guidance, and get it done in under 3 minutes.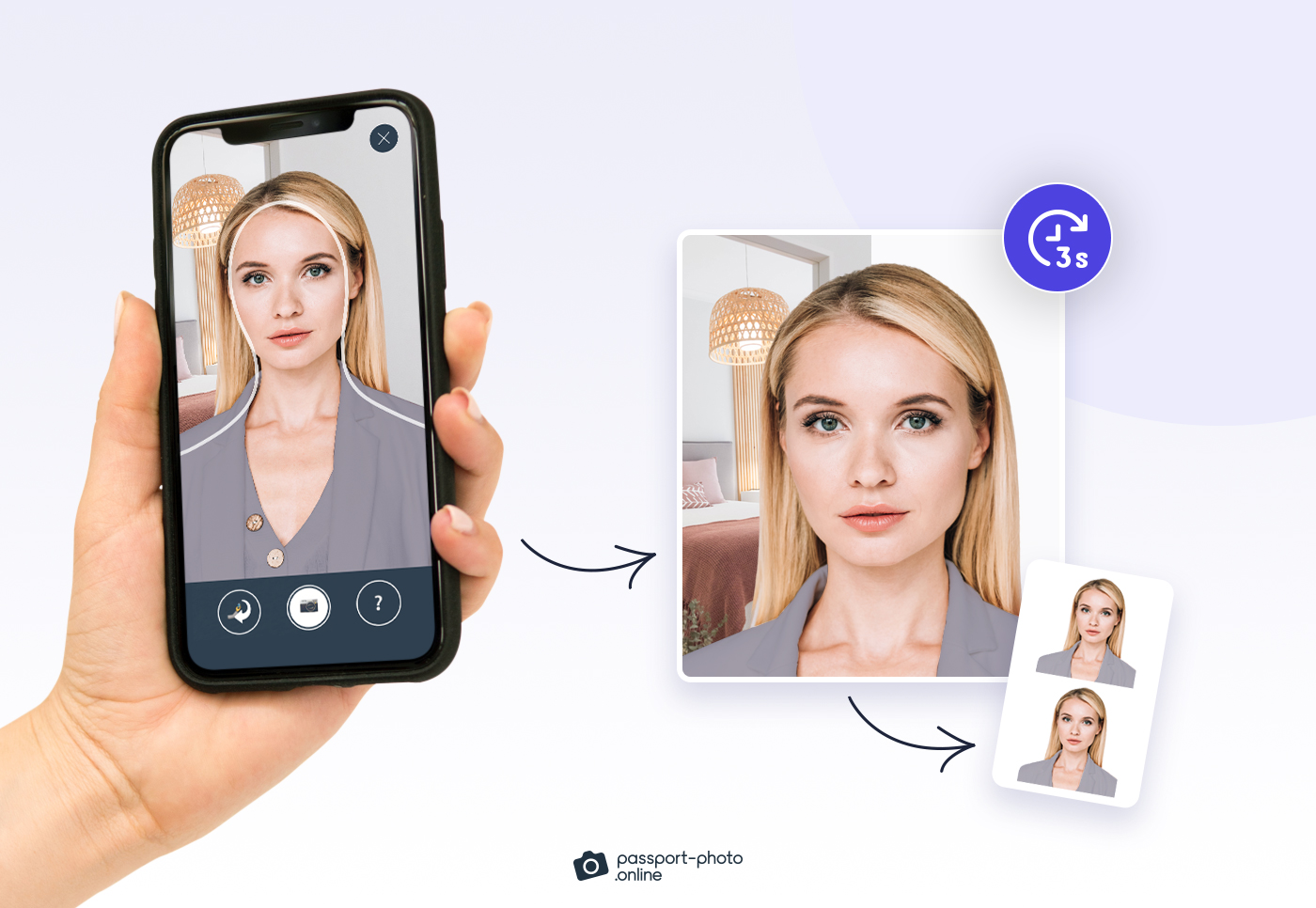 You may also want to have a look at other articles on our blog:
Step 1: Learn what a passport photo looks like
Before firing up your DSLR and dressing in your Sunday best, you must know that the passport photo you take at home must be in line with the latest US Department of State guidelines on passport photos.
Well, we've saved you a click by arranging them below as an easy-to-follow list of dos and don's.
List of Requirements for Passport Photos Taken at Home—Dos and Don'ts
✅ Do
Submit a color photo taken in the last 6 months with a clear image of the face
Use a white or off-white background without shadows, texture, or lines
Keep the head between 1–1 3/8 inches from the bottom of the chin to the top of the head
Print the photo on matte or glossy photo quality paper
Have a neutral facial expression with both eyes open and mouth closed
Wear clothing normally worn on a daily basis
❌ Don't
Use filters commonly used on social media
Wear glasses unless for medical reasons (with a signed statement)
Wear hats or head coverings unless for religious or medical purposes (with a signed statement)
Wear a uniform, clothing that looks like a uniform, or camouflage attire
Have shadows or coverings on the face
Have a blurry, grainy, or pixelated photo
At the end of the day, your passport photo should look something like this.
Example of a Good Passport Photo Taken at Home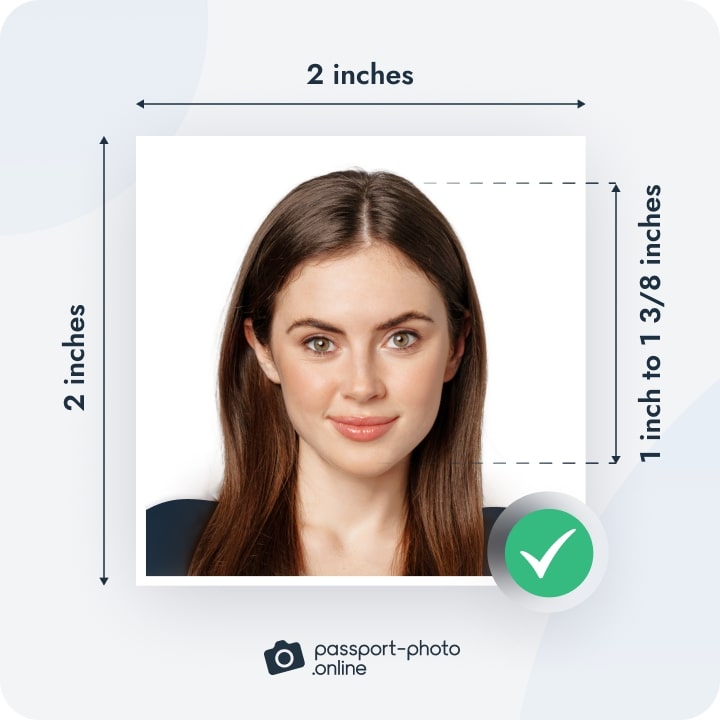 Step 2: Set up your "home studio" in three minutes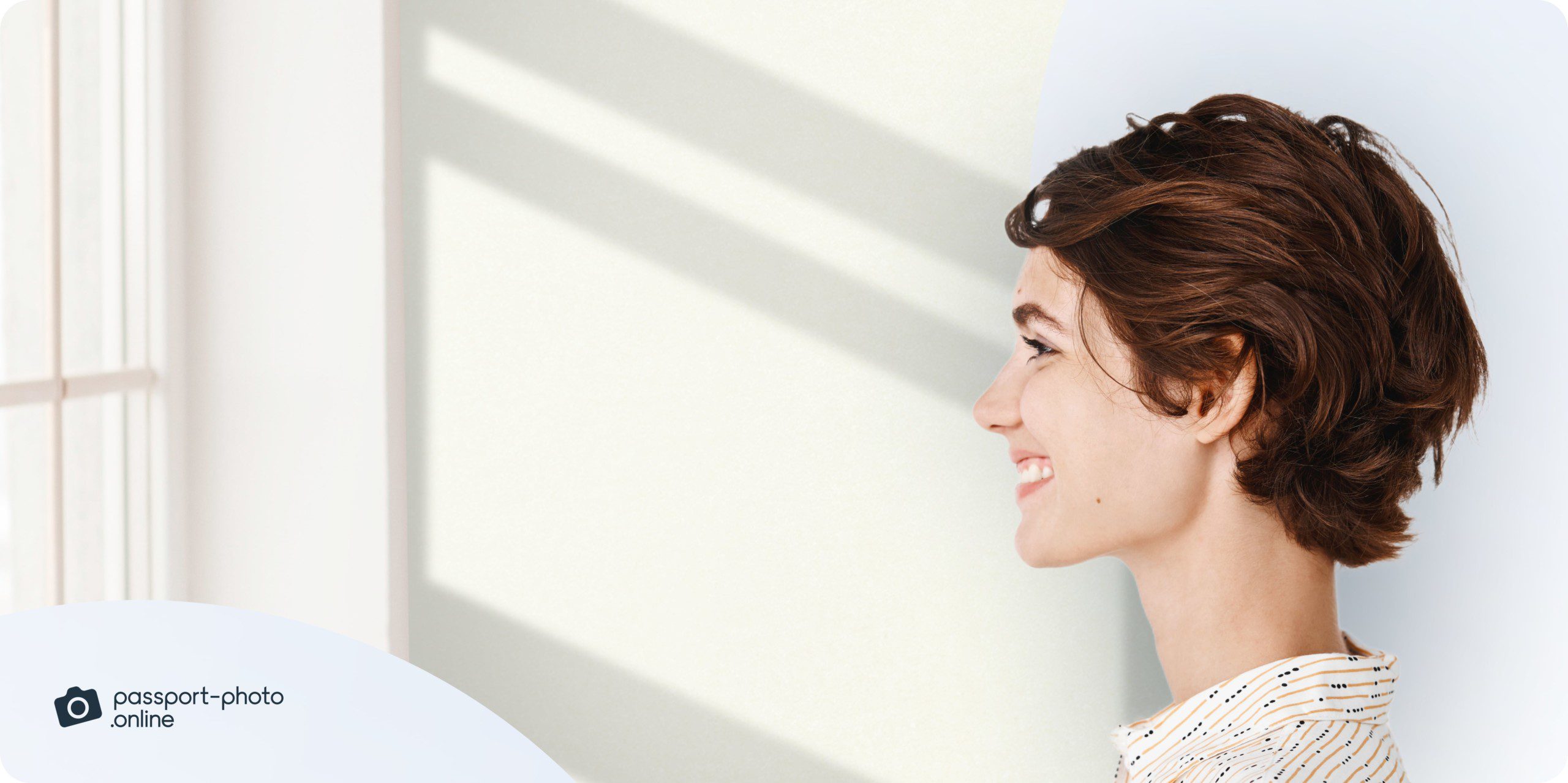 At-home photo studios come in all shapes and sizes—ranging from those containing professional lighting and cameras to portable ones that fit in your pocket.
The truth is—
With today's technology, your smartphone is capable of taking quality US passport photos. And with the right app, you can even convert selfies to 100% compliant passport photographs.
What does this all mean?
Setting your "home studio" boils down to finding a well-lit space in your home.
So—
Find a window, and stand in front of it so your face is lit by daylight.
Additionally, find an angle at which you'll minimize distractions in the background. Ideally, try to find a spot where there's a window in front of you, and a plain wall behind you.
Also—
To avoid casting a shadow on the wall, take a step or two away from it.
Pro Tip: If you can't find a plain wall, fret not—our app will remove the background, and our expert will double-check your photo for compliance. If need be, you'll receive instructions on how to retake the photo.
Step 3: Take your DIY passport photo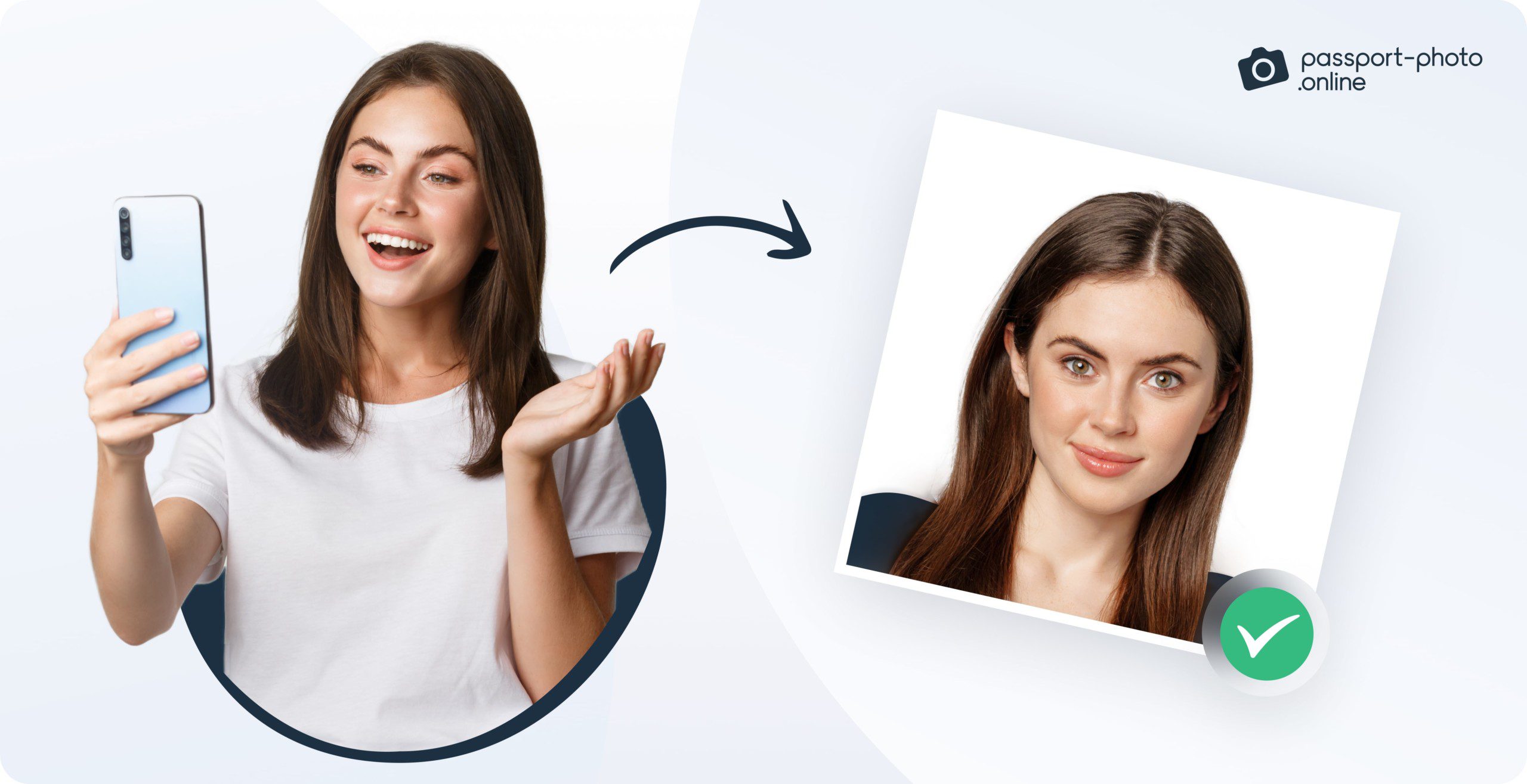 All you need to do now is take the photo.
Since you're at home, there's no time pressure (unless your friend involved in the photo session gets impatient).
Snap away to your heart's content.
Just be sure to follow all of the official regulations regarding your pose (i.e., a neutral expression or slight close-mouthed smile) and face the camera directly.
Whether using your mobile phone or a professional camera, your device's storage capacity is the only limit to the number of photos you can take!
Step 4: Edit, check, and print your passport photos at home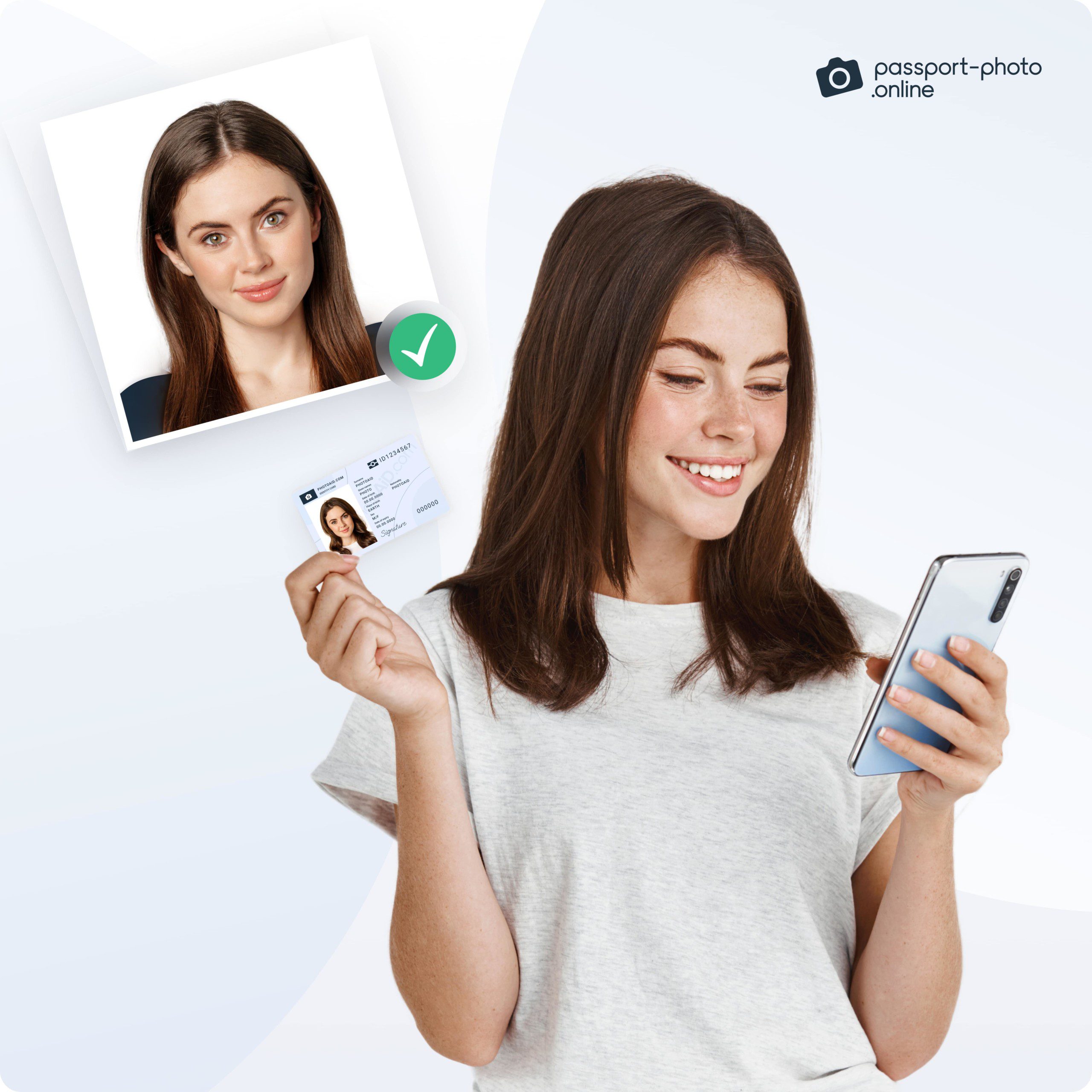 After taking your own passport pictures, you'll need to do some editing to ensure your photos meet all official requirements.
If using Passport Photo Online's application, all editing and verification procedures are included in the software—you instantly get a digital photo ready for US online passport renewals or physical prints delivered to any address in the US.
If you wish to edit and print your photos manually, here's an overview of photo editing tools and common adjustments that may be needed to ensure compliance with US passport photo regulations.
Photo editing tools for home-made passport photos
When you want to make your own passport photo, editing is necessary to ensure the photo meets all official requirements, such as the correct size, background, and lighting.
There are many editing tools available, from simple online croppers to professional-grade software.
Have a look at the list below for several popular software options you have for editing your home-made passport photos:
Adobe Photoshop is one of the most popular and powerful photo editing tools available. It offers such editing features as cropping, resizing, and color correction, to name but a few
Canva is a user-friendly online editing tool that's perfect for beginners. It offers pre-made templates and easy-to-use editing features
Skylum Luminar is a great option for those who want professional-grade editing tools without the steep learning curve of Photoshop
The State Department has its own cropping tool to transform any image into a 2×2-inch passport photo. It also provides examples of rejected passport photos, as well as compliant ones to illustrate each guideline. However, the tool does not offer background removal or a compliance check (as evident in the example below).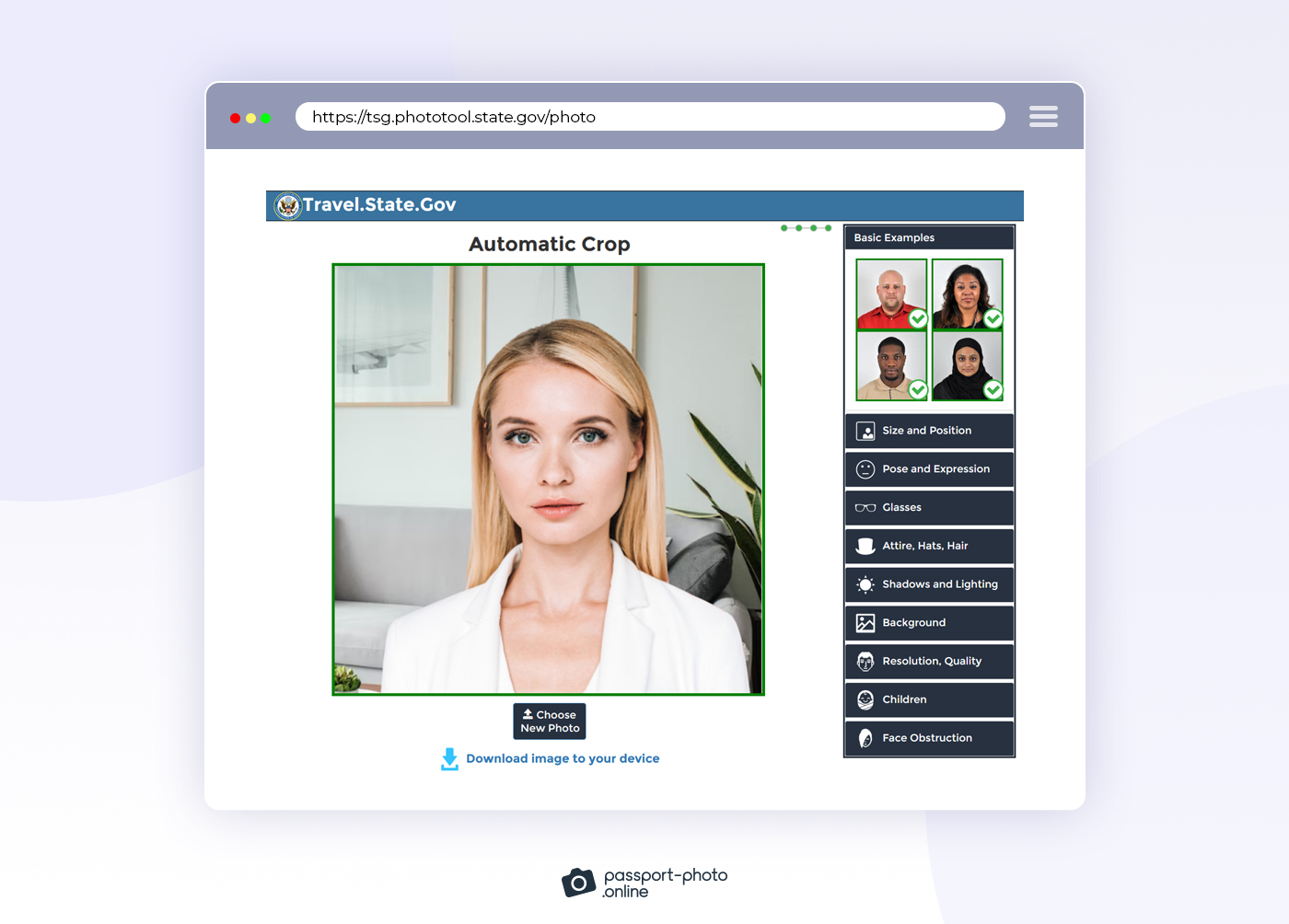 Common editing adjustments
What kind of adjustments to make to your DIY passport photo?
Here's a quick look at the tools you may need to edit your home-made passport photo:
Cropping: You may need to resize your passport photo to meet the 2×2 inch official size requirements
Color correction: Adjusting the color balance can help to improve the overall quality of the photo. However, the colors must appear natural, or the photo will be rejected
Brightness and contrast: These adjustments can help to enhance the details in the photo and make it more visually appealing. The image must have normal exposure and can't be too bright or too dark
Background removal: If your background isn't completely white or off-white, you will need to remove it and replace it with a plain white background
By using these editing tools and making the necessary adjustments, you can ensure that your passport photo is high-quality and meets all official requirements.
Remember—
Keep it simple and avoid any drastic edits that could be deemed misleading or inaccurate, as these will void your photo, thereby prolonging the passport application/renewal process.
Printing
Printing your passport photos is the final step. You can either print at home or utilize a commercial service such as Walmart, CVS, or Walgreens. If you're interested in high-quality passport photos, it's worth considering CVS for their reliable and convenient CVS passport photo service.
Alternatively, you can explore the offerings available at Walgreens passport photos.
To print at home, ensure you follow a few simple rules to maximize the chances your photo will be deemed compliant by US passport authorities.
Use a high-quality printer: Look for a printer with a resolution of at least 600 dpi
Print on photo paper: Use photo-quality paper with either a matte or glossy finish
Find a passport photo template: Use an online passport photo template that ensures your photos are formatted to the correct size
Pro Tip: Printing at home? Find out how to choose the best printer for your passport photos.
The reality is that people more often than not are choosing to use an app or a service that's not an actual photographer. I believe that the client is the most important, and if the quality they get from such services lives up to their expectations and the photo serves the purpose it's supposed to serve, there's absolutely no problem for me to see people choose an app over going to a walk-in studio to get a passport photo taken.

Matt Licari, photographer
How to take passport photo at home: FAQs
Looking for additional information? Check out these frequently asked questions on taking US passport photos at home.
Can I take my own passport photo with my phone?
Yes, you can. Any phone equipped with at least a 2 megapixel camera is capable of snapping a passport photo of sufficient quality. Use your smartphone's camera with Passport Photo Online's intuitive application to create US passport photos that are guaranteed to comply with all governmental regulations.
How do I take a 2×2 passport photo on my iPhone?
Any iPhone can produce a 2×2" passport photo if used in conjunction with Passport Photo Online's iOS application. Simply point and snap, and in seconds, you'll have a photo that's guaranteed to comply with all official regulations.
How do I take my own US passport picture?
Use your smartphone, tablet, or a digital camera to take your own US passport picture. Next, use a passport photo app or photo-editing software to adjust the image to comply with all regulations mandated by the US State Department.
How can I make my own passport photo?
Snap your passport photo using your phone or digital camera, then use image-editing software or a passport photo app to turn your shot into a government-compliant image.
If you already have a photo you'd like to use for a passport, you can quickly and easily upload it to our web-based application. Once you do, we'll run it through a test, and our biometric photography expert will let you know if the photo is compliant. Try it now!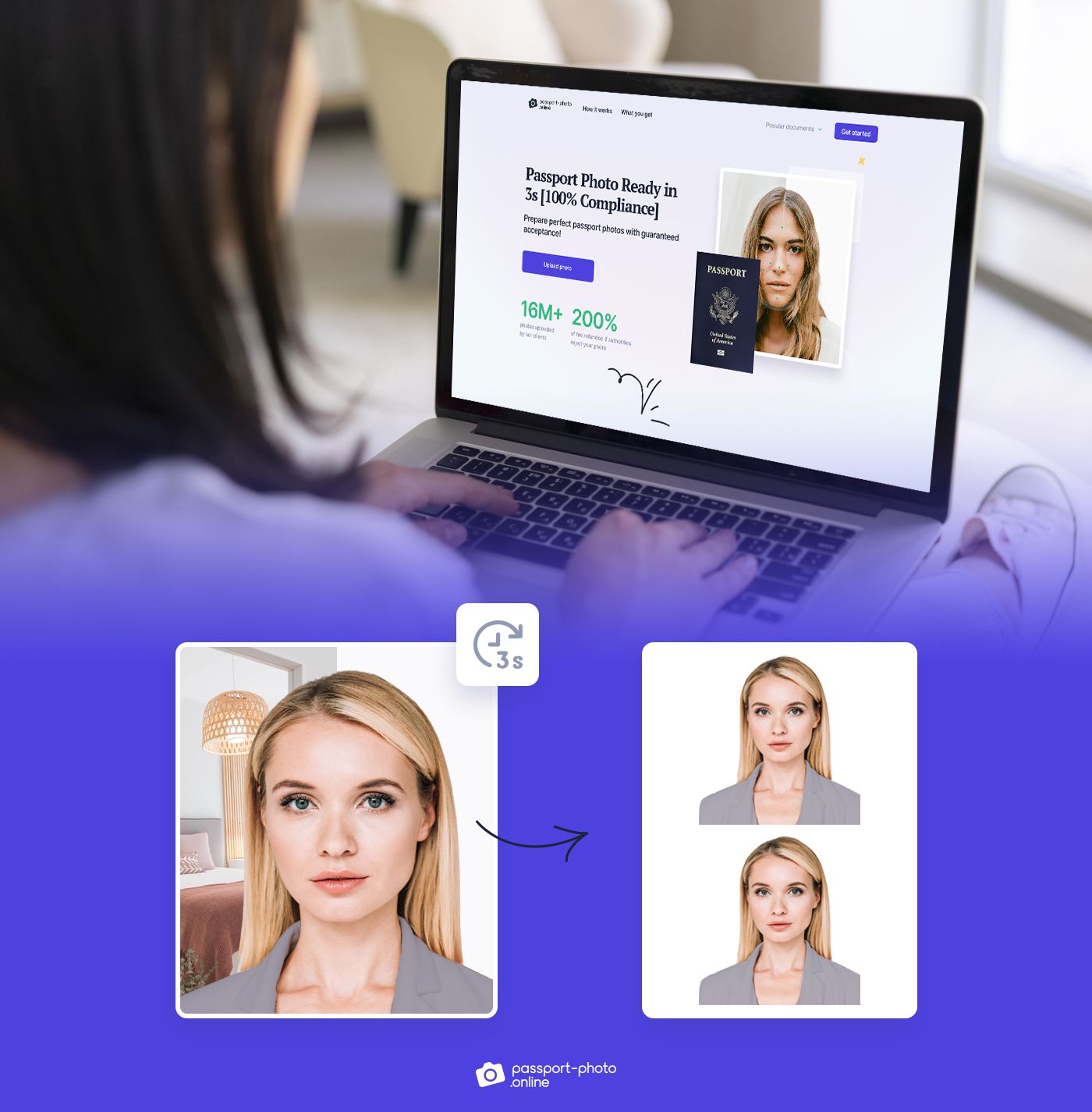 Conclusion
According to the US State Department, over 22 million Americans applied for passports in 2022. Can you take a passport photo at home? Yes, you can—and it will save you time and money!
Here's a brief overview of how to take your own passport photo at home:
Learn the official requirements mandated by the US State Department.
Find a well-lit area in your house.
Snap your photo while looking directly into the camera.
Crop and adjust the photo to adhere to official regulations.
And perform a compliance check to prevent problems with your US passport application.
Whether you decide to DIY your passport photo from scratch or use Passport Photo Online's software to get everything expertly verified and done in seconds, we hope this guide saves you at least a bit of time sitting in traffic.
Enjoyed the post? Leave a comment below.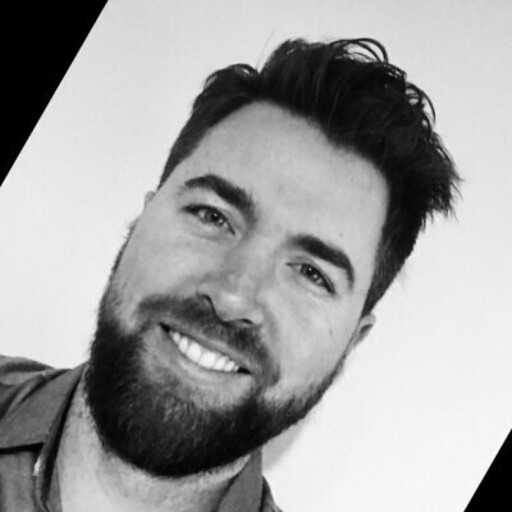 Simon Wojtyczka brings a unique perspective to biometric photography with his expertise in Applied Linguistics & TESOL. His content provides valuable insights into the world of biometric photography, helping individuals understand its significance. Simon's global experiences have made him appreciate the convenience that biometric photos bring to international travel. Outside of work, Simon's interests lie in discovering new places and swimming.