Are you looking for a way to take your own passport picture at home?
For a long time, digital picture formats were not accepted, so there was no choice, but to use professional photo services or passport photo booths. But times have changed, and nowadays we can file the passport application online, without ever having to leave our comfy apartments.
In this article, we will walk you through the process of taking your own passport photos that are guaranteed to be accepted by adequate authorities.
All you need is a phone and you will be instructed on the rest. What more is there to say, let's dig into DIY passport photos!
Passport picture at home – you can do it yourself
The common conception is that with matters such as photographs for official documents, not to mention passports, the vigilant and sharp eye of a professional photographer is required. And to follow up on that, taking such pictures yourself might and will result in a failure, costing you some time. Not anymore. You can now just take the picture yourself and use the magic of proper software available online to create a perfect passport photo.
Remember about passport photo requirements
If you want to take a passport photo at home, you need to learn the official requirements first there is no skipping that. The official U.S passport photo guidelines are, indeed, quite strict and you need to follow them when taking the picture in order for your DIY passport photo to be accepted.
All guidelines here are according to the official U.S. Department of State Bureau of Consular Affairs requirements.
Passport picture qualities
The technical requirements for passport photos are as follows:
Submit only a color photo.
Pictures must be of high quality, cannot be blurred, grainy or pixelated.
The correct size of a passport photo is: 2 x 2 inches (51 x 51 mm),
Head must be between 1 -1 3/8 inches (25 – 35 mm) from the bottom of the chin to the top of the head.
Photographs must be printed on matte or glossy photo quality paper – in case you're opting for an online submission, this doesn't apply to you.
You are not allowed to digitally change the passport photo yourself in an editing software.
You cannot submit a damaged photo with holes, creases, or smudges.
At this moment, however, you don't need to get your head around the technical passport picture requirements, as later on, you will see how to easily match your passport photo to these requirements.
Your pose for a passport photo
Passport photographs are supposed to be simple their main purpose is to allow the officers to identify you. Therefore your pose should be natural, presenting you the way you are.
Keep a neutral facial expression, or a natural smile, and remember to have both eyes open.
Face the camera directly in front of you with a full face in view.
This one is fairly easy. All you need to do is to simply stand in front of the camera, with no extra movements or gestures. Rest your face at its natural expression and just look into the lens.
Attire and appearance for ID photos
The general rule of thumb is to wear casual clothes, with no extras. Remain as simple as possible, avoid using make up or accessories. Sticking with that will give you the highest chances of taking the right passport photograph.
Don't wear glasses, headphones or any other gadgets.
Make sure your hairstyle doesn't cover your face.
Wear casual clothes. Remember that uniforms and pieces of camouflage are forbidden.
Unless for proven religious reasons, a hat or head covering is not allowed either.
The most important factor here is that your face must remain visible. If you have long bangs, you should clip or pin them behind. Facial tattoos and beards in passport pictures are allowed.
See the 5 steps to taking a passport picture at home
Once you have the official criteria past you, you can finally proceed with taking the passport photos. The best way to take the image is with a digital camera, but it's not necessary, and you can also easily use your smartphone. However, you are not allowed to take a selfie, therefore it's best to either use a tripod or ask someone to take a picture of you.
Create proper lighting conditions
If you are a professional photographer the task is easy, and all you have to do is set up the lights so they gently illuminate your face. Put the lamps right in front of you, so there are no shadows crossing your face. However, if you don't have studio lamps in your possession, simply locate a luminous room, where the sunlight distributes evenly. A place with a bright window will easily do the trick.
Remember that your passport photograph must represent natural tones and colors, and must be evenly distributed. For this reason, it is best to use daylight, coming from right in front of you. Avoid flash and other non-professional lamps when taking your own passport photo.
2. Find a wall with tones colors
The next step you need to take is to find a wall in your room that is nicely toned, and there are no sharp edges or objects within it. It will be the background for your photo.
For the best results look for a white wall the whiter it is, the better. However, if you don't have a white background, search for any other pale wall and make sure there are no objects on it. The best location for a background is in front of a window.
3. Get your camera ready
Once you have secured the lighting and found your background, now is the time to set up the camera. There is no need for a professional digital camera, nor DSLR equipment. Your smartphone is completely sufficient. However, if you are using the more advanced options, you can use auto mode. Just make sure the frame is properly exposed.
The important thing here is that you cannot take a selfie*. Your options are either to use a camera tripod or ask someone to help you.
*Although the U.S. Department of State discourages applicants from taking selfies, there are specialized apps that can transform your selfie into an indistinguishable passport photograph. More on that below.
4. Stand still and wait
At this point, all that remains to do is to stand in front of the camera, look straight into the lens and wait until the picture is taken. Remember to follow the official passport photo requirements:
don't laugh,
keep your eyes open,
stand up straight,
and don't tilt your head to either side.
For passport pictures, it is best to wear casual, everyday clothes.
5. Adjust your image to passport size photo
Now, once you have taken the passport photograph, it is important to adjust it properly, so it meets the strict official criteria of the Department of State.
If you are comfortable with using photo editing software, you can adjust your own passport photos. First and foremost, your image must fit the passport size requirements and that means it must measure precisely 2 inches wide by 2 inches high (2 x 2 inches).
When cropping your image into passport photo size, ensure you face takes approximately 80% of the picture, and measures from 1 to 1 ⅜ inches from bottom to the top.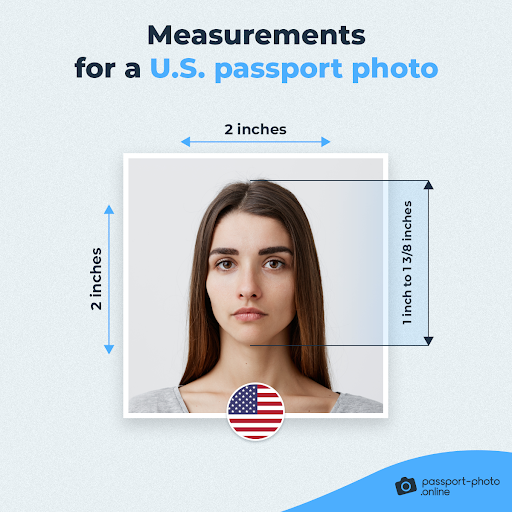 And if you do not feel comfortable performing the editing yourself, we have good news for you—there are easy-to-use tools available online, which will take care of adjusting your image to passport photo size in a matter of seconds. More about those in the following section.
Take digital passport photo at home
There are numerous tools available online which will help you take a passport photo at home. You can browse anything from simple cropping tools, which are nothing more than just basic editing software, all the way through to advanced AI-supported apps, which will not only crop your picture but also remove the background and adjust the lighting. You can read more about this in Best Passport Photo Software – The Ultimate Guide
Passport Photo Online
One of such apps, which drives DIY passport photo taking to the next level, is this user-friendly and intuitive program called Passport Photo Online.
Passport Photo Online is an app that uses complex AI mechanisms to remove the background and perfectly adjust the lighting of your new passport photos. For this reason, you don't need to think about finding a perfectly white background, or bother with professional lamps the software will do it for you.
What's more, there is no need for you to tax your mind with proper image cropping, or taking care of adequate proportions Passport Photo Online will do it for you automatically, in a matter of seconds, delivering you a passport picture that's 100% guaranteed to be accepted by authorities.
See how Passport Photo Online works in an explanatory video here, or have a look at the image below.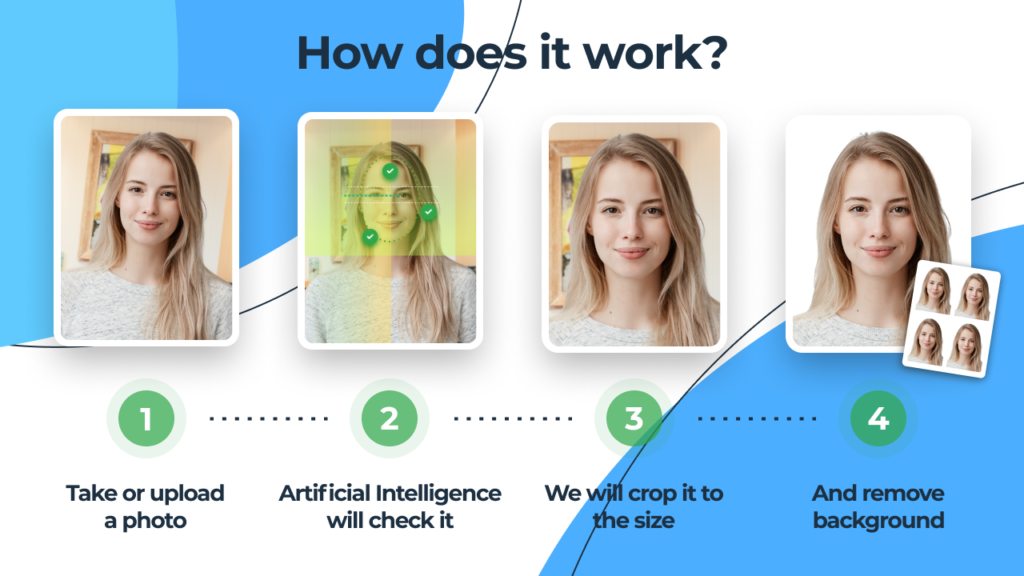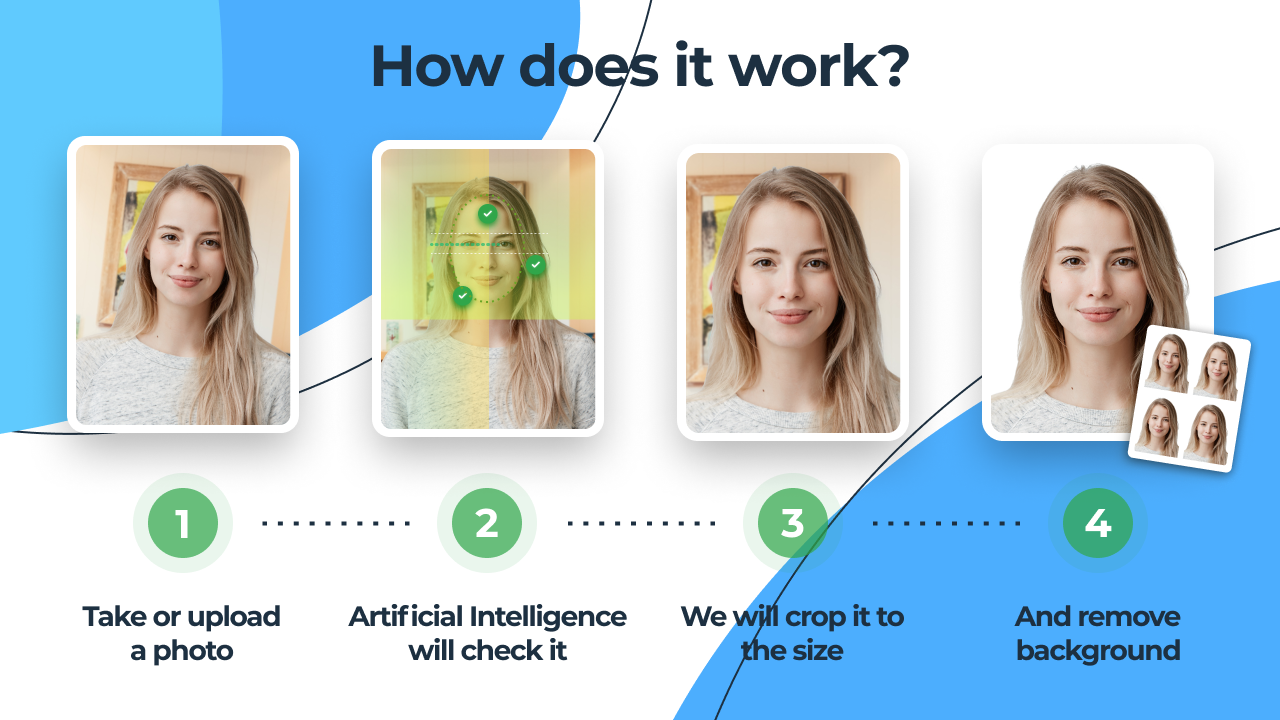 MUST-SEE TIPS BEFORE TAKING A PASSPORT PHOTO:
DIY passport pictures are just a couple of steps away
Having your passport photograph done yourself at home might seem like a risky, and perhaps even unachievable business at first. However, if you follow 5 steps, actually quite simple ones listed above, you should be able to get your top notch passport photo in a matter of minutes.
The crucial aspect is to find a proper preferably white background, with nice and natural lighting. If you manage to secure this aspect, the rest is just a matter of a few clicks.
And if you wish to have your perfect passport photo generated for you from the position of your own couch, use Passport Photo Online and receive a high resolution photo for documents in 3 seconds.
How to take a passport picture at home: FAQ
Can I take the photo for my passport on an iPhone?
Yes, there is literally nothing stopping you from doing it. What is important to pay attention to, however, is that the pictures should be of good quality. Any blurs, pixelations, or grains are not allowed. If your iPhone, or any other mobile phone, is capable of taking good quality pictures, you can use it for taking new passport photos.
Can I get passport photos online?
Yes, there are specialized tools to generate passport photos for you online. One of the best ones out there is Passport Photo Online, which will automatically adjust your regular photograph to the official passport photo requirements.
Can passport photos be taken at home?
Yes, you can take your passport photos at home. There are, however, some criteria you need to follow in order for the picture to be accepted by the authorities.
Can I use my own passport photo?
Yes, you can use your own passport photo. There are some guidelines on how to properly crop the picture, and if you meet the criteria, your photo will do fine. If you want to make sure your photo gets accepted, then it is best to use specialized tools, such as Passport Photo Online.
Can you take a baby passport photo yourself?
Yes, you can take baby passport photos yourself. The official requirements for baby photos are less strict than in the case of adults, and you can take the photograph using just your smartphone or digital camera.
Can you take a passport photo yourself?
Yes, there are no regulations stopping you from taking passport photos yourself. If you want to do so, please make sure your picture is compliant with the official guidelines. In order to get a 100% guarantee, use one of the online tools available, such as Passport Photo Online.
Is there an app to take passport photos?
Yes, there is plenty of softwares available on the web that allow you to take passport photos. Some are just basic cropping tools, whereas others can convert your ordinary photos into passport pictures. Passport Photo Online is one of the most advanced and reliable passport photo tools on the web. The app can get you passport pictures with a guaranteed acceptance in just 3 seconds.
How to take a 2×2 inch passport photo at home?
You can take the photograph yourself against a white background and then use a cropping tool to adjust your picture to fit the 2×2 inch photo format. There are online tools available that can help you through the process, from replacing your background with a white one, cropping your pictures to checking their compliance with passport photo guidelines. One of such apps is Passport Photo Online that can get it all done in just 3 seconds.
Can I use a selfie for a U.S. passport photo?
The U.S. Department of State clearly states that submitting a selfie as a passport photo in your application is forbidden. However, there are tools available that can convert your selfie into a passport photograph that is indistinguishable from a studio picture. One of such apps is Passport Photo Online.
Can I take a passport quality photo with my phone?
Most of the modern day smartphones have sufficient cameras to take a passport quality photo. The official standards for digital U.S. passport images say that the picture should be minimum 600px by 600px and have a resolution of 300 DPI. These values are achieved by nearly all smartphones available on the market. If you want to verify if your phone can take passport quality photos, you can use Passport Photo Online an app that can transform and verify your images into passport photos.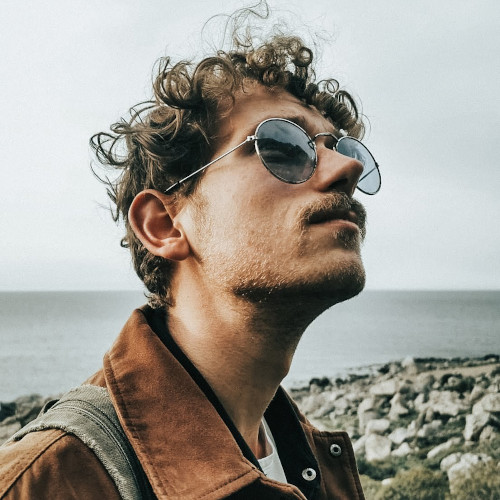 Graduated from the Cracow University of Economics, Adam is an experienced biometric photography expert at Passport-Photo.Online. Passionate about finding out how things work, Adam's interests include human behavior, photography, and travelling. His insights, advice, and commentary have been featured in Forbes, Social Media Today.