Are you looking for a way to take your passport picture at home?
The U.S. State Department requires passport applicants to provide their photos on quality paper, which makes many people look to professional photography services. However, the American government has now released an online system allowing U.S. citizens to submit digital passport images. So why not get your photos from the comfort of your couch?
In this article, we will walk you through the process of taking passport photos that are guaranteed to be accepted by U.S. authorities.
All you need is your phone, and we'll take it from there. Let's have a closer look into DIY passport photos!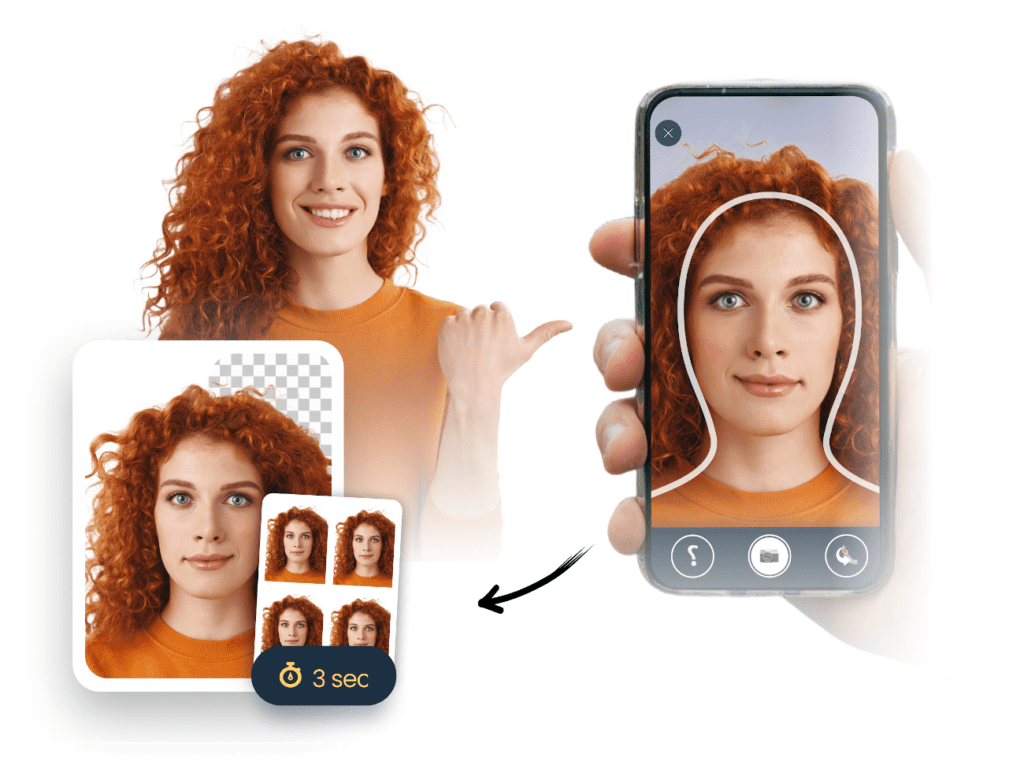 Passport picture at home—how to DIY
A common misconception is that a professional photographer's eye is required for official document photographs (e.g., for passports). To follow up on that, many people are reluctant to take their own passport pictures as they're scared of having their photos rejected– thereby costing them additional time and money. Not anymore. Applicants can now snap their own passport pics and use top-rated online software to create perfect passport photos every time.
Remember about passport photo requirements
Those who want to take a passport photo at home need to learn the official requirements first—there is no skipping that U.S. passport photo guidelines are pretty strict, and applicants need to follow them when taking a picture for their DIY passport photo to be accepted.
All guidelines listed below adhere to U.S. Department of State Bureau of Consular Affairs requirements.
Passport picture technical specifications
The technical requirements for U.S. passport photos are as follows:
Submit only a color photo.
Pictures must be of high quality and cannot be blurred, grainy, or pixelated.
The correct size of a passport photo is 2 x 2 inches (51 x 51 mm).
The head must be between 1 – 1 3/8 inches (25 – 35 mm) from the bottom of the chin to the top of the head.
Photographs must be printed on matte or glossy photo-quality paper (not applicable for online submissions).
Applicants are not allowed to change the passport photo with unnatural filters or touch-ups via digital editing software (e.g., removing moles or blemishes from the face).
Damaged photos with holes, creases, or smudges will be rejected.
Specific passport photo regulations vary depending on nationality. However, individuals don't need to get their head around the technical passport picture requirements, as later on, we will see how to ensure your passport photo meets all requirements.
Your pose for a passport photo
Passport photographs are supposed to be simple; their primary purpose is to allow immigration officers to easily identify the passport holder. Therefore, posing should be natural, presenting the individual's everyday appearance:
Keep a neutral facial expression or a natural smile, and remember to have your eyes open.
Face the camera directly in front of you with your full face in view.
Attire and appearance for ID photos
The general rule of thumb is to wear casual clothes with no extras. Remain as simple as possible, and avoid using heavy makeup or excessive accessories. Sticking with that will give you the highest chance of taking the right passport photograph.
Don't wear glasses*, headphones, or any other gadgets.
Make sure your hairstyle doesn't cover your face.
Wear casual clothes. Remember that uniforms and camouflage attire are forbidden.
Unless for documented religious reasons, a hat or head covering is not allowed either.
*Person can wear glasses for their passport photo only after providing a signed doctor's statement verifying the medical reasons for it.
The most crucial factor here is that your face must remain visible. If you have long bangs, you should clip or pin them behind. Facial tattoos and beards in passport pictures are allowed.
5 steps to taking a passport picture at home
Having learned the official criteria, U.S. citizens can finally proceed with taking passport photos. The best way to take the image is with a digital camera, but it's not necessary; individuals can also easily use their smartphone. A tripod, selfie stick, or asking someone to take might be the best option. However, if none of these solutions are available, try snapping a selfie.
Step #1: Create proper lighting conditions
Put the lamps right in front of you so no shadows are crossing your face. However, if you don't have studio lamps in your possession, locate a bright room, where the sunlight distributes evenly. A place with a sunny window will easily do the job.
Passport photographs must represent natural tones and colors that are evenly distributed. For this reason, it is best to use daylight coming in right in front of you. Avoid flash and other non-professional lamps when taking a passport photo.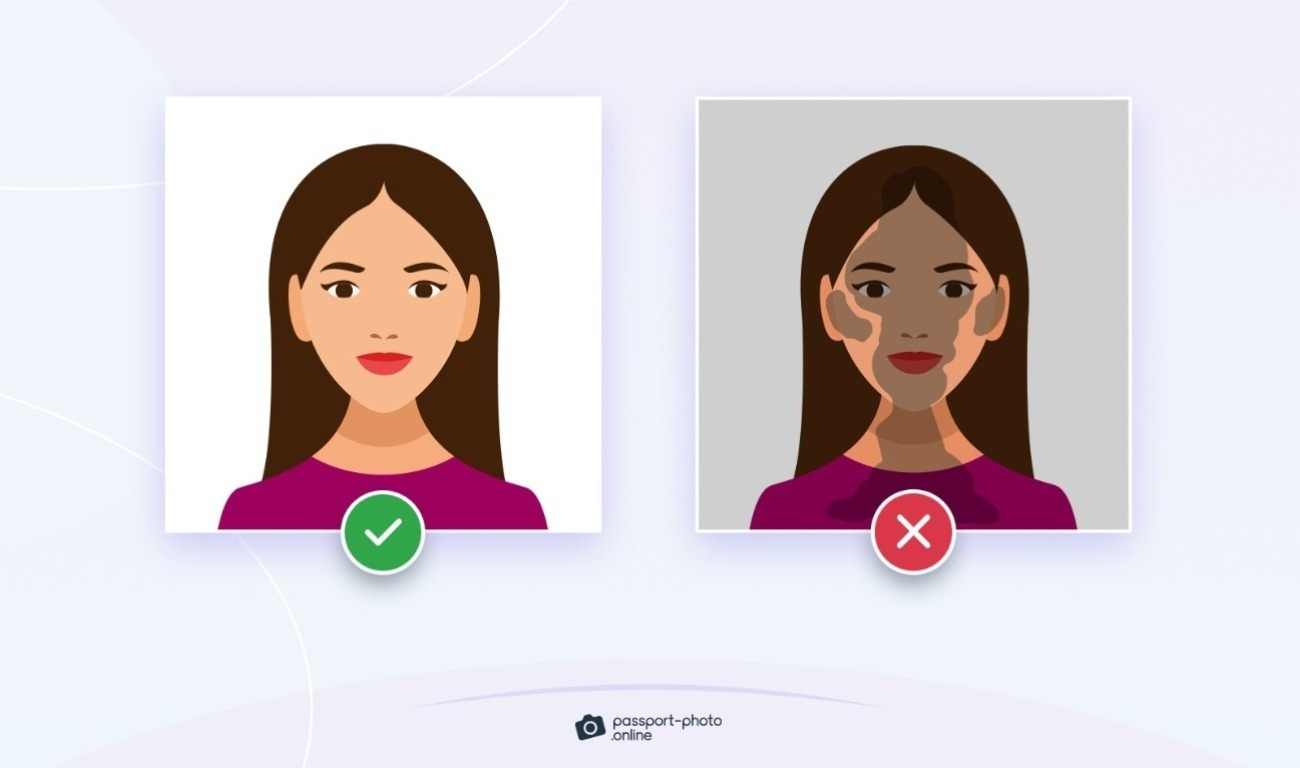 Step #2: Find a wall with an even tone and uniform color
The next step is to find a wall that has an even tone with no sharp edges or objects on it. It will be the background for your photo.
For the best results, look for a uniform white wall—the whiter it is, the better. However, if you don't have an off-white background, search for any other pale wall and make sure there are no objects on it. The best location for a set is in front of a window.
Note: Thanks to the Passport Photo Online application (available on Android and iOS devices), U.S. citizens can skip this process. The tool's AI-supported software adjusts the background perfectly and removes unnecessary objects, shadows, and patterns.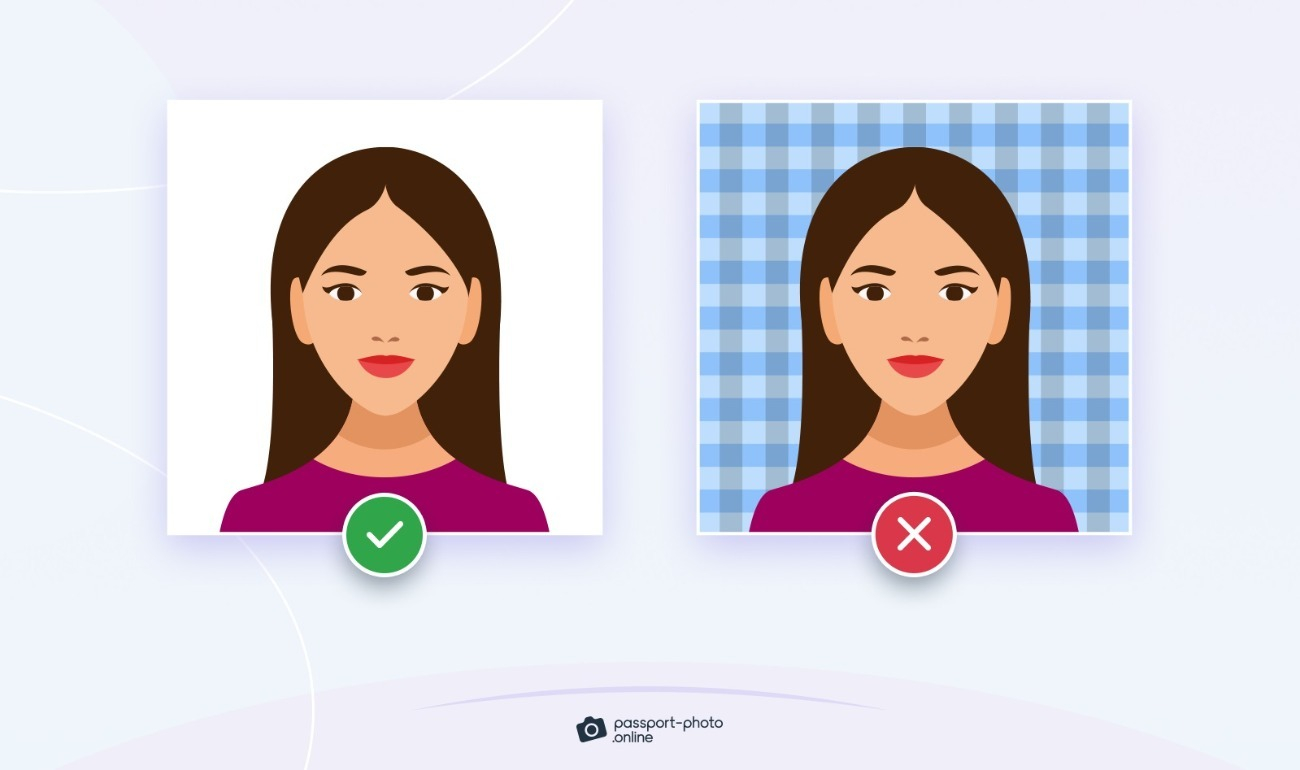 Step #3: Get your camera ready
Once you have secured the lighting and found an appropriate background, now is the time to set up the camera. There is no need for a professional digital camera or DSLR equipment; a smartphone is sufficient. However, if you use more advanced options, choose auto mode. Just make sure the frame is exposed correctly.
Step #4: Stand still and wait
At this point, all that remains is to:
Stand in front of the camera.
Look straight into the lens, and wait until the picture is taken.
Step #5: Adjust your image to a passport-size photo
Now, once you have taken the passport photograph, it is essential to adjust it properly so it meets the strict official criteria of the Department of State. If you are comfortable with using photo editing software, you can adjust your passport photos.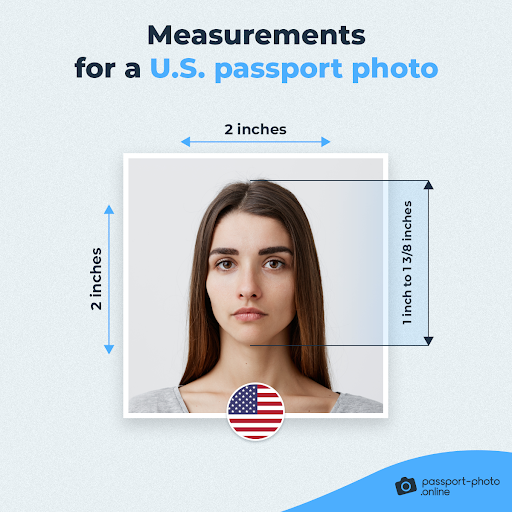 And suppose you do not feel comfortable performing the editing yourself. In that case, we have good news for you—easy-to-use tools are available online, which will take care of adjusting your image to passport photo size in a matter of seconds. More about that in the following section.
Take digital passport photo at home
There are numerous tools available online which will help you turn a regular photo into a biometric passport photo. Users can find anything from simple cropping tools to advanced AI-supported apps, which will crop a picture, remove the background, and adjust the lighting. You can read more about this in Best Passport Photo Software – The Ultimate Guide.
DIY biometric photos with Passport Photo Online
One such app that drives DIY passport photo taking to the next level is the user-friendly Passport Photo Online.
The application uses complex AI mechanisms to remove the background and adjust the lighting of your new passport photos perfectly. For this reason, users don't need to think about finding an ideally white background or bother with professional lamps—the software will do it for you.
What's more, there is no need to tax your mind with proper image cropping or making sure the final image has adequate proportions. Passport Photo Online will do it automatically, in a matter of seconds, delivering a passport picture that's 100% guaranteed to be accepted by authorities.
Passport Photo Online will also be a perfect solution for taking your baby's passport photos! No need to visit professional studios or prepare a special setting. Take as many shots as you (and your children) need and only pay for the final result. See how Passport Photo Online works in an explanatory video here, or look at the image below.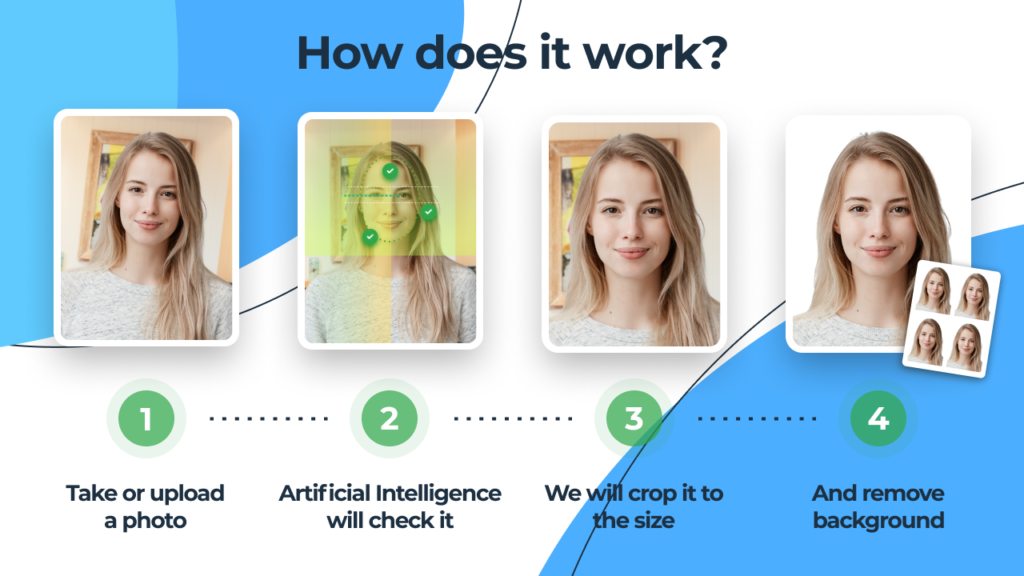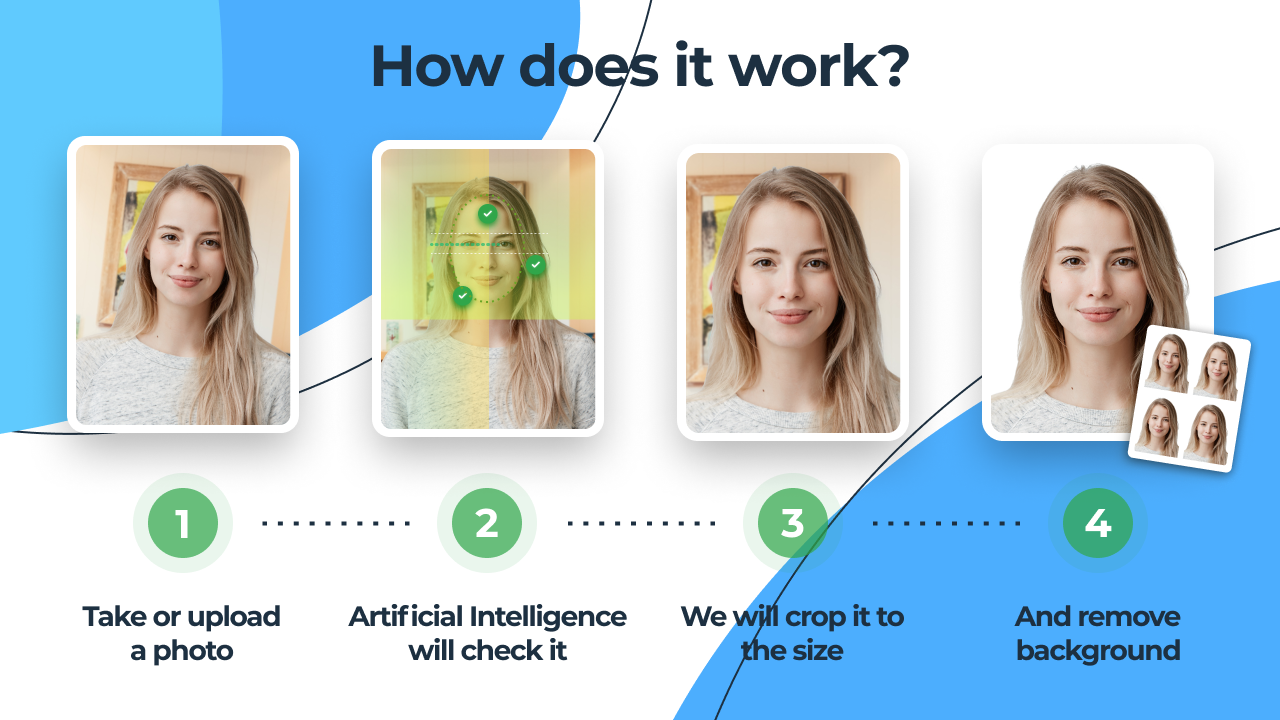 Use the Passport Photo Online app to avoid traveling additional miles, standing in lines, or facing the challenges that come with children's photography. Take your passport picture, as well as any family member's, from the comfort of your own home!
Must-see tips before taking a passport photo:
FAQ
Below, you will find the answers to the most frequently asked questions about taking your own passport photos.
Can I take a photo for my passport on an iPhone?
Yes, nothing is stopping you from doing so. If your iPhone, or any other mobile phone, can take good-quality pictures, you can use it to create new passport photos.
Can I get passport photos online?
Yes, there are specialized tools available online that can adjust any image into a compliant passport photo. One of the best is Passport Photo Online, which automatically fine-tunes regular photographs to official passport photo requirements.
Can passport photos be taken at home?
Yes, you can take your passport photos at home. There are, however, some criteria you need to follow for the picture to be approved by the acceptance facility.
Can I use my own passport photo?
Yes, you can use your own passport photo. There are strict guidelines on cropping the picture correctly, acceptable backgrounds, poses, etc. However, if all guidelines are closely followed, your image will do fine. 
Can you take a baby passport photo yourself?
Yes, you can take baby passport photos yourself. The official requirements for baby photos are less strict than adult criteria, and you can take a photograph using just your smartphone or digital camera.
Can you take your own passport photo?
You can take your own passport photo if you have a smartphone or a digital camera. You will need a white (or off-white) background, good lighting, and, ideally, a tripod. It is also a good idea to read the official guidelines to avoid rejection.
Is there an app to take passport photos?
Yes, plenty of programs exist on the web that allow you to take passport photos. Passport Photo Online is one of the most advanced and reliable passport photo tools. The app can get you passport pictures with a guaranteed acceptance in just 3 (three) seconds.
How to take a 2×2 inch passport photo at home?
To take a 2×2 inch passport picture at home, prepare the following:
– a white or off-white background
– a digital camera or a smartphone with a good-quality camera.
 
Pose naturally, in your casual, everyday clothing. You can also ask your friends or family members to help you get the perfect shot. However, by using Passport Photo Online, U.S. citizens can simplify this process greatly.
Can I use a selfie for a U.S. passport photo?
The U.S. Department of State states that submitting a selfie as a passport photo in your application is forbidden. However, certain tools (available online) can convert your selfie into a passport photograph that is indistinguishable from a studio picture. One such app is Passport Photo Online.
Can I take a passport quality photo with my phone?
Most modern-day smartphones have good cameras capable of taking passport-quality photos. The official standards for digital U.S. passport images say that the picture should be a minimum of 600px by 600px and have a resolution of 300 DPI. These values are achieved by nearly all smartphones available on the market.
DIY passport pictures are just a couple of steps away
Having your passport photograph done at home might seem like a risky, perhaps even unachievable feat at first. However, if you follow our 5 simple steps, you should be able to get a top-notch passport photo in a matter of minutes.
And if you wish to have your perfect passport photo generated for you from anywhere in the world, use Passport Photo Online and receive a high-resolution photo for documents in 3 seconds.
Sources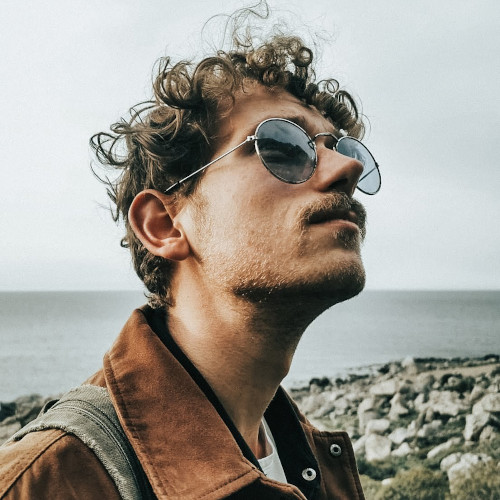 Adam is an SEO & Digital PR writer with a child's curiosity about the surrounding world. His superpower to dig out juicy facts got him citations in Forbes, Social Media Today, and 90+ other news outlets. Adam enjoys snapping pictures and won the national Huawei Next Image Award.