We've all been there—
Seeing an interstate flight for less than $50, only to discover the price is way higher at checkout.
Where did it come from?
Hidden fees.
So at Passport Photo Online, we've decided to poll around 950 Americans and find out just how much extra travelers are paying for airfare.
Key Takeaways
About 86% of Americans have run into unexpected airline costs at least once in their lifetime.
Roughly 39% of air travelers encounter covert fees often or always.
Nearly 60% of passengers believe hidden airline charges have grown since 2019 (before COVID-19).
The most common reaction to undisclosed charges among fliers is annoyance: 37%.
Carry-on (78%) and checked baggage (76%) fees were voted the most infuriating hidden costs.
Most Americans Have Run into Hidden Airline Fees
We truly meant it when we said, "we've all been there" earlier.
Our study shows that 86% of people have run into unexpected airline costs at least once in their lifetime.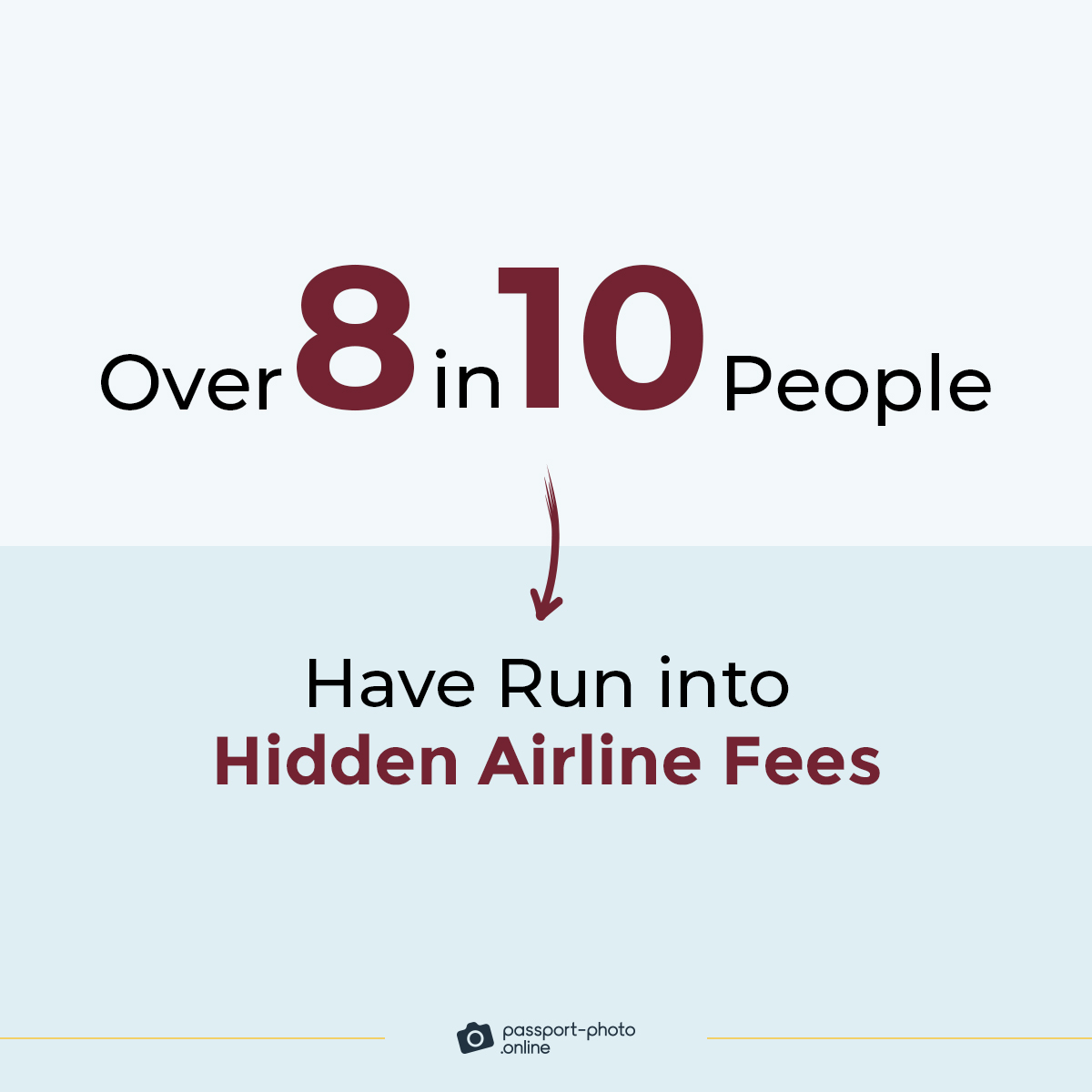 We then asked respondents how often they come across such costs.
Only 2% said never.
What about the remaining 98%?
As many as 39% of airline passengers run into unanticipated expenses often or always. Another 86% face them at least sometimes.
Below are the detailed results: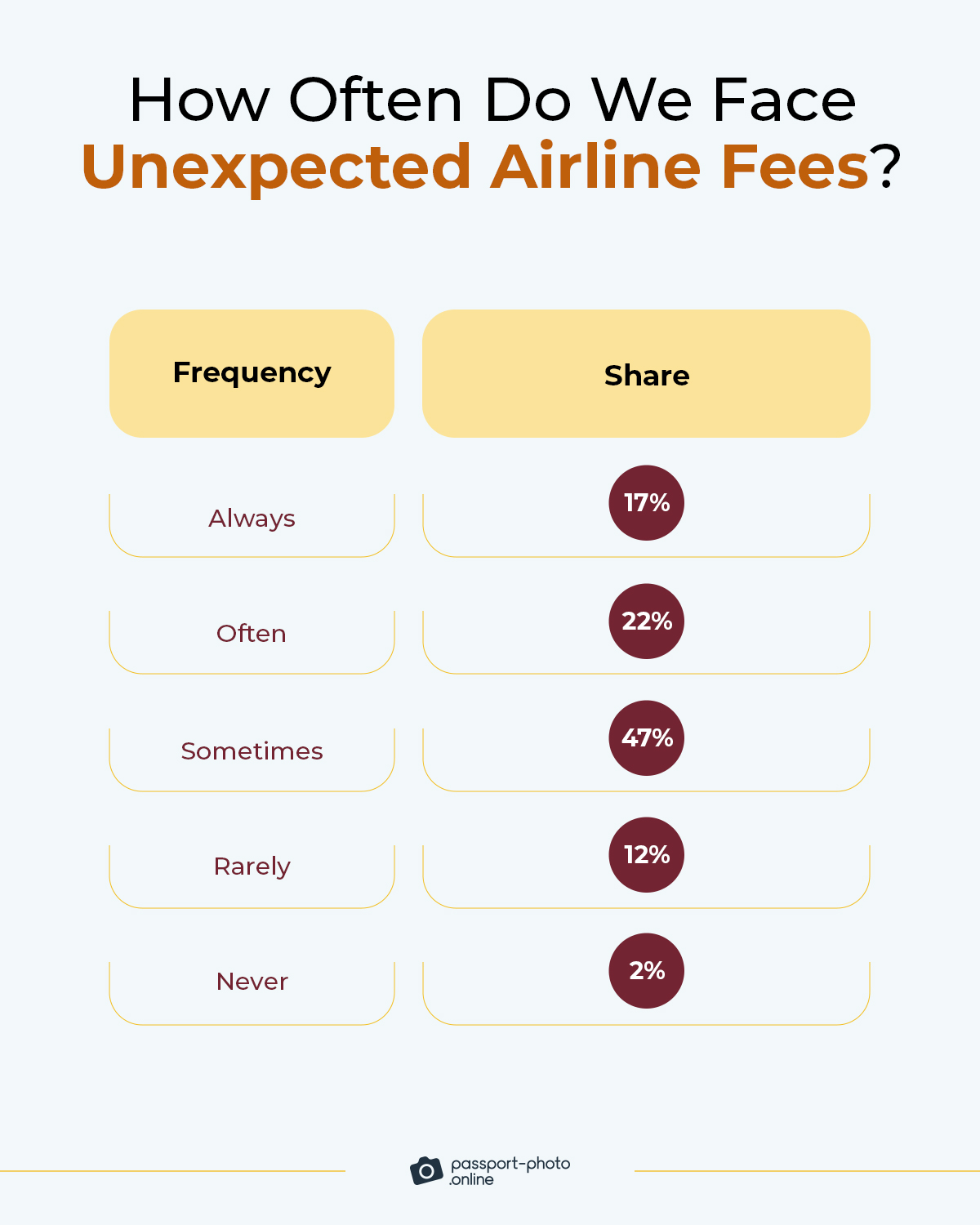 That's a lot of travelers paying more than they initially thought.
Hidden Fees Are Piling Up
In 2008, American Airlines was the first major carrier to introduce an extra fee for checked baggage.
But that seems like ancient history.
More recently, United and American went a step further and introduced a carry-on baggage fee in 2017.
The story goes on—
Over half of survey takers (59%) think hidden charges have grown since 2019. About a quarter (24%) says the growth has been significant.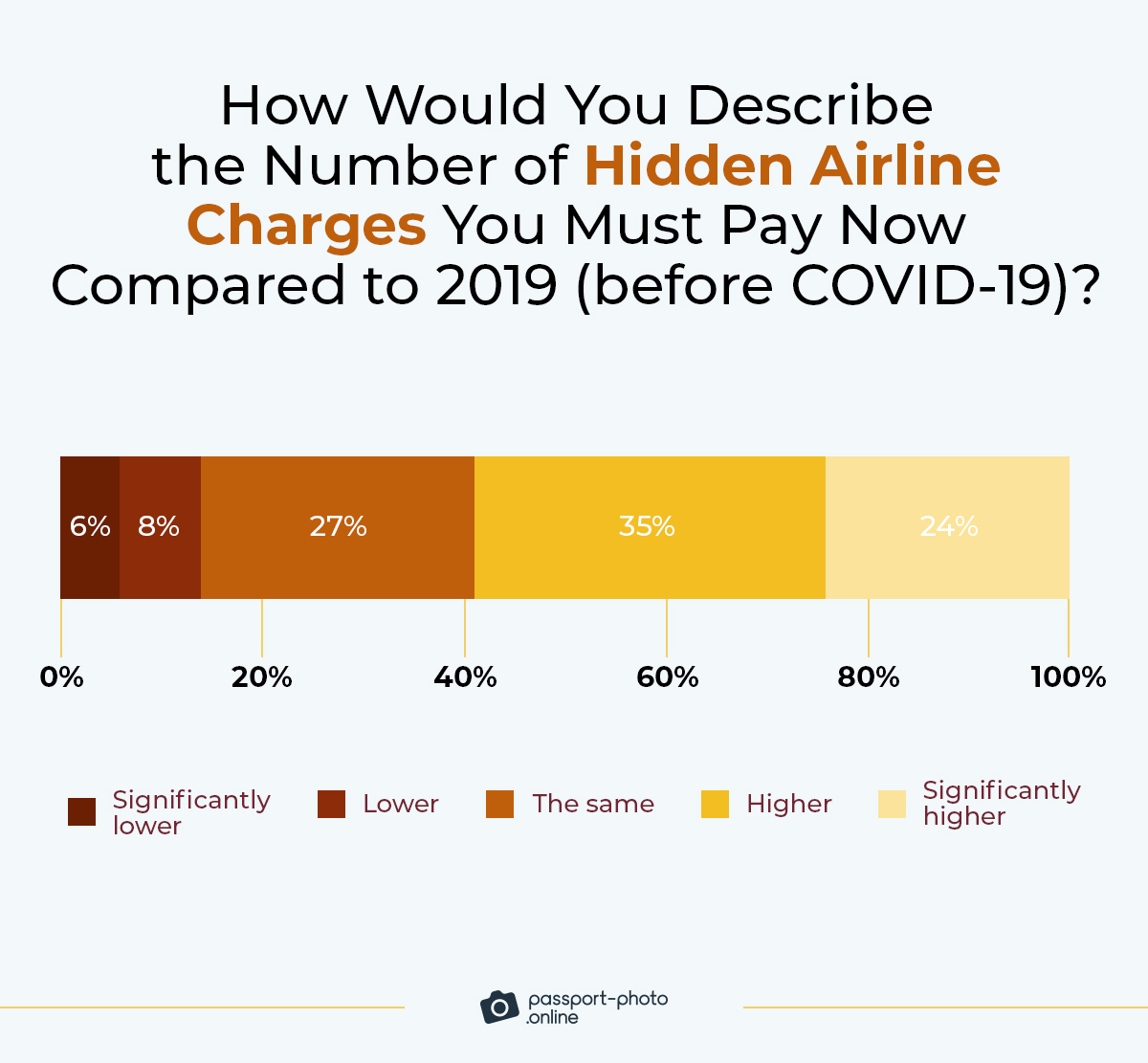 Luckily, there aren't many things left that we can be charged extra for, right?
Five Hundred Extra Because of Hidden Fees?
That's how much nearly a fifth of Americans (19%) have paid for covert airline fees. If it's any consolation, it's the highest airline charge they've ever had to pay.
Here's how the cost distribution looks across the board: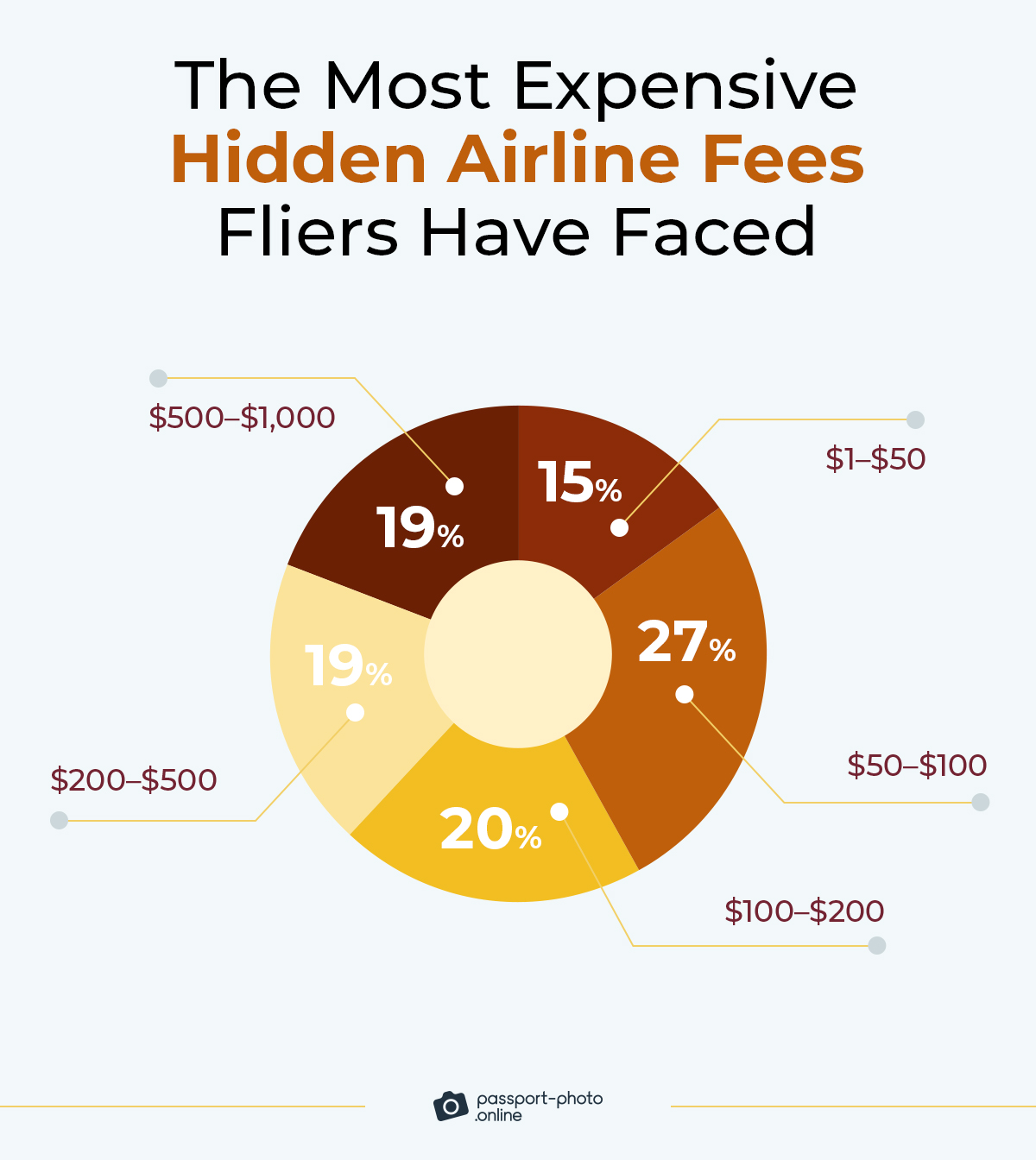 Nearly 42% of passengers had to pay less than $100 for their most expensive hidden fee.
That's not so bad.
Until you realize the remaining 58% have run into $100+ charges.
Hidden Fees Mostly Annoy Us
Imagine you're booking a flight to Miami.
You skipped seat selection (because you know you'd pay extra for it) and arrived at checkout.
Then you see it: your ticket doesn't come with carry-on baggage.
Now, you need to get back, search for that option and pay extra.
What's your reaction?
If you're any like our respondents, you'll grow annoyed (37%) and look for ways to avoid (36%) these added charges.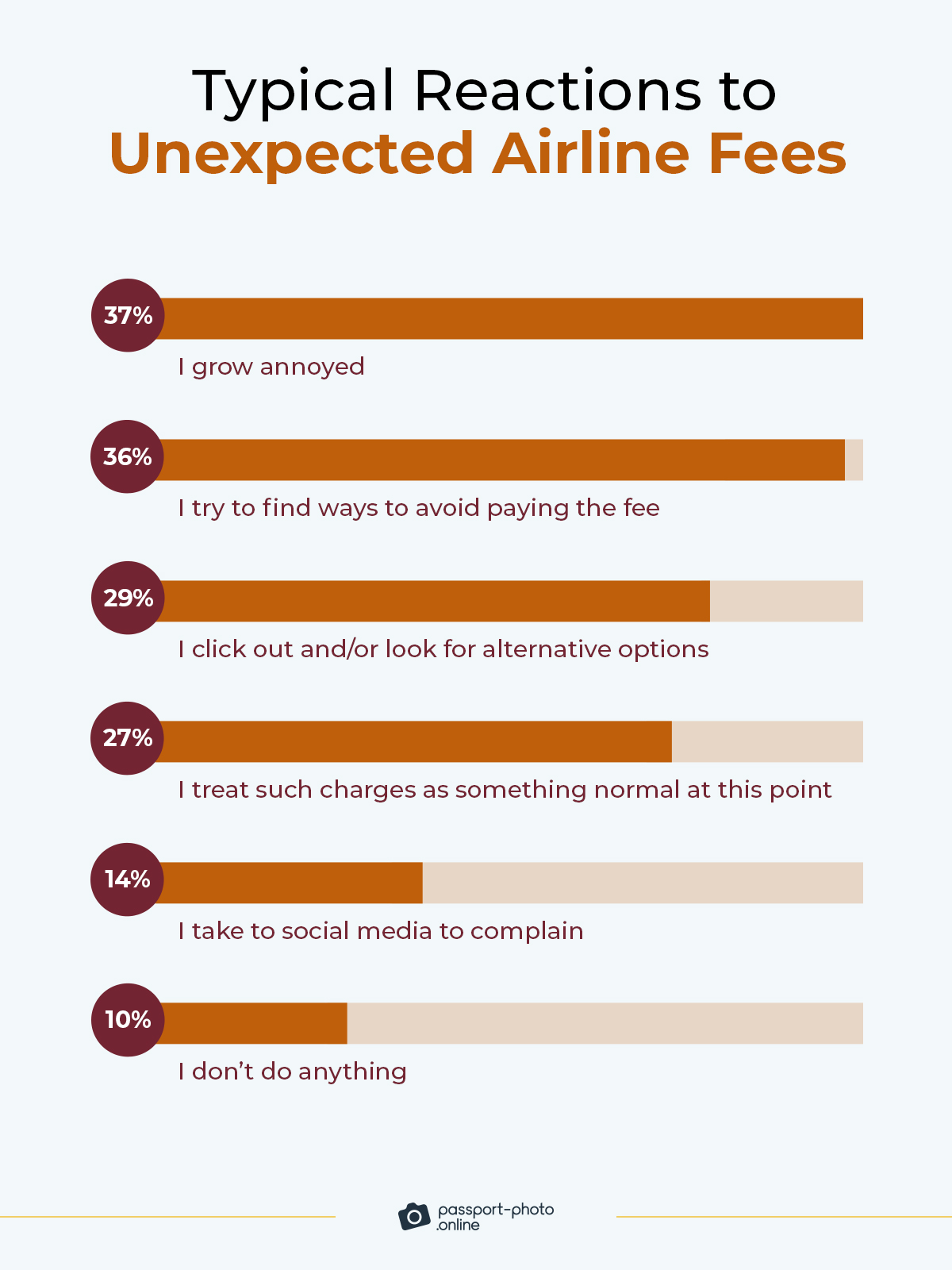 We can't blame you.
At the same time, nearly a third of passengers (27%) view such charges as normal at this point.
But should we accept things as they are?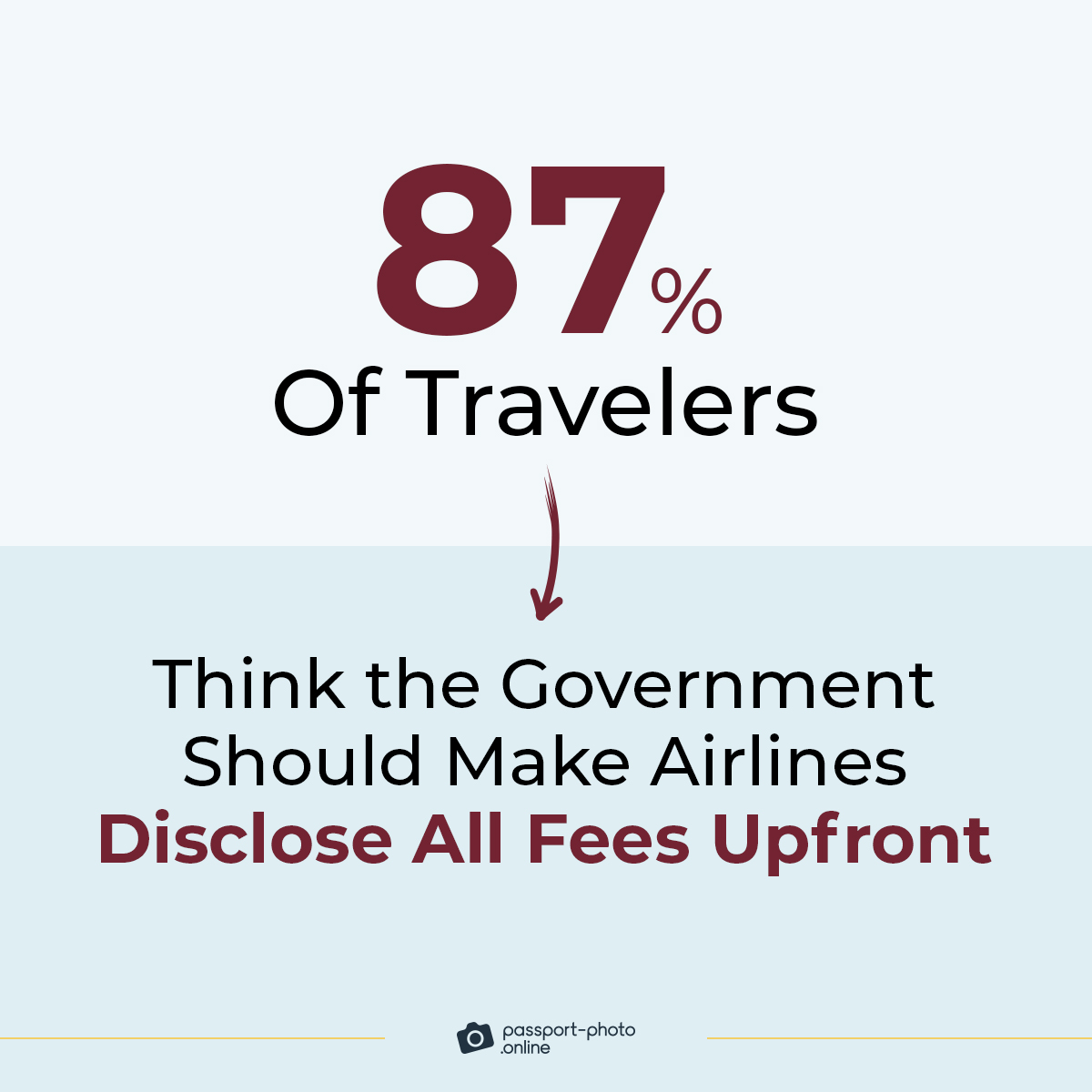 Roughly 87% of respondents agree or strongly agree that the Department of State should make airlines disclose all fees upfront.
Here's some good news: the government might do something about it.
On Monday, September 26, 2022, President Biden announced a new initiative to tackle the issue.
If the government succeeds, carry-on and checked baggage charges, among others, will have to be disclosed upfront.
For now, though, it's still just a proposal.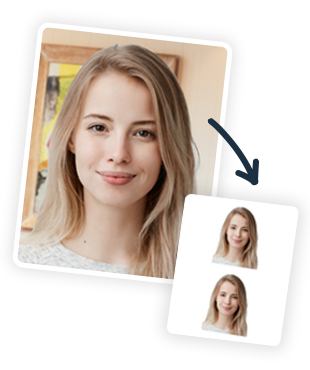 Do you need passport photos? Find out more:
The Most Annoying Hidden Airline Fees, Ranked
We've asked respondents to rate 20+ most common airline fees.
The results are in: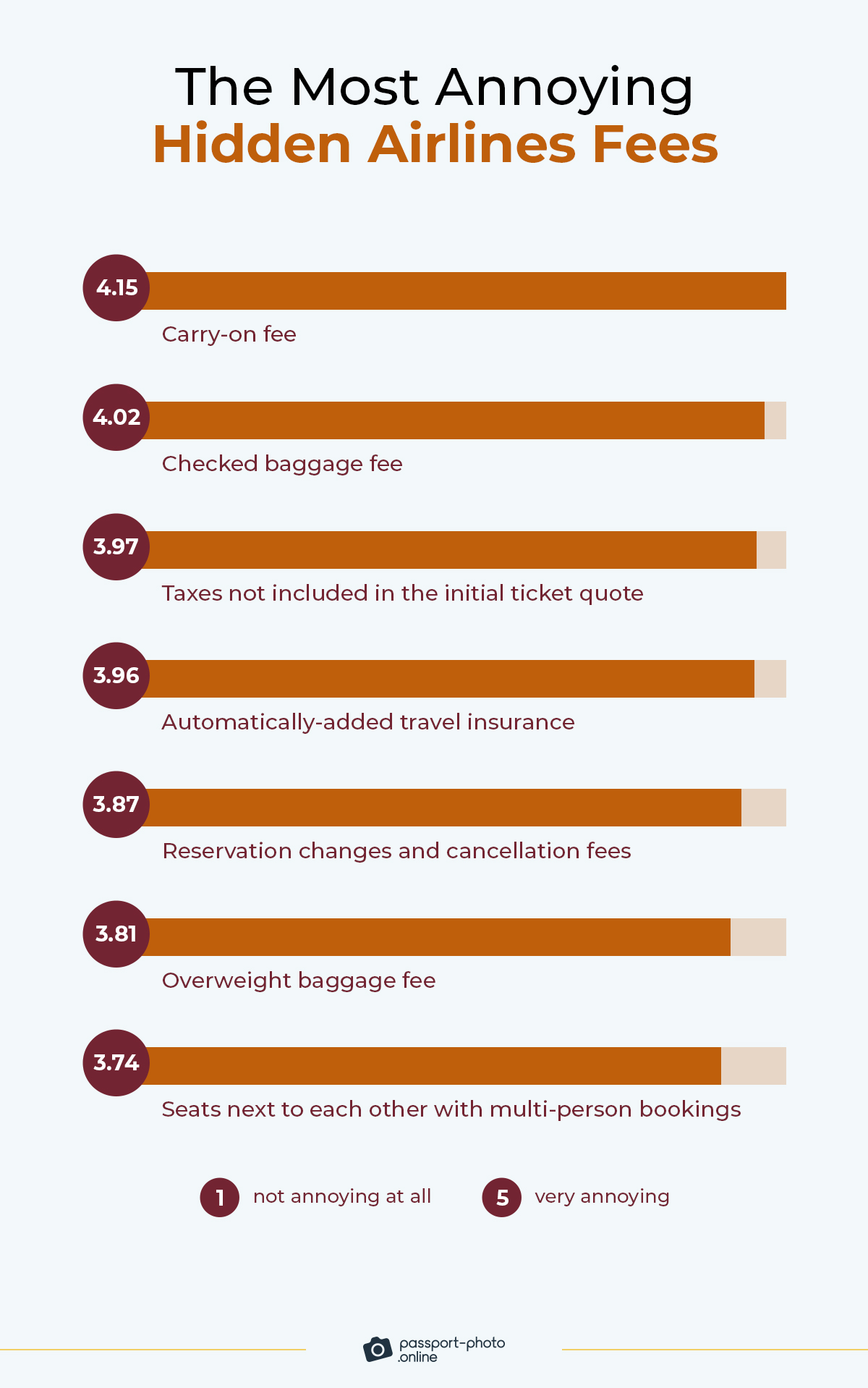 Here's how we calculated it:
We asked respondents to rate each fee on a scale of one (not annoying at all) to five (very annoying).
After calculating the average, we arrived at the final scores of the top three most-hated charges, as shown in the chart above.
Now—
If you want to see how all hidden fees compare, see the table below.
| Hidden Airline Fees | Average Annoyance Score |
| --- | --- |
| Carry-on fee | 4.15 |
| Checked baggage fee | 4.02 |
| Taxes not included in the initial ticket quote | 3.97 |
| Automatically-added travel insurance | 3.96 |
| Reservation changes and cancellation fees | 3.87 |
| Overweight baggage fee | 3.81 |
| Seats next to each other with multi-person bookings | 3.74 |
| Name change fee | 3.72 |
| Seat selection | 3.72 |
| Frequent flyer mile cancellation fee | 3.71 |
| Airport check-in | 3.71 |
| Booking a flight over the phone or in person | 3.70 |
| Airport and/or in-flight WiFi | 3.66 |
| Airport parking | 3.65 |
| Having one's boarding pass printed at the airport | 3.60 |
| In-flight non-alcoholic drinks | 3.56 |
| Access to in-flight entertainment devices | 3.55 |
| Food and goods in airports | 3.49 |
| In-flight pillow or blanket | 3.44 |
| Extra legroom | 3.35 |
| Auto check-in | 3.35 |
| A cab from the airport to one's destination and vice versa | 3.31 |
It turns out people don't mind the additional charge for comforts like legroom, auto check-in, or in-flight pillows and blankets.
What we hate is paying extra for travel basics, like baggage, and learning the actual ticket price only at checkout.
After all, airlines are the only carriers that make you pay for a suitcase on board.
Stacking It All Up
There you have it.
A look at hidden airline fees.
Now—
What's your take on undisclosed charges? Are they justified, or are they just a way for carriers to make extra profit?
Let us know in the comments.
Methodology
We conducted an online survey of 942 US respondents via a bespoke online polling tool in January 2023.
The respondents were 55.9% male, 43.5% female, and 0.6% identified as other. 10.1% of respondents were 25 or younger, 45.4% were aged 26–38, 32.5% were aged 39–54, and 12% were 55 or older.
This survey has a confidence level of 95% and a margin of error of 3%. Given the gender and age makeup of our sample size, the study's findings are statistically significant for the population at large.
This study was created through multiple research steps, crowdsourcing, and surveying. Data scientists reviewed all survey participants' responses for quality control. ​​The survey also had an attention-check question.
Fair Use Statement
Did our findings help you learn more about hidden airline fees? If you believe your audience will be interested in this information, feel free to share it. Just remember to mention the source and link back to this page.
Sources
Condé Nast Traveler, "Hidden Airline Fees May Soon Be a Thing of the Past"

CNN, "Biden Announces New Travel Rules to Fight Unnecessary Hidden Fees"

US Department of Transportation, "Enhancing Transparency of Airline Ancillary Service Fees"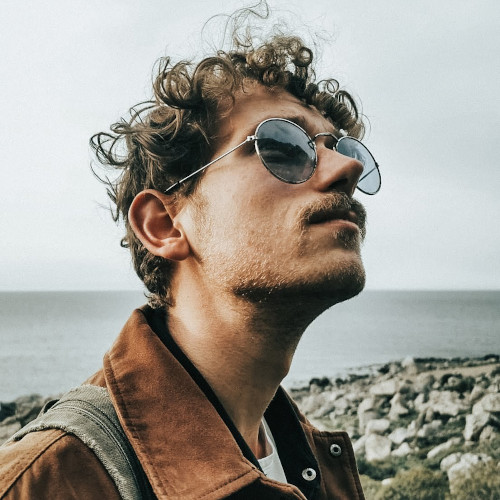 Adam is an SEO & Digital PR writer with a child's curiosity about the surrounding world. His superpower to dig out juicy facts got him citations in Forbes, Social Media Today, and 90+ other news outlets. Adam enjoys snapping pictures and won the national Huawei Next Image Award.