Think about it:
LinkedIn can provide a wealth of information about a person's conventional success metrics, like job title or potential salary.
Their profile picture is almost ALWAYS a clear shot of the face sans beauty filters and artsy angles. Plus, if you reach out and get rejected, you can always say you were just networking.
So—
With all these factors in play, we wanted to see if the platform has a dating underworld.
Read on for the gems we've uncovered from 1,000+ active female LinkedIn users from the US.
Key Takeaways
About 91% of female LinkedIn users have received romantic advances or inappropriate messages at least once.
Most out-of-line messages that slide into women's DMs are propositions for romantic or sexual encounters (31%).
When someone makes a move, female LinkedIn professionals (43%) usually confront and inform the sender they crossed the line.
Getting hit on LinkedIn typically makes women annoyed (14.75%), indifferent (13.42%), or confused (13.22%).
Around 43% of females using LinkedIn reported (on multiple occasions) users who tried to get all flirty.
Nearly 74% of women on LinkedIn have at least once dialed down their activity on the platform due to others' improper conduct.
Most Women Are No Strangers to Getting Hit on LinkedIn
LinkedIn doesn't want its users to mix business with pleasure.
They go as far as to say they're a professional networking platform, not a dating site, in their community policies.
Yet—
When we asked American women if they'd ever received romantic advances or inappropriate messages on LinkedIn, 91% said, "Yes."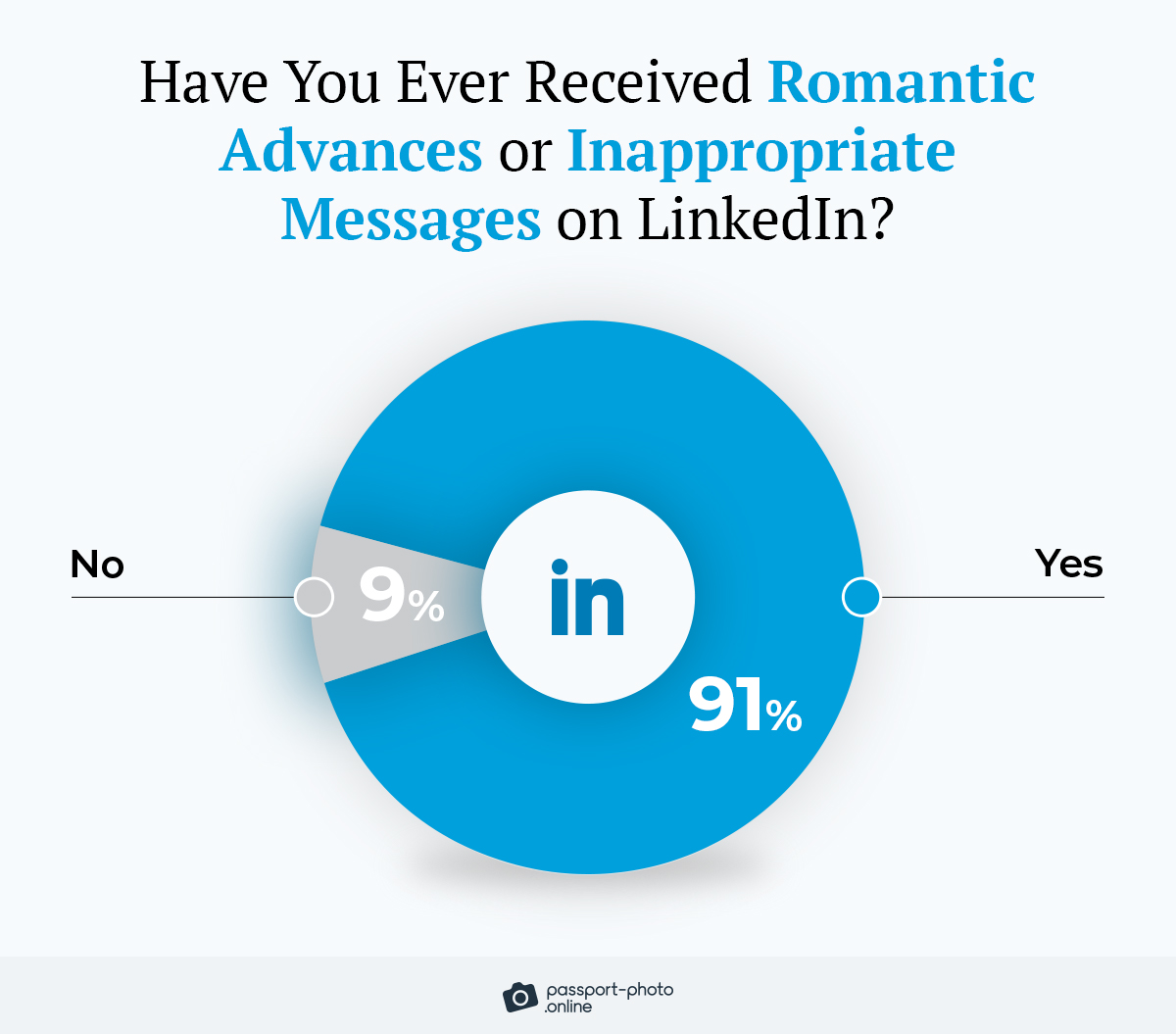 We then followed up with the respondents, who answered in the affirmative, and asked them how often it happens.
The results are in:
| How Often Do You Receive Romantic Advances or Inappropriate Messages on LinkedIn? | Share |
| --- | --- |
| Occasionally (monthly) | 30.23% |
| Very often (daily or every other day) | 24.39% |
| Often (weekly) | 20.8% |
| Rarely (a few times a year) | 17.01% |
It seems that some users can't help but take things to the next level.
One of our survey takers put it best:
It's amusing how my inbox is flooded with more messages from guys trying to hit on me than I receive from people seeking to network. I guess my charm and business acumen are just too irresistible for some!
With this, here's the nature of the messages being sent: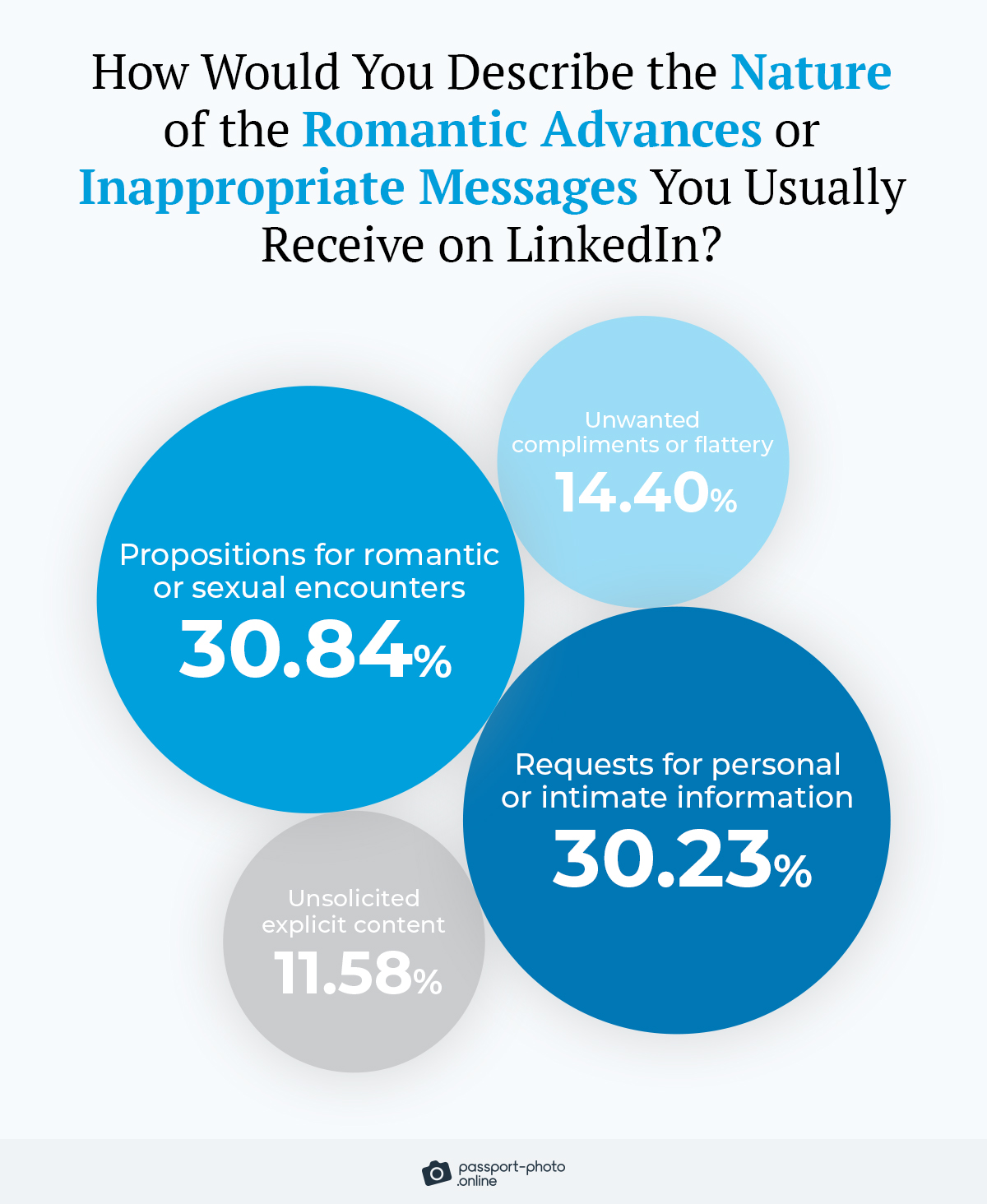 "Propositions for romantic or sexual encounters" topped the list with 30.84% of the vote.
Perhaps that's liquid electronic courage in action—a phenomenon where people feel braver to do or say things online that they wouldn't in person.
Yet, it neither excuses the behavior nor complies with LinkedIn's policies.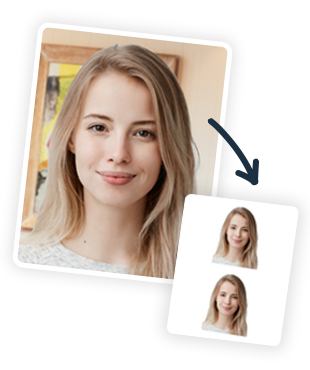 Looking for passport photos? Discover more information:
Female Professionals Typically Grow Annoyed by Unwanted Attention
Picture this:
You're scrolling through your LinkedIn feed. A moment later, you get a message from a stranger that's WAY out of line.
What do you do?
Our research shows that most women don't let it slide.
Have a look:
| How Do You Typically React to Romantic Advances or Inappropriate Messages on LinkedIn? | Share |
| --- | --- |
| Respond to the sender, clarifying that the message was inappropriate | 43.44% |
| Ignore and/or delete the message | 22.95% |
| Report/block the user | 17.21% |
Yet—
Such occurrences can stir up a range of emotions: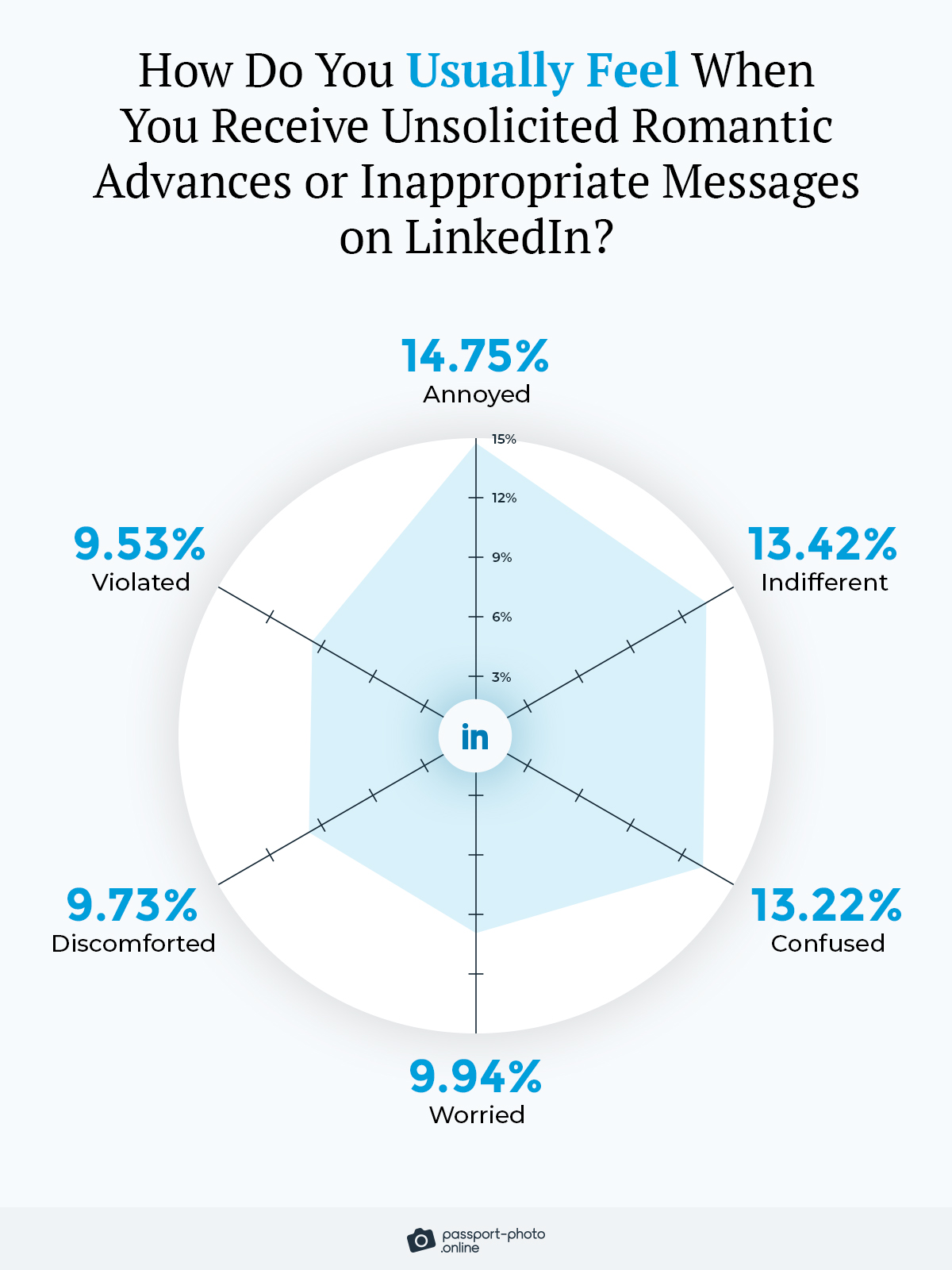 The takeaway?
Unless you want to irk others or even make them feel violated, think twice before hitting that "send" button.
Improper Conduct Pushes Some Users To Disconnect From LinkedIn
When someone slides into your DMs with something off-putting, you can report them.
Based on our survey results, most women don't shy away from doing that (rightfully so.)
Have a look:
| Have You Ever Reported a User on LinkedIn for Sending Romantic Advances or Inappropriate Messages? | Share |
| --- | --- |
| Yes, multiple times | 43.24% |
| Yes, once | 36.58% |
| No, I haven't reported any incidents | 9.53% |
But—
At a certain point, it's not hard to see how such incidents can get tiresome.
So we asked survey respondents if they'd ever felt the need to dial down their activity on the platform due to unsolicited attempts at romance.
Here's what we found out: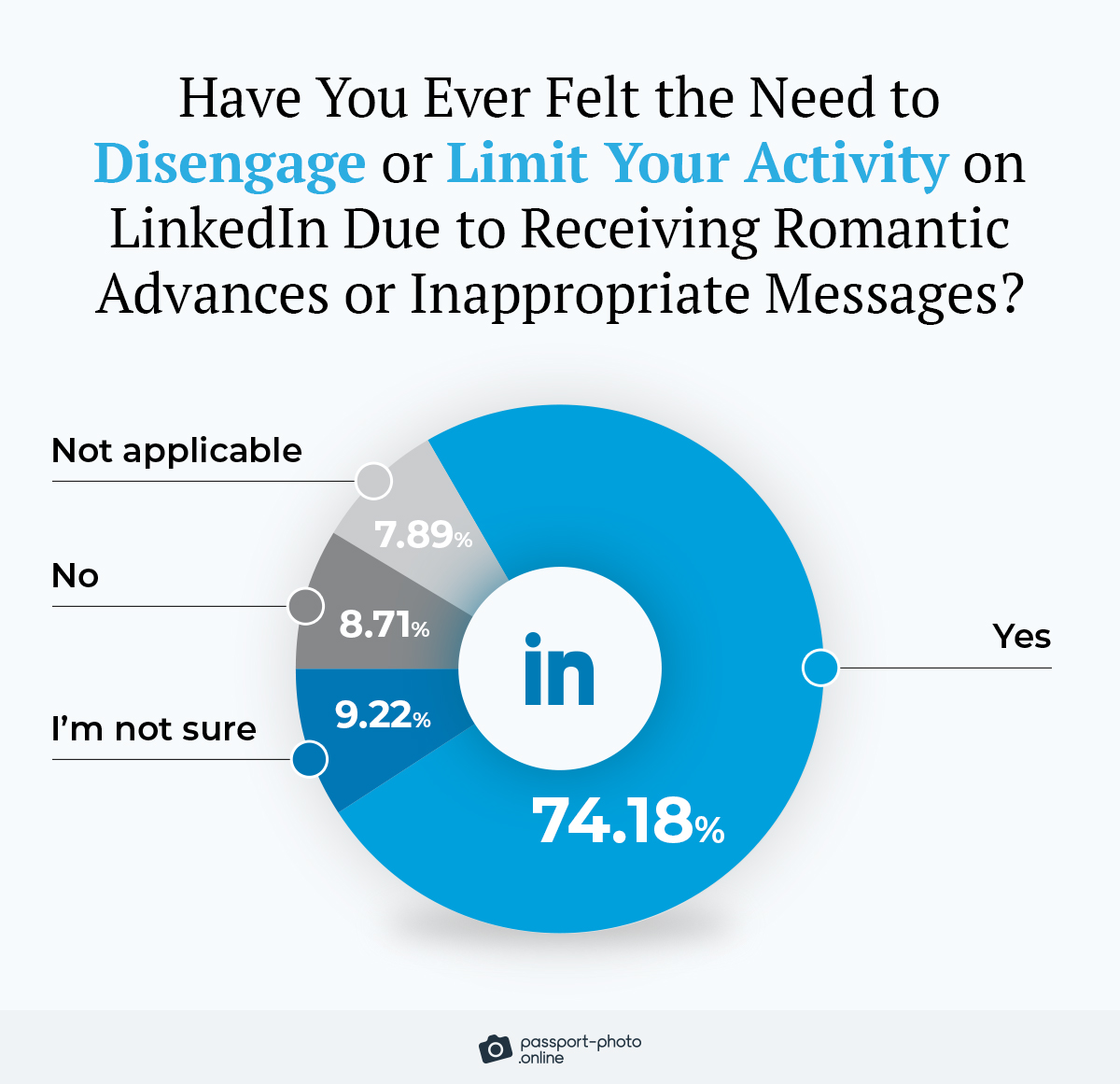 One of our survey takers added:
I've had a few too many instances where people took it too far. It's uncomfortable, so I ended up taking a break from LinkedIn for a while.
Now—
As our last question, we asked Americans what LinkedIn should do to prevent some people from treating the platform like a dating app.
Below are the results:
| What Actions Do You Think LinkedIn Should Take to Address the Issue of Unsolicited Romantic Advances or Inappropriate Messages? | Share |
| --- | --- |
| Increase awareness and education about appropriate behavior | 39.04% |
| Implement stricter guidelines and policies | 25.61% |
| Ban users who repeatedly send inappropriate messages | 22.34% |
That's just some food for thought for the folks at LinkedIn!
Stacking It All Up
There you have it.
A comprehensive look at LinkedIn's dating underworld.
Now—
Have you ever had someone on LinkedIn cross the line?
Let us know in the comments below.
Methodology
We conducted an online survey of 1,049 US female LinkedIn users who log in to the platform at least once per week via a bespoke online polling tool in May 2023.
16.5% of respondents were 26 or younger, 68.5% were aged 27–42, 14.1% were 43–58, and 0.8% were 59 or older.
This survey has a confidence level of 95% and a margin of error of 3%. Given the age makeup of our sample size, the study's findings are statistically significant for the population at large.
This study was created through multiple research steps, crowdsourcing, and surveying. Data scientists reviewed all survey participants' responses for quality control. ​​The survey also had an attention-check question.
Fair Use Statement
Did our findings help you learn more about LinkedIn's dating underworld? If you believe your audience will be interested in this information, feel free to share it. Just remember to mention the source and link back to this page.
Sources
Glamour, "Of Course People Are Using LinkedIn as a Dating Site"

Insider, "Some Are Using Tinder for Work and Linkedin to Find Love"

LinkedIn, "LinkedIn Professional Community Policies"

The Bold Italic, "I Used LinkedIn as a Dating Site, and It Worked Better Than Real Dating Sites"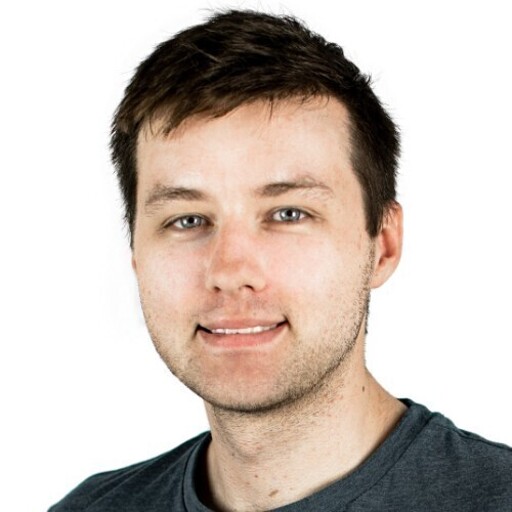 Max Woolf is a writer and travel lover at Passport Photo Online. His insights, advice, and commentary have been featured in Forbes, Inc., Business Insider, Fast Company, Entrepreneur, BBC, MSN, NBC, Yahoo, USA Today, Fox News, AOL, The Ladders, TechRepublic, Reader's Digest, Glassdoor, Stanford, G2, and 300+ other outlets.