We all know America is a great place to live.
But—
Which of the 50 states offer the crème de la crème living conditions?
To find out, we crunched data from various sources, looking at five key metrics: crime, economy, healthcare, education, and weather.
Scroll on to see how all states compare.
Table of Contents
Best and Worst Places to Live In America: All 50 States, Ranked

*Except for "Total Score," all of the columns in the table show the relative rank of each state, where a rank of one represents the best conditions for that specific metric category.
Top 5 Most Livable States
Massachusetts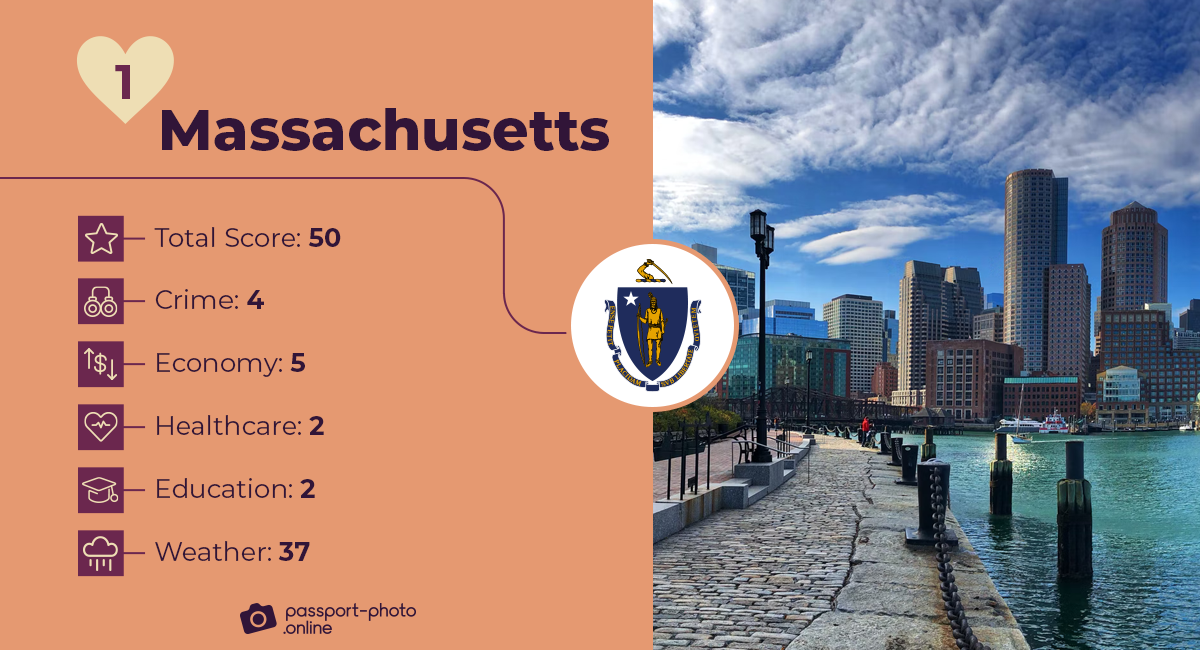 Overall Rank: 1
Total Score: 50
Crime: 4
Economy: 5
Healthcare: 2
Education: 2
Weather: 37
If you're looking for a place to put down roots, there's no better state than Massachusetts.
The Bay State has it all: beautiful scenery, rich history, excellent schools, and vibrant cultural life.
Add to that a low crime rate and a thriving economy, and it's no wonder Massachusetts turned out to be the most livable state in America in 2022.
If you're still not convinced, here are a few fun facts about Massachusetts that might help tip the scales in its favor:
The first public beach in the United States was opened in Massachusetts in 1896. It's called Revere Beach and is still a popular spot for locals and visitors alike.
Ruth Wakefield invented the first chocolate chip cookie in Massachusetts in 1937.
The town of Harvard is home to the oldest library in America, founded in 1638.
Related readings:
Utah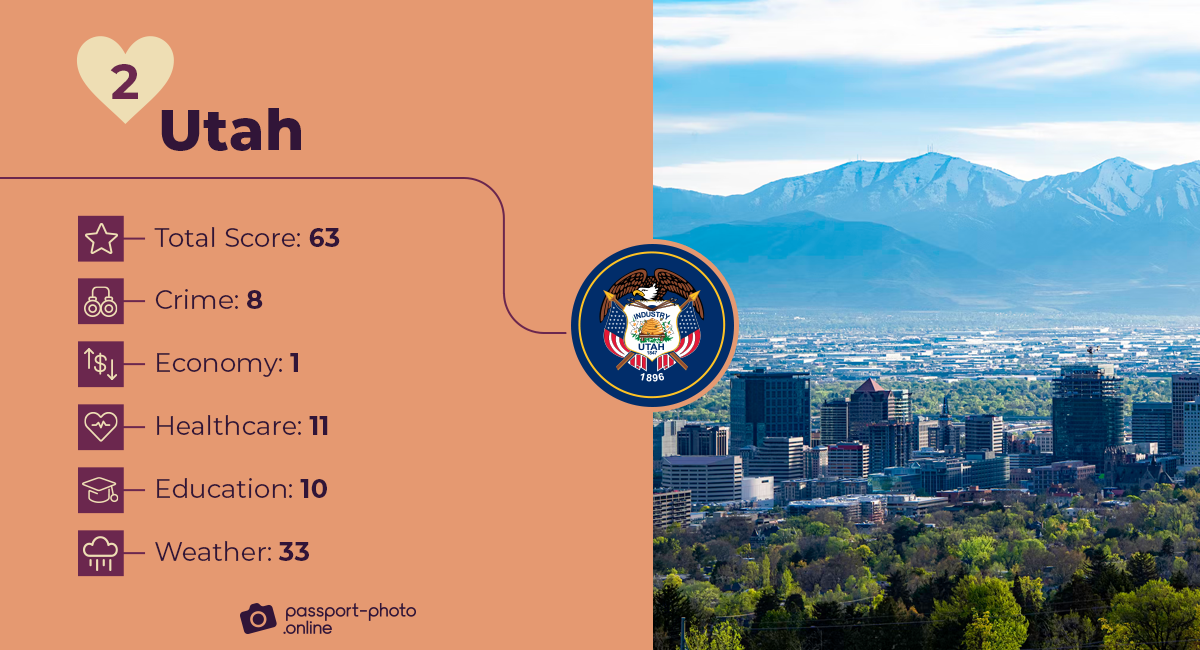 Overall Rank: 2
Total Score: 63
Crime: 8
Economy: 1
Healthcare: 11
Education: 10
Weather: 33
The Beehive State comes second as the most livable state in North America.
What makes it so great?
Utah's economy is booming, thanks partly to the state's thriving tech sector.
But it's not just about the job market. The state also boasts some of the country's lowest crime rates, affordable housing, and top-notch schools.
And, of course, let's not forget about the state's natural beauty. With its majestic mountains and stunning desert landscapes, it's no surprising Utah is such a desirable place to live.
Virginia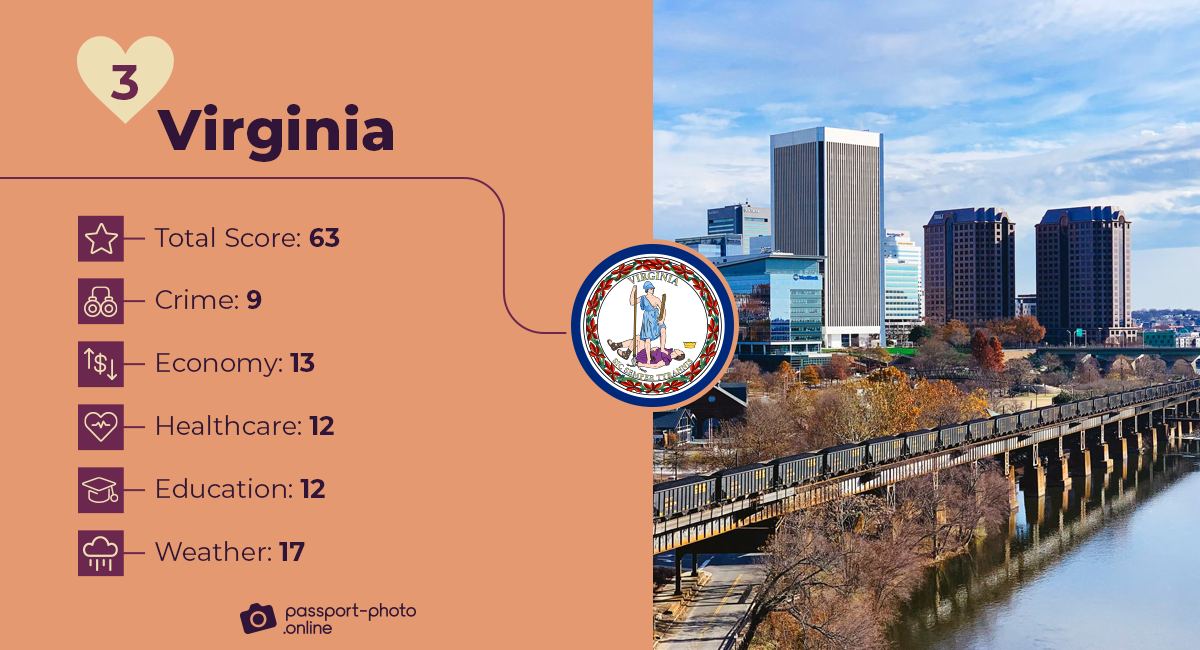 Overall Rank: 3
Total Score: 63
Crime: 9
Economy: 13
Healthcare: 12
Education: 12
Weather: 17
As far as the total score is concerned, Virginia ties with Utah.
The main difference between the two states is that Virginia offers better weather conditions, boasting an average annual temperature of 55.1°F vs. 48.6°F in Utah.
But—
The Beehive State annihilates Virginia when it comes to the economy, ranking number one across the country.
That said, Virginia is still one of the most livable states in America, with its beautiful scenery and rich history.
The state is also home to numerous colleges, universities, and a thriving business community. In addition, Virginia boasts a low crime rate, which is always a good thing.
So it's no wonder lots of people choose to make Virginia their home.
Florida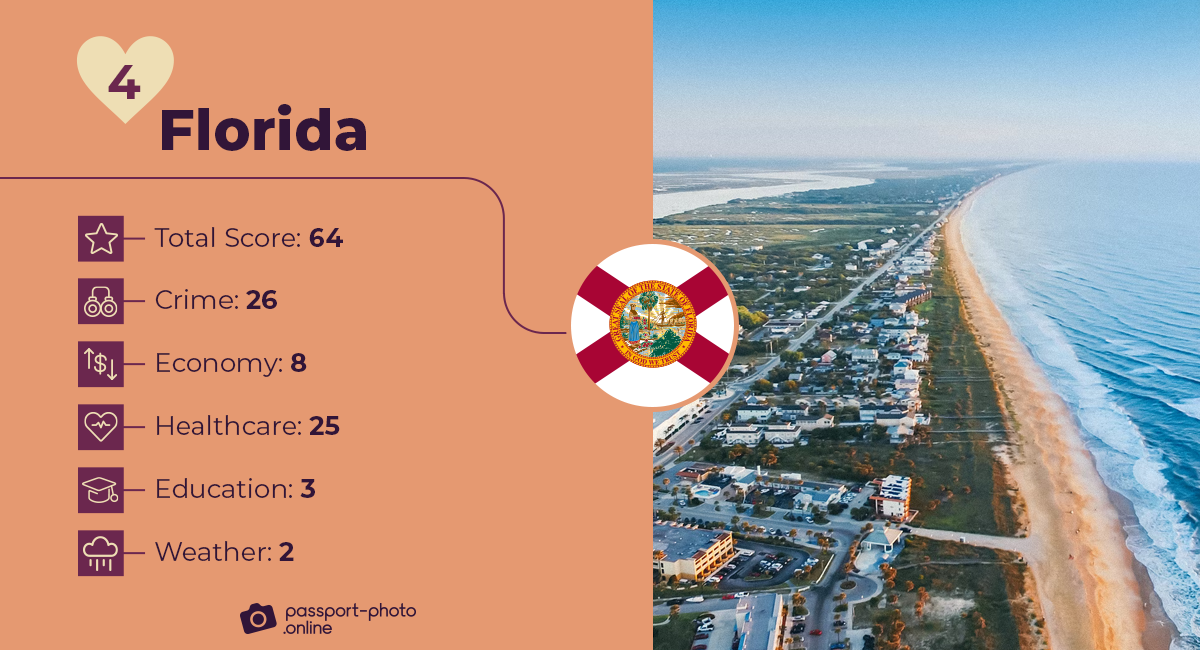 Overall Rank: 4
Total Score: 64
Crime: 26
Economy: 8
Healthcare: 25
Education: 3
Weather: 2
Florida is the fourth most livable state in America.
That's not bad for a state best known for its beaches, theme parks, and retirement communities.
But—what makes Florida so livable?
For starters, it has a great climate. The weather is warm year-round, and there's no shortage of sunshine.
Two, the state is packed with top-notch institutions, from the small liberal arts colleges of the Panhandle to the large research universities of South Florida. And, of course, there are famous Sunshine State universities like the University of Florida and Florida State University.
Thus, it's hard not to see why so many people flock to Florida.
Washington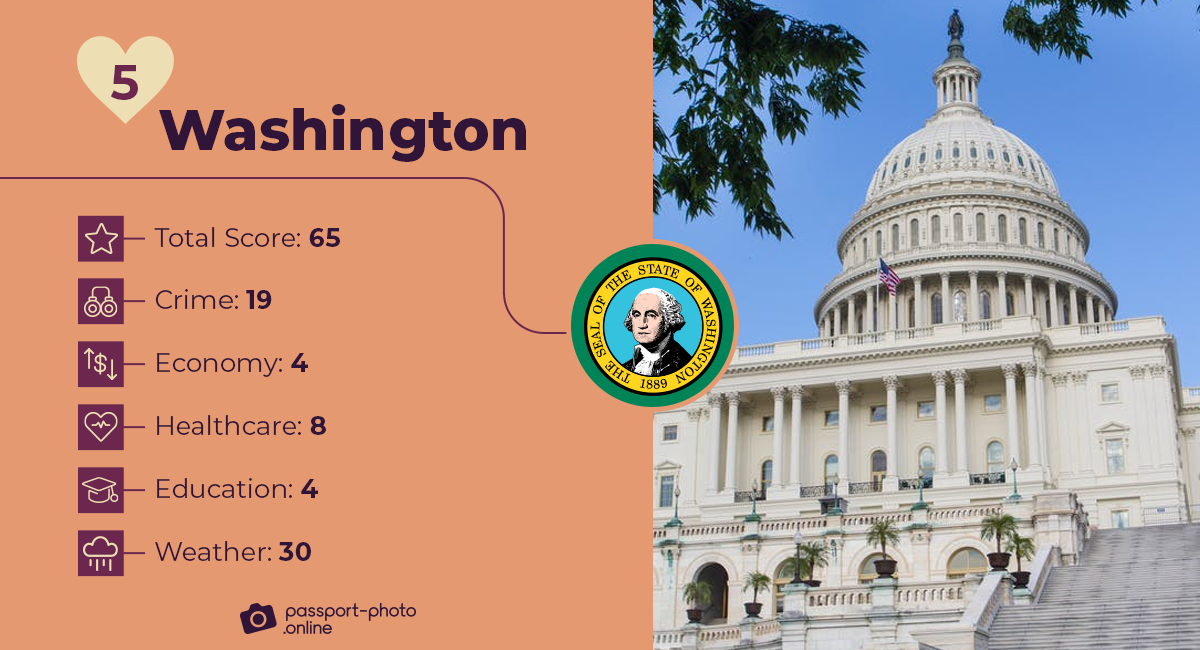 Overall Rank: 5
Total Score: 65
Crime: 19
Economy: 4
Healthcare: 8
Education: 4
Weather: 30
Last but not least, there's Washington.
The state is home to bustling cities, beautiful national parks, and some of the best coffee in the country, offering a little something for everyone.
Washington also ranks well across the board. There are plenty of jobs available in a variety of industries. The education system is excellent, with many top-ranked schools and universities. Moreover, the healthcare system is among the best in the country.
All these qualities make Washington a wonderful place to call home.
Stacking It All Up
There you have it!
A 2022 ranking of America's most and least livable states.
Now—
How did your home state rank? Do you plan on moving to a more livable place any time soon?
Let us know in the comment section below.
Methodology
Passport Photo Online examined World Population Review's 2022 data on America's most livable states, which compared 50 states across four key metrics: crime, economy, healthcare, and education. We then used USA.com's average daily temperature data for each state and ranked them according to all five dimensions.
Fair Use Statement
Did you like our ranking? If so, feel free to share it with your audience. Just remember to mention the source and link back to this page.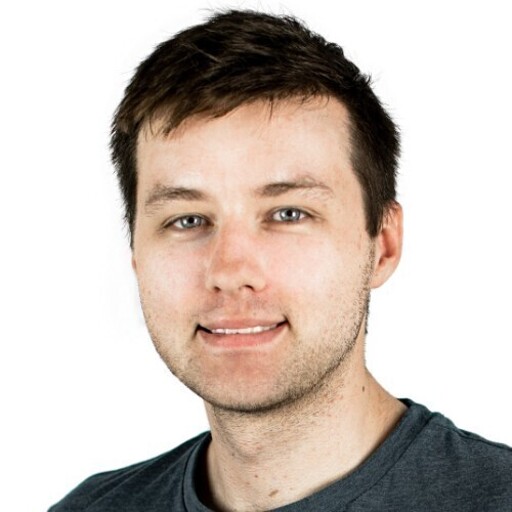 Max Woolf is a writer and travel lover at Passport-Photo.Online. His insights, advice, and commentary have been featured in Forbes, Inc., Business Insider, Fast Company, Entrepreneur, MSN, NBC, Yahoo, USA Today, Fox News, AOL, The Ladders, TechRepublic, Reader's Digest, Glassdoor, Stanford, G2, and 200+ other outlets.