Vacation is a time to decompress and shed your everyday skin.
Yet—
Switching back to work mode after a break is often BRUTAL.
Your motivation plummets, your focus wavers, and opening Slack is akin to opening the gates of Mordor.
So, at Passport Photo Online, we've decided to take a closer look at this phenomenon.
We've surveyed 1,000+ full-time US employees to understand the prevalence of post-vacation blues, their impact on job performance, tactics to beat them, and more.
Let's dig in:
Key Takeaways
Following an extended break, the most commonly experienced symptoms are a lack of motivation (27%), sadness (21%), and wanderlust (21%).
The leading factors contributing to post-travel depression are money (40%), difficulty readjusting to work schedules (39%), and long travel times/jet lag (38%).
Mindfulness (34%), exercise (34%), and continuing vacation habits (27%) are favored tactics to ward off post-vacation blues.
It usually takes up to one week to acclimate after a long trip.
Post-vacation, US workers struggle with concentration (40%), increased tardiness/absences (30%), and lower job satisfaction (29%).
More than half of employees (57%) have toyed with the idea of quitting after a break.
Americans yearn for a smoother post-vacation transition at work: flexible hours (48%), deadline leniency (40%), and initial WFH days (34%) top their wish list.
Most Americans Take into Account the Vacation Aftermath
As a nation, we're notorious for not taking enough vacation days.
In fact, Pew Research Center recently found that only 48% of US workers use all their time off.
So—
From our end, we wanted to dive deeper into the underlying reasons for vacation avoidance and see if post-vacation blues have a role to play.
The results are in: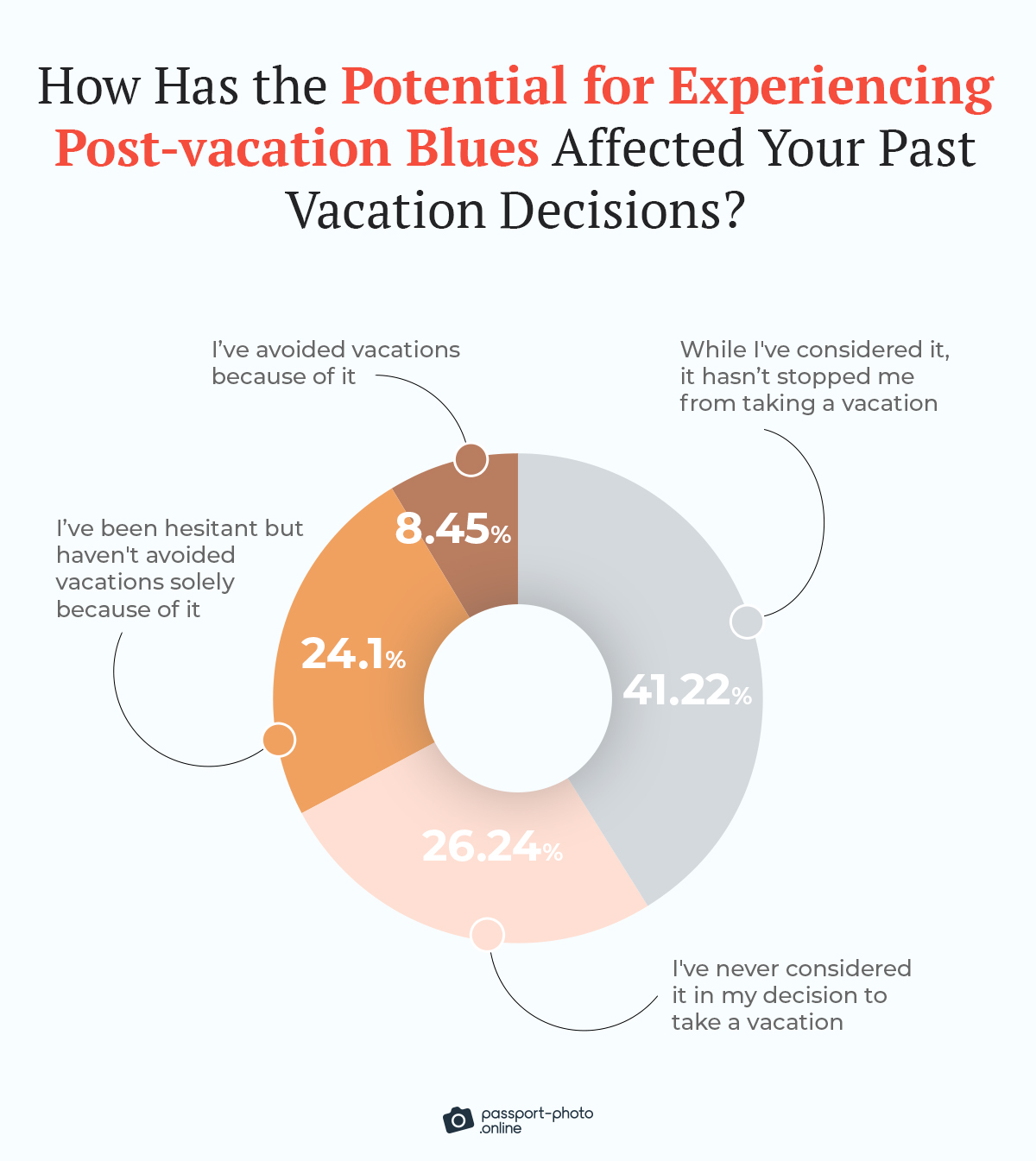 It turns out the majority of people (65%) do consider the after-effects of a vacation. But only a small fraction of Americans (8%) actually miss out on their much-deserved breaks because of them.
Here's how often the latter have done it:
| How Many Times Have You Avoided Leisurely Trips Due to the Potential for Experiencing Post-Vacation Blues? | Share |
| --- | --- |
| Several times (3–5 times) | 37.33% |
| Once or twice | 21.33% |
| Regularly (more than 10 times) | 20% |
| Often (6–10 times) | 12% |
| I can't recall the exact number | 9.33% |
Now—
In our next section, we'll uncover the symptoms of post-vacation blues.
Back from Travel: Expect a Lack of Motivation, Sadness, and Wanderlust
Most of us go on vacation to recharge our batteries and return to work with a newfound sense of purpose and vigor.
Except—
The aftermath of some leisurely trips can sometimes bring the opposite effect.
Have a look: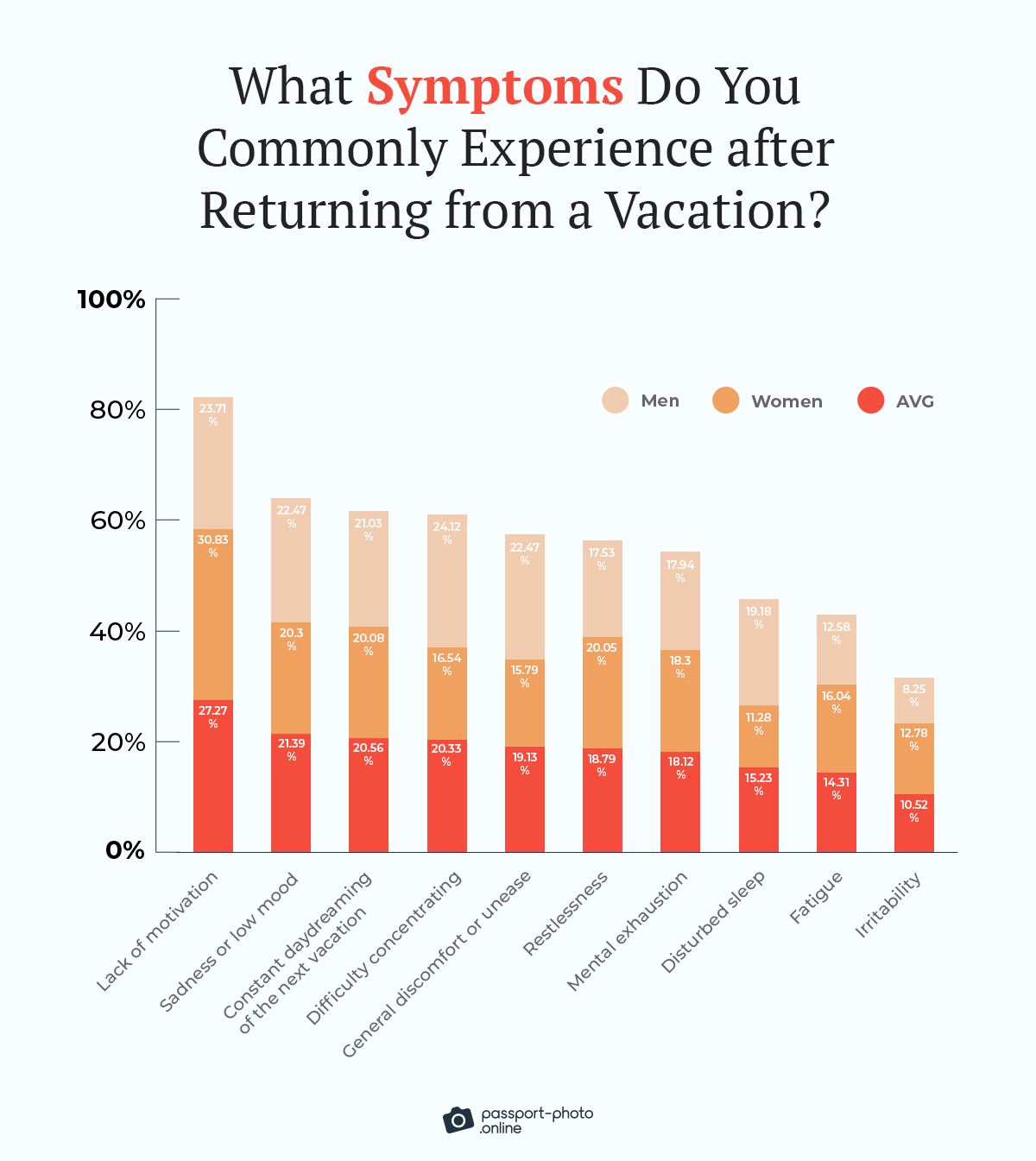 The takeaway?
People often experience a lack of motivation (27%), sadness (21%), and daydreaming about the next vacation (21%) when they return from one.
Interestingly, men and women experience these post-vacation symptoms differently.
Males are more likely to experience difficulty concentrating (24%), general discomfort (22%), and disturbed sleep (19%). In contrast, women are more prone to a lack of motivation (31%), restlessness (20%), fatigue (16%), and irritability (13%).
Do any of these symptoms resonate with you?
Let us know in the comments below.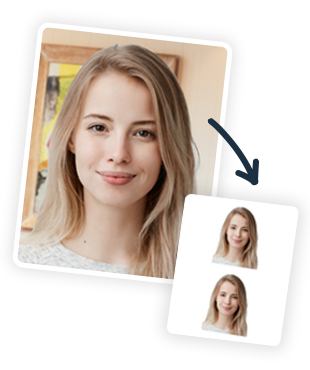 Do you need passport photos? Find out more:
Money Is the Leading Culprit behind Post-Vacation Blues
So far, so good.
Now that we've established the symptoms of post-vacation blues, let's examine the factors contributing to them.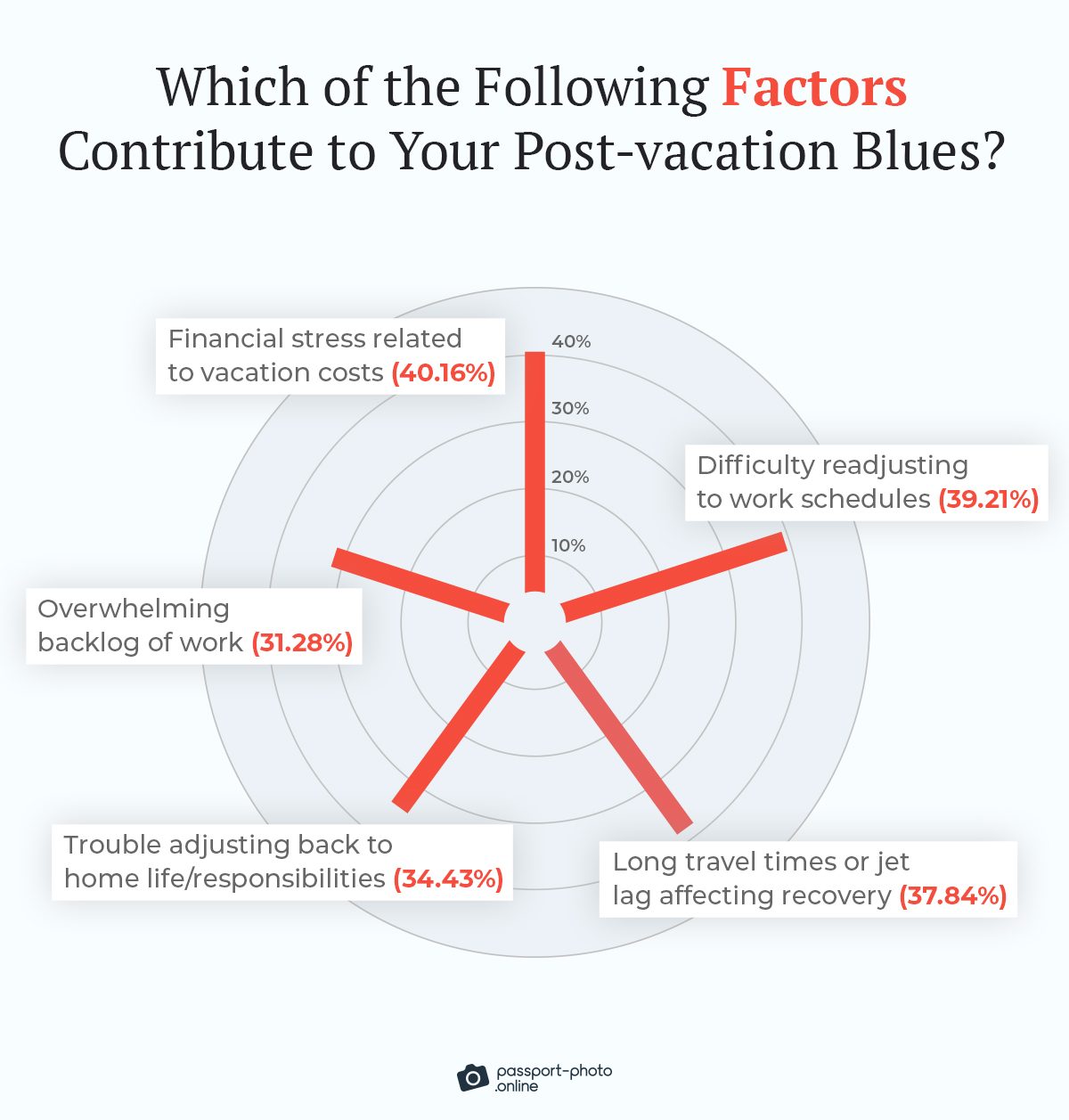 Money is the #1 cause of post-vacation blues, cited by 40% of respondents.
That makes sense.
After all, it's not uncommon to overspend on trips and return home with a bigger-than-expected dent in your bank account.
Why?
There are several reasons:
Currency differences: the difference in currency value can trick you into thinking you have more money to spend than you do.
"Now-or-never" spending: the feeling of time running out while on vacation can lead to impulse purchases (e.g., a unique souvenir or expensive dinner).
Social media influence: seeing friends' travel experiences on social media can lead to increased spending, particularly among youngsters.
Misjudged budgeting: if you've budgeted too much and have a surplus towards the end of your trip, you may be more likely to splurge on your last days.
Vacation as an exception: the everyday financial restrictions and responsibilities may not seem applicable while on vacation, leading to higher expenditures.
With this, let's move on to the next part of our study.
It Takes Up to a Week to Recalibrate and Bounce Back at Work
As mentioned earlier, most of us can't flip a switch and start firing on all cylinders at work following a break.
In fact, it usually takes up to ONE week to readjust and return to one's normal routine, based on our findings.
Have a look:
| How Long Does It Typically Take to Readjust and Return to Your Normal Routine after a Vacation? | AVG | Gen Zers | Millennials | Gen Xers | Baby Boomers |
| --- | --- | --- | --- | --- | --- |
| 1 week | 31.31% | 28.02% | 34.11% | 33.68% | 29.41% |
| Less than a week | 29.01% | 25.68% | 31.01% | 27.98% | 31.37% |
| 2 weeks | 19.12% | 22.18% | 15.5% | 19.17% | 19.61% |
| More than 2 weeks | 12.03% | 17.51% | 12.4% | 10.36% | 7.84% |
| I don't usually experience difficulty readjusting after a vacation | 6.14% | 3.89% | 4.65% | 6.22% | 9.8% |
Interestingly, Gen Zers need more time than other generations, while Baby Boomers are the most likely to have no difficulty readjusting.
Now—
Before acclimatization is complete, however, some changes in job performance can occur.
Have a look: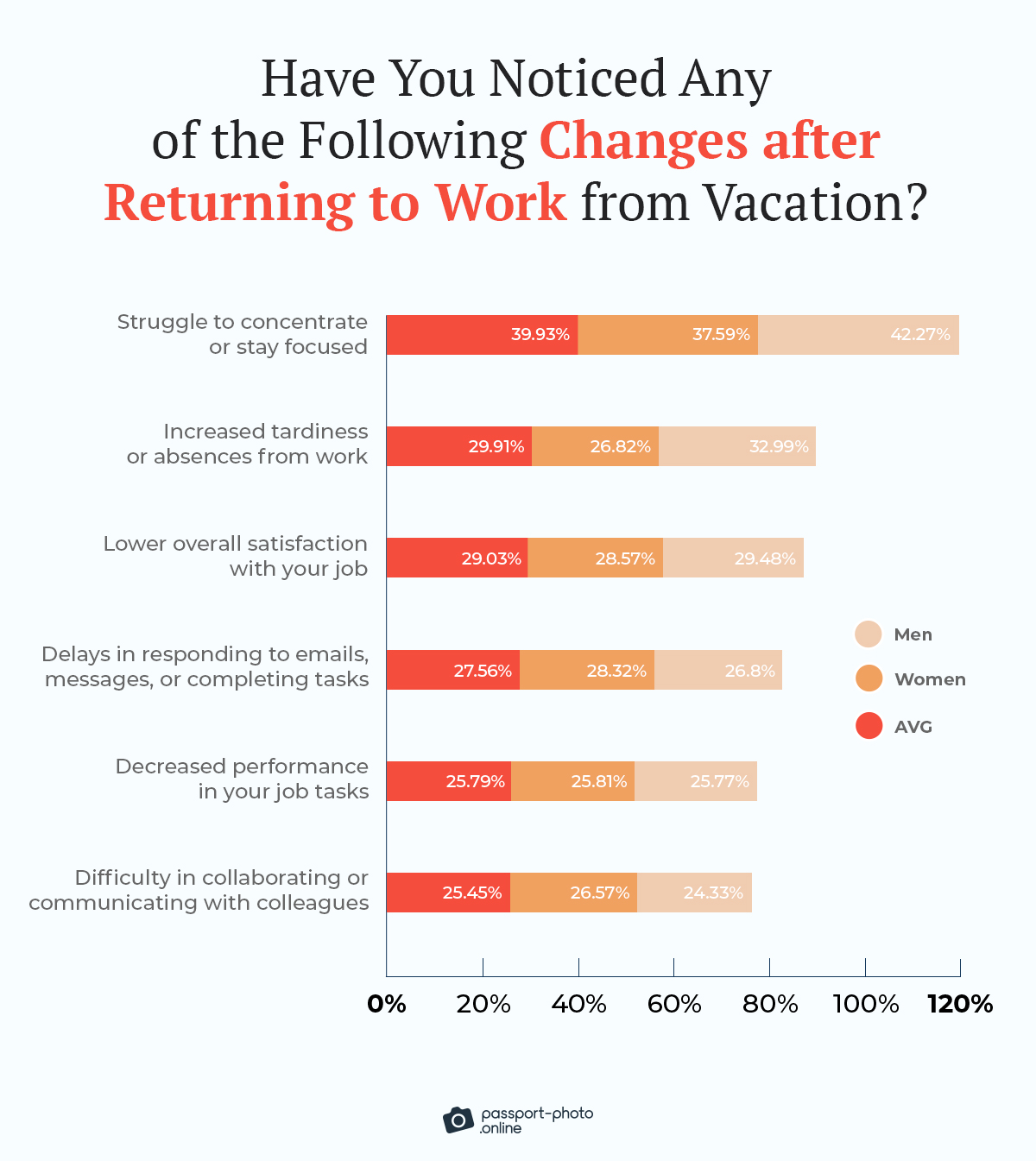 As you can see, post-vacation, many struggle with concentration (40%). This is a slightly bigger issue for men (42%) than women (38%).
The other two most common issues are increased tardiness/absences (30%) and lower job satisfaction (29%).
Speaking of the latter, we asked survey respondents if they'd ever experienced feelings of wanting to leave their job after returning from vacation.
Below are the results:
| Answer | AVG | Women | Men |
| --- | --- | --- | --- |
| Yes | 56.91% | 51.13% | 62.68% |
| No | 34.06% | 37.59% | 30.52% |
| I'm not sure | 9.04% | 11.28% | 6.8% |
Of course, most Americans don't actually quit because of post-vacation blues.
But—
It goes to show how much of an impact this mood can have.
Mindfulness: The Go-To Strategy to Beat Post-Vacation Blues
So, what can we do to mitigate post-vacation blues?
To find out, we gave Americans a list of popular strategies and asked them to pick the ones they use to make the transition back to everyday life after a vacation easier.
Below are the results: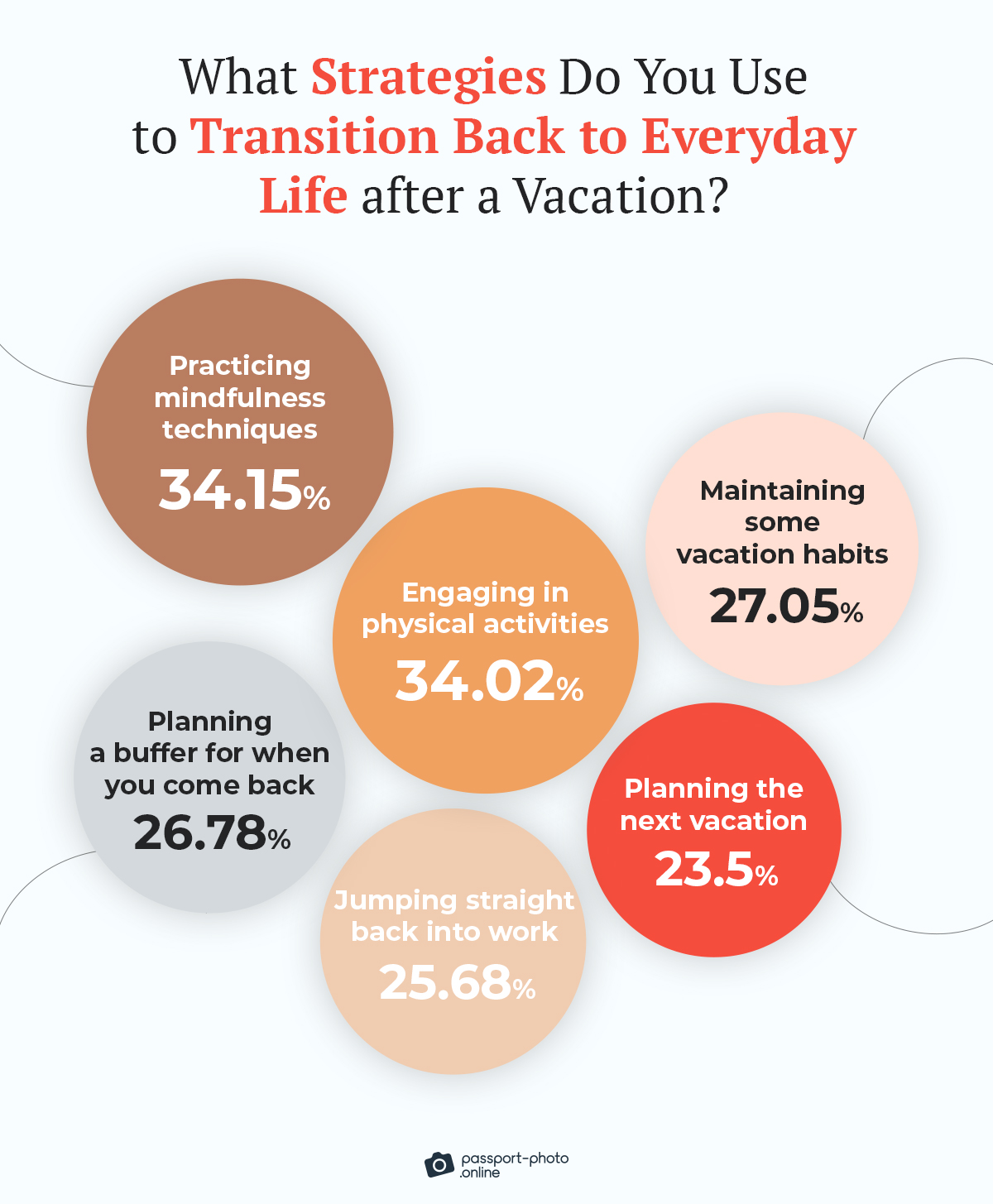 As you can see, "practicing mindfulness techniques" (34%) took the lead.
That figures.
By tuning into your senses and grounding yourself in the present, you can manage stress, decrease anxiety, and cultivate a sense of peace and calm.
In second and third place are "engaging in physical activities" at 34% and "maintaining some vacation habits" (27%).
These two strategies can also come in handy.
Exercising helps release endorphins, which are the body's natural mood lifters. At the same time, continuing some of your vacation habits will keep those feel-good vibes flowing.
So—
Travelers, take note!
Soft Landings: Workers Seek a Gentler Post-Vacation Transition
In our last section, we wanted to focus on the changes organizations could make to better support employees returning from vacation.
Without further ado, here's what we've uncovered:
| What Changes, If Any, Would You Like to See in Your Organization's Policy to Help Manage Post-vacation Transition? | Share |
| --- | --- |
| Flexible work hours (e.g., start late or leave early) for the first few days after vacation | 47.81% |
| Creating a post-vacation "grace period" for project deadlines to reduce immediate pressure upon return | 40.3% |
| Option for remote work for the first few days after vacation | 34.29% |
| A more gradual reintroduction to work tasks over several days | 32.24% |
| A "no meetings" policy for the first day or two back from vacation | 21.04% |
In a nutshell, US workers want a more flexible, less abrupt transition after a vacation.
The most favored policies are flexible hours (48%), a "grace period" for deadlines (40%), and the option to WFH for the first few days (34%).
Perhaps that's something for managers and HR teams to consider.
*Wink.*
Stacking It All Up
There you have it.
A comprehensive look at post-vacation blues.
Now—
How would you describe your overall mood on your first day back at work after vacation?
Let us know in the comments below.
Methodology
We conducted an online survey of 1,031 US full-time employees who work, on average, at least 30 hours per week or 130 hours per month in a single job via a bespoke online polling tool in June 2023.
The respondents were 54.6% male, 44.9% female, and 0.5% identified as other. 28.9% of respondents were 26 or younger, 43.6% were aged 27–42, 21.7% were aged 43–58, and 5.7% were 59 or older.
This survey has a confidence level of 95% and a margin of error of 3%. Given the gender and age makeup of our sample size, the study's findings are statistically significant for the population at large.
This study was created through multiple research steps, crowdsourcing, and surveying. Data scientists reviewed all survey participants' responses for quality control. ​​The survey also had an attention-check question.
Fair Use Statement
Did our findings help you learn more about post-vacation blues? If you believe your audience will be interested in this information, feel free to share it. Just remember to mention the source and link back to this page.
Sources
BBC, "Why So Many People Overspend on Their Holidays"

Choosing Therapy, "Post Vacation Depression: What It Is & How To Cope"

CNBC, "How to Beat the Post-holiday Slump at Work, according to Executives"

CNN, "5 Ways to Deal with the Post-vacation Blues"

Medical News Today, "Is Post-Vacation Depression Real? What the Research Says"

Pew Research Center, "How Americans View Their Jobs"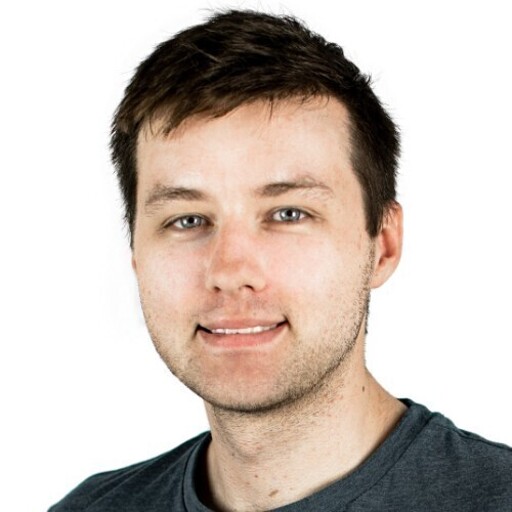 As a Digital PR specialist and a member of the Society of Professional Journalists (SPJ), Max has 5+ years of writing experience.
Over the course of his career, Max's work has garnered significant attention, with features in numerous prominent publications such as The New York Times, Forbes, Inc., Business Insider, Fast Company, Entrepreneur, BBC, TechRepublic, Glassdoor, and G2.