Imagine we could bring a person from the 1950s and take them on a subway ride.
Their reaction would be no less than eerie. Hordes of humans looking at tiny televisions, with faces of idleness or random smiles here and there.
For better or worse, social media has changed the fabric of life. We've gone from snail mail to a world where we can talk to anyone, anywhere, anytime.
But—
Do the benefits outweigh the downsides?
To find out, we've reached out to 1,000+ Americans to uncover how social media affects them, whether it reduces their attention span, makes them jealous of other people's lives, and much more.
Key Takeaways

31% of Americans would command between $5,001 and $10,000+ to quit social media for just one year.
54% of US employees stumbled upon a company they ended up working for while surfing LinkedIn at work.
84% of users find social media addictive.
70% of people believe social media has reduced their attention span.
78% think social media networks have made them jealous of other people's lives.
94% of staffers believe using social media at work helps recharge their batteries, making them feel more productive.
83% of workers find social media sites useful for networking and finding new job opportunities.
37% of employees have been spending more time on social media since switching to WFH.
The State of Social Media in 2022
For starters, we wanted to gauge how people feel about social media.
The reason?
While it comes with plentiful benefits, some of us have started to question the cost these platforms have had on society.
That was particularly true after Netflix rolled out "The Social Dilemma," a documentary that seeks to communicate the underlying issues of media consumption, which caused quite a hysteria.
So—
Below are Americans' attitudes toward social media:
Positive: 49%
Very positive: 31%
Neutral: 15%
Negative: 3%
Very negative: 2%
As you can see, most people (80%) still feel good about social media. As a follow-up, we asked the respondents what social media platforms they use the most.
See the top seven results below (along with a text version just in case):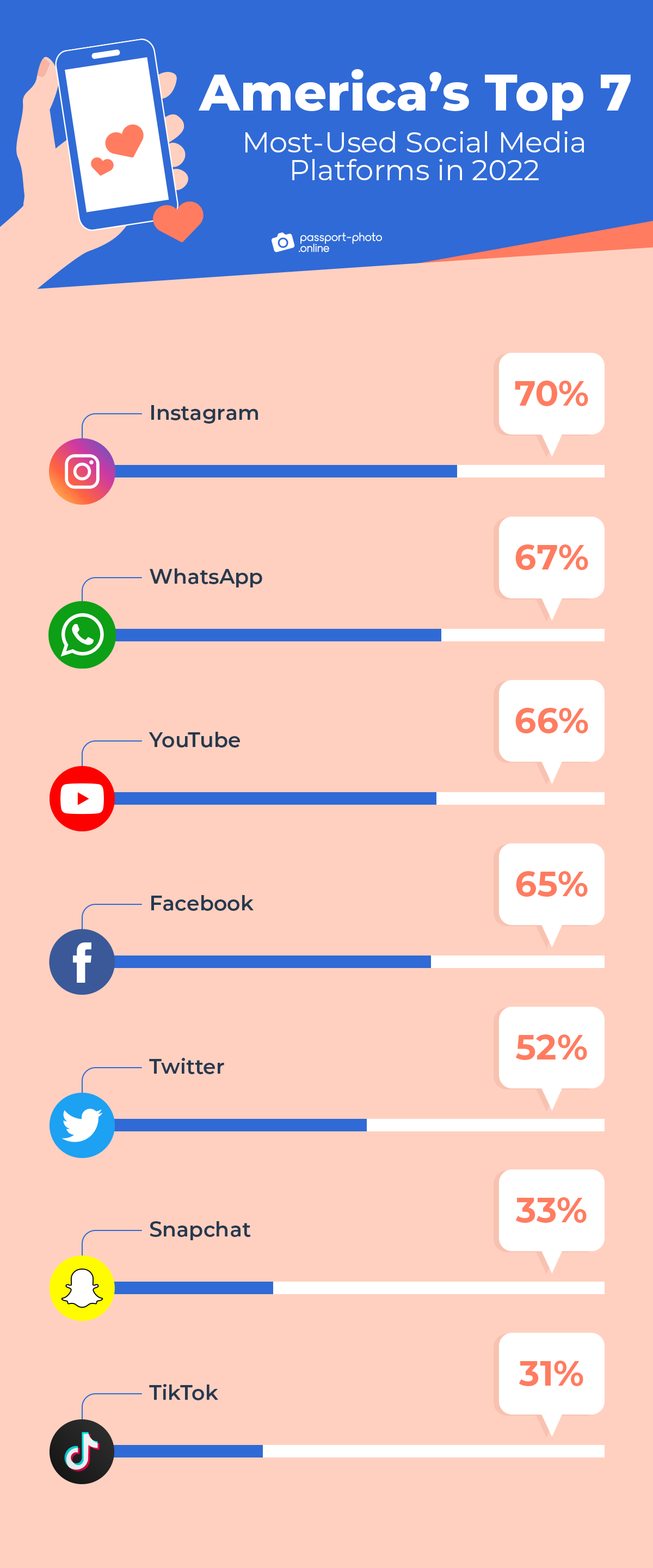 Instagram: 70%
WhatsApp: 67%
YouTube: 66%
Facebook: 65%
Twitter: 52%
Snapchat: 33%
TikTok: 31%
Thus, Instagram took the cake as the most-used social media platform at 70%. It's followed by WhatsApp (67%) and YouTube (66%).
Next, we wanted to get the survey takers' POV on their social media use, which is two hours and three minutes on average, according to Statista. Are they on social media too much, too little, or just the right amount of time?
Just the right amount: 39%
Too much: 34%
Too little: 27%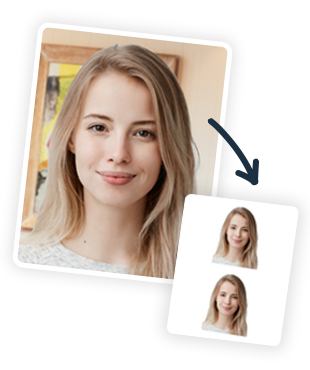 Do you need passport photos? Find out more:
Social Media: A Force for Good?
At this stage, we set out to unearth the benefits of social media.
Though it often feels like a shallow competition to get the most likes or showcase the ultimate lifestyle, social media can also bring genuine good.
Thus, we asked the respondents, "What does social media help you with the most?"
Below are the results: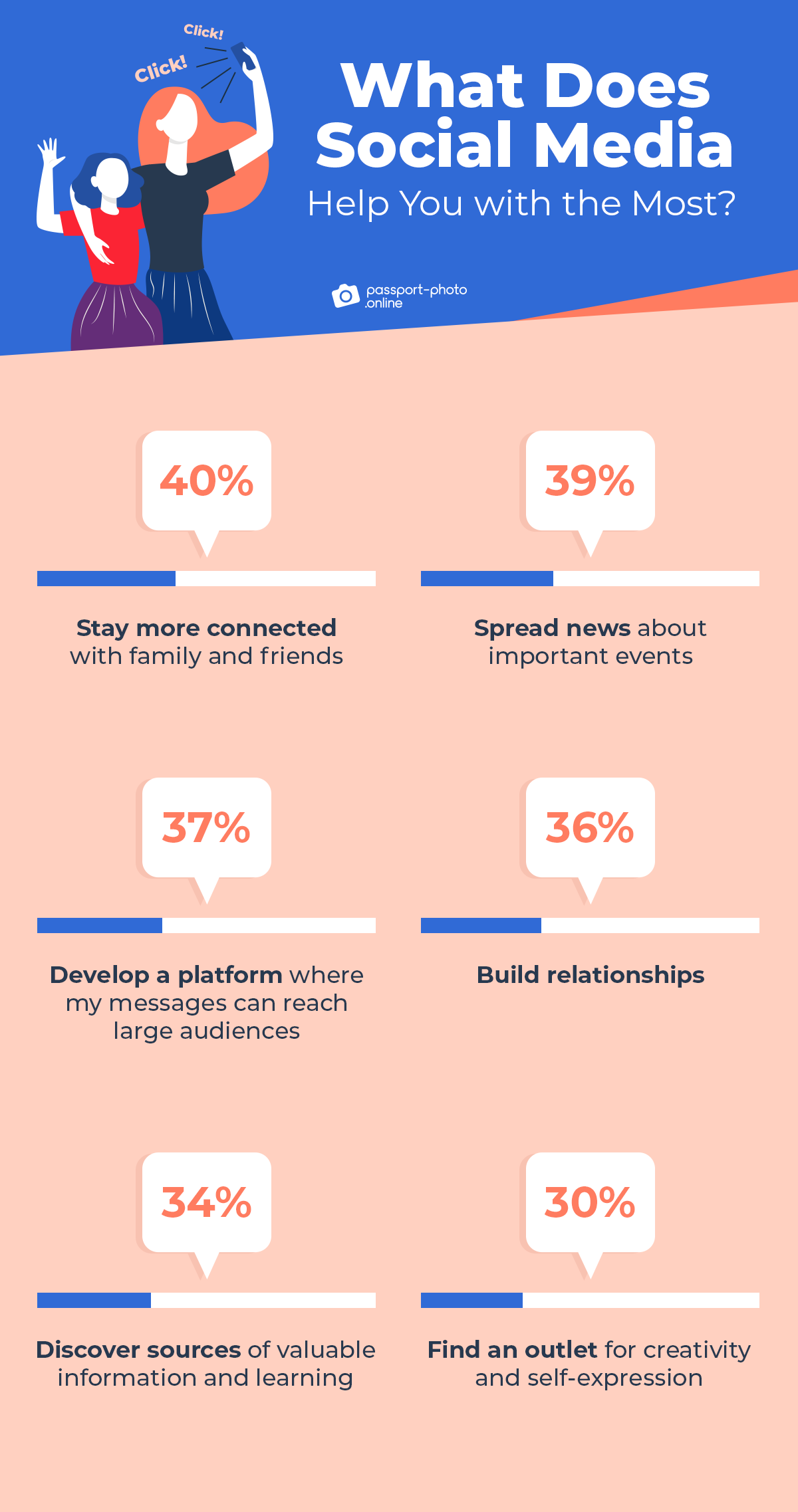 Stay more connected with family and friends: 40%
Spread news about important events: 39%
Develop a platform where my messages can reach large audiences: 37%
Build relationships: 36%
Discover sources of valuable information and learning: 34%
Find an outlet for creativity and self-expression: 30%
Moreover, when we asked Americans if social media gives them a chance to lift their spirits, 68% said, "Yes."
That could be particularly important given today's dispiriting times of high inflation and the raging war in Ukraine.
The Bad and the Ugly Side of Social Media

Now that we've looked at the good, it's time to examine social media's adverse side effects.
To begin with, we set out to see if Americans find social media addictive. For 84%, it was a resounding "Yes."
Perhaps that's because social media is known to copy gambling methods to create psychological cravings and keep users online, according to Natasha Schüll, the author of Addiction by Design.
But—
It doesn't stop there.
Another 70% of the survey takers believe social media has reduced their attention span.
External research proves it too. Microsoft found that since 2000, the average attention span has shrunk from 12 to eight seconds. That means we now have shorter attention spans than goldfish, which can focus on an object or task for nine seconds.
Ouch.
Moving along, we asked the respondents, "To what extent do you agree with the statement, "Social media has made me jealous of other people's lives?"
Below are the results:
Agree: 50%
Neutral: 20%
Strongly agree: 18%
Disagree: 8%
Strongly disagree: 4%
Finally, we rolled the dice and asked the survey takers how much money someone would have to pay to make them quit social media for JUST one year.
See the results below: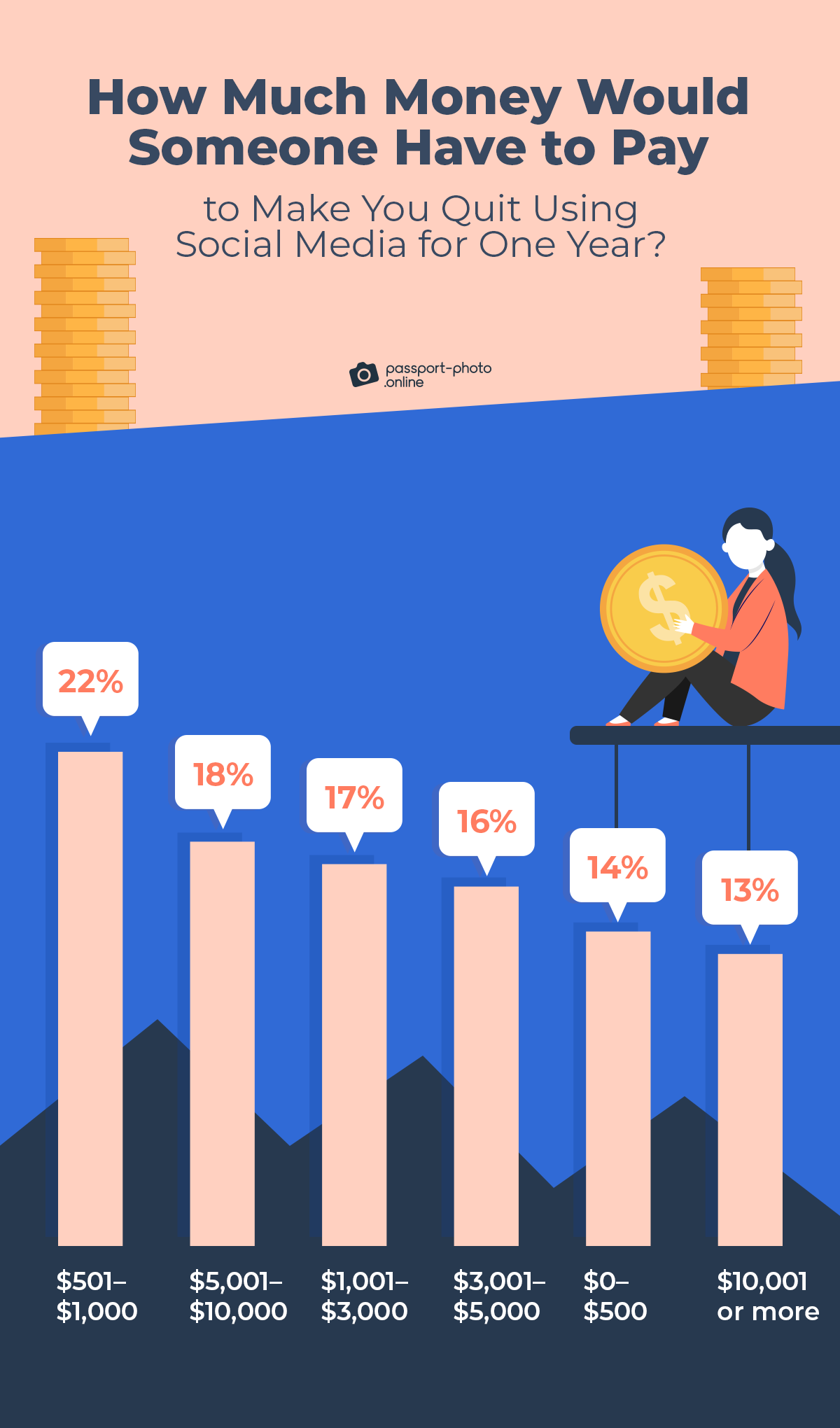 $501–$1,000: 22%
$5,001–$10,000: 18%
$1,001–$3,000: 17%
$3,001–$5,000: 16%
$0–$500: 14%
$10,001 or more: 13%
While the most common answer was "$501–$1,000," 31% would command between $5,001 and $10,000+ to stop using social media sites for a year.
That's quite indicative of how addictive social media can be.
Is Social Media a Productivity Killer at Work?
So far, so good.
Now that we've examined the good, the bad, and the ugly of social media, we decided to uncover how it affects businesses and employees.
Hence, we asked American workers if they use social media on the job: 86% answered positively.
Here's how much they average on social media sites daily: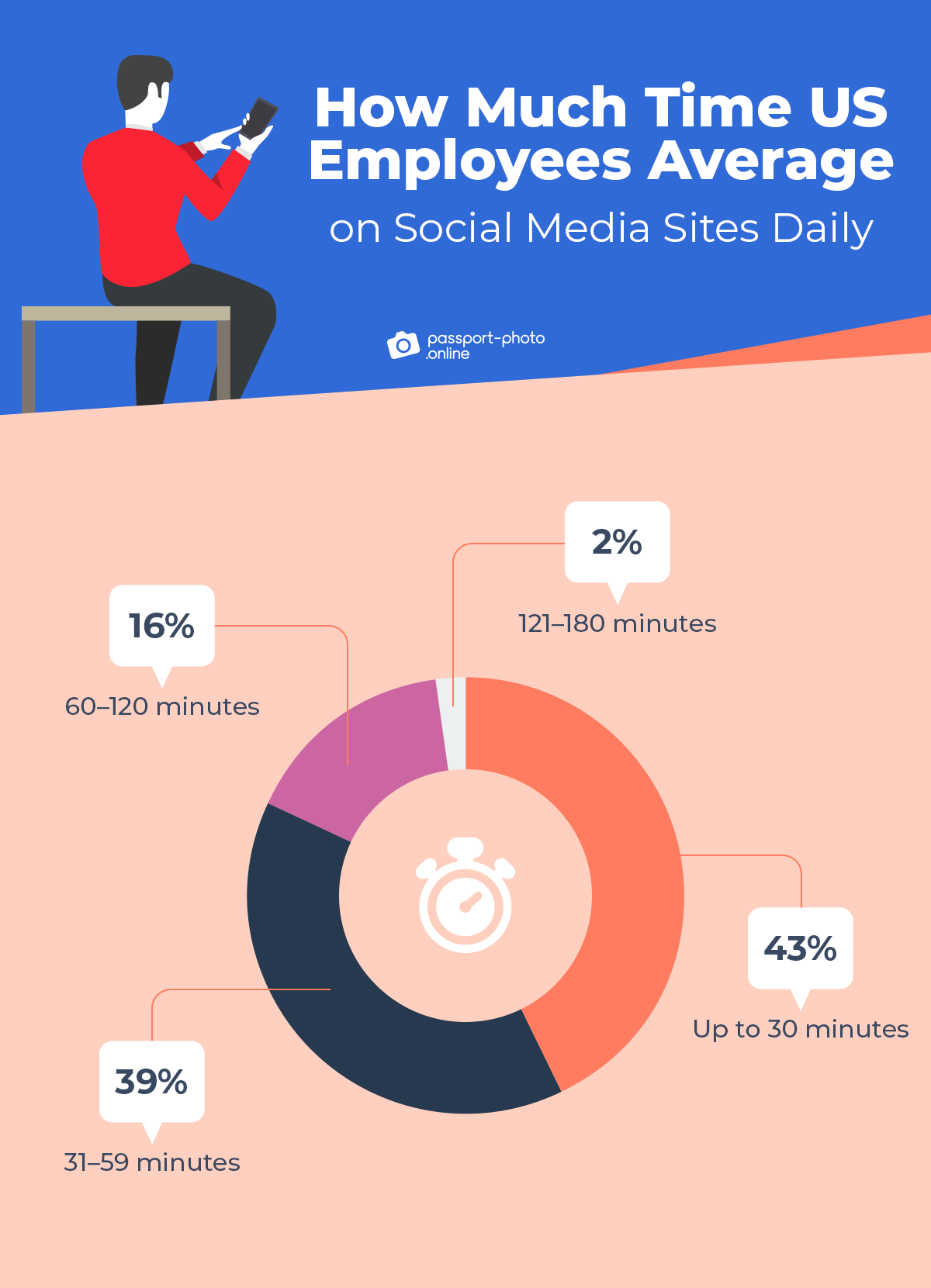 Up to 30 minutes: 43%
31–59 minutes: 39%
60–120 minutes: 16%
121–180 minutes: 2%
Thus, of 86% of US employees who use social media, 43% spend up to 30 minutes on popular platforms, and 39% average between 31 and 59 minutes daily.
As a follow-up, we asked the respondents who work remotely if they'd been spending more time on social since switching to WFH.
Below are the results:
The same amount: 38%
More: 37%
Less: 22%
Now—
At this point, you probably think that social media is a productivity killer, but it's not exactly the case. Our study also found that 94% of American employees believe using social media at work helps recharge their batteries, making them feel more productive.
After all, it's impossible to stay laser-focused on work for 8+ hours. We all need some downtime to rest mentally, and *cat memes* could really fit the bill.
But there's a catch:
Social media isn't just Facebook or Instagram, but also LinkedIn. That means employees can also engage with potential companies while on the clock and leave.
When we asked the survey takers if they think social media helps them network and find new job opportunities, 83% said, "Yes." Another 54% mentioned they actually stumbled upon a company they ended up working for while using LinkedIn at work.
So—
Employers, take note!
Stacking It All Up
For most of us, social media is a mixed bag.
While it has many tangible benefits like letting you stay more connected with family or helping discover sources of valuable information, social media also comes with major side effects.
But—
Ultimately, social media is more of a force for good than evil as long as we use it wisely.
Methodology
We conducted an online survey of 1,029 US respondents who use social media via a bespoke online polling tool in July 2022.
The respondents were 60.4% male and 39.6% female. 12.7% of respondents were 25 or younger, 53.9% were aged 26–38, 26.2% were aged 39–54, and 7.1% were 55 or older.
This survey has a confidence level of 95% and a margin of error of 3%. Given the gender and age makeup of our sample size, the study's findings are statistically significant for the population at large.
This study was created through multiple steps of research, crowdsourcing, and surveying. Data scientists reviewed all survey participants' responses for quality control. ​​The survey also had an attention-check question.
Fair Use Statement
Did our findings help you learn more about the pros and cons of social media? If you believe your audience will be interested in this information, feel free to share it. Just remember to mention the source and link back to this page.
Sources
Ashrof M., "Impact of Social Media on Our Attention Span and Its Drastic Aftermath"

Busby M., "Social Media Copies Gambling Methods 'To Create Psychological Cravings'"

Statista, "Daily Time Spent on Social Networking by Internet Users Worldwide from 2012 to 2022"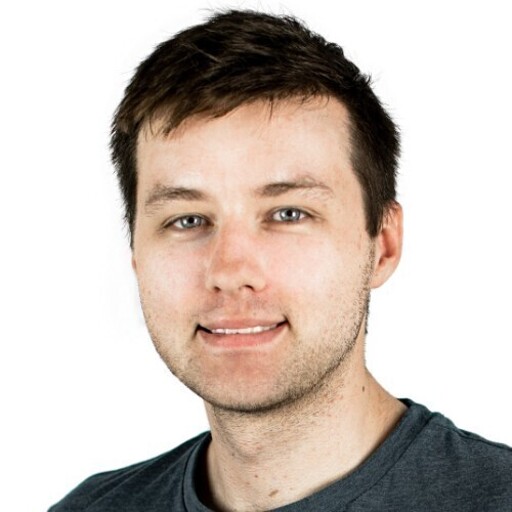 As a Digital PR specialist and a member of the Society of Professional Journalists (SPJ), Max has 5+ years of writing experience.
Over the course of his career, Max's work has garnered significant attention, with features in numerous prominent publications such as The New York Times, Forbes, Inc., Business Insider, Fast Company, Entrepreneur, BBC, TechRepublic, Glassdoor, and G2.