Let's talk facts:
Since COVID-19 hit with full force in 2020, video conferencing has been on a meteoric rise. In many ways, it also made remote work possible.
Yet—video conferencing tech is rapidly evolving.
So much so that within 2–3 years, most online meetings will move to the metaverse, a 3D space where you'll use an avatar to interact with coworkers in a virtual office, according to Bill Gates.
That's why at Passport Photo Online, we've decided to compile the most valuable and recent virtual meetings statistics out there to help you stay ahead of the curve.
Let's dive in.
List of Video Conferencing Statistics
Virtual Meeting Statistics (Top Picks)
The number of annual Zoom meeting minutes is over 3.3 trillion.
Nearly half of US employees (49%) experience virtual meeting fatigue.
The best way to get most employees (64%) excited about a meeting is to plan it well.
Over half of employees (51%) get invitations to meetings irrelevant to them.
Nearly 47% of companies cut down on business travel thanks to video conferencing.
Roughly 58% of workers say technical issues are among the key challenges of online meetings.
Eight out of 10 Americans agree/strongly agree there should be one day a week with no meetings.
Nearly 79% of working professionals believe virtual meetings are equally or even more productive than in-person ones.
Four in five home workers now attend more meetings than they did in the office.
While the combined salaries of attendees make meetings costly, 57% often multitask, 48% daydream, and 49% lose track of what's being said.
Over half of employees (54%) think their boss needs to get better at facilitating discussions in meetings.
Seven out of 10 workers believe virtual meetings are less stressful than regular ones.
As many as 85% of Americans believe they could do their job just as well with fewer meetings.
Roughly 32% of workers are more likely to multitask when the video and mic are off.
Nearly 69% of introverts and 40% of extroverts experience on-camera exhaustion.
Fun Facts

Zoom has 300M+ daily meeting participants.
Americans average eight hours a week in virtual meetings (=50 days a year).
Tuesday is the best day to schedule meetings, according to 29% of employees, with Wednesdays coming a close second (25%).
The worst days for virtual meetings are Mondays and Fridays—87% of workers indicated.
Eight out of 10 employees prefer to have meetings in the morning or right before lunch, with only 1% finding evening meetings productive.
The ideal number of meeting attendees is 10 or fewer.
A whopping 46% of online meetings last year were between colleagues.
The most challenging types of virtual meetings are virtual happy hours and all-hands.
Nearly 90% of Americans multitask during virtual meetings. Here are the most popular multitasking activities:
Doing other work-related tasks: 76%
Checking email: 68%
Messaging: 50%
Checking social media: 20%
Reading news: 13%
Over 25% of working professionals feel peer pressure to turn on cameras even if it's not required.
A full 71% of Zoom users said, "you're on mute" at some point in the last 12 months—another 57% asked others if they could see their screen.
Four out of 10 employees only cleaned the room part visible on camera.
Over half of virtual meeting participants (53%) said it's OK to eat on calls.
Another 42% make calls from bed, and over a quarter (26%) rarely shower before joining a virtual meeting.
75% of Zoom users wave goodbye at the end of meetings.
General Video Conferencing Facts and Figures
The global video conferencing market was valued at $4.21B in 2020. It's expected to expand at a compound annual growth rate of 11.4% from 2021 to 2028.
Video call market share in 2021: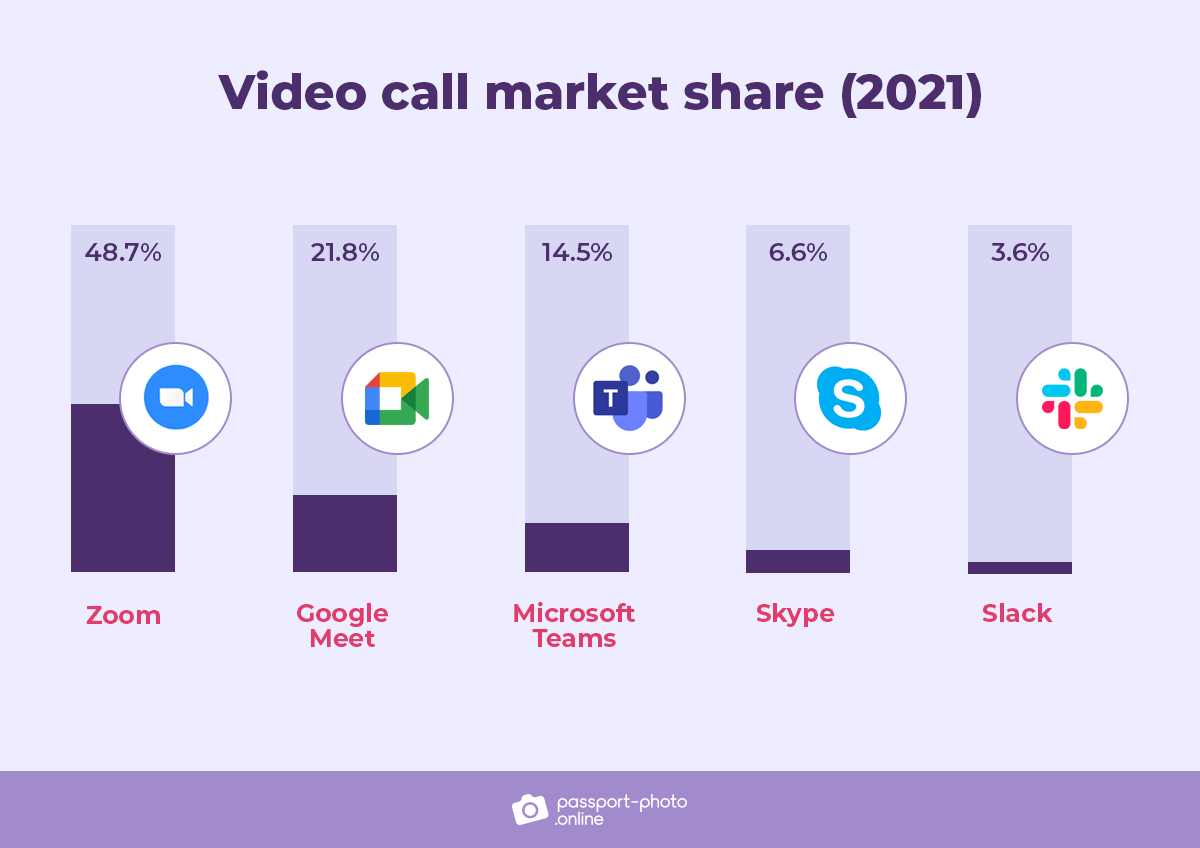 Zoom: 48.7%
Google Meet: 21.8%
Microsoft Teams: 14.5%
Skype: 6.6%
Slack: 3.6%
Yet, 89% of organizations use multiple video-conferencing tools, switching between 2–3 different solutions on average.
Nearly half of businesses (45%) chose video conferencing software based on its ease of use.
In 58% of organizations, executives influence what video conferencing tool to choose.
Nearly 31% of C-level executives want to know the engagement level of their last meeting.
Only 27% of working professionals think their company's meetings are consistently high quality.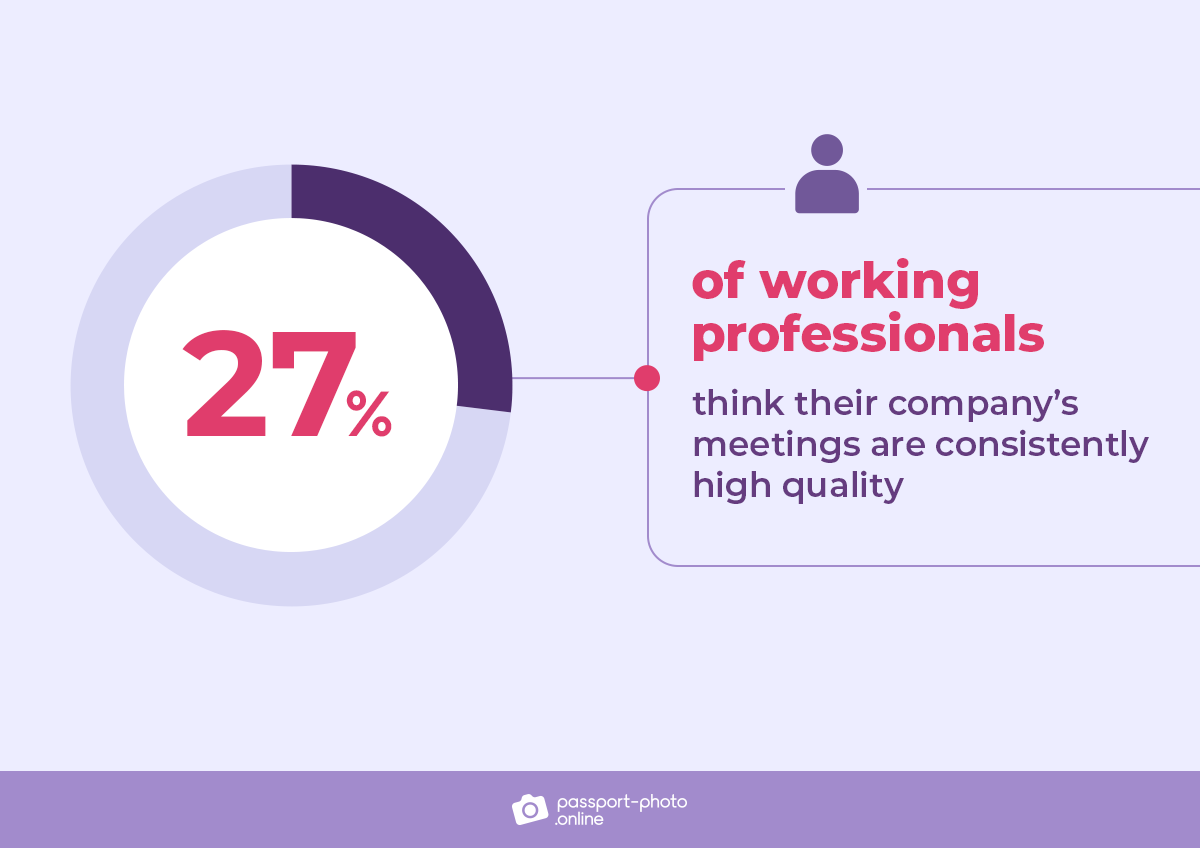 Just 30% of meeting time is spent on meeting objectives. The biggest virtual meeting challenges: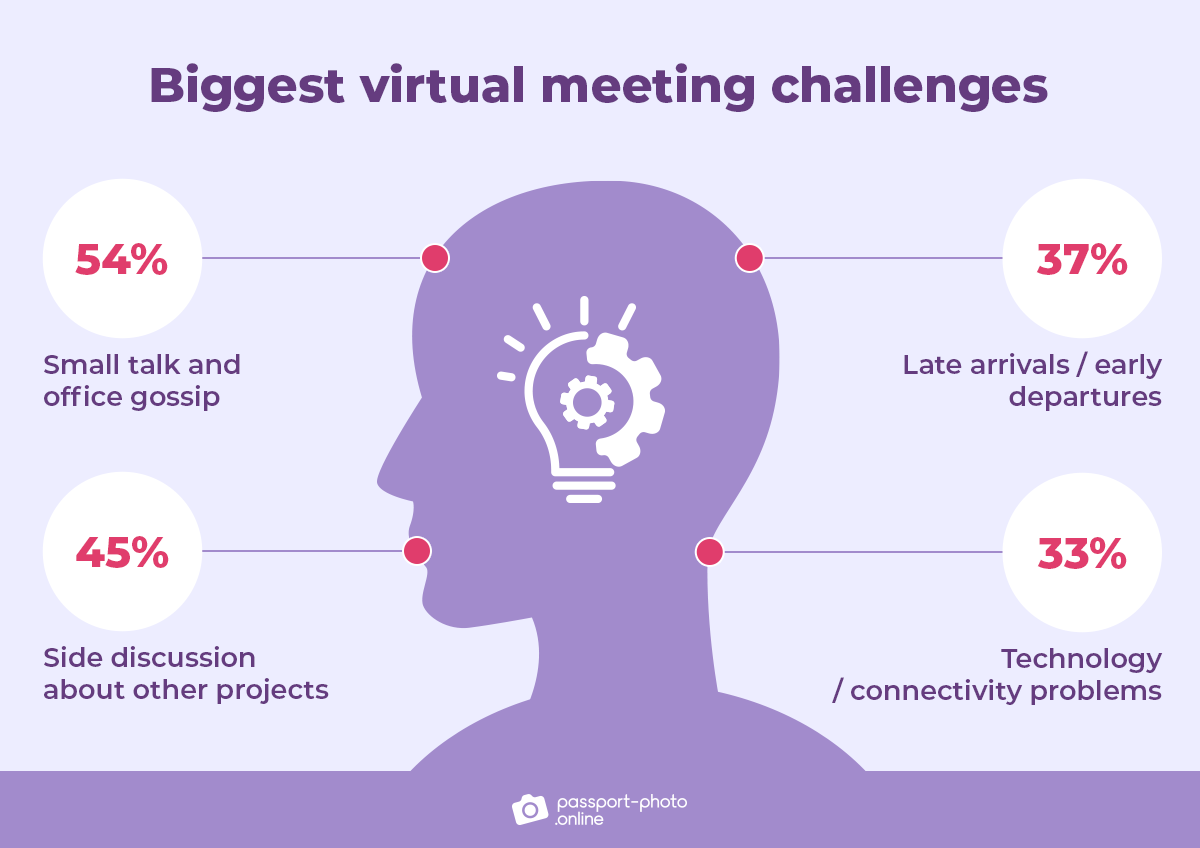 Small talk and office gossip: 54%
Side discussion about other projects: 45%
Late arrivals/early departures: 37%
Technology/connectivity problems: 33%
Another 49% of US employees say at least two of the virtual meetings they attend each week are disrupted due to technical issues.
A full 61% of employees say video is required for all their meetings.
In 2020, the most common meeting length was 60 minutes (for 1:1s, it was 30 minutes.)
Five participants was the most common group meeting size in 2020.
The four biggest challenges of remote 1:1s:
Having a personal connection: 50%
Sticking to an agenda: 19%
Adhering to consistent scheduling: 10%
Giving constructive feedback: 8%
Roughly 61% of workers say all meetings they attend are conducted on video.
Nearly 65% of employees believe video is best for team engagement.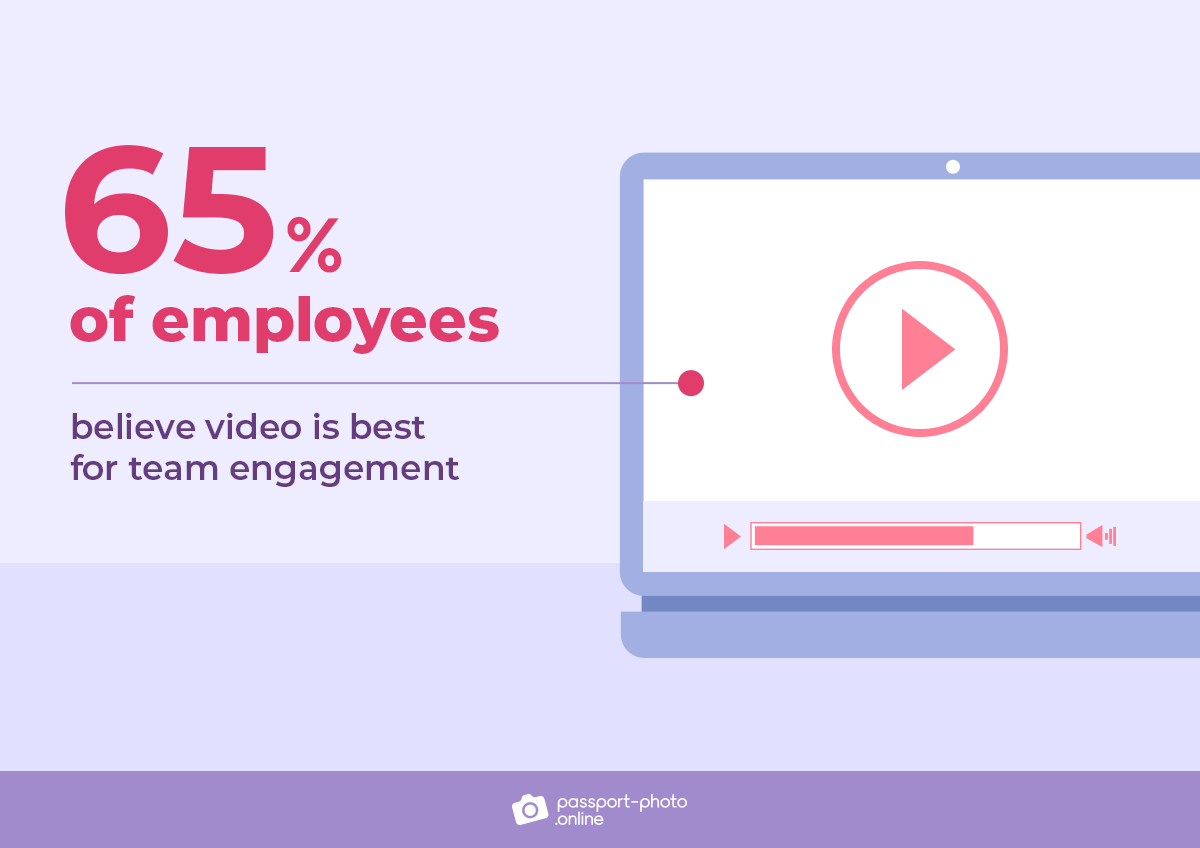 A full 78% of Americans feel their meeting schedule is sometimes or always out of control.
38% blame upper management/direct manager for creating crazy meeting schedules.
Top five virtual meeting taboos: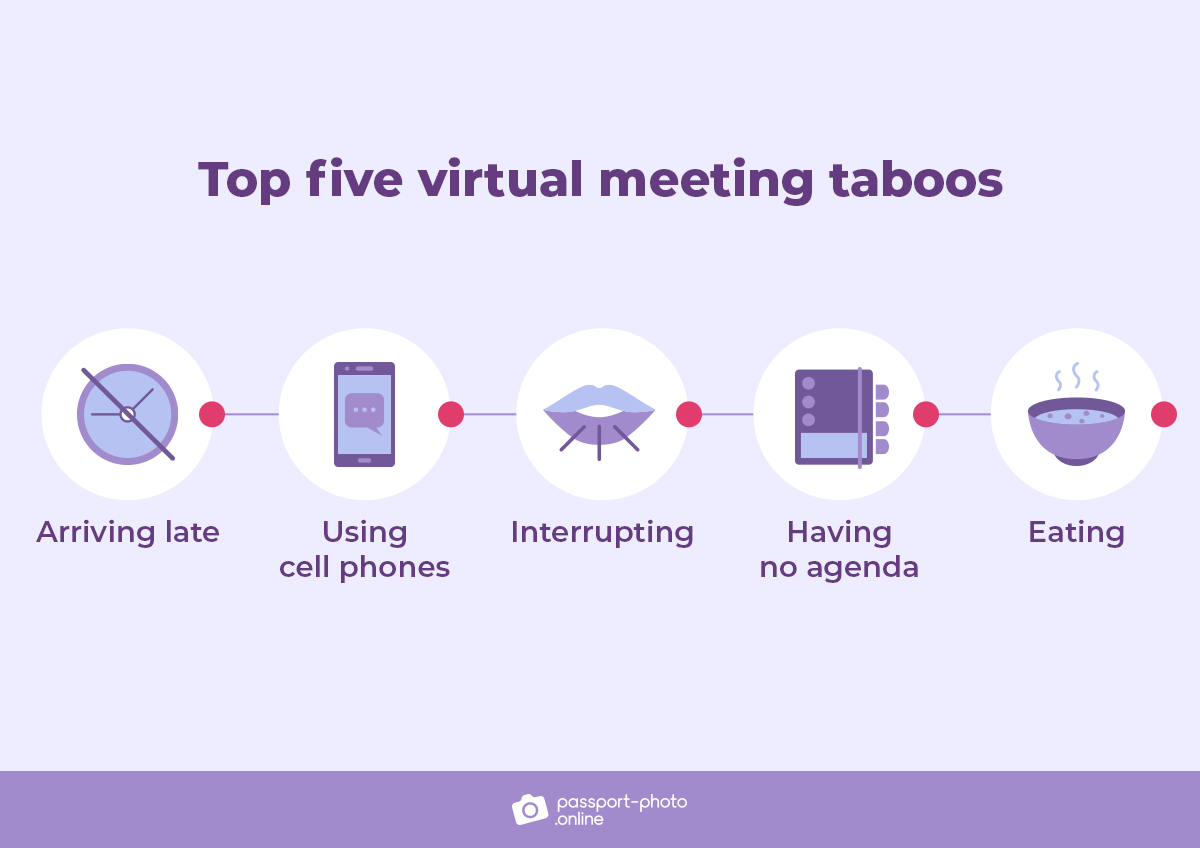 Arriving late
Using cell phones
Interrupting
Having no agenda
Eating
60% of workers believe meetings are just another distraction from actual work. Here's why:
They start or end late: 66%
They are unnecessary: 63%
There's too much or not enough time allotted: 57%
Attendees get distracted: 57%
Participants interrupt each other: 55%
People don't stick to an agenda: 49%
Attendees come unprepared: 47%
Most employees (57%) want fewer and shorter meetings.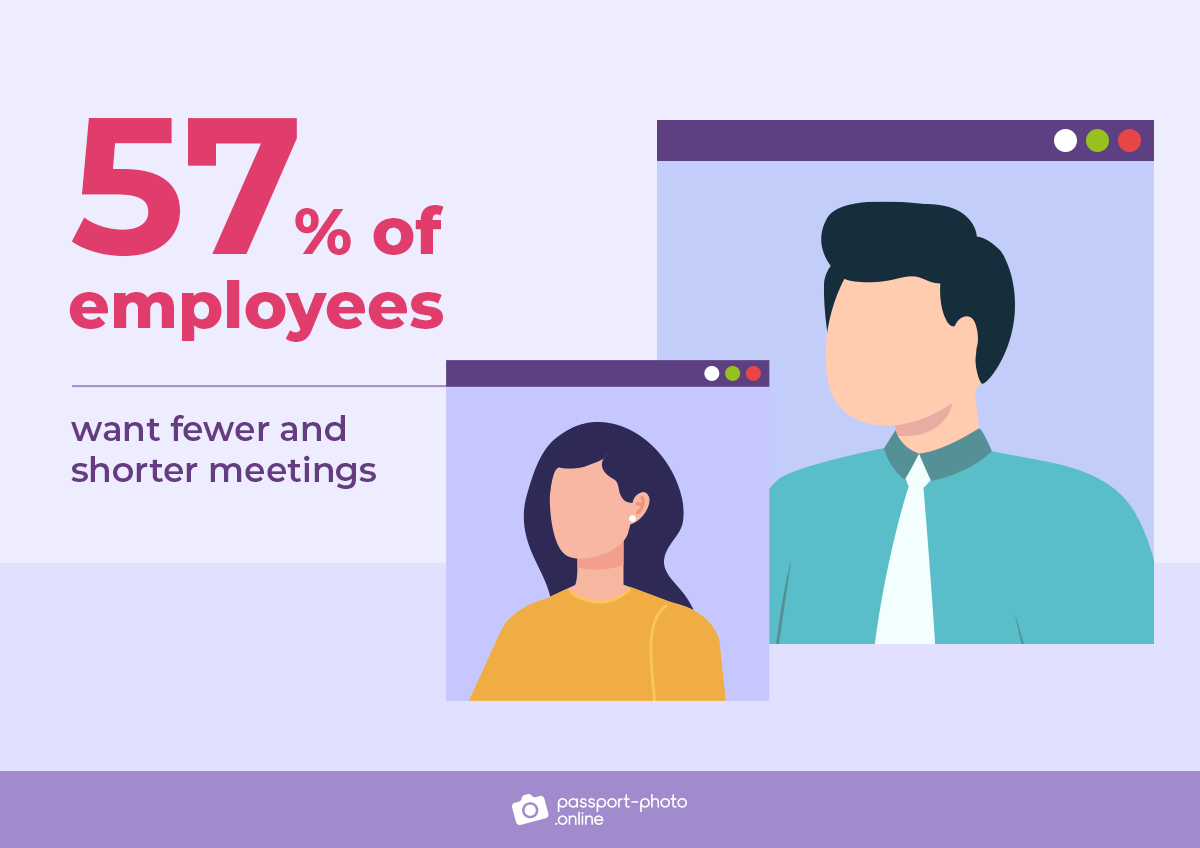 Another 36% believe the increased frequency of virtual meetings due to COVID-19 is unnecessary and unproductive.
Nearly 70% think voice recognition will make meetings more efficient, with 75% being excited about the future of collaboration.
2X more employees now turn on video than pre-COVID-19.
Six out of 10 US workers believe virtual meetings can be more engaging than in-person ones.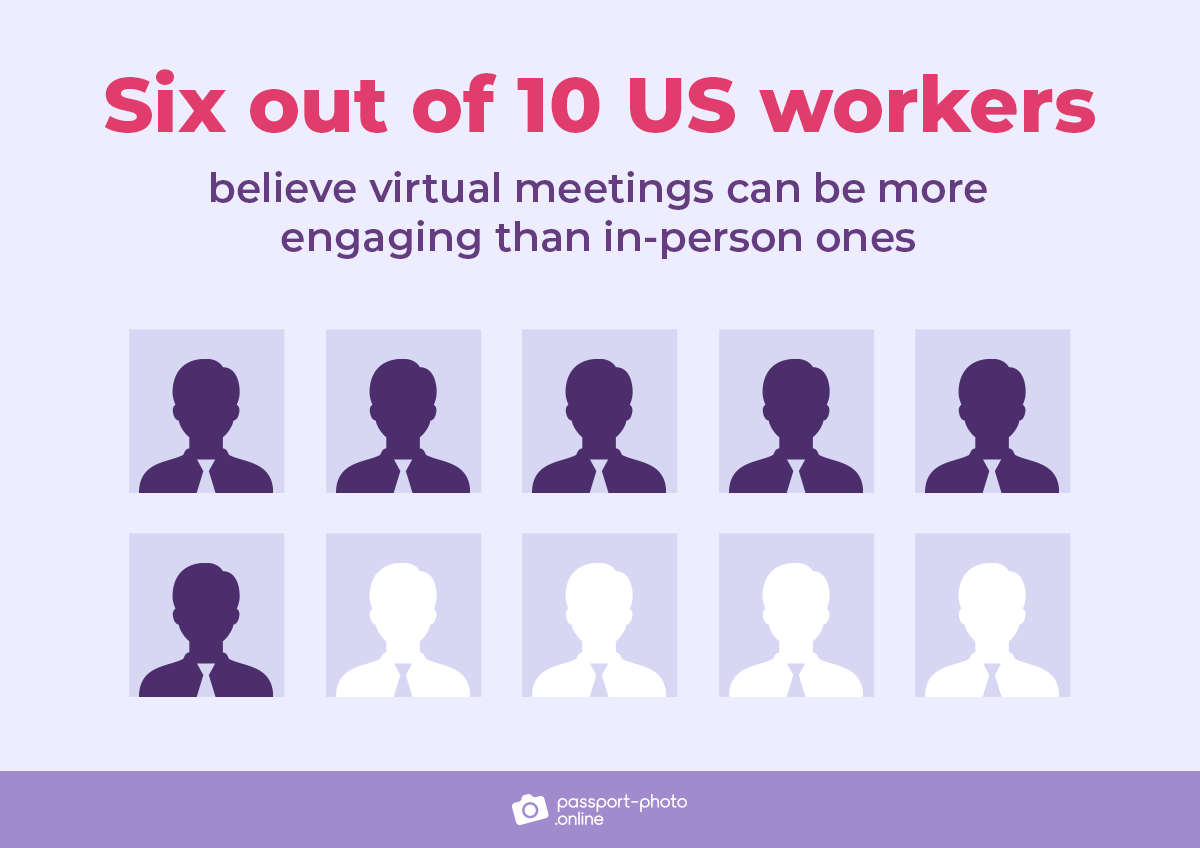 A little over half (55%) of face-to-face meetings are unengaging vs. 47% of remote meetings.
What makes virtual meetings engaging:
Clear communication: 59%
Agenda: 56%
Decisions get made: 56%
Begins and ends on time: 54%
The top meeting style preference for 64% of employees is a hybrid video conferencing call.
Benefits of virtual meetings (compared to regular ones):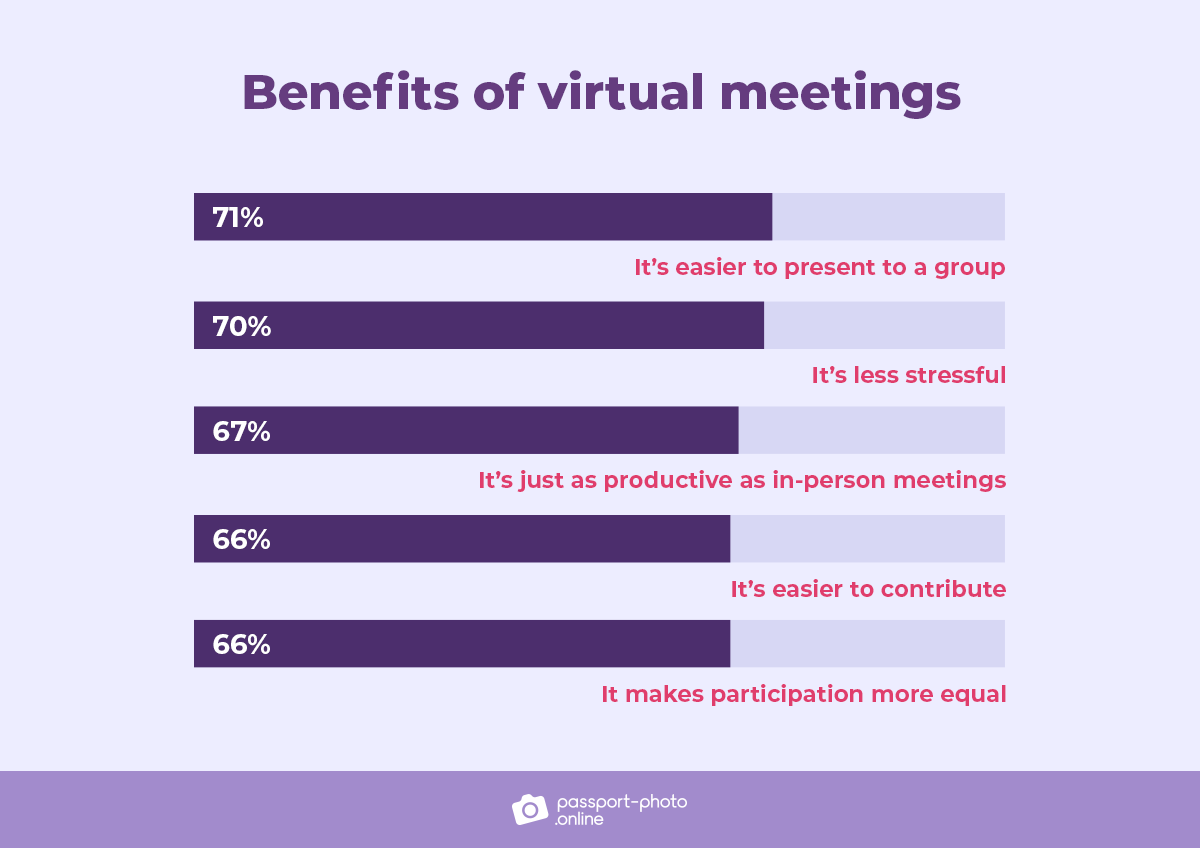 It's easier to present to a group: 71%
It's less stressful: 70%
It's just as productive as in-person meetings: 67%
It's easier to contribute: 66%
It makes participation more equal: 66%
That said, nearly one-quarter (24%) of employees say they have difficulty being included in online conversations.
Only 15% of American workers say multitasking in online meetings improves productivity.
Zoom Stats
Zoom is the most popular video conferencing platform globally, dominating the market in 44 countries.
Zoom more than tripled its revenue in 2021 (vs. 2020), generating over $2.65B in revenue—its net income amounted to over $672M.
In April 2020, the Zoom app was installed 3.5M times in a single day.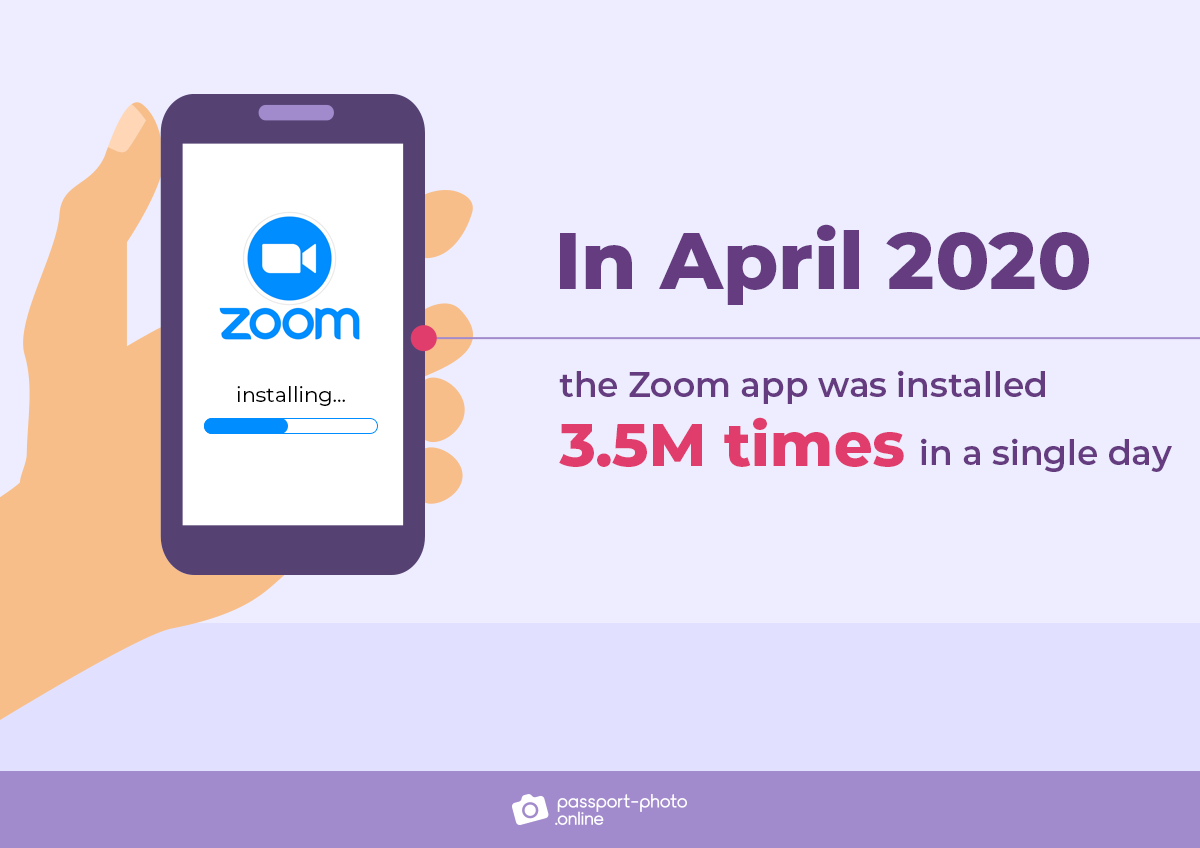 The Zoom mobile app was downloaded 23M+ times in September 2021 across the App Store and Google Play.
Zoom has over half a million clients with more than 10 employees.
The average length of a Zoom call is 54 minutes.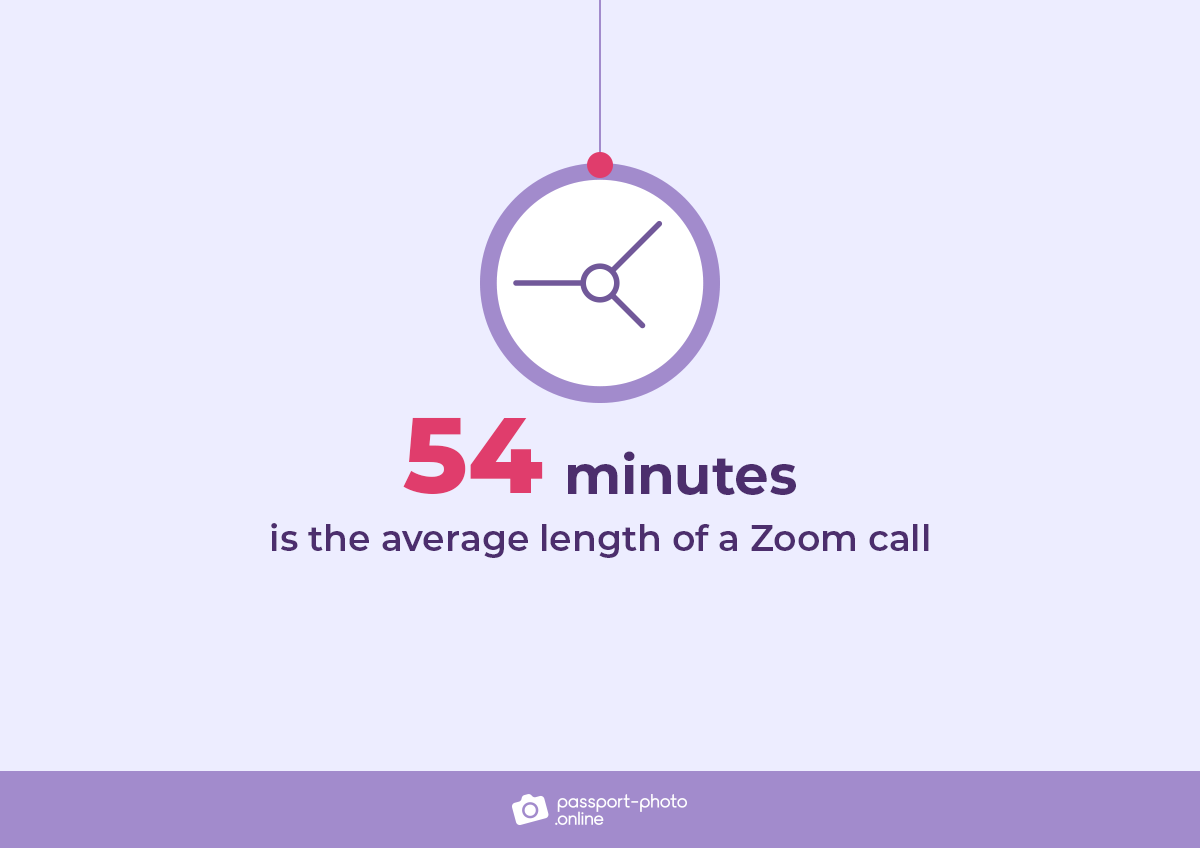 Zoom registers more than 45B annual webinar minutes.
Zoom has nearly 3,000 business customers that contribute over $100,000 yearly.
Zoom sold two million Zoom Phone seats across 47 countries.
Zoom Phone has doubled its user base since January 2021, adding a million new seats over the last eight months.
Half of Zoom app users for iPhone and iPad are under 35 years old.
January 21, 2021, was the busiest day for online meetings, with February 25 being the most popular day for webinars.
Wednesday is the most popular day for Zoom calls, followed by Tuesday and Thursday.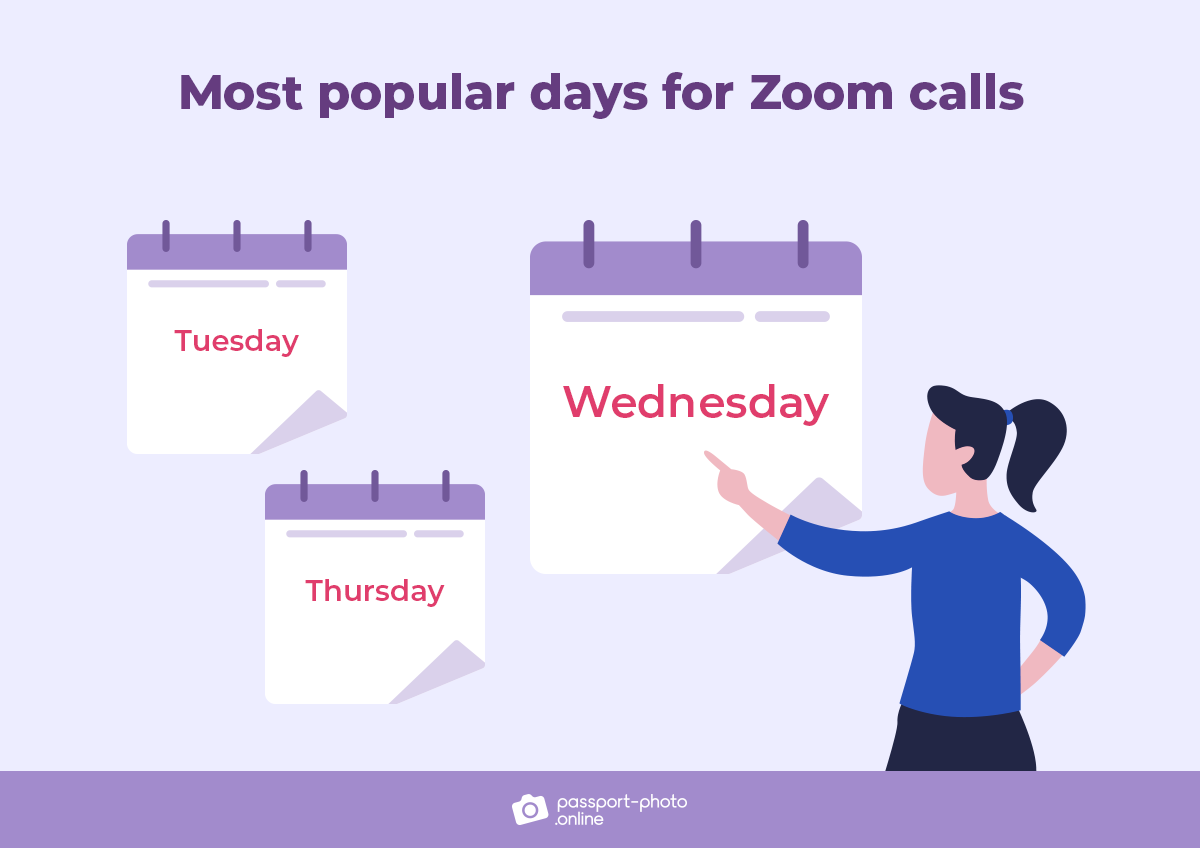 10 participants is the average Zoom meeting size.
Roughly 64% of younger employees (18–24) suffer anxiety from excessive zoom meetings.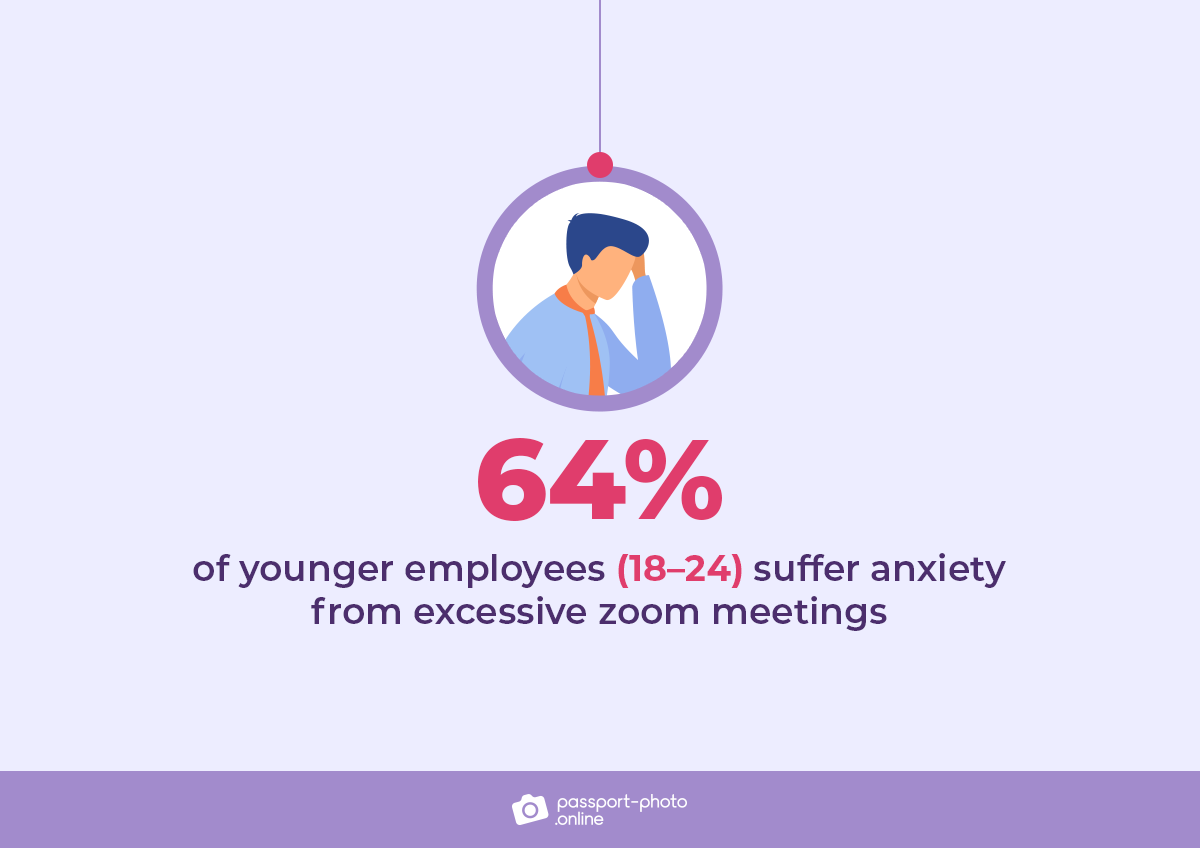 Stacking It All Up
There you have it.
A comprehensive list of video conferencing trends, figures, and stats for 2022 you can use to stay on top of things.
Let us know in the comments if there are any other virtual meeting statistics you'd like to see.
Like this article and want to know more? Check these out:
Fair Use Statement
Did you like our infographics? If so, feel free to share them with your audience. Just remember to mention the source and link back to this page.
Sources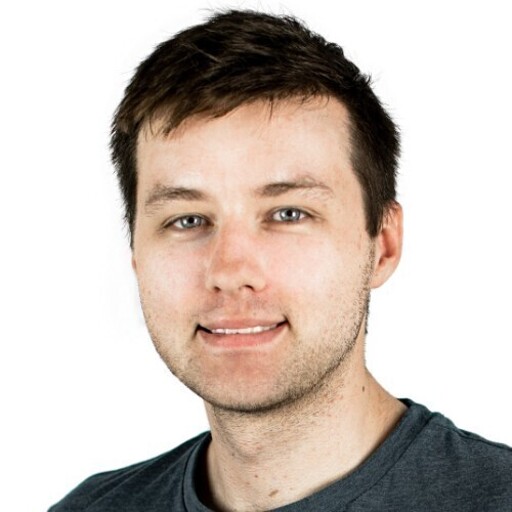 Max Woolf is a writer and travel lover at Passport-Photo.Online. His insights, advice, and commentary have been featured in Forbes, Inc., Business Insider, Fast Company, Entrepreneur, MSN, NBC, Yahoo, USA Today, Fox News, AOL, The Ladders, TechRepublic, Reader's Digest, Glassdoor, Stanford, G2, and 200+ other outlets.