From inattentive parents who let their children run wild to flight delays or cancellations, the opportunities to develop air travel pet peeves are plentiful, even for the most patient of travelers.
So—
At Passport Photo Online, we've decided to poll over 1,000 Americans to see what annoys them the most when flying.
Let's dive in.
Key Takeaways
One of the worst air travel pet peeves in the US is "passengers who don't cover their mouths when coughing or sneezing," according to 76% of the respondents.
Most Americans avoid direct confrontation with annoying passengers: 49% put on headphones, and 21% don't do anything.
Nearly eight out of 10 US vacationers say "poor cleanliness and safety on the plane" as well as "lack of overhead bin space near one's seat" drive them mad the most about airlines.
Americans' Biggest Pre-flight Pet Peeves
As the first order of business, we wanted to uncover what drives US travelers mad even before the takeoff.
Below are the results:
So—
What can we make of these findings?
Most of us (78%) fume the most when others shamelessly cut check-in or security lines, with 35% saying it happens often or very often.
Then there's the traditional "flight delays or cancellations" offender, ranking high on the list. Lastly, a big chunk of Americans' pre-flight pet peeves relates to COVID-19. Thus, 67% of travelers aren't happy with ever-changing travel restrictions, testing requirements (66%), passengers who don't wear (properly) face masks when required (74%), and those who don't practice social distancing (70%).
The silver lining?
Most countries around the globe have started to dial back on coronavirus restrictions, making travel less troublesome.
Gripes of Wrath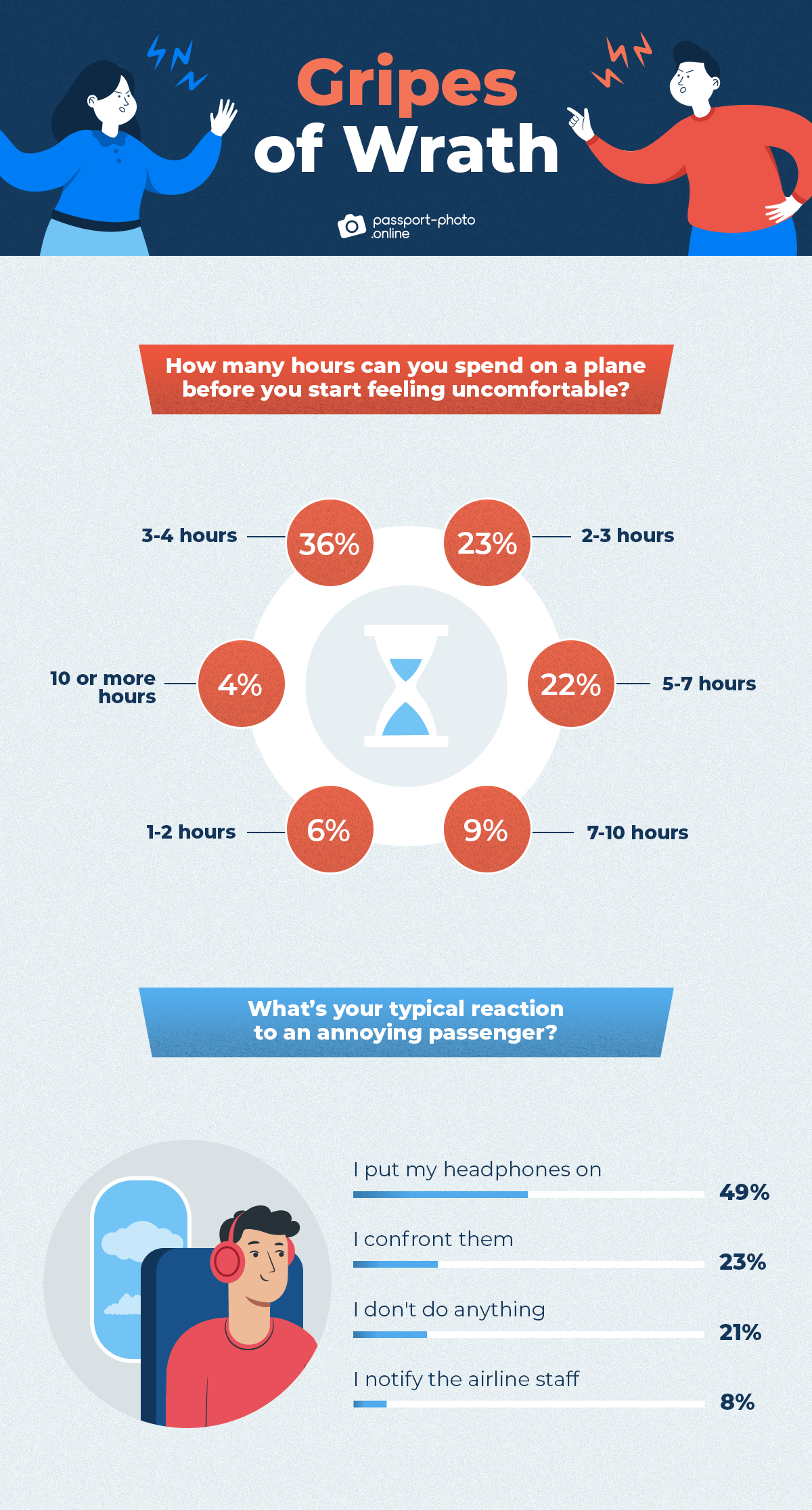 At this point, we decided to ask the respondents what's the longest they can spend in the sky before they start to feel uncomfortable.
The most popular answer was "3–4 hours", which 36% of Americans picked. To put it into perspective, that's how long the flight from Chicago to Las Vegas lasts, on average.
As a follow-up, we asked the survey takers about their typical reaction to annoying passengers when flying.
Interestingly, most avoid direct confrontation: 49% put headphones on, and 21% don't do anything. The remaining minority either confronts the troublesome fellow travelers (24% of men and 21% of women) or notifies the plane's staff about the issue (8%).
The Worst Air Travel Pet Peeves in the US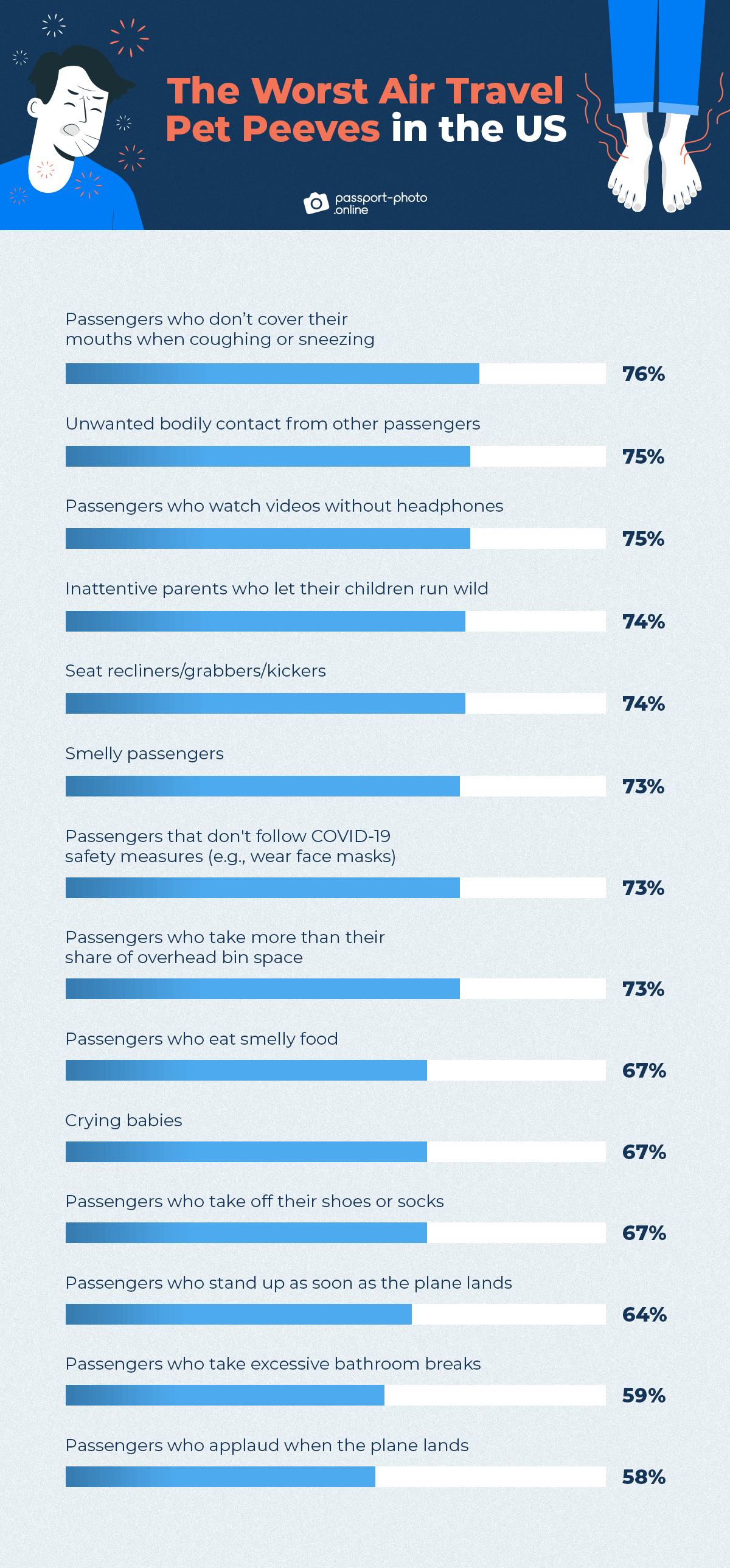 As you can see, "passengers who don't cover their mouths when coughing or sneezing" (76%) took the cake.
It's followed by "unwanted bodily contact from other passengers" (75%), "passengers who watch videos without headphones" (75%), and "inattentive parents who let their children run wild" (74%).
The least annoying air travel pet peeve?
"Passengers who applaud when the plane lands," as indicated by 58% of Americans.
So—
Next time you're on a plane, you know what NOT to do.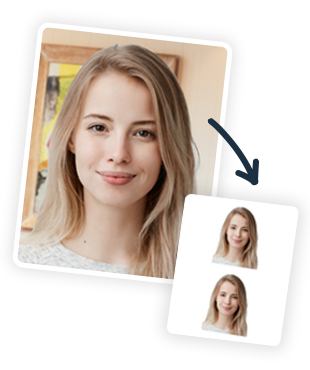 Do you need passport photos? Find out more:
Airline Pet Peeves: What Gets on Passangers' Nerves the Most?
Lastly, before we touch down, we wanted to ask Americans what drives them mad about airlines specifically.
Below are the results: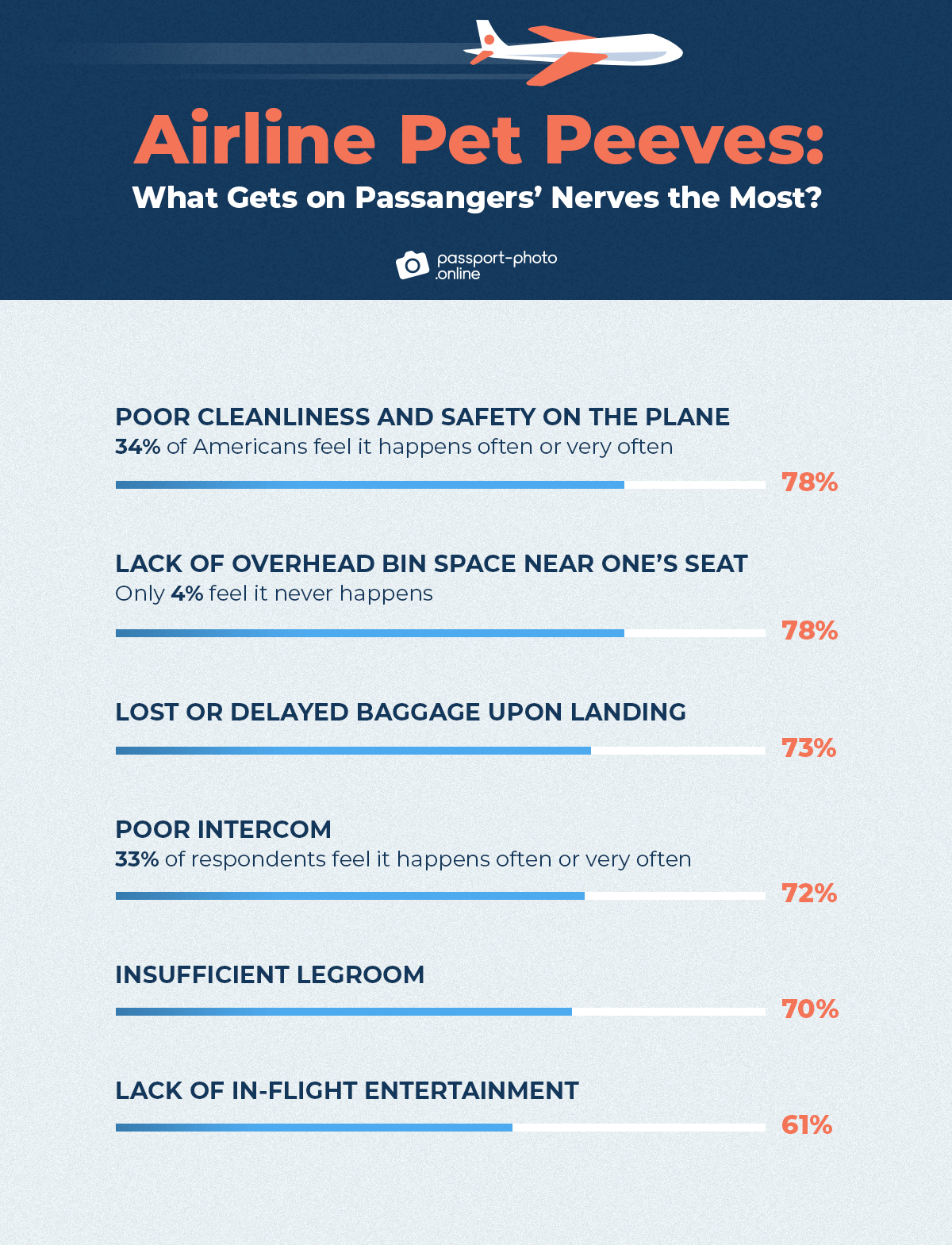 As you can tell, "poor cleanliness and safety on the plane" and "lack of overhead bin space near one's seat" came out on top.
Interestingly, "poor intercom" (that makes it nearly impossible to understand what the pilot says) also ranked pretty high (72%). Perhaps, that's also something airline companies should look into. In the age of self-driving cars, AI-powered robots, and other cutting-edge technologies, it's hard to believe planes still use such an outdated communication system.
Methodology
We conducted an online survey of 1,002 US respondents via a bespoke online polling tool in February 2022. This study was created through multiple steps of research, crowdsourcing, and surveying. All survey participants' responses were reviewed by data scientists for quality control. ​​The survey had an attention-check question.
Fair Use Statement
Did our findings help you learn more about air travel pet peeves on vacation? If you believe your audience will be interested in this information, feel free to share it. Just remember to mention the source and link back to this page.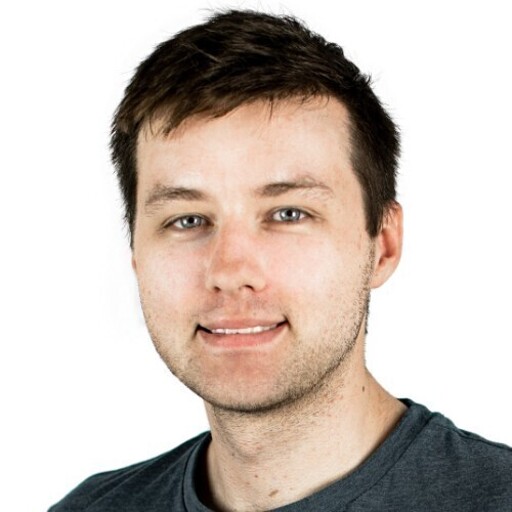 Max Woolf is a writer and travel lover at Passport Photo Online. His insights, advice, and commentary have been featured in Forbes, Inc., Business Insider, Fast Company, Entrepreneur, BBC, MSN, NBC, Yahoo, USA Today, Fox News, AOL, The Ladders, TechRepublic, Reader's Digest, Glassdoor, Stanford, G2, and 300+ other outlets.