Let's talk facts:
Facebook is the most popular social media platform, with 2.93B monthly active users (as of 2023).
If you don't have a presence there, you're missing out on a HUGE opportunity to connect with customers, promote your products or services, and increase brand awareness.
To prove it, we've reached out to 900+ FB account holders in the US and shed light on the benefits of Facebook for business.
Keep scrolling to see the hidden gems we've uncovered.
Key Takeaways
Nearly 74% of Americans believe it's important or very important for businesses to be on Facebook.
About 82% of Facebookers feel a stronger bond with the brands they follow on the platform vs. those they don't.
Most Facebook users (56%) are subscribed to 5–20 business pages on average.
The #1 reason to "like" a company is to stay in the loop about its new products and/or services (28%).
Facebook community members usually engage with their subscribed businesses multiple times a day (26%) via comments, shares, or reactions.
Close to 63% of Facebook social networkers have found products/services on the platform in the past three months.
Roughly 67% of people on Facebook have made an impulsive purchase on the site at least once in their lifetime.
Most Facebook Users Follow Between 5 and 20 Businesses
First, we wanted to examine how many businesses the average Facebook user follows to give you a general sense of how receptive people are to brand pages.
So—
Below is a detailed breakdown of the results: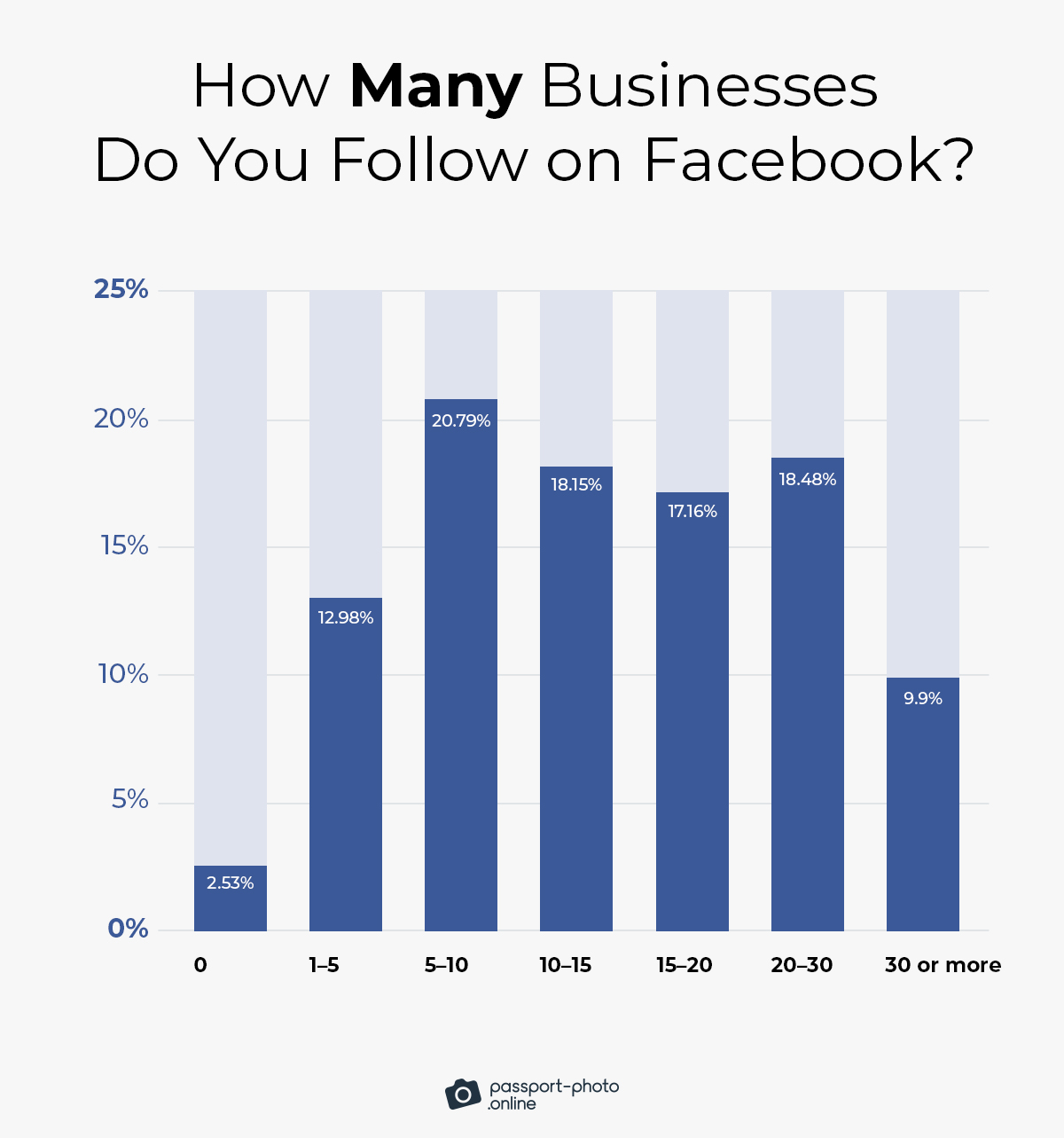 The data shows that most people on Facebook (56%) are subscribed to between five and 20 companies.
What verticals are they particularly interested in?
Let's have a look at the TOP five that made the cut: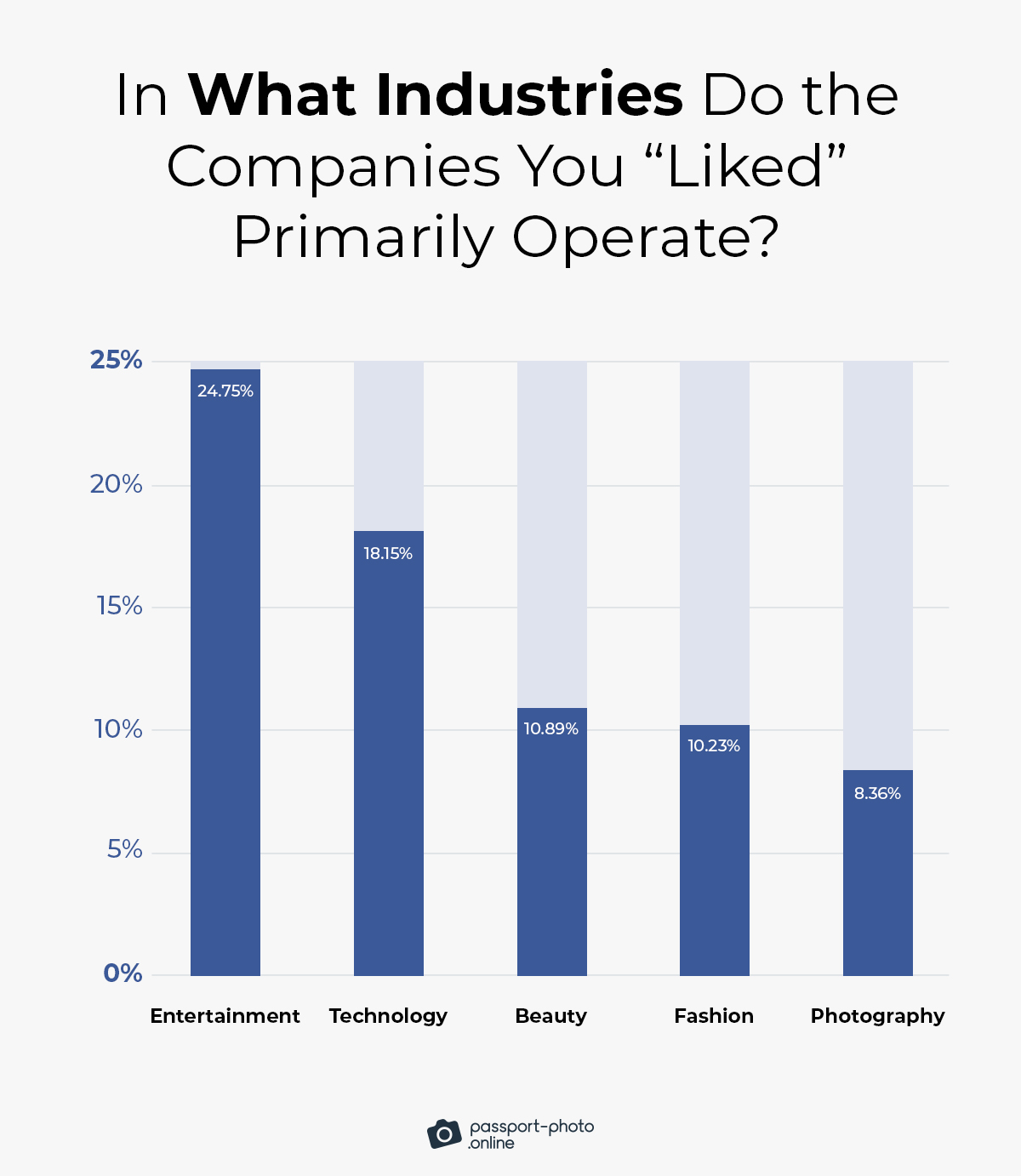 As you can see, entertainment (25%) took the top spot. It's followed by technology (18%) and beauty (11%).
Finally, it's time to see how often individuals who use Facebook engage with the brands they "liked" by commenting, sharing, or reacting to their posts.
The results are in: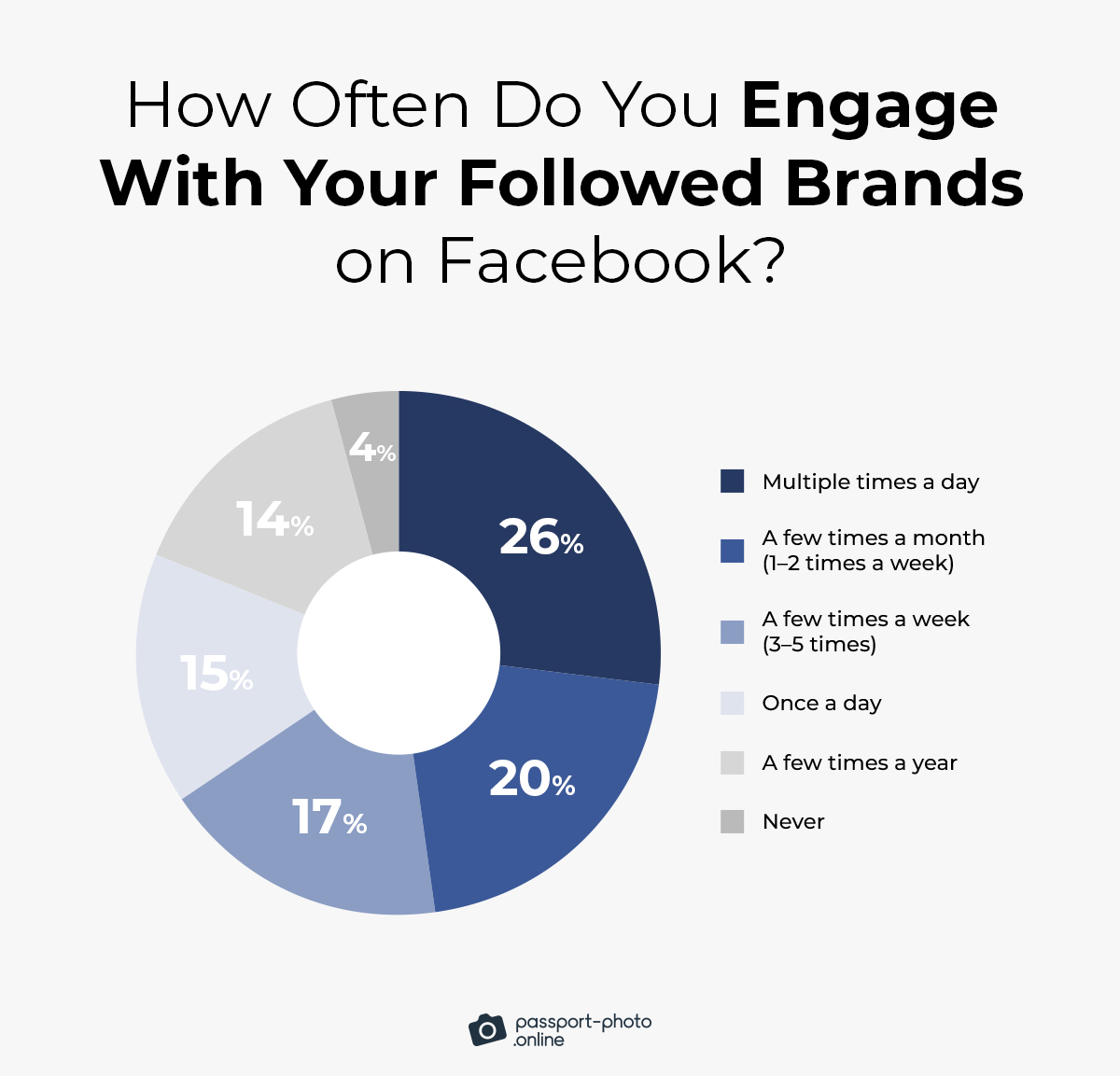 Only 4% of pollees said "never." The rest interact in different frequencies, with multiple times a day being the most popular option at 26%.
That speaks volumes.
Americans Believe a Facebook Presence Is Essential
Still unconvinced?
Let's hear from survey takers on the importance of having a presence on the father of all social media: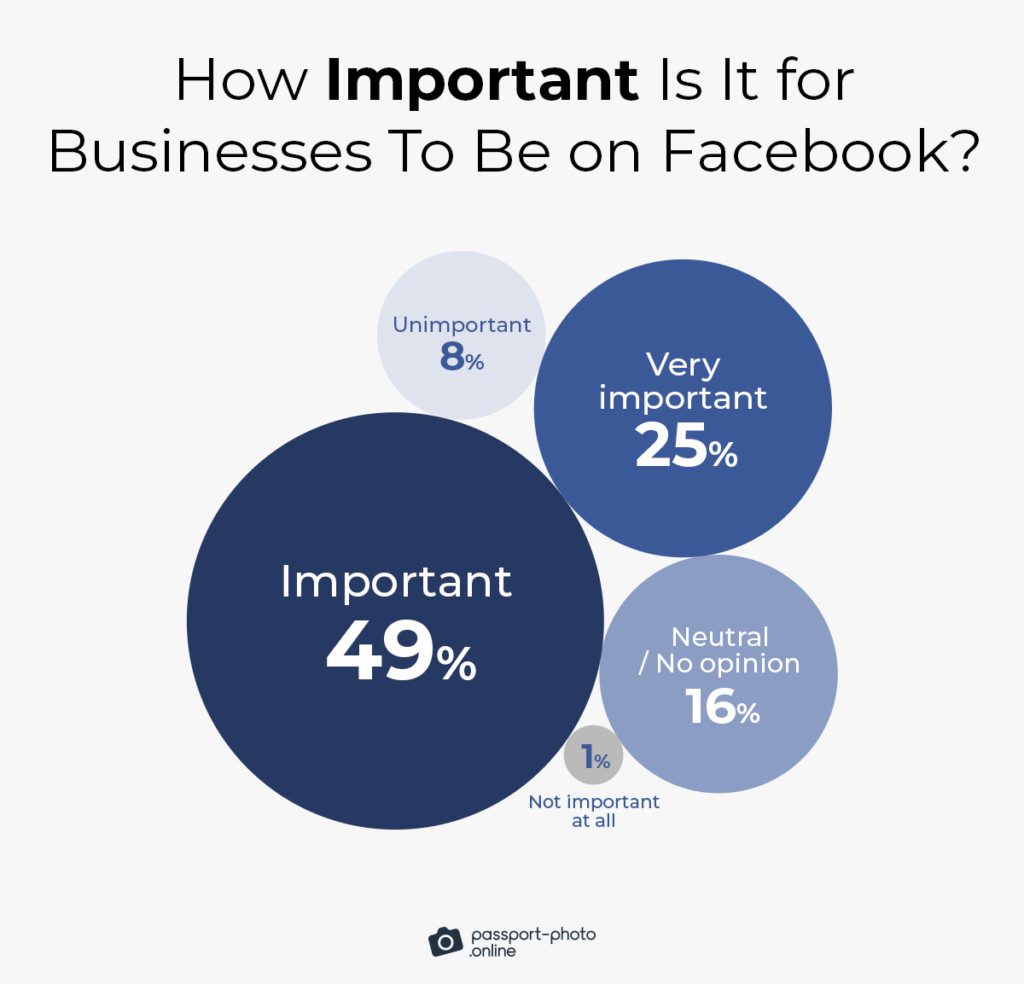 The data shows that 74% of people think that it's important or very important for a business to be on Facebook.
As a follow-up, we asked to what extent they agreed or disagreed with the statement, "I feel more connected to the businesses I follow on Facebook than those I don't."
See the responses below: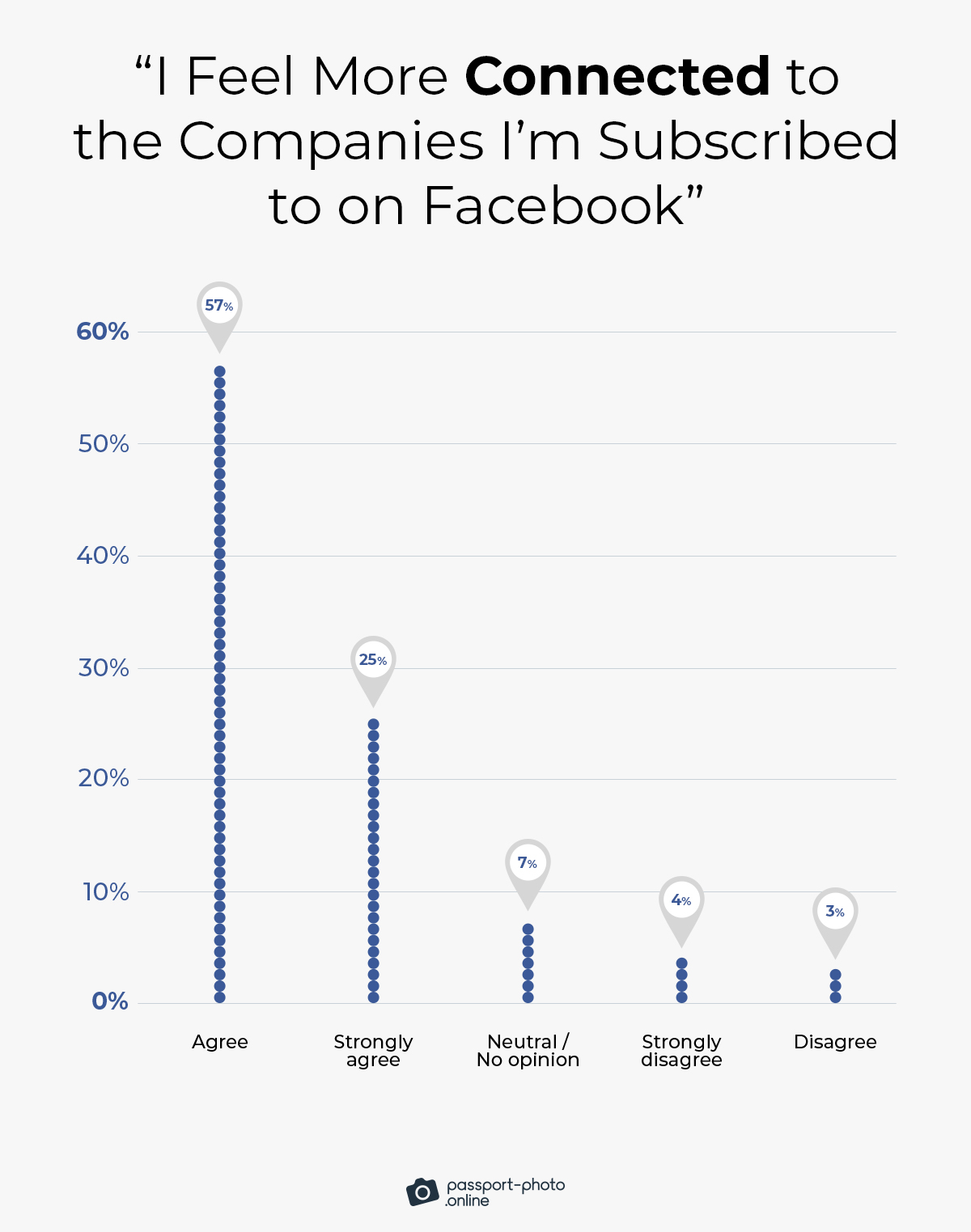 The results are telling: 82% of participants said they have a stronger bond with the companies they follow on Facebook.
That usually translates into more loyalty and sales down the road, as our next finding confirms: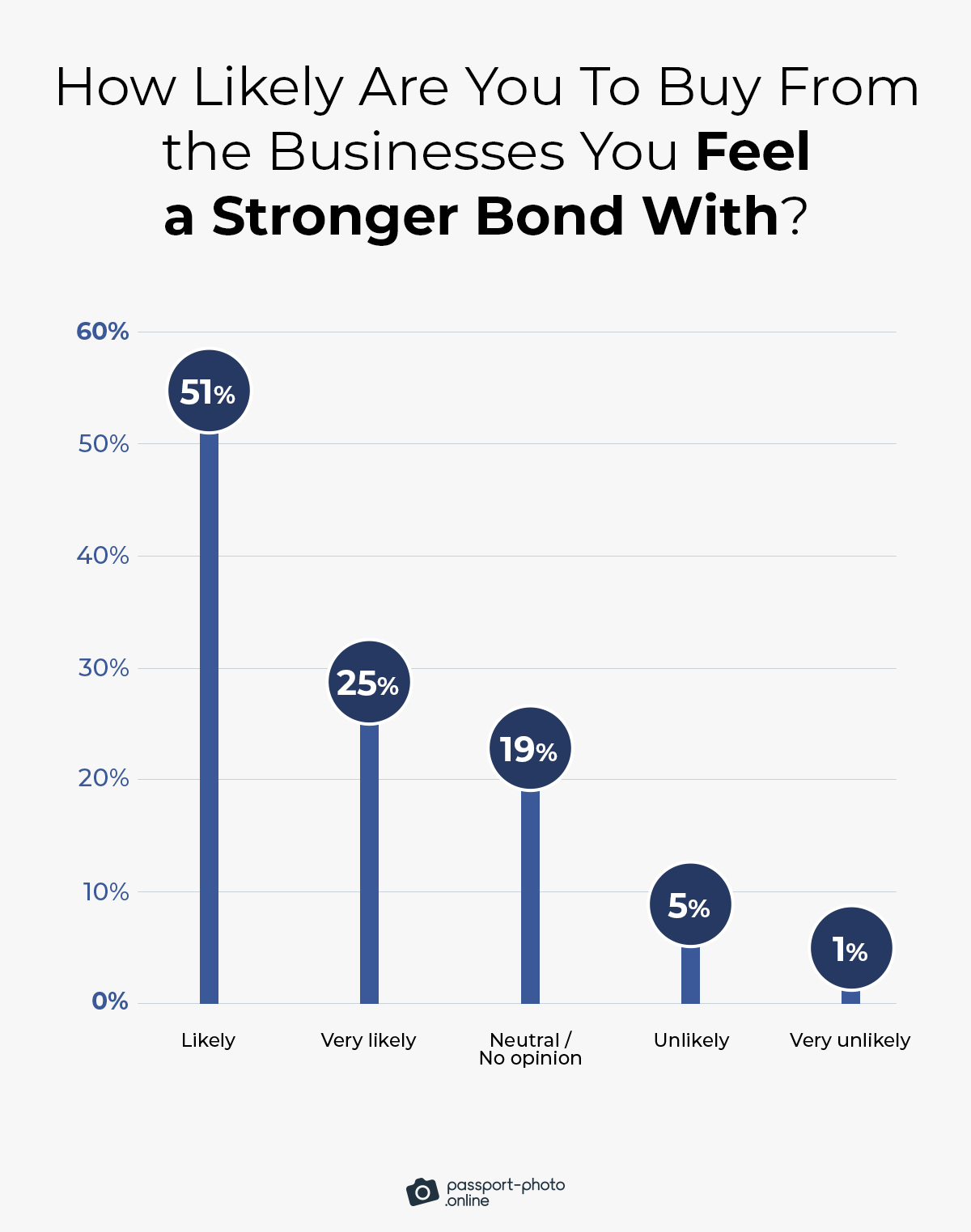 Сheckmate.
People "Like" Business Pages To Stay in the Loop
If you're privy to what makes Facebook community members add a business to their feed, you're likelier to hit hockey-stick growth.
So—
Here are the five main reasons behind the "why":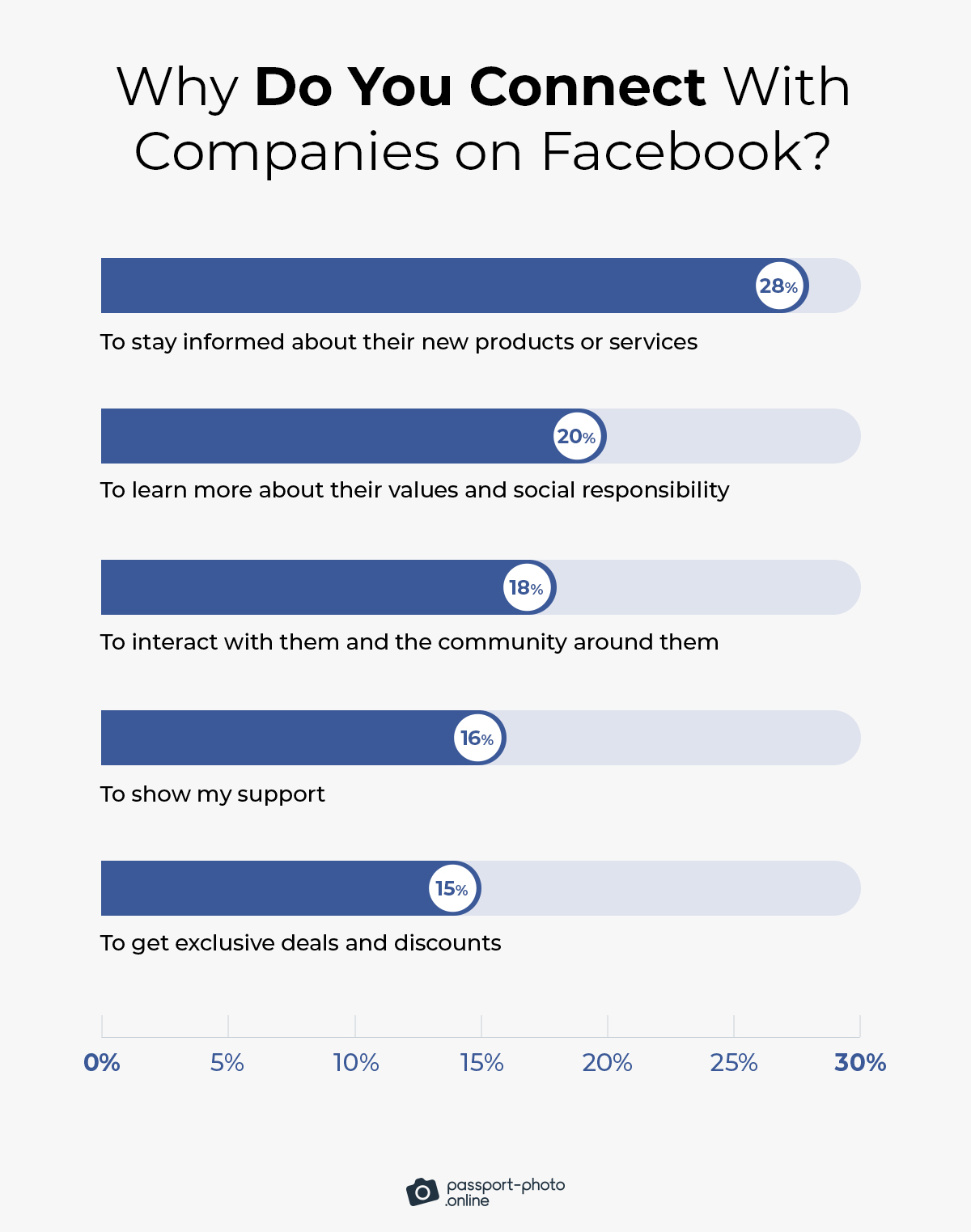 The chart shows that the number one reason to "like" business pages is to stay informed about the company's new products/services (28%). So it's a good idea to keep your audience up to date.
Interestingly, the second most popular motivation is to learn more about its values and social responsibility at 20%. It suggests Facebook users want to see how brands give back to society and contribute to environmental welfare.
This is echoed by an Aflac study, which revealed that 77% of consumers are motivated to purchase from organizations committed to improving the world.
Business owners, take note!
Why You Need To Double-Down on Informative Content
Content is at the heart of every Facebook strategy.
So let's explore the type of content people want to see MORE of from brands: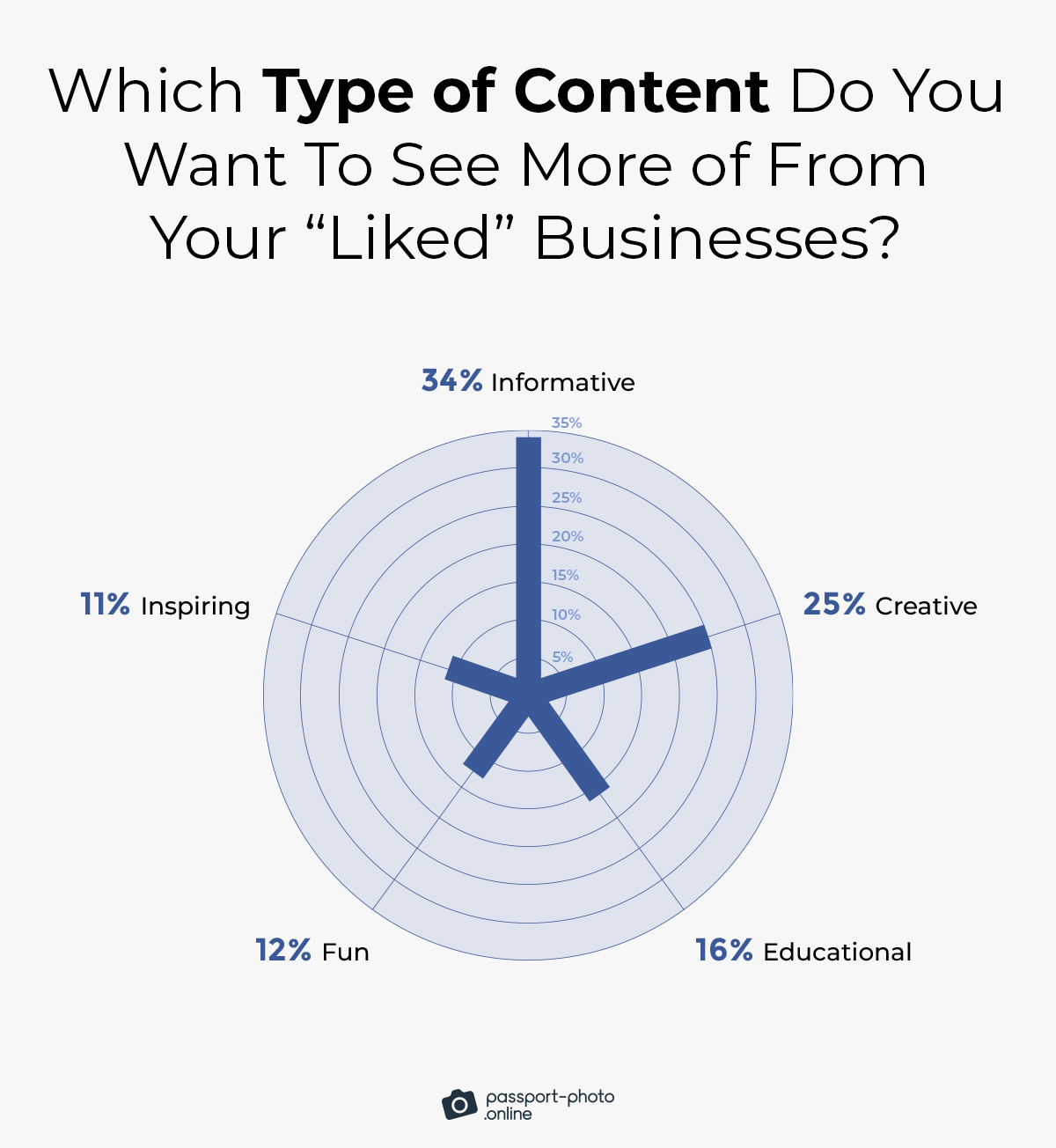 As you likely guessed, informative content (34%) takes the lead. It means people want more posts that provide valuable and helpful information.
That aligns with the old marketing adage: content is king, but quality is queen.
The Majority of Facebookers Have Discovered Products/Services To Buy in Recent Months
So far, so good.
Now let's focus on how consumers interact with the businesses they've "liked."
To this end, we asked survey takers to think back to the most recent time they saw a Facebook post in their feed from one of their subscribed brands and recall their actions.
Below are the results: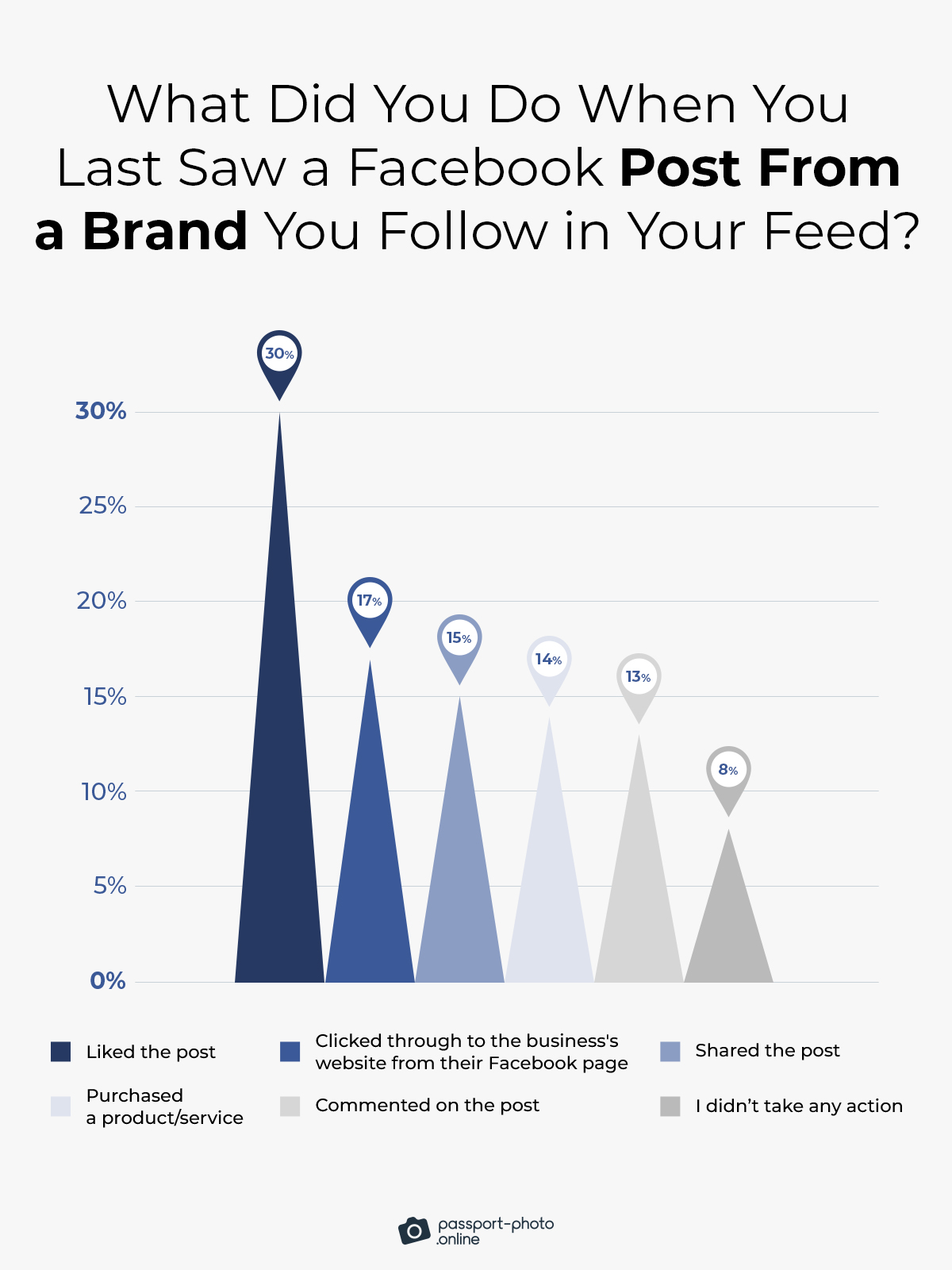 The data shows users are most likely to hit the "like" button. That helps spread the word and gives you free publicity.
Plus—
Don't forget about an impressive 14% of survey takers who actually made a purchase upon running into a company's post. It's a powerful piece of evidence in favor of using Facebook for business.
In this context, we also asked pollees about the last time they discovered products or services on this social networking site.
The responses are in: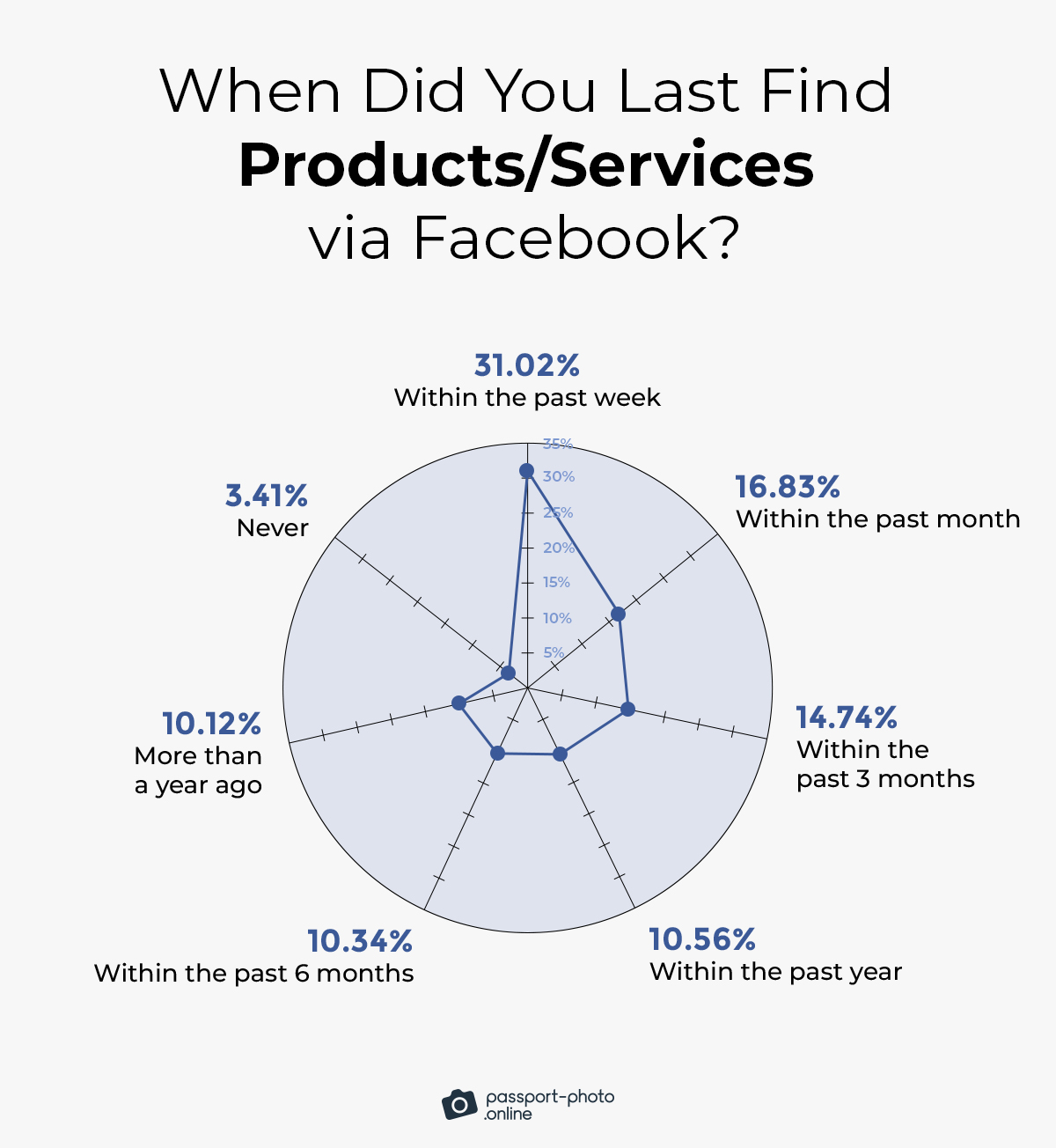 A full 63% of Facebook account holders claim they've discovered products or services via Facebook just in the last three months.
Not bad.
Finally, we wanted to gauge how many Americans have made impulsive purchases on the platform.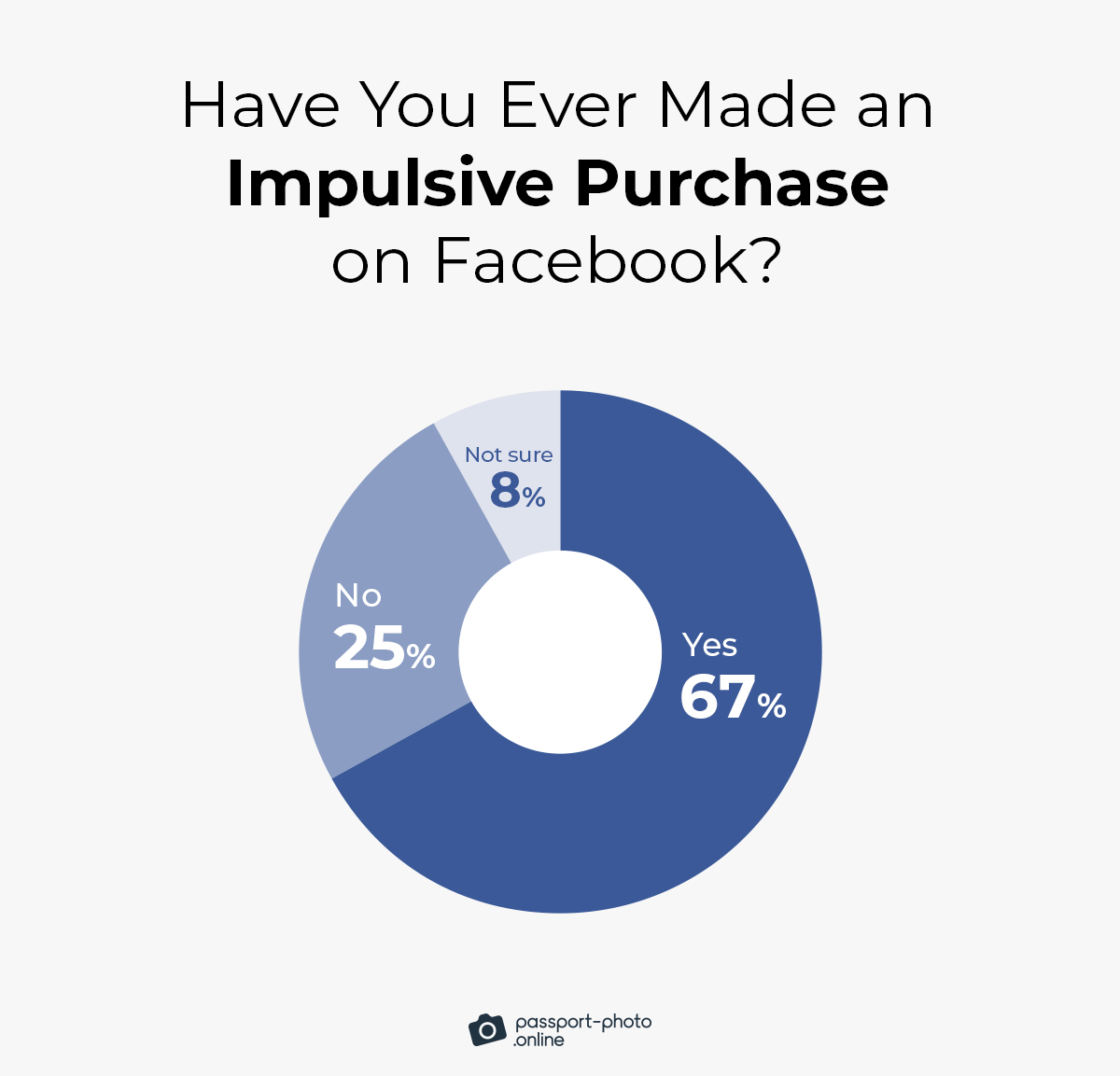 That's a solid number.
Stacking It All Up
There you have it.
A comprehensive look at the benefits of Facebook for business.
Now—
Do you have a Facebook presence yet? How do you plan to capitalize on the platform's potential?
Let us know in the comments below.
Methodology
We conducted an online survey of 909 US Facebook account holders via a bespoke online polling tool in March 2023.
The respondents were 58.6% male, 41% female, and 0.3% identified as other. 22.1% of respondents were 18–26, 58% were aged 27–42, 13.9% were aged 43–58, and 6.1% were 59–68.
This survey has a confidence level of 95% and a margin of error of 3%. Given the gender and age makeup of our sample size, the study's findings are statistically significant for the population at large.
This study was created through multiple research steps, crowdsourcing, and surveying. Data scientists reviewed all survey participants' responses for quality control. ​​The survey also had an attention-check question.
Fair Use Statement
Did our findings help you learn more about the benefits of Facebook for business? If you believe your audience will be interested in this information, feel free to share it. Just remember to mention the source and link back to this page.
Sources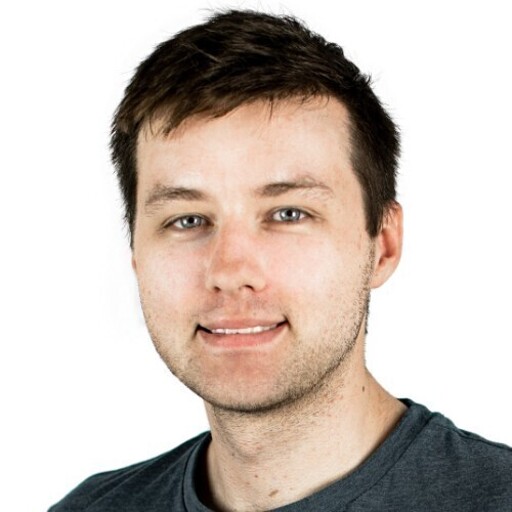 Max Woolf is a writer and travel lover at Passport Photo Online. His insights, advice, and commentary have been featured in Forbes, Inc., Business Insider, Fast Company, Entrepreneur, BBC, MSN, NBC, Yahoo, USA Today, Fox News, AOL, The Ladders, TechRepublic, Reader's Digest, Glassdoor, Stanford, G2, and 300+ other outlets.