We all know Europe is a great place to retire.
The Old World has lots to offer, from delicious food and wine to stunning scenery and centuries of history.
But—
With so many places to choose from, it can be hard to decide where to spend your golden years.
That's why we've put together this 2022 ranking of the best places to retire in Europe based on four metrics: safety, healthcare, affordability, and weather.
Let's make a start.
Table of Contents
Retirement in Europe: 7 Benefits
There are plenty of reasons why retiring in Europe is a great idea.
For one, Europeans have a much more relaxed attitude toward retirement. While it's often seen as the end of your productive life in the US, retirement in Europe is the time to enjoy the fruits of your labor.
Plus, don't forget about the food. European cuisine is some of the best in the world, and you'll have ample opportunity to sample delicious dishes if you move there.
If you're still unconvinced, here's a quick rundown of five key reasons to retire in Europe:
The cost of living is lower than in the US.
Many European countries have high-quality, affordable healthcare.
Europe is a great place to learn new things, meet new people, and broaden your horizons.
There are plenty of opportunities for cultural enrichment and travel.
The climate in Europe is generally milder than in North America.
Related readings:
Best Countries in Europe to Retire: 37 Destinations, Ranked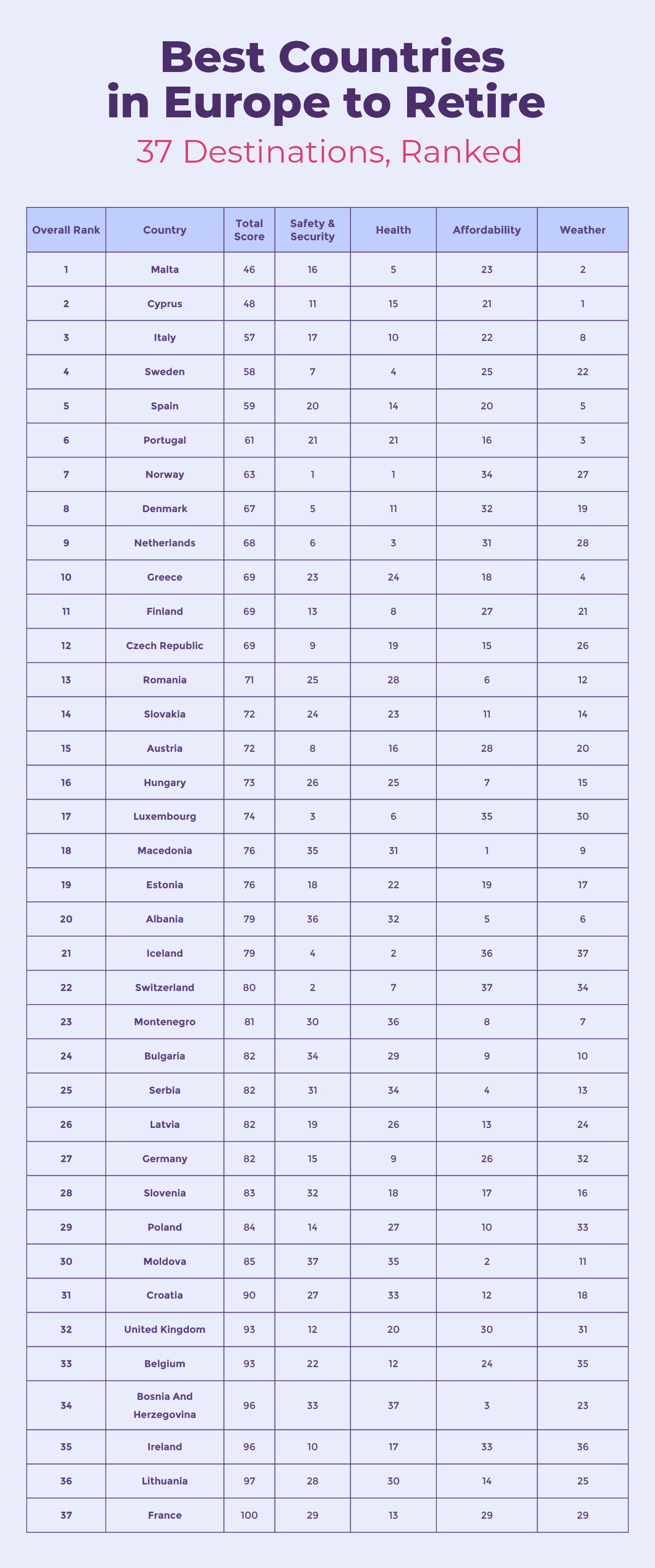 *Except for "Total Score," all of the columns in the table show the relative rank of each country, where a rank of one represents the best conditions for that specific metric category.
5 Best European Countries to Retire in 2022
So far, so good.
Let's now take a closer look at the top five best places to retire in Europe.
Malta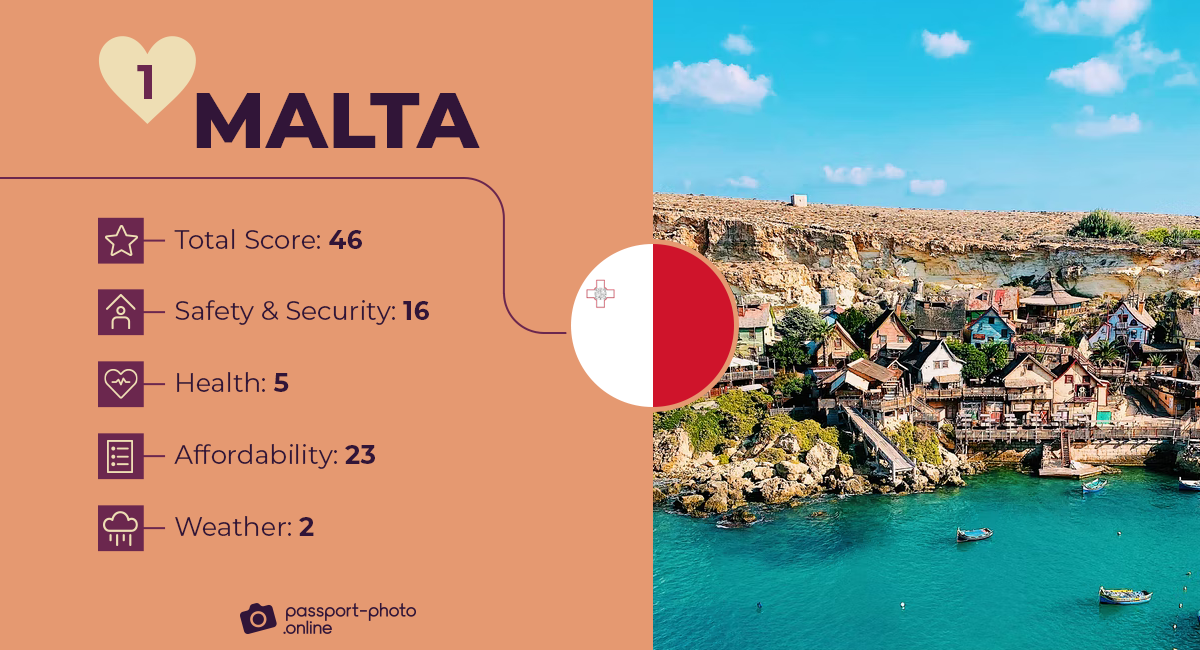 Malta is the best country in Europe to retire, ranking number one.
For starters, the country's weather is nearly perfect. Situated in the Mediterranean, Malta enjoys a mild climate with plenty of sunshine. Even in winter, the temperatures are around 60°F.
What's more, Malta offers excellent healthcare for retirees. It has high-quality hospitals and clinics, and residents enjoy free or subsidized medical care.
Finally, Malta is just beautiful. There is always something to explore with its stunning coastlines, Baroque churches, and medieval architecture.
The top three cities to retire in Malta:
Valletta (capital): quiet and tranquil
St Julian's: active nightlife
Marsaxlokk: seafood galore
Cyprus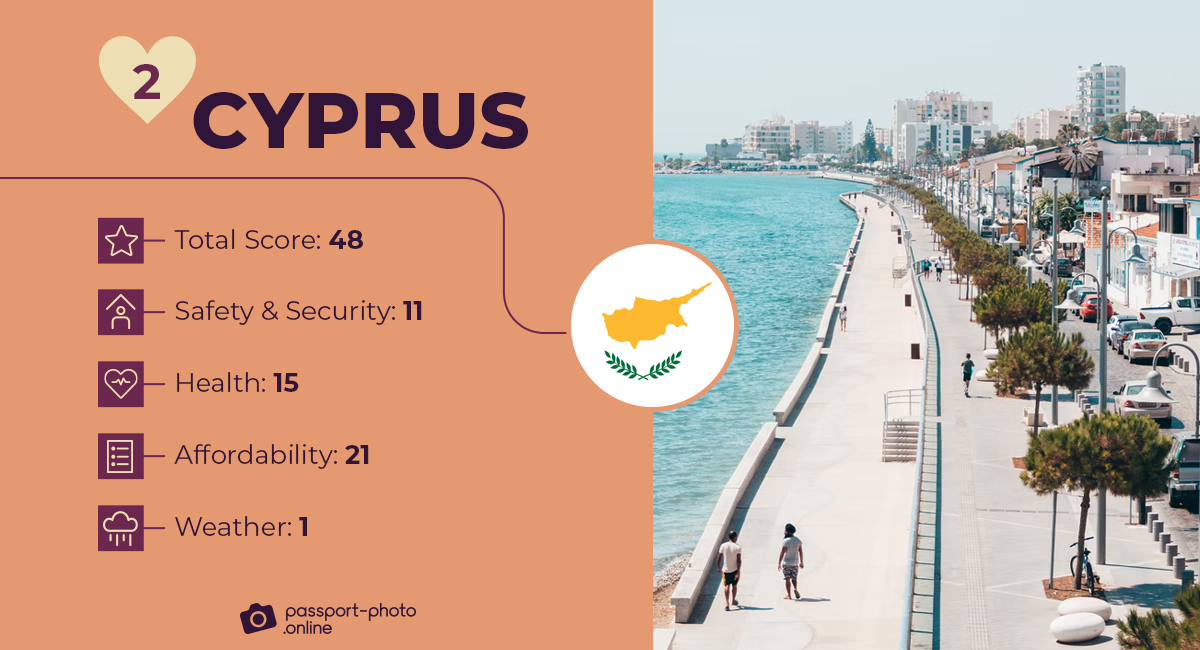 With an average of 3,314 hours of sunshine per year, it's no wonder Cyprus is the second best country to retire in Europe.
Cyprus offers good value for money, with affordable healthcare and a lower cost of living than many other European countries. The island also has a low crime rate, making it an attractive option for retirees.
Lastly, there's plenty to keep you busy in Cyprus. From exploring ancient ruins to soaking up the sun on the beach, you'll never find yourself looking for things to do.
The top three cities to retire in Cyprus:
Paphos: affordable real estate
Limassol: business capital
Nicosia (capital): touristy and lively atmosphere
Italy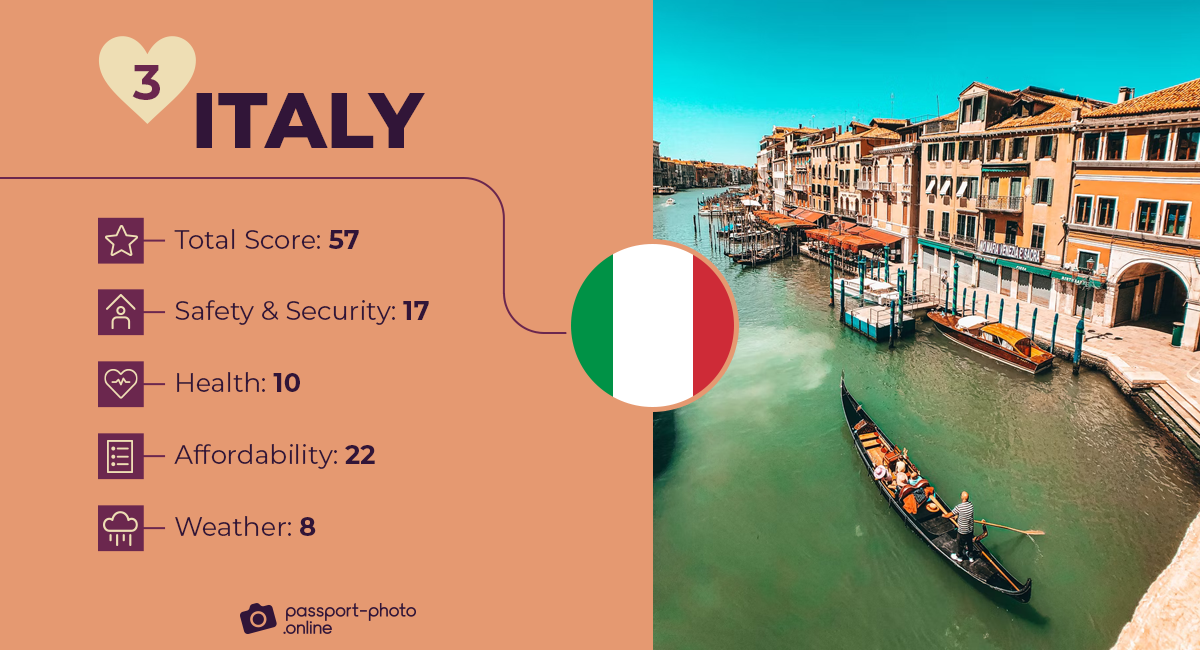 Italy has a lot to offer to retirees.
While the cost of living is average, the climate is pleasant, and the food is world-renowned.
What's more, Italy is home to some of the most beautiful scenery in the world. From the rolling hills of Tuscany to the sun-drenched beaches of Sicily, there's no shortage of breathtaking places to explore.
The top three cities to retire in Italy:
Sicily: low cost of living
Rome (capital): mix of culture, history, and food
Padua: friendly and welcoming
Sweden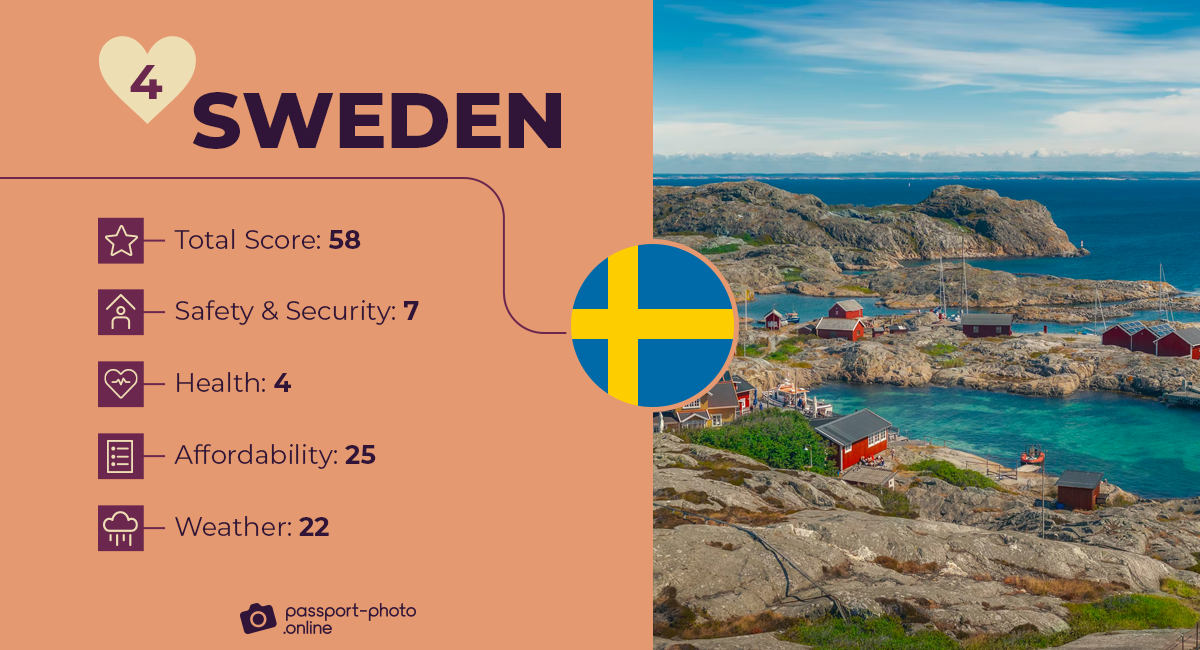 Sweden may not be the first country that comes to mind when you think of retirement, but it still ranks an impressive fourth.
One of the reasons Sweden is such an excellent choice is the healthcare system. Sweden has high-quality, affordable healthcare, and retirees can take advantage of free preventive care services.
The country is also known for its safety, low crime rate, and minimal risk of natural disasters.
Finally, most Swedish cities are pretty walkable and offer a variety of entertainment and dining options.
The top three cities to retire in Sweden:
Stockholm (capital): green and diverse
Gothenburg: recreation, culture, and arts
Malmo: warmer climate in winter
Spain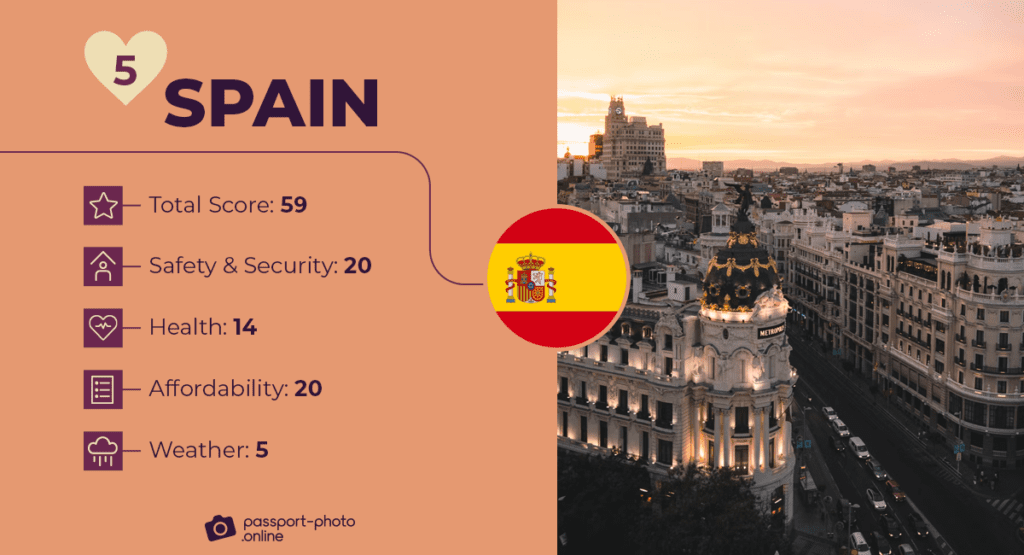 Last but not least, there's Spain.
It's one of the sunniest European countries, so you can enjoy great weather all year round.
The country is also home to abundant olive groves, vineyards, and fruit orchards, which produce some of the finest ingredients for mouthwatering regional dishes and world-class wines.
Whether you want to savor Catalonia's famous paella, sip Rioja in La Rioja Province, or enjoy a glass of Pedro Ximénez in Andalusia, Spain won't disappoint.
The top three cities to retire in Spain:
Madrid (capital): mix of traditions, culture, and delicious dishes
Alicante: friendly and welcoming with a small-town feel
Valencia: beach town
How to Retire in Europe: Actionable Tips
Once you've picked your dream destination, it's time to look into how to establish residency there.
Now—
It's important to understand that each European country has its visa and residency qualifications rules.
Some might require evidence of a minimum income level, while others will ask you to show substantial savings or even purchase real estate.
That's why it's best to get professional advice on visas, residence permits, taxes, insurance, and more before you decide to move.
An excellent place to start on your own, however, is to visit The US State Department.
It's a great resource for retirees looking to move abroad that can help determine if you need a visa to live in a particular country.
Stacking It All Up
There you have it!
A 2022 ranking of Europe's best places to retire.
Now—which country from the list do you think you could call your new home?
Let us know in the comment section below.
Methodology
Passport Photo Online examined The Legatum Prosperity Index 2021, which compared 167 countries across various metrics. For this article, we've only used such dimensions as safety, health, and affordability. We then used Wikipedia's data on average sunshine duration by capital city and country in hours per year and ranked 37 European states according to all four dimensions.
Fair Use Statement
Did you like our ranking? If so, feel free to share it with your audience. Just remember to mention the source and link back to this page.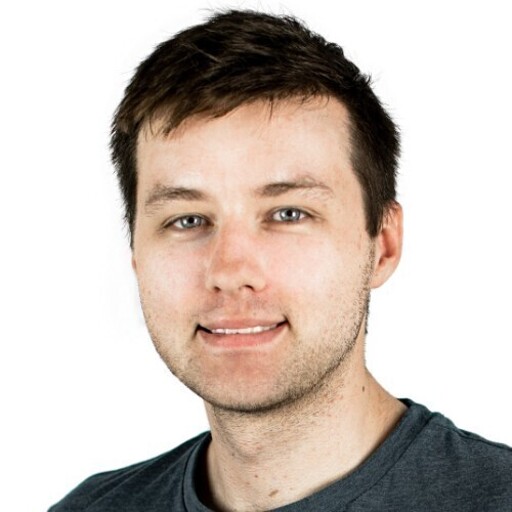 Max Woolf is a writer and travel lover at Passport-Photo.Online. His insights, advice, and commentary have been featured in Forbes, Inc., Business Insider, Fast Company, Entrepreneur, MSN, NBC, Yahoo, USA Today, Fox News, AOL, The Ladders, TechRepublic, Reader's Digest, Glassdoor, Stanford, G2, and 200+ other outlets.