Being a location-independent professional can be amazing.
Sipping on piña coladas on a beach, exploring the world as you work, and living on your own terms.
But—
It's not ALWAYS smooth sailing.
So at Passport Photo Online, we've decided to speak to ~950 US digital nomads and get the inside scoop on the not-so-glamorous aspects of digital nomadism to help others considering this lifestyle better prepare for what's ahead.
Ready to dive in?
Key Takeaways
About four in 10 digital nomads (41%) claim their lifestyle affects their ability to maintain romantic relationships.
Roughly 83% of location-independent professionals feel guilty for taking time off or disconnecting from work.
A full 77% of nomads have experienced burnout at least once, with entrepreneurs (80%) being the most affected by this epidemic.
An average of 40% of location-independent workers feel lonely often or always.
Nearly 77% of nomads think about their financial stability, with remote workers (84%) appearing the most concerned about it, noticeably outpacing entrepreneurs (71%) and freelancers (75%).
As many as 84% of digital nomads have faced challenges with taxes at least once.
Regardless, 94% intend to continue their nomadic lifestyle in 2023 and beyond.
Digital Nomads Work 40 Hours a Week or Less
As the first order of business, we wanted to examine the work-life balance of digital nomads.
The reason?
When leading such a lifestyle, work-life balance becomes a delicate balancing act. On the one hand, you want to ensure you're bringing home the bacon. On the other, you don't want to miss out on all the wanderlust opportunities.
So—
We asked survey participants how many hours they typically work per week.
Below are the results: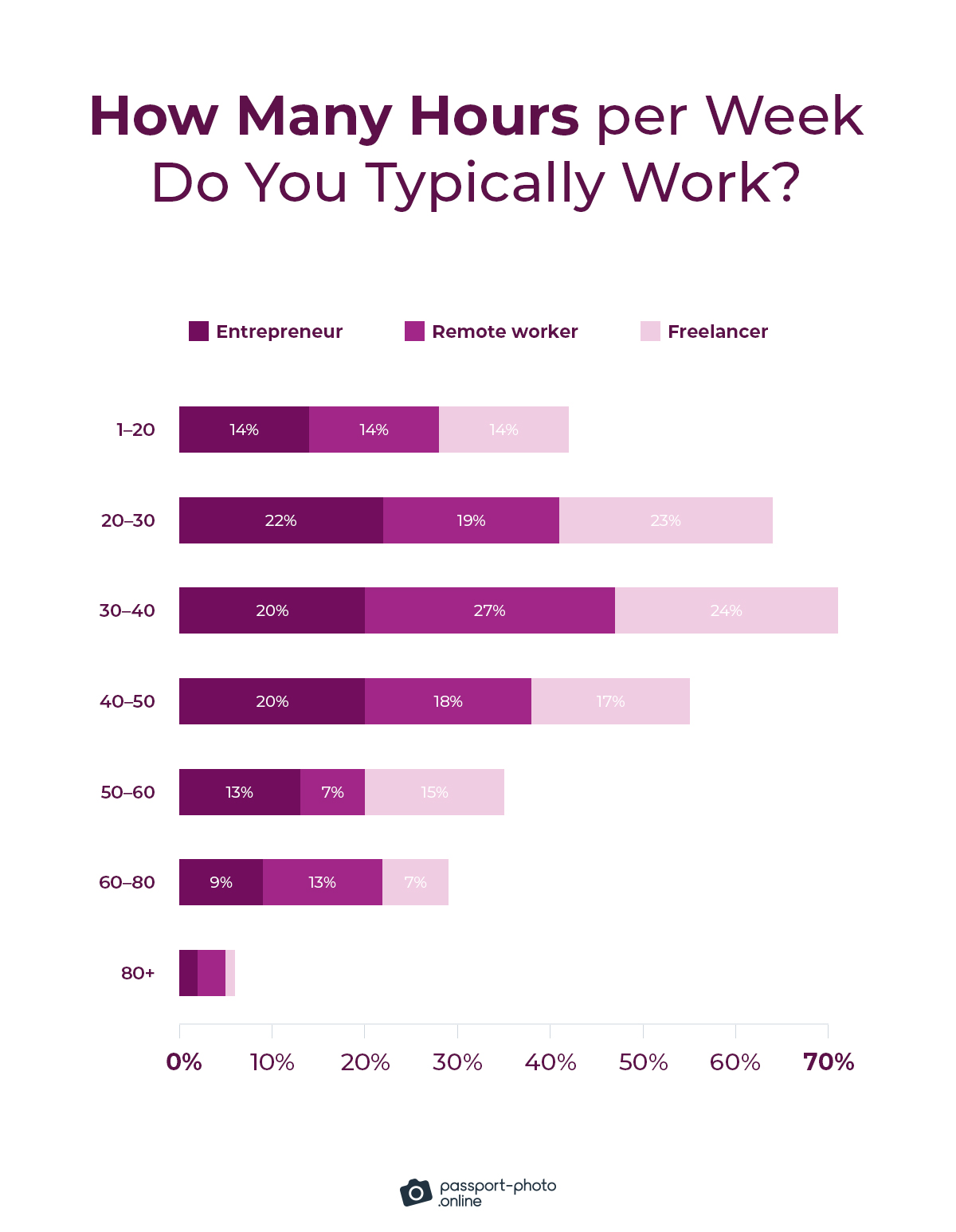 That data shows that most location-independent professionals (59%) work 40 hours weekly or less.
Another 30% put in 40–60 hours, on average, with entrepreneurs taking the lead at 33%. Finally, 12% of digital nomads log an average of 60–80+ hours, and remote workers dominate this group at 16%.
Is that too much, too little, or just the right amount?
Survey participants weigh in: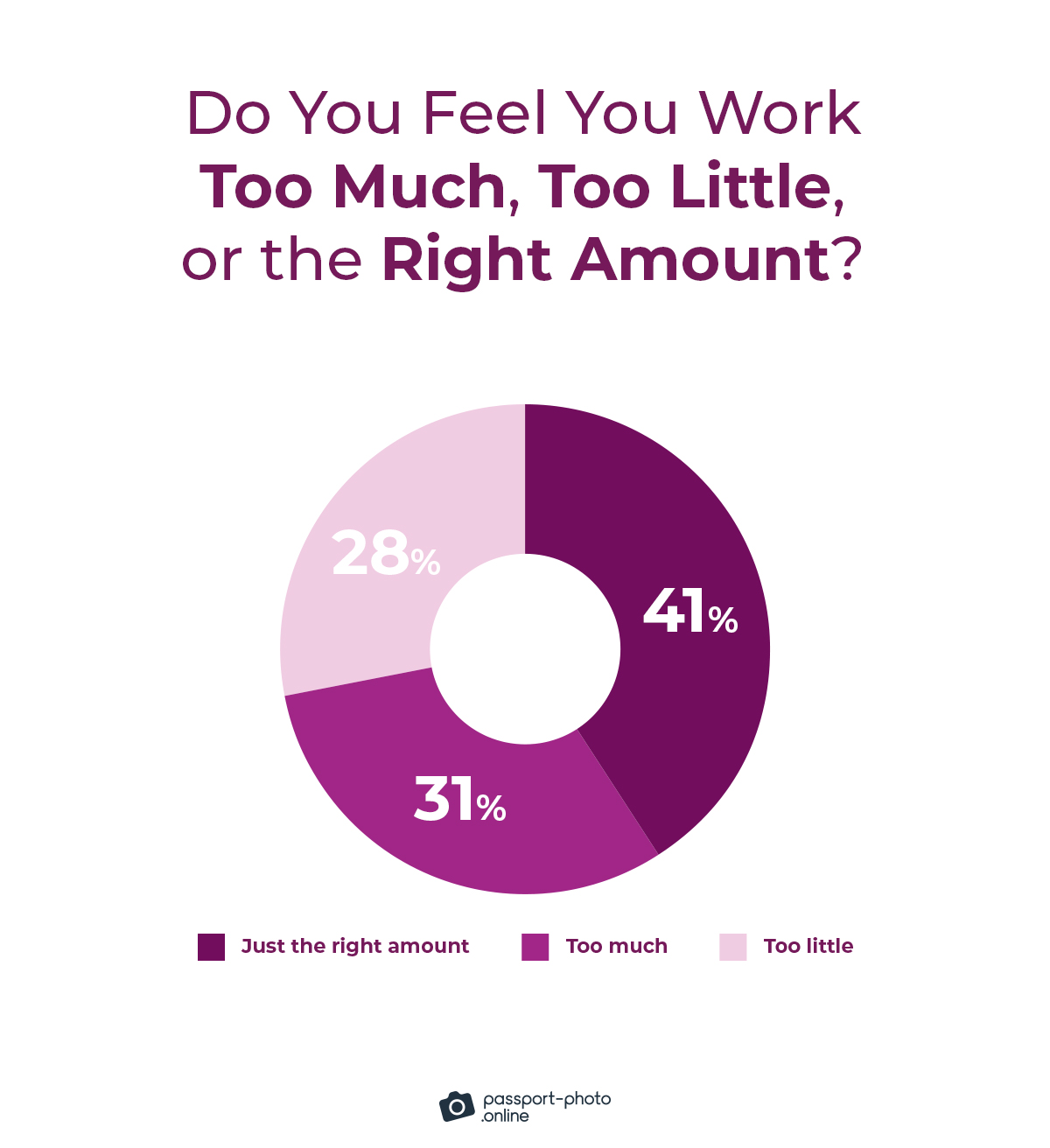 Now—
How does YOUR weekly workload compare? Drop a line in the comments.
Nomads Frequently or Always Work on Weekends
Moving along, we wanted to explore if adopting a nomadic lifestyle affects your working hours.
The answer?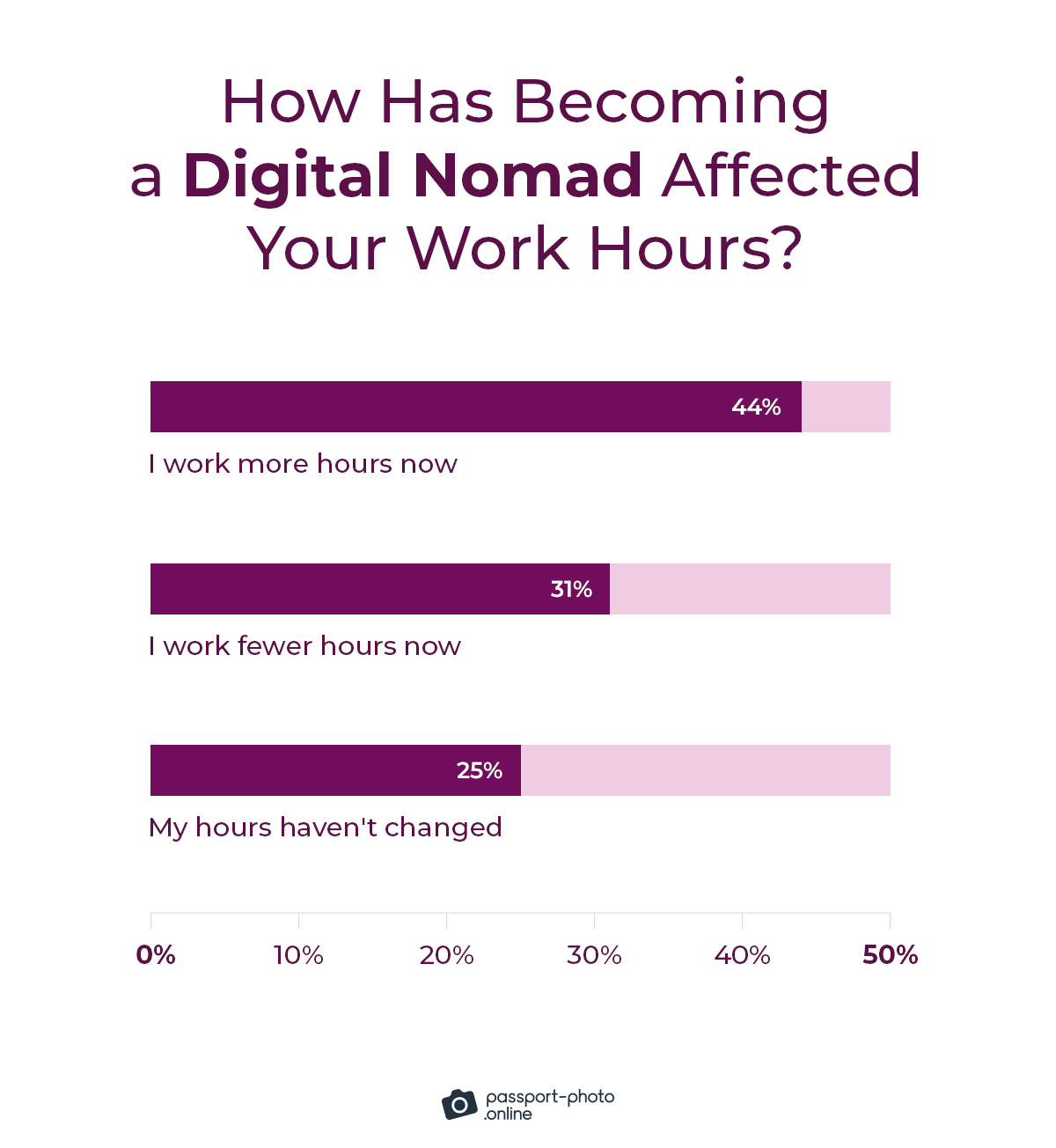 While you'd think taking your job on the road would bring more time freedom, it's not always the case. So much so that a total of 52% of respondents admit they frequently or always work on weekends, our further findings show: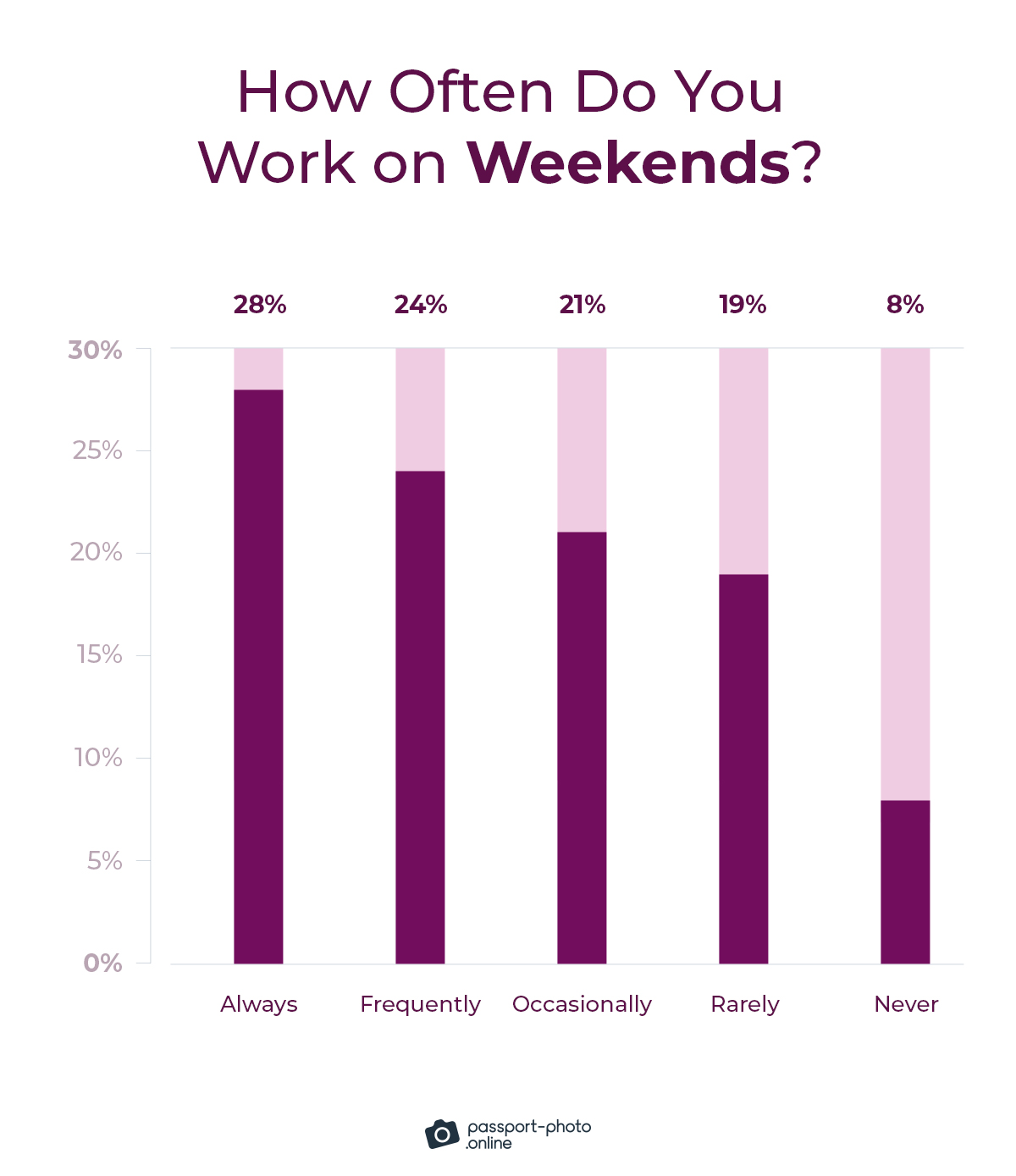 That's quite the shift from the traditional 9–5. Or is it?
Digital Nomads Feel Guilty When Disconnecting from Work or Taking Time Off
Here's a not-so-fun fact:
Roughly 76% of employees check after-hours emails, based on the Adobe email usage study of US white-collar workers.
Does the same hold true for nomads?
Very much so.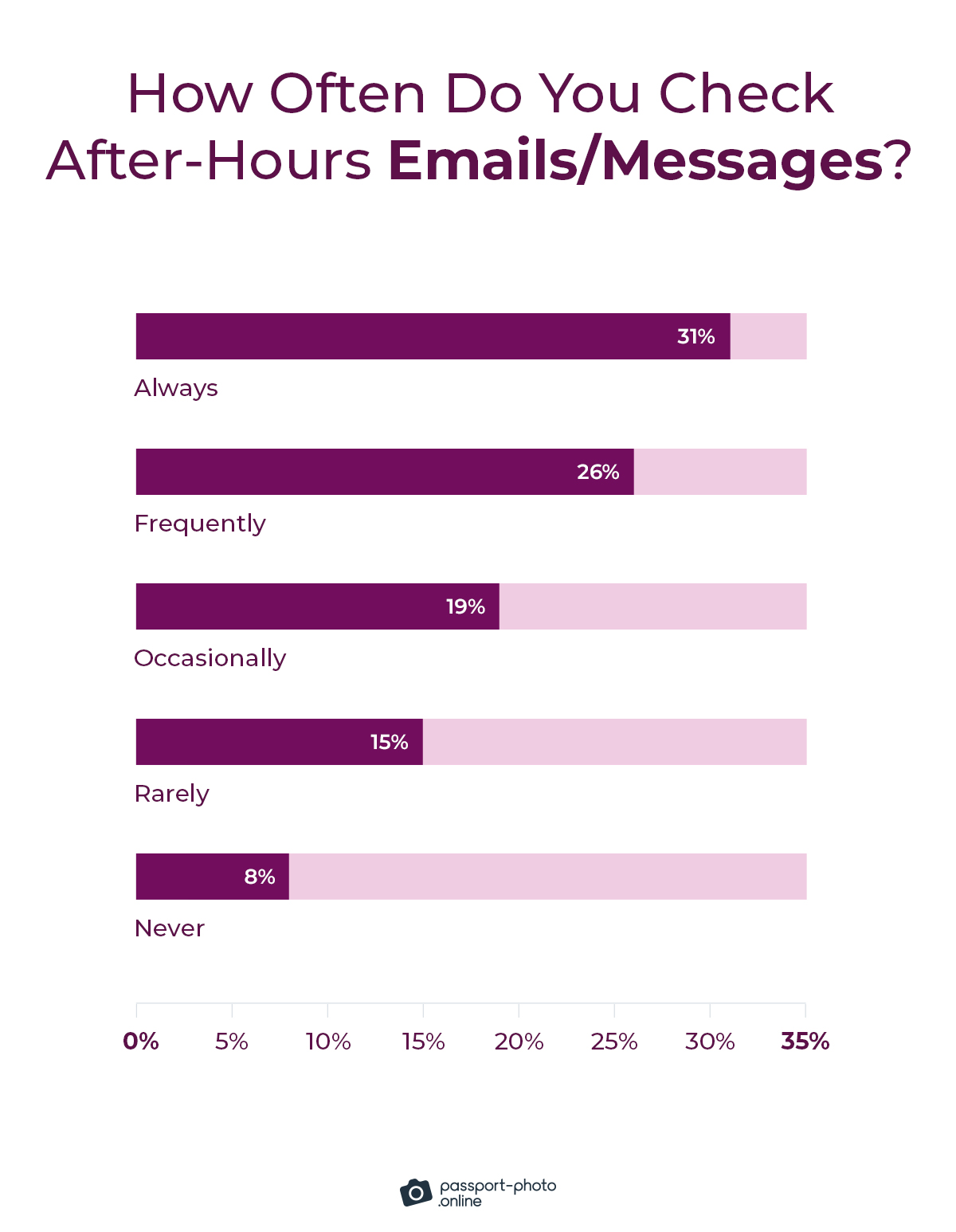 As a follow-up, we asked survey takers, "Do you feel guilty when you take time off or disconnect from work?" 83% answered in the affirmative.
So—
It's clear that many nomads feel pressure to work, even when not in "the office."
That could be the PERFECT recipe for burnout.
Location-Independent Professionals Aren't Immune to Burnout
Did you know?
Burnout affects about 70% of employees. It's no wonder it's been recognized by the World Health Organization as an occupational phenomenon.
Sadly, digital nomads are no exception: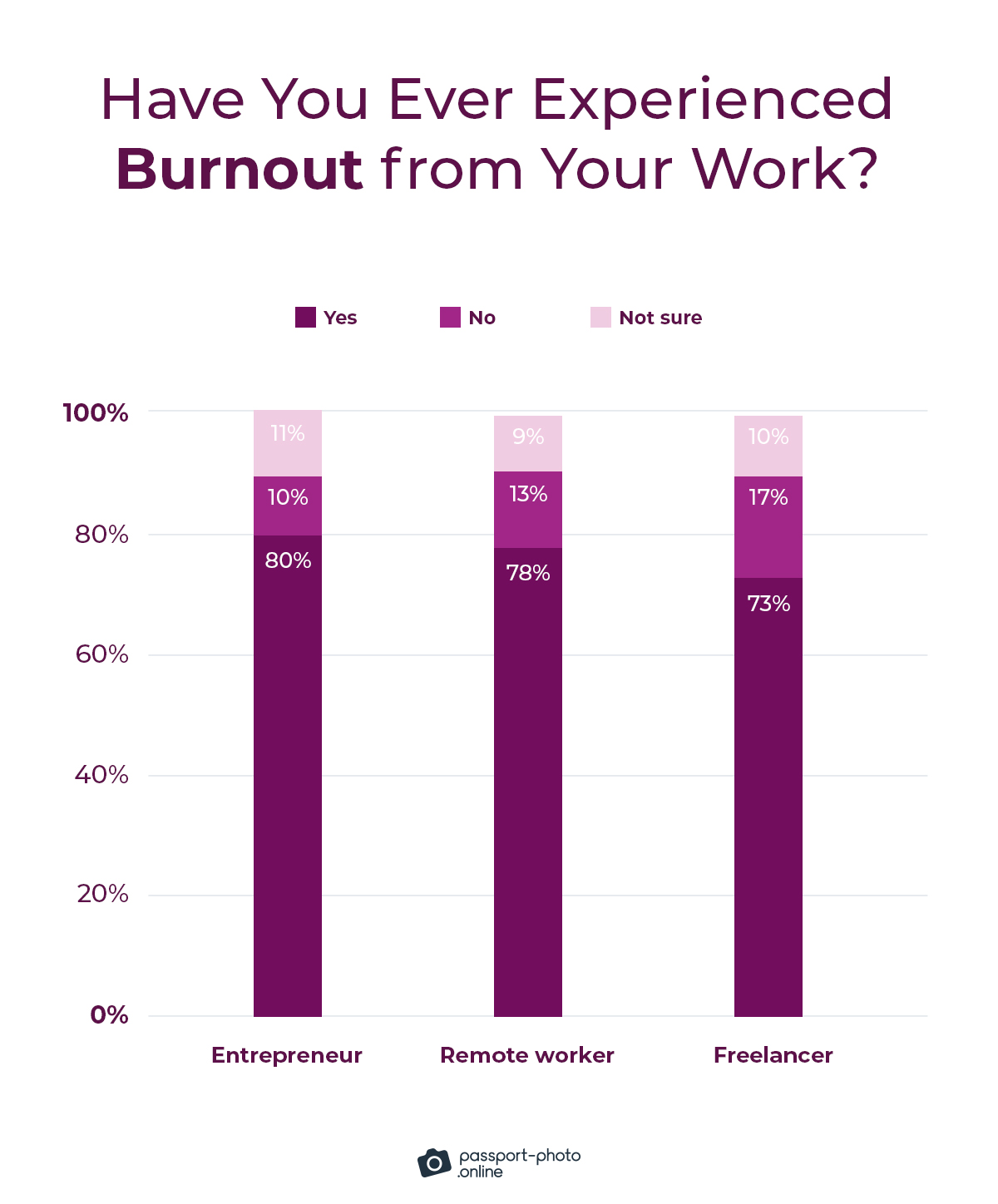 The chart shows that 77% of nomads have experienced burnout from their work at least once, with entrepreneurs (80%) being the most affected by this epidemic.
Ouch.
It's Not Uncommon among Nomads to Feel Lonely
If you plan to become a digital nomad and move abroad, you'll most likely experience loneliness.
That's because when you work a regular job, you get to enjoy those water-cooler moments, share a laugh, or vent about your boss.
But as a digital nomad? Not always an option.
For one, you'll probably work in the solo mode for a significant chunk of time. Two, it'll be difficult to find someone who understands the challenges of YOUR job since digital nomads specialize in a wide range of industries, from SEO to graphic design. That makes it hard to relate.
The data backs that up.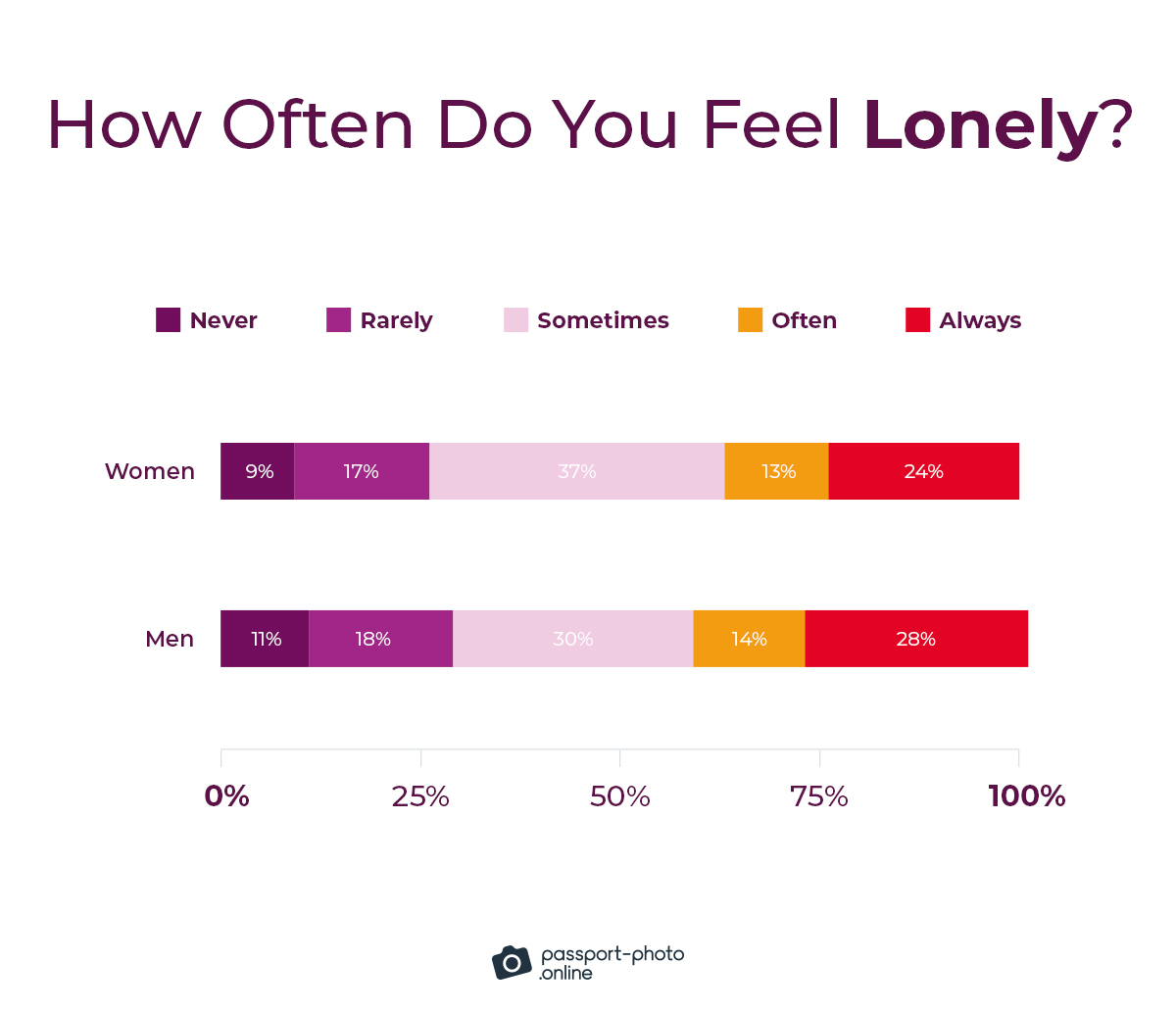 That chart shows that an average of 40% of digital nomads feel lonely often or always. Plus, the longer you're a nomad, the more likely you're to feel lonely:
While only 29% of professionals who've been leading a nomadic lifestyle for less than six months report experiencing loneliness often or always, that percentage jumps to an average of 41% for those who've been on the road longer (between six months and 5+ years).
The silver lining?
The longer you're a digital nomad, the more likely you'll find people to connect with, as the declining percentage figures in the table above indicate.
Phew.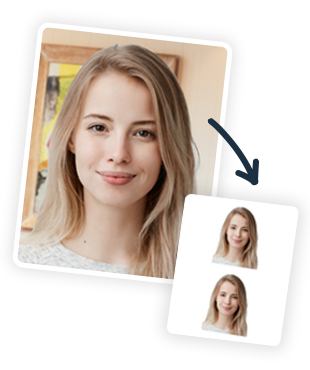 Do you need passport photos? Find out more:
Dating as a Nomad Is Harder
You might meet people who don't understand your lifestyle.
Or—
You could find someone on the same wavelength, but you WILL go separate ways when it's time for the next adventure.
As proof of concept, we asked survey respondents how their lifestyle affects their capacity to sustain romantic relationships.
Below are the results: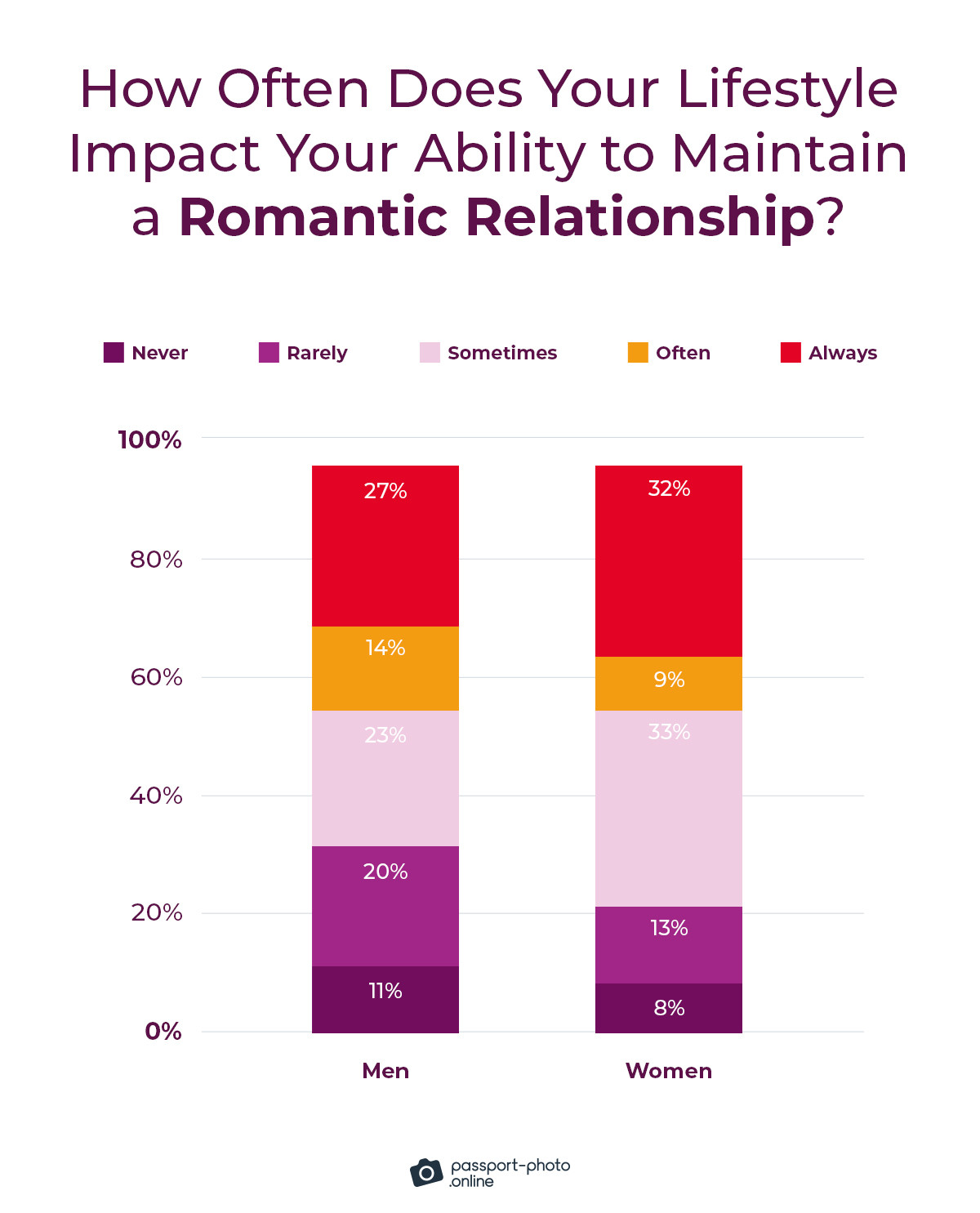 As you can see, 41% of location-independent workers claim their lifestyle often or always gets in the way of romance.
That said, it's not impossible to find and keep love when you're a nomad.
It just requires more effort.
FOMO among Nomads Is Real
Fear of missing out is no joke.
The latest statistics show that ~56% of all social media users experience it. How does it affect nomads, specifically?
The results below shed light on the subject: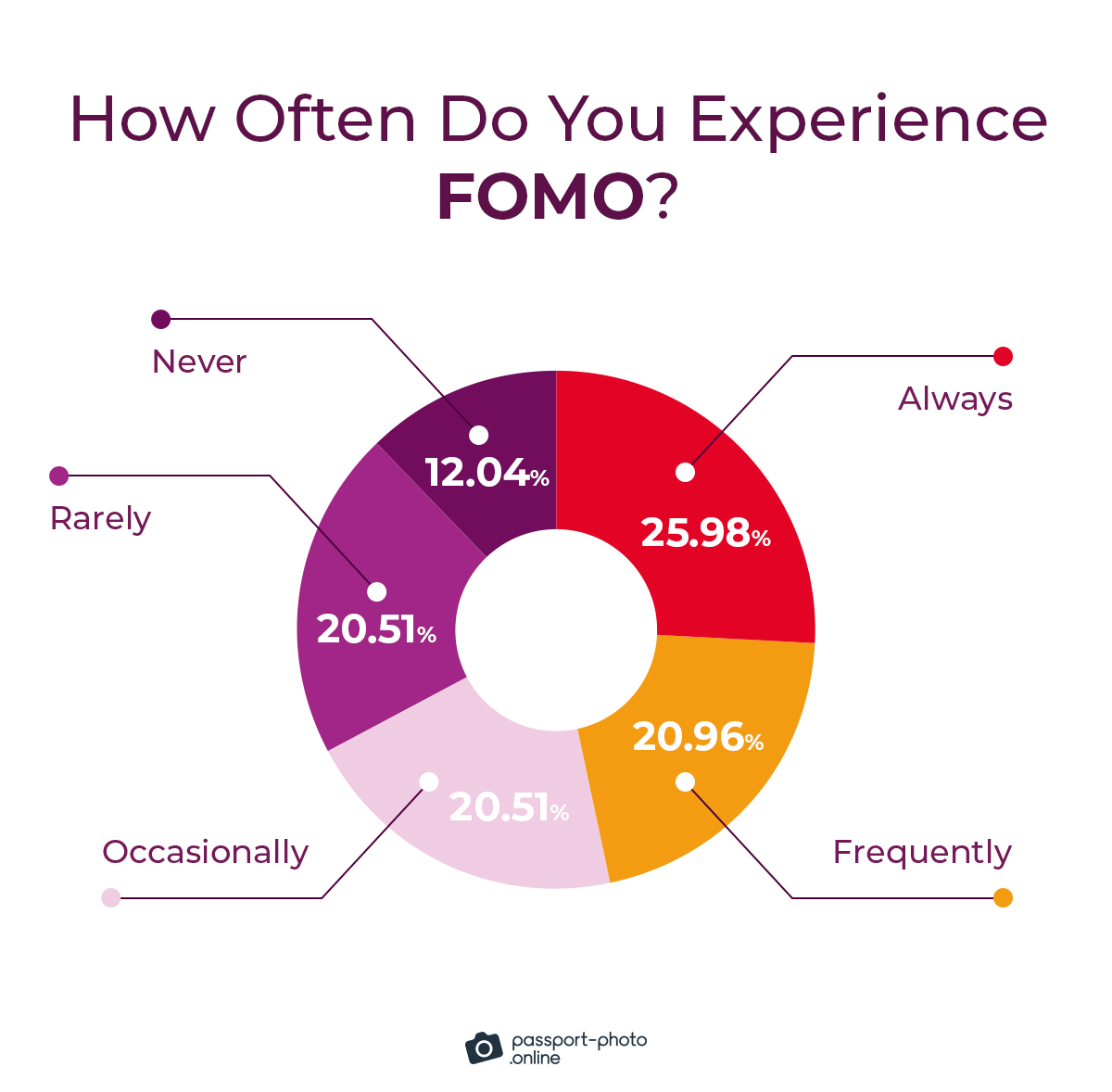 Only 12% of digital nomads never experience fear of missing out. The remaining 88% experience it rarely or occasionally (41.02%), frequently (20.96%), and always (25.98%).
Here's how they cope with it: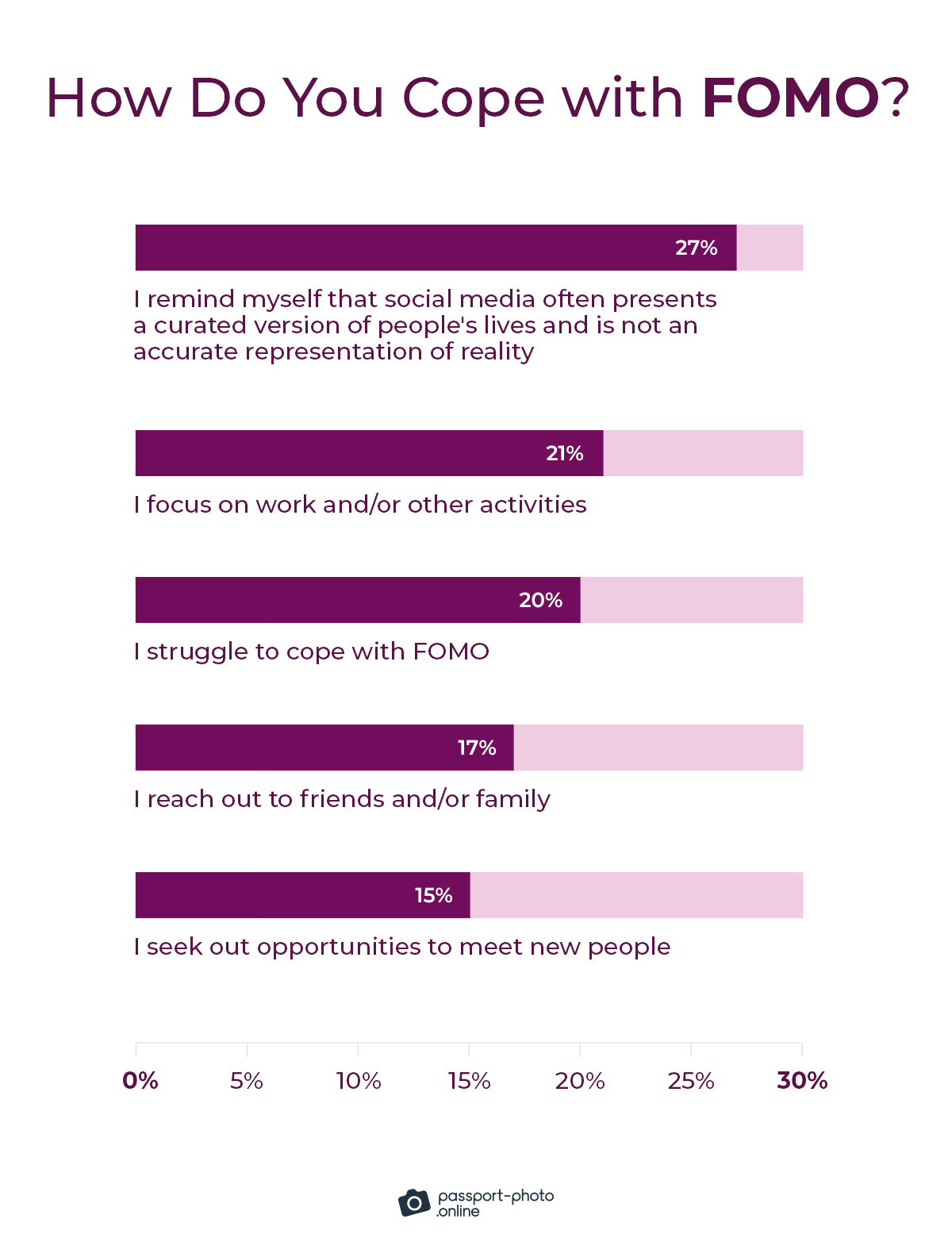 Note that 20% of digital nomads struggle to cope with FOMO, which indicates it's a pressing issue for many.
Digital Nomads Typically Stay in One Place for Up to 6 Months
At this point, we wanted to deep-dive into nomads' travel habits.
More specifically, we wanted to see how often they pack their bags and head to the next destination.
Below are the results: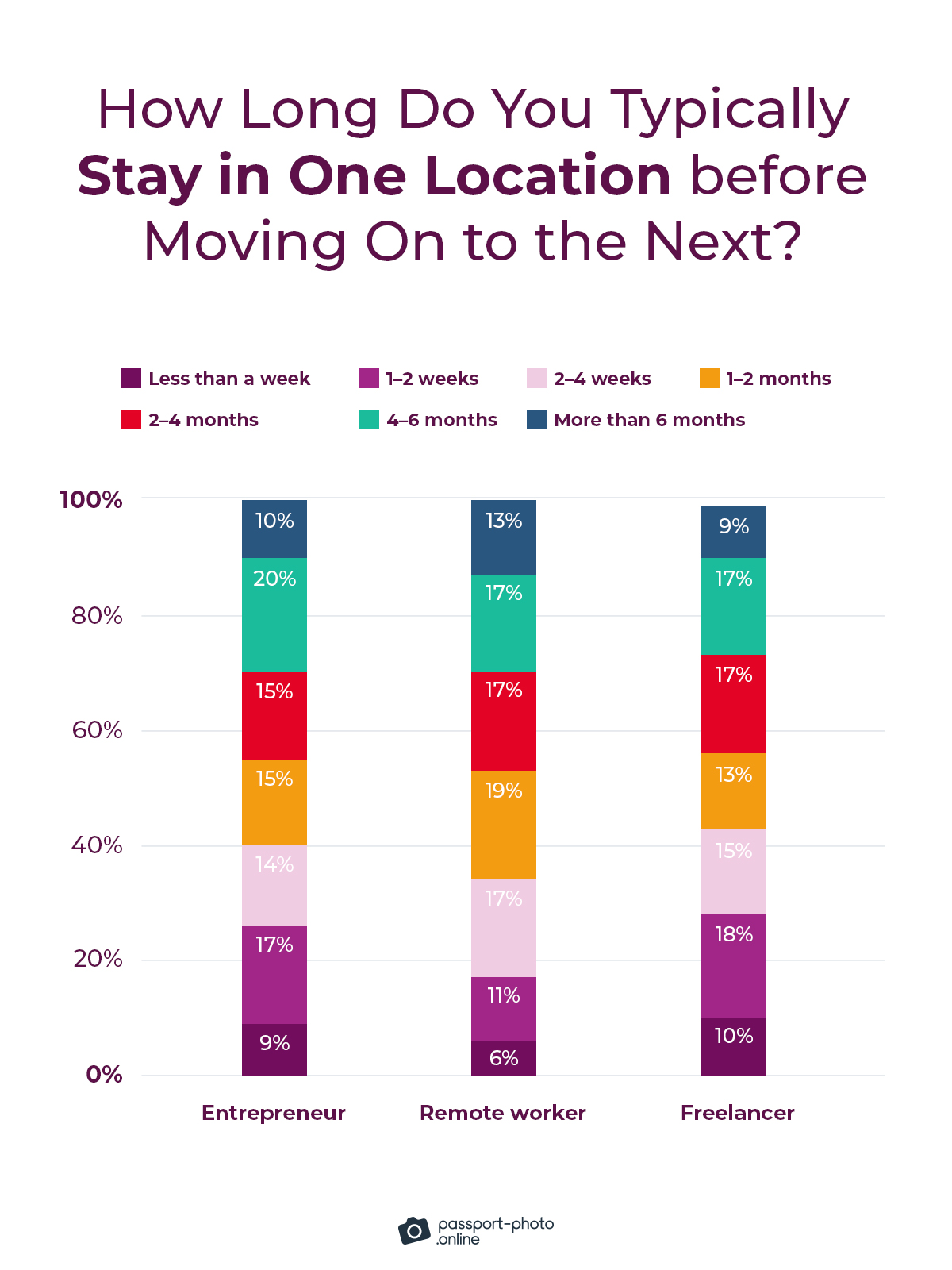 The chart shows that 89% of nomads stay put for up to six months. That goes hand in hand with the numbers from 3rd-party research, which found that 80% of digital nomads remain in one location for up to nine months.
That shouldn't lead to road fatigue, right?
Sadly, it sometimes does, as the results below indicate: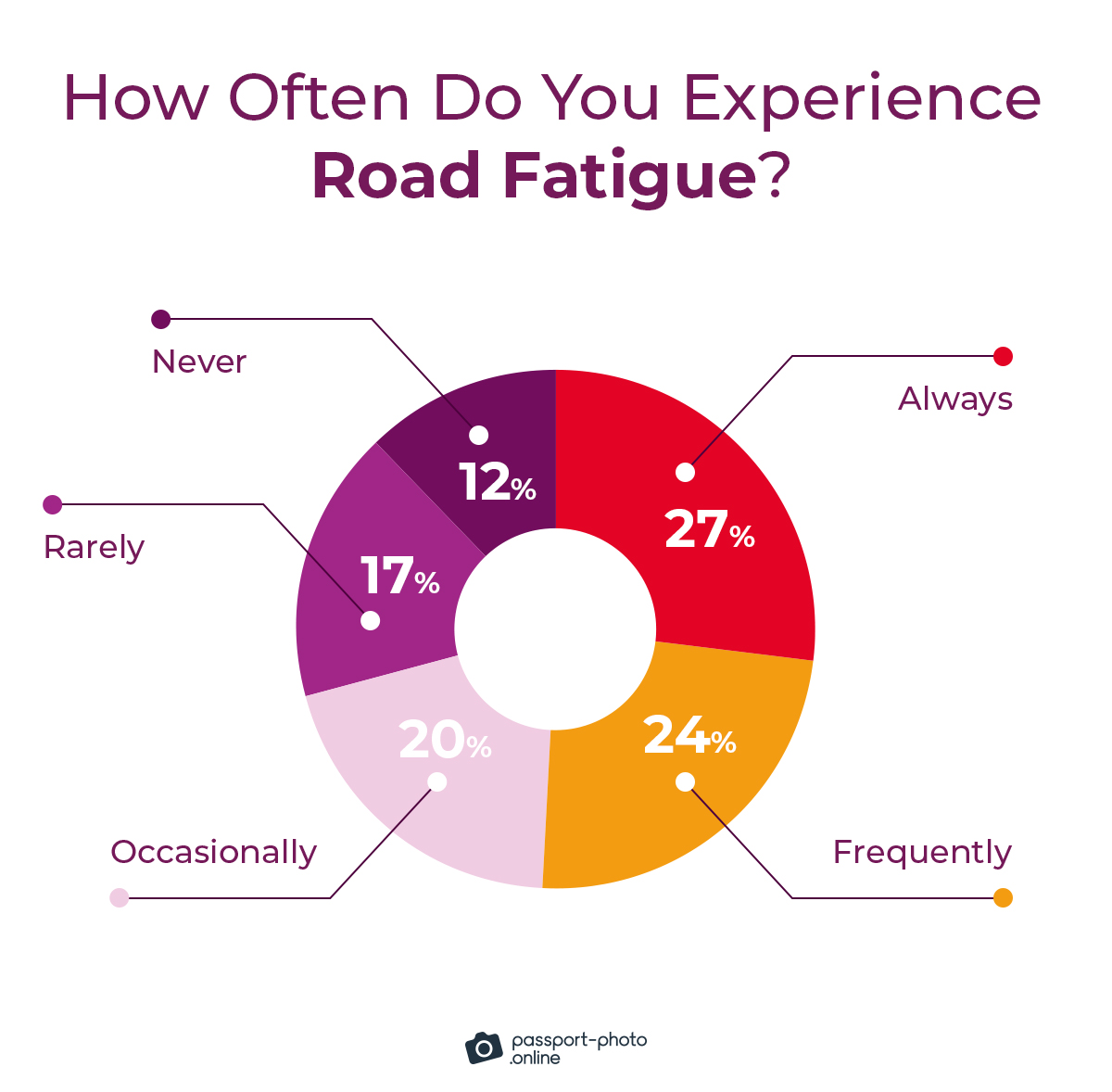 Here's how nomads cope with it: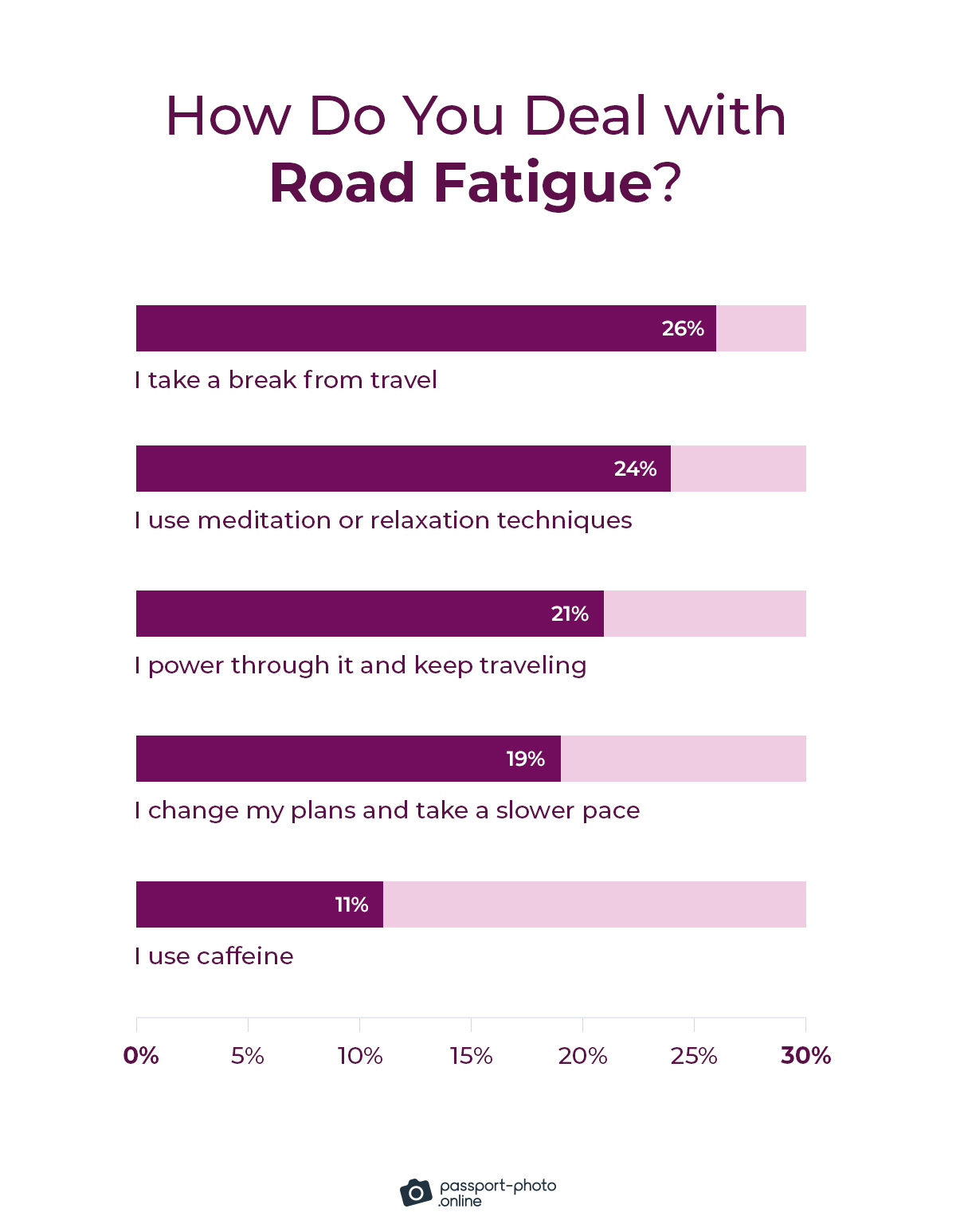 That should give you an idea of how to battle travel exhaustion if you experience it.
Nomads Keep Financial Stability Top-of-Mind
In these two next sections, we wanted to zero in on the financial aspect of being a digital nomad and the difficulties that come with it.
So—
We asked pollees how often they think about their financial stability.
Here's what they said: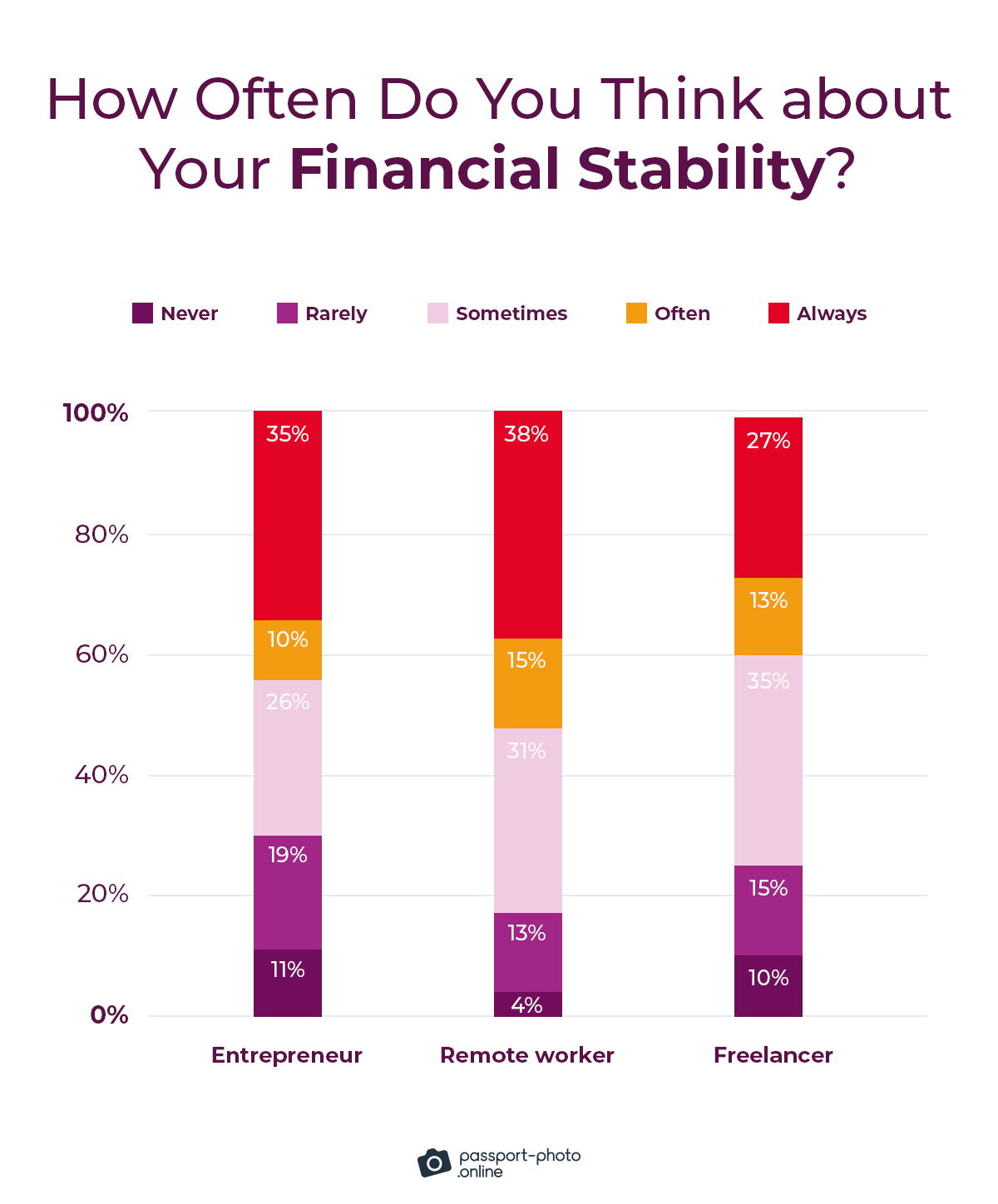 Overall, most digital nomads (77%) give thought to their financial stability. Interestingly, remote workers seem the most concerned, with 84% thinking about it sometimes, often, or always, noticeably outpacing entrepreneurs (71%) and freelancers (75%).
Perhaps, it has something to do with the waves of layoffs sweeping across industries.
Taxes Keep Nomads Up at Night
Three things in life are certain: death, taxes, and nomads fretting about the latter.
After all, tax regulations are complicated in many countries, and it can be tough to stay on top of them.
So—
To better understand this issue, we wanted to ask digital nomads if they've ever faced tax challenges.
The results speak for themselves: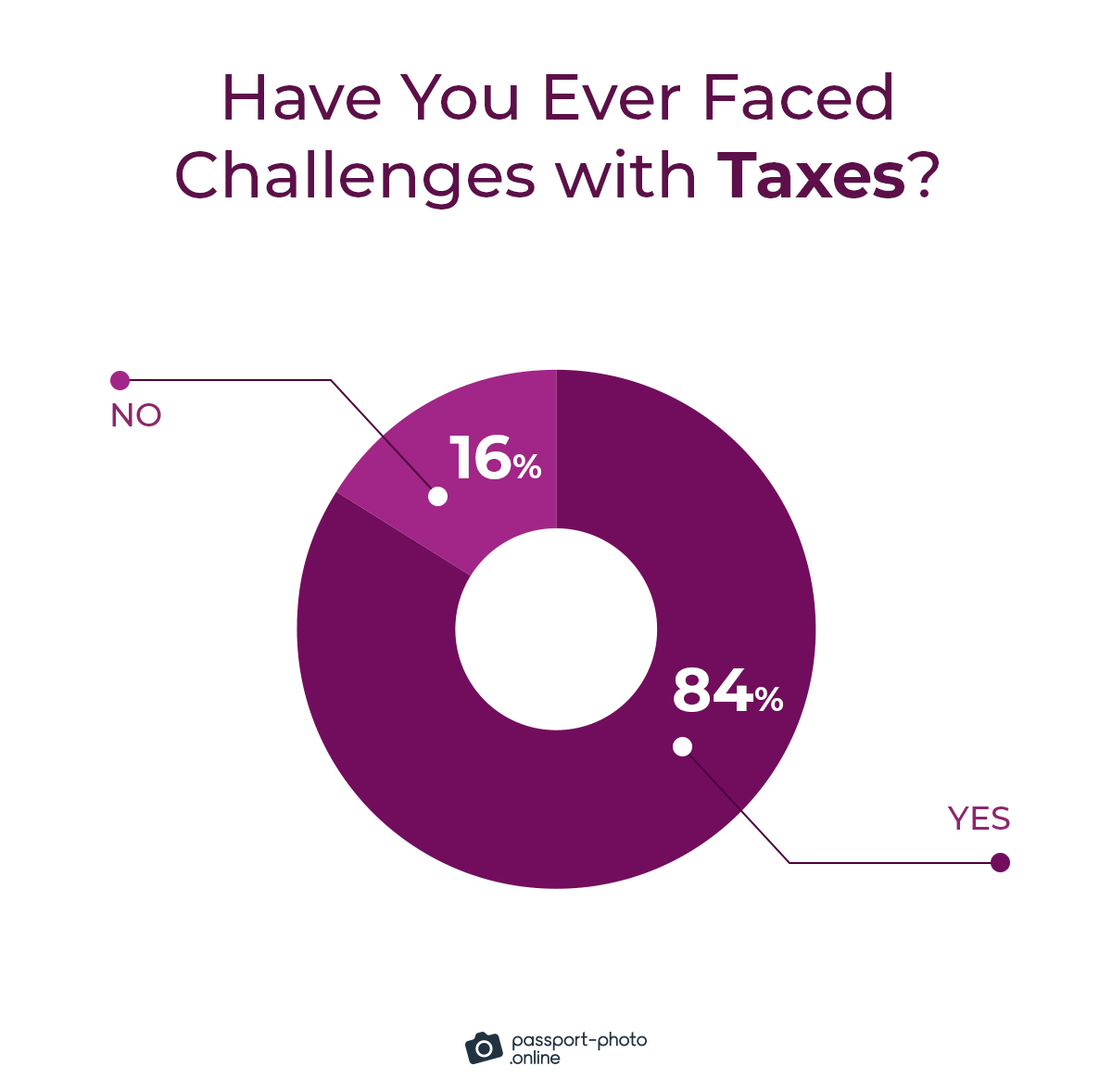 The takeaway?
Keep track of your tax obligations and be mindful of foreign reporting regulations.
Digital Nomadism is Here to Stay
By now, you might feel that being a digital nomad is EVERYTHING but fun.
Yet—
The majority of people surveyed (94%) intend to continue their nomadic lifestyle in 2023 and beyond: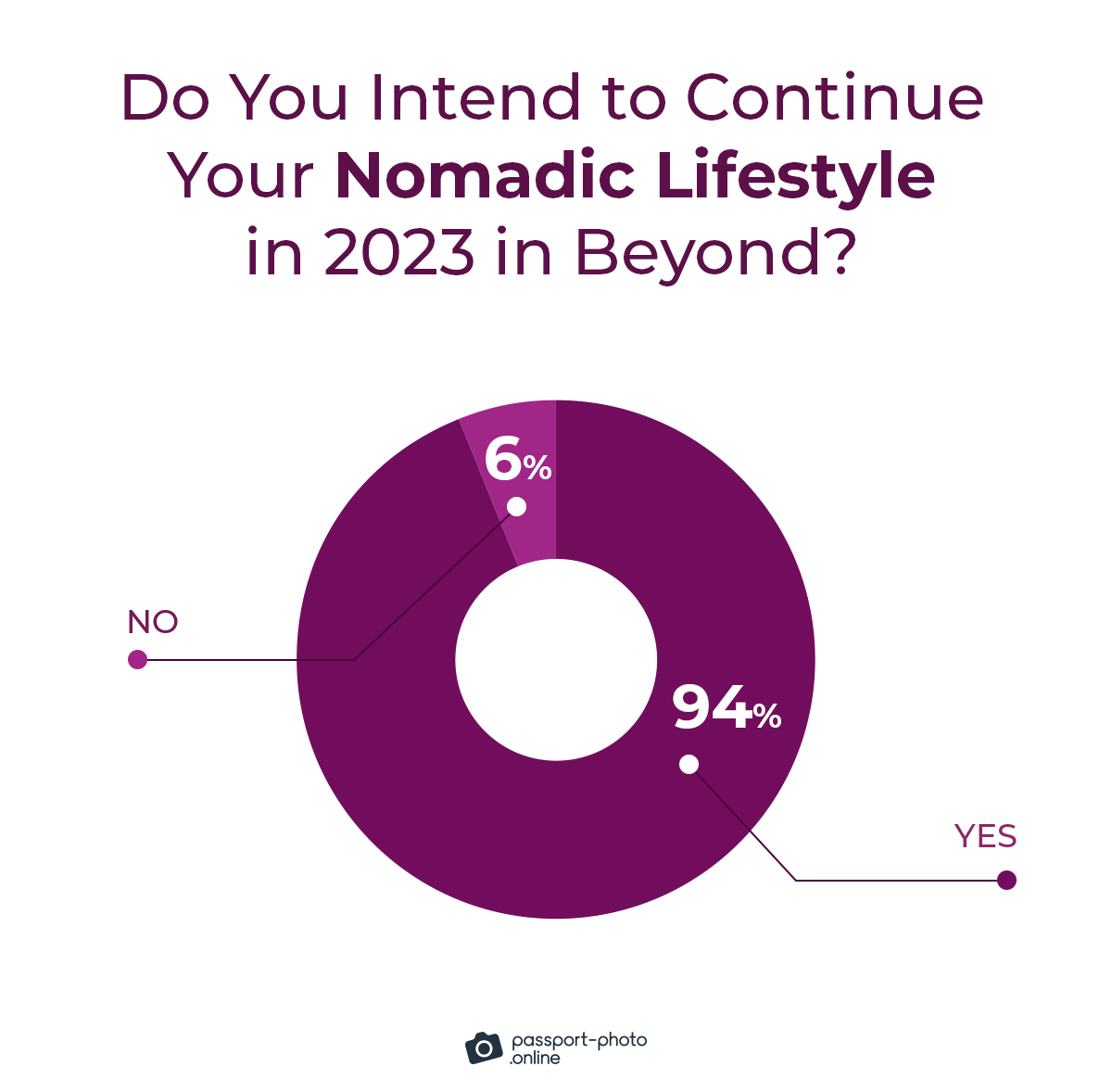 Rightfully so.
Even though there're downsides, it's still an enriching experience that allows you to explore the world while working remotely.
That's something that would've been unthinkable just some 30 years ago.
Stacking It All Up
There you have it.
A comprehensive look at the dark side of digital nomadism.
Now—
Would you fancy making a go at this lifestyle (if you haven't yet)? Or would you rather stay put?
Let us know in the comments below.
Methodology
We conducted an online survey of 946 US digital nomads via a bespoke online polling tool in March 2023.
The respondents were 66% male, 33.7% female, and 0.3% identified as other. 13.8% of respondents were 25 or younger, 63.4% were aged 26–38, 19% were aged 39–54, and 3.8% were 55 or older.
This survey has a confidence level of 95% and a margin of error of 3%. Given the gender and age makeup of our sample size, the study's findings are statistically significant for the population at large.
This study was created through multiple research steps, crowdsourcing, and surveying. Data scientists reviewed all survey participants' responses for quality control. ​​The survey also had an attention-check question.
Fair Use Statement
Did our findings help you learn more about the dark side of digital nomadism? If you believe your audience will be interested in this information, feel free to share it. Just remember to mention the source and link back to this page.
Sources
Belkin L., "After-Hours Email Expectations Negatively Impact Employee Well-Being"

FinancesOnline, "45 Interesting FOMO Statistics: 2023 Effects, Demographics & Marketing"

Grucela A., "45+ Burnout Statistics, Trends, and Facts"

Statista, "Share of Workers in the United States Who Check Their Work Emails Outside of Normal Work Hours as of July 2019, by Frequency"

Sukchan J., "The Rising Trends of Digital Nomads and Remote Working 2023"

The World Health Organization, "Burnout an "Occupational Phenomenon": International Classification of Diseases"

Woolf M., "52+ Digital Nomad Statistics, Facts, and Trends"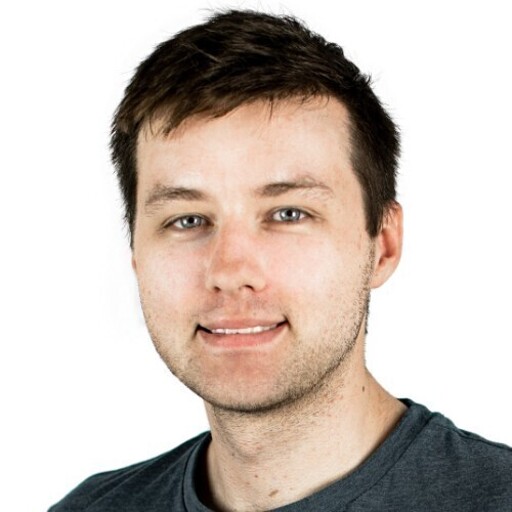 As a Digital PR specialist and a member of the Society of Professional Journalists (SPJ), Max has 5+ years of writing experience.
Over the course of his career, Max's work has garnered significant attention, with features in numerous prominent publications such as The New York Times, Forbes, Inc., Business Insider, Fast Company, Entrepreneur, BBC, TechRepublic, Glassdoor, and G2.