International travel has many hoops to jump through.
There's currency exchange, roaming, and other hurdles you need to clear before you can get some R&R.
But—
The year 2022 has also added uncertainty to the mix. We're now facing the headwinds of:
High inflation
The war in Ukraine and geopolitical tensions
Ubiquitous flight delays and cancellations
Rising COVID-19 concerns
That's why at Passport Photo Online, we've decided to poll 1,000+ Americans and see if domestic trips are becoming a way of life, where people typically go, and much more.
Key Takeaways

Nearly five in 10 Americans (48%) opt for domestic tourism because of high inflation and rising prices.
Another 47% of people travel locally because it's better for the environment.
82% of workers believe a domestic leisure trip lowered their stress levels.
76% of staffers feel traveling at home in 2022 upped their productivity.
79% of people became more creative in the workplace after going on domestic vacation.
77% of Americans grew more engaged at work after their most recent local trip.
People usually spend between $501 and $1,000 on average and go away for roughly 3–5 days for a typical trip within the US.
Related readings:
The Landscape of Domestic Tourism in 2022
Did you know?
Americans take over 2.29B domestic trips every year. That makes local tourism a booming industry in the US.
Our numbers also prove it.
In fact, 96% of the survey respondents took or plan to take at least one domestic leisure trip in 2022, with 80% describing their most recent local travel experience as positive or very positive.
Where do Americans typically go?
A different city within the US: 44%
A different city within one's home state: 36%
Stay in one's home city: 19%
As you can see, nearly five in 10 domestic travelers usually visit another city in the States. Here's also how many trips they take on average every year:
Two: 31%
Three: 27%
Four: 16%
One: 14%
Five or more: 12%
As a follow-up, we asked the respondents how many days their local trips generally last:
3–5: 36%
6–10: 24%
1–2: 24%
11–14: 13%
Less than one: 3%
The data shows 3–5 days is the most common domestic trip duration. Next, we asked the survey takers where they typically stay when traveling in their own "backyard."
Below are the results (with a text version just in case):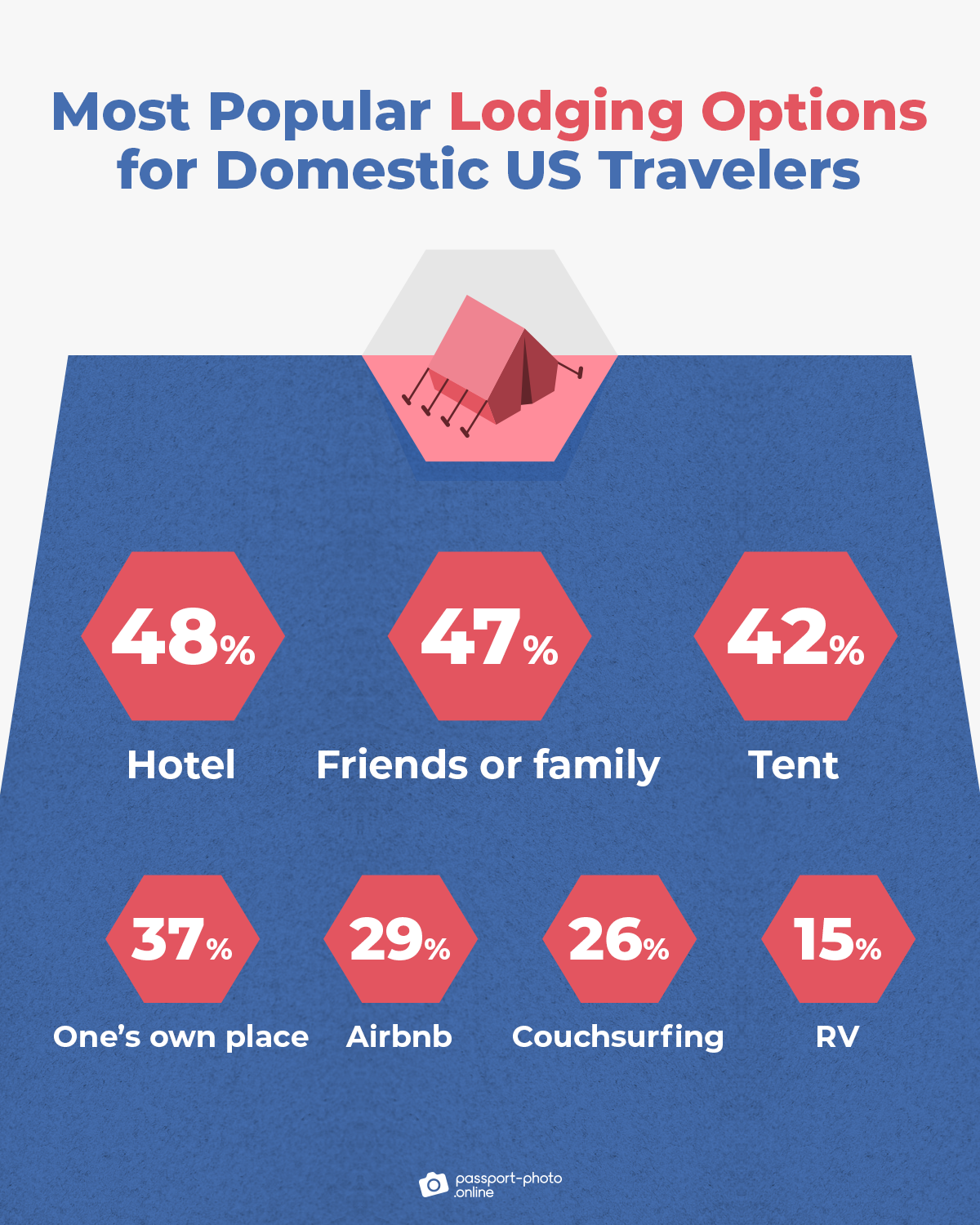 Hotel: 48%
Friends or family: 47%
Tent: 42%
One's own place: 37%
Airbnb: 29%
Couchsurfing: 26%
RV: 15%
Thus, the most common lodging option for domestic travelers is hotels, picked by 48% of Americans. It's also common to stay with family or friends (47%) and in a tent (42%).
We then decided to dig into what travelers pay attention to the most when choosing hotels. See the results below: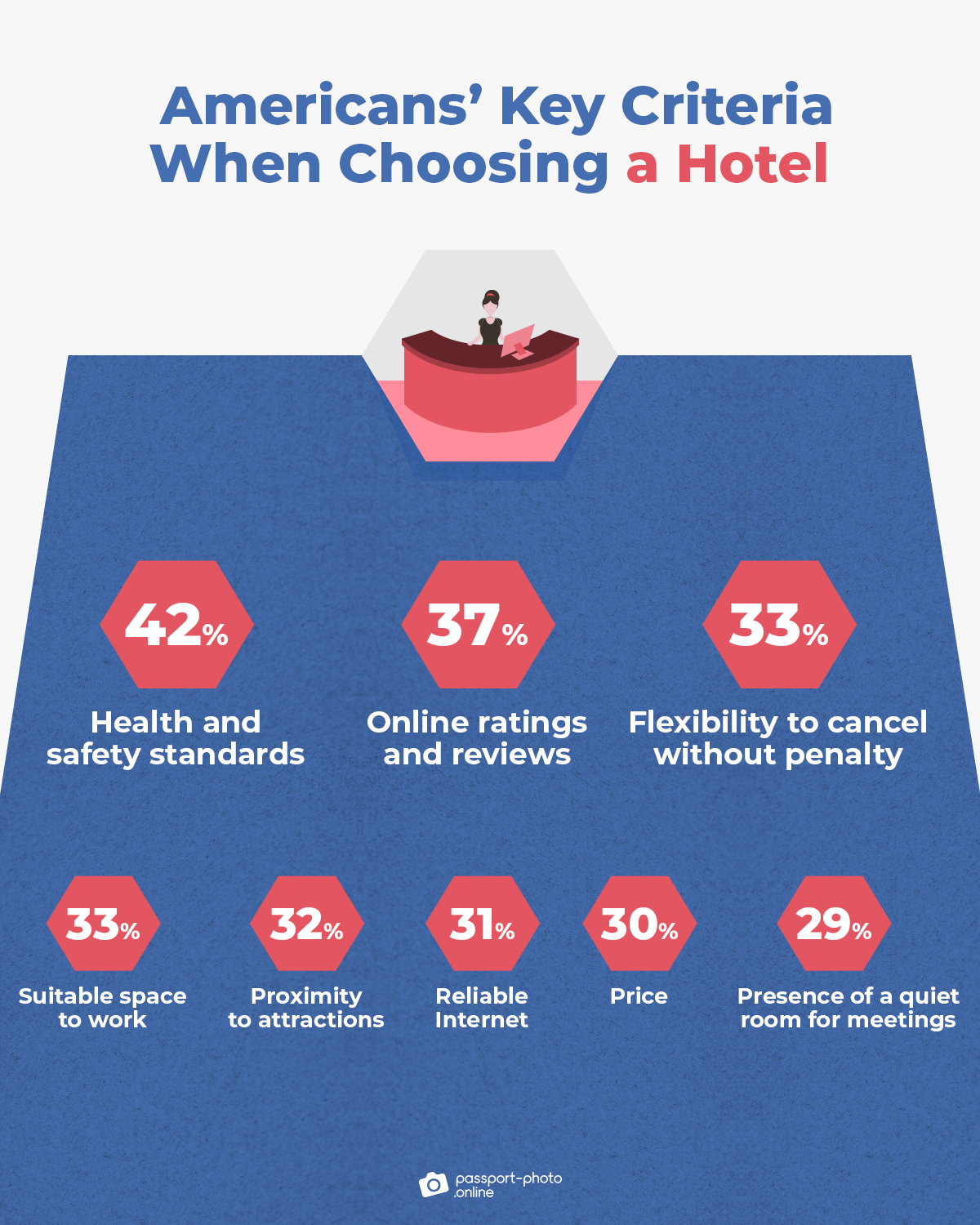 Health and safety standards: 42%
Online ratings and reviews: 37%
Flexibility to cancel without penalty: 33%
Suitable space to work: 33%
Proximity to attractions: 32%
Reliable Internet: 31%
Price: 30%
Presence of a quiet room for meetings: 29%
Interestingly, accommodation cost isn't key for domestic travelers, with only 30% considering it very important. What matters the most is a property's health and safety standards (42%), online ratings and reviews (37%), and flexibility to cancel without penalty (33%).
What Fuels Americans' Desire to Explore the US
So far, so good.
Now—at this stage, we wanted to understand people's motivations to stay closer to home and engage in domestic tourism.
Below are the results: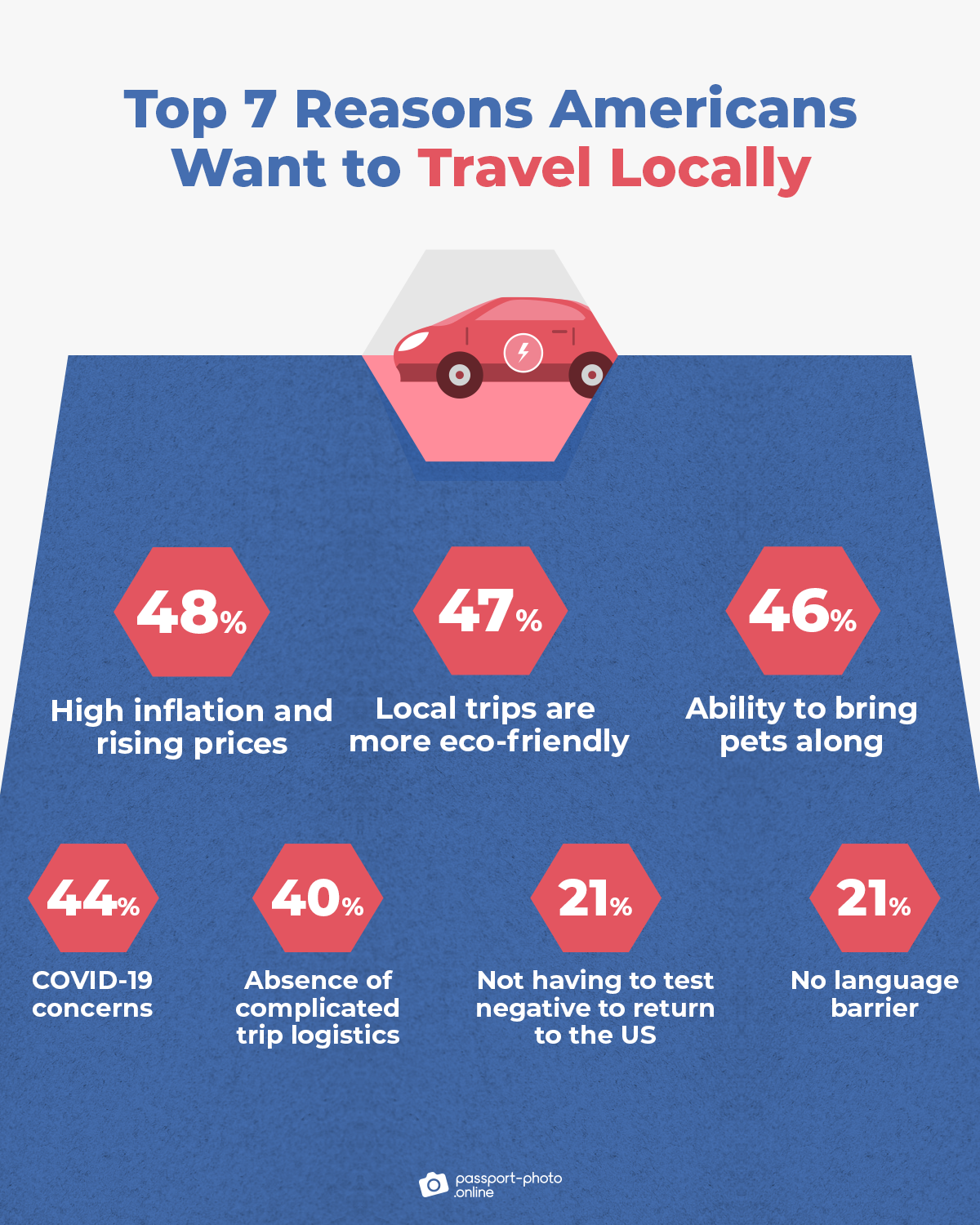 High inflation and rising prices: 48%
Local trips are more eco-friendly: 47%
Ability to bring pets along: 46%
COVID-19 concerns: 44%
Absence of complicated trip logistics: 40%
Not having to test negative to return to the US: 21%
No language barrier: 21%
As you can see, "high inflation and rising prices" is why Americans choose to travel locally. That makes sense since not everyone can drop an average of $3,960 to vacation in Europe right now.
It's also worth noting that 47% of travelers prefer domestic travel because it's better for the environment.
Perhaps, that's because sustainable travel—being aware of tourism's environmental impact and adopting good practices to limit the adverse effects—has been trending up recently, and we're seeing it shape Americans' travel choices.
After all, flying from London to New York across the pond and back generates ~2173 pounds (986kg) of CO2 per passenger, according to a new Guardian analysis. That's more than the typical person in dozens of countries produces in a year.
So, domestic tourism is a clear winner if you're looking to travel more responsibly.
The Biggest Domestic Travel Expenses
Let's talk money.
As you probably know, inflation is at its highest since 1981, standing at 9.06% as of June 30, 2022.
That's why everything is so expensive now, including travel.
But—
If you opt for a domestic vacation, it'll go easier on your wallet. Here's how much Americans typically spend on a domestic trip, based on our findings: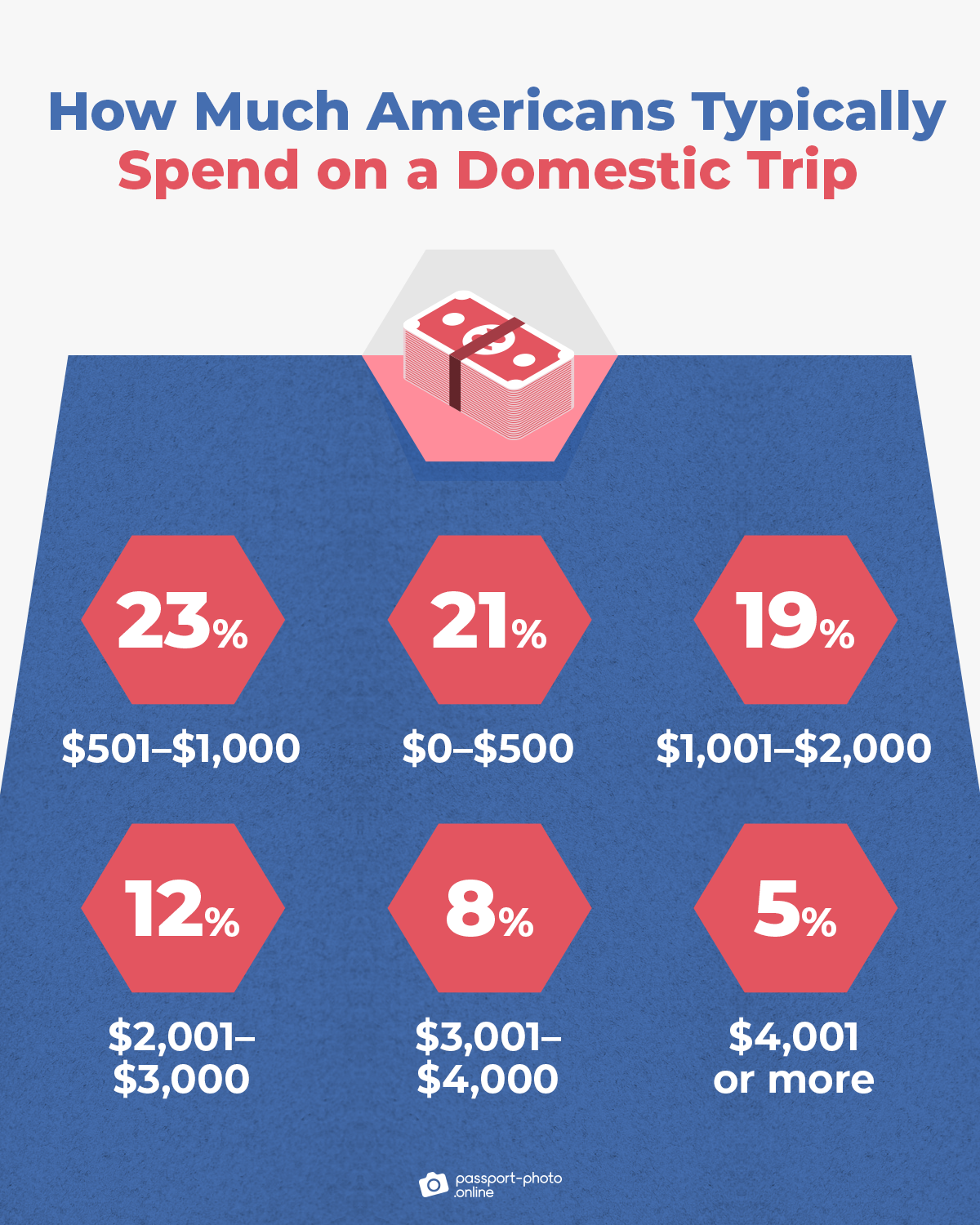 $501–$1,000: 23%
$0–$500: 21%
$1,001–$2,000: 19%
$2,001–$3,000: 12%
$3,001–$4,000: 8%
$4,001 or more: 5%
Thus, for a typical trip within the US, people usually spend between $501 and $1,000 on average and go away for roughly 3–5 days.
Here's also a list of main expenses domestic travelers incur: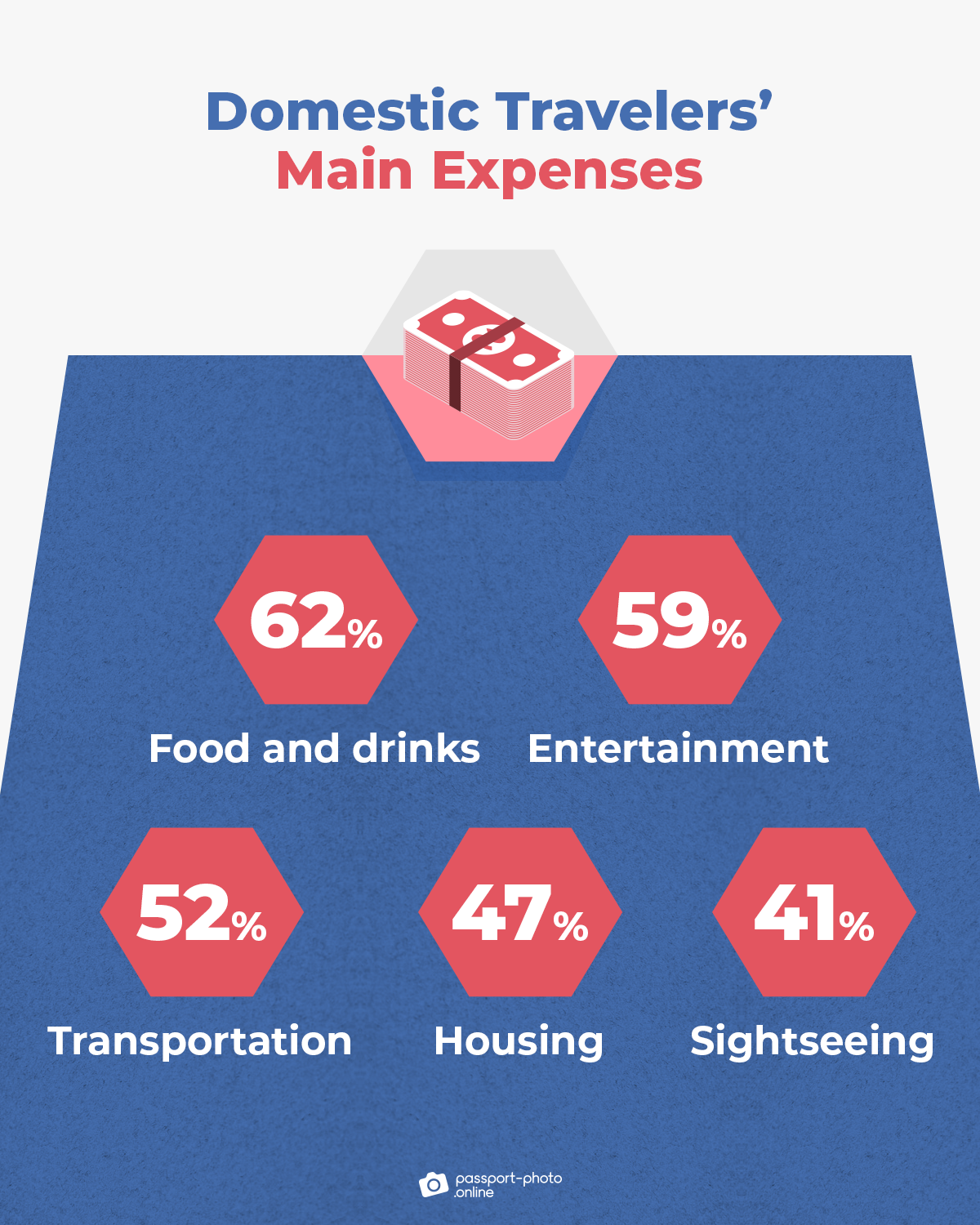 Food and drinks: 62%
Entertainment: 59%
Transportation: 52%
Housing: 47%
Sightseeing: 41%
Why Domestic Trips Are Good For Your Career
As we've mentioned earlier, 96% of Americans went or plan to go on a domestic trip in 2022.
But—
Interestingly, five in 10 respondents of that unlucky 4% said they wouldn't travel locally this year because they couldn't take time off work.
That piqued our interest, so we decided to follow up and asked the survey takers why they won't use their PTO.
Below are the results: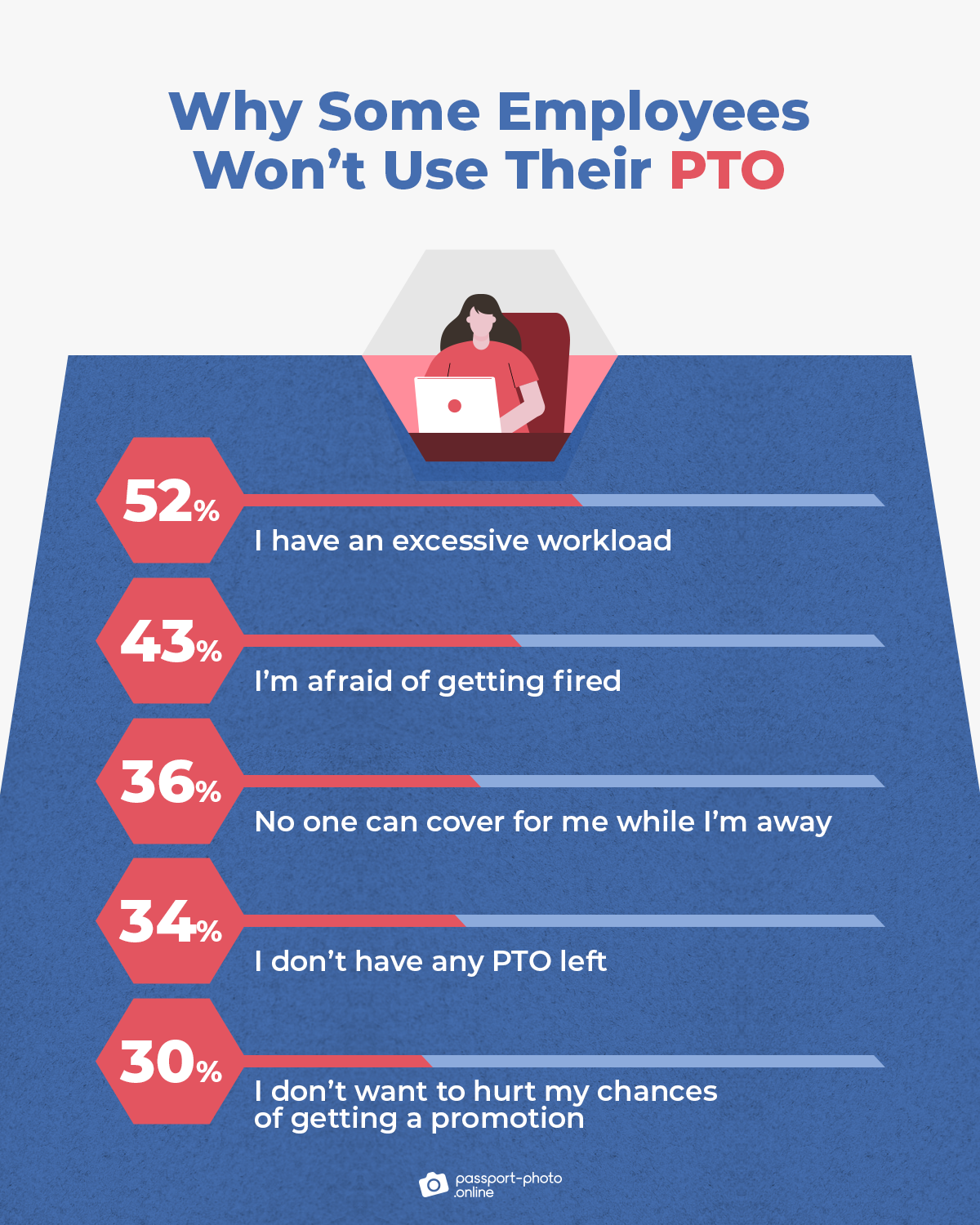 I have an excessive workload: 52%
I'm afraid of getting fired: 43%
No one can cover for me while I'm away: 36%
I don't have any PTO left: 34%
I don't want to hurt my chances of getting a promotion: 30%
While "having excessive workload" topped the list, 43% of Americans mentioned they feared losing a job.
That's not all that surprising, with recent reports claiming tech companies like Netflix, Shopify, and Coinbase had laid off 34K+ employees in Silicon Valley as of early August, with many hitting the brakes on hiring and rescinding job offers.
That said, domestic travel comes with ample benefits.
For one, it offers a change of scenery. If you feel bogged down by work and need some inspiration, a new environment will give you a much-needed break from the daily grind.
Moreover, domestic trips can help reduce stress and make you happier. That, in turn, boosts productivity when you're back at work.
And here are our numbers to prove it:
82% of US employees believe a domestic leisure trip lowered their stress levels.
76% of workers feel traveling locally upped their productivity.
77% of staffers grew more engaged at work after their most recent domestic trip.
79% of Americans became more creative in the workplace upon a local vacation.
So—
As paradoxical as it may seem, taking some time off to travel domestically can improve your career and possibly save your job.
Stacking It All Up
Domestic tourism seems on the rise in the US, and it's easy to see why. It's more sustainable than international travel, less expensive, and doesn't need much hassle.
Now, do you plan on taking a leisure trip within the US in the next 12 months?
Let us know in the comments below.
Methodology
We conducted an online survey of 1,082 US respondents via a bespoke online polling tool in July 2022.
The respondents were 58.5% male and 41.5% female. 8.4% of respondents were 25 or younger, 58.8% were aged 26–38, 25.7% were aged 39–54, and 7.1% were 55 or older.
This survey has a confidence level of 95% and a margin of error of 3%. Given the gender and age makeup of our sample size, the study's findings are statistically significant for the population at large.
This study was created through multiple steps of research, crowdsourcing, and surveying. Data scientists reviewed all survey participants' responses for quality control. ​​The survey also had an attention-check question.
Fair Use Statement
Did our findings help you learn more about domestic tourism? If you believe your audience will be interested in this information, feel free to share it. Just remember to mention the source and link back to this page.
Sources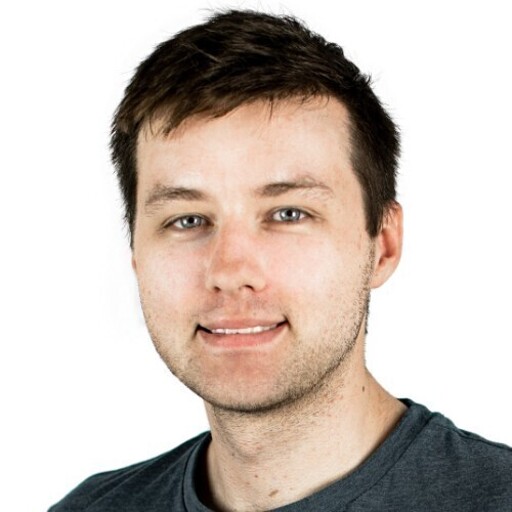 Max Woolf is a writer and travel lover at Passport-Photo.Online. His insights, advice, and commentary have been featured in Forbes, Inc., Business Insider, Fast Company, Entrepreneur, MSN, NBC, Yahoo, USA Today, Fox News, AOL, The Ladders, TechRepublic, Reader's Digest, Glassdoor, Stanford, G2, and 200+ other outlets.