Consider this:
There are now 70M+ freelancers in North America. That's nearly half of the US workforce.
It gets better.
A full 56% of regular employees admit they are playing with the idea of becoming self-employed in the future.
So—
What's the fuss all about?
To find out, we've decided to put together a list of 70+ stats, facts, and trends about freelancing using nine independent sources.
Let's get to it.
Top 10 Freelance Stats and Facts to Know in 2023
There are now 70M+ freelance workers in the US.
Freelancing contributes 5% to the national GDP, accounting for $1.3T.
Women make up the majority of the freelance workforce at 52%.
New York and Los Angeles are the most popular cities among freelancers.
Freelancers in the US earn an average of $6,269 per month.
More than 40% of freelancers aren't happy with their income stability and predictability.
Over 30% of freelancers work fully remotely.
The pay gap between women and men in the US is the highest in the world: for each dollar a man makes freelancing, a woman earns just 70 cents.
Health insurance isn't readily available to ~29M of freelancers.
Most freelancers (61%) are dissatisfied with their job benefits.
---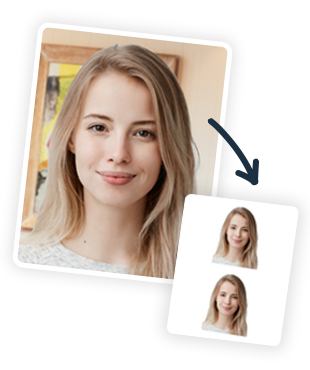 Looking for passport photos? Discover more information:
Freelancing Is on the Rise
While the estimates vary, freelancing is growing in popularity, with more and more Americans jumping on the bandwagon:
| | |
| --- | --- |
| Number of Freelancers in the US between 2017 and 2028 (in Millions) | Year |
| 57.3 | 2017 |
| 59.7 | 2018 |
| 62.2 | 2019 |
| 64.8 | 2020 |
| 67.6 | 2021 |
| 70.4 | 2022 |
| 73.3 | 2023 |
| 76.4 | 2024 |
| 79.6 | 2025 |
| 83.0 | 2026 |
| 86.5 | 2027 |
| 90.1 | 2028 |
In 2019, freelancers contributed 5% to the national GDP, which accounted for $1T. In 2021, that number grew to $1.3T in annual earnings.
Where Freelancers Work
So—
You already know there are plenty of freelancers out there. But which industry do they fancy the most?
In 2019, most freelancers (57%) worked in just five sectors: professional services, repair, and personal services, construction, administrative services, and retail trade.
In 2021, 53% of all sole proprietors specialized in programming, marketing, IT, and business consulting.
Although programming and marketing are the most popular among freelancers, they aren't the niches they dominate:
| | |
| --- | --- |
| Niches | Freelancer Density |
| Arts and design | 77% |
| Marketing | 58% |
| Computer science/Mathematics | 53% |
Here are also the least populated niches among freelance workers:
| | |
| --- | --- |
| Niches | Freelancer Density |
| Healthcare | 24% |
| Production/Manufacturing | 20% |
| Office work/Administrative support | 19% |
The Portrait of a Freelancer
So what does an average freelancer look like? Here's data on freelancers' age, profession, education, and job preferences.
52% of all freelancers in the US are female.
The average age of a freelancer is 37 years.
| | |
| --- | --- |
| Freelance Workers in the United States by Racial Background | Share |
| White | 76% |
| Hispanic or Latino | 10% |
| Asian-American/Asian | 8% |
| African or African descent | 4% |
| Other | 3% |
A quarter of self-employed workers do multiple jobs at a time.
Over half of freelancers are employed with a traditional contract.
Young people (18–22) are the most likely demographic to freelance: 53% of workers in this age group have worked independently. Millennials come in a close second at 40%.
Although only 40% of Millennials freelance, they are still the most numerous group among independent workers.
Six in 10 freelancers live from paycheck to paycheck.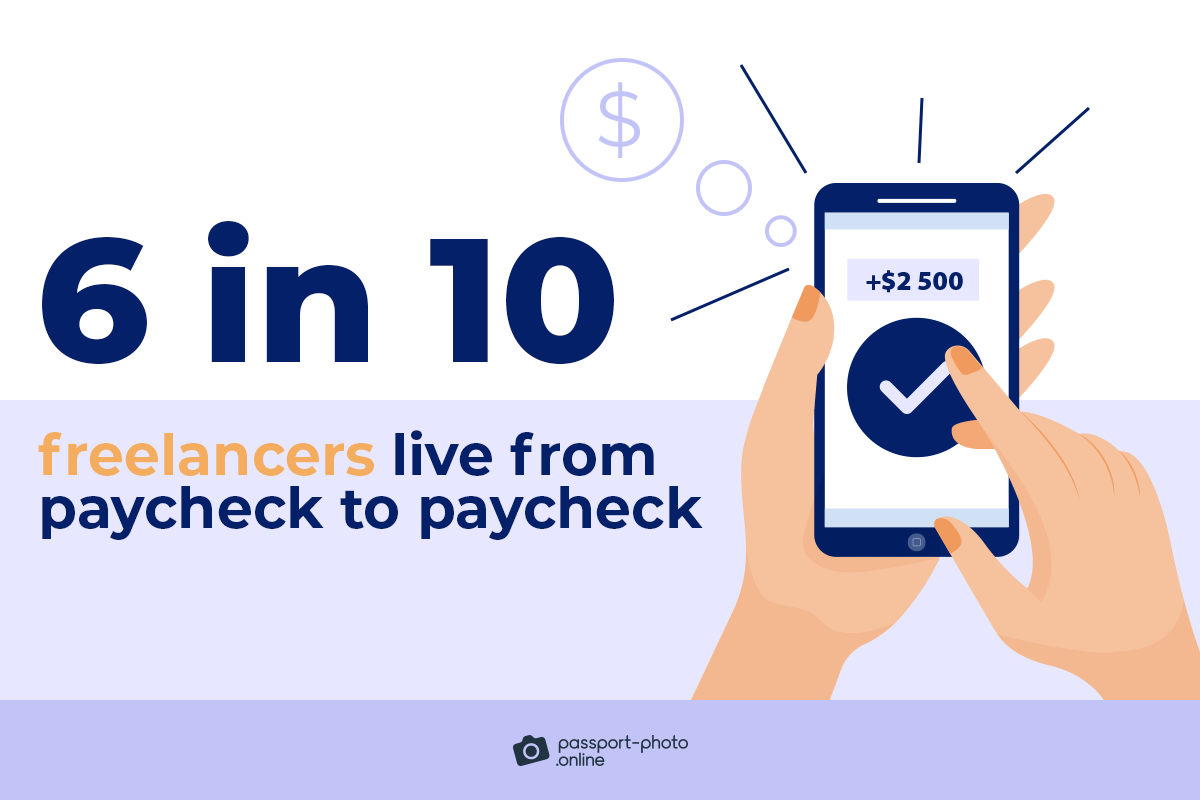 An average freelancer has been self-employed for 11 years.
Before taking up freelancing, independent workers spend, on average, 12 years gaining experience.
Half of freelancers are post-graduates, and 31% have just a high school diploma.
Only one-third of freelancers have access to health insurance through their employer, as opposed to over 80% of regular employees.
According to 78% of freelancers, soft skills are equally important to their work as hard skills.
Most freelancers (52%) would trade their college education for technical training.
A little over half of freelancers (51%) say no amount of money would motivate them to take a traditional contract position.
How Much Do Freelancers Make?
Self-employed people earn comparably to those with traditional jobs. Still, their overall compensation is lower because of fewer benefits.
Since 2009, the number of nonfarm sole proprietors who earn less than $25K has grown by 62%.
The number of freelancers earning over $100K has had only a 12% increase since 2009.
Freelancers' incomes are generally on par with traditional employees.
Freelancers work an average of 45 hours a week.
Massachusetts, Connecticut, Rhode Island, New Jersey, and the District of Columbia have the highest median incomes for self-employed workers: over $42K.
The lowest freelance incomes (below $30K) are in West Virginia, Vermont, Mississippi, and New Mexico.
14% of freelancers work multiple jobs out of financial need.
Most freelancers have had a median of five clients in the past six months.
| | |
| --- | --- |
| Most Common Settlement Modes among Freelancers | Share |
| Fixed fee | 48% |
| Hourly fee | 29% |
| Mix of fixed and hourly fees | 23% |
Quitting a traditional job came with a better paycheck for 60% of freelancers.
The average net monthly salary for freelancers in the US is $6,269.
Freelancers complete 12 projects on average every year.
The worldwide average hourly rate for freelancers was $28 in 2021—a 30% increase compared to 2020.
The average hourly rate for freelancers in the US is $44.
| | |
| --- | --- |
| Top 10 Highest Paid Verticals in North America | Average Hourly Rate |
| Finance | $41 |
| Marketing | $34 |
| Multimedia production | $33 |
| IT | $29 |
| Project management | $28 |
| Other | $26 |
| Programming | $25 |
| Content writing | $24 |
| HR | $22 |
| Web and graphic design | $21 |
83% of freelancers are satisfied with their income.
75% are optimistic about the future and believe the demand for their work will grow.
An hourly rate is a determining factor for 73% of freelancers before accepting a project.
Only 10% of freelancers rely on social media to find a job. In contrast, 71% of independent workers find projects via online marketplaces.
49% of companies admit that hiring freelancers positively impacted their business.
Expertise and know-how are the most critical factors for freelancers to succeed. Only 17% of freelancers consider certifications important.
The Pros and Cons of Freelancing
| | |
| --- | --- |
| Benefits of Freelancing | Share of Freelancers Who Agree |
| Being your own boss | 71% |
| Freedom to decide | 62% |
| Time management | 55% |
| Project variety | 49% |
| Higher income | 45% |
| Remote work | 43% |
| Ability to choose clients | 40% |
| Lack of income limits | 25% |
Over 71% of freelancers say they can work from wherever they like.
Nearly 29M freelancers who work for an employer don't have health insurance.
Self-employed Americans have access to retirement benefits at a much lower rate than traditional employees: 32% vs. 70%.
Here's a look at the access to benefits through primary job among freelancers:
| | |
| --- | --- |
| Job Benefits | Share of Freelancers Who Have Them |
| Paid vacation leave | 37% |
| Health insurance | 34% |
| Retirement benefits | 32% |
| Paid sick leave | 31% |
| Disability insurance | 31% |
| Life insurance | 28% |
| Paid maternity or paternity leave | 22% |
| Tuition reimbursement | 19% |
Only 39% of freelancers are satisfied with their benefits.
25% of independent workers buy health insurance on their own.
Almost half of freelancers admit that affordable healthcare would encourage them to move to another state or city.
Of those wishing to relocate, 70% would choose an option different from a big city.
For nearly 60% of self-employed workers, their career advancement opportunities aren't satisfactory.
Freelancers enjoy an average of 25 days of PTO every year.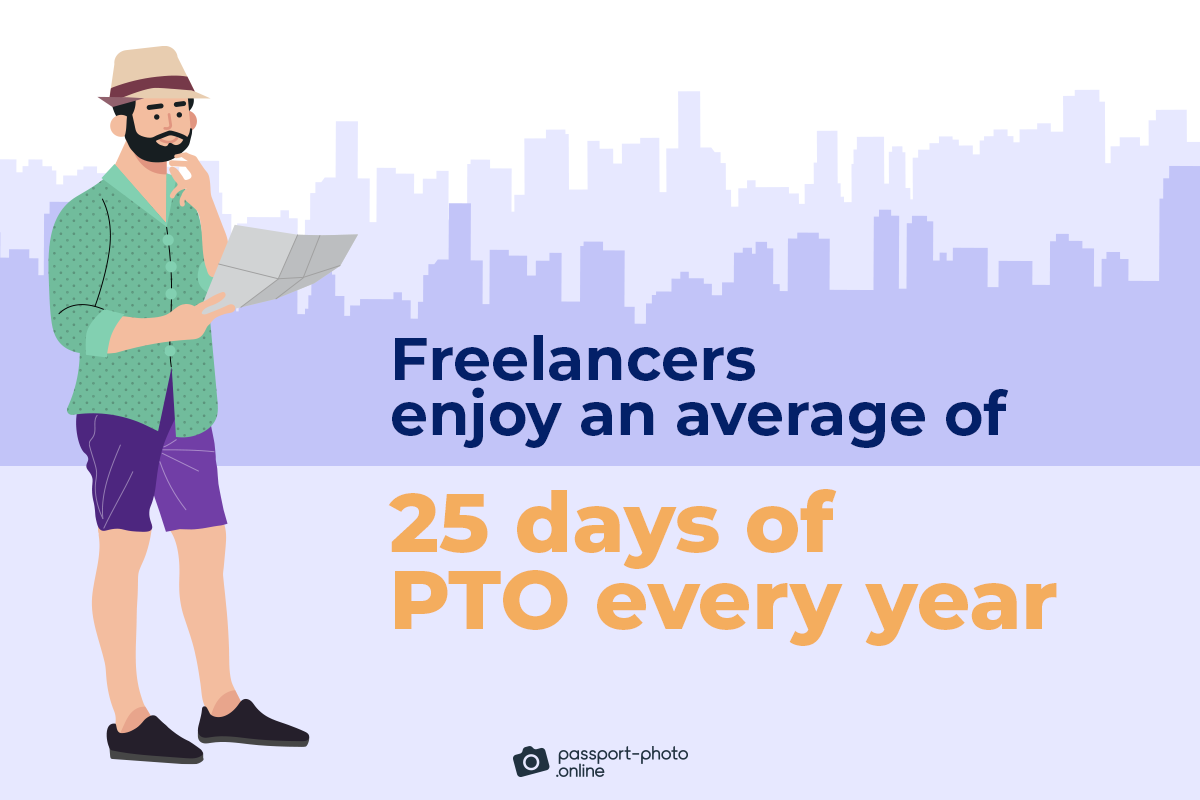 For 56% of freelancers, finding new projects is the biggest challenge, followed by striking a good work-life balance (36%) and getting a better pay (31%).
Freelancers and traditional employees share most work-related worries: access to healthcare, retirement plans, having enough income to save money, and being paid a fair wage. Yet, the top concern for freelancers is unpredictable income.
A third of freelancers work entirely from home, accounting for almost half of all remote employees.
Among skilled remote freelancers, 78% cite "schedule flexibility" as the main reason for being self-employed. Another 73% say it's the location flexibility, on par with the ability to do meaningful work.
The Freelancer Pay Gap
The hourly rate of female freelancers is an average of $37 vs. $52 for men.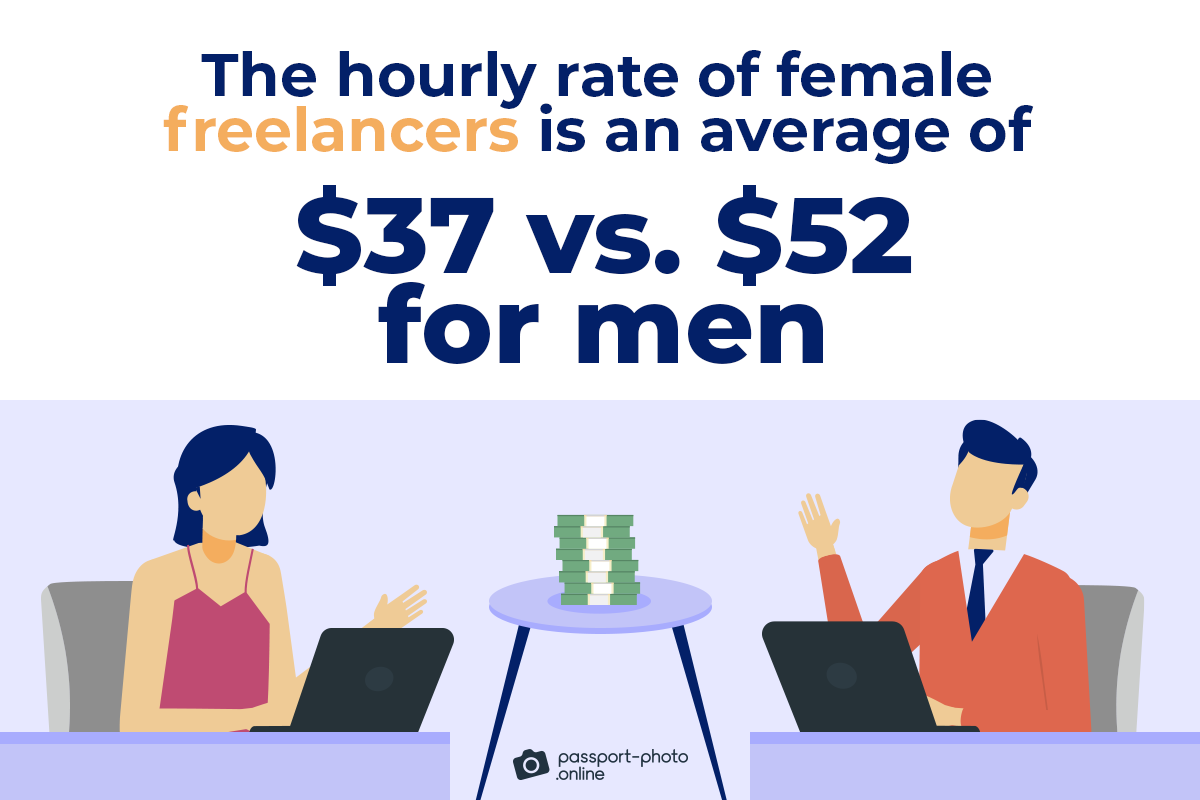 South America generally has the pay gap in favor of women: $26 vs. $22 for males.
Taking Africa as a whole, their hourly rates are the closest to being equal: $20 for women vs. $22 for men.
In the US, women make an average of $4,206 net, compared to men, who bring home $6,668 monthly.
Despite the pay differences between genders, 64% of women and 66% of men are happy with their freelancing careers (including income).
Stacking It All Up
There you have it.
A list of the latest and most insightful stats, facts, and trends about freelancing for 2023 that we've managed to dig out.
If there's any aspect of freelancing you'd like to get deeper coverage of, let us know in the comment section below.
Fair Use Statement
Did you like our infographics? If so, feel free to share them with your audience. Just remember to mention the source and link back to this page.
FAQ
What percentage of people are freelancers?
The percentage of freelancers in the US may be as high as 40% of the total workforce. That translates to over 70M people. 
What is the average freelance rate?
The average hourly rate for freelancers is ~$44 in the US. But there's a pay gap between genders, with men earning an average of $52/hr and women making only $37/hr.
How many people are going freelance?
There are now 70M+ freelance workers in the United States, and that number grows every year. In fact, by 2024, there should be about 76M freelancers in the US.
Which country has the most freelancers?
The US has the highest number of freelancers reaching 70M+ in 2022. That accounts for over 40% of the total workforce. But if you consider the percentage of the total job force made of the self-employed, the African country Niger comes at a whopping 95%.
What industry has the most freelancers?
Arts and design is an industry dominated by freelancers. Over 70% of workers in this niche are self-employed.
How big is the freelance market?
The freelance market generates $1.3T in the US alone. That makes it as profitable to the national economy as the whole information industry (over 5% of the GDP).
How many freelancers are there in the US?
In 2022, there were 70M+ freelance workers in the US. That accounts for 40% of the total workforce.
What age are most freelancers?
The average age of freelancers is 37. However, Gen Z is now the most likely demographic to take up freelancing, with over 50% of young people aged 18–22 working independently.
What percentage of freelancers are female?
Roughly 52% of all freelancers in the US are female. Every year, the number of women taking up freelancing grows.
How much do freelancers in the US make?
The average monthly pay of freelancers in the US is $5,437 net. That translates to about 65K per year. However, men make more than women: $6,668 vs. $4,206 net. 
How many hours do freelancers work every week?
Freelancers in the US work an average of 45 hours per week. That translates to about 180 hours per month.
Sources
Deloitte, "2019 Global Human Capital Trends"

Freelancermap, "Freelancer Study 2022"

Gallup, "Gig Economy and Self-Employment Report"

Payoneer, "Global Freelancer Income Report"

Statista, "Number of Freelancers in the United States from 2017 to 2028"

Statista, "Share of freelance workers in the United States in 2022, by gender"

Upwork, Freelancers Union, Edelman Intelligence, "Freelancing in America: 2019"

Upwork, "2021 Freelance Forward"

Zippia, "Freelancer Demographics and Statistics in the US"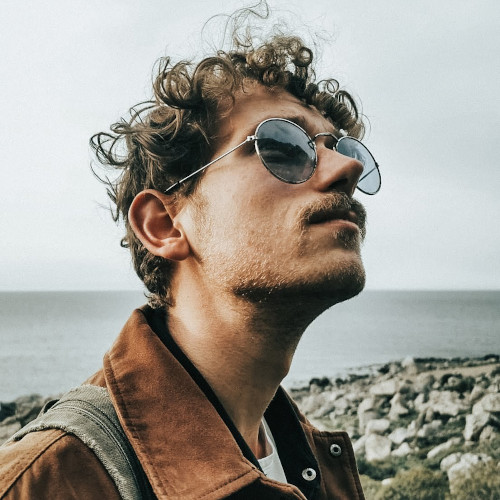 Adam is an SEO & Digital PR writer with a child's curiosity about the surrounding world. His superpower to dig out juicy facts got him citations in Forbes, Social Media Today, and 90+ other news outlets. Adam enjoys snapping pictures and won the national Huawei Next Image Award.