You've located your room. Parked your suitcase.
You pull out the room key card and swipe it on the lock in anticipation of seeing your new temp home.
But—
The light blinks red, and the door remains locked.
After a few unsuccessful attempts, you finally get the happy green light and make your way in. Yet, instead of being greeted with complimentary water, you're hit with a slight hint of bad smell.
Ugh.
There goes your first impression.
No matter how some of us love traveling, certain aspects of staying at hotels grind our gears. To find the worst offenders, we've decided to poll 1,000+ Americans on their biggest hotel pet peeves.
Scroll on to see the gems we've discovered.
Key Takeaways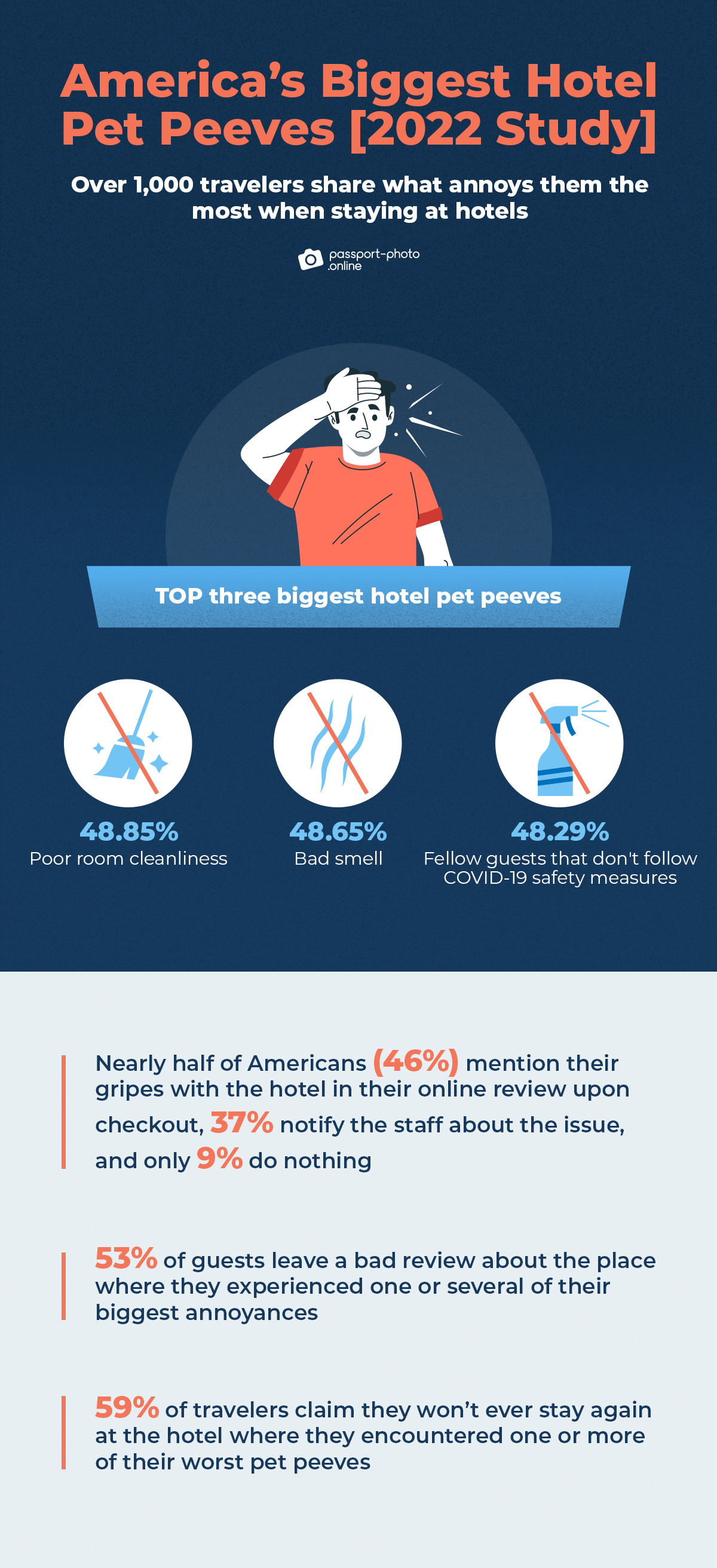 The TOP three biggest hotel pet peeves of 2022 are poor room cleanliness (48.85%), bad smell (48.65%), and fellow guests that don't follow COVID-19 safety measures (48.29%).
53% of guests leave a bad review about the place where they experienced one or several of their biggest annoyances.
Nearly half of Americans (46%) mention their gripes with the hotel in an online review upon checkout, 37% notify the staff about the issue, and only 9% do nothing.
59% of travelers claim they won't ever stay again at the hotel where they encountered one or more of their worst pet peeves.
Ranking of 15 Worst Hotel Annoyances
Many things can go wrong when you stay at hotels.
While some annoyances are minor (e.g., poorly placed mirrors), others can short-circuit the whole travel experience.
So—
Without further ado, here's a text version of the 10 worst hotel pet peeves that grate on US travelers, ranked from most to least annoying:
Poor room cleanliness: 48.85%
Bad room smell: 48.65%
Guests that don't follow COVID-19 safety measures: 48.29%
One-ply toilet paper: 48.25%
Unexpected fees: 48.24%
Hotel room key cards that don't always work: 47.66%
Clogged shower, sink, or toilet: 47.56%
Slow internet / Paid Wi-Fi: 47.51%
Hard to reach or insufficient electrical outlets: 47.07%
Uncomfortable pillow, bed, or blanket: 47.07%
As you can see, "poor room cleanliness" took the cake as the biggest hotel pet peeve, followed by "bad room smell," which could indicate contamination or bacteria.
That shows travelers are particularly mindful of health and safety concerns after coronavirus.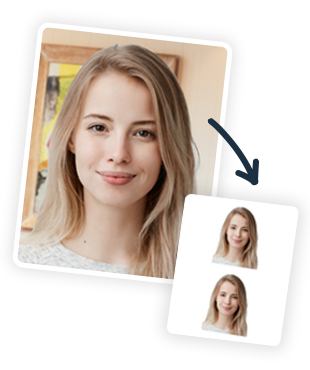 Do you need passport photos? Find out more:
Why Even Minor Annoyances Could Lead to Big Problems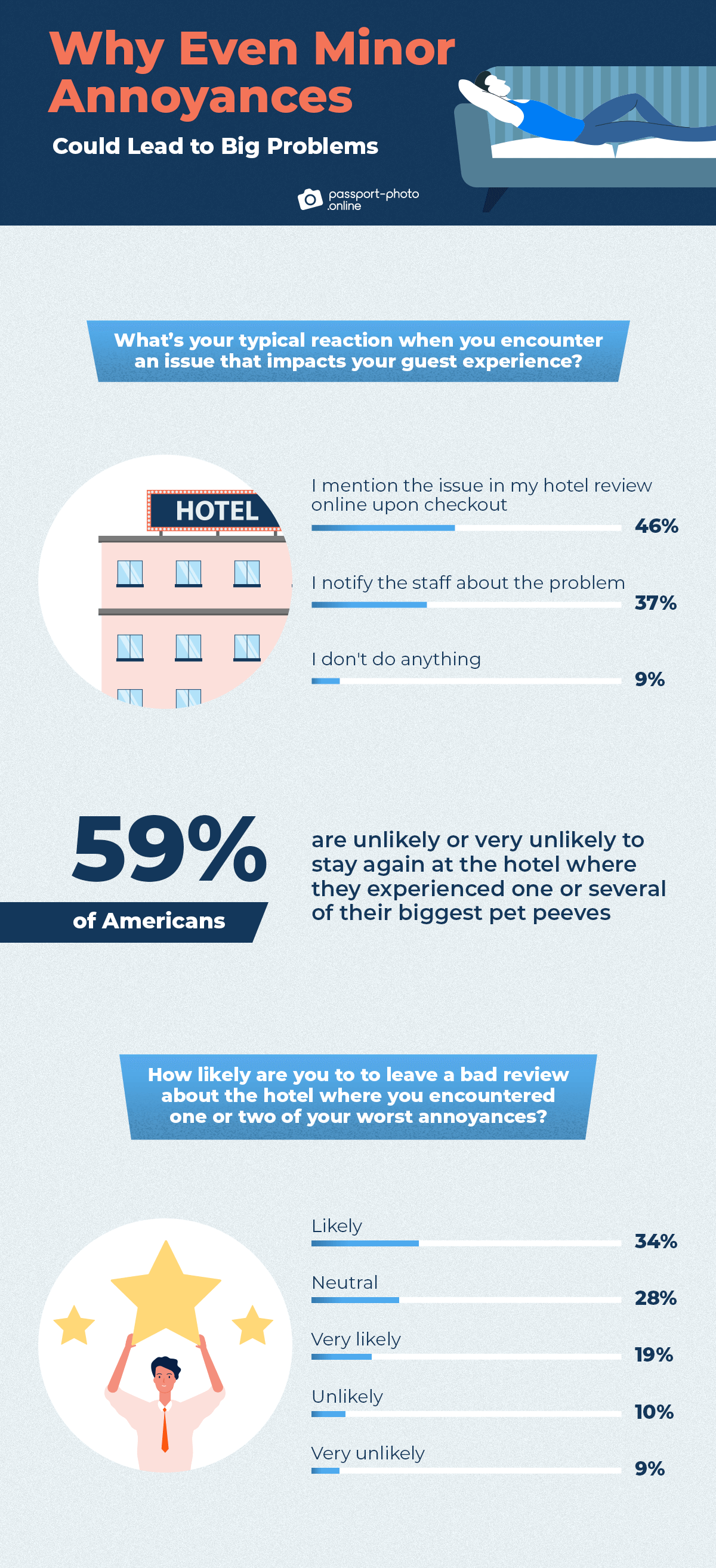 At this point, we wanted to gauge how Americans typically react when they encounter their hotel peeves.
The reason?
It should give hoteliers rock-solid evidence on why it's vital to up their guest experience and possibly save a few stays from going awry.
So—
To begin with, we asked the respondents, "What's your typical reaction when encountering an issue that impacts your experience?"
Below are the results:
I mention the issue in my hotel review online upon checkout: 46%
I notify the staff about the problem: 37%
I don't do anything: 9%
As a follow-up, we asked the survey takers if they'd stay again at the hotel where they experienced one or several of their biggest pet peeves. A full 59% said they'd look for other options.
Finally, we wanted to know how likely Americans are to leave a bad review about the hotel where they encountered one or two of their worst annoyances.
See the results below:
Likely: 34%
Neutral: 28%
Very likely: 19%
Unlikely: 10%
Very unlikely: 9%
So hoteliers, take note!
Stacking It All Up
There you have it.
A ranking of America's biggest hotel pet peeves.
Now—did you ever experience any of the pet peeves we've discussed? What's your biggest hotel annoyance?
Let us know in the comment section below.
Methodology
We conducted an online survey of 1,005 US respondents via a bespoke online polling tool in August 2022.
The respondents were 65.1% male and 34.9% female. 12.3% of respondents were 25 or younger, 52.7% were aged 26–38, 28.3% were aged 39–54, and 6.7% were 55 or older.
This survey has a confidence level of 95% and a margin of error of 3%. Given the gender and age makeup of our sample size, the study's findings are statistically significant for the population at large.
This study was created through multiple steps of research, crowdsourcing, and surveying. Data scientists reviewed all survey participants' responses for quality control. ​​The survey also had an attention-check question.
Fair Use Statement
Did our findings help you learn more about hotel pet peeves? If you believe your audience will be interested in this information, feel free to share it. Just remember to mention the source and link back to this page.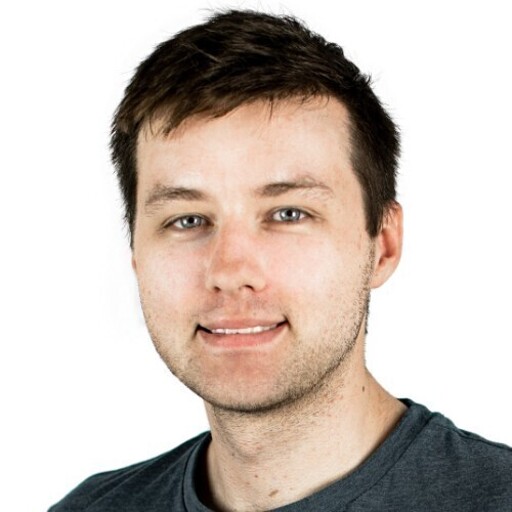 As a Digital PR specialist and a member of the Society of Professional Journalists (SPJ), Max has 5+ years of writing experience.
Over the course of his career, Max's work has garnered significant attention, with features in numerous prominent publications such as The New York Times, Forbes, Inc., Business Insider, Fast Company, Entrepreneur, BBC, TechRepublic, Glassdoor, and G2.