Have you ever heard that "time is money"? Well, in the case of waiting for your US passport, time can be anything—your holiday put on hold, an important business trip, or emergency travel.
Typically, passport processing takes 6-9 weeks. However, due to different circumstances, it can vary significantly. If you are asking yourself the same question—that is, "how long does it take to get a passport?", you are in good hands.
Learn about US passport processing times and events that may affect them. Also, discover an innovative photo tool—Passport Photo Online—and take 100% compliant passport photos within seconds at home.
Passport processing time
Passport services have specific, constant timelines. In most cases, applicants can expect their passports to arrive within a given period—which we will mention later—but sometimes, this waiting time can be prolonged. Why? The two main reasons for passport delays are:
an incorrectly completed passport application form;
mailing service's operational time.
The first one is clear and, fortunately, easy to improve. In the case of passport applications submitted in person, a passport agent immediately points to the mistakes that they noticed on the form. However, when processing a passport via mail, this can take a little longer—officials have to notify the applicant of any errors by mail.
Every processing time discussed below does not include mailing time. Thus, it may take longer—or hopefully, shorter—to obtain your passport, depending on the mailing company or their capacity at a given time.
The US Department of State notes that it can take up to 2 (two) weeks until a passport application changes its status to "In Process." See how to track your US passport status.
Having this background knowledge, let us look at passport processing times in different situations.
How long does it take to get a passport for the first time?
A first-time adult passport is an essential travel document, valid for 10 (ten) years. No wonder applicants want to know when exactly they can obtain it. Depending on their circumstances, US citizens can choose one of 4 passport procedures:
routine
expedited
urgent
emergency.
Each of them has its own specific processing times and requirements. Let us take a closer look at them.
| Passport procedure | Processing time |
| --- | --- |
| Routine | 6-9 weeks |
| Expedited | 3-5 weeks |
| Urgent | Up to 14 business days |
| Emergency | Less than 72 hours |
The routine processing time for a US passport takes 6-9 weeks. It applies to both in-person appointments and mail processings. Summing up, US citizens can expect up to 11 (eleven) weeks until their passport arrives.
For those who want to get their passports faster, it is possible to request an expedited service for an additional $60 fee. Then, the processing time takes 3-5 weeks.
US citizens who must travel abroad in less than 14 (fourteen) days can apply for an urgent or emergency passport. This service is exclusive only to those who can provide proof of their immediate international travel. Then, applicants can receive their passports in less than 14 (fourteen) business days, within 72 hours, or even as fast as the same day.
The same processing times apply to children's passports as well. Remember to provide the correct documents to avoid any delays.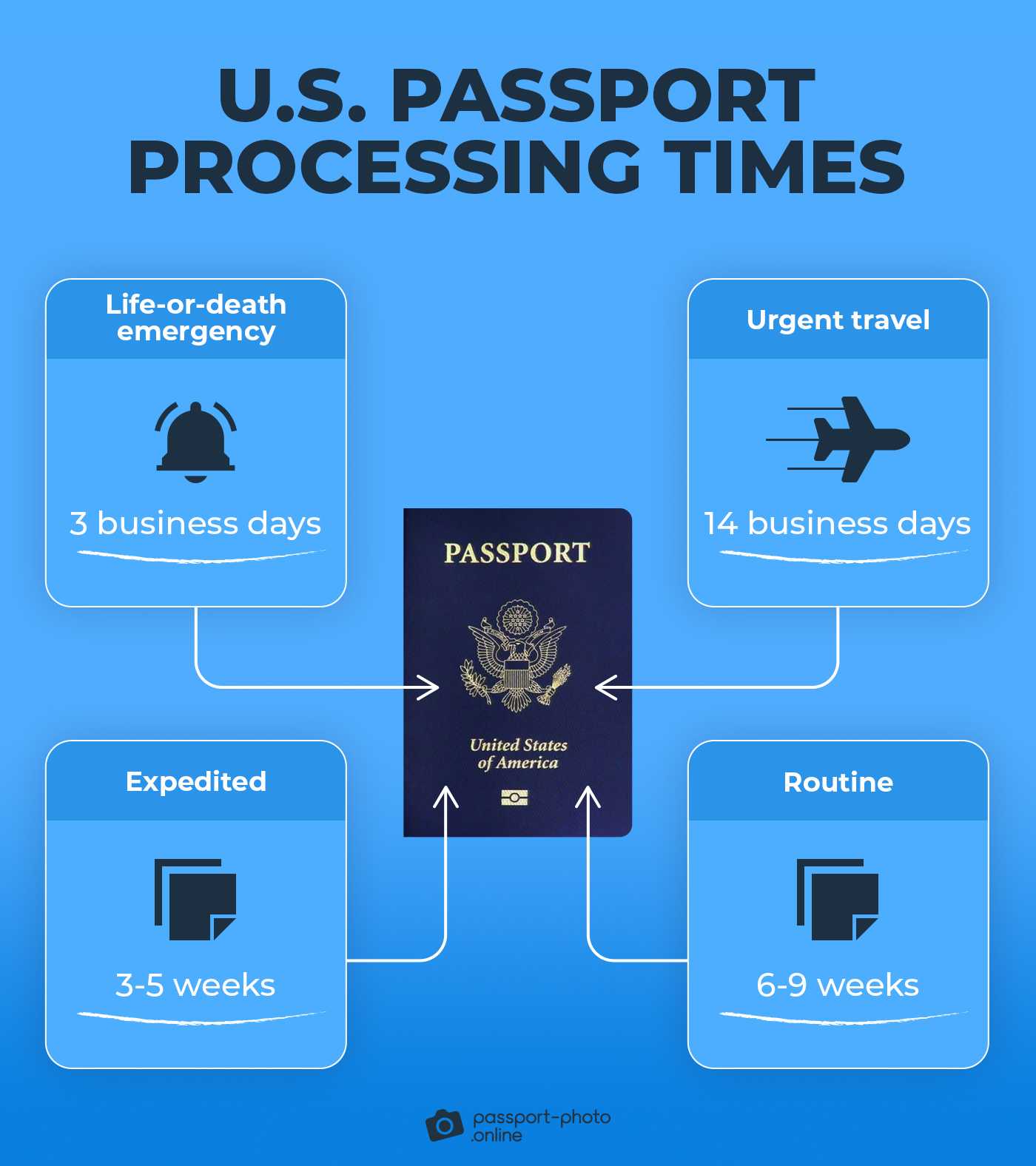 How long does it take to get a passport renewed?
Passport renewal procedures take the same amount of time as in the case of first-time applications.
Bear in mind that applicants must be eligible to renew their passports via mail. Otherwise, they must do it in person, which can significantly improve the waiting time. There is also a possibility to renew your US passport online—the processing time takes the same in this case.
Get your passport photo in no time with Passport Photo Online
The longest US citizens might wait for their passports to come is 11 (eleven) weeks—provided that their application is accepted right away. Did you know that incorrectly taken passport photos are the number one reason for rejecting a passport application? Let us help you avoid this issue and present an innovative solution: Passport Photo Online.
Thanks to our photo editing tool, applicants can take their passport pictures in just 3 seconds from the comfort of their home. All that is required is a digital camera or smartphone and good lighting conditions. Let Passport Photo Online do the rest!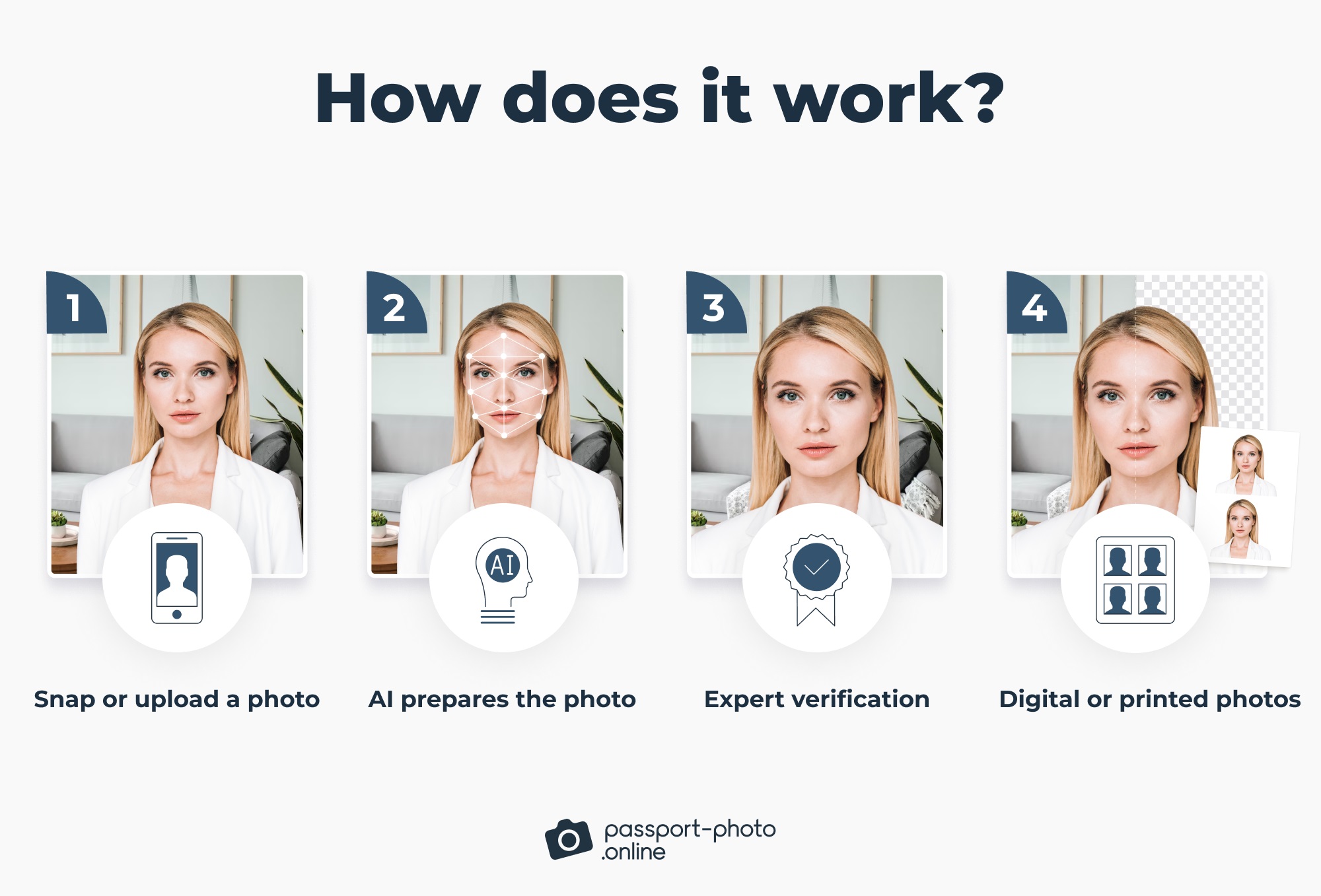 No additional waiting time required. You will get a digital copy of your passport picture immediately in your email box. Users can also download a printable 4×6 template and save up to 97% on printing services!
Get 100% compliant passport photos that are guaranteed to be accepted. However, in the rare case of rejection, we provide a 200% refund—everything for your utmost satisfaction. Download our passport photo application on Android or iOS and give it a go today!
FAQ
In this section, we have collected and answered the most important questions on passport processing times.
How soon is the quickest you can get a passport?
It is possible to obtain a US passport as fast as within 24 hours. However, this type of procedure must be supported by certain documents proving the applicant's emergency situation.
Can you get a passport in a day?
Yes, US citizens can get a passport in a day but only in serious emergencies. Additionally, they should provide as much evidence as possible to increase their chances of getting a passport within one day. Individuals with urgent travel cases can get their passports within 3 (three) business days.
Does it really take 3 weeks to get a passport?
The routine processing time of a US passport takes 6-9 weeks (excluding the mailing time). Applicants may get their passports within 3 (three) weeks if they choose expedited processing for an additional cost of $60.
Do passports come in 4 weeks?
Typically, US passports arrive within 10 (ten) weeks. However, if the applicant chooses to use the expedited process, it is possible that the passport will come in 4 (four) weeks.
How long does it take to get a passport if I already have a passport card?
Owning a US passport card does not affect the processing times of a US passport book. Thus, it takes 6-9 weeks for a routine procedure, 3-5 weeks for an expedited one, and a maximum of 14 (fourteen) days in the case of urgent travel passports.
What's the time to get passport?
Getting a US passport can take 6-9 weeks (routine process) to 3-5 weeks (expedited). In the case of emergency travel, applicants can get a passport within the same day of their passport appointment.
Closing thoughts
So, how long does it actually take to get a passport? Depending on the circumstances, it can vary from 11 (eleven) weeks to even 24 hours. One way or another, every applicant must wait for their most important travel document. But it's definitely worth it!
And if you want to avoid delays due to improper passport photos, try Passport Photo Online; with a double verification, we guarantee 100% compliance with the official requirements. This, or 200% money back!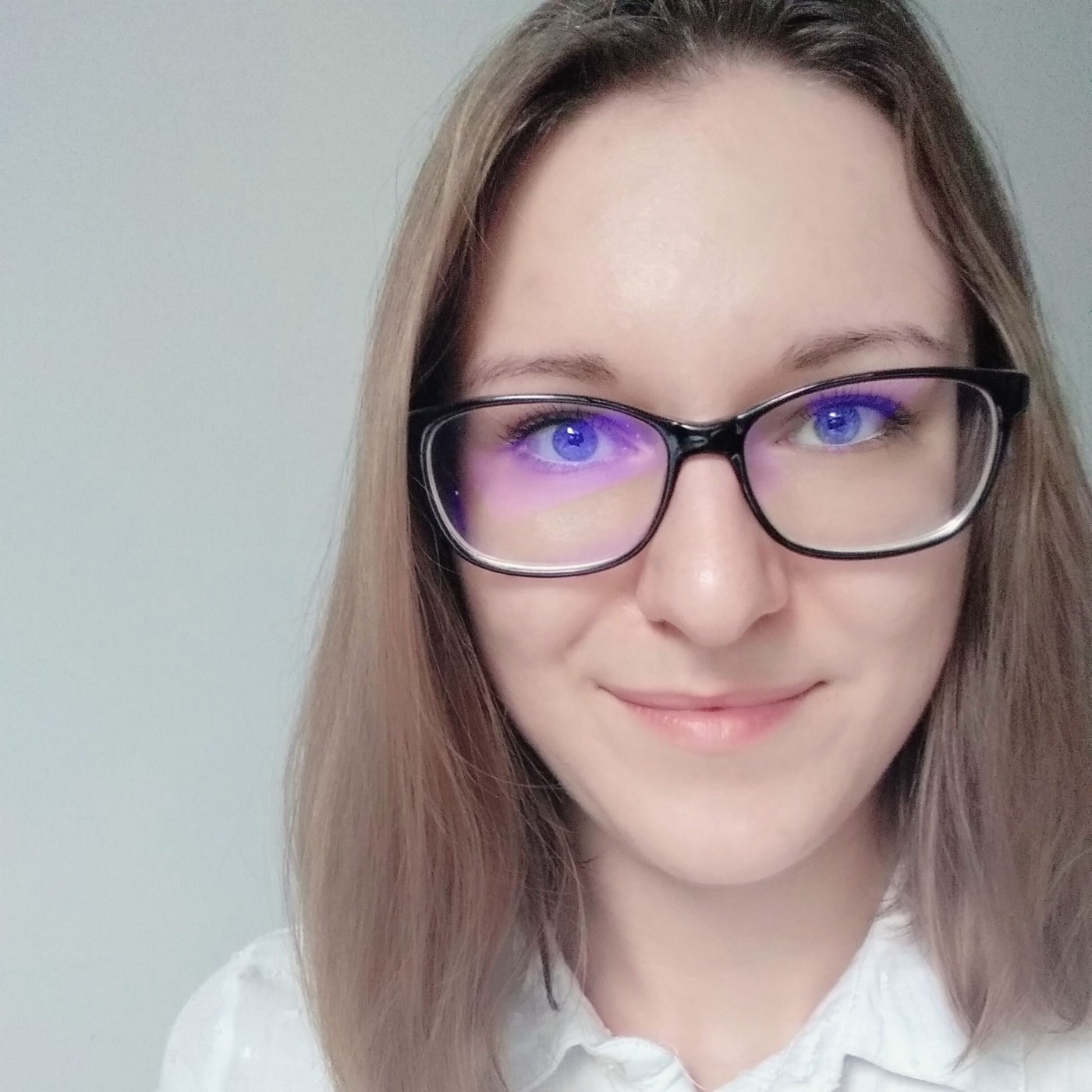 Roxana Grabowska combines her passion for language and biometric photography to craft reader-friendly content. Her work provides a clear guide to creating suitable photos for identity documents, making the process more accessible. Roxana's background in linguistics and love for travel have made her appreciate the importance of high-quality biometric photos in ensuring smooth travel experiences.