This is the ultimate guide on LinkedIn profile pictures.
In 12 minutes, you'll know exactly how to take *the* perfect shot.
The kind that makes employers take notice AND opens the floodgates to fantastic job offers.
You'll learn:
Why it's essential to have a professional LinkedIn photo with stats to back it up.
Battle-tested tips and techniques to help you get a professional headshot from the comfort of your home.
Six things to avoid at all costs when taking a LinkedIn profile picture.
Let's dive right in.
Why is it important to take a professional photo?
Starting from P.S. Jagadeesh Kumar's quote: 'A photo can speak more than what a thousand words can speak (…)'. It means that if you want your profile photo to speak for you well, you have to take a great shot that will insinuate that you are a good employee.
LinkedIn profile pictures affect how people perceive you, and the photograph is the first impression you give to your future employers. Like in a job interview, you must be confident, look appropriate and make a good impression if you want to get hired. The photo in your profile is like a LinkedIn passport photo. It doesn't have that many requirements but works like an identity document. If you want to identify your look with your professional personality, make sure your photo is of good quality and points to your best character features.
Like this article and want to know more? Check these out:
Benefits of having a good LinkedIn profile photo
To convince you to add a photo to your LinkedIn profile or change your already existing profile picture, we decided to prepare a shortlist of some advantages of having the right photograph on your account.
A profile picture makes you more approachable
A photograph in your profile acts as your own personal brand – it makes you look warm, trustworthy, show your confidence, and allows you to make a genuine connection with the viewer. Uploading a quality photo to your LinkedIn profile will help you make the right impression and maximize the number of people who view your profile.
Higher chances to be noticed
It's not an overstatement to say that accounts with photos are more likely to be viewed. According to LinkedIn data, profiles without pictures are viewed less frequently, and 93% of users do not accept invites from people without an image. This means that if you have a profile picture on the LinkedIn platform, your chances to be noticed are higher!
Based on the LinkedIn analysis, simply adding a picture increases your profile's visibility by 14 times and increases your chances of receiving a response by 36 times. If you want to get considered, you have to add a LinkedIn profile picture.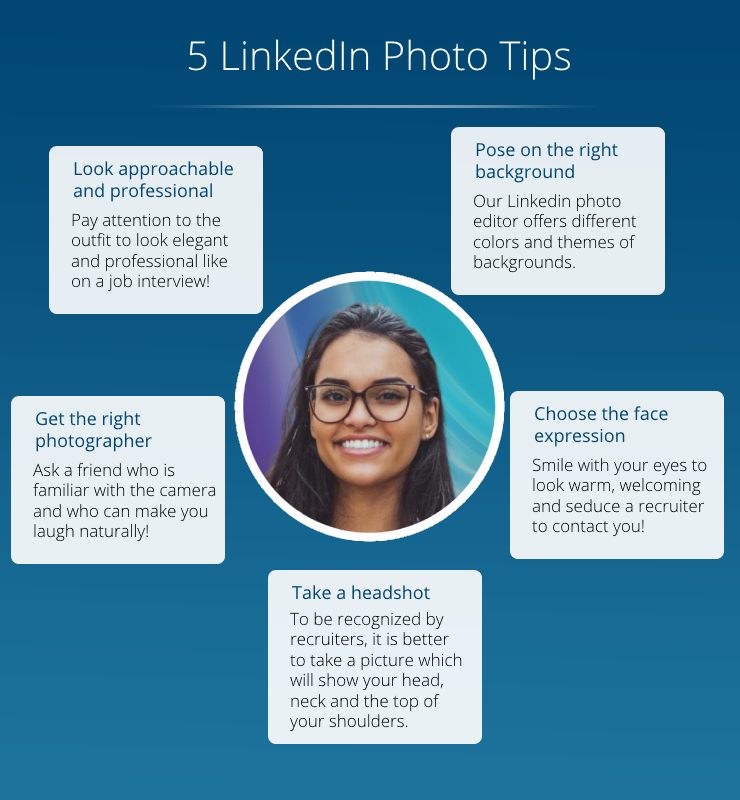 LinkedIn photo guide
To take the perfect professional picture, it is important to know some of the tips which will help you obtain the correct business LinkedIn photo. Despite the popular opinion, you don't have to visit a professional photographer to get a great profile picture or a professional-looking image. Going further we will provide you with some LinkedIn photo tips on how to get a professional head-shot without leaving your home.
Look approachable and professional
There are no specific requirements regarding the facial expression in LinkedIn photos. However, you should try to avoid unnatural expressions and just try to look at your normal, natural self. A person who smiles is more likely to draw attention better than someone serious, because they may seem cold. It means that in your LinkedIn profile picture the expression should also be nice. A picture of someone radiating warmth and a cheerful aura would more easily attract a potential job recruiter as opposed to a stern, serious-looking face. It is recommended to smile with your eyes. This makes people look warm and welcoming.
Another very important aspect is to look professional! What does that mean? Try to pay attention to the outfit. Make yourself look elegant the way you would for a job interview., i.e. wear what you would normally wear to work in an office.
Pose against the right background
It doesn't matter where you take the photo: at your place, outside, or in a photography studio! You can change the background color by using the Passport Photo Online service and take a digital photo for LinkedIn!
You can choose different colors and themes of backgrounds on our website. For example, the office-style background conveys professionalism and a corporate work ethic. The blue setting, on the other hand, indicates that +30% of people will accept the invitation. However, it does not have to be a bland uniform color because you can stand against grass or a blue painted wall – show your imagination right away to earn extra points!
Using our LinkedIn photo editor you can also get a picture in front of the New York library, Eiffel tower, Taj Mahal, or Machu Picchu without leaving your home! Just upload an image to be used as the background and your headshot separately and let our AI magic do all the rest of the work for you!
Get the right photographer
The photographer doesn't have to be professional, but you do want to have a professional LinkedIn profile picture, don't you? Don't consider taking a selfie which is a sort of disapproval for recruiters who will not take you seriously. The right choice would be to ask a friend or family member to take a few pictures of you. Choose someone who can make you laugh naturally. A polite, warm smile can make you appear approachable and inspire others to interact with you.
Take a headshot
If you picked the right photographer or your tripod is in the position, you can start posing. LinkedIn profile images are not too large, so to be recognized and noticed by recruiters, it is better to take a shot just of your head which should cover around 60% of the whole picture. When you submit photos for your LinkedIn profile, you need to show your head, neck, and a little of the top of your shoulders. Simply, your head will look too tiny if you include your whole body.
Select a current photo
If you decide not to take a recent photo and think you might have the right one which suits the professional portal, then make sure it is an up-to-date one (not taken before your beard started growing or when you were in college!).
Pick the right time of day, i.e. natural lighting
This may sound obvious, but natural light can really work wonders for your LinkedIn profile picture, as it's the best type of lighting for taking any photo. However, you should avoid direct sunlight, since it may make your face look too bright, and therefore unnatural. At the same time try to pick a nice, fairly sunny day – don't take your photos on an overcast day, because this, on the other hand, may result in unnecessary shadows. Just use your best judgment when picking the time of day and weather for taking your profile picture!
What to avoid in LinkedIn profile photos
After you've successfully prepared for your headshot, we have a chapter for you about common mistakes regarding what to avoid in LinkedIn photos. Though there are no official rules, it is a business platform. That is why you should make sure that your attitude to taking the right photograph is professional as this will affect your potential connections.
Do not take a selfie – selfies are popular, but they are specific kinds of shots. They're accepted on other social networking platforms, such as Instagram or Facebook, but even there they're not always socially appropriate. A selfie on LinkedIn will make you look unprofessional and may even be a bit disrespectful toward recruiters.
Do not crop your picture – cropping a photo from a bigger one, for instance, will make you look unnatural, the quality will be worse, and very often it'll be easy to tell that it's a cropped image. Also, the LinkedIn profile picture is a round image by default, and our app knows exactly what to do here to make sure it meets the site's criteria. Our AI-backed online tool will adjust your profile photo to the right size (400 x 400 pixels).
Look directly into the camera – you have to show confidence, and you are sure about the new goals you want to reach, but if you look sideways you might be treated like a shy person who is not unsure of what they want to achieve.
Avoid beautified pictures – editing your profile pic such as retouching, adding photo filters, removing moles or wrinkles changes your natural look, and even if the reason is to make you look more attractive for employers, it is better to go for a natural and fresh look. In this way, the profile photo won't look fake.
Avoid distracting backgrounds – while choosing the right backdrop for your profile photo, make sure that it is in the right color without any objects, patterns, or shadows. LinkedIn has a list of background images that are not allowed in your profile picture, including adding company logos, animals, words, phrases, or landscapes.
Avoid group photos – photos taken with a group of friends or your family may be tempting to crop and use as your LinkedIn profile picture, as we usually tend to have a natural smile in them, however it's not recommended in this case. A cropped group picture is wrong for various reasons – it's probably low resolution and grainy, the other objects or people in it may be difficult to cut out, there may be some shadows, and you may not be looking straight into the camera – just take a few moments to snap a new, clean and clear picture of yourself!
With the LinkedIn photo service, you can be sure that you won't upload a wrong size picture or a forbidden background photo. Because if you cannot obtain the right one, you can use some available on our website or one of your own! The LinkedIn Photo Tool removes the original background and allows you to substitute it with the one you choose to make your LinkedIn Profile picture look as professional as it's supposed to be.
Use Passport Photo Online to take your LinkedIn photo
When you already know what you should and shouldn't do while taking the correct photograph for your LinkedIn profile, now is the time to use our Passport Photo Online site or photo mobile app. Our service will help you create a high-resolution image that will make you look like a professional.
Our professional LinkedIn photo maker is effortless to use and automatically resizes almost all photos to be suitable for the LinkedIn social network. All you have to do is go to the Passport Photo Online website and upload the right picture. Then, choose a background color from the options on our website or feel free to use your own. The LinkedIn photo tool will remove the original background and allow you to replace it with the one you choose.
Passport Photo Online allows you to download a 100% correct LinkedIn profile picture in the right size and upload the photo directly to your profile!
What else is important to know?
Nowadays, the simplicity of searching for something on the Internet also leads some recruiters to check job seekers' other social media accounts. It means that if you apply for a serious position, you have to be sure that all of your accounts look good and presentable and that the photos you share anywhere else on social media are exactly what they should be in terms of professionalism. You might not be aware of the fact that recruiters want to know more about you by looking up your social accounts, such as LinkedIn, but also Facebook, or Instagram. Yes, that is right! Nevertheless, for the past few years, LinkedIn has been the leading portal for professionals, which displays your skills, knowledge, education, and previous experience.
LinkedIn is very likely to be the first platform that your potential employer will take a look at and your profile picture may determine your chances of landing your dream job. With today's professional online photo tools you can take a top-notch LinkedIn profile photo without having to leave your home. It's worth taking an extra couple of minutes out of your day to update your picture and boost your visibility on LinkedIn so you can be noticed by employers.
FAQ
Is it necessary to have a profile picture on LinkedIn?
While it is not mandatory to have a profile image on LinkedIn, it is recommended since it could help you get noticed by potential employers. Profiles with pictures are more likely to be visited by other users and sent invites, as opposed to 'ghost' profiles without any pics.
What size should my LinkedIn profile picture be?
The recommended size for your LinkedIn profile pic is 400 x 400 px.
How should my LinkedIn profile pic look?
It's best to look natural and professional in your profile picture. Avoid excessive makeup and unnatural expressions and don't use any cropped group pictures or any pictures with a noisy background. If you can, snap your headshot taking advantage of natural lighting and stand against a white wall if possible.
How should I dress for my LinkedIn pic?
Since LinkedIn is a platform for professionals, you should dress accordingly. You don't necessarily need to dress up for your headshot, just wear what you would normally wear to work (office attire).
Can I take my profile picture online?
You absolutely can take your profile picture online using AI-supported photo tools, such as Passport Photo Online. It's fast, easy, saves you time and money, and you don't have to leave your house to do it. You're also guaranteed that your photo will meet the requirements and will be cropped to the right size for the website.
Sources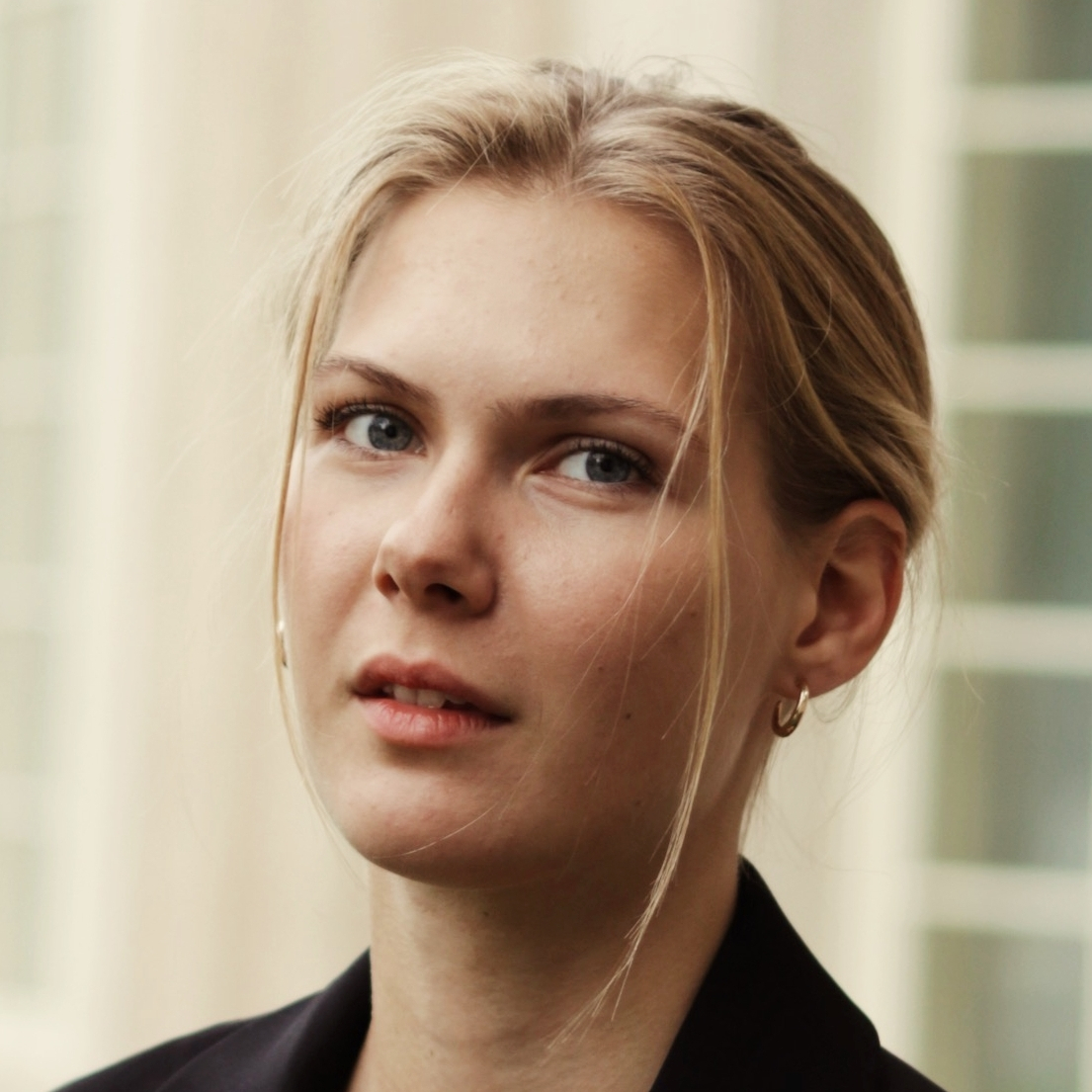 Justyna graduated from journalism and social communications at the University of Lower Silesia. She is an avid journalist with passion for travels and sport, being also a professional athlete for the past 8 years. Justyna is the author of articles concerning biometric photography.