Inhabited by over 2.6 million people, Brooklyn is a dense and fast-growing borough in New York City. With so many residents, there are at least 10 different providers where future passport holders can take their biometric photographs.
This post will assist you in discovering various locations in Brooklyn that offer passport photography services. Moreover, to help you avoid traversing the borough's busy streets in search of passport pictures, Passport Photo Online—a photo tool with over a million users worldwide—proposes an alternative that does not require leaving your home.Read on to find out more where to get perfect passport photos in Brooklyn!
Brooklyn: passport photo service spots
The following sections will briefly describe different places where Brooklyn residents can get their passport pictures. No need to look up the information yourself; here, you will find all details in one place.
Pharmacies
As in other parts of the country, brand-name pharmacies have well-established photo services in the area. Which are the most common?
CVS & Walgreens
In Brooklyn alone, residents can find at least 20 individual stores from both companies, located on Bay Parkway or in Williamsburg, among others. None of the locations require appointments, and the waiting time rarely exceeds 30 minutes.
Not every single store provides passport photo services. Even though walk-ins are common, it is best to contact a particular location and inquire whether they offer passport photos before making the trip.
Both companies offer their customers a set of 2 (two) biometric photographs for $16.99. Residents of Brooklyn who need an international passport photo can use their services, too. Moreover, pictures taken at CVS and Walgreens have a refund guarantee in the case of rejection.
Rite Aid
Living close to the Bay Ridge neighborhood or Pitkin Avenue, residents may be inclined to look to Rite Aid for their passport photos. However, judging by their official website, the company no longer provides this service.
Even though you cannot get your passport photo taken at Rite Aid, the chain still offers printing services. That said, customers can prepare their own passport photos and print them on quality paper.
To make things even better, learn how to save on printing the 4 x 6 inch template at Rite Aid.
Duane Reade
For more than 10 years now, the Walgreens company has owned Duane Reade pharmacy. While the original name has stayed, the stores offer the same service as their current proprietor. Thus, Brooklyn residents can have their passport photos taken at Duane Reade for $16.99 with the same refund guarantee as Walgreens. The most popular Duane Reade locations are Downtown Brooklyn and Brooklyn Heights.
Brooklyn Public Library
The public library system, with its branches located in every Brooklyn neighborhood, includes 2 acceptance facilities appointed by the U.S. State Department that offer passport photo services:
Central Library, located on the corner of the Park Slope and Prospect Heights neighborhoods,
Kings Highway Library, located at 2115 Ocean Ave.
While applicants can comfortably take pictures during the application process, the photography fees might be pricey. For 2 (two) biometric photos, passport applicants must pay $18. Moreover, for every card transaction, there is a 3.5% surcharge added. Cash is not accepted.
Every passport service, including photos, requires an appointment. Applicants must book their visits online through the passport reservation portal and show their appointment confirmation emails on arrival (at either facility).
Brooklyn local photo providers
Apart from pharmacies, stores, and passport offices, there are also a number of local photography service providers available to Brooklyn residents. Here are 4 options for residents looking to support local businesses.
Accurate Photo Shop
Located in the South Slope neighborhood, this photo shop offers U.S. passport photos and international photography services to its clientele. Customers wishing to visit their store can walk in during the regular working hours (Mon-Sat; 10 am – 6 pm) and ask for any passport picture or ID photo.
It is possible to buy both prints and digital images. Moreover, hard copies come in packages of 2-12 prints (depending on the customer's request). 2 (two) biometric photographs or a digital copy cost $12; getting both costs $19. The more prints customers order, the higher the price. Additionally, customers are charged sales tax on their purchase.
Photo Life
Photo Life is another business that offers passport picture services. Located on 992 Nostrand Avenue, it might be a perfect spot for those residing in the Crown Heights or Prospect Lefferts Gardens area. Although Photo Life's official website does not include any transparent information about the price or details of their photography service, this photo shop is highly recommended by its customers (4.7 score from 162 Google reviews).
Photovision Imaging
This printing shop is one of the Brooklyn area's most popular and highly-reviewed locations according to Google reviews (4.7 score). Located on the border of the Bensonhurst and Bath Beach neighborhoods, it offers passport photo services for American and international documents. The store takes pride in its experienced staff and offers a free retake guarantee in the case of rejection. They offer baby passport photos, too.
For 2 (two) U.S. passport photos, customers will pay $12.99 and an additional $5 charge for every digital copy.
Photoreal
Located in the Brooklyn Heights area, this photo lab offers passport picture services throughout the work week, 8 am – 3 pm. Applicants needing another identity photo or international passport image can visit Photoreal, too. There are no appointments necessary.
2 (two) biometric passport photographs cost $14, and an extra $8 is required for a digital copy. According to Photoreal's official website, the wait time does not exceed 7 minutes.
Interestingly, if you need a Canadian or New Zealand passport picture, the processing time takes longer, and the price is slightly higher—customers will receive their photos in 30 minutes, and the service costs $18.
As we can see, Brooklyn residents have a wide range of choices when it comes to passport photography. However, not all neighborhoods might have the same availability of such services. Reaching a chosen location might require travel, and what about baby passport photos?
To avoid getting stuck in traffic and be sure you can get compliant passport pictures for you and other family members in both printed and digital format, why not try Passport Photo Online?
Looking for more tips for your passport application? Look no further:
Take a passport photo in Brooklyn or anywhere you want
Regardless of whether you live in Brooklyn, Queens, Manhattan, or elsewhere, there's no need to battle traffic to get a quality passport photo. With Passport Photo Online, used by more than a million people worldwide, you can take passport photos comfortably at home–doesn't matter whether it's baby passport photos or adult ones.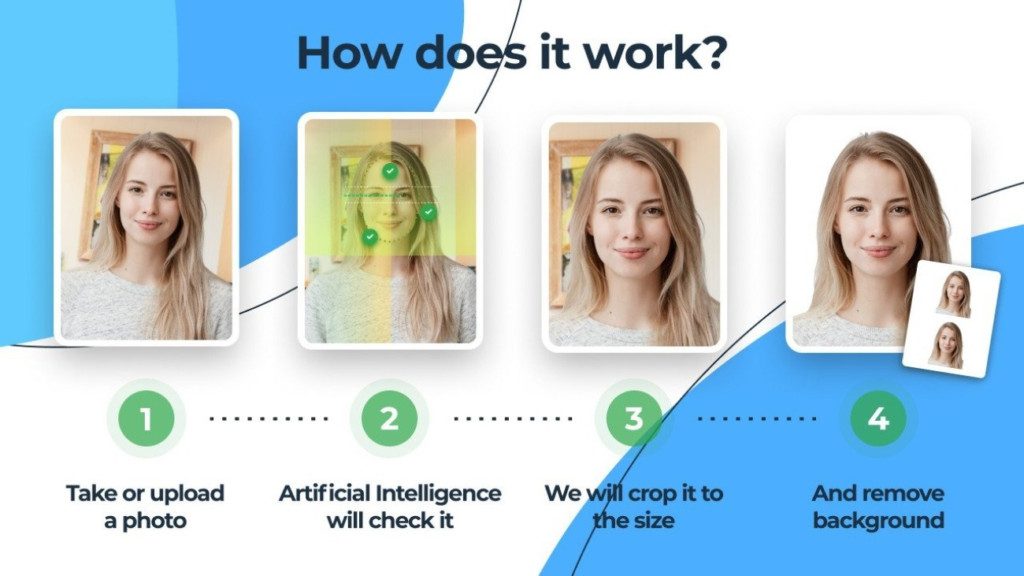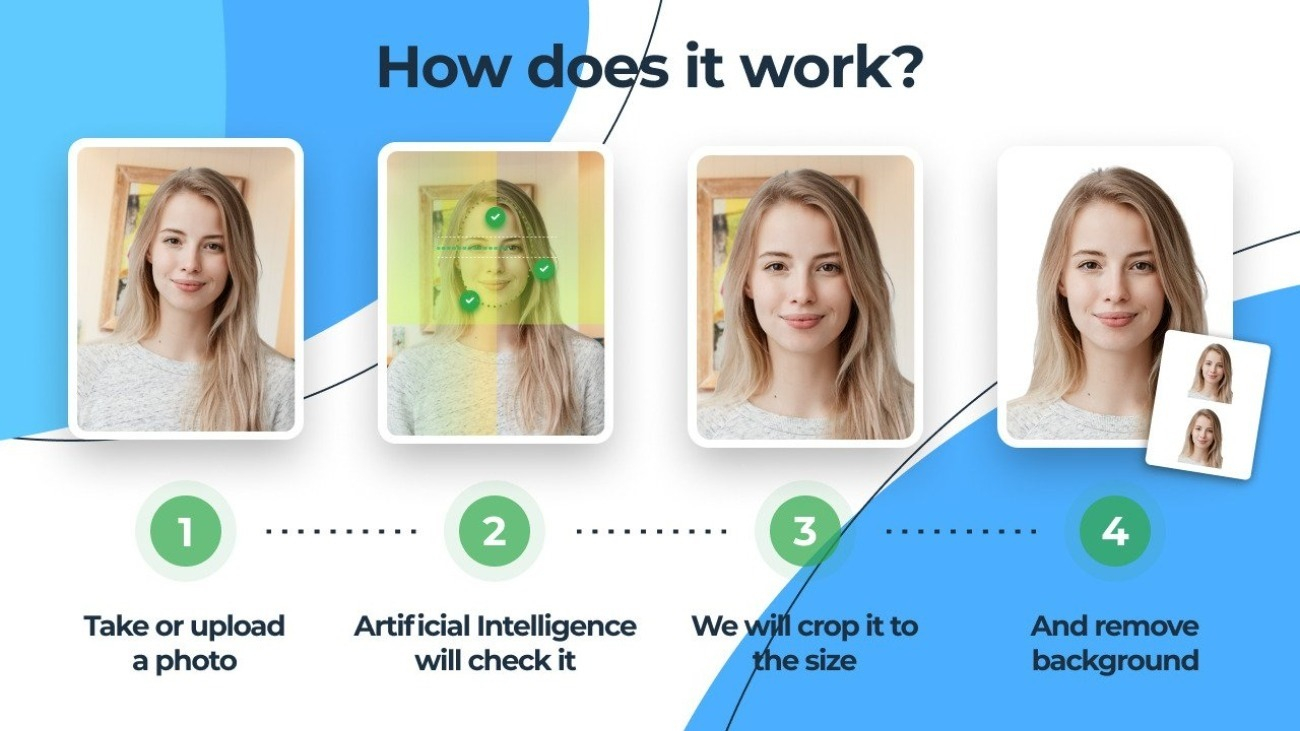 Passport Photo Online is a photo tool that's accessible via its website or through dedicated mobile applications available on Android and iOS. Without much effort, users can snap their pictures whenever and wherever they want, saving on travel and avoiding the possibility of rejected passport applications. What about other benefits?
The tool is supported by an advanced AI system that recognizes and improves images to meet all official requirements. No need to crop or edit it on your own.
Passport Photo Online's vast database holds regulatory information for approximately 200 documents of various nationalities. Users only need to snap a picture (or upload an existing one), and the tool will deliver a compliant picture for the selected document.
Thanks to the state-of-the-art background remover, there is no need to look for a perfectly white wall to take your picture. Moreover, parents can comfortably hold their newborns or toddlers, and the app will make sure that the photo comes out clear!
The tool's artificial intelligence is one thing. To cap it off, we employ a team of experts that additionally verifies every photo's compliance with all regulations. Thanks to this, we guarantee 100% compliance and acceptance by the authorities or, in the case of rejection due to non-compliant photos, a 200% refund!
Curious about passport services in New York City? Check:
Passport photo in Brooklyn: FAQ
In this section, let's look at the most common questions about passport picture services in Brooklyn.
Where can I get my passport photo taken in Brooklyn?
There are a few locations where Brooklyn residents can get their passport photos done. Some of them include popular chains, like CVS or Walgreens. To get the whole picture, have a look at the list of passport photography locations in Brooklyn.
Can I get a passport picture taken in Park Slope, Brooklyn?
Yes. The Park Slope and South Slope neighborhoods have a few spots where applicants can take their passport photos. Apart from CVS and Walgreens stores, there is also the Accurate Photo Shop lab at 639 5th Avenue.
Where can I find the cheapest passport photo in Brooklyn?
All passport photo services in Brooklyn cost more than $10. Most photo providers also charge additional fees for digital copies. Currently, Accurate Photo Shop provides the cheapest passport pictures in Brooklyn—$12 for 2 (two) biometric photographs or a digital copy.
What is the cost of a passport photo in Brooklyn?
Brooklyn residents can expect an  average price of $15 for 2 (two) U.S. passport photos. The fees vary depending on the provider, chosen service, and also whether one requires adult or baby passport pictures.
Summary
Residents of Brooklyn can find more than 8 locations that offer passport photography services. The most accessible spots are CVS and Walgreens stores located in most Brooklyn neighborhoods. For the cheapest passport pictures in Brooklyn, residents might want to visit Accurate Photo Shop.
However, if you want to not only avoid the hassle of battling New York traffic, but also feel confident about your photos' compliance and quality, use Passport Photo Online. Within 3 seconds, create your passport photos conveniently at home or from anywhere in the world. Download the app and try it today!