Let's be honest:
Travel makes lots of things better. It broadens your horizons, enriches your life experiences, and helps you see the world from different perspectives.
The best part?
Hitting the road can also ignite romance.
That's why we've decided to put together a statistic roundup and give you the latest statistics and facts about vacation sex from 16 independent studies.
Top 10 Vacation Sex Statistics to Know in 2022
Eight in 10 American couples believe sex is better on vacation.
72% of travelers are more willing to experiment in bed away from home.
Regardless of gender, 85% of people are kinkier while vacationing.
Just 12% of Americans have engaged in a romantic fling with someone they met on vacation.
Over half of US travelers are somewhat or very likely to pop the question on vacay.
77% of travelers have never done it on public transportation.
Roughly 40% of vacationers bring a sex toy along.
Only 2% of people had sex on the plane. Yet, 35% have it on the bucket list.
14% of women and 16% of men cheated on their partners while on vacation.
28% of couples feel their sex improved after traveling together.
General Vacation Sex Statistics
83% of travelers think their sex life suffers from too much screen time while on the road.
Roughly eight in 10 American couples claim their partner's smartphone prevented them from getting busy on vacation at least once.
Half of Americans (50%) have more sex with their better halves while away.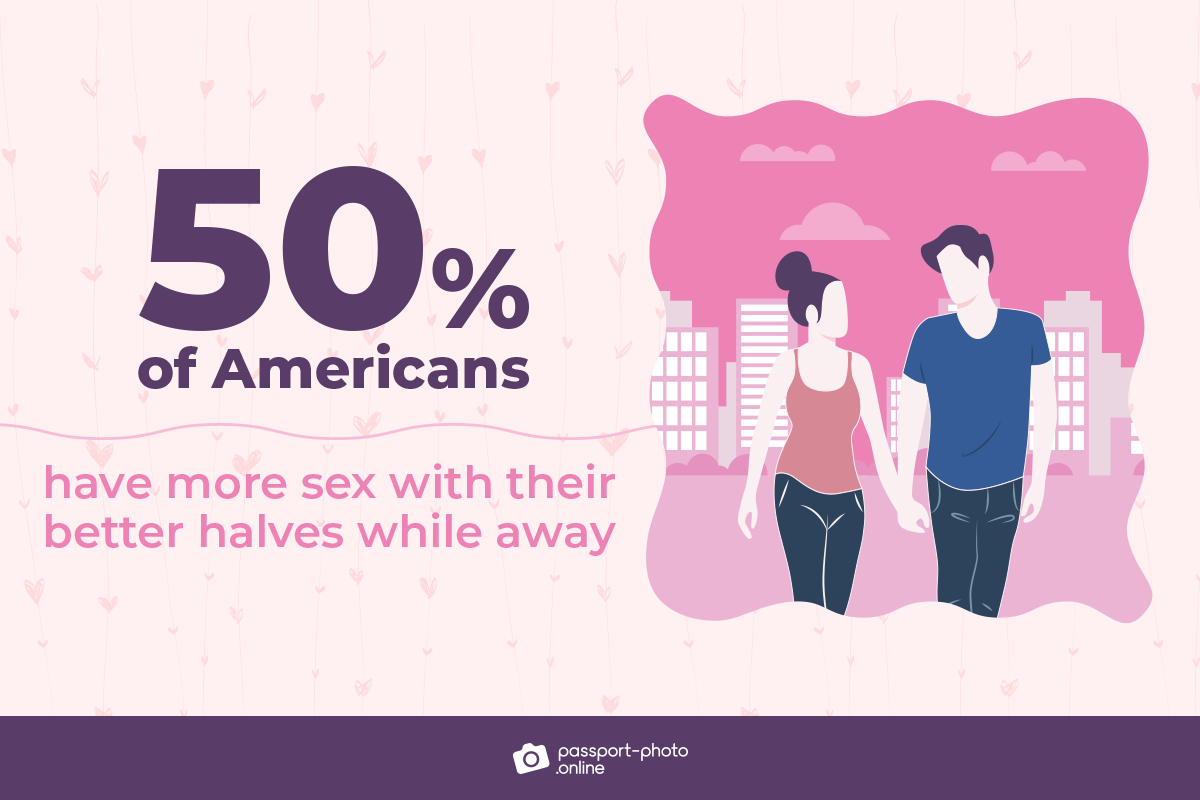 While most people have sex twice a week at home, that number jumps to four when traveling.
Only 2% of US travelers have ever gotten busy with a flight attendant, hotel employee, or tour guide they met on vacation.
29% of Americans consider beach vacations the most romantic.
| America's Favorite Vacation Sex Accessories | Share of People Who Bring Them Along |
| --- | --- |
| Lubricants | 50% |
| Sex games | 49% |
| Lingerie | 46% |
| Sex toys | 37% |
56% of travelers believe Paris is the sexiest destination. It's followed by the Bahamas and Las Vegas.
Just 5% of vacationers have gone topless on the beach.
As little as 3% of people sunbathed fully nude.
7% of Americans ended or considered ending a relationship with their romantic travel partner at least once.
About 21% of men and 17% of women had casual sex while traveling.
Half of female tourists in Costa Rica (50%) had a romantic fling with a local or a fellow tourist.
Most singles globally (63%) get it on with other travelers, and only 20% have intimate encounters with locals.
| Top Venues for Intimate Vacation Encounters among Couples | Share |
| --- | --- |
| Hotel room | 75% |
| Shower/bathtub | 65% |
| Tent | 60% |
| (Rental) car | 39% |
12% of Americans fantasize about intimacy in museums. Other popular options include cable cars, viewing platforms, roof terraces, and mountain peaks.
For 54% of travelers, the middle of the day is the most popular time to get busy.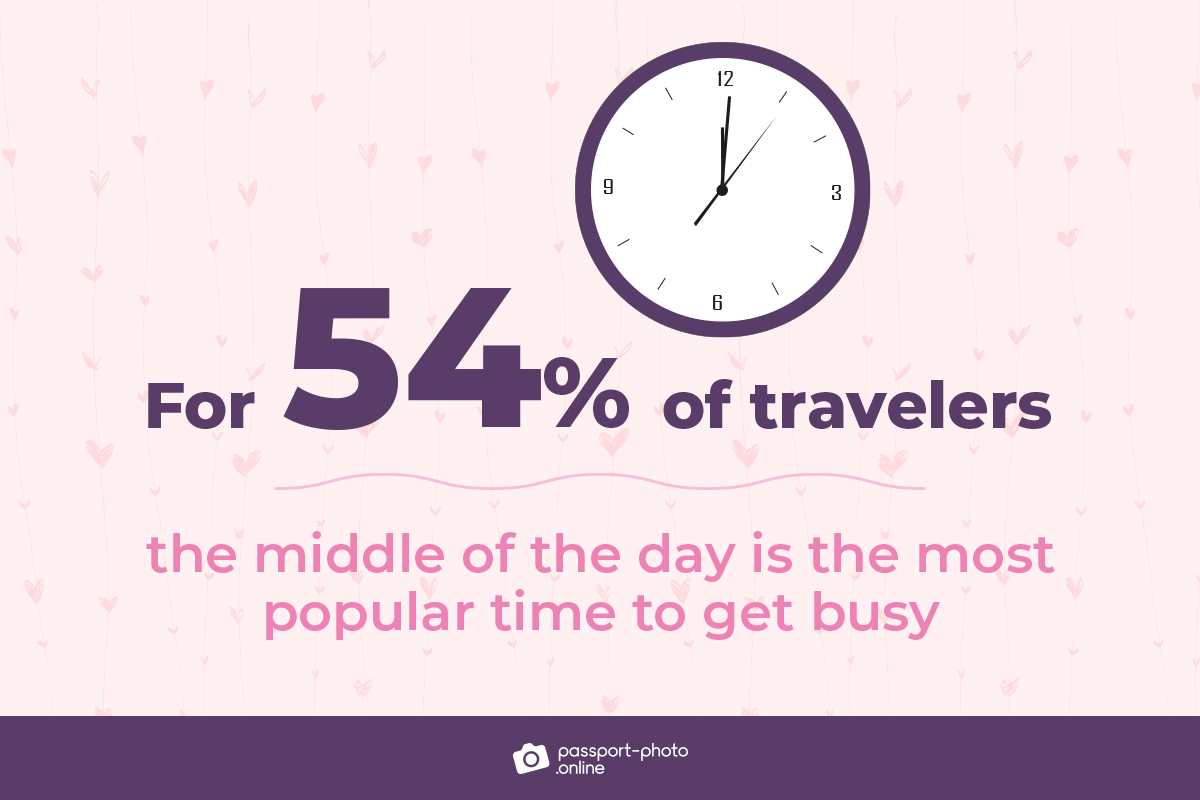 About 33% of people ended a relationship right after a vacation, with "bad sex" being the most common reason.
While over half of adults (52%) expect better sex while traveling, 60% admit the reality didn't live up to their expectations.
30% of women plan their vacation times around menstrual cycles.
37% of global travelers admit to no or inconsistent condom use while away, with Swedes and Brits leading the way.
82% of men and 78% of women desire sex more often when taking a break from everyday life.
| Most Fantasized about Locations for Vacation Sex | Share |
| --- | --- |
| On a beach | 51% |
| In nature | 49% |
| In the ocean/sea | 45% |
| On a balcony | 42% |
| In a hot tub/pool | 40% |
| Aboard some form of public transportation (e.g., airplane, train, bus, boat) | 24% |
Nine in 10 Americans rank sex as their top activity on their cruise itinerary.
84% of travelers believe cruises are the most romantic vacation type.
Eight in 10 travelers feel they left their last cruise feeling more connected with their partner.
50% of vacationers are more likely to get busy on a cruise than on a land-based vacation, and 62% report sex on their last cruise was better than usual.
Over half of guests (53%) had sex in an Airbnb apartment.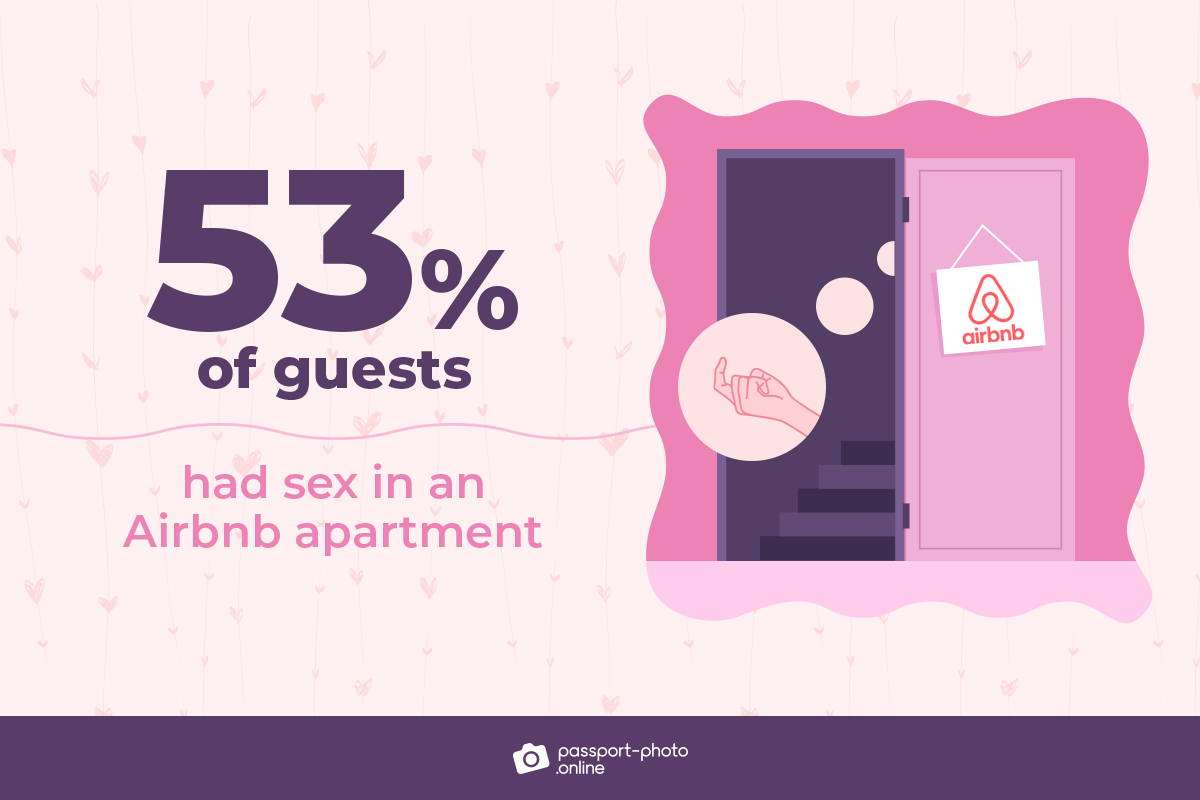 Over 40% of British women under 30 had a one-night stand on vacation.
About 28% of travelers admit their standards for sex are different when they are away. Of those, 16% say their standards are more relaxed.
38% of Americans said they'd give up sex for a year if they could go on a trip back in 2021 amid the COVID-19 pandemic.
Stacking It All Up
There you have it.
A comprehensive list of 40+ statistics and facts about vacation sex.
Let us know in the comments if there are any other stats you'd like to see.
Fair Use Statement
Did you like our infographics? If so, feel free to share them with your audience. Just remember to mention the source and link back to this page.
Sources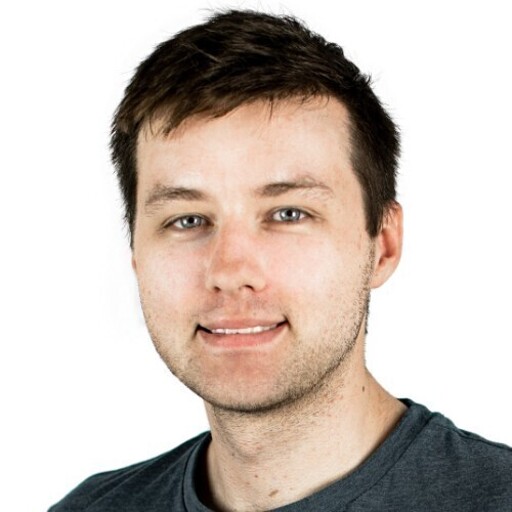 Max Woolf is a writer and travel lover at Passport Photo Online. His insights, advice, and commentary have been featured in Forbes, Inc., Business Insider, Fast Company, Entrepreneur, BBC, MSN, NBC, Yahoo, USA Today, Fox News, AOL, The Ladders, TechRepublic, Reader's Digest, Glassdoor, Stanford, G2, and 300+ other outlets.