There's no question about it:
Social media has a ripple effect on many aspects of our lives, including travel.
So much so that many have started to choose holiday destinations based on how "Instagrammable" the pics will be.
That's why at Passport Photo Online, we've decided to compile the most recent and valuable statistics on how social media shapes tourists' choices in 2022.
Let's dive in.
List of Travel vs. Social Media Statistics
Top 10 Social Media vs. Travel Statistics to Know in 2022
About 89% of US vacationers checked social media during their most recent holiday.
Over half of travelers (55%) spend between 30 and 120 minutes daily on social media.
Nearly 46% of Americans want to make followers jealous with their travel experience.
Almost six out of 10 travelers (58%) believe frequent social media use negatively impacted their most recent holiday.
Roughly 40% of Millennials pick holiday destinations based on how Instagrammable the pics will be.
About 52% of travelers decided to visit a specific destination after seeing its image/video from friends, family, or peers on social media.
Over half of vacationers (60%) post photos on social media while away. When it comes to Millenials specifically, that number rises to 97%.
Friends' photos on Facebook influence over 50% of users' travel plans.
Every week, 1M+ travel-related hashtags are searched on Instagram.
About 70% of Americans update their Facebook status while on vacation.

General Social Media vs. Travel Stats
Roughly 69% of the worldwide population uses social media platforms for travel-related needs.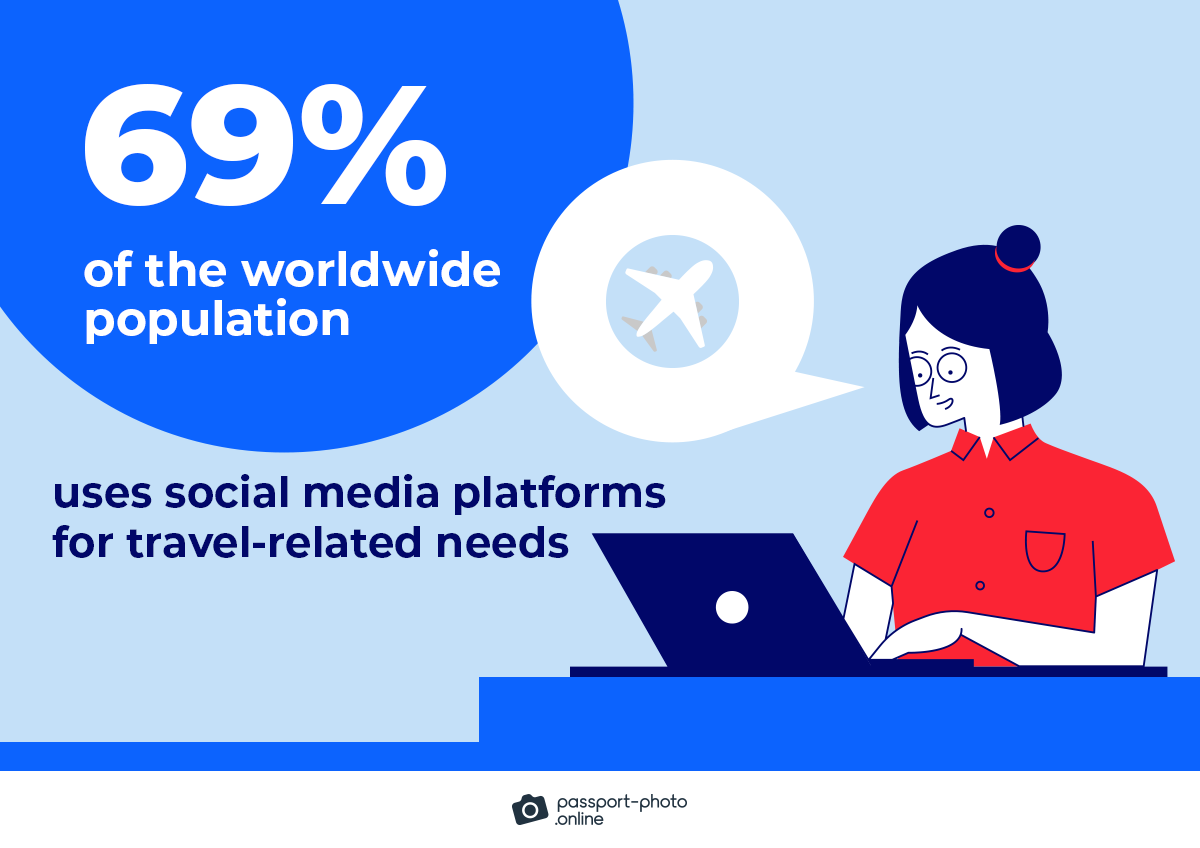 Over 37% use social media specifically for travel inspiration. The most popular vacation inspiration sites are:
Instagram: 67%
Facebook: 29%
TripAdvisor: 14%
Twitter: 6%
Pinterest: 4%
In 2015, Justin Bieber filmed his music video for "I'll Show You" at the Fjadrárgljúfur canyon in Iceland—a few years later, tourism to the once-sleepy town nearly doubled.
Instagram has over 300M+ posts with the word "travel" in them.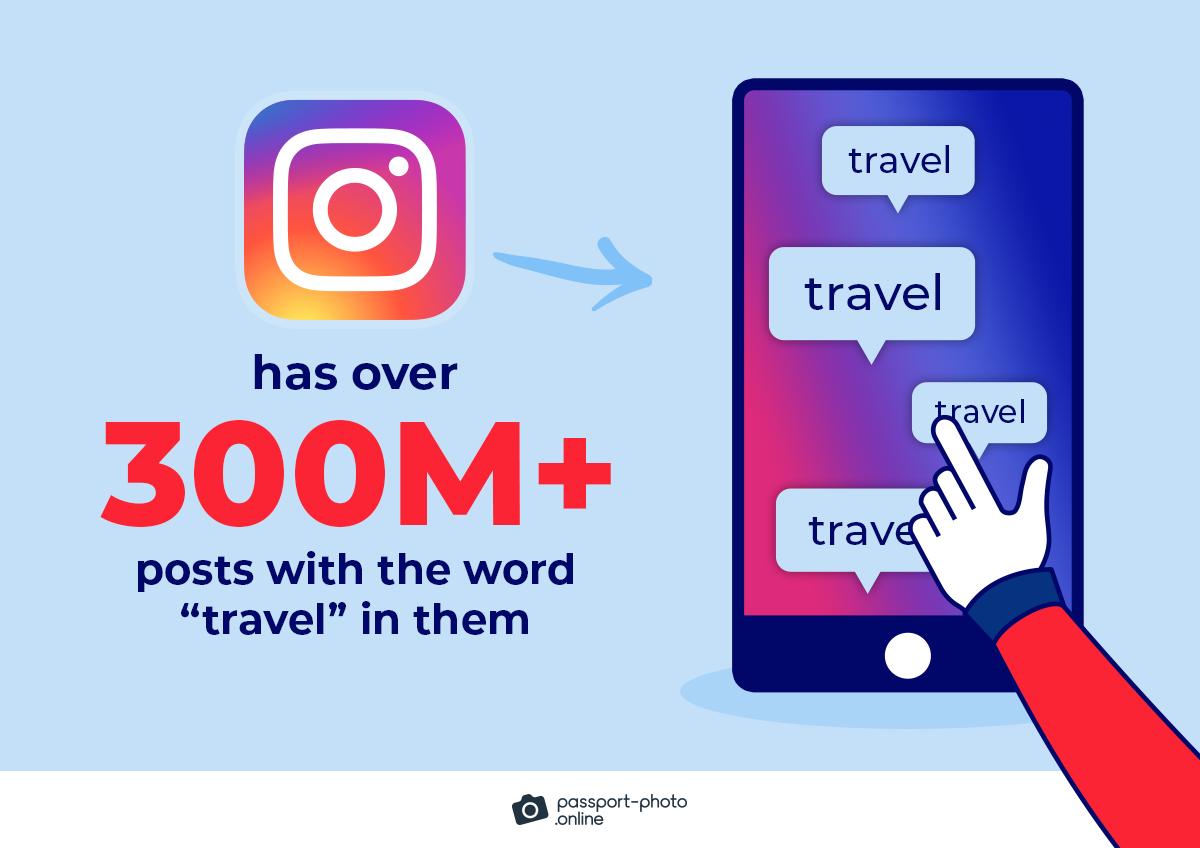 Instagram is the top source of travel inspiration for Gen Zers.
About 76% of people who scroll social media for travel say it's made them want to travel more.
Almost 86% have grown interested in traveling to a specific destination after seeing its images in their feeds.
Nearly half of Americans (45%) say friends' social images are the most influential factor when choosing a restaurant at a holiday destination.
Over 57% of people have made plans to dine at a given restaurant based on a social image/video in their feed.
A quarter of Gen Zers take 50+ pics daily while on holiday. Of those, 40% share them on social media.
Nearly half of Gen Zers (45%) trust influencers' travel recommendations.
Over 43% of Gen Zers are interested in destinations that look good in pictures.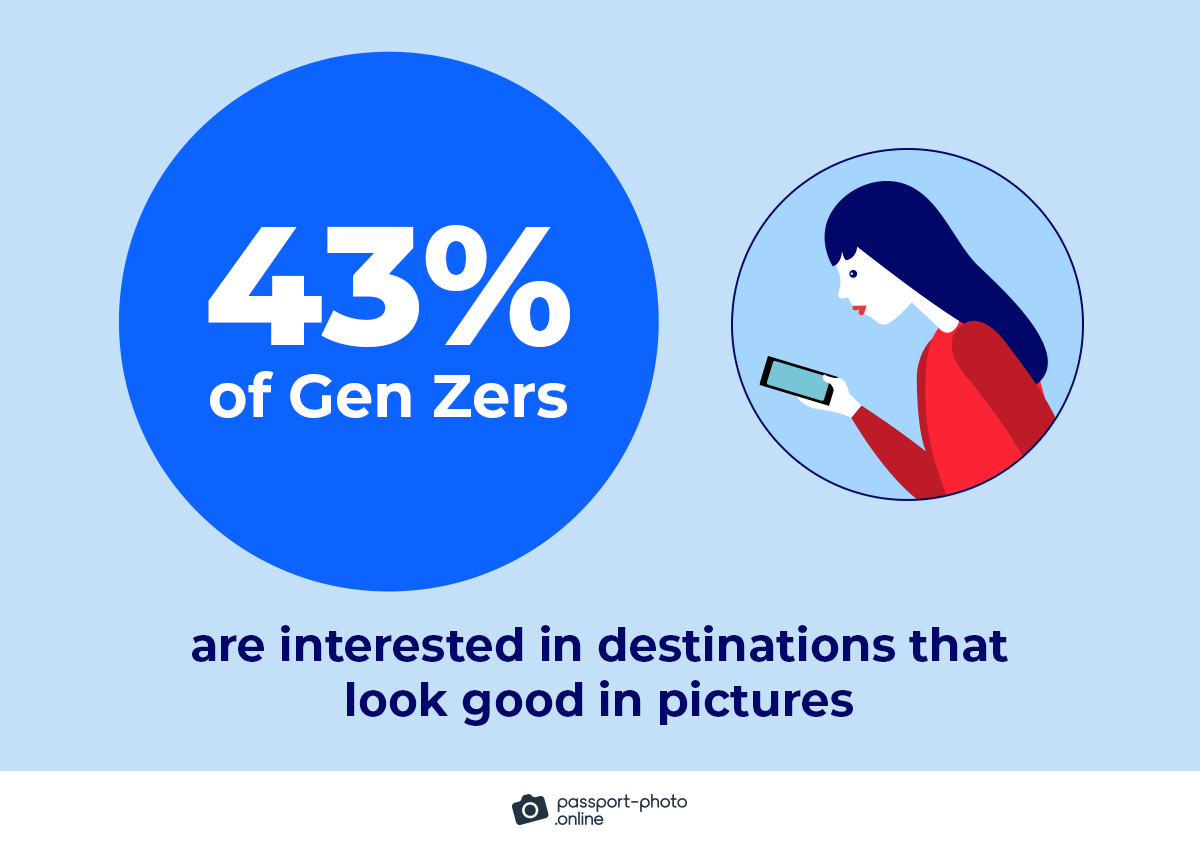 Roughly 20% of global travelers choose a place to stay that they could style in photos to make it look more expensive.
Over a quarter of global travelers (26%) like unique accommodations, as they can help stand out from the crowd.
A little over half of travelers (53%) avoid booking hotels that don't have reviews on social media.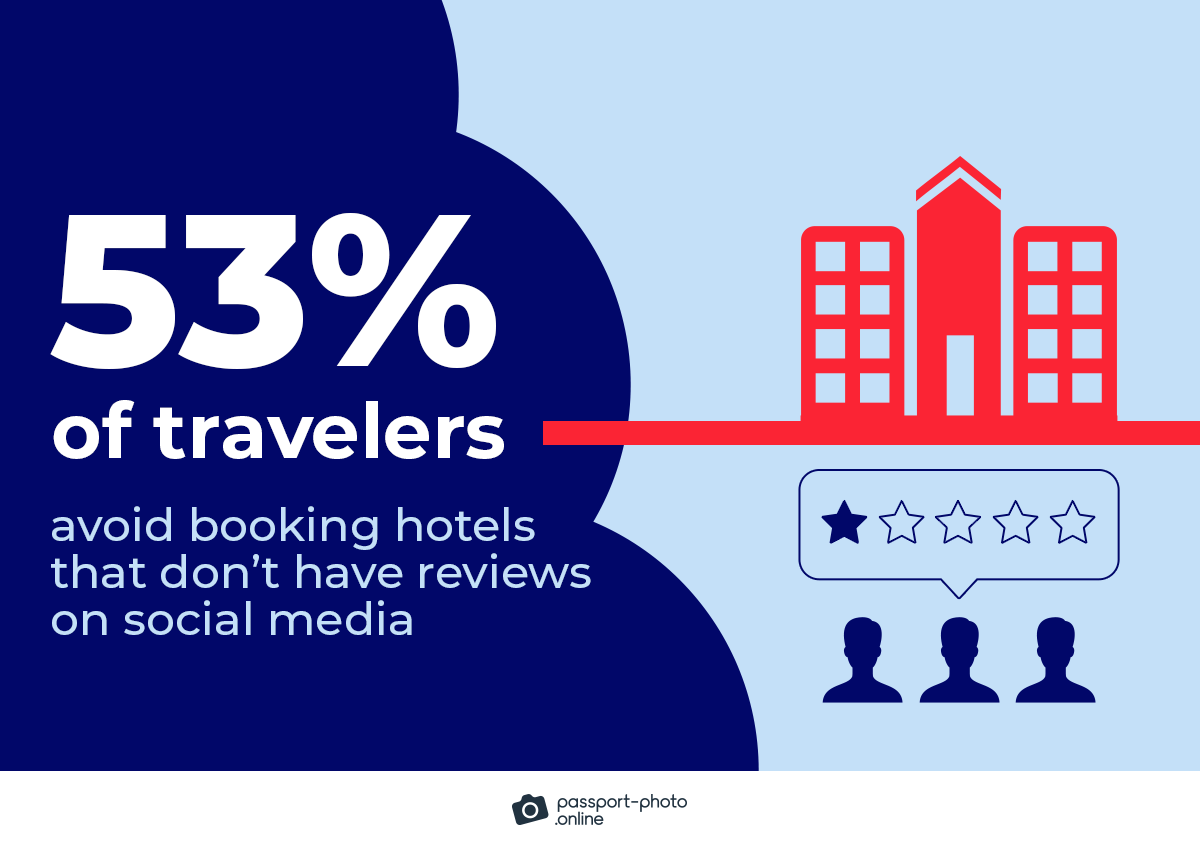 Over half of future travelers (52%) have liked a Facebook page associated with their destination.
Over 50% of hotels have a booking engine or widget on their Facebook page to ease booking.
Roughly 38% of Americans use social media to blog about their travel experiences.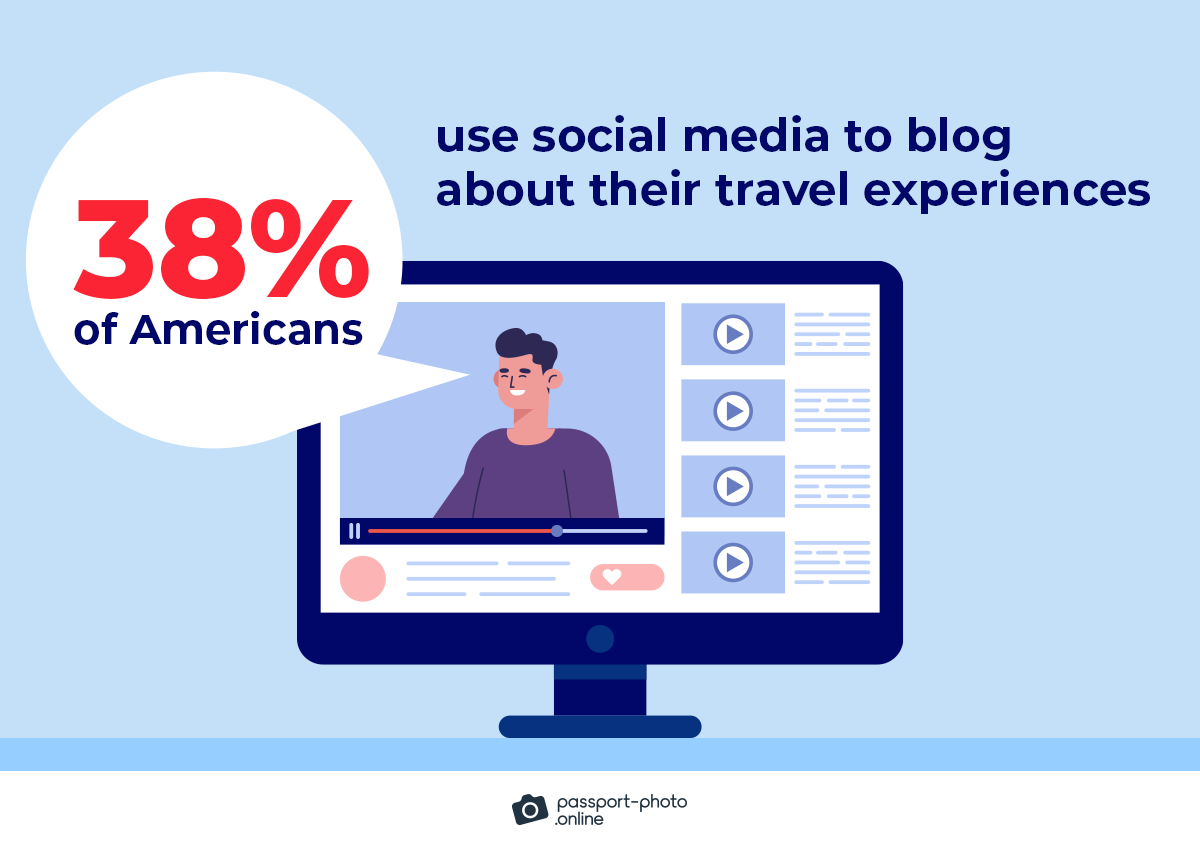 A little over 30% of people track their social media posts' interactions while on vacation.
About 39% of travelers check in at cool places.
One in five travelers use social media to research:
Destinations: 27%
Hotels: 23%
Vacation activities: 22%
Attractions: 21%
Restaurants: 17%
Over 72% of travelers post vacation photos on social media.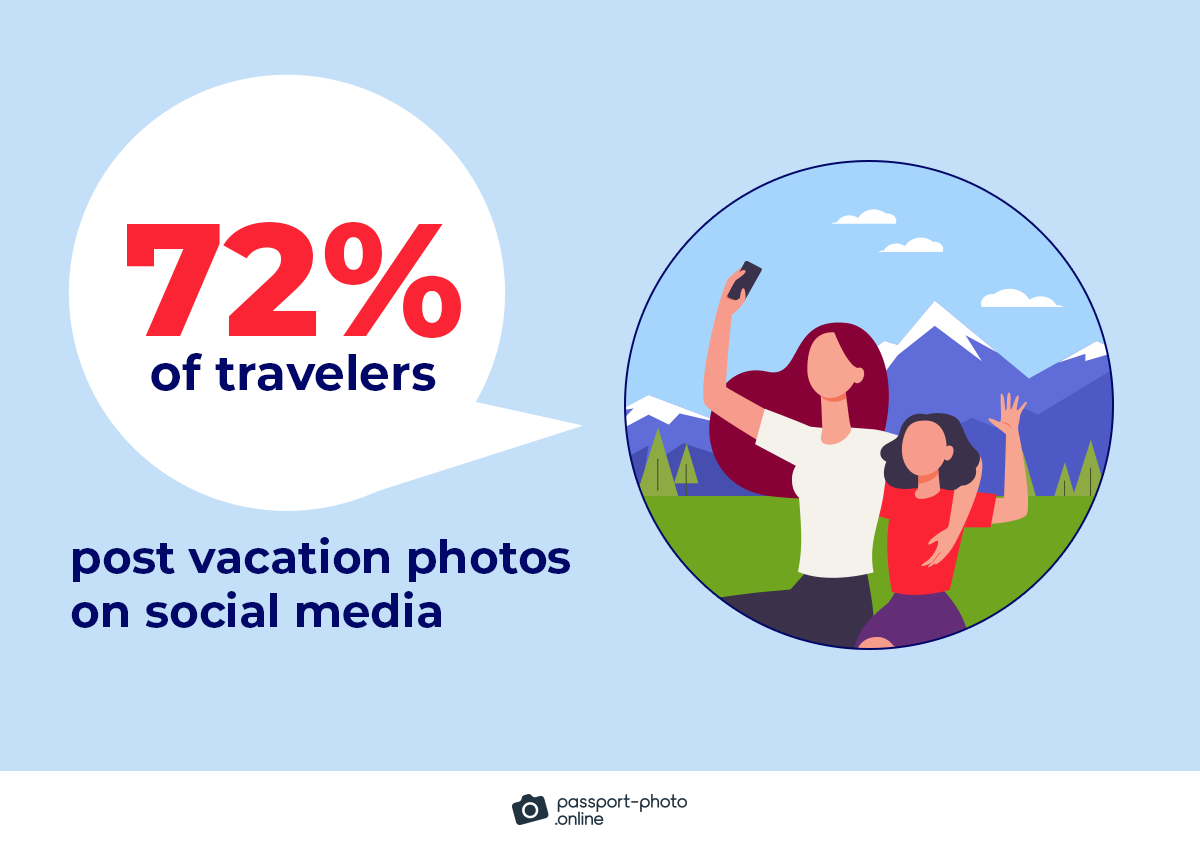 Just under 40% of global luxury travelers will place more emphasis on social media when traveling in the coming year.
Over half of global luxury travelers (55%) believe capturing social media content while away helps them enjoy a more meaningful experience.
Most people (76%) post vacation photos on social networks after a trip. Once home, travelers also:
Like Facebook pages specific to a vacation: 55%
Write hotel reviews: 46%
Post activity/attraction reviews: 40%
Pen restaurant reviews: 40%
Like this article and want to know more? Check these out:
Stacking It All Up
There you have it.
A comprehensive list of social media vs. travel figures and stats for 2022 you can use to better understand the effect of social media platforms on travelers' decision-making.
Let us know in the comments if there are any other statistics you'd like to see.
Fair Use Statement
Did you like our infographics? If so, feel free to share them with your audience. Just remember to mention the source and link back to this page.
Sources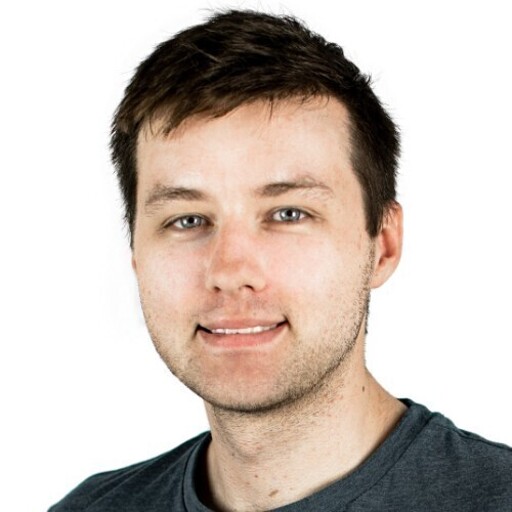 Max Woolf is a writer and travel lover at Passport Photo Online. His insights, advice, and commentary have been featured in Forbes, Inc., Business Insider, Fast Company, Entrepreneur, BBC, MSN, NBC, Yahoo, USA Today, Fox News, AOL, The Ladders, TechRepublic, Reader's Digest, Glassdoor, Stanford, G2, and 300+ other outlets.