Are you interested in sustainable tourism?
Look no further.
We've gathered the latest statistics, facts, and trends related to sustainable travel and compiled them into a comprehensive list.
Let's dive right in:
Top Sustainable Travel Statistics (Editor's Picks)
Sustainable tourism is set to grow at a compound annual growth rate (CAGR) of 9.54%, adding $335.93B between 2022 and 2027.
The term "sustainable travel" has grown by +61% in global searches over the past two years.
Sustainable travel is important to 80% of global travelers.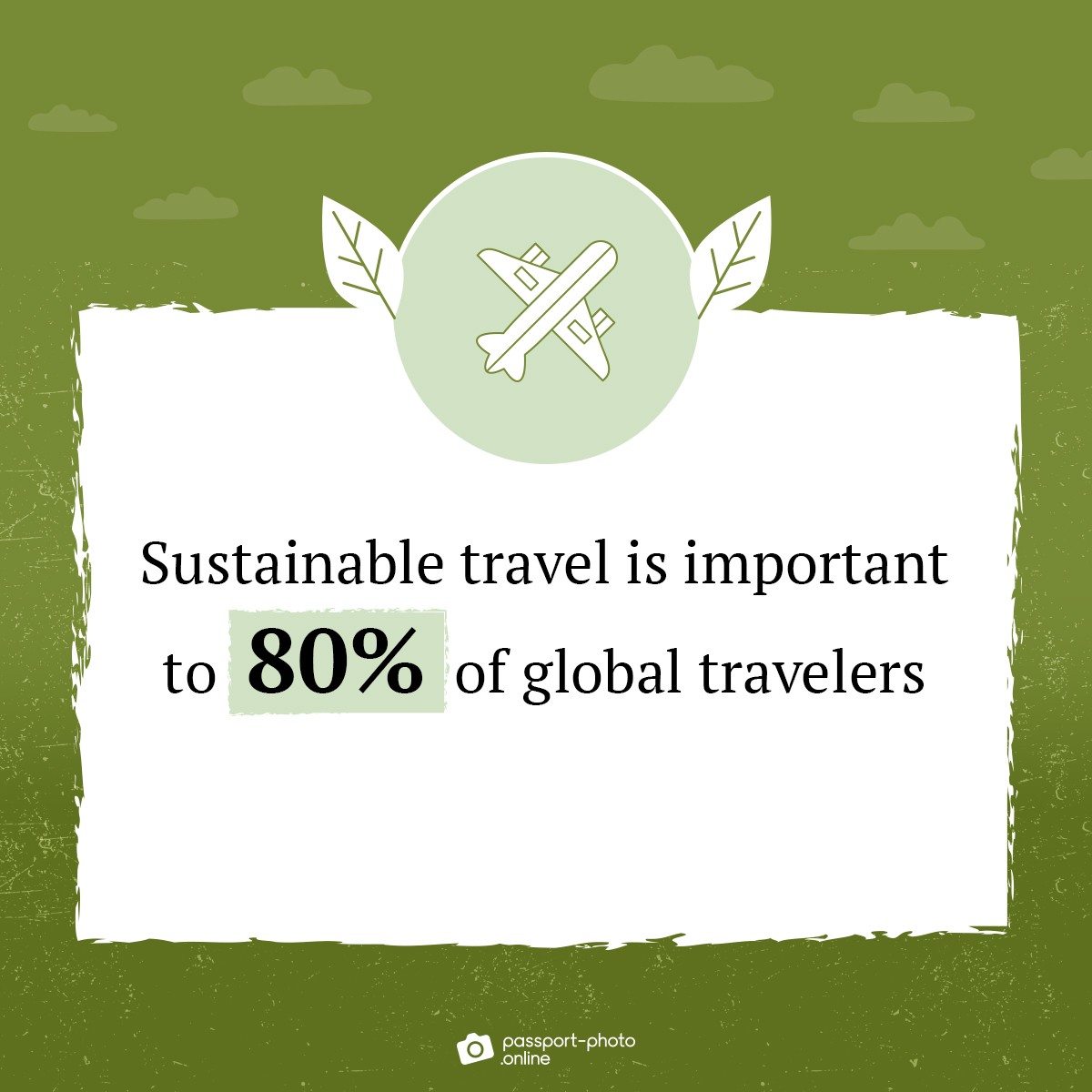 Roughly 76% of travelers want to travel in a greener way in the next 12 months.
About 81% of people are willing to change their travel behavior to reduce their environmental impact.
Over half of travelers (60%) are open to paying more to businesses prioritizing environmental stewardship.
A lack of information and knowledge is the main barrier to sustainable travel for 32% of individuals.
Roughly 70% of employees are unaware of their organization's green policies for corporate travel.
Almost two-thirds of people (63%) feel booking sites, travel agencies, and tour operators should be required to disclose the carbon footprint of the flights and other travel products they offer.
Approximately 83% of Americans feel guilty about their past travel choices, worrying their trips weren't environmentally friendly.
General Sustainable Tourism Statistics, Facts, and Trends
Eight in 10 global travelers prioritize sustainable travel.
| Top Countries That Believe in the Importance of Sustainable Travel | Share |
| --- | --- |
| India | 99% |
| Philippines | 97% |
| Kenya | 96% |
| Vietnam | 96% |
Consumers want sustainable options in various destinations: major cities/towns (43%), lesser-known cities or towns (34%), and resorts (23%).
Nearly three-quarters of travelers (72%) would opt for a greener flight if offered.
About seven in 10 travelers (67%) report purchasing carbon offsets when booking plane, bus, or train tickets.
Six in 10 people are willing to prioritize eco-friendliness over convenience when making travel decisions.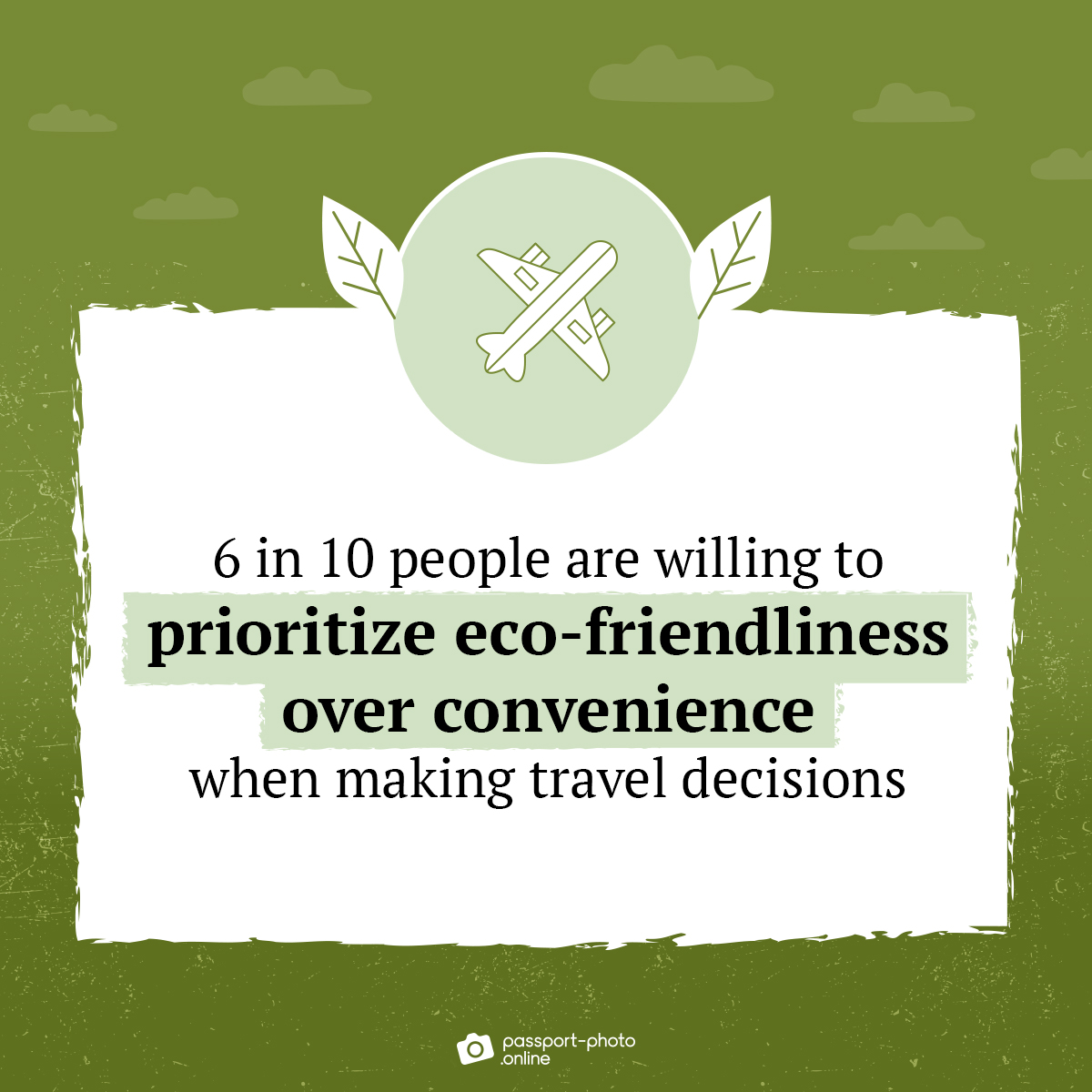 Close to 60% of individuals have lodged at least once at a place that implemented sustainable practices.
For 74% of consumers, choosing a lodging, destination, or transportation option that gives back to the local community and culture is worth the extra cost.
About 70% of tourists are willing to pay extra for eco-friendly accommodation, with "16–20% more" being the most common amount.
| Sacrifices Consumers Are Willing to Make to Be More Sustainable | Share |
| --- | --- |
| Convenience (i.e., walking vs. using a car) | 50% |
| Comfort (i.e., taking public transport vs. taxi) | 49% |
| Time to travel to a destination(s) | 47% |
| The convenience of lodging (i.e., distance from destination, amenities offered) | 47% |
| Transport time while at or nearby destination(s) | 43% |
| Comfort of lodging | 43% |
Visiting destinations during the off-season to avoid overcrowding is a viable option for 42% of travelers.
More than a third of tourists (36%) are willing to cut back on single-use plastics.
About 30% of travelers are open to driving rather than flying.
A quarter of consumers prefer to book trips with eco-friendly hotels and travel companies.
Three in four people are likely to book sustainable travel options in the future.
| Reasons to Opt for Sustainable Travel | Share |
| --- | --- |
| To care about the impact of traveling and future generations | 50.5% |
| To improve one's travel experience | 26.8% |
| To follow the trend of traveling sustainably | 13.2% |
| Peer and societal pressure | 8.4% |
Three in 10 people are constantly searching for brands that support sustainability.
Nearly half of tourists (43%) plan sightseeing in a way that allows them to use sustainable transportation options (e.g., walking, biking, public transport).
Roughly 43% of travelers prefer small, independent stores.
Nearly seven in 10 travelers want their spending to benefit the local community.
| Who Should Bear the Most Responsibility for Reducing the Impact of Travel? | Share |
| --- | --- |
| Governments | 40.8% |
| Shared responsibility | 36.9% |
| Individuals | 33.3% |
If a place had a sustainable certification, 65% would feel better about staying there.
Most travelers (59%) want a filtering option showing accommodation with a sustainable certification during their next booking.
Almost seven in 10 travelers (69%) consciously try to find sustainable options, regularly or occasionally.
Just under 60% of travelers have engaged in sustainable practices in recent years.
| Sustainable Steps Taken by Travelers on Vacation (in the Past 12 Months) | Share |
| --- | --- |
| Turned off the lights and appliances in accommodation when they weren't there | 77% |
| Turned the AC off in accommodation when they weren't there | 67% |
| Re-used the same towel multiple times | 60% |
| Used their reusable water bottle | 55% |
| Recycled their garbage | 45% |
| Opted out of having their room cleaned daily | 40% |
Nearly 70% of consumers have skipped a travel destination or transportation option because they doubted the authenticity of their commitment to sustainability.
Around 89% of Americans plan to travel more sustainably in the future.
| Main Sustainable Initiatives Travelers Are Willing To Adopt Worldwide | Share |
| --- | --- |
| Use a travel mug/water bottle | 84% |
| Eat and shop in places owned by locals | 83% |
| Adopt behaviors useful not to waste local resources | 80% |
| Stay in locally-owned accommodation | 76% |
| Avoid activities that aren't socially responsible or respectful of the environment/the wildlife | 74% |
| Pick accommodation with a green certification | 68% |
| Support local tour companies | 63% |
| Travel to a closer destination to reduce one's carbon footprint | 63% |
| Bring goods to donate to local population when visiting underprivileged regions | 62% |
| Switch transportation modes for a lower carbon impact | 60% |
| Participate in a travel offset program to compensate for carbon footprint | 59% |
| Volunteer with NGOs to join community tourism projects | 49% |
Nearly 74% of travelers expect more sustainable travel options from companies, an increase from 66% in 2022.
About 80% of people have become more aware of responsible tourism thanks to social media.
Almost half of travelers (48%) think climate change will affect their travel plans.
Close to 43% of travelers claim to be well-informed on sustainability, citing social media and news as primary sources of education on the subject.
Recent news about climate change has swayed more than half of travelers (53%) toward making more sustainable choices.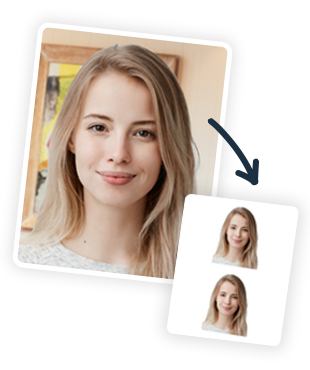 Looking for passport photos? Discover more information:
Blockers and Obstacles for More Sustainable Tourism
A full 70% of consumers find it daunting to start the process of being a sustainable traveler.
Half of travelers think sustainable travel choices are overpriced, a rise of 11% from last year.
Nearly half of travelers (48%) find choosing sustainable lodging the most challenging aspect of sustainable travel. It's followed by 37% who said reducing the carbon footprint was their biggest hurdle.
Approximately one in two people (47%) are seeking advice on how to be a sustainable traveler while staying within budget.
Over half of travelers (51%) believe there need to be more sustainable travel options.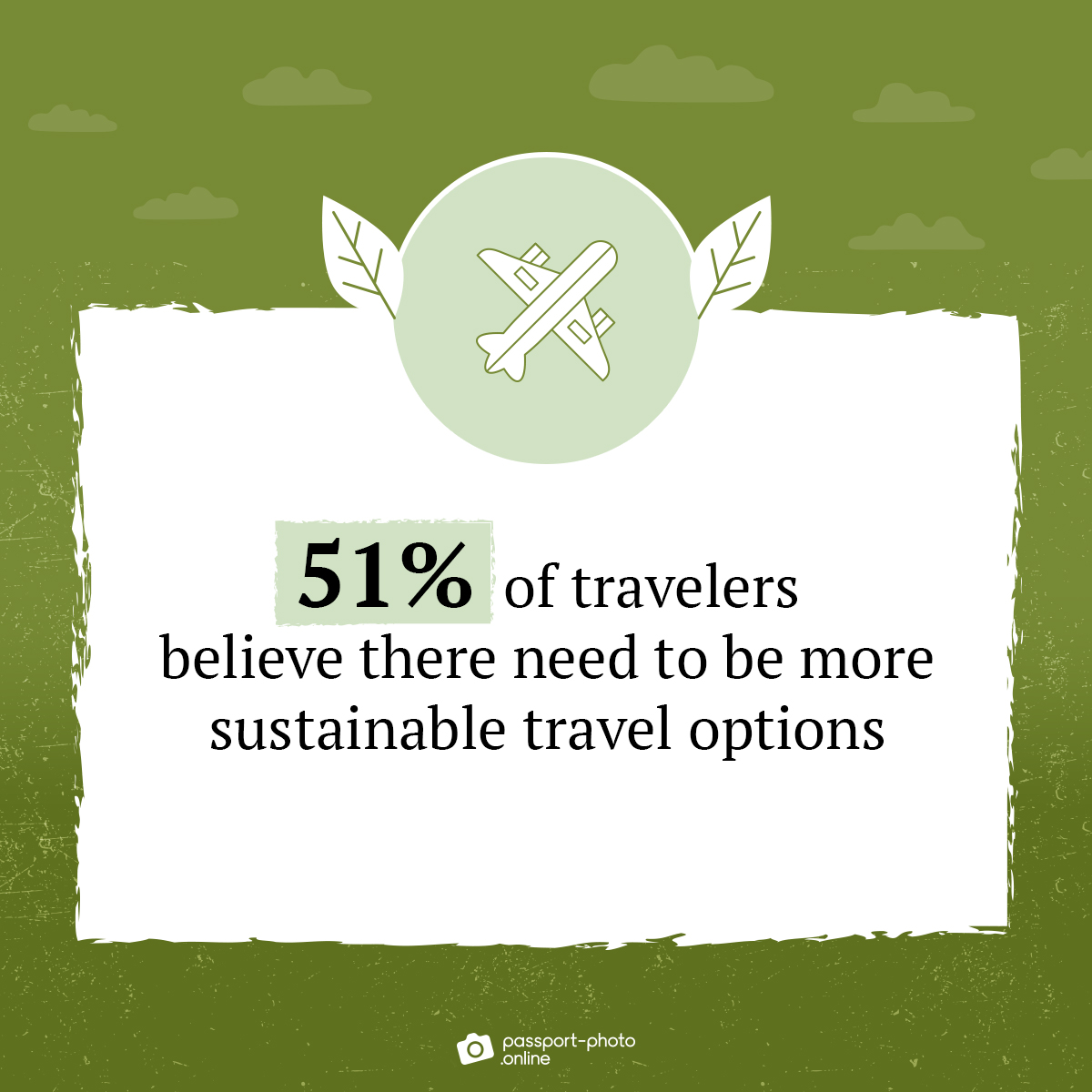 Close to 49% of travelers are seeking discounts and other incentives to choose eco-friendly options, up 12% from 2022.
About 42% of travelers would be motivated to travel more sustainably if given reward points that they could later use for discounts or extra perks.
Roughly 44% need help finding sustainable travel choices.
Four in 10 travelers are unsure where and how to locate tours and activities contributing to the local community.
Despite obstacles and financial constraints, 59% of travelers are more committed to making sustainable choices than a year ago.
Consumers' Need for Information About Sustainable Travel Options
One in three travelers lacks knowledge about sustainable travel options, suggesting a lack of clear communication from tour operators and travel agents.
Seven in 10 people want to know why certain options are recognized as more sustainable.
| Types of Sustainable Travel Information Consumers Want To See During Trip Planning | Share |
| --- | --- |
| Recommendations for locally-owned businesses and restaurants at or near a destination | 45% |
| Environmentally-friendly transportation alternatives | 45% |
| Guidance on respectful interaction with local cultures and communities in a travel destination | 43% |
| Accommodation options that have a lower environmental impact | 42% |
| Recommendations for destinations that support indigenous cultures and heritages | 42% |
| Walkable or bikeable destination recommendations | 41% |
| Eco-friendly activity recommendations | 41% |
| Suggestions for destinations that aren't over-visited | 39% |
| How to pack more sustainably | 37% |
| Info on volunteering with or supporting local organizations at a destination | 34% |
Travelers prefer to see sustainable travel information through listings and information pages on travel sites (54%).
Two-thirds of travelers (67%) want to receive environmental information during their stay.
Around 66% of consumers seek more sustainability information from lodging and transportation providers.
Business Travel vs. Sustainability
About 89% of working professionals say their company has prioritized sustainability.
Roughly 88% of the global business travel sector considers climate change the most critical area for action.
| Importance of Hotel Sustainability for Business Travel Buyers Worldwide (as of October 2022) | Share |
| --- | --- |
| Somewhat important | 41.5% |
| Very important | 28.6% |
| Important | 23.8% |
| Not important | 3.4% |
| Crucial (we don't partner with properties that fail to meet our sustainability criteria) | 2.7% |
High costs (82%) and a lack of clear information (63%) are the top obstacles that prevent industry professionals from adopting more sustainable business travel management practices.
The travel industry still has a long way to go, with only 14% believing it's well-advanced on sustainability. Yet, 76% of travel buyers have included or plan to include sustainability goals in their travel policies, indicating progress is being made.
FAQ
What's sustainable tourism?
Sustainable tourism aims to minimize negative impacts on the environment, economy, and local communities while providing a positive and fulfilling experience for travelers.
What's the growth rate of sustainable tourism?
Sustainable tourism is set to grow at a compound annual growth rate (CAGR) of 9.54%, adding $335.93B between 2022 and 2027.
Do people care about sustainable travel?
Sustainable travel has become increasingly popular in recent years. So much so that 80% of global travelers claim that traveling more sustainably is important to them.
Why is sustainable tourism becoming more popular?
Sustainable tourism has grown due to greater awareness of issues like climate change, deforestation, displacement of indigenous people, and preservation of natural resources.
How does tourism affect the environment?
Tourism frequently strains natural resources, causing overconsumption, particularly in areas with limited resources. It can result in pollution, soil erosion, loss of natural habitats, and endangered species.
Fair Use Statement
Did you like our infographics? If so, feel free to share them with your audience. Just remember to mention the source and link back to this page.
Sources
Booking.com, "Sustainable Travel Report 2023"

Expedia Group, "Sustainable Travel Study"

Exploding Topics, "Sustainable Travel"

GBTA Foundation, "The State of Sustainability in the Global Business Travel Sector | 2022 Report"

Oncarbon, "Sustainable Travel Report 2022"

Statista, "Sustainable Tourism Worldwide – Statistics & Facts"

The World Counts, "Negative Environmental Impacts Of Tourism"

TravelPulse, "Research Shows More Travelers Looking for Sustainable Options"

Trip.com, "Sustainable Travel Consumer Report 2022"

Woolf M., "Is Sustainable Travel Trending up?"

Yahoo Finance, "Sustainable Tourism Market to Grow by USD 335.93 Billion at a CAGR of 9.54% from 2022 to 2027 – Historic Market Size Valued at USD 489 Billion between 2017 to 2021"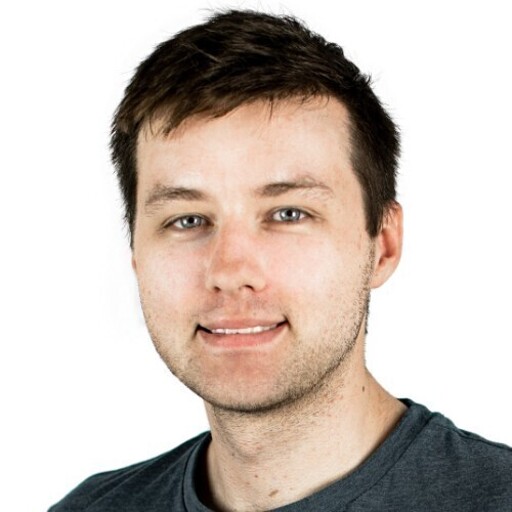 As a Digital PR specialist and a member of the Society of Professional Journalists (SPJ), Max has 5+ years of writing experience.
Over the course of his career, Max's work has garnered significant attention, with features in numerous prominent publications such as The New York Times, Forbes, Inc., Business Insider, Fast Company, Entrepreneur, BBC, TechRepublic, Glassdoor, and G2.