Many of us have been working from home for months.
While the benefits of WFH are plentiful, it can be downright soul-sucking to be in the same place every single day.
Luckily, major hotel chains (from Marriott to Hilton) now offer work-from-hotel packages that give an appealing alternative for working remotely.
So—
At Passport Photo Online, we've decided to poll 700+ US working professionals and deep-dive into this new work-from-hotel trend to see if it's here to stay.
Let's begin.
Key Takeaways
Most Americans (65%) book hotel rooms with the intention of using them as their workspace 1–4 times a month.
IT support (19.37%) was voted the most desirable hotel feature.
People usually go for "multi-day stays" (35%), whereas day-only packages come third at 20%.
Meeting clients/colleagues in a professional setting is the primary reason to reserve a hotel for working at 23%. The desire to switch up their environment follows at 15%.
Roughly 89% of employees want their companies to offer a work-from-hotel benefit.
A little over 61% of working professionals rate their productivity levels as slightly higher or much higher when working from a hotel room. Another 60% grow more creative during their stays.
Nearly 72% of working professionals plan to use hotels for work in 2023 and beyond.
Everything You Need To Know About "Work From Hotel"
Many hotels have rolled out work-from-hotel packages for those who need a place to work during the day AND guests requiring overnight lodging.
These packages often include premium Wi-Fi, printing/scanning equipment access, and dining discounts.
The work-from-hotel concept (in package form or otherwise) suits all working professionals, not just locals craving an escape from home office monotony. It's also a great fit for:
Commuters (who must make an occasional appearance at the office and need to stay overnight)
Business travelers
Digital nomads
Workationers
So—
With that out of the way, let's proceed to the survey.
Working From Hotels Is the New Normal
To start off, we wanted to take a high-level view of the work-from-hotel phenomenon, which, incidentally, is also known as WFH.
For that, we asked respondents how often they book rooms with the intention of using them as their workspace.
The results are in: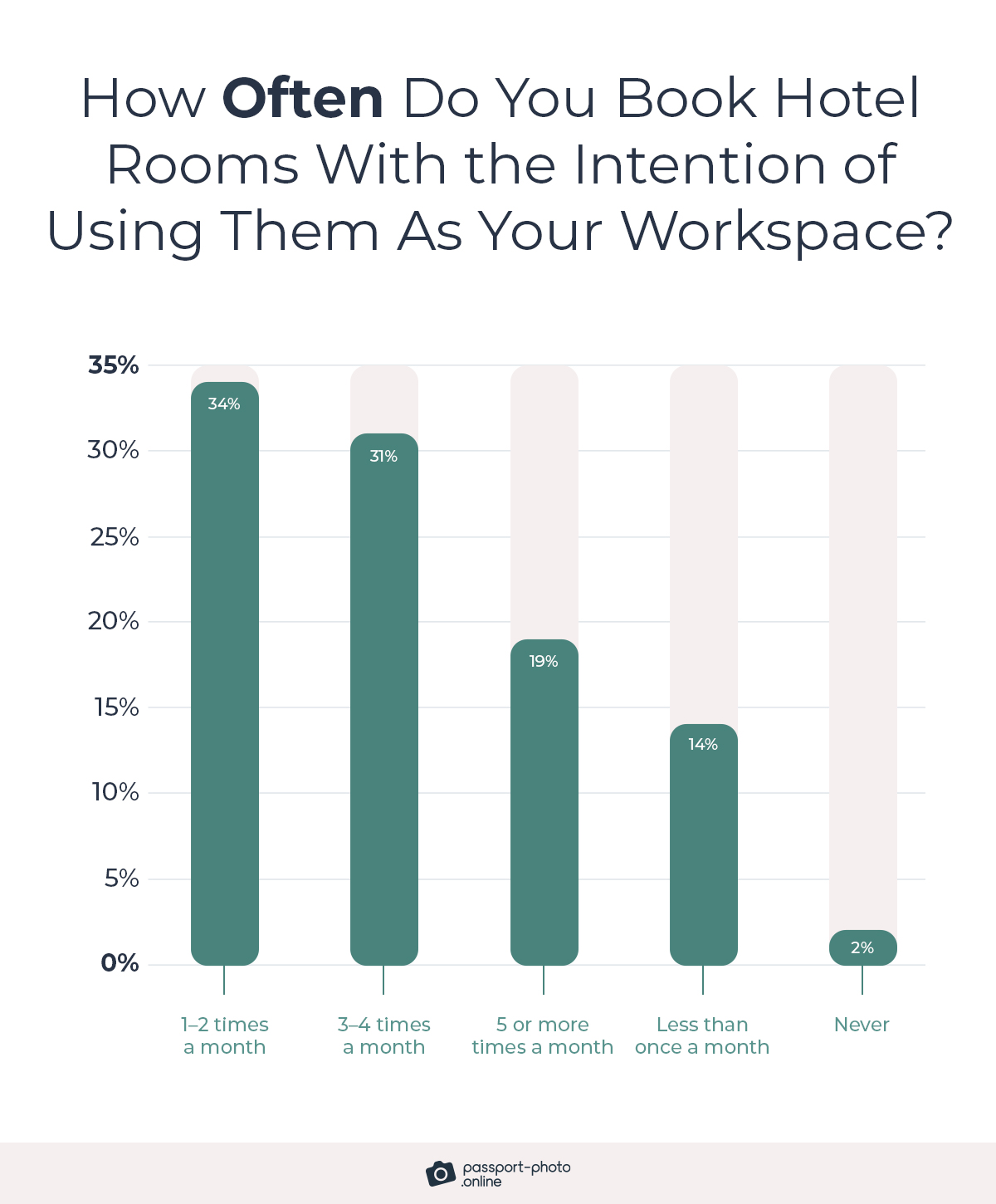 That data shows that most Americans (65%) book hotel rooms for work 1–4 times a month.
While it seems a lot at first, remember this includes business travelers, professionals who blend work and play, digital nomads, and more.
That's why 47% of survey participants later indicated they usually pick international destinations when booking hotels for work purposes.
Have a look: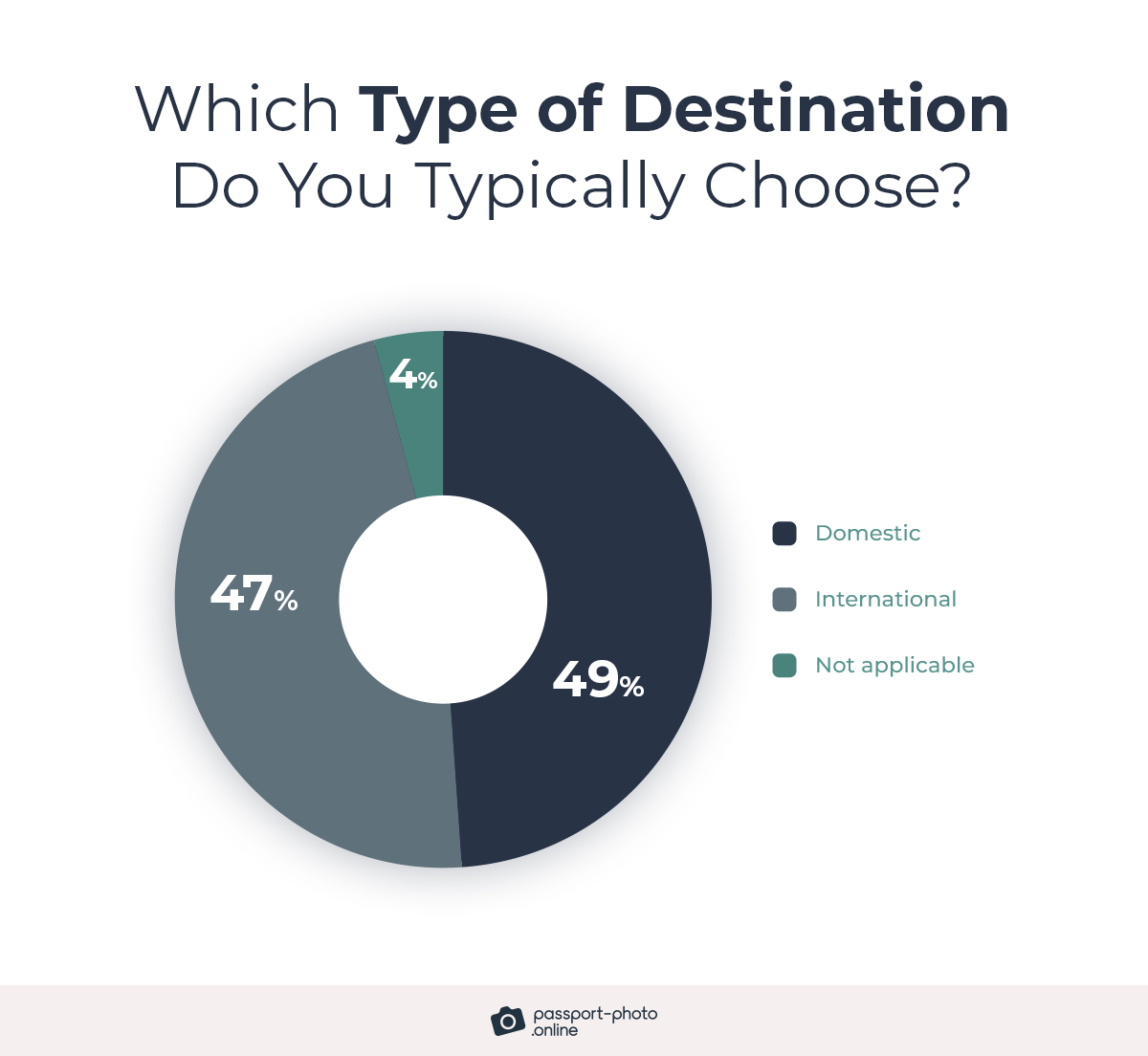 Next, we asked pollees what packages or kinds of stays they normally choose.
Below are the results:
| Type | Share |
| --- | --- |
| Multi-day stays (2–6 days) | 35% |
| Extended stays (a week or more) | 22% |
| Day-only packages (e.g., between 6 AM and 8 PM) | 20% |
| Overnight packages | 19% |
As you can see, workers usually go for multi-day stays (35%), with day-only packages coming in third at 20%. That's why we don't see an influx of nine-to-fivers at hotels.
Lastly, we wanted to examine how guests go about reserving a room for work instead of play: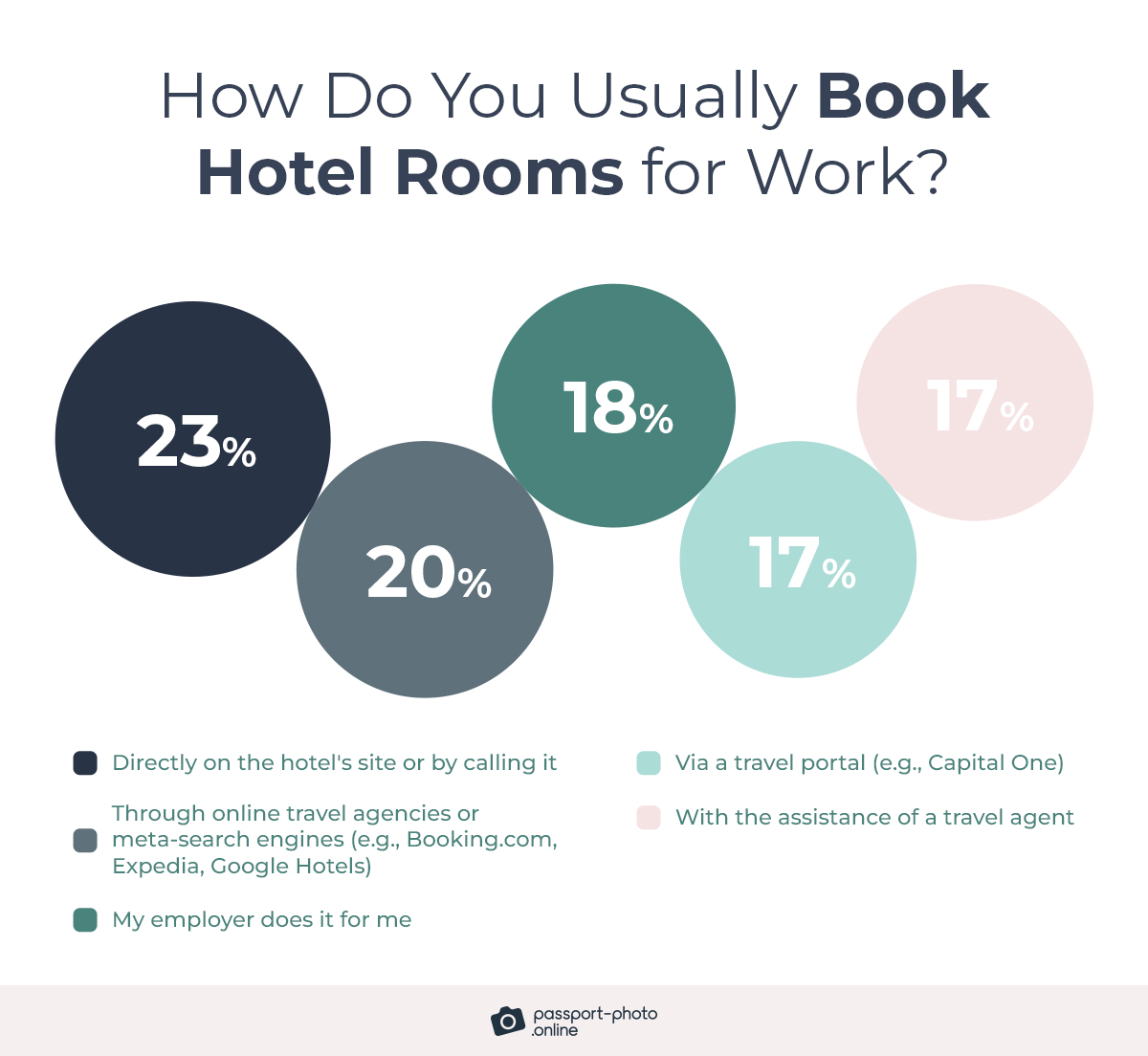 The chart shows that such guests prefer to book directly (23%). That's a great way to earn points in the chain's loyalty program and lock in elite status.
Now—
This wraps up a big-picture overview of work-from-hotel.
Why Working Professionals Are Increasingly Choosing to WFH
So far, so good.
Now, let's break down why people are opting to work from hotels.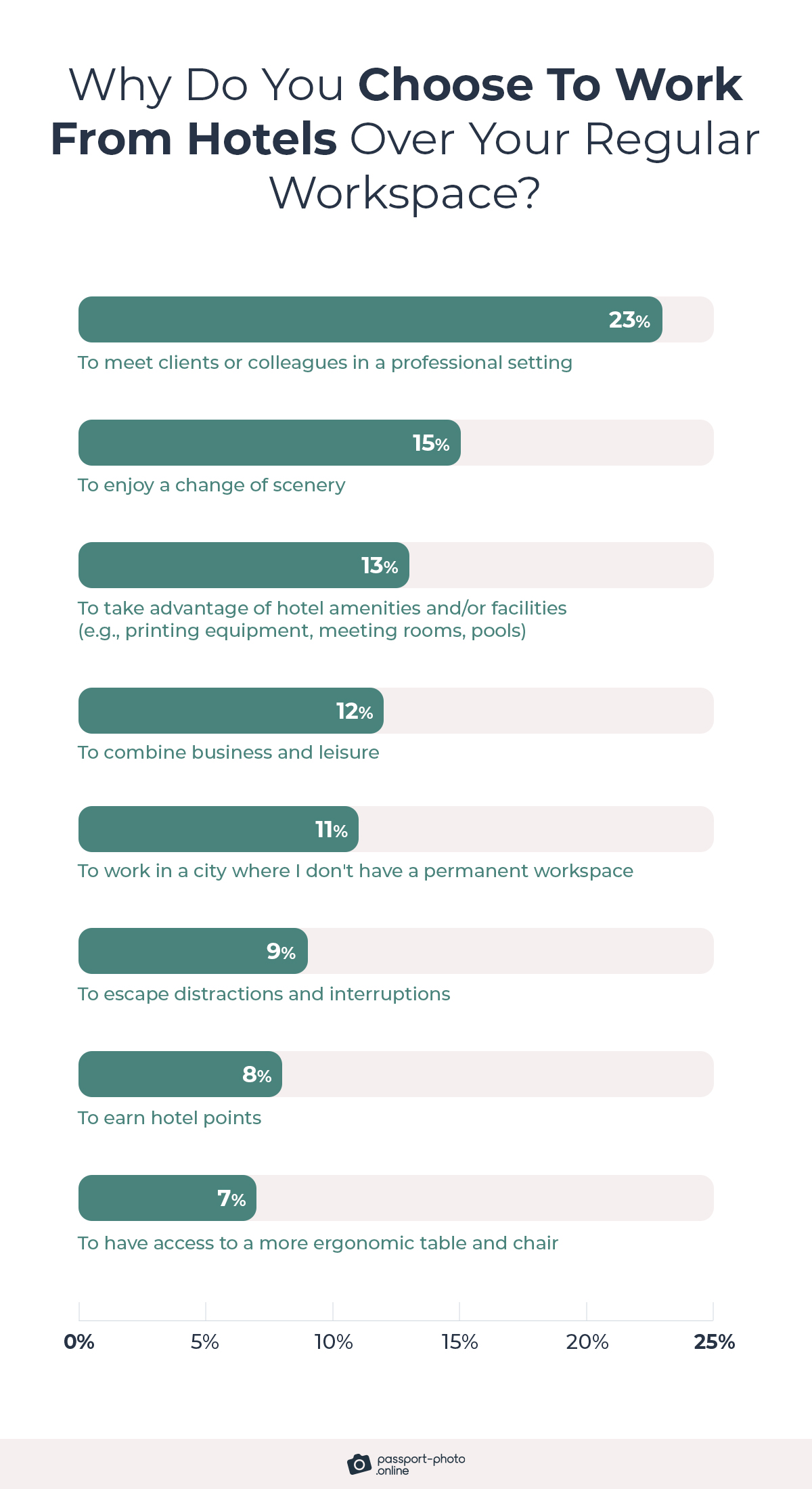 As you can see, meeting clients/colleagues in a professional setting is the primary reason to reserve a hotel room for working at 23%.
That's not surprising. Many hotels have excellent conference rooms and restaurants, perfect for hosting meetings.
You may also want to note the desire to switch up their environment, which comes second at 15%.
That's something many of us plugging away from home can relate to.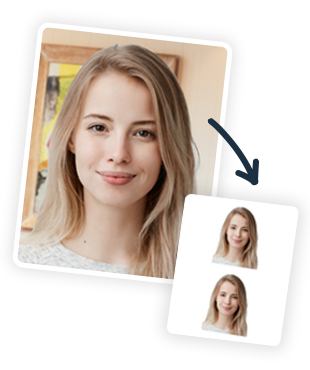 Do you need passport photos? Find out more:
Working From Hotels Positively Affects Productivity and Creativity
Picture this:
You're cocooned in your Hyatt suite, looking at a picturesque city skyline. No kids fighting over video games, dishes piling up in the sink, or loud neighbors.
Just you, your laptop, and some ambient music in the background.
Isn't that the PERFECT environment conducive to work?
If you're nodding your head in agreement, you're not alone. Many survey participants report that working from hotel rooms makes them more productive.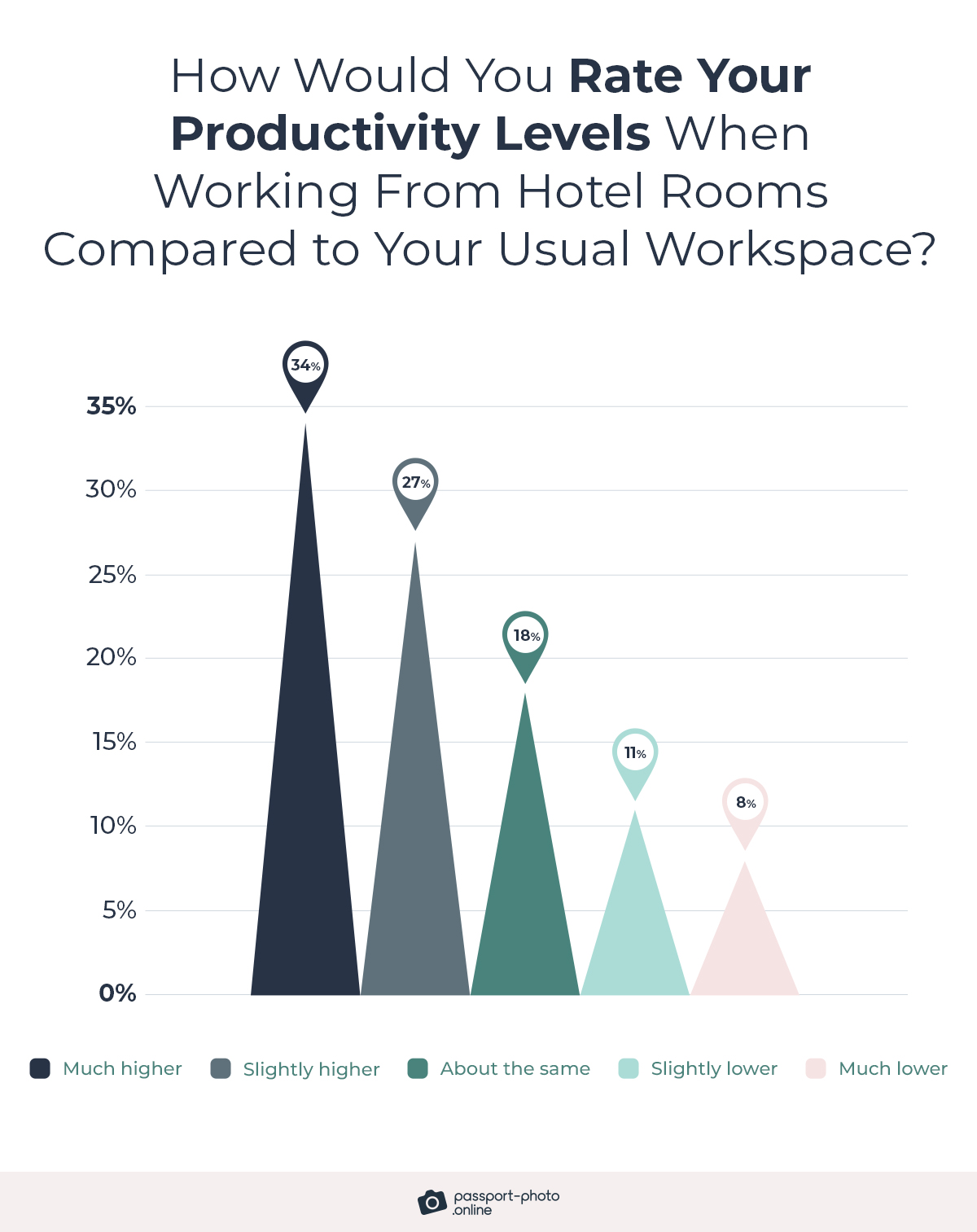 The same goes for creativity:
| How Would You Rate Your Creativity Levels When Working From a Hotel Room Instead of Your Usual Workspace? | Share |
| --- | --- |
| Much higher | 32% |
| Slightly higher | 28% |
| About the same | 22% |
| Slightly lower | 11% |
| Much lower | 6% |
So—
If you're in the creative space, WFH can be a great way to refresh your brain and tap into the creative flow.
IT Support Is the Most Desirable Hotel Feature
In our penultimate section, we wanted to know working professionals' most important considerations, features, or amenities when choosing a hotel for business instead of leisure.
Without further ado, here are the TOP 10 that made the cut:
| Most Desirable Hotel Features | Share |
| --- | --- |
| IT support | 19.37% |
| Peace and quiet | 18.74% |
| Food and beverage availability | 18.43% |
| Fast and reliable internet | 17.32% |
| Good lighting | 14.49% |
| Presence of meeting rooms | 13.7% |
| Office essentials (e.g., monitor, wireless mouse, keyboard) | 11.81% |
| Flexible housekeeping services (to avoid disrupting the workday) | 11.18% |
| Price | 11.02% |
| Designated executive assistant | 11.02% |
Interestingly, technical support tops the list with 19.37% of the vote as the most sought-after feature. That indicates that having tech-savvy staff on hand is important.
In second and third places come peace and quiet (18.74%) and food and beverage availability (18.43%).
That figures.
"Work From Hotel" Is Catching On
Lastly, we wanted to gauge how likely working professionals are to continue using hotel rooms for work in the upcoming years.
After all, 66% of US employees still operate remotely, at least part-time, according to Zippia.
So—
We asked survey participants to rate their most recent experience using a hotel room for work.
Below are the results: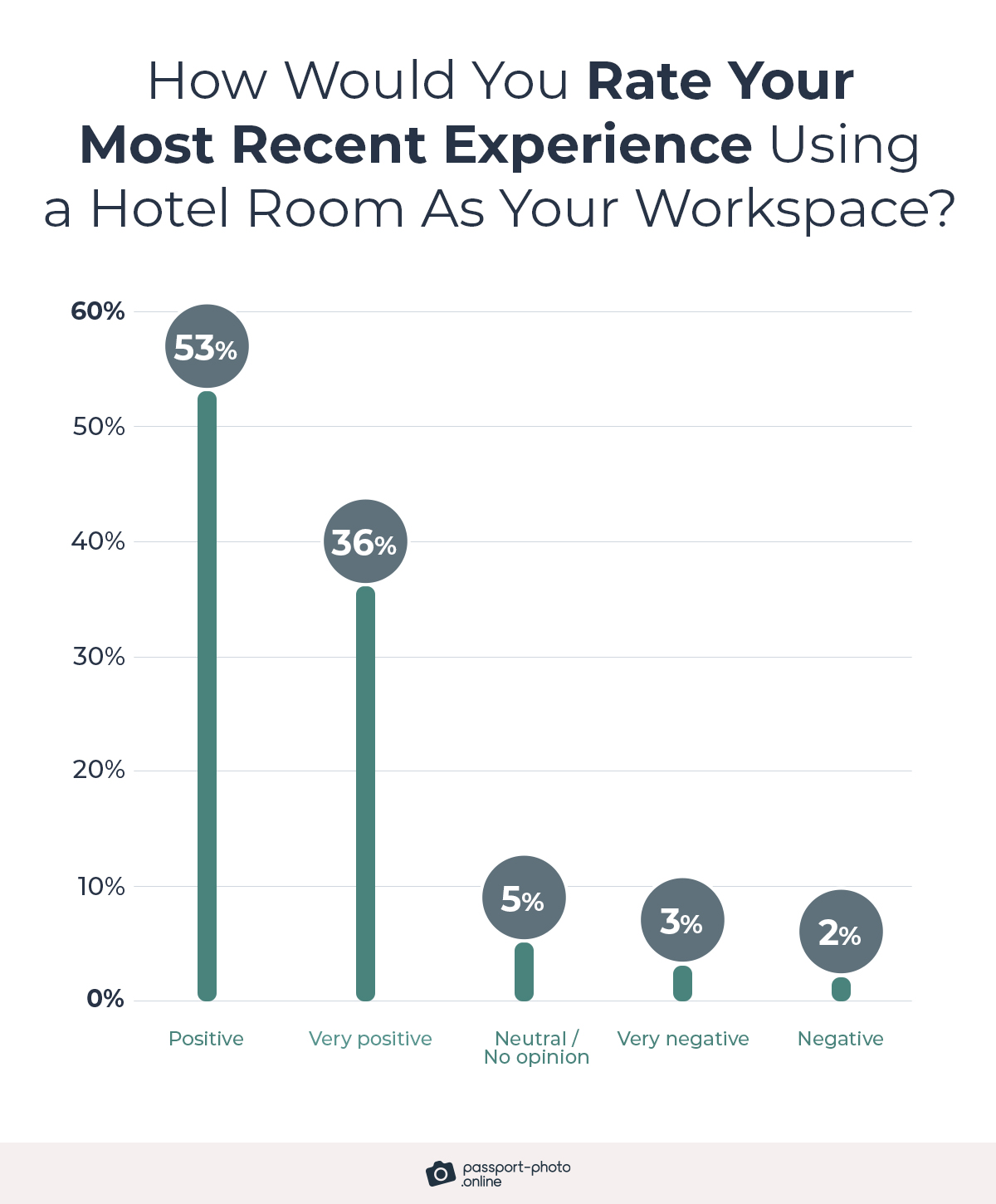 That looks promising.
We then asked if Americans want their employers to offer a work-from-hotel benefit (i.e., day-only packages) as part of their employment package.
Interestingly, only 6% were against the idea, and another 6% were indifferent. The rest said they'd welcome the new perk with open arms.
As our final question, we asked respondents directly if they intend to book hotel rooms for work purposes in 2023 and beyond.
Let's take a look at what they said: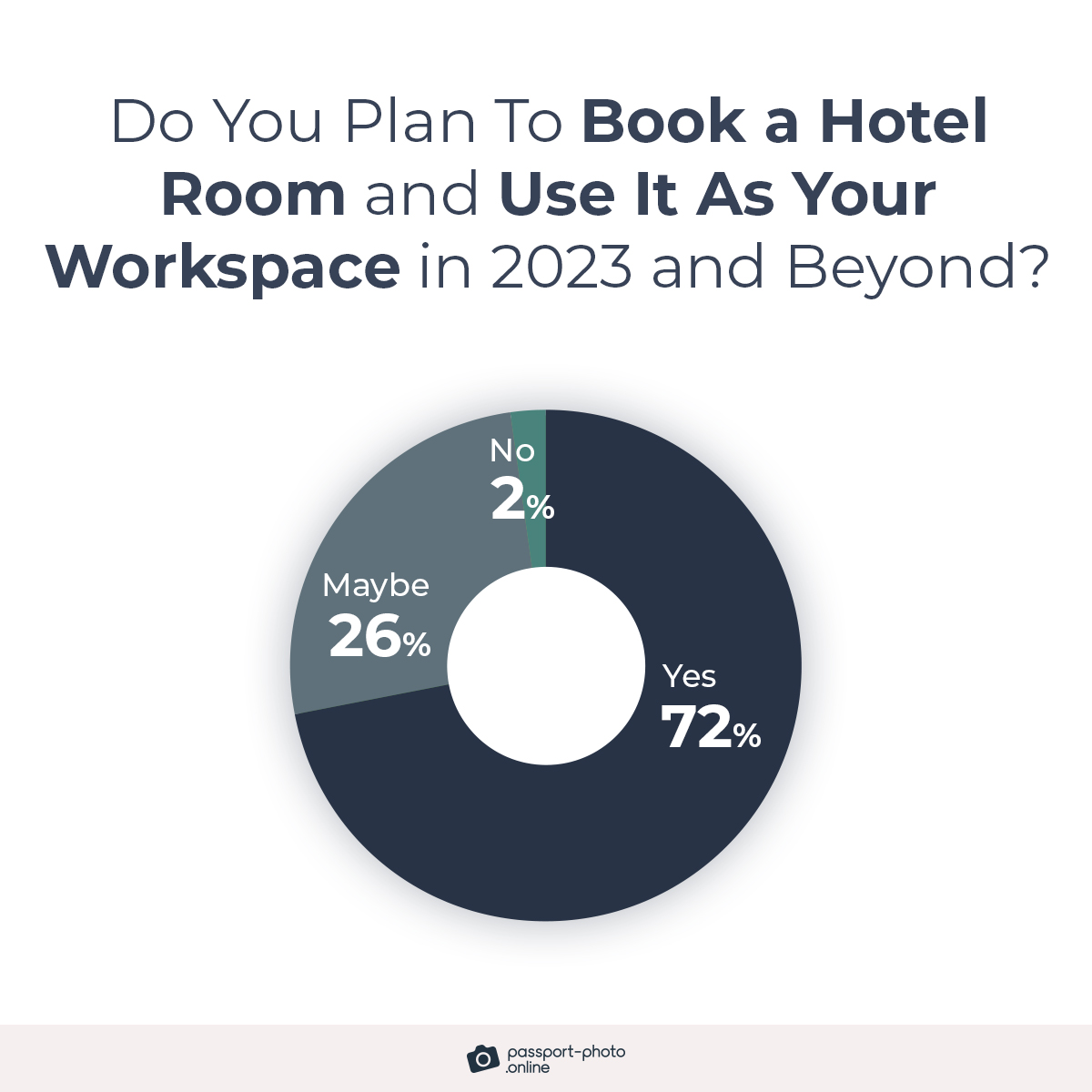 With the promise of improved productivity, creativity, and plush slippers, the work-from-hotel trend doesn't appear to go away soon.
Hotels, take note!
Stacking It All Up
There you have it.
A comprehensive look at the growing work-from-hotel trend.
Now—
Have you ever booked a hotel intending to use the room as your workspace? How was your experience?
Let us know in the comments below.
Methodology
We conducted an online survey of 705 US respondents via a bespoke online polling tool in March 2023.
The respondents were 60.9% male and 39.1% female. 31% of respondents were 18–26, 53.2% were aged 27–42, 13.2% were aged 43–58, and 2.5% were 59–68.
This survey has a confidence level of 95% and a margin of error of 3%. Given the gender and age makeup of our sample size, the study's findings are statistically significant for the population at large.
This study was created through multiple research steps, crowdsourcing, and surveying. Data scientists reviewed all survey participants' responses for quality control. ​​The survey also had an attention-check question.
Fair Use Statement
Did our findings help you learn more about the new work-from-hotel trend? If you believe your audience will be interested in this information, feel free to share it. Just remember to mention the source and link back to this page.
Sources
Flynn J., "25 Trending Remote Work Statistics"

Kamin D., "Hotels Roll Out the Welcome Mat to 'Super Commuters'"

The Economist, "Will 'Work From Hotel' Catch On?"

Woolf M., "51 Quick Tips on How to Find Cheap Hotels"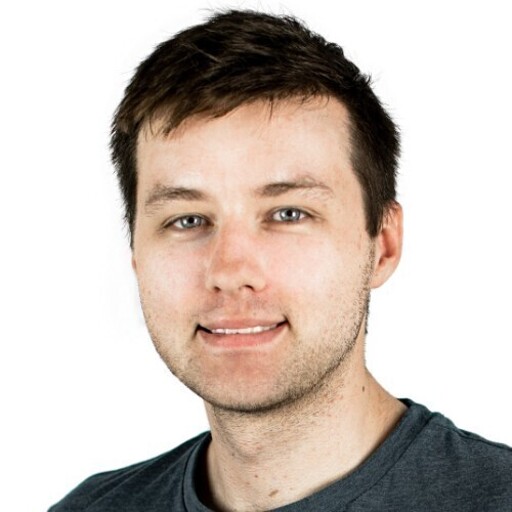 Max Woolf is a writer and travel lover at Passport Photo Online. His insights, advice, and commentary have been featured in Forbes, Inc., Business Insider, Fast Company, Entrepreneur, BBC, MSN, NBC, Yahoo, USA Today, Fox News, AOL, The Ladders, TechRepublic, Reader's Digest, Glassdoor, Stanford, G2, and 300+ other outlets.