Passport photo booths are a great way to get a set of ID pictures—they are conveniently located, usually at shopping centers or train stations, and take less than 5 (five) minutes to operate.
There is, however, a new form of photo machine—digital passport photo booths. Located right at your fingertips, digital photo kiosks bring a new level of convenience and user-friendliness to the process of getting a passport photo.
In this article, you will find information about standard passport photo booth machines, as well as digital passport photo booths so that you can make the most suitable choice.
Photo booth for passport near me
Hearing the phrase "photo booth for passports", people will most likely picture a big box located somewhere in a shopping center, with curtains and a little bench to sit on inside. And that is, indeed, a standard form of a photo kiosk.
One convenient location to get your passport photo taken is at a supermarket like Tesco, where you can find a passport photo machine near the entrance. This is especially useful for those who live or work near transportation hubs like railway or metro stations since they can quickly get their passport photos taken while running other errands. Additionally, Tesco passport photos are affordable and readily available, making it an ideal option for those on a budget.
Most common passport photo booth locations in the UK:
Max Spielmann photo booth at Tesco
Timpson stores
Photo-me machines
Morrisons stores
Railway/metro stations
Shopping malls, such as Putney Exchange
British citizens and residents can find the nearest passport photo booth based on their current location. Most passport machines also provide future applicants with a digital code—a number they can insert in the online application to automatically submit their passport image.
What is more, UK photo kiosks do not require an appointment. Future passport holders can take as much time as they need (e.g., to style their hair), and receive the application-ready passport photos right away for a reasonable price (usually lower than £10). That's a time and money saver compared to professional photography studios.
Digital passport photo booths
There are some things even the most advanced passport photo machines cannot do, and that includes:
taking a photograph from anywhere you desire,
removing imperfections (such as shadows or objects), or
taking baby passport photos.
And this is where a new definition of a photo booth comes into play.
A photo box that you can carry by your side and is accessible anytime, from anywhere—your smartphone.
Digital passport photo machines are specialised apps that allow users to transform their pictures into UK passport photos with just a few clicks. Such apps follow the latest passport photo regulations, as laid out by the British government to ensure the best chance of acceptance.
Looking for more tips to get that perfect passport photo? Try reading our other articles: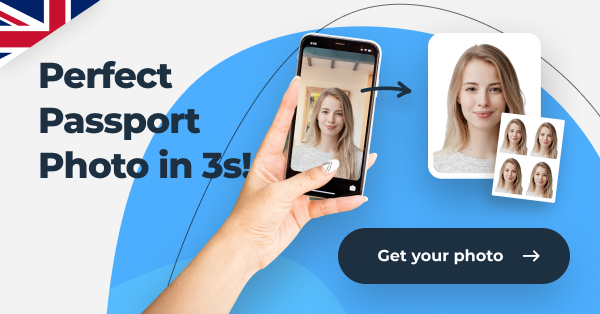 The closest biometric photo booth: Passport Photo Online
Although there are plenty of options to choose from when looking for a passport photo kiosk, there is one that National Geographic and Forbes have appraised for its innovativeness and user-friendliness—Passport Photo Online—the application with over 1 million downloads so far.
Passport Photo Online is a digital passport photo booth accessible in the UK and around the world, carrying templates for over 400 identity documents, including:
Images delivered by this program are fully suitable for UK passport applications.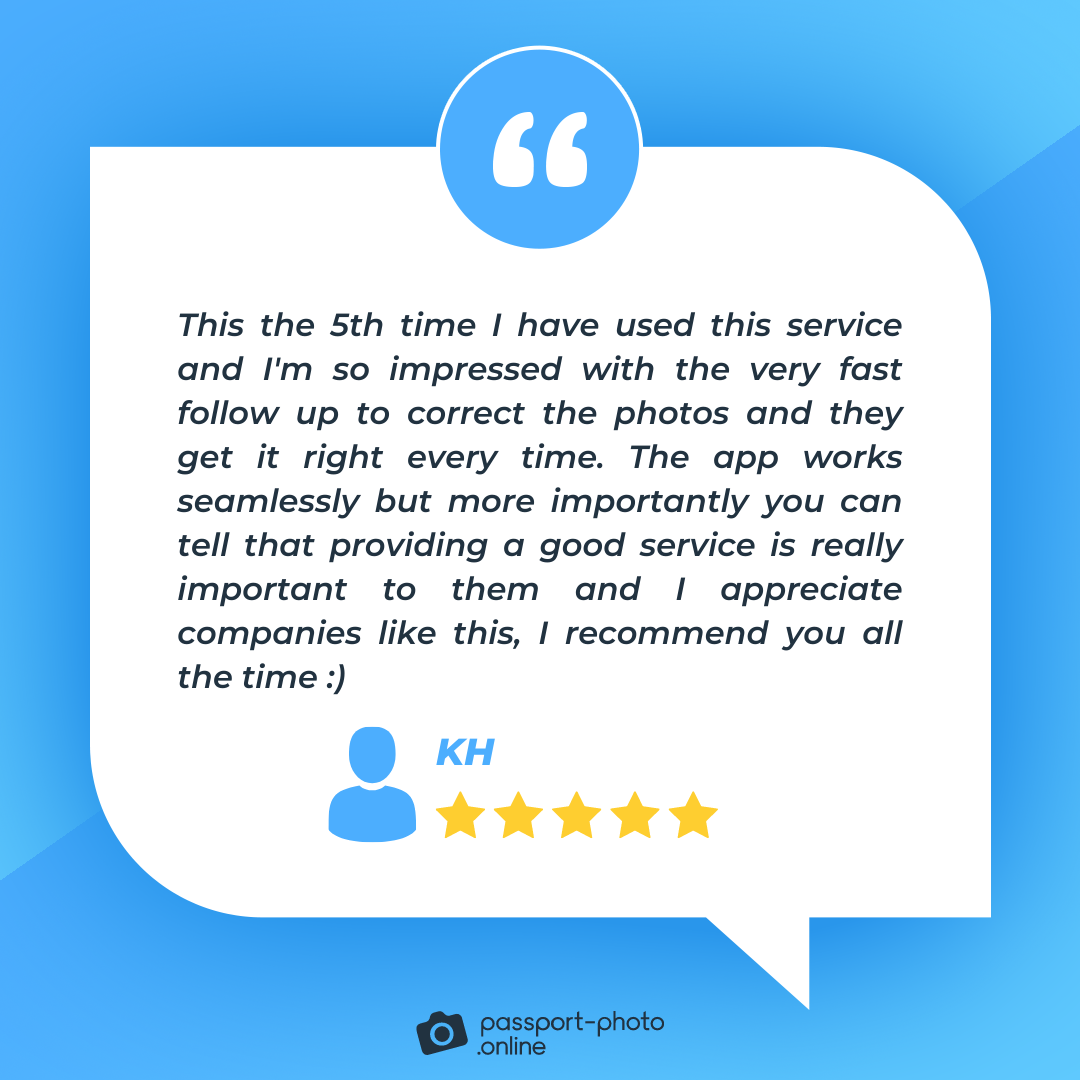 This app stands out from the competition because of the accuracy of background removal, a compliance test to ensure that HM Passport Office accepts your photographs, and the time required to process your image.
In just 3 (three) seconds, Passport Photo Online:
runs an initial compliance test;
crops the photograph to the appropriate size;
and replaces any background with a plain white one.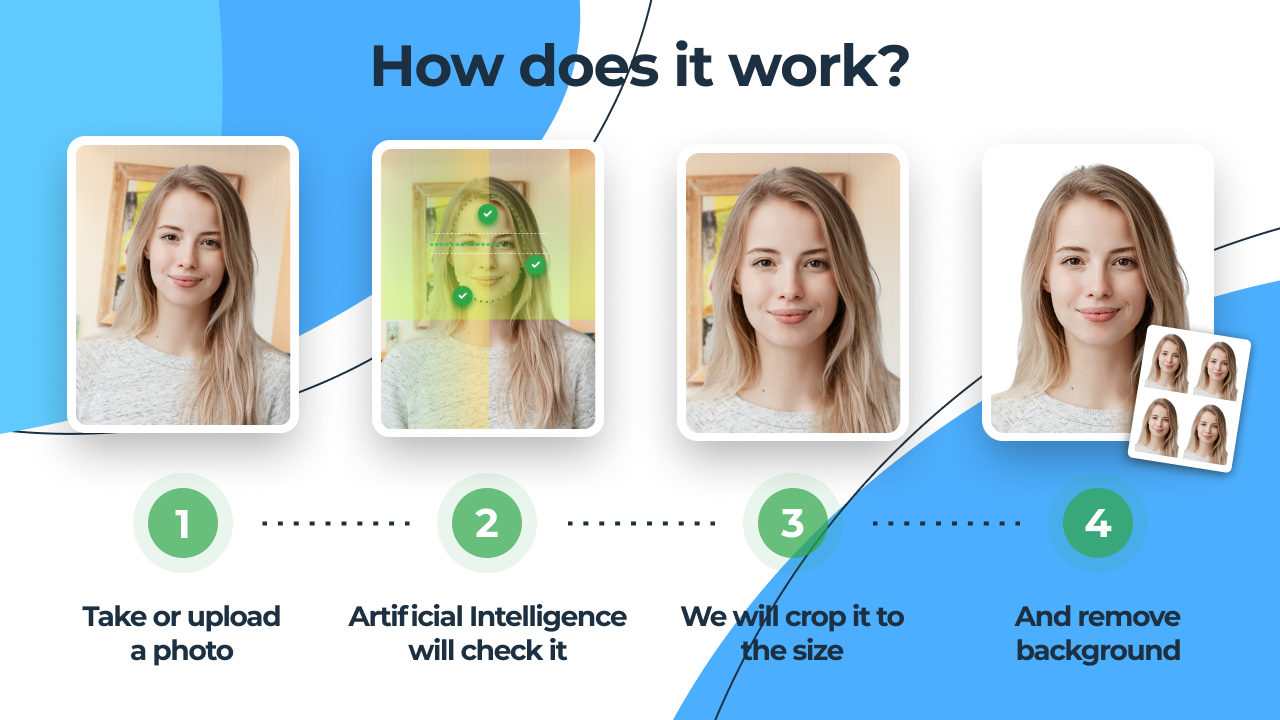 In the package, customers additionally get a manual verification and adjustment—a human expert will have a look at their photograph to ensure it fits the UK passport photo standards. Moreover, if the picture has any minor flaws or imperfections, such as shadows or objects, our experts will take care of that.
Passport Photo Online can perform well with taking baby passport photos. There is no need to make your child visit a photo studio or a crowded shopping centre—instead, parents can snap a picture while their baby lies down in its own bed and use Passport Photo Online to transform that image into a passport photo.
In short, British citizens and residents will not only have to make any appointments, but stay at home and take their passport photos comfortably with just a mobile phone. There is an unlimited number of takes and you pay only for the final result. Print or digital copies? We can provide both, depending on your needs. All of it for our customers' utmost satisfaction.
LEARN MORE ABOUT DIGITAL PASSPORT PHOTO BOOTHS:
Passport photo booth near me: closing thoughts
Passport photo machines are convenient, reasonably cheap, and located across the United Kingdom. But unless you are a photo box enthusiast, these machines may be easy to miss in the everyday rush, making it challenging to locate them when you need a set of passport photos.
The good news is that British citizens do not have to rely on standard passport photo kiosks. Instead, you can get someone to snap a photo with a smartphone and use a digital passport photo booth, like Passport Photo Online, to get passport pictures anytime and anywhere you need.
FAQ
Below you can find answers to the most frequently asked questions about passport photo kiosks near me in the UK.
Does Sainsbury's have passport photo booths?
Yes, there are photo boxes in a selection of Sainsbury's supermarkets where customers can take and print passport photographs.
Does Asda have a passport photo booth?
Asda has photo centres in selected locations where you can take Asda passport photos at an affordable price. Just like other supermarkets, Asda installs passport photo booths in their stores for easy access.
Are Morrison's photo booths digital?
Photo kiosks available at Morrisons stores are not digital, but they offer an option to receive digital passport photos.
How much does it cost to use a passport photo booth?
The cost of a passport photo at a photo booth machine starts from £6 for a pair of photographs.
Do passport photo booths take cards?
Yes, most passport photo machines, such as Max Spielmann, accept card payments.
Can you get a digital photo from a photo booth?
Yes, you can get a digital copy of your passport photo from a photo kiosk. To receive a digital image, make sure to select this option while taking a photograph.
Where can I find a passport photo machine in London?
London residents can find passport photo machines in multiple locations in London—for example, by using an online store finder. Read more about the nearest photo box services.
How to use a photo booth?
Using a photo box does not require technical knowledge or professional photography skills. Individuals only need to follow audio and visual instructions displayed on the screen. Thanks to the automatic camera adjustment, taking a photo should take just a few seconds.
What shops have photo booths?
In the United Kingdom, most popular shops operating the photo boxes include:
– Sainsbury's
– Morrisons
– Tesco
– Asda.
There, Brits can easily find at least one serf-service passport photo booth. If none of these shops are anywhere nearby your location, you can easily find the closest passport photo kiosk here.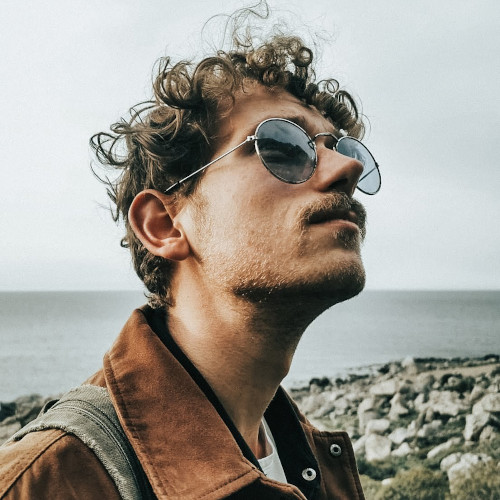 Adam is an SEO & Digital PR writer with a child's curiosity about the surrounding world. His superpower to dig out juicy facts got him citations in Forbes, Social Media Today, and 90+ other news outlets. Adam enjoys snapping pictures and won the national Huawei Next Image Award.