A passport is the most recognisable identification document in the world. British passport validity lasts up to 10 (ten) years for adults (5 (five) years for children) and can be used for all international travel. In 2022, the British passport, according to the Henley Passport Index, ranked in 5th position out of almost 200 countries. This shows how valuable a passport can be and how important it is to keep yours up to date.
But what if you live in the US? Luckily, you will still be able to renew your British passport. Applicants can start the renewal process of an adult passport up to 9 (nine) months before its expiry date.
The British Home Office also recommends that renewal is done as soon as travel plans are made. Applicants should allow at least 10 (ten) weeks to renew their British passport, and those living in the US should allow even longer so that the Passport Office can deliver the passport overseas
Apply for a British passport in the US—renewal
In a foreign country, like the US, the British passport renewal process starts at the official government website of the United Kingdom. You will be required to fill out the online form and answer the questions related to your details before submitting it to the passport authorities. Thanks to digitisation, British passport renewals are now available only through the internet. However, applicants may still need to use the courier service. We will discuss it in the following sections.
British citizens should also remember that, in some cases, they may be asked to attend a passport interview at a consulate or embassy. The entire application process is based in the UK, so the wait time will be considerably longer, lasting around 12 (twelve) weeks. The process will prolong if you have made application errors or have not provided proper documents.
Looking for more tips for your passport application? Look no further:
UK passport in the US—fees and additional documents
Even though overseas British passport applications for renewal can be made online now, applicants must pay the fees depending on the chosen service. The standard costs for renewing British passports from the US are:
£86 for an adult renewal
£56 for a child renewal
£19.86 courier fee (applies to all applications).
British citizens born before 1929 are exempt from any passport fees.
In some circumstances, you will be required to post additional supporting documents to HM Passport Office. Applicants must send any certificates or proof of citizenship in original versions. Photocopies will not be accepted. Where possible, it is good to use a secure courier to ensure the safety of your documents and prevent delays.
Renewing your British passport in the US— requirements
For an application to be complete, aside from the application fee, you must provide a current passport photo. Because of an online application form, UK citizens must prepare digital photos. According to the UK government website, the digital photo requirements are as follows:
in colour
at least 600 x 750 px (wide and tall)
50KB-10MB file size.
Sometimes, the passport authorities may ask the applicant for other supporting documents. This could include a driving licence, birth certificate, or identification document.
British passport renewal in the US—is expedited service available?
As an aftermath of Brexit, UK citizens are now required to carry a valid passport to travel to Europe and other destinations outside their motherland. In some cases, people may be in a hurry and wish to request expedited service by paying an additional fee. If British citizens renew their passport from America, unfortunately, they won't be able to use the urgent service. All passports, whether standard or emergency, are now issued exclusively in the United Kingdom.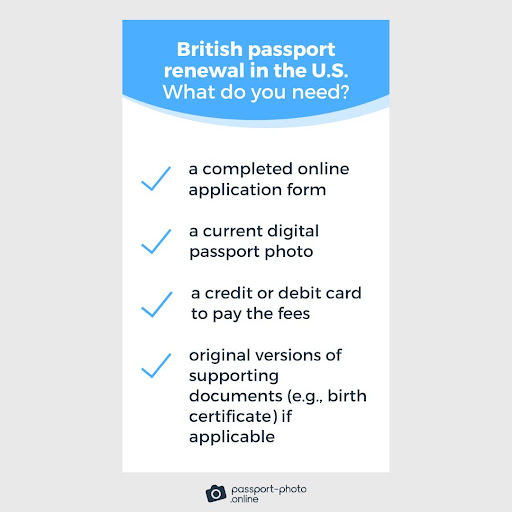 Renewing your British passport in the US with Passport Photo Online
Renewing a UK passport, whether in Britain or abroad, requires applicants to provide a relevant passport photo. If you need one quickly and easily, look no further than Passport Photo Online! Using our app guarantees creating passport pictures that are 100% compliant with the official UK photo requirements. All these are thanks to the efficient service, a highly-developed AI system and our expert team working around the clock.
Let us make the photo-taking hassle-free for you. The whole process will take you no longer than 3 (three) seconds! Here's what you need to do:
Select a good setting and prepare it for the photo. Aim for a background that is light-coloured, clear and free of clutter, but remember, Passport Photo Online can remove the background automatically. Focus on getting the lighting even.
Using your phone's camera, or even the camera function on the Passport Photo Online app, get your photo taken and upload it either to the Passport Photo Online app or website. You'll also have the option to upload an existing picture to be edited but remember: it needs to be less than a month old.
From there, simply repeat the process until you've ended up with a photo you'll be proud to have on your passport! 📸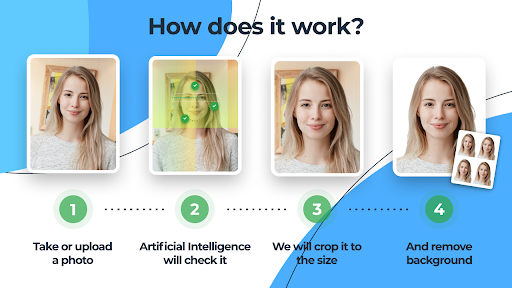 These simple steps will make the renewal process stress-free and much more convenient since you can do all this at home. Think of what you can do with the time you'll save: you could spend some time hanging out with your friends or family or start planning your next travel abroad. There are cost savings to consider, too, as you can save up to 65% on your passport photo by using our service.
You can be sure that the photo will be good, too. We take great pride in our work, so much so that we pledge to refund you 200% of what you paid if the passport authorities reject your photo. Download the app and try it yourself!
Renewing British passport in the US: FAQ
Having covered the essentials about renewing UK passports, we are moving on to the most frequently asked questions section. This is a perfect place for you if you have any doubts or further questions.
How much does it cost to renew a British passport in the US?
The cost depends on the passport service that the applicant chooses. The fees for renewing UK passports are the following:
– £86 for an adult passport renewal
– £56 for a child's passport renewal
– £19.86 courier fee
Is it possible to visit the British embassy in Washington, DC, for a passport renewal?
No, British embassies no longer provide passport renewals for their citizens. The passport applications must be submitted online. British nationals can visit the embassy for other enquiries, for example, notarial service.
What is the processing time for a UK passport renewal in the US?
The processing time varies depending on the documentation, forms and delivery. The UK Home Office recommends its applicants allow up to 10 (ten) weeks for their passport renewal. However, this time may prolong or shorten under some circumstances, for example, a rejected passport photo. If you want to prevent delays in this matter, try Passport Photo Online for your 100% accepted passport image.
Can I renew my UK passport in the US?
Yes, you can renew a UK passport in the US It is enough to complete the application online and send the documents required by HM Passport Office.
How do I renew my British passport in America?
Getting a renewed UK passport in America is now simplified due to online application forms. They are available on the UK government website and contain all the necessary instructions.
How to renew an expired British passport in the US?
The renewal process of an expired British passport in the US is the same as the standard one. Applicants must:
– visit the UK government website;
– fill out the online application form;
– submit a digital passport photo and
– send supporting documents, if required.
Where can I renew my British passport in the US?
As a British citizen living in the US, you can easily renew your passport online. Prepare a current digital passport photo and, if applicable, the original versions of supporting documents, such as identity proof.
What documents do I need to renew my British passport?
To renew a British passport, applicants need:
– a digital passport photo
– a credit or debit card to pay the passport fees
– their current passport
– supporting documents (e.g., birth certificate) if applicable.
How to renew your British passport in the US — summing up
It doesn't matter where you live – as long as you're eligible, you can always obtain a new UK passport. The most important thing you need to remember is to allow at least 10 (ten) weeks to apply for your renewal and to pay the relevant fees promptly. Preparing your application thoroughly increases the chances of getting it right the first time and minimises the risk of resubmitting.
And to ensure that your passport photo gets accepted, try Passport Photo Online—a unique image transformation tool that guarantees 100% compliance with the official UK photo requirements. The app is available on Android and iOS—download it, try it and save your time and money!
Sources: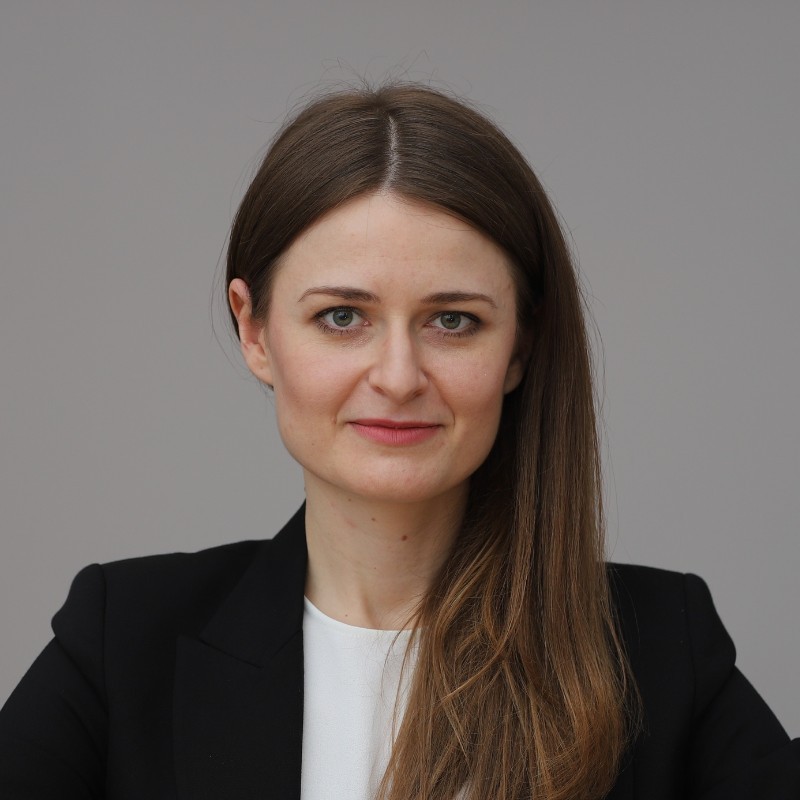 Karolina's passion for law, technology and photography led her to PhotoAiD S.A., where for the past 3 years she has been an expert in the implementation of passport photo compliance procedures in +80 countries around the world.