Since January 1, 2021, British citizens have had to adjust to the new travel reality after Brexit. Currently, the European entry requirements state that UK passports must be valid for at least 6 (six) months upon arrival to a given country within the EU. Thankfully, the British passport service is available not only in their motherland.

If you currently reside in Ireland and notice that your British passport is soon to expire, read on. In this article, we will provide all essential information about renewing UK passports from overseas, and you will find the necessary details gathered conveniently in one place.The British passport allows its holder to be able to travel and, in most cases, it is essential if you wish to go abroad. If you are thinking of planning a trip abroad, but your passport has expired, or been lost or stolen, or is close to its expiration date – what can you do? You need to get your UK passport renewed.
In this article you will learn:
Renewing a British passport in Ireland
UK citizens can renew their passports through the embassy by filling out a paper form. It costs £85 to apply on paper, and you can pay with either a debit or credit card or by cheque, which must be made payable to HM Passport Office. This form of application requires submitting 2 (two) current identical 35 x 45 mm passport photo prints of yourself.

Brits living in Ireland can also access passport application forms at any post office. However, this renewal type is a bit more expensive due to overseas delivery. The fees for postal passport services are £95 for an adult standard passport and £65.50 for a standard child passport. Additionally, there is a standard delivery fee of £9.70. The forms of payment are the same as mentioned above.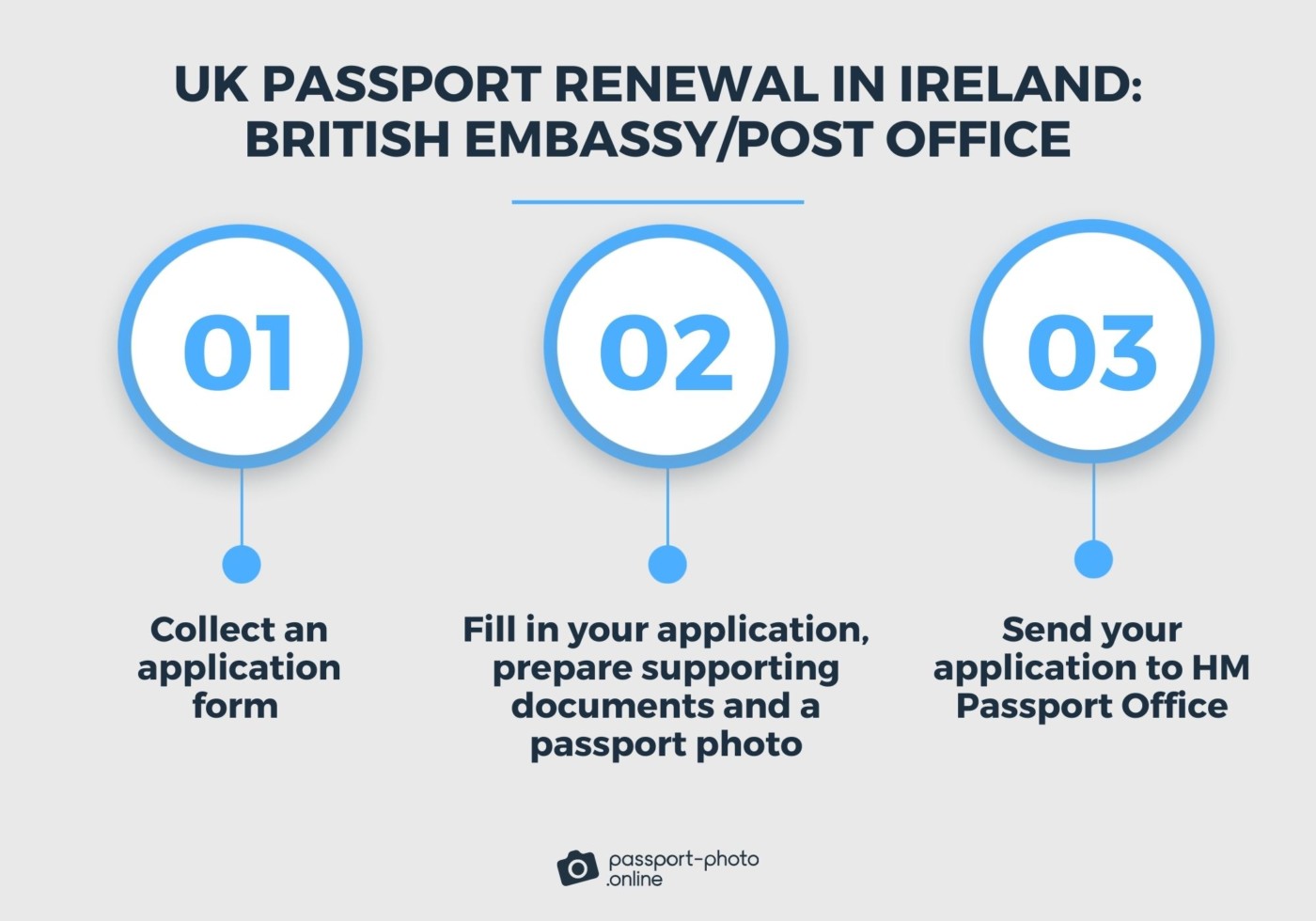 UK passport renewal—British Embassy in Dublin
The British Embassy in Ireland is located in Dublin. Having presented British citizenship, you can use the consulate's help in passport matters. The address of the British Embassy in Dublin is British Embassy in Dublin, Ireland, Dublin 4, D04 P272, Ireland.
Contact details:
Email: [email protected]
Phone: +353 (0) 1205 3700
While choosing your passport appointment, leave at least 10 (ten) weeks for the application to process. Remember also that most countries require UK passports to be valid for 6 (six) months after the departure to allow you in. If you live in Northern Ireland and need a British passport urgently, visit the Regional Passport Office in Belfast.
Looking for more tips for your passport application? Look no further:
Renew a UK passport online from Ireland
British citizens can also renew their passports online at the government website. You will need a digital passport photo (35 x 45 mm), a credit or debit card to pay the passport fee, and your current passport. Follow the global guidance provided, and attach the relevant supporting documents. Online passport renewal costs £86 for an adult, £56 for a child, and a £19.86 courier fee for both.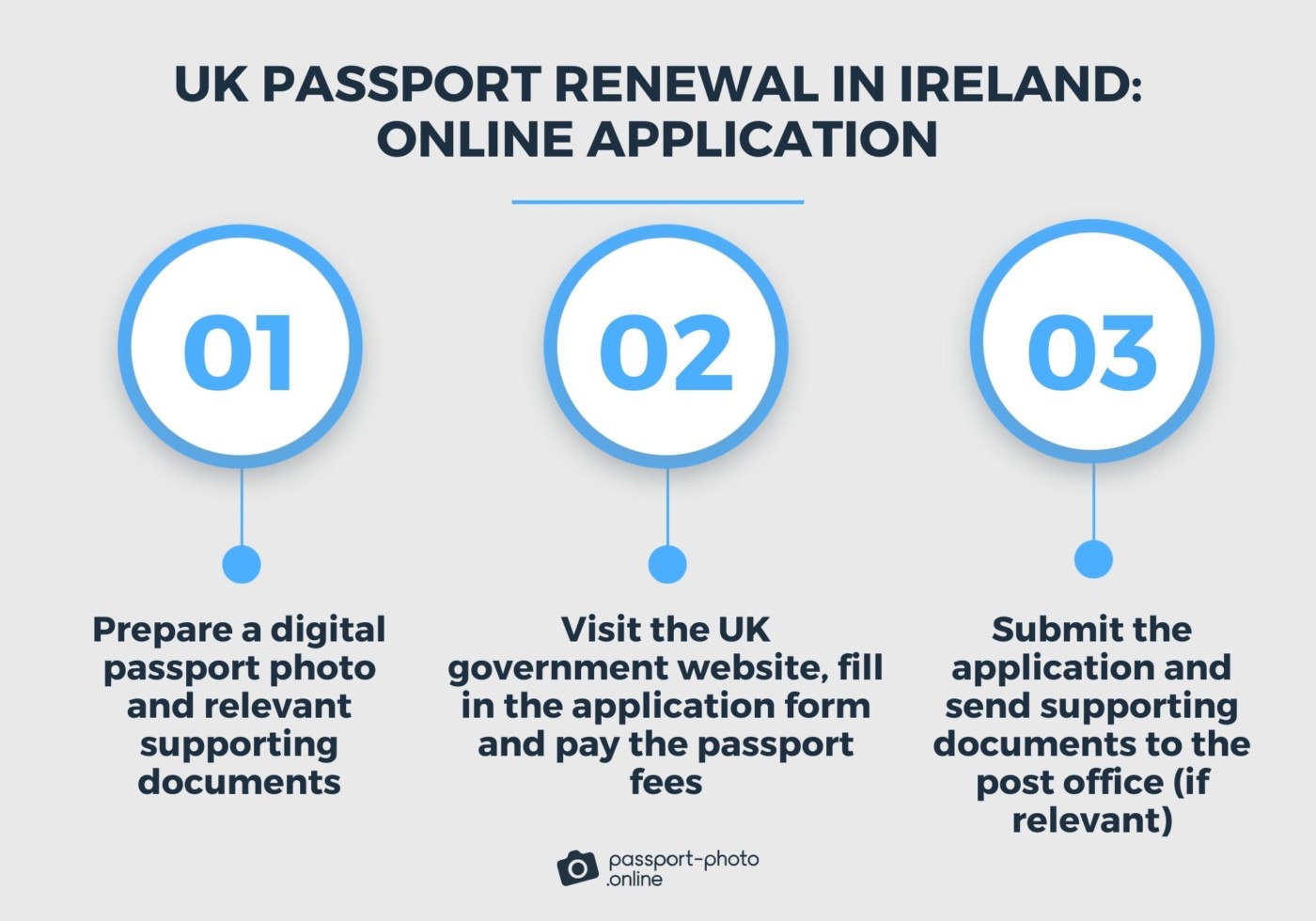 How long does it take to renew a UK passport from Ireland?
The UK government requires British nationals to update their personal or financial information and renew their passports when they expire or at any other convenient time. In these cases, the process takes 4 (four) weeks at the time of writing, but the HM Passport Office recommends allowing 10 (ten) weeks to replace a passport.
If the applicants have not completed the passport forms correctly, the processing time will increase, as they will need to resubmit the application, effectively starting the up-to 10-week process again.
Submitting a passport application form online allows tracking them from the beginning. However, monitoring applications submitted offline is possible only after 3 (three) weeks.
How much does a British passport renewal cost?
Renewing a UK passport in Ireland costs £86 (or £56 for a child) if you apply online or £95 (£65.50 for a child) by filling in a paper form. You will also need to pay a £19.86 courier fee so your new passport can be shipped to you.
Renew British passport in Ireland: documents
Depending on the type of passport application form, you must submit either a digital UK passport photo or 2 (two) printed photographs (35 x 45 mm) taken within the last month and your original passport. In addition, other supporting documents, like a birth certificate, might be required.
The most essential UK passport photo standards:
It has to be a colour photo.
Your UK passport picture must be clear and focused without a red-eye effect.
No filters can be applied to your photo for a UK passport.
Your digital photograph needs to be high-resolution and sharp.
The digital size needs to be at least 600 pixels wide and 750 pixels high, but the HM Passport Office recommends 900 pixels wide and 1200 pixels high. The image must be at least 50 kB and no larger than 10 MB.
The UK's standard physical passport photo size is 45 millimetres high x 35 millimetres wide.
The photograph must not be trimmed or cut down from a larger size.
Passport Photo Online for your renewed UK passport
When renewing a UK passport in Ireland, you must provide a biometric passport photo, compliant with the regulations. If you want to get the perfect UK passport photo comfortably, in just 15 (fifteen) minutes, from your home, garden, or even the beach, then look no further than Passport Photo Online! There are 4 (four) main benefits to using our app:
You are guaranteed a photo that fits the regulations. If the HM Passport Office turns down your UK passport renewal application in Ireland because of an image we edited for you, we promise to refund you 200% of the money you spent on that photo.
Passport Photo Online is very flexible. Whether at home, at work, or even on the beach, our services will still be available as long as you have internet. The service also runs 24/7, so it's effortless to fit around your day-to-day life.
We can save you a lot of money—an average of 54% on your UK passport photos. That's a good deal, beneficial if you are planning on getting a passport photo for more than one person.
We allow you to take as many attempts as you want. There is always the risk that we'll get a photo that we're not happy with. That's why Passport Photo Online allows you to take as many shots as you need to, free of charge. You'll only need to pay for the digital photo you eventually decide to use.
Renew British passport in Ireland: FAQ
Having discussed how British citizens can renew their passports in Ireland, let us move to the most frequently asked section.
Can I renew my UK passport in Ireland?
Yes, you can still renew your UK passport as a British citizen living in Ireland. There are 2 (two) ways to do it: on paper or online. Find more information on the official UK government website.
How long does UK passport renewal take from Ireland?
Whether you fill out a digital or paper application, applying for a passport renewal will take around 15 (fifteen) minutes. Once you've submitted your application, the standard processing time for passport renewals is 4 (four) weeks, although it can take as many as 10 (ten) weeks. 
Can I renew my British passport in Dublin?
Yes, you can renew your British passport quickly in Dublin, as the British Embassy is located here. Once you've applied through them, you must wait for your new passport to be delivered. You can also use the UK government website to complete your application online.
Where is the British Embassy in Dublin?
The British Embassy in Dublin is located in the Leinster province, 29 Merrion Rd, Dublin 4, D04 P272, Ireland.
What is the British Embassy's contact number in Dublin?
British citizens living in Ireland can contact the British Embassy in Dublin via phone. The contact number is: +353 1 205 3700
Is UK passport renewal in Northern Ireland possible?
Yes, it is possible to renew the UK passport in Northern Ireland. As Northern Ireland is a part of the United Kingdom, passport renewal for British citizens is the same as in London, for example. The other options are online applications or visiting the HM Passport Office in Belfast.
How long is the processing time in the Belfast passport office?
The standard passport service can take up to 10 (ten) weeks. The procedures can change depending on the kind of service applicants eventually use; with expedited services, the processing time can take even 1 (one) week, whereas, for applications from overseas, the time will lengthen.
How to get an emergency British passport in Northern Ireland?
Emergency travel documents can be issued only after proving your British citizenship. There are two ways of applying: either by using the Online Premium service—they will receive their passport during the appointment at the passport office—or by a paper form available at any post office (1 Week Fast Track service). If you choose the online service, you only need a digital passport photo and your old passport. Having selected the paper form, you must bring to your appointment 2 (two) printed passport photos, a completed passport application, and any relevant supporting documents to your appointment.
What is the price for a British passport in Northern Ireland?
The price for a British passport in Northern Ireland varies depending on the service and the passport type. For standard UK passports, it is cheaper if the applicant uses the online form—£75.50 for an adult passport and £49 for a child's passport. Paper applications cost £85 and £58.50, respectively. Regarding emergency passports, British citizens pay £177 for online services and £142 (adult passport) or £122 (child passport) by paper forms.
What documents do I need to renew my UK passport?
British citizens renewing their UK passports do not need any additional documents. The most important thing is to submit a properly completed application form, compliant passport photos and their old passport. For online applications, 1 (one) digital image is required, while for paper forms, applicants need to submit 2 (two) printed passport pictures. However, if the application addresses a child's passport renewal or any other cases in which the holder could not fill the forms personally, then respective supporting documents might be required. It is best to follow the instructions attached to every passport application.
Renew British passport from Ireland—summing up
When living abroad, British citizens can still renew their passports. To do this in Ireland, they can choose one of the two ways: on paper, through the British embassy or at the post offices, or online, via the official government website. The process is not complicated—applicants need a current passport photo (either printed or digital), sufficient funds to pay the fees, and their original passport. Occasionally, supporting documents might be needed.
Sources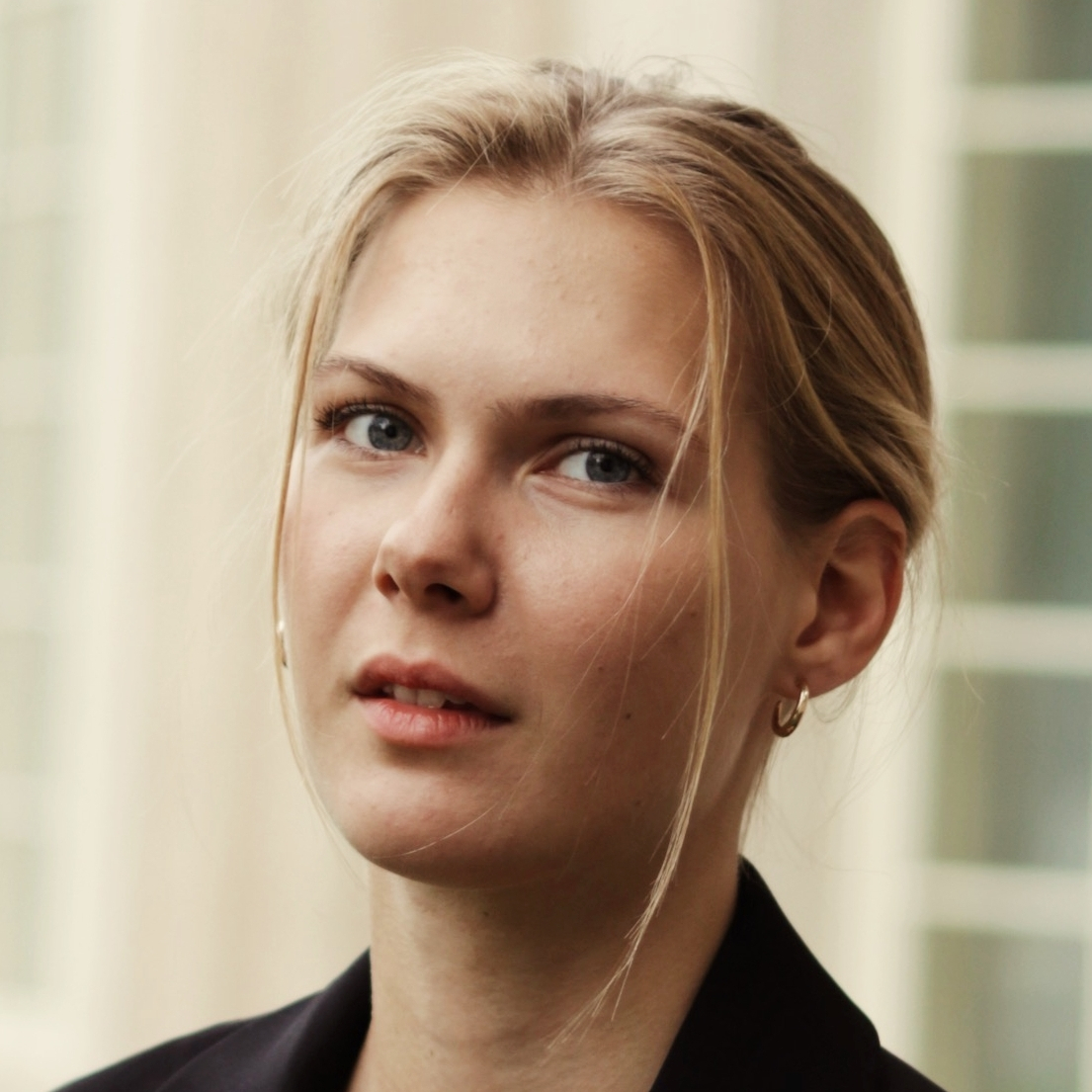 Justyna graduated from journalism and social communications at the University of Lower Silesia. She is an avid journalist with passion for travels and sport, being also a professional athlete for the past 8 years. Justyna is the author of articles concerning biometric photography.