Makeup has been around for thousands of years – thanks to archeological research, we've been able to date the first use of it back to the First Dynasty of Egypt (ca. 3100 BC – 2900 BC). That's a pretty impressive timeline for something so minor!
Yet eyeliner, lipstick, mascara, blush, powder (and a lot, lot more) have been with us through thick and thin – we use them to conceal imperfections, make ourselves look more beautiful, attractive, seductive, appealing, or even approachable. It aids in covering up the effects of lost sleep or a night out.
But what about ID photos, such as your driver's license picture? Can you use some beauty tricks for your license photo? Women are often confused as to whether they can wear makeup for their driver's license photos and if so, what kind of makeup is acceptable. If you are looking for answers, stick around, because in this article we will provide useful tips on what type of makeup you can wear for your driver's license pic and what you're better off avoiding if you want to have a nice and professional looking photo that will be well remembered.
Because makeup is so diverse and has such a wide variety of use, there are, of course, some do's and don'ts when it comes to slapping on that lipstick or throwing on some powder or shimmer for your license picture. We'll share these basic makeup tips with you below so you can be good to go and take your professional headshot yourself!
We will guide you through:
Don'ts for your driver's license photo
First, let's go over the no-no's when taking a decent photo for your license.
Shimmery makeup should be avoided at all cost
Shiny makeup may work great for a NYE party, but it is definitely not the go-to look for an ID photo. The shine will reflect the light of the flash, leaving a glare in your final photo worthy of Lindsay Lohan's mugshot.
Pay special attention to your t-zone (forehead and nose) if you have combination skin that tends to accumulate sebum in those areas, resulting in a 'shiny face'. Apply a tiny bit of loose mattifying powder onto the shiniest spots of your face and just leave it be.
Don't overpowder your face
Speaking of face powder – it is a great cover-up solution for dark circles or unwanted blemishes, but if you go overboard with it, it'll make you appear white as a ghost and ghosts don't drive cars (or do they?). Plus, it'll be difficult to tell if it's really you if you look like a sheet of paper without any color!
Say goodbye to the celebrity makeup (just for the photo!)
As we've already mentioned, makeup can really work wonders and make you look as glamorous as a red-carpet star. Let's get back to earth for a moment though and keep in mind that a driver's license is a serious government identification that must include a photo of the real you, not your celebrity or club-goer version (this better be left for when you're not driving, anyway).
So, don't fall into the temptation of the beautiful smoky eye and/or heavy-colored lip – instead, opt for more neutral colors, such as subtle peach-colored or light pink lipstick (matte is definitely preferred – avoid the shine!) and some light blush or a bit of bronzer.
Lose the fake lashes and grab some mascara
As for the mascara – it's definitely acceptable in moderation, meaning no thick, sticky lumps, just enough to accentuate your natural eyelashes.
Here's a tip: choose natural-hued mascara that matches your actual look (for example, pick brown mascara instead of a jet-black one if you're a fair skinned blonde, and a darker brown/black one if you're naturally a morena).
However, any artificial lashes are a big NO in any ID photo, including your license picture.
Like this article and want to know more? Check these out: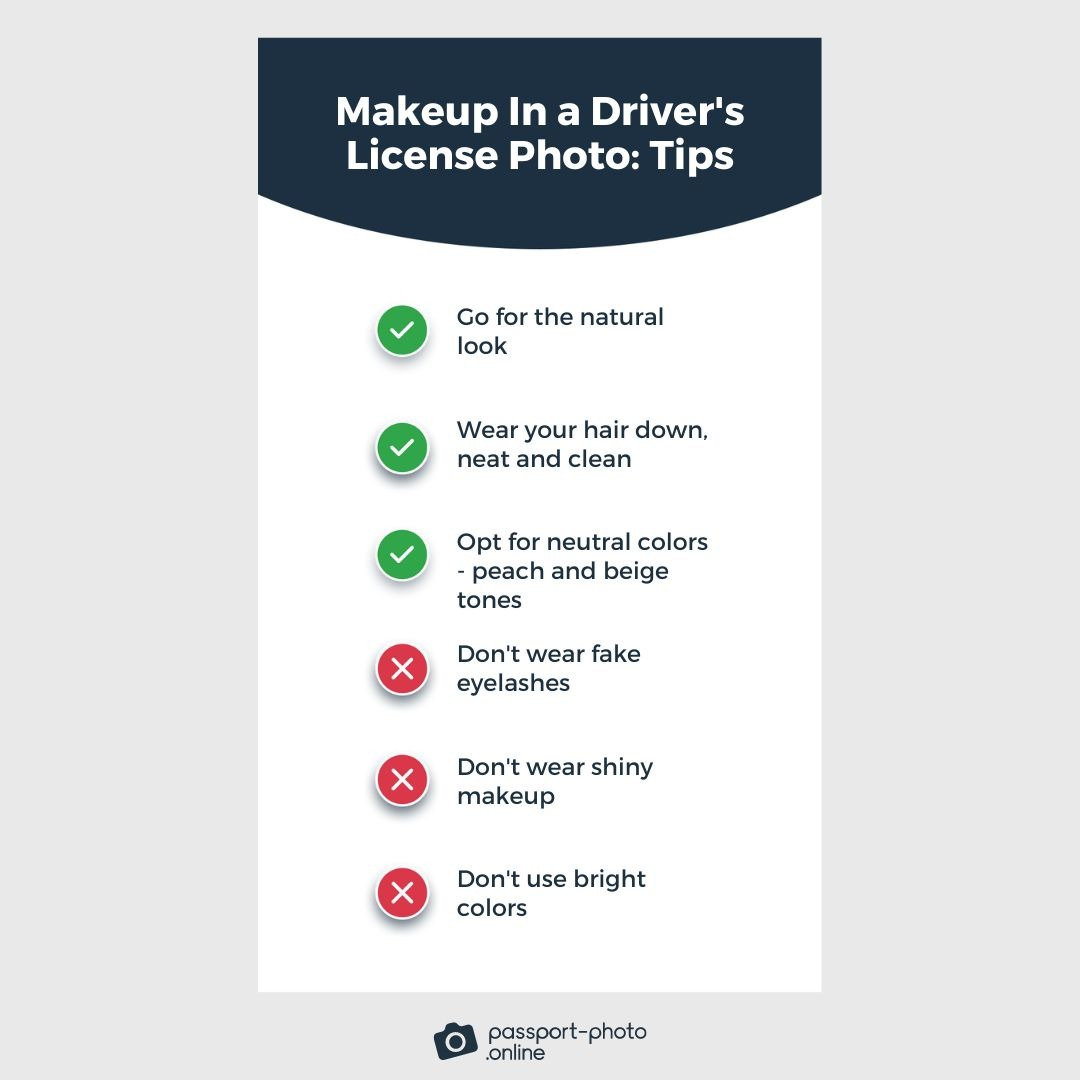 Do's for your driver's license photo
Now that we've covered all the forbidden makeup moves for your license photo, let's move on to a more pleasant section and focus on what you actually can do. Yay!
Natural goes a long way
This should be the basic rule of thumb for all ID photos – go for the natural look. You can use foundation, powder, blush, or mascara, just make sure it (almost) looks like you're not wearing any of it 🙂 Choose wisely and don't go over the top. Don't worry if you're not the Queen of Makeup – there are plenty of YouTube tutorials with some great tips you can follow to achieve the right look to snap your perfect license photo.
Degrease your face
We've already covered the shine aspect of your picture, but we can't stress it enough – don't sparkle in your license photo! What you can do right before facing the camera is blot away the oil. You can do this by pressing the back of your palm against any shiny spots (this may be your forehead, cheeks, nose, or all of them combined).
Wear your hair down
This isn't really related to makeup itself, but it is your look, so we thought we'd give the topic a bit of attention. Going for an overwhelming hairstyle, or even wearing your hair up, may be distracting in an image as small as a license photo. Brush your hair and let it down, but make sure it doesn't cover your face.
Another thing to keep in mind are the possible flyaways – you can pat down your hair with some lightweight serum or oil (oil may be a bad choice if your hair is usually more on the greasy side, in which case you should opt for just a tiny drop of serum) to avoid any hair from sticking out in your picture.
Where to take your driver's license photo?
Now you may be asking yourself the question of where to actually have your license photo taken – should you be doing all of the above at your local DMV?! Well, we've got amazing news for you: you definitely can get a professional headshot for your driver's license without leaving your home, so you actually have all the time in the world to stand in front of the mirror and make sure you look your absolute best before you face the camera.
Get a flawless driver's license photo with Passport Photo Online
Passport Photo Online comes in two versions – a website and mobile app. It will let you snap your license photo in minutes from the comfort of your home, while taking care of all the details for you, such as cropping, background, measurements.
All you need is your smartphone and you can start taking your photos – yes, photos, because Passport Photo Online lets you take an indefinite number of them. You can just keep snapping until you get your perfect pic! It's also AI-backed, which means that before you submit your photo, our tool will scan it to check if it fulfills all the requirements set by the DMV. In other words, Passport Photo Online won't let you walk away with a non-compliant picture.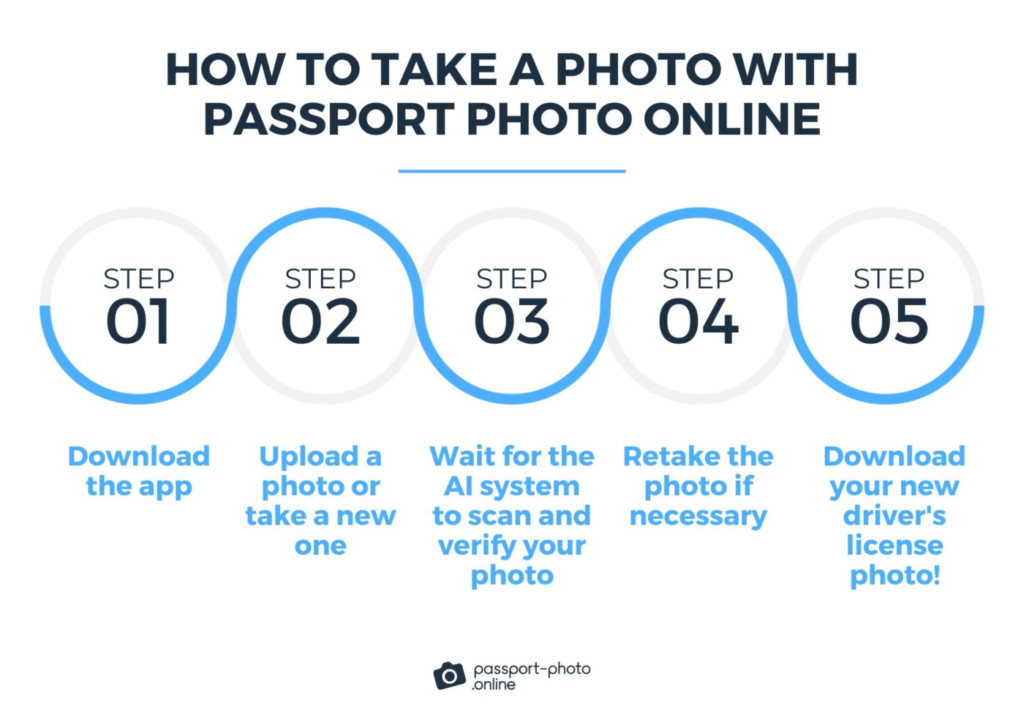 Our photo-taking app has been featured in many lifestyle magazines, including Forbes and Glamour among others, and it has been used by over 1 million users since its inception. Not only are you looking at saving up to 40% (compared to other photo services, such as drugstores or other online photo tools) when using our service, but you literally have nothing to lose as you're guaranteed a double refund in case your photo doesn't get approved by authorities. Pretty sweet, isn't?!
Makeup for driver's license photo–final remarks
The basic rules for your driver's license photo are very similar to those for a passport photo.
A few things to remember are:
you should look as natural as possible;
make sure your skin is nice and clear and doesn't shine, so that the flash is not reflected in your photo;
wear your hair down for your picture;
avoid extras, such as fake eyelashes, and wear some brown-hued mascara instead.
Now that you've got all the basics down, you don't even have to look for a photographer – just grab your smartphone, download the Passport Photo Online app, and take your perfect picture!
FAQ
In this section, we will cover some of your most frequently asked questions regarding makeup in a driver's photo.
Can I wear makeup for my driver's license photo?
You absolutely can, just make sure you don't overdo it. You can look up some YouTube tutorial videos for more inspiration!
What is the best makeup for a driver's license photo?
When choosing the right makeup for your license photo, go for natural colors such as peaches, pinks, and browns, and avoid reds, jet black, or any prominent colors. Make sure your face isn't greasy, so you don't look too shiny in your picture.
Can I wear fake eyelashes in my driver's license photo?
There is no official rule against fake eyelashes in driver's license photos. However, you should do it at your own discretion and if the fake eyelashes visibly cover your eyes, it's probably a good idea to ditch them. Your driver's license should reflect your natural self.
Sources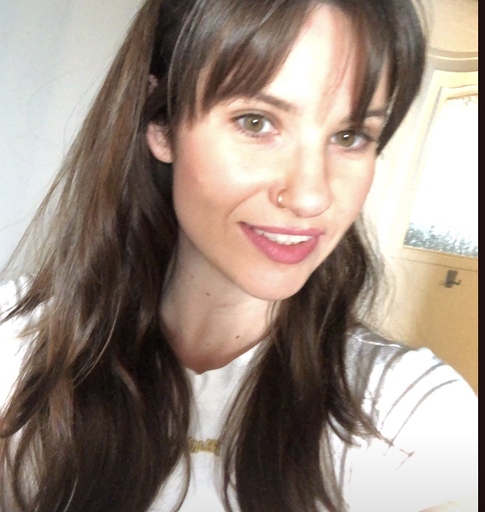 Magda is an art & travel expert who is passionate about all things late-Victorian, history, languages, casa museos, Spain, and food illustration. She is a specialist in the field of biometric photography. Magda also loves reading, creative writing, and hanging out with her three cats.