Passports stick with us for up to 10 years, and you may show them not only for travel. So, it makes sense to dress nicely and sometimes even fashionably for your passport photograph.
Here's the bad news—
Overdressing might be a problem, and may occasionally cause your photo to get rejected by the passport officer.
So, what to wear for a passport photo, then?
This guide will go through the "passport photo dress code," requirements, best colors to wear, what clothing or complements not to wear, exceptions, and tips to consider when choosing your attire.
Try an unlimited number of outfits and take your passport photo from home. More than 1 million users have downloaded this user-friendly passport photo booth app for iOS or passport photo maker app for Android phones.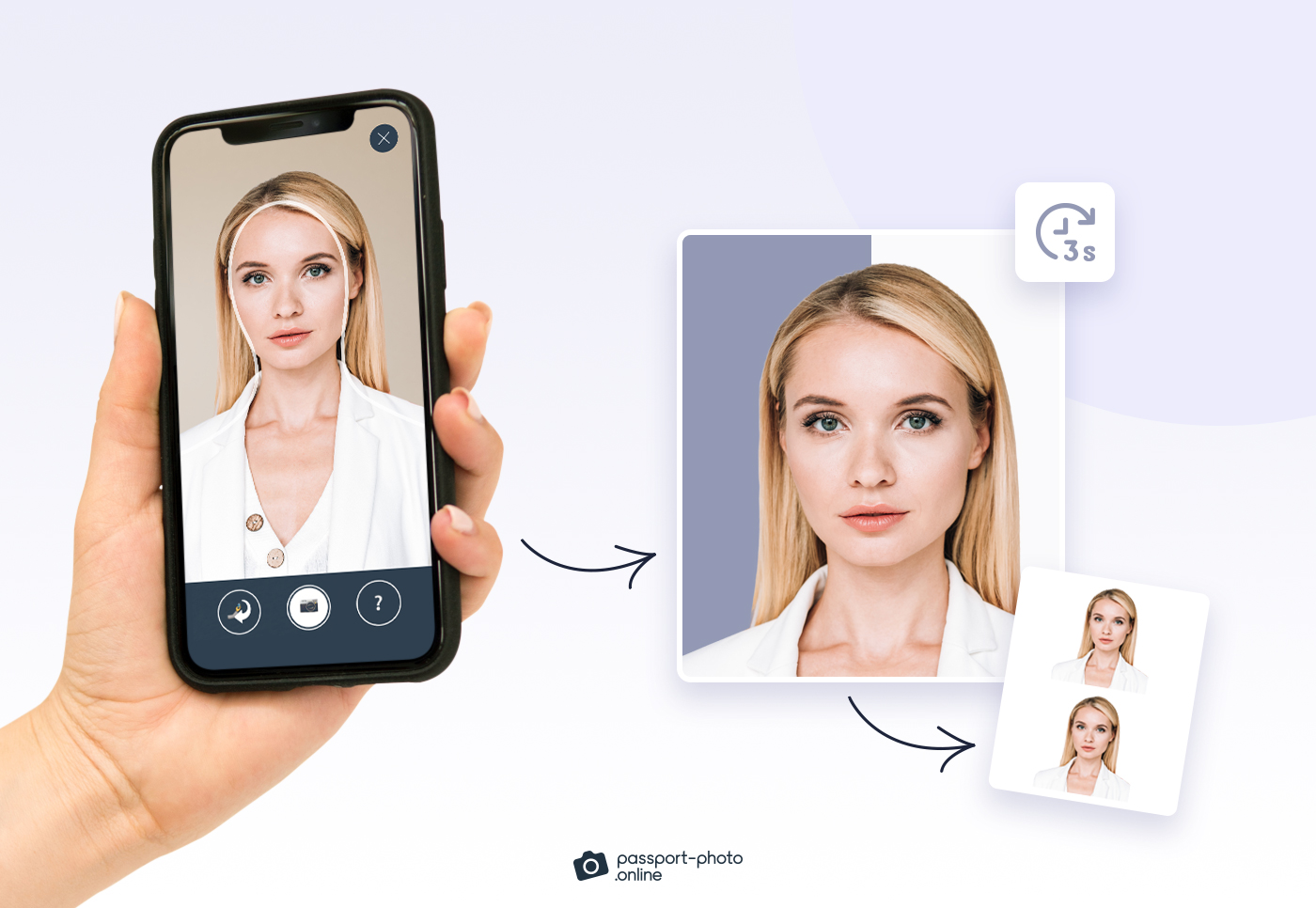 Find also the answers for these topics:
Better avoid having to repeat the application process. Take a couple of minutes to read this guide before snapping a photo. Your attire could be against official regulations.
Passport photo dress code: essentials
First things first—
A passport photo serves a purely utilitarian purpose. It lets others recognize you. End of story.
There's no dress code for a passport photo, but this doesn't mean you can wear whatever you want. Your picture must meet a set of passport photo clothing requirements for the passport agency to accept it.
The best outfit for a passport photo should be:
Simple, such as a plain dark color shirt, blouse, or sweater
What "you normally wear on a daily basis," the Department of State clarifies—except for uniforms
Your clothes and accessories should not:
Cast shadows or glares
Obstruct your facial features, or distract from your face
Cover your head unless you're wearing a hijab for a passport photo or other allowed head covering
Notice that the passport photograph will be cropped to official standards, featuring your face, neck, and a bit of your shoulders. So you can wear whatever you want from the waist down.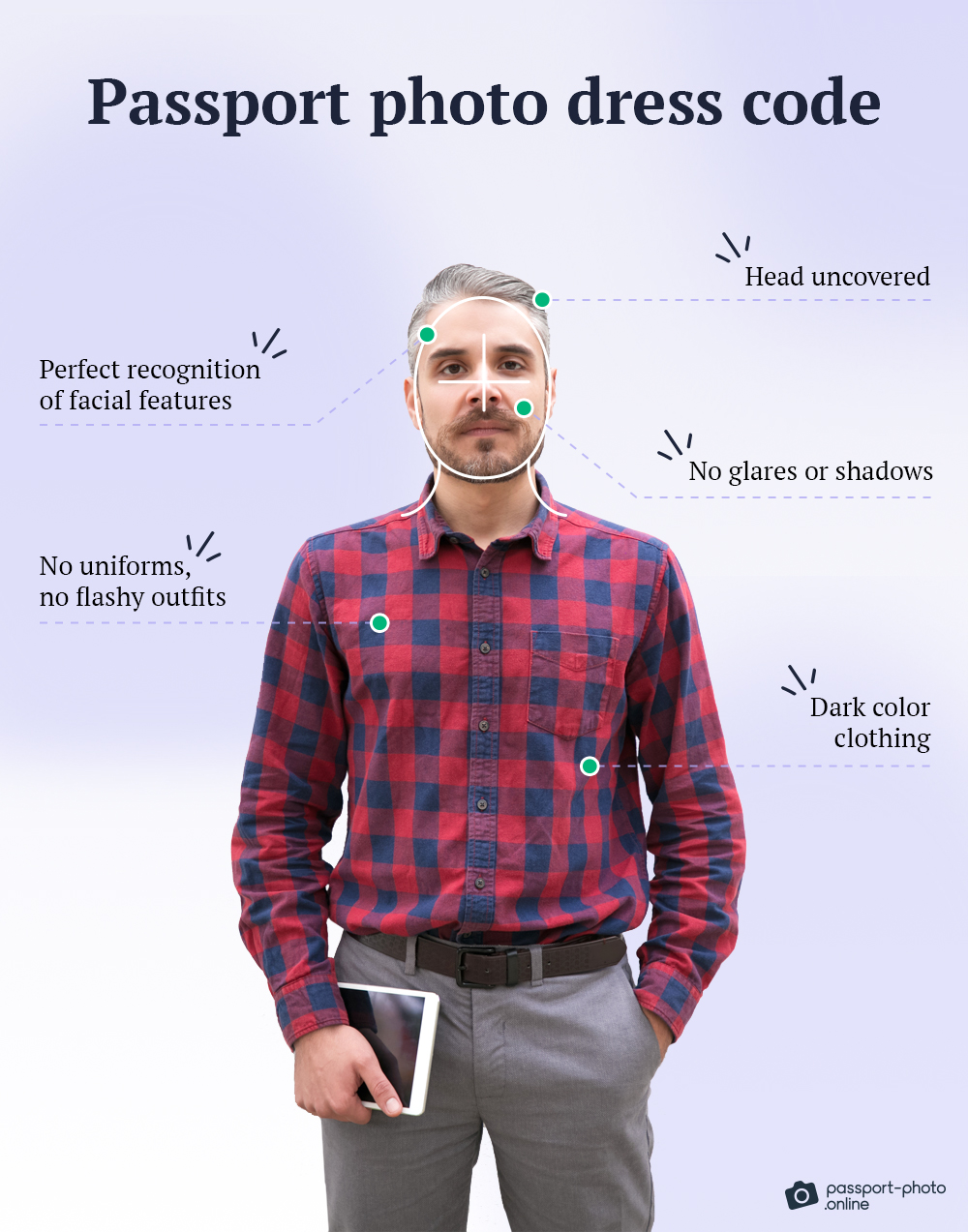 Also—
Follow the rest of the requirements for a US passport photo when getting your 2×2 photo or passport photo template in 4×6 size, and make sure the print is in high resolution and on quality glossy photo paper.
What colors of clothing are acceptable for a passport photo?
Yes, colors matter.
Colors are important to consider when choosing your outfit for your passport photo, as it may lead to your application being rejected if not appropriate.
The following colors are not allowed for passport photos:
White
Off-white
Light beige or gray
Pastel colors like light blue or salmon
All of the above colors blend with the white background and impact the image quality.
Instead, opt for dark colors. The best colors to wear for a passport photo are:
Black
Brown
Navy blue
Burgundy
These colors complement the white backdrop well. While vivid colors are acceptable, avoid excessively loud or bright colors.
The key takeaway is to avoid wearing white clothing in your passport photo.
What not to wear for a passport photo
Here's a checklist of prohibited clothes and complements that will help you comprehend what you should wear for a passport photo and what not.
Here the list of items that are not allowed for passport photos:
Glasses. Glasses can cause glare, shadows in the eye area, or obscure critical facial features, so wear your contacts or remove your glasses while taking your passport photograph
Uniforms and camouflage attire. Do not wear workwear such as fatigues, gowns, or robes. School or scout attire for children is also prohibited. No kind of uniform is allowed, including camouflage attire or any clothing that resembles a uniform
White colored clothing. Avoid wearing a white shirt or any other white clothing for your passport photo, as it blends with the background and does not compose well with the rest of the picture. The best shirt to wear in a passport photo is blue or dark in color
Jewelry. Avoid bulky chains, large earrings, or other large jewelry items, as they may obscure your face, generate glare, hinder the identification of facial features, or be too distracting
Wireless, hands-free gadgets. The US passport agency will reject the photo if you wear headphones, Airpods, or other electronic devices
Hat or head coverings. Hats or head coverings, such as berets, caps, or fancy fedoras, are not allowed
Big hair accessories. Large hair accessories like headbands, rubber bands, decorative bows, or big hair clips are also prohibited in a passport photo. Instead, use a barrette or ponytail holder to pull your hair back
And here are the exceptions to the passport photo dress code:
The No Eyeglasses Policy states you can wear glasses "in rare circumstances of medical necessity, for example, when an applicant has had recent ocular surgery," as long as you provide a signed note by a medical professional. Note that a one-year valid passport may be issued instead
You are allowed to cover your head (but not your face) if you do this daily in two cases. For medical reasons or for religious purposes. In either case, you need to submit the appropriate documentation, either a signed doctor's statement or a personal statement that verifies you wear this in public as part of the traditional religious attire or cultural dress code (e.g., hijab, turban, kippah)
Basic small jewelry items such as a minimalist layering necklace, a serpentine chain, or studs (rather than pendants) are approved
There's no problem with permanent tattoos. The same goes for facial piercings, "as long as they do not hide your face," the US Department of State states
If you wear hearing aids regularly, you can have them on in your passport picture as well
The same rules apply to a baby's passport photo.
Here's a handy table you can consult if you're in doubt:
| Category | Allowed | Not Allowed |
| --- | --- | --- |
| Glasses | Contacts | Glasses |
| Uniforms | None | Fatigues, gowns, robes, school/scout attire, camouflage |
| Clothing Color | Dark colors | White, off-white, light colors |
| Jewelry | Layering necklace, serpentine chain, studs | Bulky chains, large earrings, large jewelry |
| Electronic Devices | Hearing aids | Headphones, Airpods, wireless gadgets |
| Head Coverings | Hijab, turban, kippah | Berets, caps, fedoras, any headgear |
| Hair Accessories | Barrettes, ponytail holders (minimalistic) | Headbands, rubber bands, decorative bows, big hair clips |
Passport photo clothing: other considerations
Besides the attire—
Your hair can't cover your eyebrows or eyes.
So, adjust your hairstyle by clipping your bangs or combing your hair behind your ears.
To get more detailed advice have a look at our guide to passport photo hair rules and bangs in a passport photo.
Be careful with makeup too! Whatever you do, do not alter your natural look.
Makeup for a passport photo can't be excessive or flashy, so:
Use matte colors
Keep your natural skin tone
Accentuate your natural facial features moderately.
What to wear in a passport picture: outfit ideas and tips
These four simple tips will help you choose the best clothing for a passport photo:
1. Keep it simple
Nothing too extravagant. Avoid wild prints or other potentially contentious clothes. A plain t-shirt in a passport photo is good to go.
Remember, your passport book lasts 10 years. You may regret choosing that flamboyant outfit.
2. Avoid formal or sporty look
You can wear a suit in a passport photo, absolutely. However, while a passport photo with a tie is fine, a V-neck sweater or a collared shirt is more than enough to look good.
Wearing sportswear is not the best idea, though, as you may have to show this photo to your new employer, or during the study or business visa application process. While accurate, the image only includes from the shoulders up, so you can still wear sweatpants or leggings.
3. Wear something you feel comfortable in
Opt for everyday clothes, those you wear often and you feel comfortable and yourself in, nothing too complicated.
4. Avoid tank tops and turtlenecks
With tank tops, the problem is that photo cropping could make it look like you are wearing… nothing at all!
On the other hand, turtlenecks will cover your neck entirely. And although the official requirements say nothing about turtlenecks, some people reported issues with the turtleneck in passport photos.
So—
Now that you know what to wear for a passport photo, it's time to get your picture in the most comfortable and effortless way. Try Passport Photo Online, an app that includes a double money refund guarantee.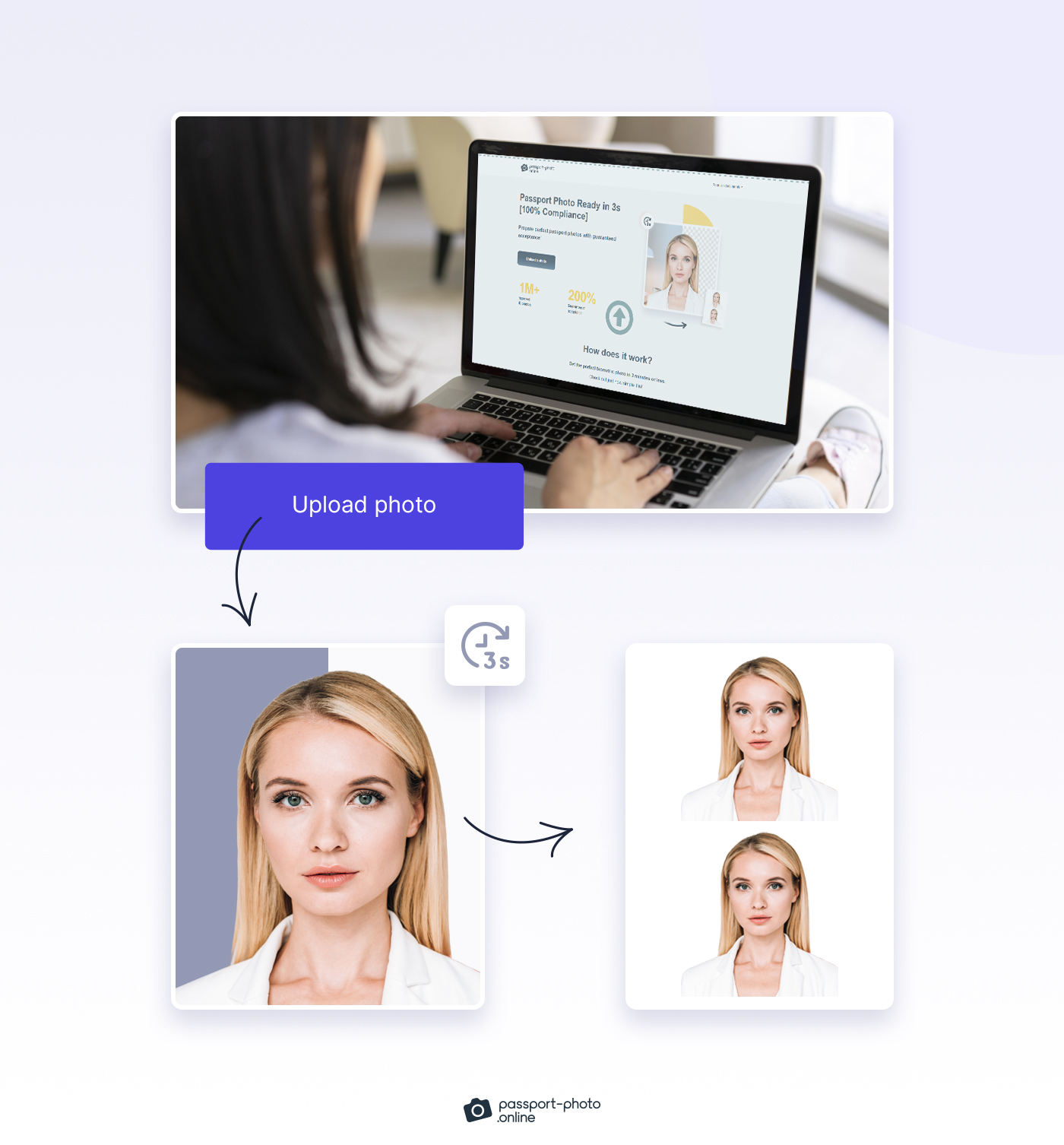 Passport Photo Online has over 5,800 reviews and 4.5⭐ on TrustPilot.
FAQ
Find the answers to the most burning questions about the passport photo clothing requirements.
Can I wear a hoodie in my passport photo?
Yes, you can wear a hoodie in a passport photo if you take the hood down and keep it behind your back so it does not make it challenging to identify your facial features. However, it's advisable to wear something less sporty since you may need to show this picture when applying for a new job or a visa.
Can you wear a sweatshirt in a passport photo?
Of course, wearing a sweatshirt in a passport photo is okay, but you may consider choosing a sweater or a shirt instead to make your image look more professional.
Why can't I wear a uniform in my passport photo?
The sole intention is to disassociate the holder from any particular treatment involved, for example, in being part of an army or a congregation.
Passport photo attire: summary
The key to choosing the best clothes for a passport photo is to put on the clothing you wear on a daily basis, and feel comfortable in. But since passport photos aren't your typical selfies, there are several things to keep in mind when picking the garments:
Dos:
Keep it simple
Wear a dark shirt or sweater
Opt for casual clothes, preferably with a professional look
Hand in a signed statement if you need to wear eyeglasses or head covering
Don'ts:
Let clothing distract from your appearance
Wear jewelry or hair accessories if these are not small
Wear uniforms, glasses, hats, headbands, or other bulky complements
Just remember about these and your passport photo will not only get accepted by the authorities, but also you'll look good for the years to come!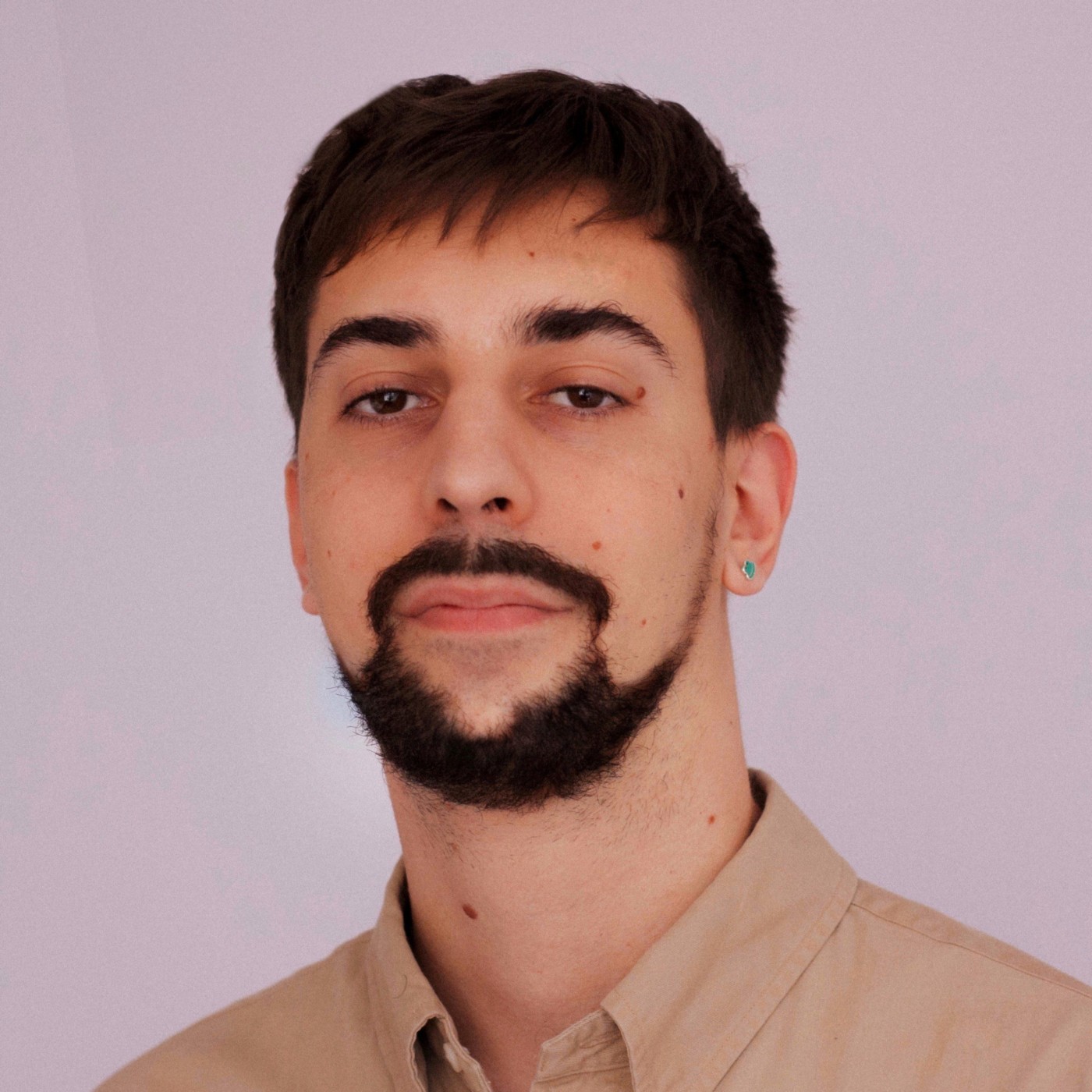 Alejandro Martín Gallardo, has a deep understanding of biometric photography. He uses his storytelling and copywriting skills to create content that breaks down the process of taking biometric photos for identity documents into digestible bits. Alejandro's love for travel has made him realize the value of accurate biometric photos in facilitating smooth journeys.